Spinach and Artichoke Spaghetti Squash
This Spinach Artichoke Stuffed Spaghetti Squash recipe is the ultimate comfort food, lightened up! All the classic flavors of spinach and artichoke dip made healthy and stuffed into a low-carb and nutrient-rich spaghetti squash! You can optionally add-in chicken to make it heartier, or leave it as a vegetarian main dish. Make it dairy-free using cashew cream, or not.
Spinach Artichoke Spaghetti Squash
Fall is the perfect time for spaghetti squash! Spaghetti Squash is the a healthier alternative to pasta and it works so well here with this Spinach and Artichoke recipe. It is like a dinner version of the Spinach and Artichoke dip (we've got that here, too) but more nutrient dense and hearty! What I love most about this recipe is that it can be made classic with some cheese or made dairy-free thanks to my favorite dairy-free swap: cashew cream!
Want to make this vegetarian? We gave the option to add-in chicken if you want, but feel free to omit to keep it vegetarian and vegan if you use the dairy-free option.
Love spinach and artichoke dip? Check out this chicken dish, this dip and this stuffed mushroom recipe.
Ingredients Needed
1 medium spaghetti squash

Onion

Garlic

Spinach

Canned Artichoke Hearts

Cream cheese or Cashew Cream (for dairy-free)
Cheese or Nutritional Yeast (for dairy-free)

Rotisserie Chicken (optional)
Dairy-free Options
It's hard to believe but we absolutely could not taste the difference between the version we tested with dairy using cream cheese and the version we tested using cashew cream and nutritional yeast. Even the nutritional yeast is optional if you prefer to skip it in the dairy-free option! We've talked about cashew cream at length on Lexi's Clean Kitchen because it's one of our favorite swaps to make dishes creamy without any dairy. To make it you blend soaked cashews until it's rich and creamy. It's used in the same way heavy cream or even greek yogurt would be.
How to make Stuffed Spaghetti Squash
The truth is, you don't actually have to stuff the spaghetti squash to make this recipe. You can either bake this as a casserole in an 8″x 8″ dish (or something similar) or you can bake this Spinach and Artichoke dinner directly inside the spaghetti squash halves. To do that:
Roast the spaghetti squash (or cook in an Instant Pot) following these directions.
Meanwhile, make the spinach artichoke mixture.
Once cooked and cooled, scoop out the spaghetti squash strands and combine with the spinach and artichoke.
Place back in the empty shells of the spaghetti squash and top with shredded cheese, if using.
Place under the broiler until the cheese and melted and the mixture is completely heated through.
If you like this spaghetti squash recipe, check out these others:
Spinach and Artichoke Spaghetti Squash
Cooked spaghetti squash is a great nutrient dense, gluten-free, lower carb alternative to pasta or rice noodles. There are two great methods how to cook spaghetti squash and we're giving you all the details you need to know!
How to Cook Spaghetti Squash
Spaghetti squash noodles are probably the easiest alternative to traditional pasta there is. While it doesn't taste exactly the same, spaghetti squash is a nutrient-dense, low carb alternative to pasta (whether gluten-free or not). If you can't eat pasta or noodles for whatever reason, this is a pretty good substitute. It can take the place of almost any noodle dish, ranging from a classic "spaghetti" and meatballs, to a baked Italian "pasta" dish or even as a Pad Thai. Cooking spaghetti squash is so simple, being a mostly hands off cooking task. The hardest part is slicing it in half, so we are giving tips below.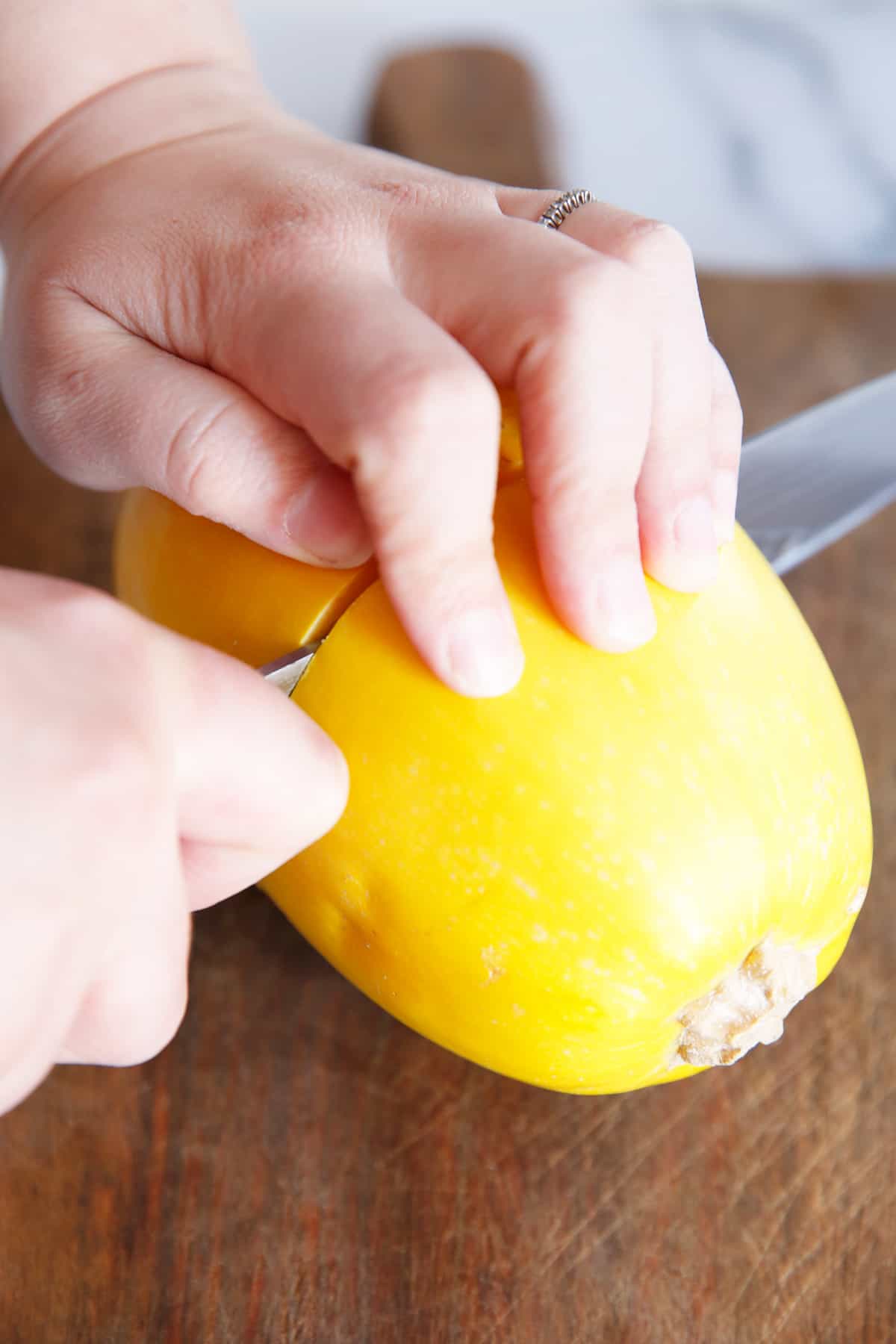 How to Safely Cut It:
Your best answer to safely cutting a spaghetti squash is to have a large sharp knife, and a flat stead surface to cut it. With one hand, steady the spaghetti squash, and with the other press the knife into the squash before using your weight to leverage the knife through the squash. Once the knife is at least an inch inside the squash use your other hand to push down on the knife until it cuts through the squash entirely.
We cut the squash in two ways:
Crosswise the the middle: This is our preferred method. This way is easier because there is less squash to cut, and you don't have to go close to the stem. This results in long strings of noodles.
Lengthwise: This method is harder to cut the squash and results in shorter noodles. Don't try to attempt to cut through the hard stem. Once you've cut to that, take the knife out and use your hands to pull apart the spaghetti squash halves.
Still are afraid to cut the squash? You can always cook the squash whole, and cut after it is cooked. It's obviously much easier to cut after it is soft, but we don't prefer this method (see below as to why).
Can you Cook Spaghetti Squash Whole?
Yes you can, but this was not our favorite method of cooking it. If you are truly intimidated by cutting a squash, cooking it whole certainly makes it a lot easier to cut, but if you follow the tips above you should be able to safely cut a spaghetti squash. We didn't like the result of a whole cooked spaghetti squash because it is harder to scoop out the seeds when they're soft because you can't easily distinguish between the inedible seeds and the edible squash strands.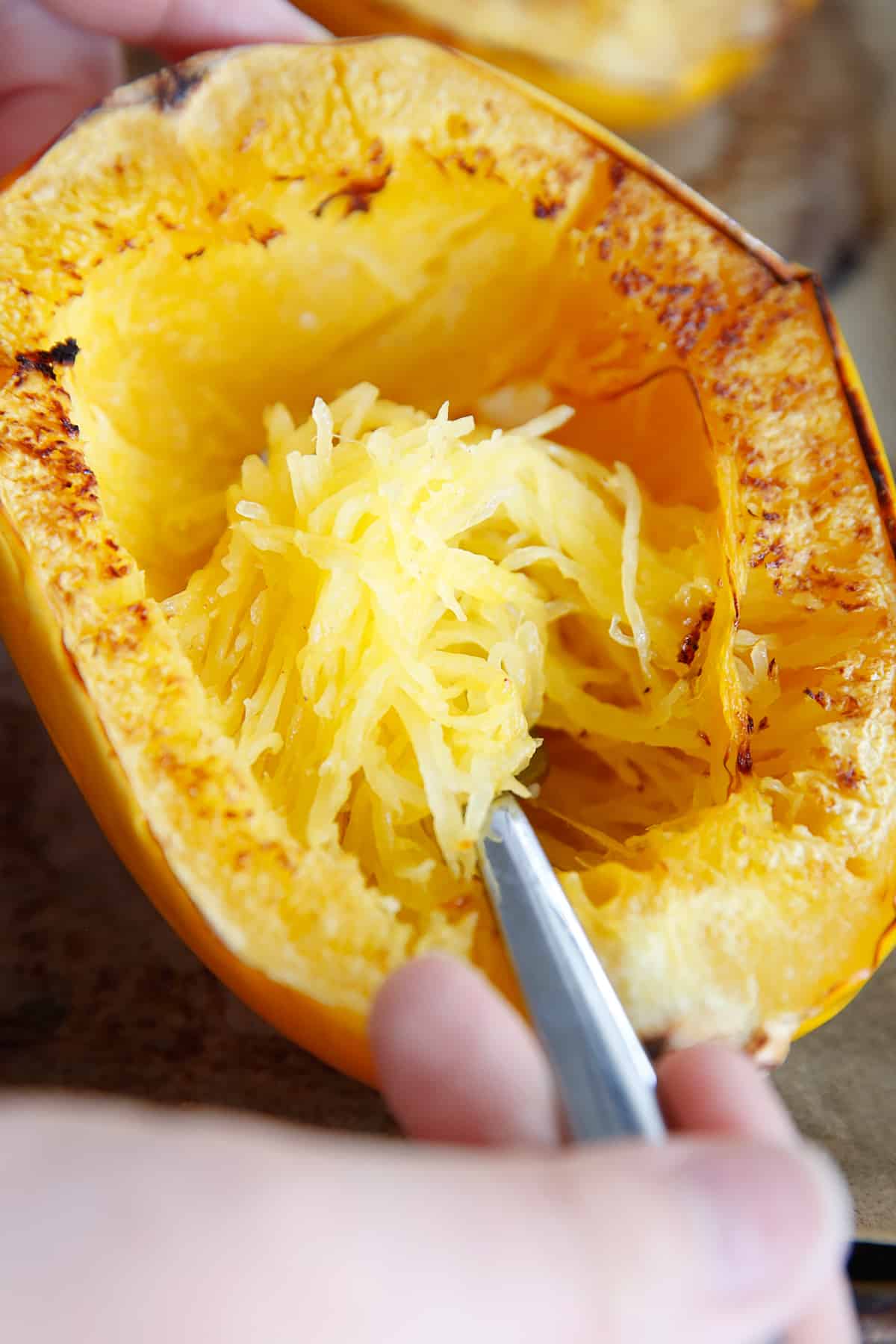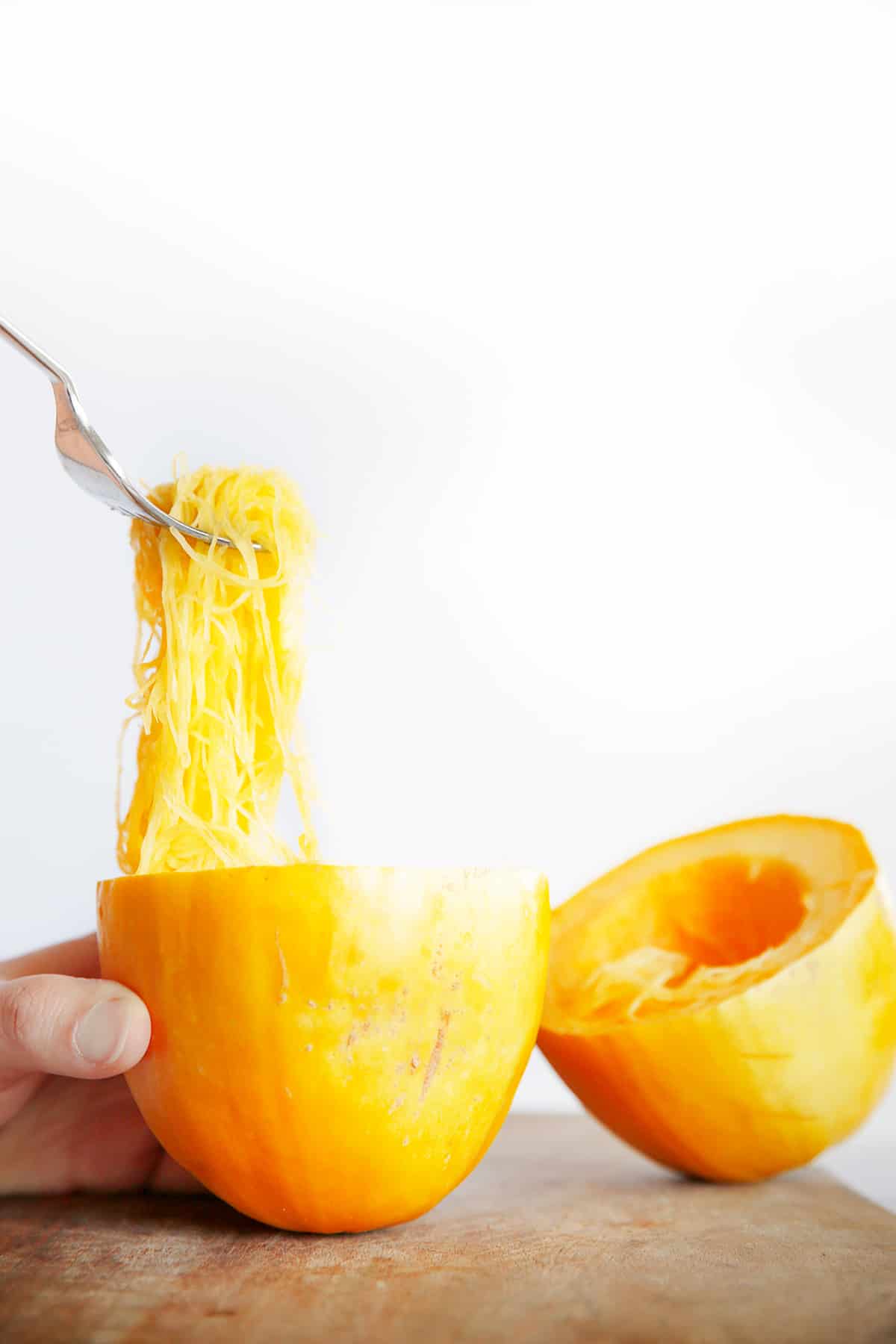 Our Favorite Way to Cook It
We are fans of cooking spaghetti squash in both the oven and in the Instant Pot. There is a slight difference in taste, and an even greater difference in cook time between these two, but knowing both is useful.
How to Cook Spaghetti Squash in the Oven
Roasting spaghetti squash in the oven takes longer, but it results in tender caramelized squash noodles. This is definitely our preferred method if we have the time. To make it, all you do is split the spaghetti squash, scoop out the seeds and drizzle with oil, salt and pepper and roast until fork tender. More detailed directions are below in the recipe section!
How to Cook Instant Pot Spaghetti Squash
Steaming spaghetti squash in the Instant Pot is by far the quickest method, and great when short on time! The squash noodles have a more straight-forward taste to them since there is no caramelization occurring. We prefer splitting the spaghetti squash and scooping out the seeds before cooking it, but you can steam it whole.
Do you Eat the Skin of the Spaghetti Squash?
No! While some squash has edible skin, this is not one of them. Simply scoop out the "noodles" and discard the skin.
How to Use it
Treat spaghetti squash noodles like pasta! It can be eaten as is with a little oil, salt and pepper and parmesan cheese or you can use it in any variety of recipes. Check out below for some of ours:
Recipes using Spaghetti Squash:
Watch the video:
How to Cook Spaghetti Squash
This Chicken Enchilada Spaghetti Squash Casserole is comfort food lightened up! All the classic flavors of your favorite chicken enchiladas, including refried beans, made healthier with spaghetti squash as its base. This gluten-free and dairy-free meal is the ultimate family favorite meal that is great for meal prep, too. Made in partnership with Tuttorosso Tomatoes!
Chicken Enchilada Spaghetti Squash Casserole
This Enchilada casserole is the ultimate gluten-free casserole! This healthy and hearty enchilada casserole made with spaghetti squash has all the Mexican flavor you love that is a definite crowd favorite. This recipe has loads of veggies, shredded chicken, homemade refried beans, spaghetti squash and is so comforting.
Here's what you need to make it:
5 cups cooked spaghetti squash
2 cups shredded chicken (rotisserie chicken or make it)
1 green bell pepper
1 red pepper
1 yellow onion
2 cups spinach
1 batch refried beans (or buy it)
arrowroot flour
enchilada spices
tomato Sauce
chicken broth
herbs for garnish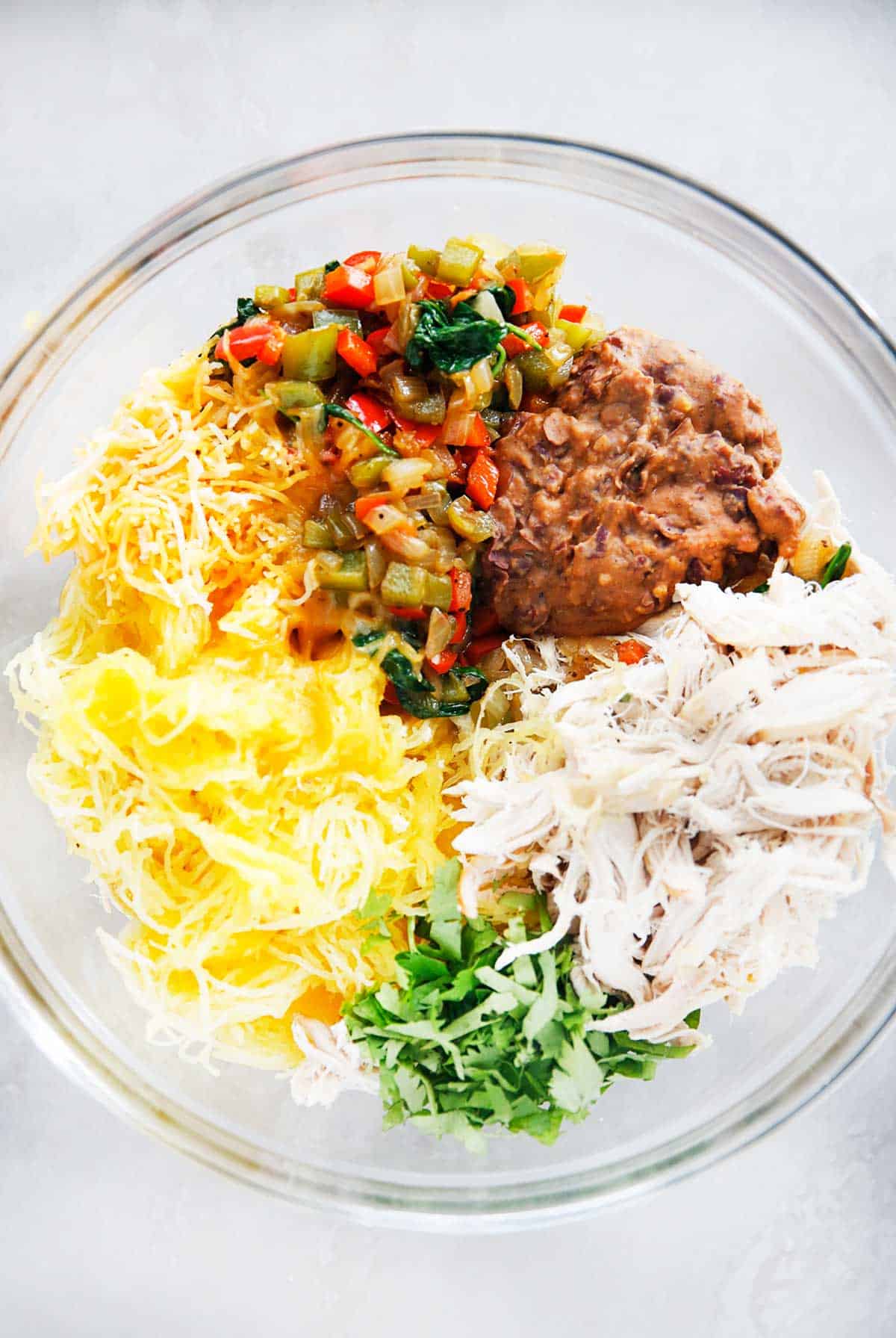 This recipe is made in partnership with my friends at Tuttorosso Tomatoes, my favorite tomatoes that I trust time and time again in my kitchen. Other Tuttorosso favorites include my Lasagna Soup, Instant Pot Chicken Cacciatore, Pizza Stuffed Peppers, and One Pan Indian Spiced Chicken and Cauliflower!

How to Make this Enchilada Casserole
Roast or cook the squash in an Instant Pot. Check out this article for more info.
Pre-cook and veggies that go with it.
Make the refried beans and sauce.
Assemble and bake!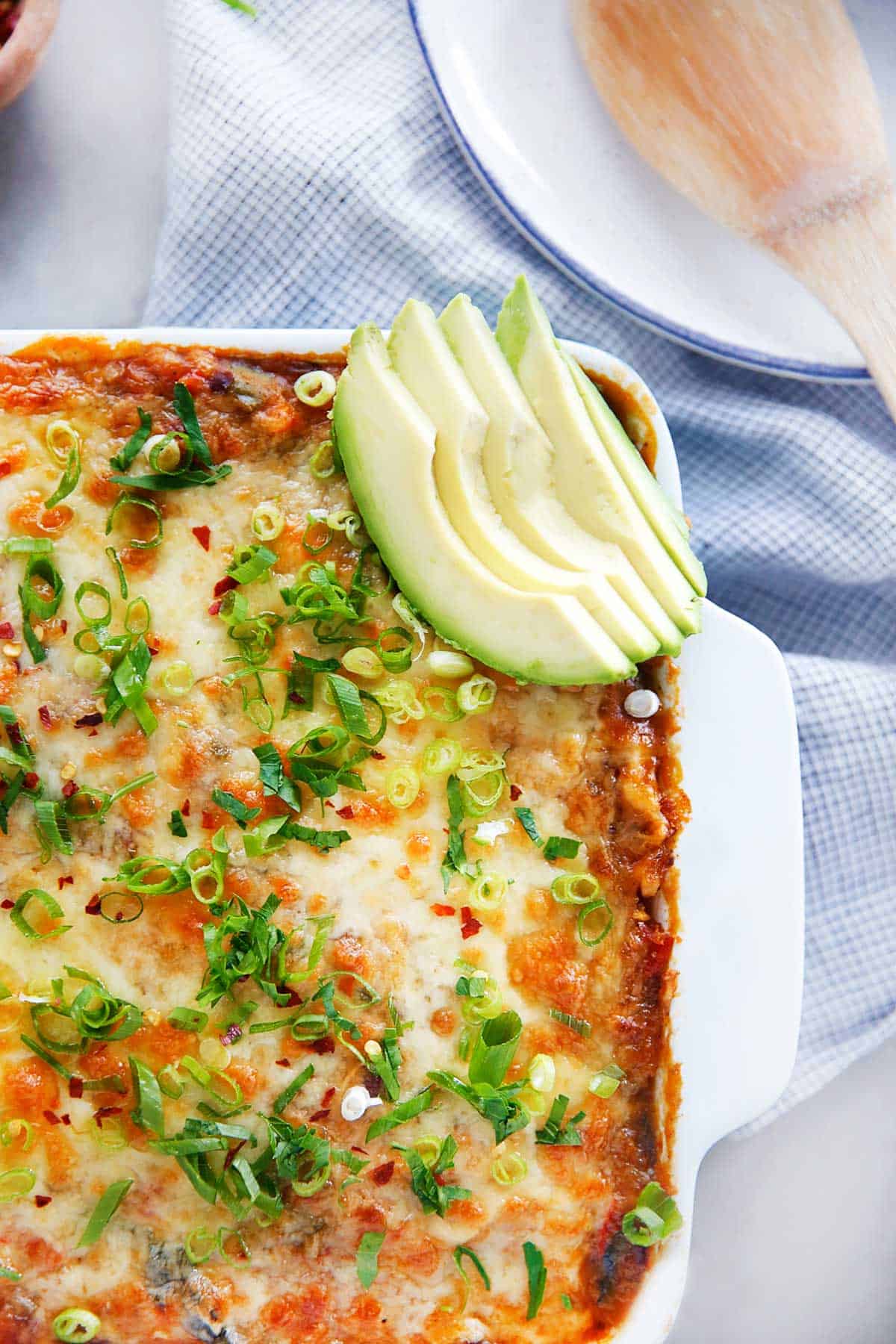 Watch the video:
If you like this recipe, try these other Spaghetti Squash Recipes: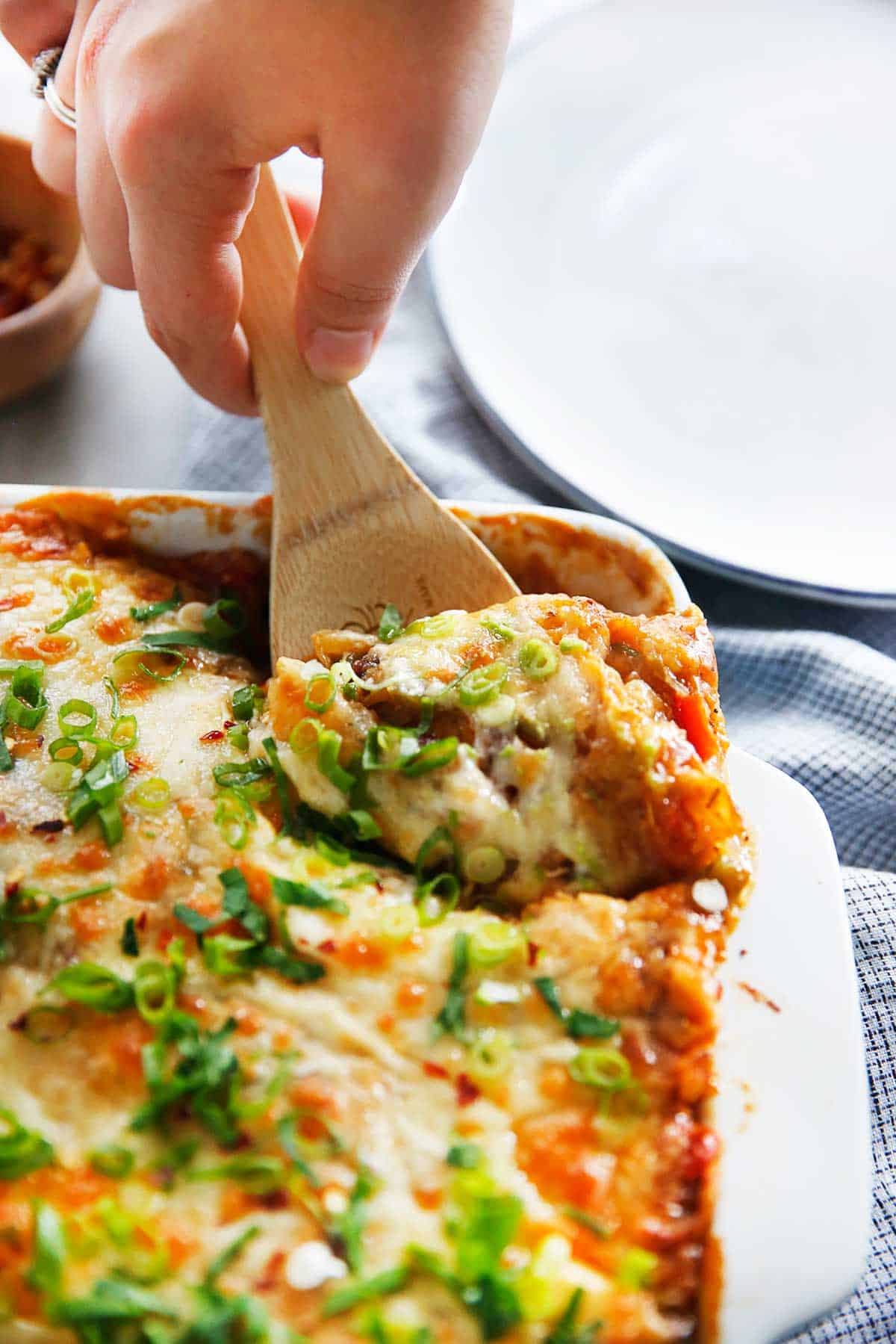 This post is sponsored by Tuttorosso Tomatoes. All thoughts and opinions are always 100% my own! I love the integrity of their products and think you'll love them too. Thank you for continuing to support LCK and the brands I work with!
Chicken Enchilada Spaghetti Squash Casserole
This Creamy Pumpkin Casserole is my new favorite fall fish. This optionally dairy-free dish has pumpkin, spinach, and chicken and is topped with a delicious sauce and baked to perfection. It's Paleo and Whole30, too.
Dairy-free Pumpkin Casserole
I know most people think of sweet when they think of pumpkin, but savory pumpkin dishes are so delicious! There are so many good ones like pumpkin soup and Pumpkin BBQ Sauce and of course, this casserole! This hearty fall dinner is packed full of pumpkin flavor, both in the sauce and within the casserole itself. Plus, this one is paleo friendly and lower-carb thanks to the use of spaghetti squash as the base!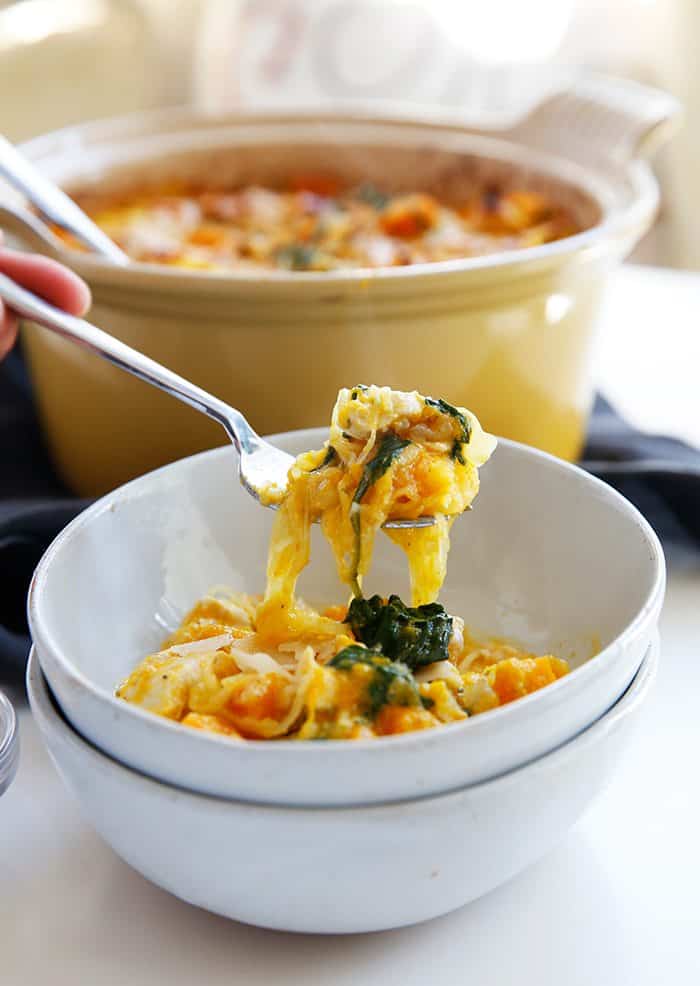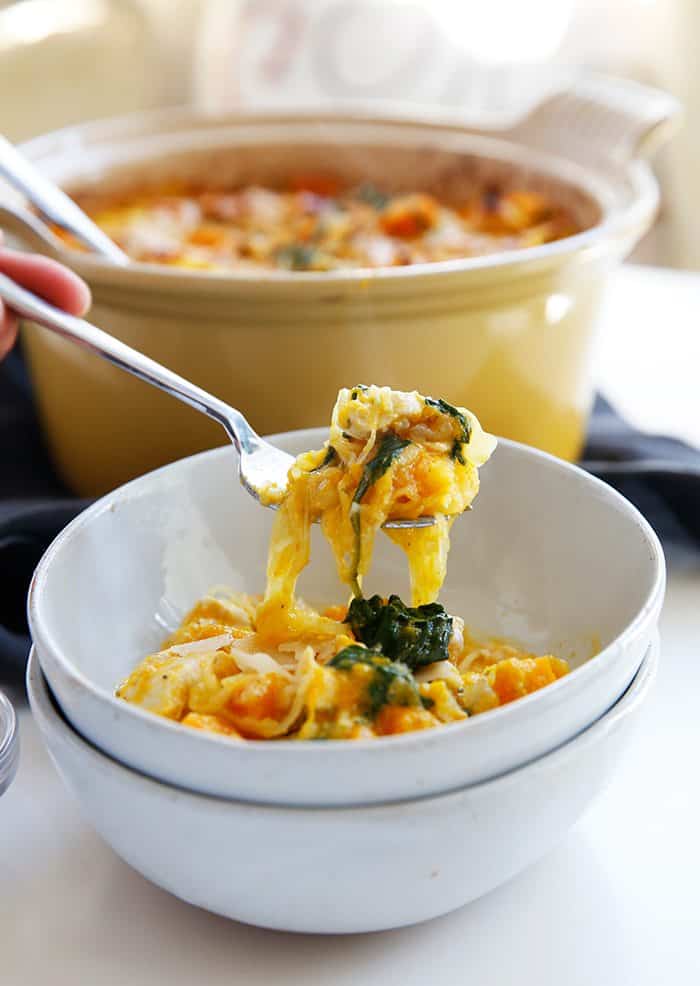 Ingredients Needed:
Cooked Spaghetti Squash
Shallot and Onion
Garlic
Pumpkin
Chicken (optional)
Spinach
Parmesan Cheese (optional, omit for dairy-free)
Almond Milk
Mayo
Spices

If you are all about the pumpkin recipes, check out these others:
Creamy Pumpkin Casserole
Are you ready for Fall? Fall recipes, cooler weather, apple picking, all things pumpkin, leggings, boots, scarves? Ready or not, it's a-comin'! This Spaghetti Squash Alfredo with Chicken and Caramelized Onions is hearty comfort food meets healthy and nutritious! A perfect meal all autumn long!

Spaghetti Squash Alfredo
Let me tell you, this Alfredo isn't your ordinary Alfredo sauce. It's creamy and delicious, but not JUNKY! Wait what? Yes! Plus caramelized onions and chicken. You guys, run to make this one!

The combination of the good quality mayo + Pacific Foods Original Almond Milk (my favorite milk substitute for baking or cooking) + garlic and spices gives you ALL THAT FABULOUS FLAVOR.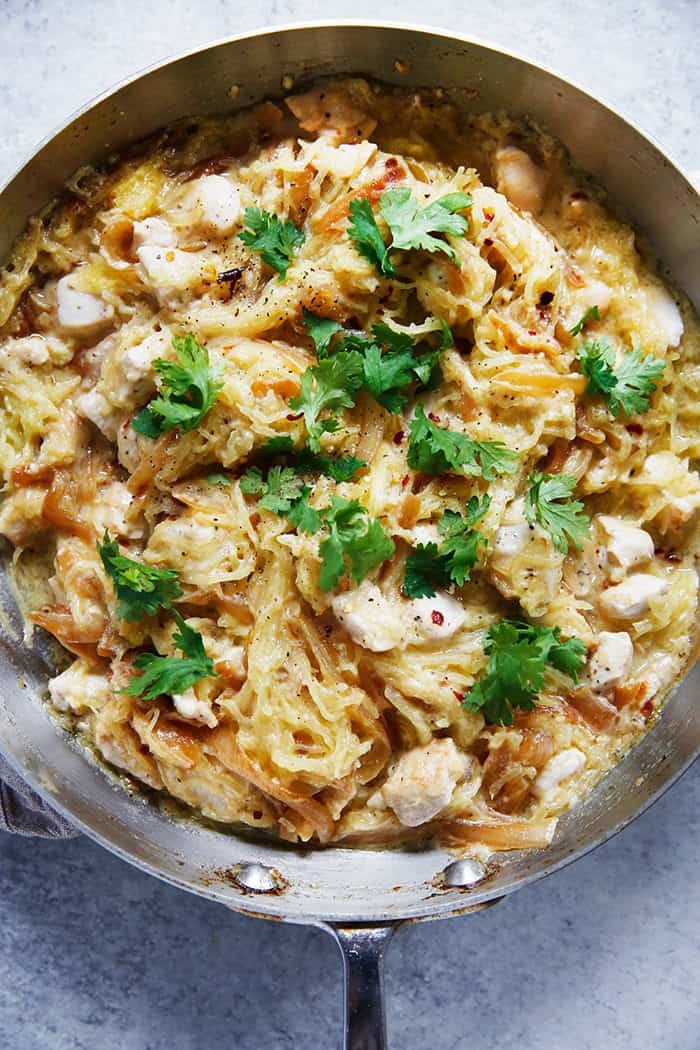 Want more spaghetti squash recipes? Try these:
[yumprint-recipe id='384′]
Creamy, healthy, goodness. How are you celebrating Fall?