Zucchini Spaghetti with Homemade Meat Sauce
This Zucchini Spaghetti with Homemade Meat Sauce is a delicious and hearty meal your family will LOVE! It's low carb, grain-free, gluten-free, and dairy-free if you omit the cheese. The meat sauce is cooked up quickly and is served over lightened up zucchini noodles making for a healthy weeknight dinner!
Zucchini Spaghetti Recipe
This Zucchini Spaghetti is ultimate comfort food, but lightened up of course! Zucchini noodles are especially delicious during those summer months when they are abundant and you are looking for clever ways to use them up. Serving them with this quick meat sauce is perfect for an easy weeknight dinner when you are looking for something comforting, flavorful and simple!
What I love about this dish is that these days it is easily to find zucchini noodles pre-made in the store, so you can skip the step of spiralizing your zucchinis if you buy them. Additionally this meat sauce is super quick. While yes, traditional meat sauce is simmered for hours, this meat sauce is made specifically for an easy weeknight dinner thanks to the addition of tomato sauce. Look for a good quality brand with no strange ingredients or added sugar.
Tips for Using and Cooking Zucchini Noodles
Zucchini noodles are a great healthy and nutrient-dense substitute for regular pasta. Do they taste exactly the same? No, they're zucchini. But most people who make this swap are happily satisfied to eat the zoodles, as they are known, topped with whatever sauce you are using. Below are some tips on how to best enjoy zucchini noodles!
You can eat them raw! Eating the zucchini noodles while raw will make for the firmest (and not soggy) zucchini noodles. Just toss with a touch of olive oil and salt and pepper before serving with your sauce.
If you are cooking them, don't overcook them! The longer you cook zucchini noodles the softer and soggy they become! Cook for just a few minutes and stop cooking them before they actually looked cook. The zucchini will continue to cook a bit once they are off heat.
You can drain the noodles a bit before you serve them. Once cooked, set over a colander for a few minutes.
Sauce the noodles after they are cooked!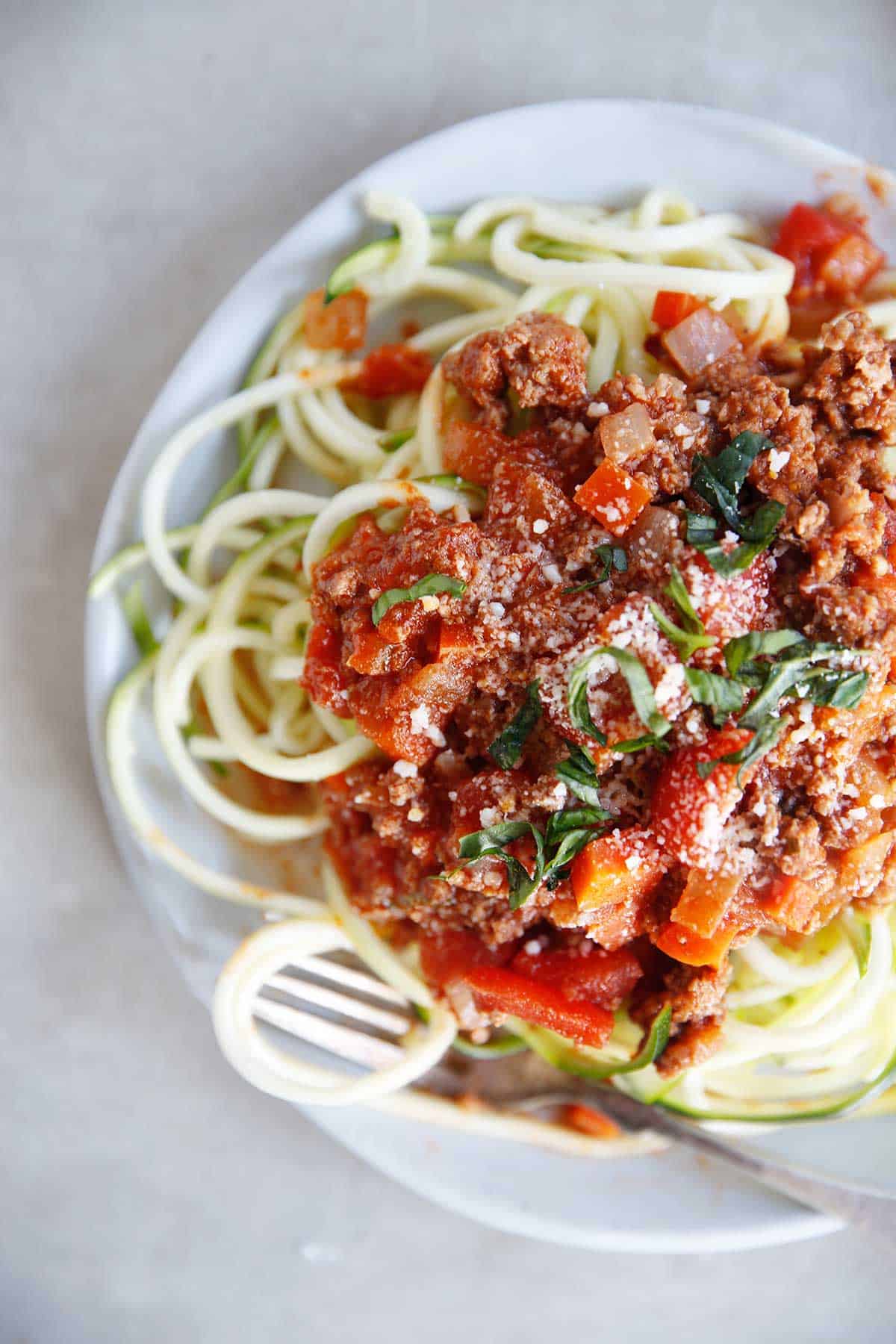 If you like this classic comfort food lightened up, check out these recipes:
If you like this zucchini recipe, check out these others:
Zucchini Linguine with Meat Sauce
---
---
Ingredients
Zucchini Linguine
Meat Sauce
1 tablespoon extra-virgin olive oil
2 cloves garlic, crushed
1 onion, chopped
3 large organic carrot stalks, chopped
1 lb. organic grass-fed beef (or ground turkey)
1 15 oz. can organic diced tomatoes
1 15 oz. can organic tomato sauce
1 tablespoon Italian seasoning
2 teaspoons red pepper flakes
1 teaspoon sea salt, more to taste
1 teaspoon freshly ground pepper, more to taste
1 tablespoon fresh basil, more for garnish
Optional: Serve with fresh parmesan
Optional: Garnish with fresh Basil
Directions
In a medium sized saucepan, heat 1 tablespoon extra virgin olive oil over medium-high heat. Add garlic and sauté for 1-2 minutes.
Add onion, carrots, and peppers to saucepan. Let cook, stirring occasionally, for 5 minutes until onions are translucent and the carrots begin to soften.
Add meat to saucepan and let cook until brown and no pink remains.
Add tomato sauce, diced tomatoes, spices, and 1 tablespoon fresh basil to the pan and mix well.
Bring to a boil over high heat. Reduce heat to low and let simmer for 15 minutes. Taste and remove from heat.
In a large skillet, heat remaining tablespoon of extra virgin olive oil over medium-high heat. Add in zucchini noodles and red pepper flakes and let cook for 2-3 minutes.
Transfer zucchini noodles to a plate, and top with meat sauce, fresh basil, and parmesan if using. Serve hot.
---
Nutrition
Loading nutrition data...