Healthy Italian Wedding Soup
Studded with chicken meatballs and filled with veggies, this Italian Wedding Soup is a lightened up take on the classic. This hearty soup is family-friendly and would make great leftovers. Opt to make it lower carb by skipping any added pasta, or go ahead and make it the classic way with your favorite pasta shape.
Healthy Italian Wedding Soup
There is nothing like a hearty soup for a cool winter day! And this Healthy Italian Wedding Soup does not disappoint. The soup has some similar flavors to a classic chicken soup, but instead of the chicken there are tiny meatballs added along with hearty greens. If you are wondering why it's called Italian Wedding Soup, it isn't because this is traditionally served at weddings! The name refers to the marriage of flavors between the meatballs and the greens here. And they really are a great combination! This healthier version uses nutrient-dense kale and lightened up ground turkey or chicken meatballs. We've opted to leave out the pasta here for a more low-carb take, but feel free to cook some of your favorite small pasta shapes here.
Ingredients Needed
Ground Chicken or Ground Turkey

Kale
Carrots
Garlic
Onion
Celery

Egg

Chicken Stock (homemade or store-bought)

Almond Flour (this is used to bind the meatballs)

Herbs and Spices
Parmesan Cheese (optional)
Salt and Pepper
Can you change the greens for something else?
We've opted to use kale here. But feel free to change it add in spinach or escarole instead. If adding spinach, you don't need to cook it as long so add it in towards the end along with the meatballs.
How to Add Pasta
The exact timing of when you add in the pasta will depend on the type of pasta you are using, but it will be added in when you are simmering the soup. Check out the cook time on the box of pasta and simmer it for the length of time specified.
Do you need to bake the meatballs?
We opted to bake the meatballs and then add them into the soup to simmer. If you prefer to sear the meatballs on the stove first or even add them in raw to cook in the broth that works too.
Can you make this soup ahead of time?
Soups are the ultimate make ahead meal and it's freezer-friendly! This would be a great meal prep item to make a double batch of. Freeze some to eat later, and eat some throughout the week for lunches or dinners. Once frozen, leave in the refrigerator overnight to defrost and them simmer gently on the stovetop until reheated.
If you like this soup recipe, check out these others:
Healthy Italian Wedding Soup
Flavored with Italian seasoning, with a touch of spinach added in, these Paleo Turkey Meatballs make for a great weeknight dinner or meal prep solution! Double or triple the batch and serve some for now and save some for later. Serve with your favorite homemade or store-bought marinara and spaghetti squash and you've got the perfect lightened-up dinner.
Paleo Turkey Meatballs with Spinach
This gluten-free and Paleo Turkey Meatballs are a classic LCK recipe you've been loving since 2013! We went ahead and gave the recipe and photos a little update. We are so glad we did as it reminded us of how amazing these meatballs are, especially for meal prep! Make a double or triple batch of these Italian flavored meatballs and use some right away and then save some for later. Meatballs are great to keep in the freezer because they're quick and easy to pull out on a moments notice and reheat in your favorite homemade or store-bought marinara sauce.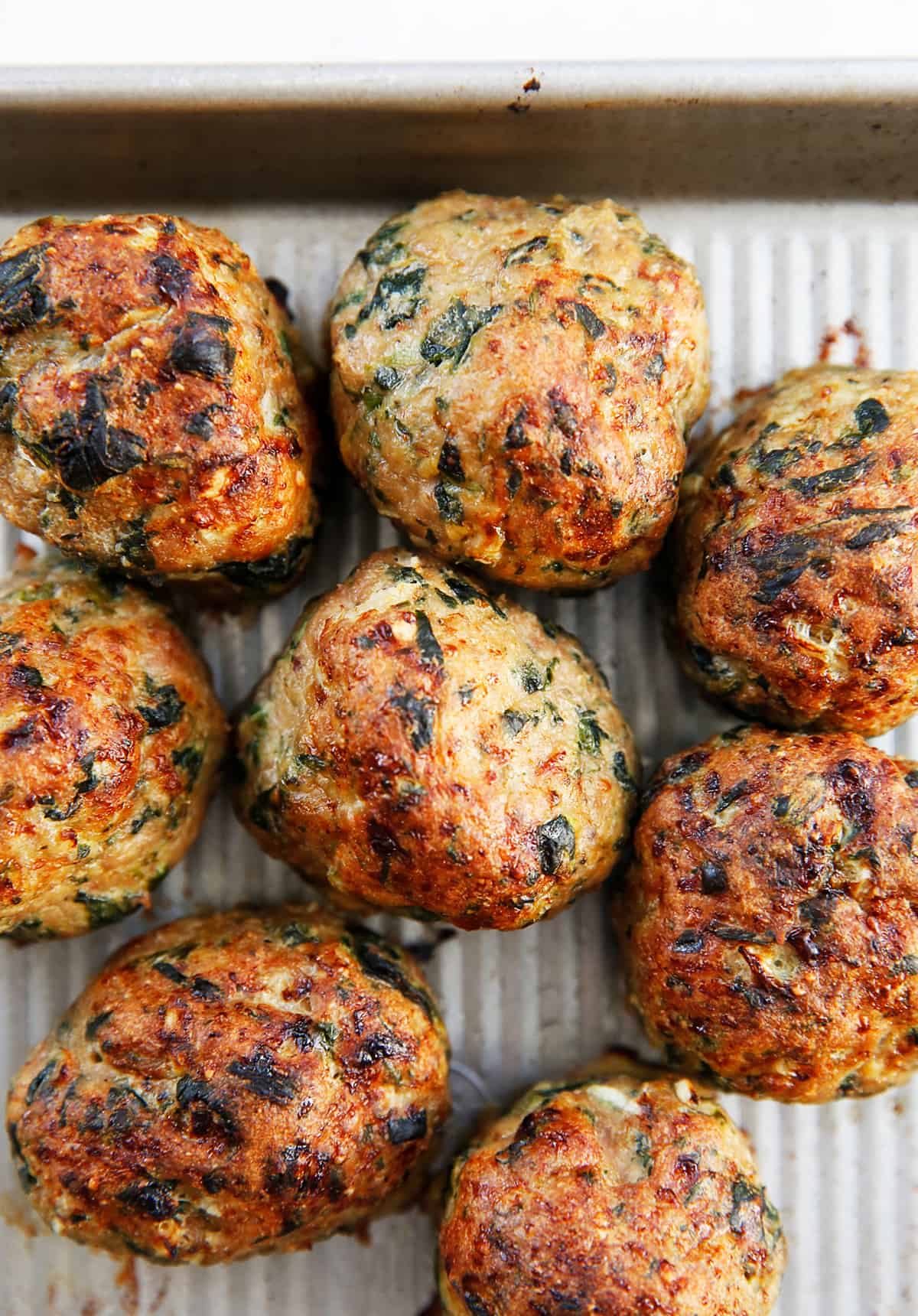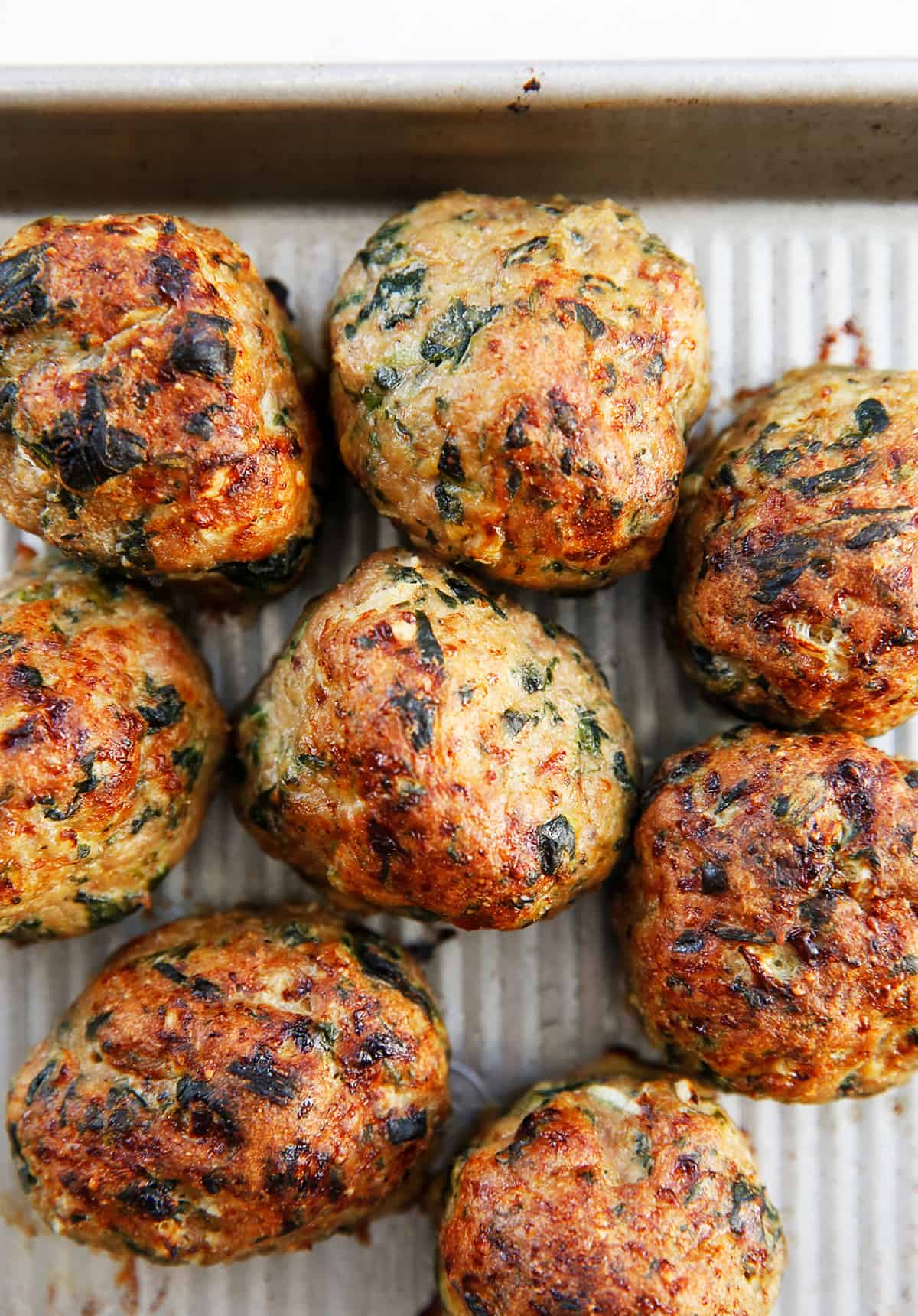 Gluten Free Turkey Meatball Ingredients
Ground Turkey (light or dark meat works here, though we prefer dark meat)
Frozen Spinach
Onion
Egg
Onion Powder
Garlic Powder
Italian Seasoning
Sea Salt and Pepper
Basil
Red Pepper Flakes
Make Ahead Meatballs and Freezer Instructions
Meatballs are the perfect make-ahead meal! They can made a few days ahead and left in the refrigerator or they can be frozen for up to 2 months.
To freeze meatballs, let them fully cool at room temperature and then transfer to a baking sheet lined with parchment paper. Let freeze for at least 1 hour, and then transfer them to a long term storage bag or container. Store for up to 2 months. Defrost in the refrigerator overnight, or warm up in your favorite pasta sauce over low heat.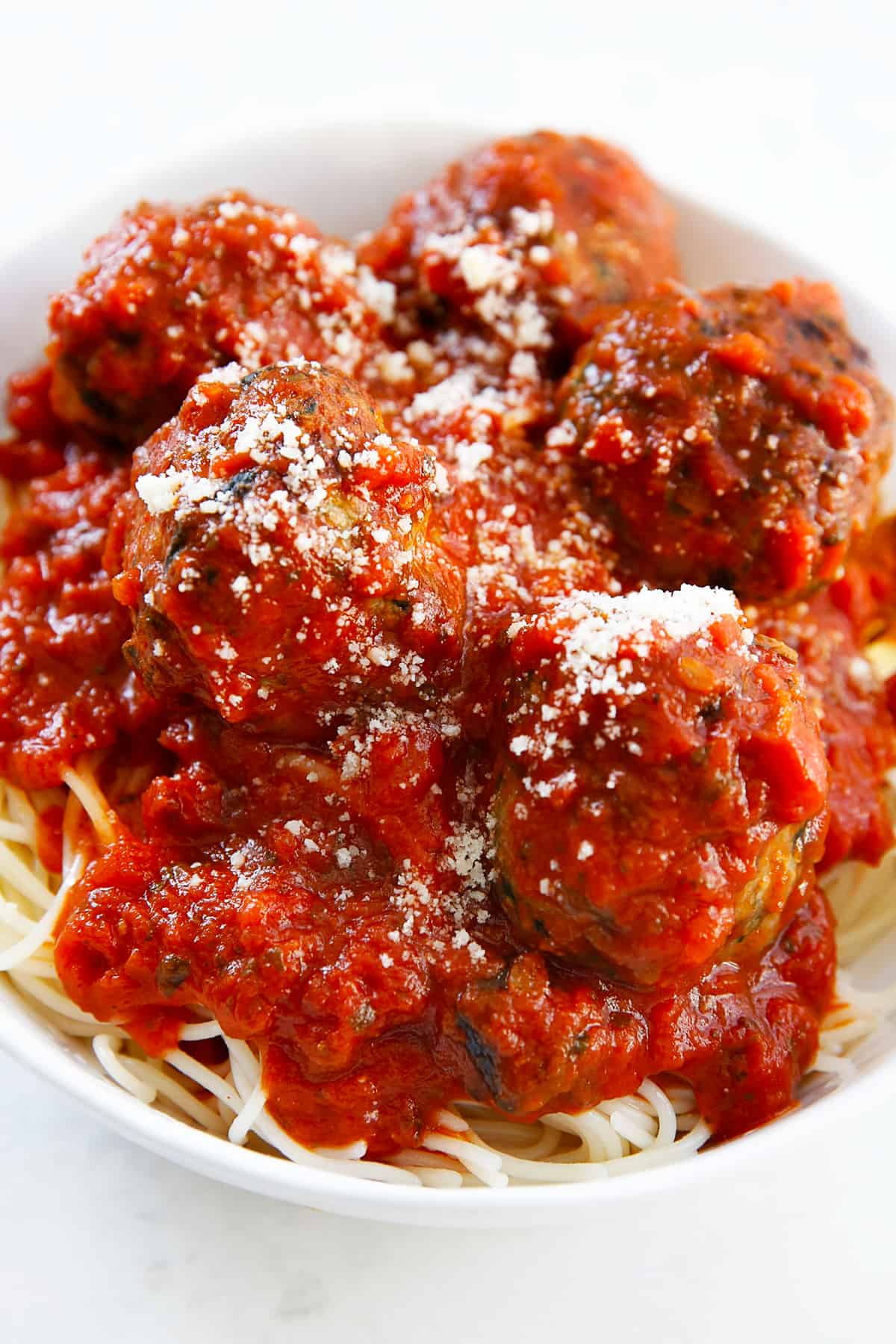 If you like this gluten-free classic recipe, check out these others:
If you like this meatball recipe, check out these others:
[yumprint-recipe id='191′]
Gluten Free Turkey Meatballs with Spinach
Bound to be a hit at your next party, this Healthy Spinach Artichoke Dip has all that creamy flavor without any dairy. This paleo, vegan and Whole30 friendly appetizer is simple to put together and nobody will know this isn't the classic version.
Healthy Spinach Artichoke Dip
Is there anything better than Spinach and Artichoke Dip? It is such a classic appetizer that everyone loves. We wanted to update it to make it a bit more healthy so we took all the flavors to create a nutrient-dense dip that is so creamy and delicious without any actual cream! We did leave an option to top it with cheese and broil it, but the dip itself is so flavorful it won't be missed if you need to leave it off for a totally dairy-free dip.
This crowd favorite is perfect for parties, or for an appetizer for a night in. It's simple to make, made with mostly pantry staples and can even be made ahead of time (no more than a day) and reheated.
Ingredients Needed
Olive Oil

Frozen Spinach

Canned Artichokes

Garlic

Salt and Pepper
Cashew Cream

Cheddar Cheese (optional, omit for dairy-free)
How to Make Healthy Spinach Artichoke Dip without Dairy
To make this dish free from any dairy, we turned to cashew cream. Cashew cream is simply soaked cashews that are blended until they are smooth and creamy. It's a great replacement for heavy cream or in some recipes cream cheese. It can be used for both savory or sweet recipes! We've used in so many different dishes, and it's our number one choice to replace dairy where it fits.
We left it optional to add a bit of cheese on top of the dish to get that traditional spinach and artichoke dip feel, but you won't miss it too much if you omit it to make this dish totally dairy-free.
What to Serve with this Dip
Serve this dip with crackers (homemade or store-bought), tortilla chips, and cut up veggies.
If you like this healthy dip recipe, check out these others:
If you like this spinach and artichoke recipe, check out these others:
[yumprint-recipe id='244′]
Healthy Spinach & Artichoke Dip
This Spinach Artichoke Stuffed Spaghetti Squash recipe is the ultimate comfort food, lightened up! All the classic flavors of spinach and artichoke dip made healthy and stuffed into a low-carb and nutrient-rich spaghetti squash! You can optionally add-in chicken to make it heartier, or leave it as a vegetarian main dish. Make it dairy-free using cashew cream, or not.
Spinach Artichoke Spaghetti Squash
Fall is the perfect time for spaghetti squash! Spaghetti Squash is the a healthier alternative to pasta and it works so well here with this Spinach and Artichoke recipe. It is like a dinner version of the Spinach and Artichoke dip (we've got that here, too) but more nutrient dense and hearty! What I love most about this recipe is that it can be made classic with some cheese or made dairy-free thanks to my favorite dairy-free swap: cashew cream!
Want to make this vegetarian? We gave the option to add-in chicken if you want, but feel free to omit to keep it vegetarian and vegan if you use the dairy-free option.
Love spinach and artichoke dip? Check out this chicken dish, this dip and this stuffed mushroom recipe.
Ingredients Needed
1 medium spaghetti squash

Onion

Garlic

Spinach

Canned Artichoke Hearts

Cream cheese or Cashew Cream (for dairy-free)
Cheese or Nutritional Yeast (for dairy-free)

Rotisserie Chicken (optional)
Dairy-free Options
It's hard to believe but we absolutely could not taste the difference between the version we tested with dairy using cream cheese and the version we tested using cashew cream and nutritional yeast. Even the nutritional yeast is optional if you prefer to skip it in the dairy-free option! We've talked about cashew cream at length on Lexi's Clean Kitchen because it's one of our favorite swaps to make dishes creamy without any dairy. To make it you blend soaked cashews until it's rich and creamy. It's used in the same way heavy cream or even greek yogurt would be.
How to make Stuffed Spaghetti Squash
The truth is, you don't actually have to stuff the spaghetti squash to make this recipe. You can either bake this as a casserole in an 8″x 8″ dish (or something similar) or you can bake this Spinach and Artichoke dinner directly inside the spaghetti squash halves. To do that:
Roast the spaghetti squash (or cook in an Instant Pot) following these directions.
Meanwhile, make the spinach artichoke mixture.
Once cooked and cooled, scoop out the spaghetti squash strands and combine with the spinach and artichoke.
Place back in the empty shells of the spaghetti squash and top with shredded cheese, if using.
Place under the broiler until the cheese and melted and the mixture is completely heated through.
If you like this spaghetti squash recipe, check out these others:
Spinach and Artichoke Spaghetti Squash
This Creamy Spinach and Artichoke Chicken is comfort food turned easy weeknight dinner! This optionally dairy-free dish is so creamy and tastes just like spinach artichoke dip but with fresh healthy ingredients served for dinner! This dish is Paleo, Keto and Whole30 friendly and so delicious!
Creamy Spinach and Artichoke Chicken
Another easy weeknight dinner coming your way! And if you are a fan of spinach artichoke dip (but…who isn't?) then you're going to love this one. We took all the flavors of that classic dip and updated to create a healthy nutrient-dense dinner that is so creamy and delicious without any actual cream! Ok…we did include a note about how to use cream if you prefer to keep this nut-free. So you decide which version works better for you!
Ingredients Needed:
chicken breast (or chicken tenders)

oil
onion

garlic

chicken stock

canned artichoke quarters

cashew cream

(see this post on how to make)

nutritional yeast (optional, for dairy-free "cheesy" taste)

lemon juice

spinach

salt and pepper
If you want to keep this nut-free and tolerate dairy substitute heavy cream for cashew cream and parmesan cheese for nutritional yeast. Either way, it's going to be good!
Why do we use cashew cream in this recipe?
We love using cashew cream as a dairy-free alternative to make things CREAMY! Unlike coconut cream or coconut milk that can often leave a taste, cashew cream makes things instantly creamy, without any coconut taste! It's totally dairy-free, and delicious. You can use it in savory or sweet dishes. But even without the health benefits, cashew cream is just totally delicious.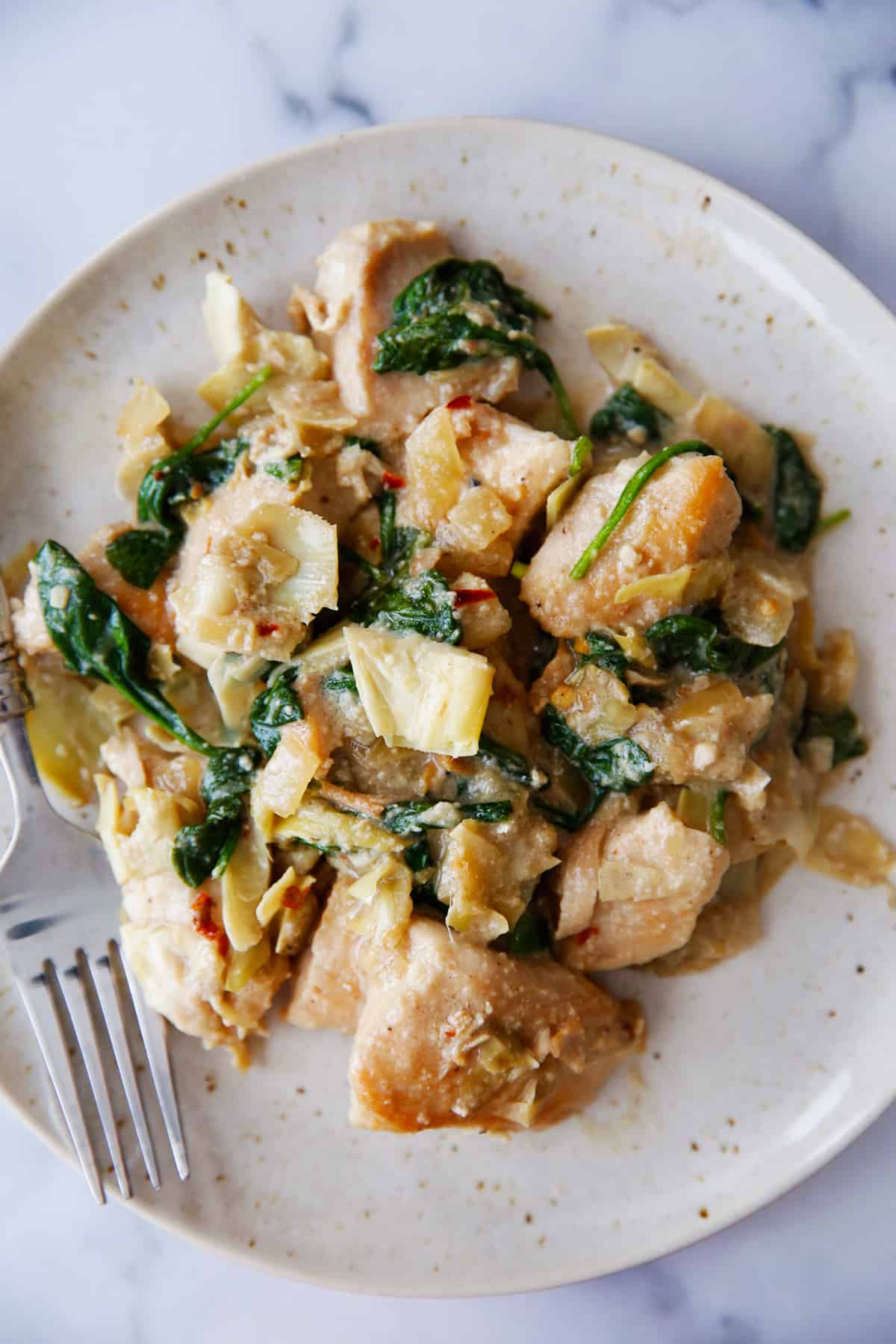 What to serve with Spinach and Artichoke Chicken:
There are so many options to serve this delicious dish with. Try:
pasta
white rice
a bed of greens
spiralized veggies like zucchini
If you like this simple weeknight chicken dinner, check out these other favorites:
Creamy Spinach and Artichoke Chicken
These Saucy Chorizo Skillet Baked Eggs are a great addition to your next Sunday brunch! It's low-carb, paleo and Whole 30 friendly, dairy-free and most definitely delicious.
Skillet Egg Bake with Chorizo and Beans
This savory egg bake recipe is delicious way to start off the day! It's almost like a southwestern version of Shakshuka, flavored with paprika, cumin, and spicy chorizo. We opted to add black beans to this skillet egg bake to round out the lower carb and dairy-free dish, but you can feel free to omit for paleo or Whole30.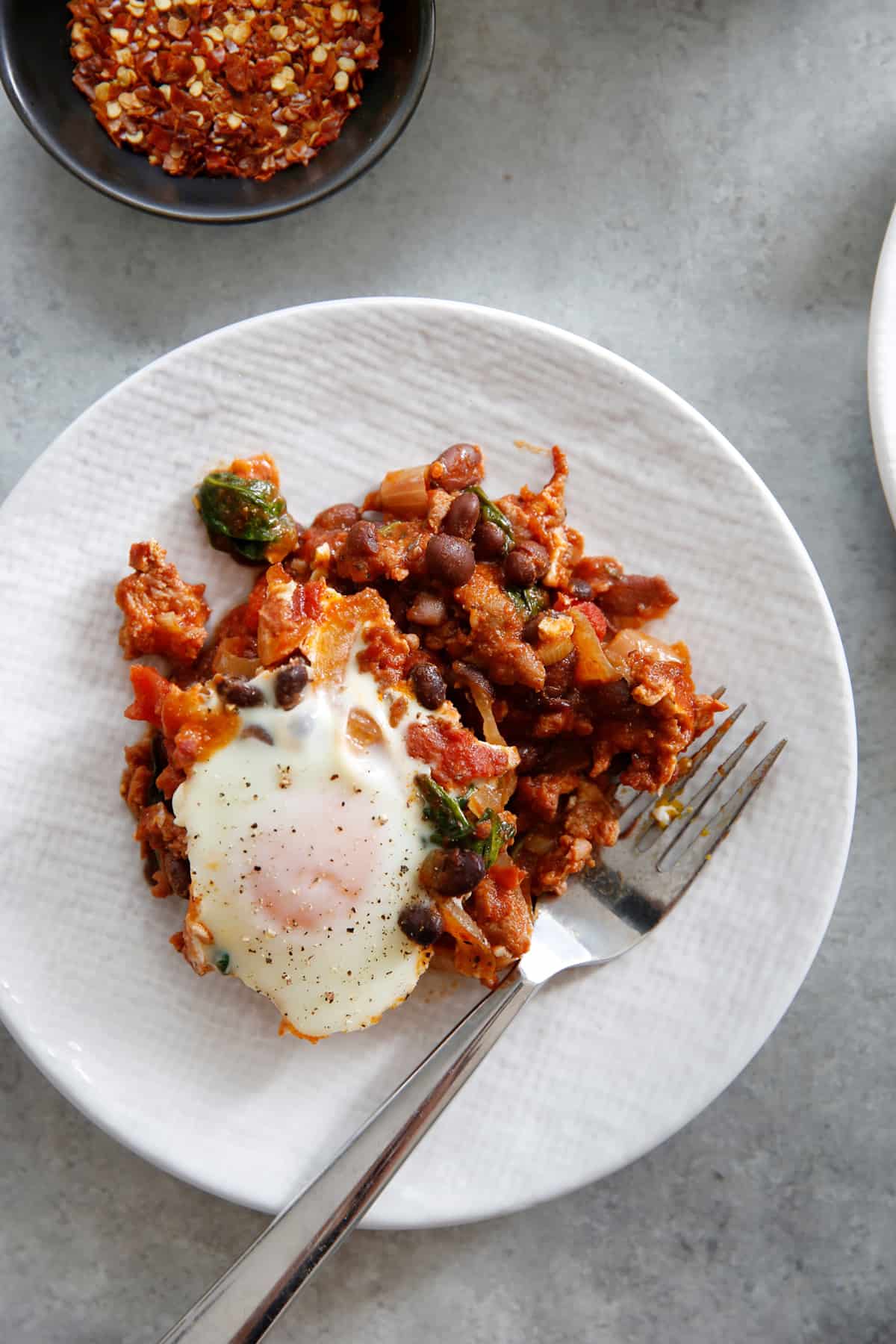 What ingredients you need for these easy baked eggs:
chorizo sausage, casing removed (or fully cooked chorizo diced)

onion

canned diced tomato

cumin

paprika

can black beans (optional, omit for Whole 30 or Paleo)

baby spinach

eggs
What skillet should I use for this recipe?
Any oven safe skillet will work here. If you are using cast iron, make sure it is enameled as prolonged tomato exposure can ruin the seasoning on a regular cast iron skillet.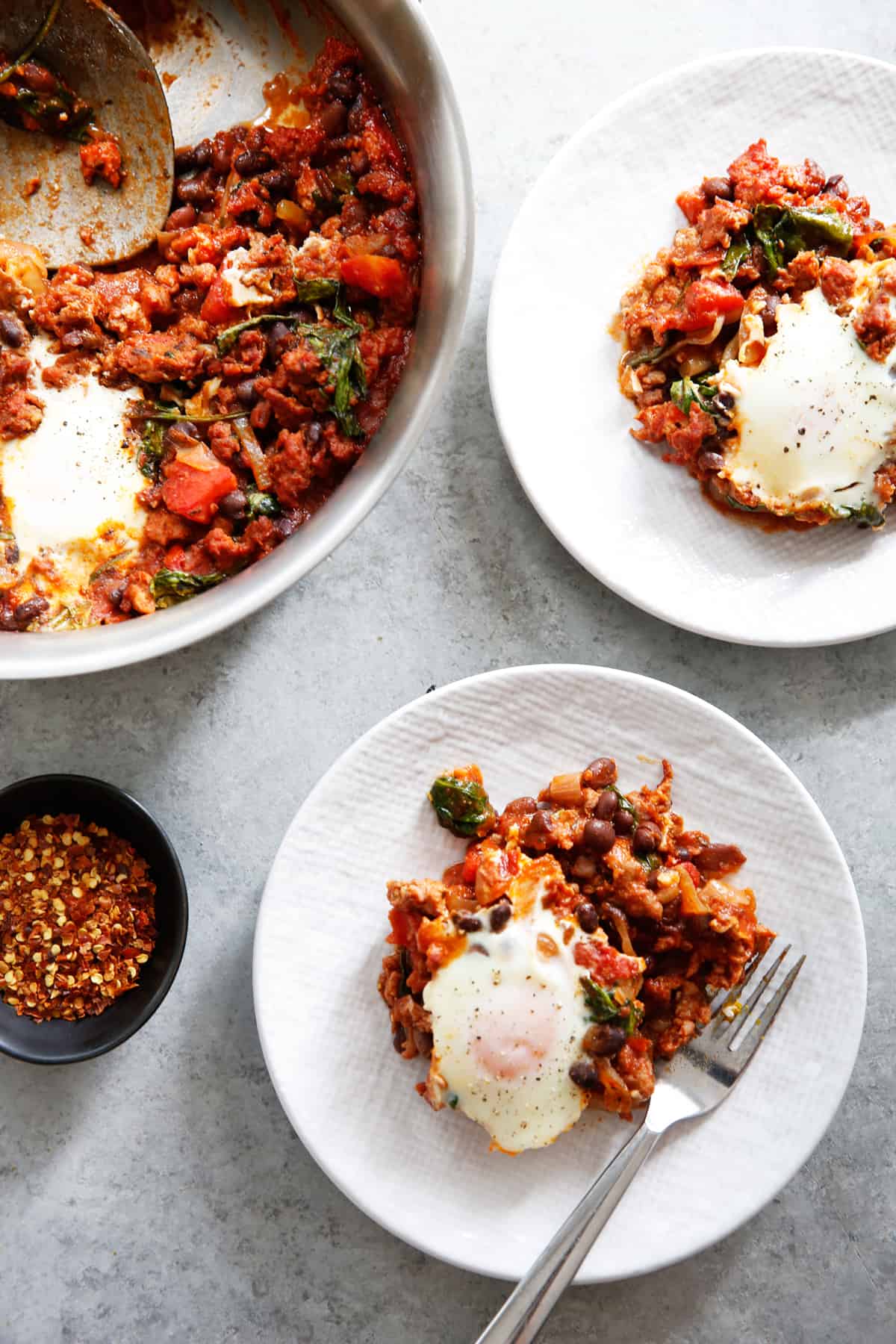 If you like this savory breakfast recipe, check out these others:
Saucy Chorizo Skillet Baked Eggs
This Sheet Pan Greek Meatballs with Veggies and Chickpeas is a delicious dinner that will make the whole family happy! The greek meatballs have a healthy dose of spinach and a nice bright lemon and herb flavor to complement the veggies and chickpeas. This largely hands-off cooking dinner is gluten-free and optionally dairy-free too!

Sheet Pan Greek Meatballs with Veggies and Chickpeas
We can't get enough of sheet pan dinners, and we're happy to hear neither can you! Sheet pan dinners are great because they minimize dishes and utilize hands-off cooking! We love this Sheet Pan Greek Meatballs with Veggies and Chickpeas for all of those reasons, but most important we love it because that flavor is so bright with a healthy does of vegetables! The meatballs are made up of chicken, spinach, lemon and greek spices and optionally feta. It's easy to leave that out if you are dairy-free but we love the salty kick it gives the meatballs.
We used a bunch of veggies like red onions, peppers and eggplants to accompany the meatballs, but it's easy to swap out for what's in season or available to you, so long as it cooks in relatively the same amount of time. The chickpeas don't get super crunchy because they're cooked with a lot of vegetables with moisture but they add some nice texture and of course a healthy dose of fiber! All together this dish is so flavorful and likely to be your new favorite sheet pan dinner!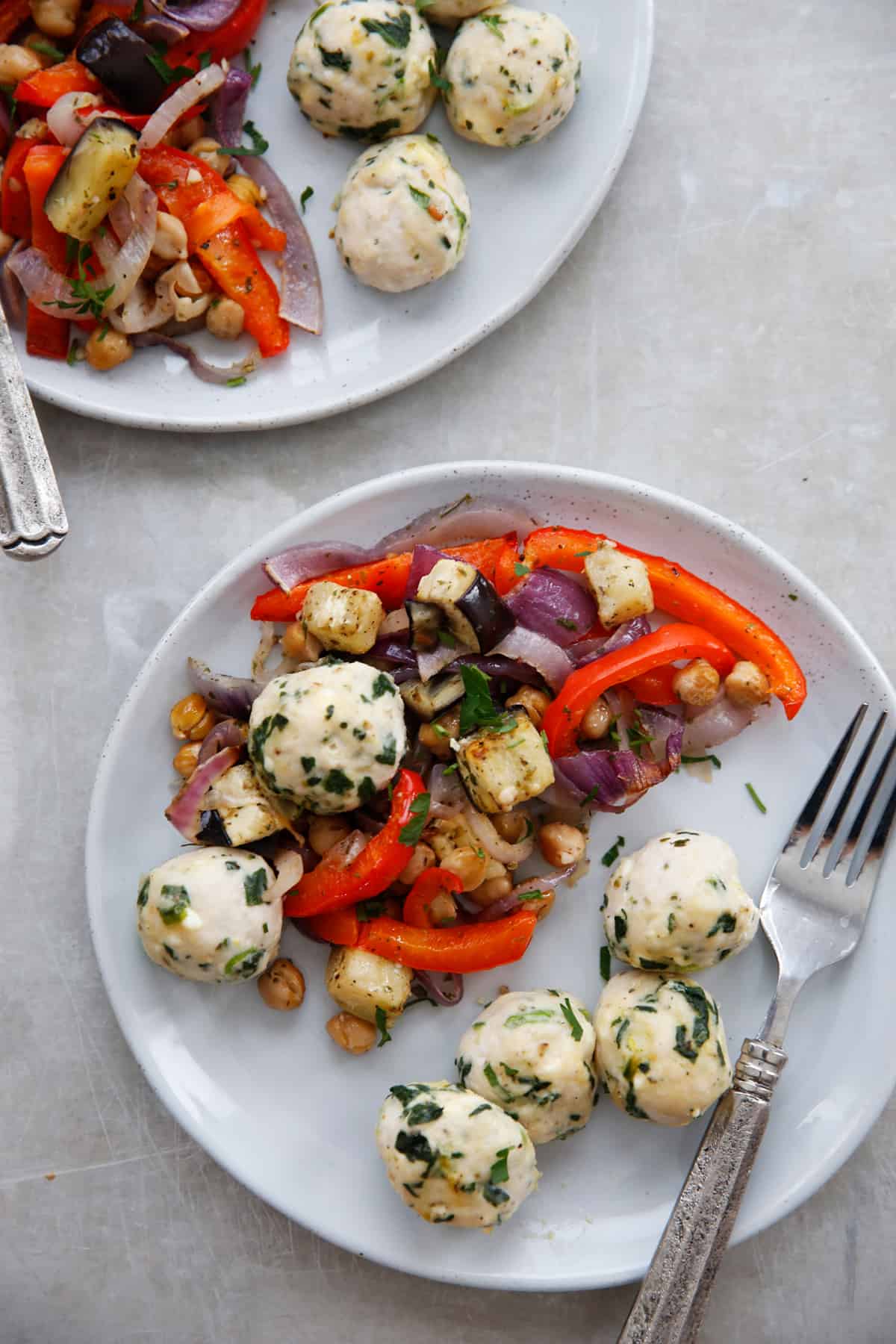 What vegetables go with meatballs?
We love recipes when they're versatile in terms of what veggies you can use, and this sheet pan dinner is no exception. We opted to use red onions, red peppers and eggplants (along with chickpeas) for this dish because they complemented the lemon and herb greek meatballs, but really you could use any veggies that would cook in the directed amount of time. Some other options:
cauliflower (small florets)
broccoli (small florets)
diced zucchini or summer squash
grape tomatoes
Tips for sheet pan cooking:
Sheet pan dinners are the best. Make sure to read the recipe all the way through (of course) and plan to use a timer! This way you can truly walk away from the oven and not have to worry about when you need to add anything for the next step.
Do the prep ahead of time: You can prepare so much of this meal the night before so that right before cooking all you have to do is cook! Chop all the veggies (minus the eggplant, which may brown if left cut overnight) and prepare the chickpeas and spices in a bowl and cover overnight in the fridge. You can also prepare the meatball mixture the night before so all you have to do is scoop them when ready to bake.
Use the correct size sheet pan. When we say sheet pan we are referring to the rimmed half sheet pan which is 18″ by 13″. The size of the sheet pan matters because you do not want to overcrowd the pan when cooking, so if you are using a smaller sheet pan you may need to use 2 to achieve the same result.
Watch the video:
If you like this sheet pan recipe, check out these others:
---
Sheet Pan Greek Meatballs with Veggies and Chickpeas
The infamous Trader Joe's Gnocchi package directions results in soggy gnocchi that nobody wants, so we're going step-by-step for you on How to Make Trader Joe's Cauliflower Gnocchi! It's a quick weeknight meal on a budget and is a great gluten-free alternative to a classic gnocchi. What has become an almost cult classic, is so good, and we've cracked the code on our favorite way to prepare it.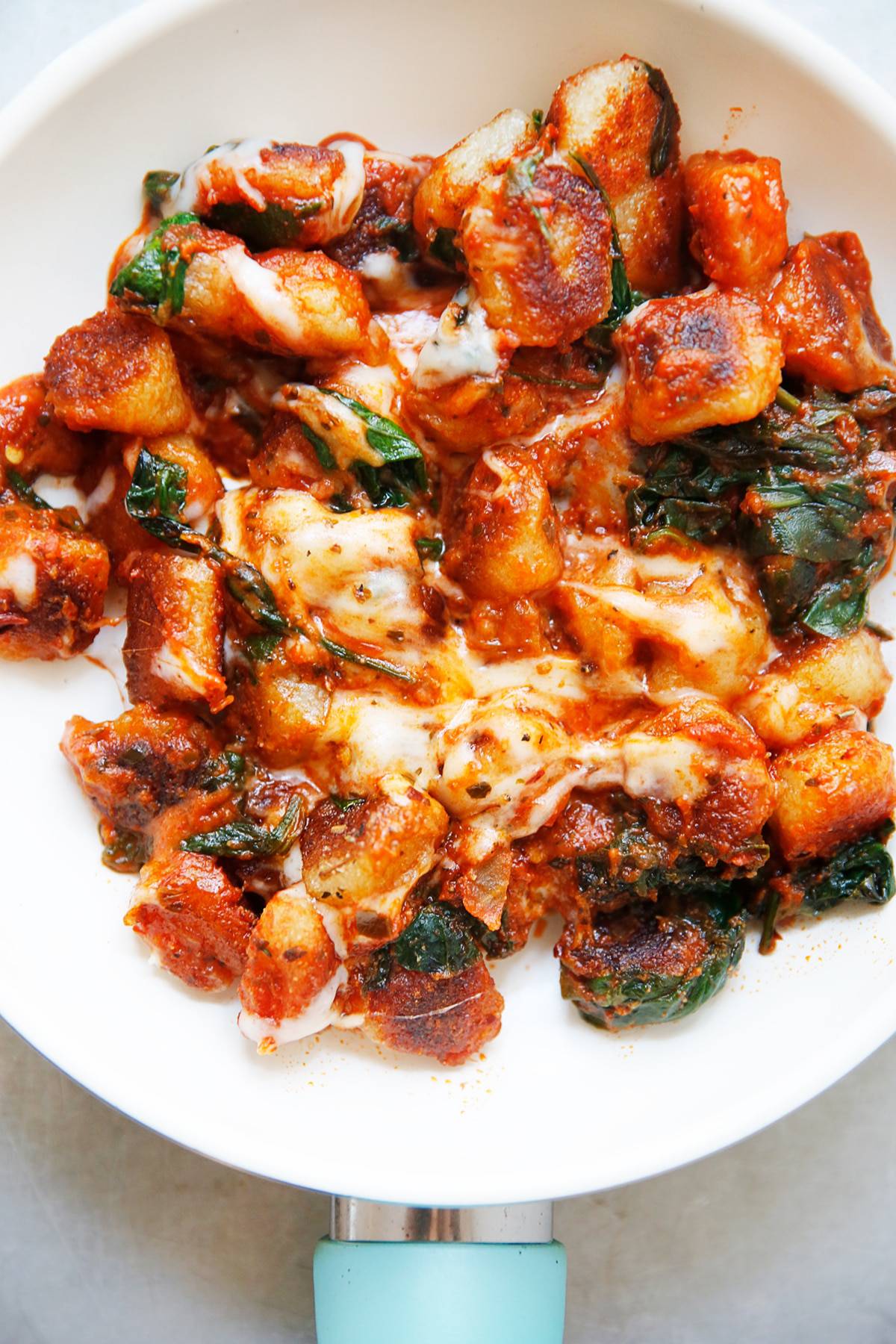 How to Make Trader Joe's Cauliflower Gnocchi
If you haven't heard of the Trader Joe's cult favorite Cauliflower Gnocchi, let us tell you a little bit about it! It's inexpensive, sold for under $3, and made gluten-free with a hearty dose of veggie. Traditionally gnocchi is made with cooked potatoes that are bound together with egg and wheat flour. The TJ version is made with cauliflower and cassava flour, and a few other ingredients. To be clear, it's not necessarily low-carb but it's a healthier take with a classic flavor. The package directions produce a finished product that is a bit suspect so we're going to go through step-by-step on How to Make Trader Joe's Cauliflower Gnocchi into a quick weeknight Italian dinner!
How do you cook cauliflower gnocchi?
There are a few different ways to cook cauliflower gnocchi. But there is one way not to cook it, and that is do not cook it according to the package directions. We are looking for gnocchi that isn't mushy and has a nice crispy coating so we're using cooking methods that do just that!
In the skillet: This is by far the easiest and simplest method (and our favorite)! The main directions in our recipe include the step-by-step for skillet cooking because it is our preferred method for the best tasting gnocchi. It also makes the meal a one-pan dinner which is always a plus.
In the air fryer: This is a simple way to crispy up the gnocchi, but the downside is that this cooking gadget isn't that common and it still means you have to use other pots and pans to make a complete meal.
In the oven: We offer directions for cooking the gnocchi on a sheet pan, but in all honestly it is our least favorite method. In order to achieve crispy gnocchi it has to have a long cook time, and just isn't very efficient. But will lend itself to crispy gnocchi if left in there long enough.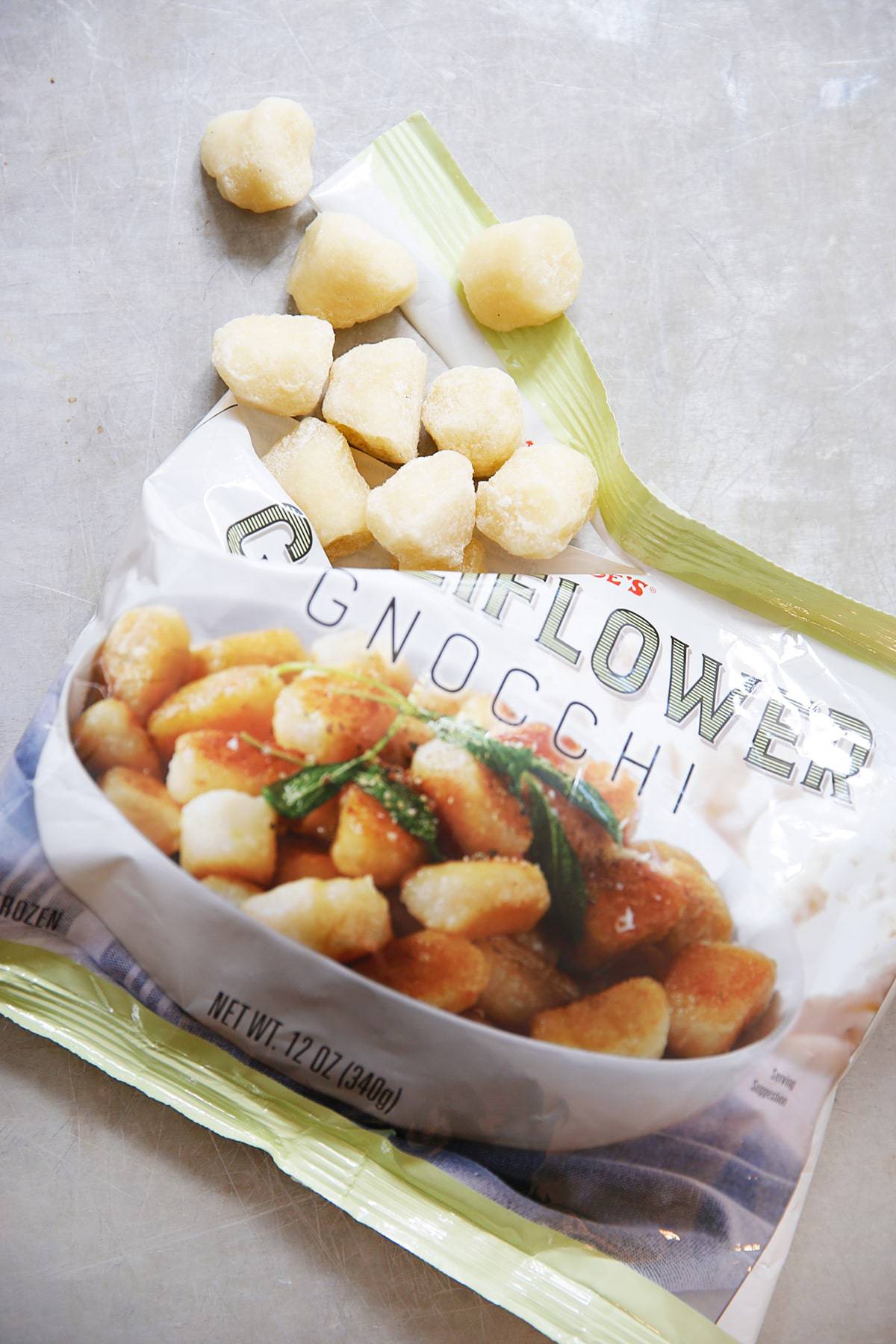 What do you serve with Cauliflower Gnocchi:
We serve this recipe with store-bought tomato sauce, spinach and cheese. It makes it a complete meal that is made in one pan and ready in under 30 minutes. Alternatively you could use a homemade tomato sauce, homemade meat sauce, a pesto, a pumpkin sauce or really any sauce that tastes good with gnocchi!
The TJ's cauliflower gnocchi is also a hit when served alone as an appetizer with a dipping sauce!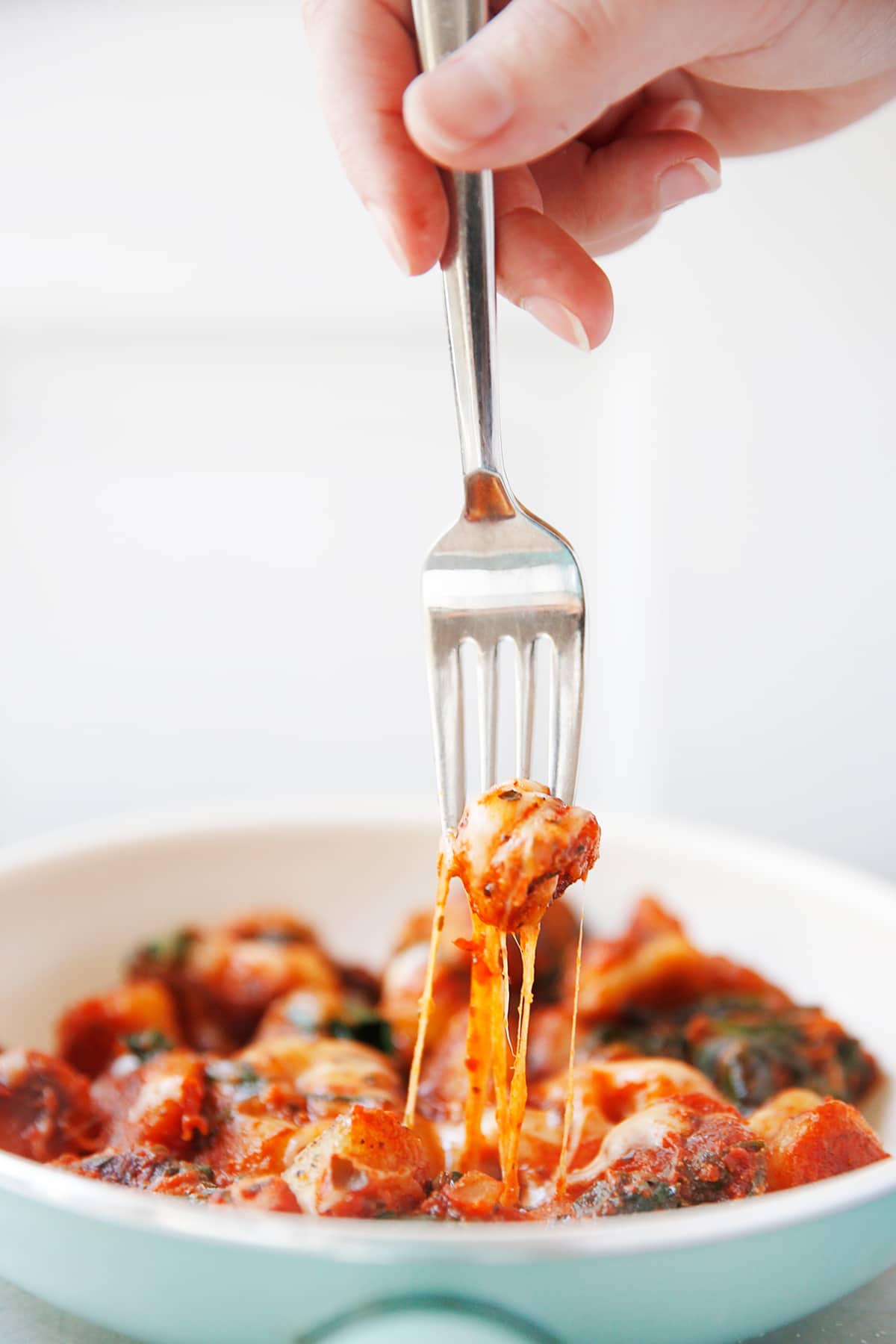 Tips on getting your hands on Cauliflower Gnocchi
Admittedly there is a Cauliflower Gnocchi craze going on, coupled with a delay in getting shipments in to some stores. So we had trouble getting our hands on cauliflower gnocchi for a few weeks. Hopefully they'll be producing more of this product now that they know it's a hit. Follow these tips to get your hands on Cauliflower Gnocchi:
Call ahead and ask them to set some aside for you.
Find out when they get the shipments in, typically late at night before closing or first thing in the morning, so call ahead or plan to be at the store then.
Buy in bulk. They are stored in the freezer so if you buy a bunch at a time (who bought 10 bags at once? Ahem… not Lexi….) you won't have to worry for a few weeks/months when they'll be getting in another shipment.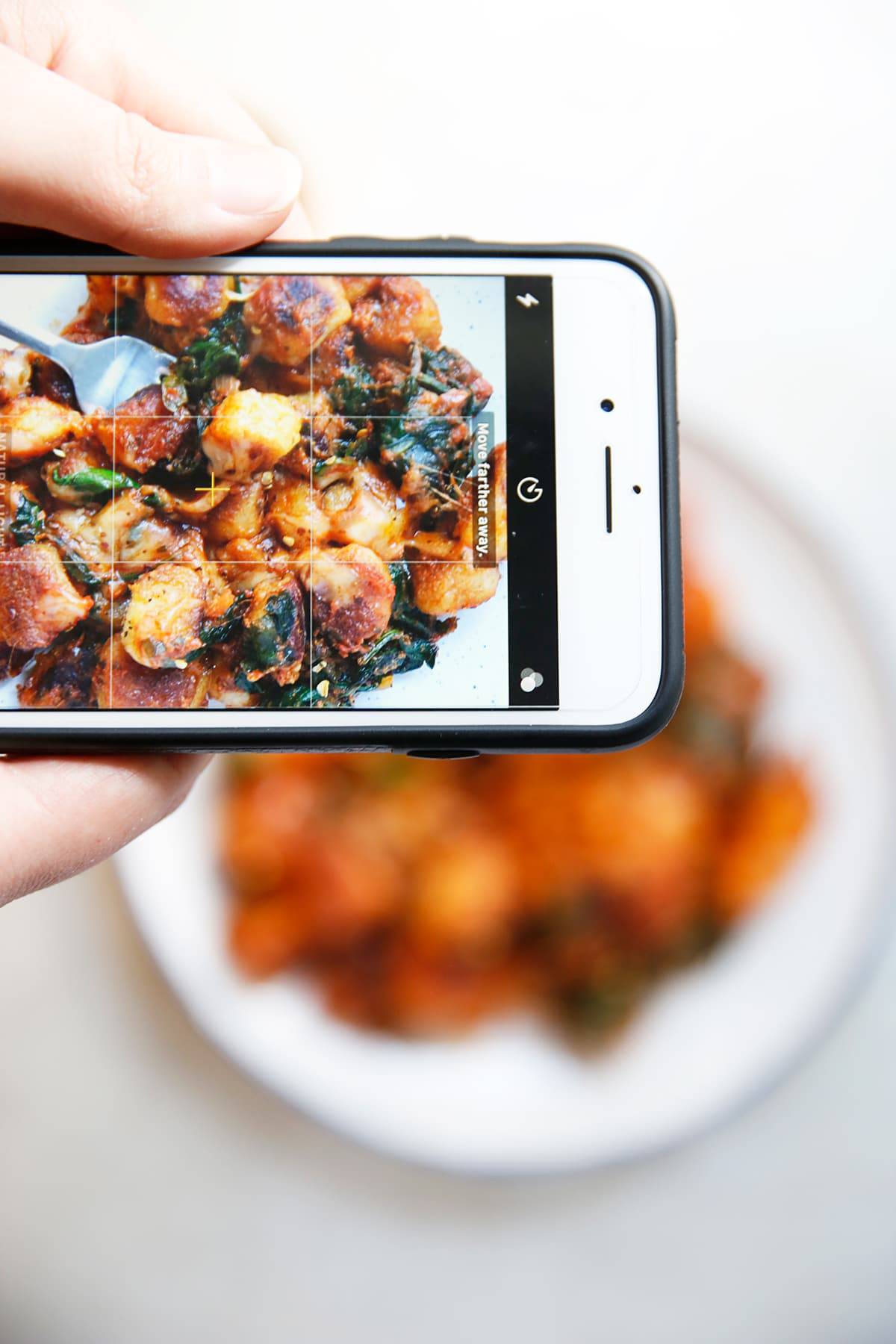 So jump on the Trader Joe's Cauliflower Gnocchi train and get to the store to get yours and make sure to post it to Instagram. Because with this one, if you didn't post it to Instagram, did it even happen?
Watch the video:
If you like this weeknight Italian dinner, check out these others:
---
---
Pin it for later:
What is your favorite way to make Trader Joe's Cauliflower Gnocchi?
How to Make Trader Joe's Cauliflower Gnocchi
This Loaded Paleo Breakfast Hash is such a delicious hash for weekend BRUNCH or when you are craving breakfast for dinner! The spicy chicken sausage and bacon pair so perfectly with the sweet potato, onions, and peppers. It can be eaten as is for a veggie and protein filled breakfast, or topped with an egg!
Loaded Paleo Breakfast Hash
Normally when preparing sweet potatoes for breakfast I make these Roasted Cinnamon Sweet Potato Home Fries. But today, seeing as it was a 'breakfast for dinner' kind of night, I decided to be adventurous. I loaded up my skillet and cooked up a hash that was a huge hit. This loaded hash with eggs and hot sauce… I think I could be in heaven!
Ingredients Needed:
Olive oil
Garlic
Sweet Potato
Red Pepper
Green Pepper
Onion
Tomato
Chicken sausages
Bacon
Salt and pepper
Baby spinach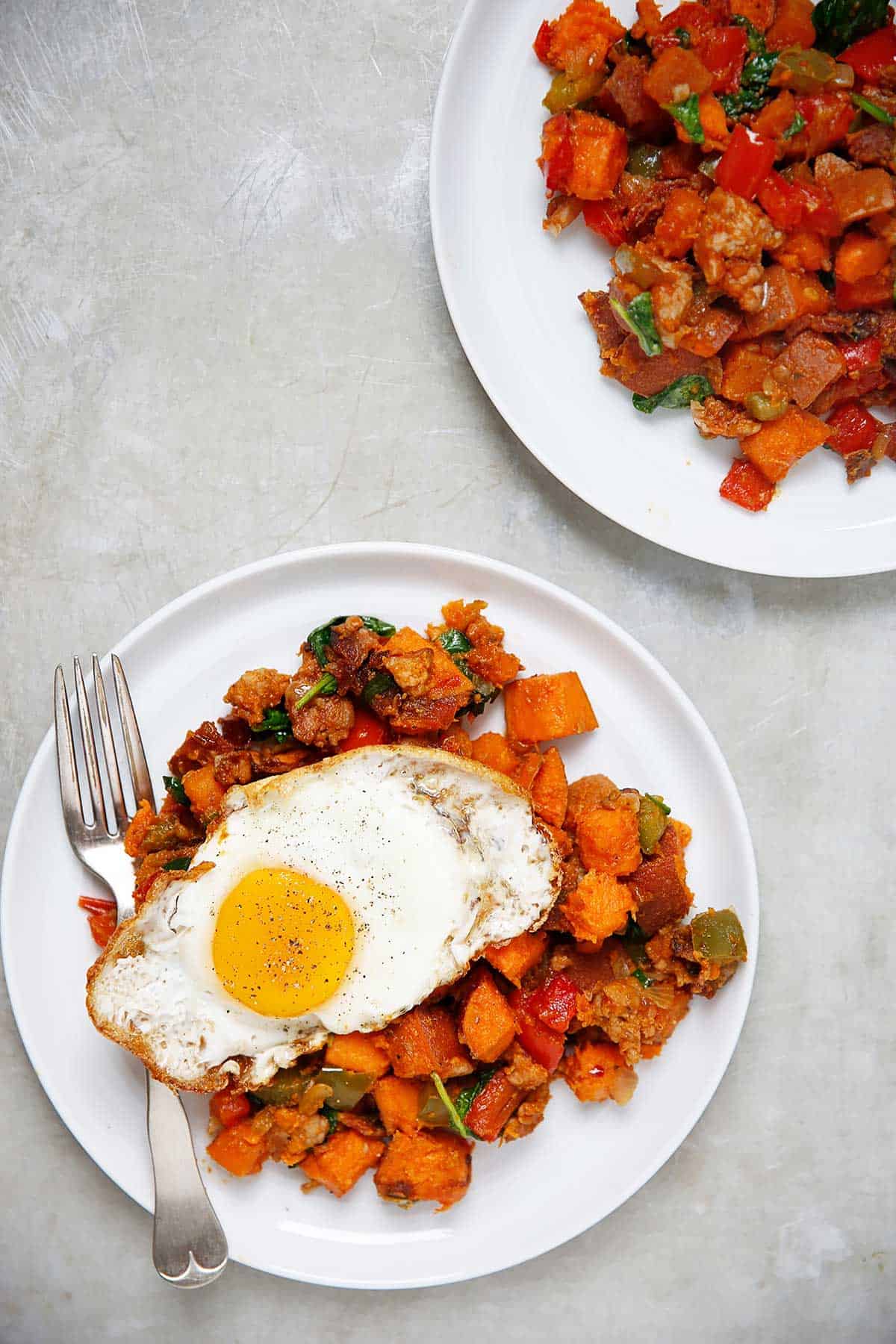 This would also be a great make ahead breakfast idea that you can prep ahead of time on a Sunday and enjoy the next three mornings, with or without eggs! It's great because it's packed with veggies, protein and fat and will keep you satisfied for the whole morning!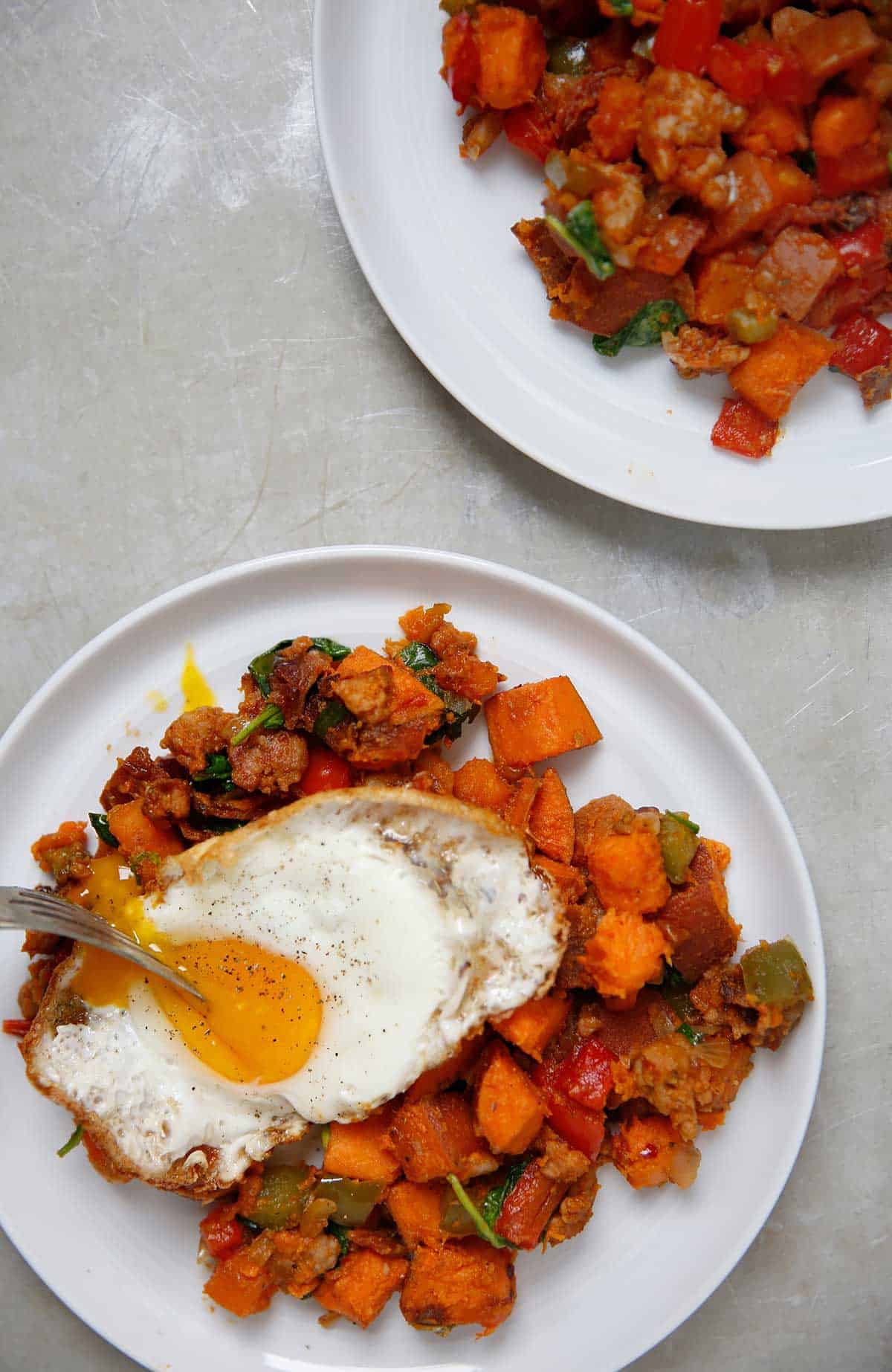 If you like this Sweet Potato Hash Paleo recipe, check out these others:
Loaded Paleo Breakfast Hash
This Creamy Tuscan Chicken recipe is what dreams are made of! This easy weeknight dinner is creamy without any dairy, with bacon, sundried tomatoes and spinach and so delicious. This dish is Paleo, Keto and Whole30 friendly and bound to be a new family favorite! Made in partnership with my friends at Shenandoah Valley Organic!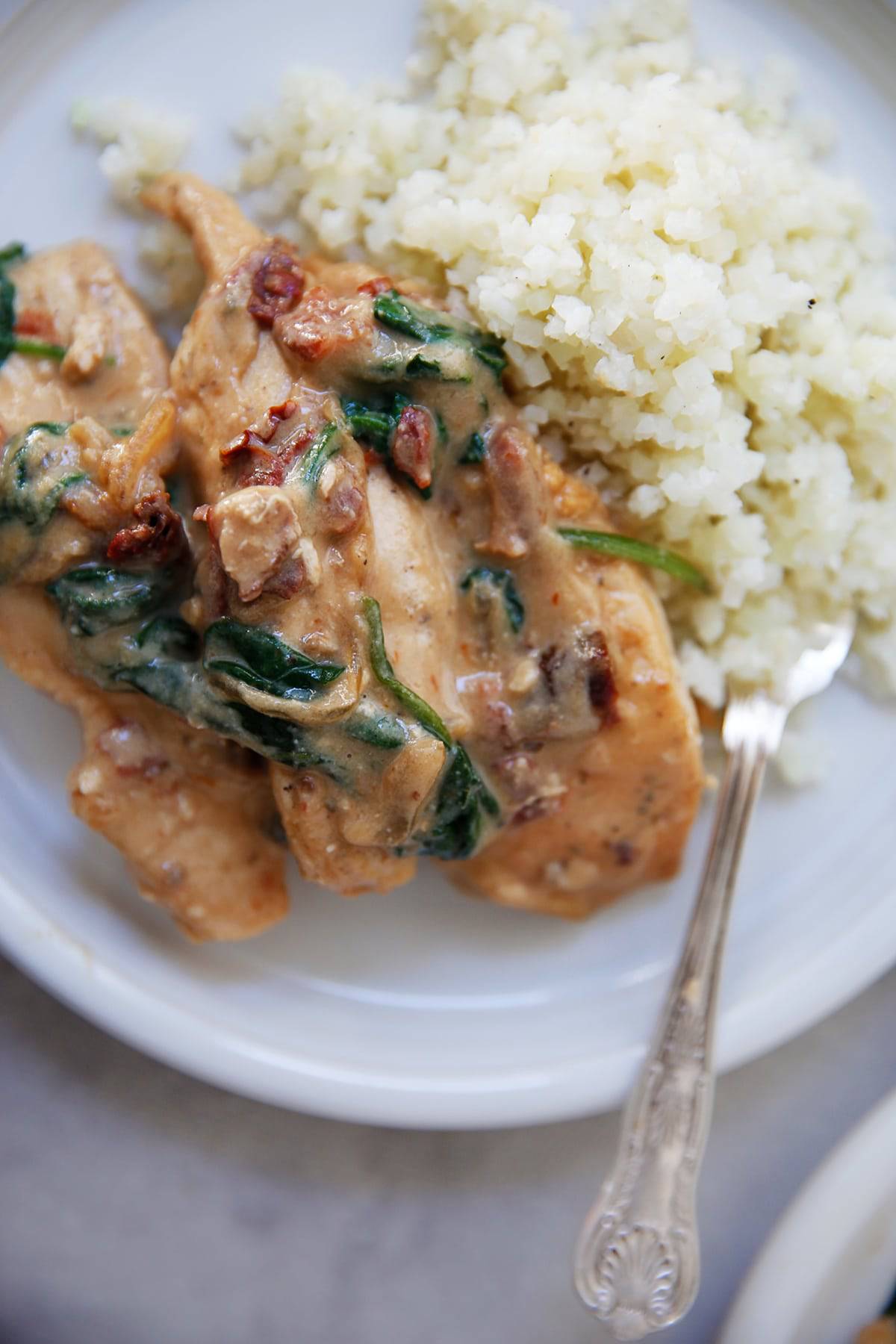 Creamy Tuscan Chicken
We had a vision of what we wanted this dish to be: we wanted the creamiest and dreamiest weeknight dinner loaded with salty bacon, briny sun-dried tomato, veggies for health and the best chicken we could find. We are so happy to say we think we hit the mark with this Creamy Tuscan Chicken dinner!
Making this recipe was both thrilling and stressful because we were so set on this creamy dish not containing any cream and it went through several rounds of recipe testing to get it just right: 5 to be exact! We started off using almond milk as the creamy component. While the resulting dish was tasty it wasn't creamy and the almond milk was overpowered by the strong flavor of bacon and sundried tomato. Next up we tried coconut cream. This one was a no-go for me because I have a strong aversion to food tasting like coconut when it's not supposed to. And then, after that second failed attempt I had an epiphany: cashew cream! Cashew cream is what dreams are made of! It doesn't take on a strong cashew flavor, it doesn't separate, it's easy to make, nutritious and it makes the dish so creamy.
Once we went in that direction we tested it a few more times to makes sure it's JUST RIGHT for you, and well, because we wanted to eat more of it!
How we serve this:
We served this easy weeknight dinner up with cauli-rice, but it would be equally delicious over pasta, with white rice, cauliflower gnocchi (our Trader Joe's favorite right now), or even a bed of sautéed greens!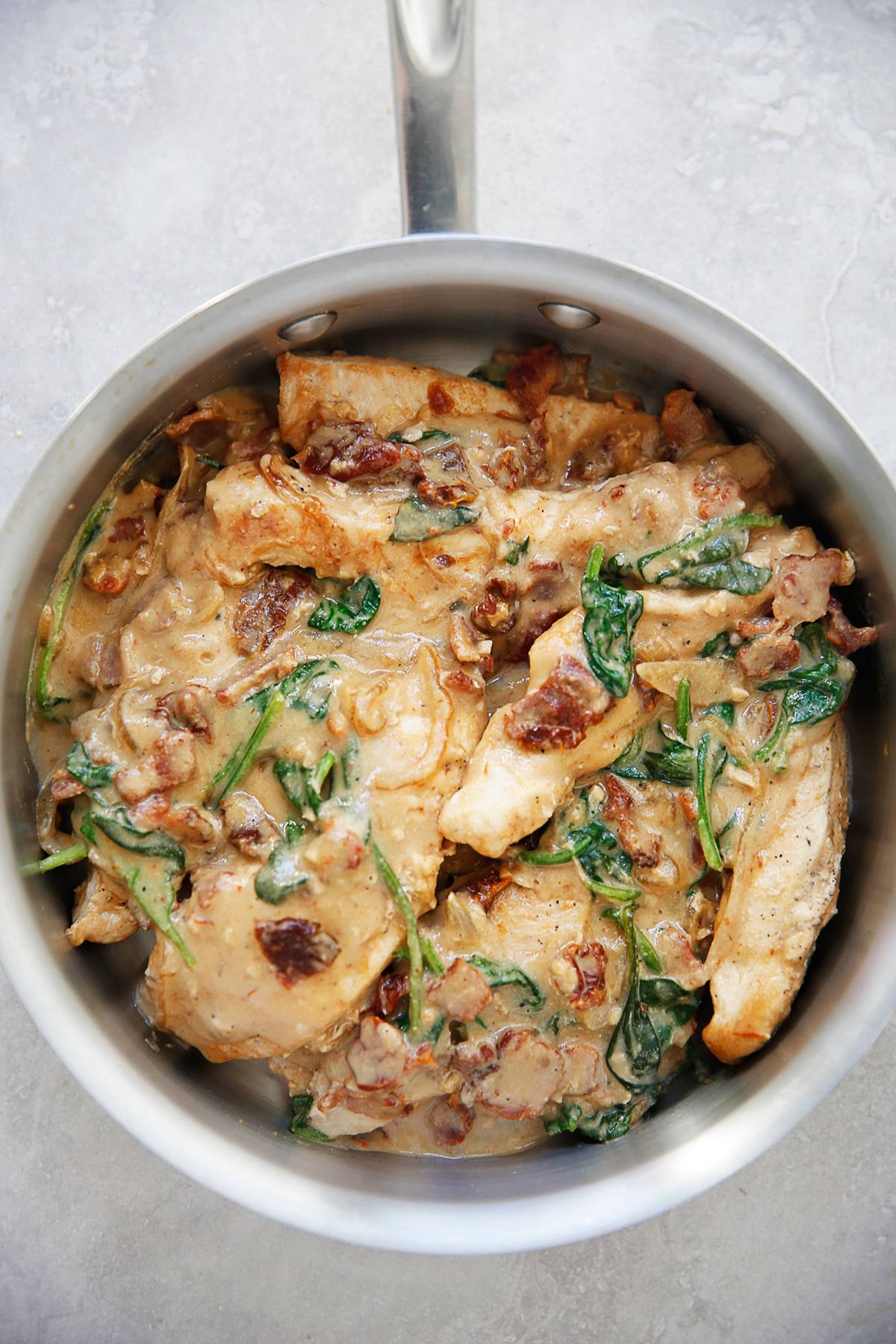 I am so happy to partner with my friends at Shenandoah Valley Organic to bring you today's Creamy Tuscan Chicken recipe! Shenandoah Valley Organic is my go-to trusted chicken company because they pride themselves in producing the highest quality chicken grown on family-owned farms. I love the quality so much, and everyone in my family who tries it agrees! It's the best, and I love supporting their farmers and a company that is working hard to do things right!
SVO chickens are humanely raised and fed a diet free from animal byproducts, pesticides, and antibiotics. On their website you can see where all of the farms are located, so you know just where your chicken was raised! Pretty cool if you ask me! You can also use their easy store locator to find where you can get this amazing quality chicken near you!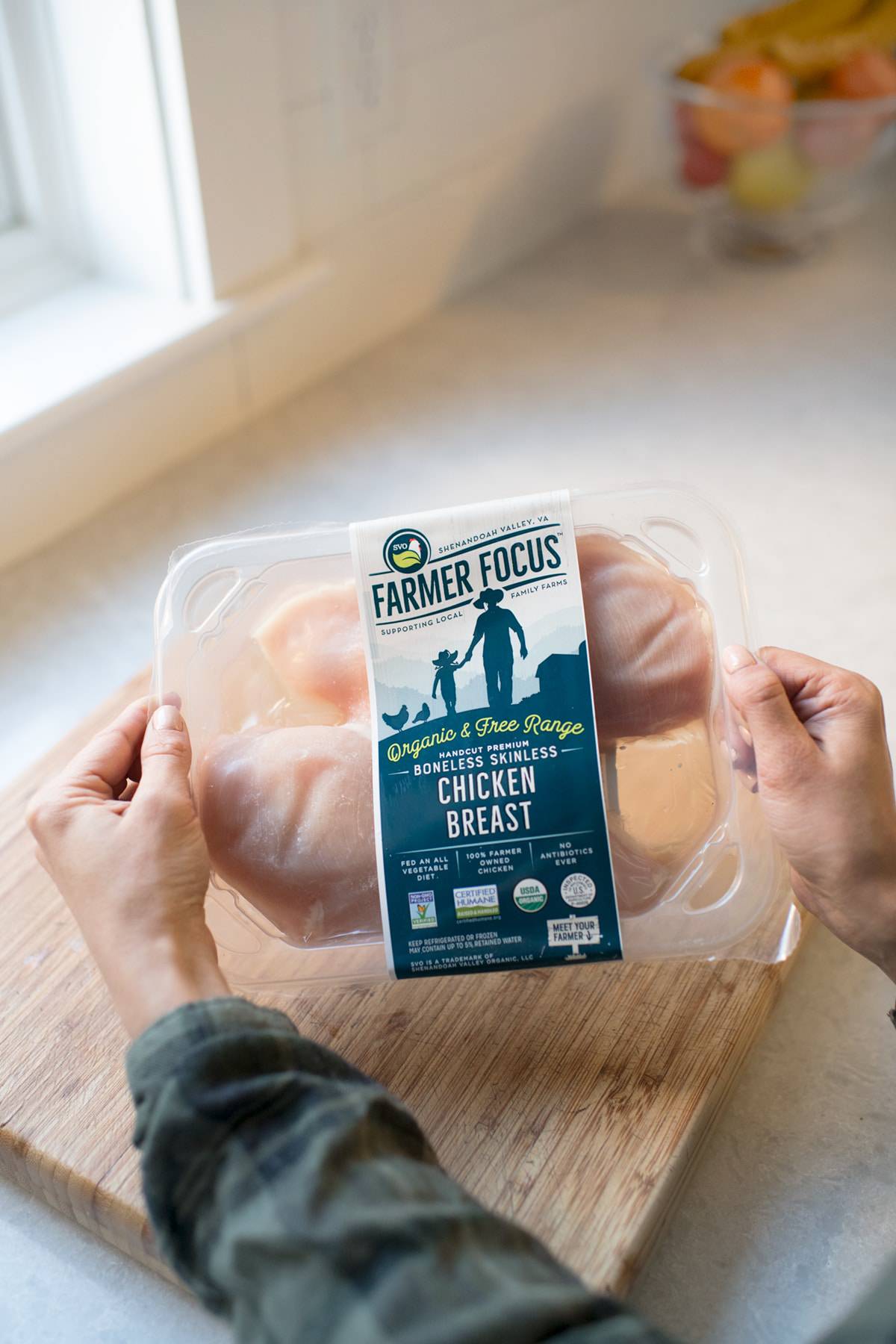 How do I Make Cashew Cream
We have a whole post dedicated to this! Check out How to Make Cashew Cream for all the details!
What is Cashew Cream Used For?
We love using it as a dairy-free sub to make things CREAMY! Unlike coconut cream or coconut milk that can often leave a taste, cashew cream makes things instantly creamy, without any coconut taste! It's totally dairy-free, and delicious! You can use it in savory or sweet dishes!
Other uses for Cashew Cream:
This recipe makes a bit more cashew cream than is needed, as it's easier to blend a larger amount than a smaller amount. There are endless ways to use cashew cream, basically use it in any place you would use heavy cream! Here are some ideas:
Creamy Pasta Sauce
Salad Dressing
Coffee Creamer
Ice Cream
Queso Dip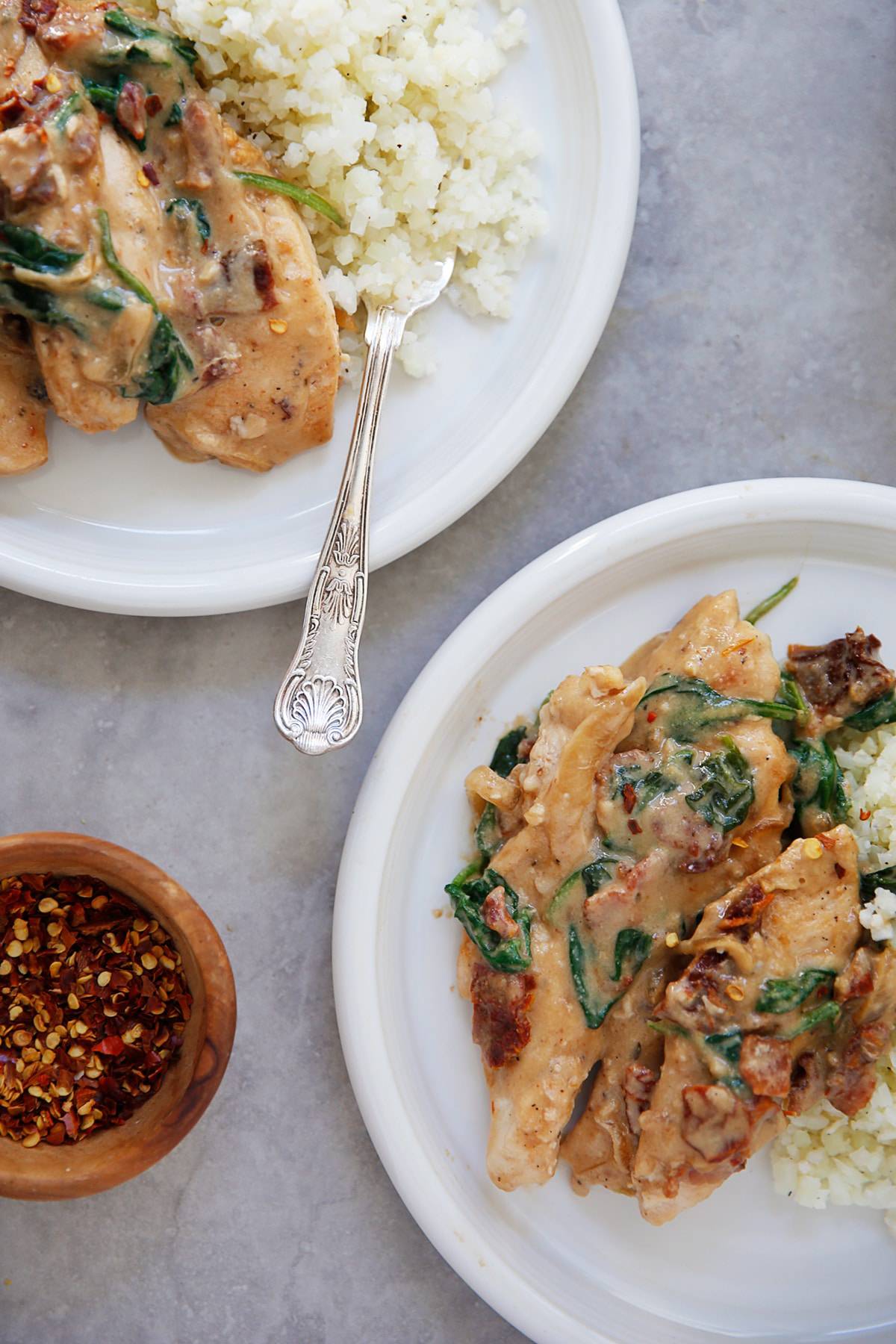 Watch the video!

If you like this simple weeknight chicken dinner, check out these other favorites:


This post is sponsored by Shenandoah Valley Organic! All thoughts and opinions are always 100% my own! I love the integrity of their products and think you'll love them too. Thank you for continuing to support LCK and the brands I work with!
Creamy Tuscan Chicken (Paleo & Keto)
Looking for a healthy and fun breakfast idea? These Spinach Pancakes are kid-approved and so delicious! They're made healthier using gluten-free flours, but nobody will know it! They're fluffy and cook up perfectly!
Healthy Spinach Pancakes
St Patrick's Day is around the corner and whether you have Irish roots or not, it's all about all things GREEN. I love celebrating holidays, big and small, and adding these healthy Spinach Pancakes into the breakfast rotation this time of year is a fun way to celebrate! These are the best fluffy paleo and gluten-free pancakes, made green with a hidden veggie! Spinach is blended into my classic pancake batter, but you wouldn't be able to tell. They're so delicious! Now let's nourish your family with a festive breakfast packed with good-for-you ingredients!
Ingredients Needed:
Fresh Baby Spinach
Almond Flour
Tapioca Flour
Eggs
Unsweetened Applesauce
Baking Powder
Chocolate Chips
How to Make Green Pancakes
It couldn't be easier to make these pancakes: add all ingredients to a blender and blend until smooth! Then cook in your favorite skillet, making sure add in chocolate chips to the batter while cooking. Serve pancakes hot with maple syrup, if desired!
Can you make them ahead of time?
Because of the spinach in the batter, the pancakes do need to be cooked immediately. However, these pancakes freeze wonderfully! Let them cool completely at room temperature, then freeze on a parchment lined baking sheet. Once frozen, you can place in a bag or storage container for longer storage, about 1-2 months. You can heat up in a toaster or microwave until warmed through.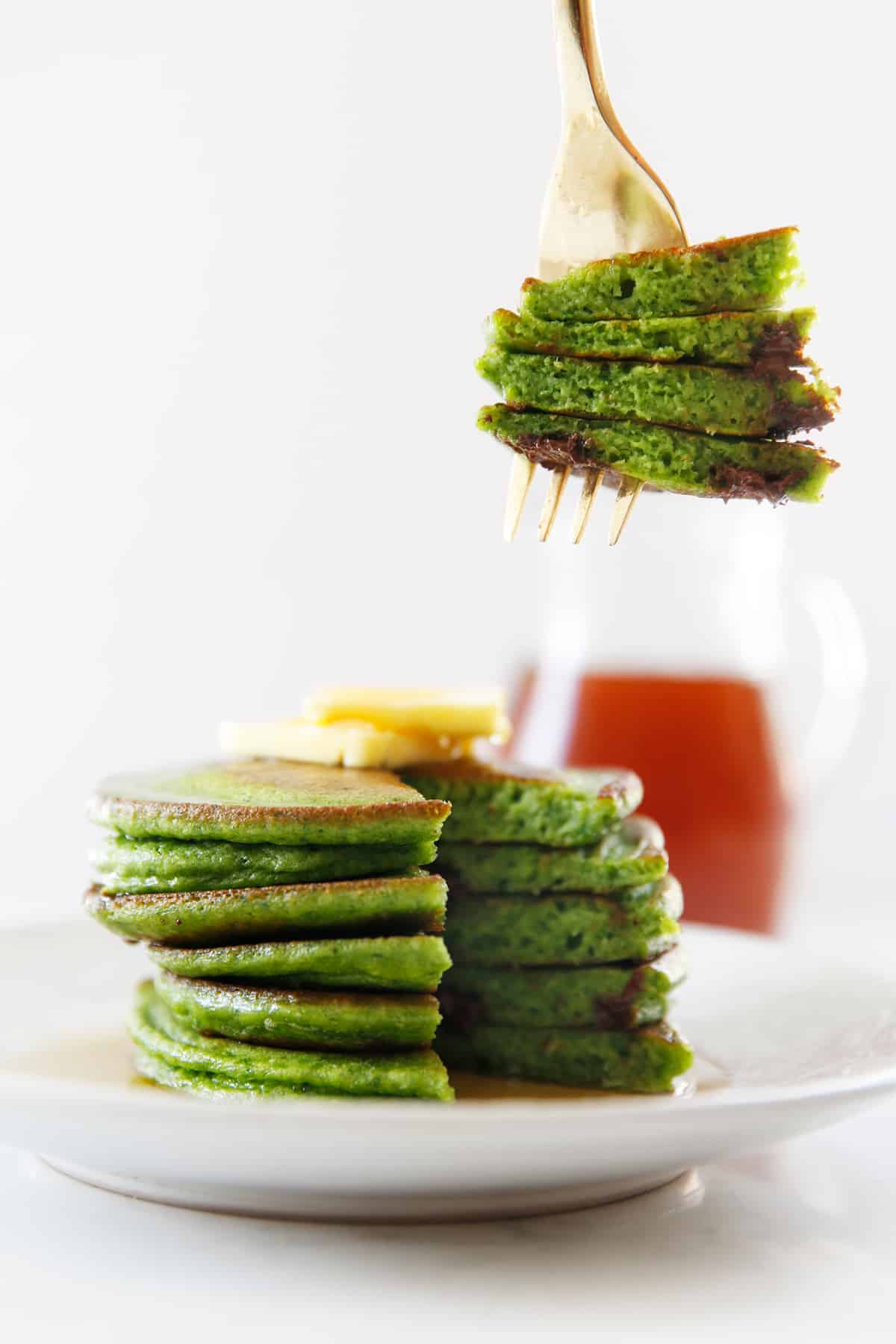 If you like this festive St. Patrick's Day recipe, try these others:
If you like this breakfast recipe, check out these others:
[yumprint-recipe id='262′]
Kid-Friendly Spinach Pancakes
This Spinach Basil Pesto is the perfect condiment for your pasta, chicken, or seafood! It is creamy, flavorful, easy to prepare, and delicious on top of most dishes! Add a flavor boost to your meals with this homemade pesto that coms together in under 5 minutes!
Try it in a pesto chicken salad with this easy shredded chicken!