Healthy Creamed Spinach (Made Without Cream!)
This Creamed Spinach is a lightened up version of your favorite holiday classic and is made without cream for the perfect healthy and veggie-packed side for Thanksgiving! Creamy, flavorful and so simple to make! It's keto friendly and low carb, too! Made in partnership with Pacific Foods.
Healthy Creamed Spinach (Without Cream)
I used to love traditional creamed spinach from this local chicken shop in New York that I grew up with. It was a holiday staple for us, but I knew it was loaded with junk! I am so excited to have made this healthier version!
The star of the show is my new favorite dairy-free milk from Pacific Foods! Their cashew milk is perfectly creamy and so delicious. It's versatile, plant-based, and made with organic and Fair Trade Certified™ cashews!
The cashew milk makes for such a hearty and creamy sauce without any of the dairy… such a win! We used butter in this, but if you want a dairy-free option, feel free to substitute the butter for extra-virgin olive oil and ditch the cheese!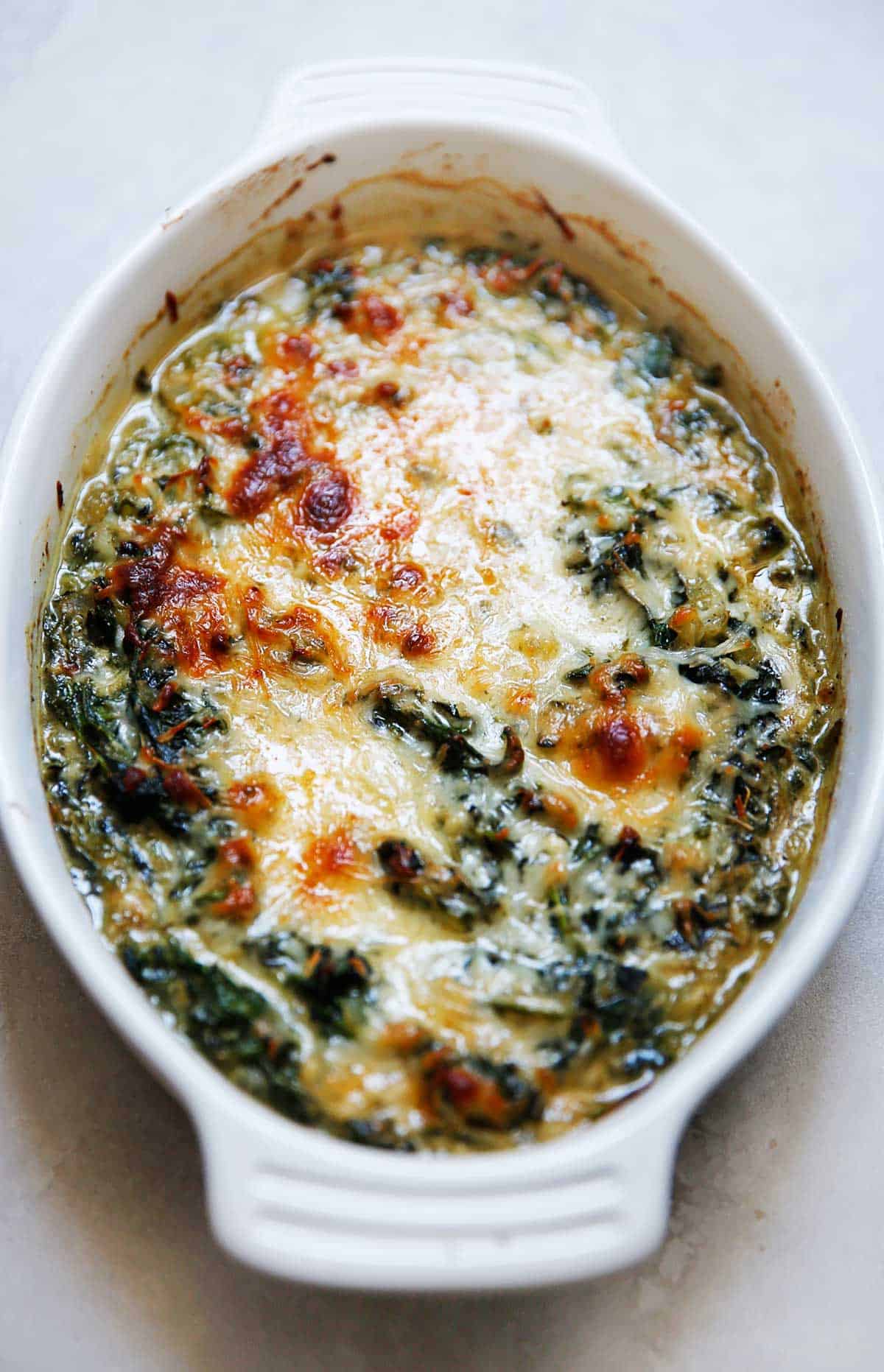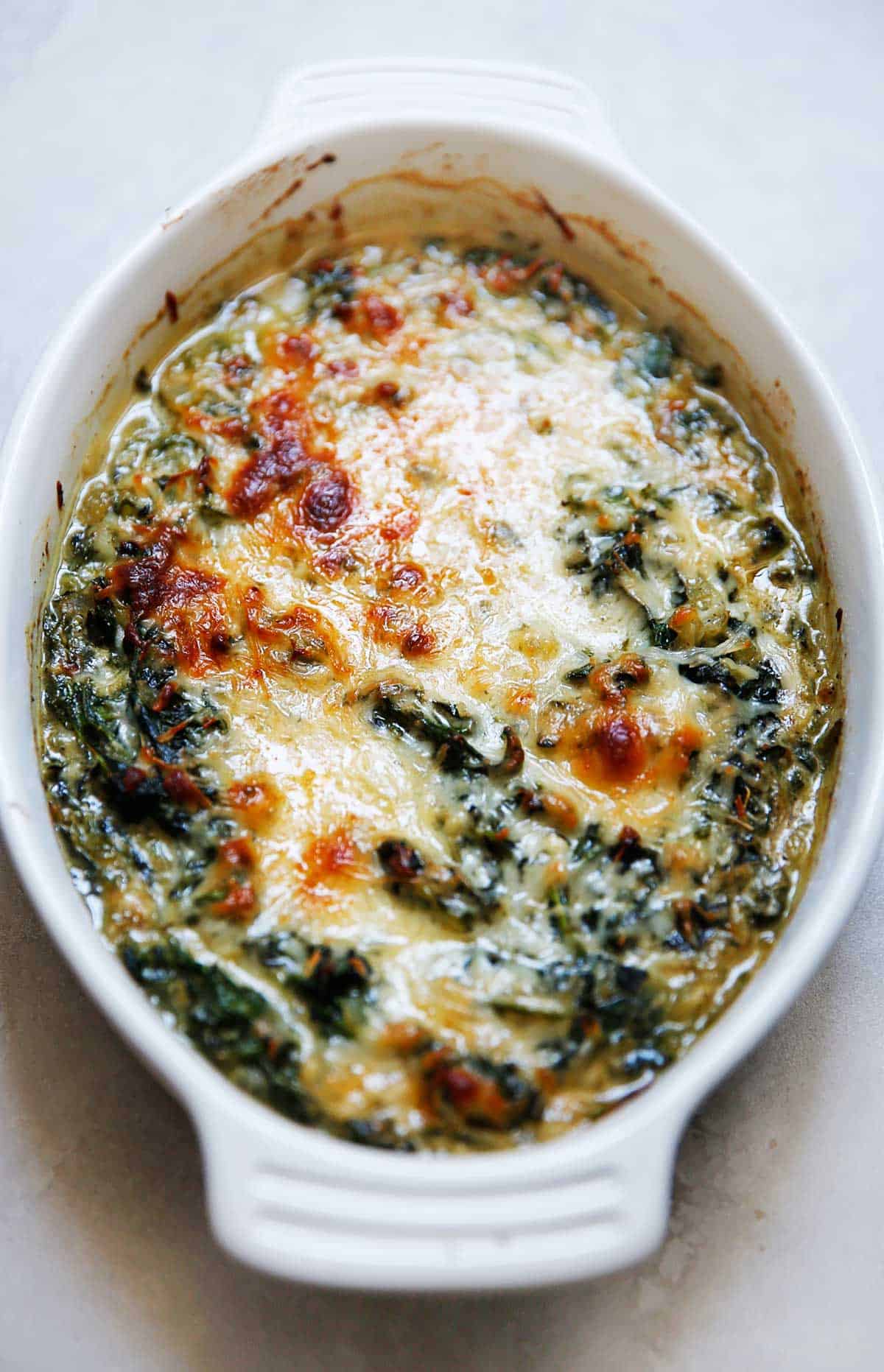 Watch the video here: 
If you like this recipe, try these other Holiday Side Dish Recipes:
Healthier Creamed Spinach
---
---
Directions
Pre-heat the oven to 400°F. Grease a 9x9 baking dish with butter or oil of choice and set aside.
In a large saucepan, heat the butter over medium-high heat.
Add onion and garlic and cook until onion is translucent about 5 minutes.
Add spices and cook for one minute until fragrant.
Add arrowroot flour and stir for one minute until well combined.
Pour in cashew milk. Mix well. Bring sauce to a boil. Once at a boil, lower heat and let simmer until thick enough to coat the back of a spoon. Add in 1/2 cup of parmesan cheese (if using) and whisk until cheese has melted, about 30 seconds. **Make sure the mixture has thickened a good amount before adding spinach.
In batches, add spinach (and kale if using) to the sauce until the greens start to wilt. Taste and adjust seasoning as needed. Take off heat.
Pour spinach/kale mixture into a greased 9x9 casserole dish and top with remaining parmesan cheese. Bake for 20 minutes or until bubbly and the cheese on the top is a golden brown.
Serve warm!
Recipe Notes
Can use dairy-free milk of choice but I do love cashew milk for it's creaminess!
Can omit kale and use all spinach like I did in the video!
Make this whole30 compliant: Use ghee or extra-virgin olive oil instead of the butter and omit the cheese.
---
Nutrition
Loading nutrition data...
This post is sponsored by Pacific Foods. All thoughts and opinions are always 100% my own! I love the integrity of their products and think you'll love them too. Thank you for continuing to support LCK and the brands I work with!
Healthy Creamed Spinach (Made Without Cream!)
This lightened up, healthier version of a Green Bean Casserole is sure to be a crowd pleaser this holiday season! It's dairy-free, made without any soup mix, and EASY to make. It's a fabulous and hearty holiday side dish topped with the most perfect crispy fried onions!
Healthier Green Bean Casserole (Dairy-Free)
I didn't grow up with a green bean casserole during the holidays and now that I've had it (and a version that is cleaned up), I will absolutely be making it year after year!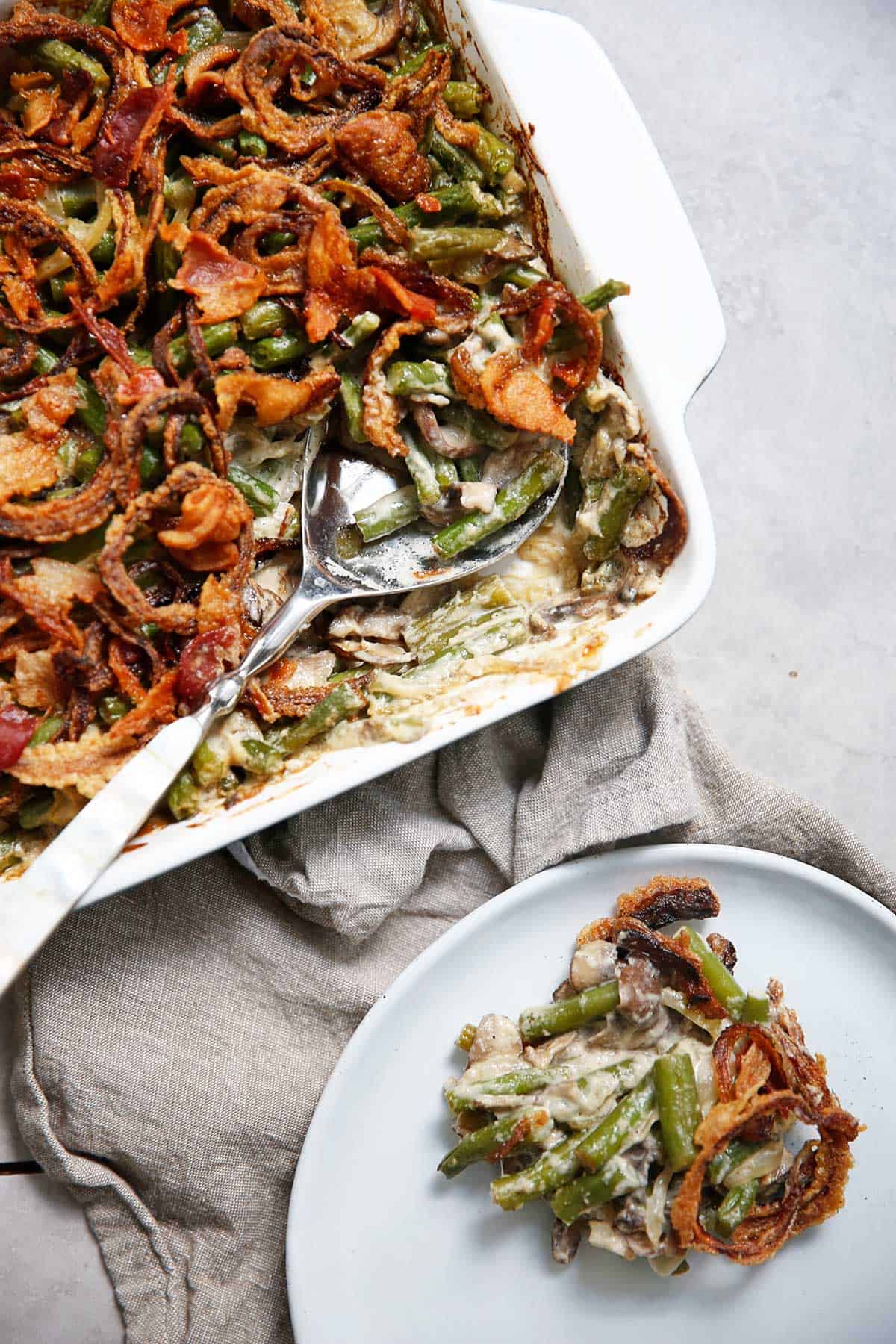 This side dish is:
Creamy, without any of the cream!
Flavorful with aromatic veggies and herbs.
Tender, cooked just right green beans in bite-size pieces.
Topped with perfect crispy fried onions (no white flour here!)
How do you make french fried onions healthier?
Use avocado oil instead of canola oil
Use arrowroot flour instead of white flour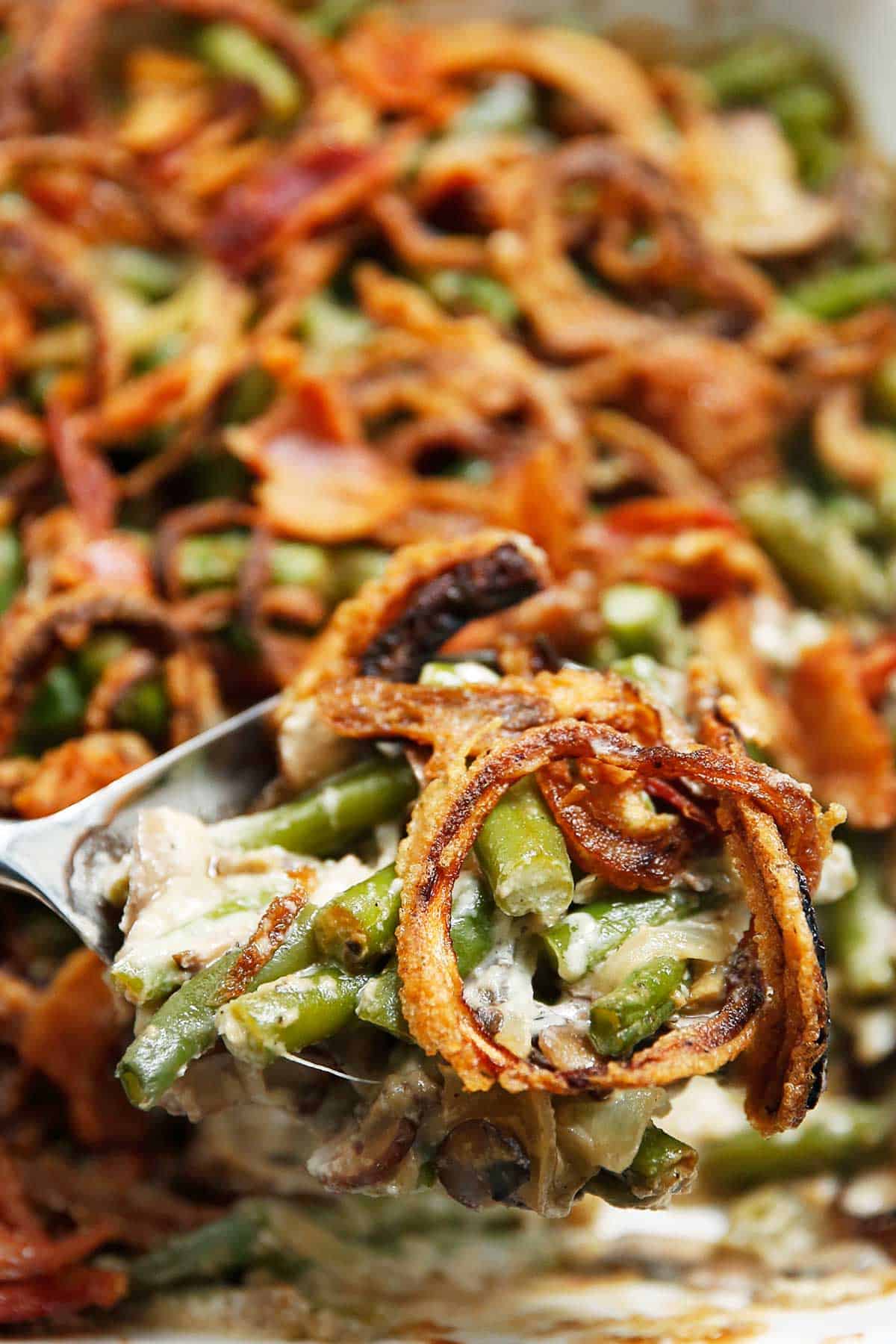 Try these other Thanksgiving Side Dish Recipes:
Watch the video:
Green Bean Casserole
---
---
Ingredients
Crispy onions
Directions
Pre-heat the oven to 350 °F. Grease a 9 x 9 inch baking dish with butter and set aside.
In a small skillet, heat avocado oil until hot. While waiting for the oil to heat up, whisk the egg and arrowroot together in a medium mixing bowl. Working in batches, dip the onion into the egg/arrowroot mixture and then place into the hot oil. Cook for about 2-3 minutes on each side, or until a dark brown. Set aside on a plate lined with paper towels.
Bring a gallon of water and 2 tablespoons of salt to a boil in an 8-quart saucepan. Add the green beans and blanch for 5 minutes. Drain in a colander and immediately plunge the beans into a large bowl of ice water to stop the cooking. Drain and set aside.*See notes for recipe steps if you would rather roast the green beans.
Melt the butter in a 12-inch cast iron skillet set over medium-high heat. Add the mushrooms, 1 teaspoon salt and pepper and cook, stirring occasionally, until the mushrooms begin to give up some of their liquid, approximately 4 to 5 minutes. Add the onion, garlic and coconut aminos and continue to cook for another 1 to 2 minutes. Add the cashew cream and mix well. Add the broth and simmer for 1 minute. Decrease the heat to medium-low and add salt, pepper, onion powder, and garlic powder. Cook over low heat until the mixture thickens, stirring occasionally, approximately 6 to 8 minutes.
Season green beans with salt and pepper. Add green beans to skillet with the sauce and mix until the green beans are well covered. Taste and adjust seasoning as needed. *do not salt the green beans if you roasted them.
Pour the green beans and sauce into the 9 x 9 baking dish. Bake for 30 minutes. Remove from the oven and top with crispy shallot and bacon. Bake for an addition 15-20 minutes, or until green beans are tender and bubbly.
Serve warm!
Recipe Notes
*Cashew Cream: Soak 1/2 cup cashews in 2 cups of water for 4-6 hours or overnight. Drain soaked cashews and rinse well. Place in a high-speed blender with 1/2 cup water. Blend until creamy and thick. Add 1/4 teaspoon sea salt and 1/4 teaspoon black pepper. Place in the refrigerator until ready to use.
**Roast the green beans instead of boiling them:
Pre-heat the oven to 400 °F. Lay the green beans on a sheet tray lined with parchment paper. Season with 1/2 teaspoon sea salt, 1/2 teaspoon black pepper, 1/4 teaspoon onion powder, and 1/4 teaspoon garlic powder. Drizzle with 1 teaspoon of extra-virgin olive oil, or oil of choice. Toss well.
Bake for 20-25 minutes or until tender.
While green beans bake make the sauce and the crispy onions in steps 2 and 4. Add the roasted green beans to the sauce, toss well and place in a 9 x 9 baking dish.
Top with crispy onion and bacon. Bake for 15 minutes or until bubbly!
---
Nutrition
Loading nutrition data...