Dark Chocolate Almond Butter Cups are like the healthier cousin to the beloved store-bought peanut butter cups. Making them at home is easy, using a handful of wholesome ingredients like almond butter, dark chocolate and maple syrup, these chocolate cups are paleo-friendly and made without any refined sugars.
Almond Butter Cups
If you like peanut butter cups (and who doesn't?!) you're going to love these Almond Butter Cups. They're a healthy version of that beloved classic chocolate treat. These chocolate cups are made with simple ingredients you likely already have on-hand and they're so easy to make, there is basically no excuse you can't jump in the kitchen now! Having these healthy treats on hand will surely stop any chocolate craving in its tracks.
Here's what you need to make them:
Dark chocolate chips (72% or higher)
Coconut Oil
Smooth Almond Butter
Maple Syrup or Honey
Vanilla Extract
Coarse Sea Salt, for garnish
What type of almond butter to buy?
We prefer to use a natural style almond butter. When you buy it, it will have a layer of oil on the top. Make sure to stir that in fully before using it in this, or any, recipe. It is more drippy than the creamy version of almond butter, and easier to mix together with the sweetener and extract.
How to Melt Chocolate
Melting chocolate is really the only cooking this recipe requires. We suggest melting chocolate over a double-boiler. Most people don't have a double boiler at home, so make up your own by placing a heat proof bowl over a simmering pot of water. Just make sure that the bowl is not touching the water. Using this method to melt the chocolate is an easy way to melt it, while making sure you don't over cook the chocolate.
The microwave is a great way to melt chocolate, but you can easily cook the chocolate for too long in it, causing the chocolate to break. If you do use the microwave make sure to do it in very short bursts, no more than 20 seconds, and whisking in between each time.
How to Eat and Store Almond Butter Cups
These chocolate cups are best eaten when they are slightly warmed at room temperature (so the chocolate isn't super hard), but they're best stored in the refrigerator or freezer.
They'll keep in the refrigerator for up to 1 week or slightly longer. And in the freezer they'll keep for up to 3 months.
I like to store them in the freezer long term, and then grab out when I'm craving a healthy treat. Let it sit on a plate at room temperature for about 15 minutes and then it will be good to go!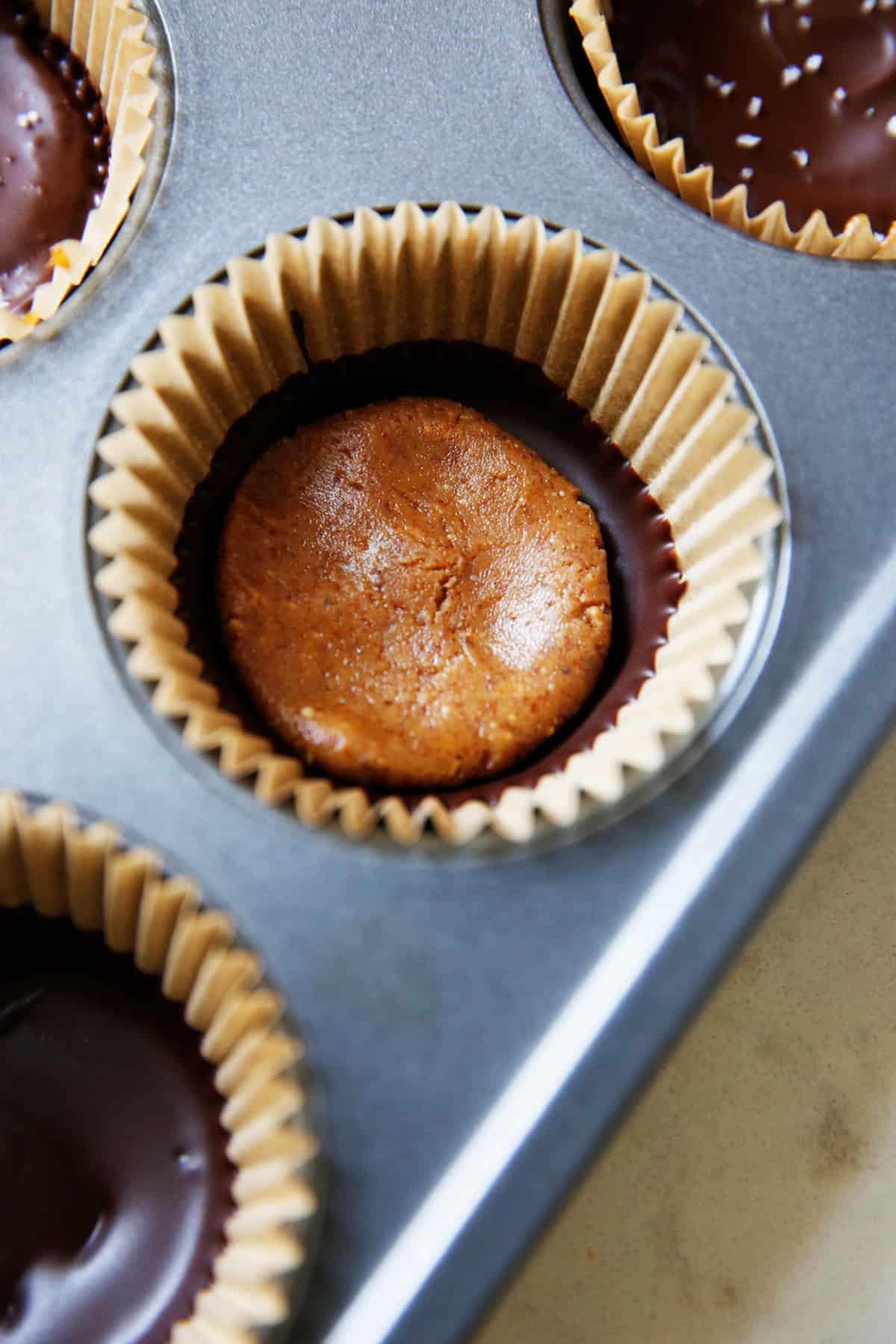 If you like this homemade chocolate cup recipe, check out these others: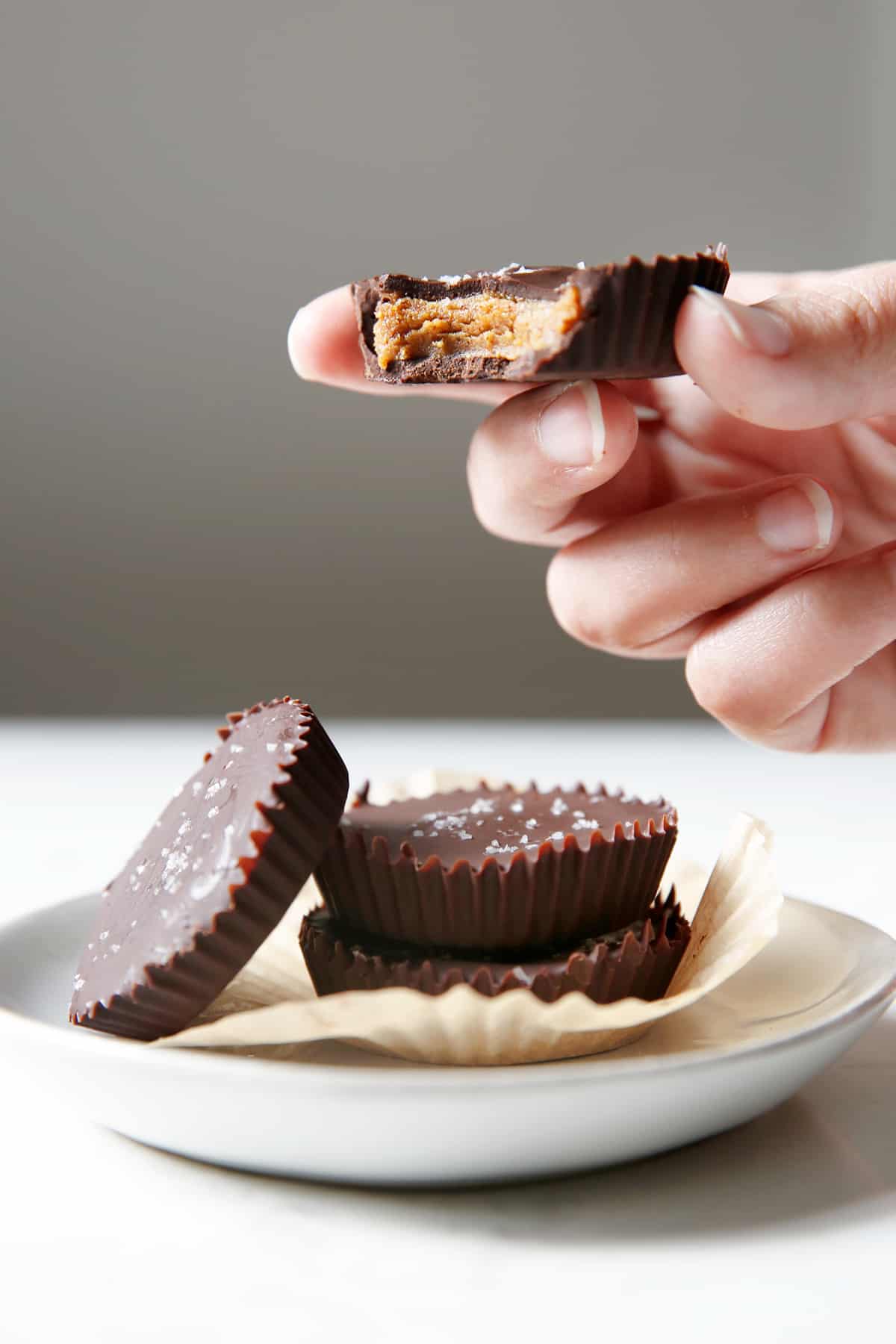 If you like this healthier treat recipe, check out these others:
Sea Salted Dark Chocolate Almond Cups
Directions
1. In a small bowl mix almond butter, honey, and vanilla extract, and place bowl in freezer
2. Set out muffin liners (mini, large, or silicone muffin tins)
3. Melt chocolate: in a pot of simmering water, place chocolate into a bowl resting on top, stir until smooth
4. Drop about 1/2 a tablespoon of chocolate in the bottom of your muffin liners
5. Take almond butter mixture out of the freezer and roll into balls
6. Drop an almond butter ball into the center of your chocolate and slightly flatten
7. Cover with remaining chocolate, sprinkle with sea salt, and place in the fridge or freezer until set
8. Store in freezer for up to one week
Loading nutrition data...
There may be affiliate links in this post! By clicking on them, or purchasing recommended items I may receive a small compensation, at no cost to you! However, I only recommend products I absolutely love and use in my own home! Thank you for supporting Lexi's Clean Kitchen when you shop! See my
privacy policy
for more information about this, the information we save, and more!