Low Carb Tuna Casserole (With Cauliflower)
This Low Carb Tuna Casserole (With Cauliflower) is the perfect comfort food meal! It's easy to prepare, comes together in one casserole dish, and is packed with protein, veggies and we've offered two versions to make it low-carb with or without gluten-free pasta. Made in partnership with my friends at Genova Seafood.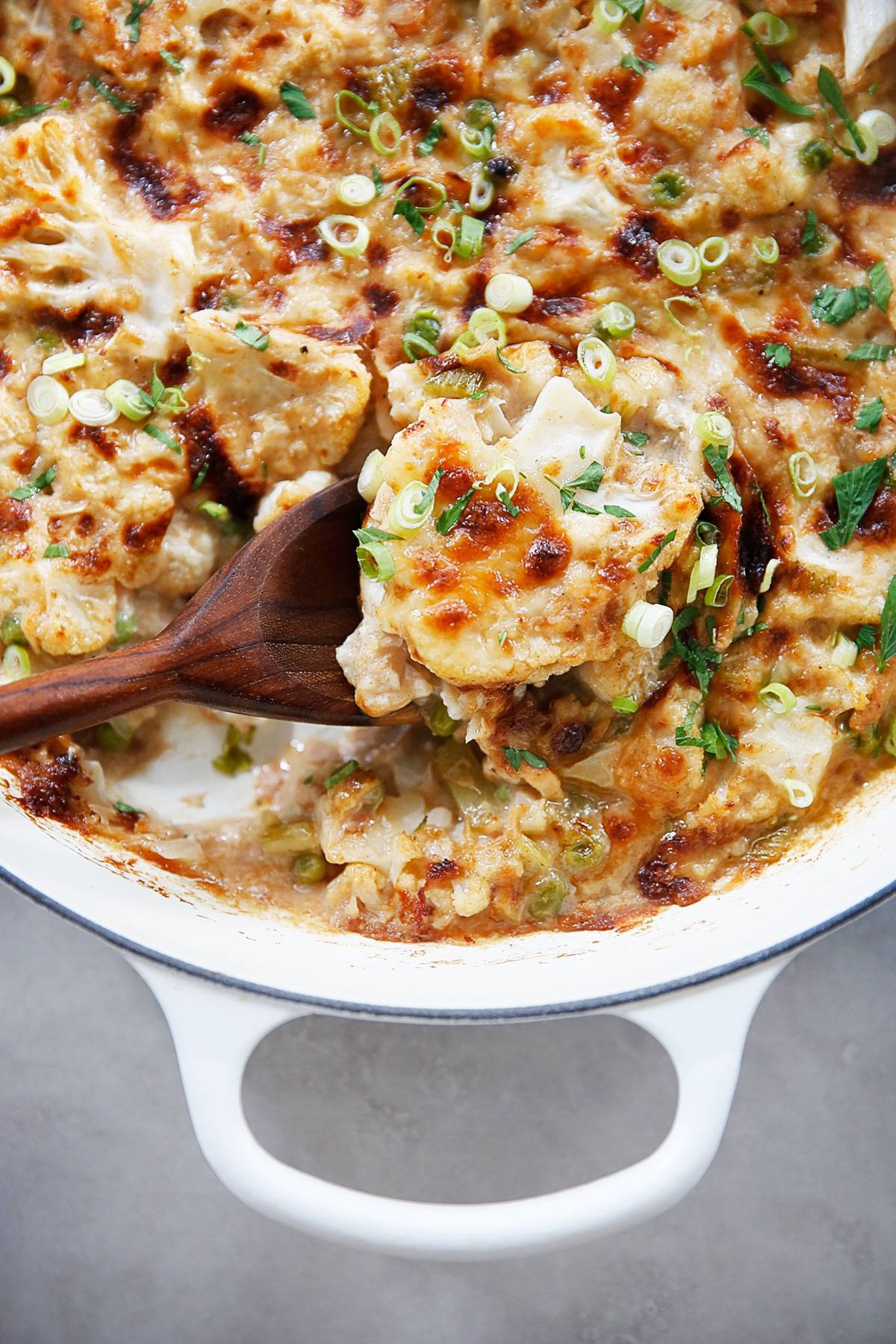 Low Carb Tuna Casserole (With Cauliflower)
Tuna casserole is such a classic comfort food! It's creamy, cheesy and delicious but typically loaded with pasta and processed condensed soup! No hate on that version, but we decided it was time to re-make this dish making it gluten-free and low-carb. We tested two versions, one with pasta and one without so you can choose what amount of carbs you'd like!
For the lower carb version, we use half cauliflower and half brown rice pasta. This version is a bit more kid-friendly and has more of a classic feel to it. For our low carb version we completely swapped out the pasta for cauliflower to keep all that decadent creaminess  without any of the guilt for all of those on a low carb diet (oh hey keto diet). Either way, with whatever version you choose, you're going to be satisfied after eating this tuna noodle casserole!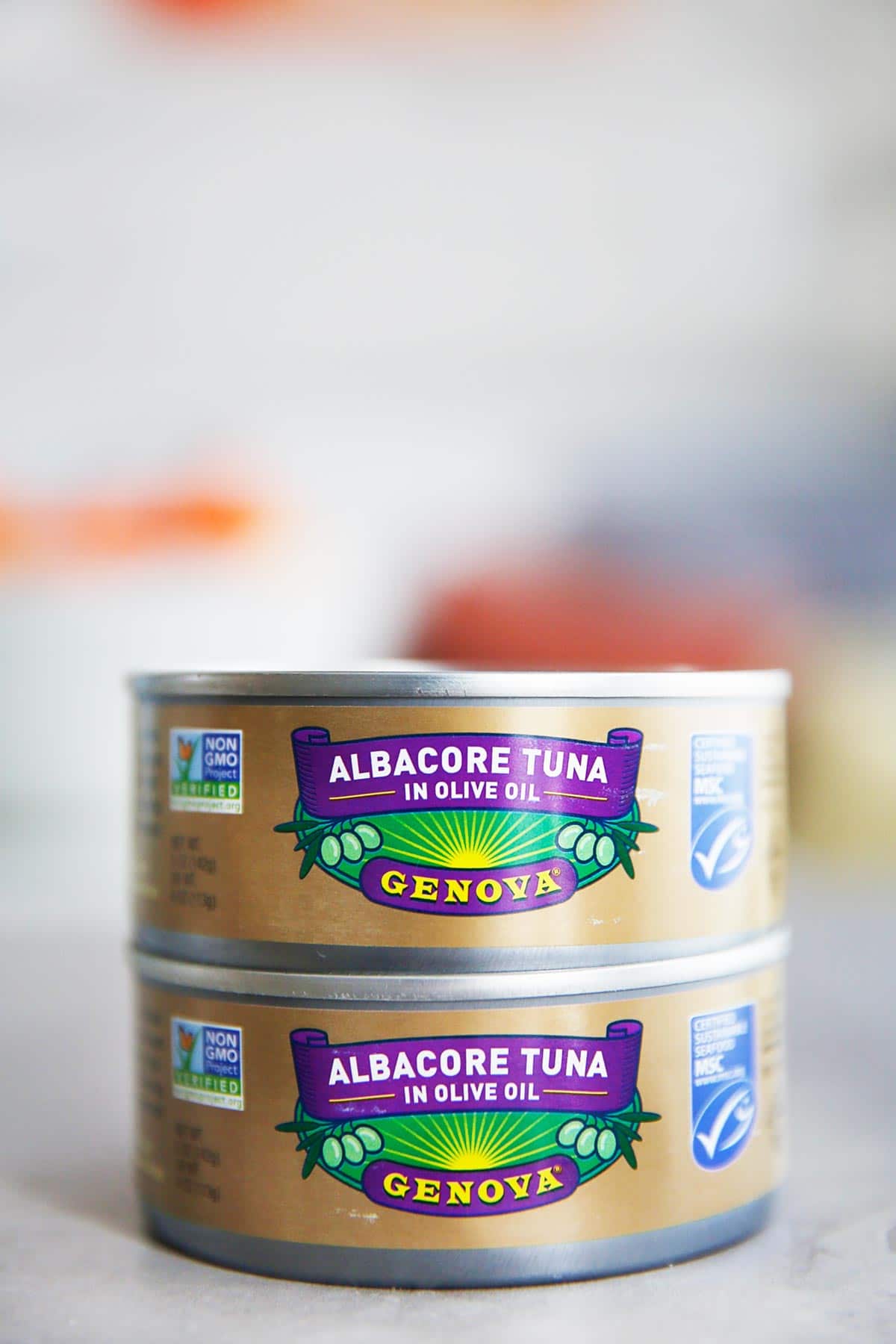 Of course we made this in partnernship with my friends at Genova Seafood. They are my favorite, trusted tuna company. Genova sources 100% of their tuna from fisheries that are MSC certified, meaning their tuna is sustainably sourced! It honestly is the best premium tuna in the purest olive oil. It is my favorite tasting tuna out there! Always non-GMO, wild-caught, and has 14g of protein in every serving!
MSC certified products must meet rigorous standards for sustainable fishing practices, like limiting by-catch (unwanted fish), avoiding overfishing and protecting marine environments. Today, only 12% of global wild caught seafood is MSC certified, and Genova Seafood is one of the companies working hard to make a change!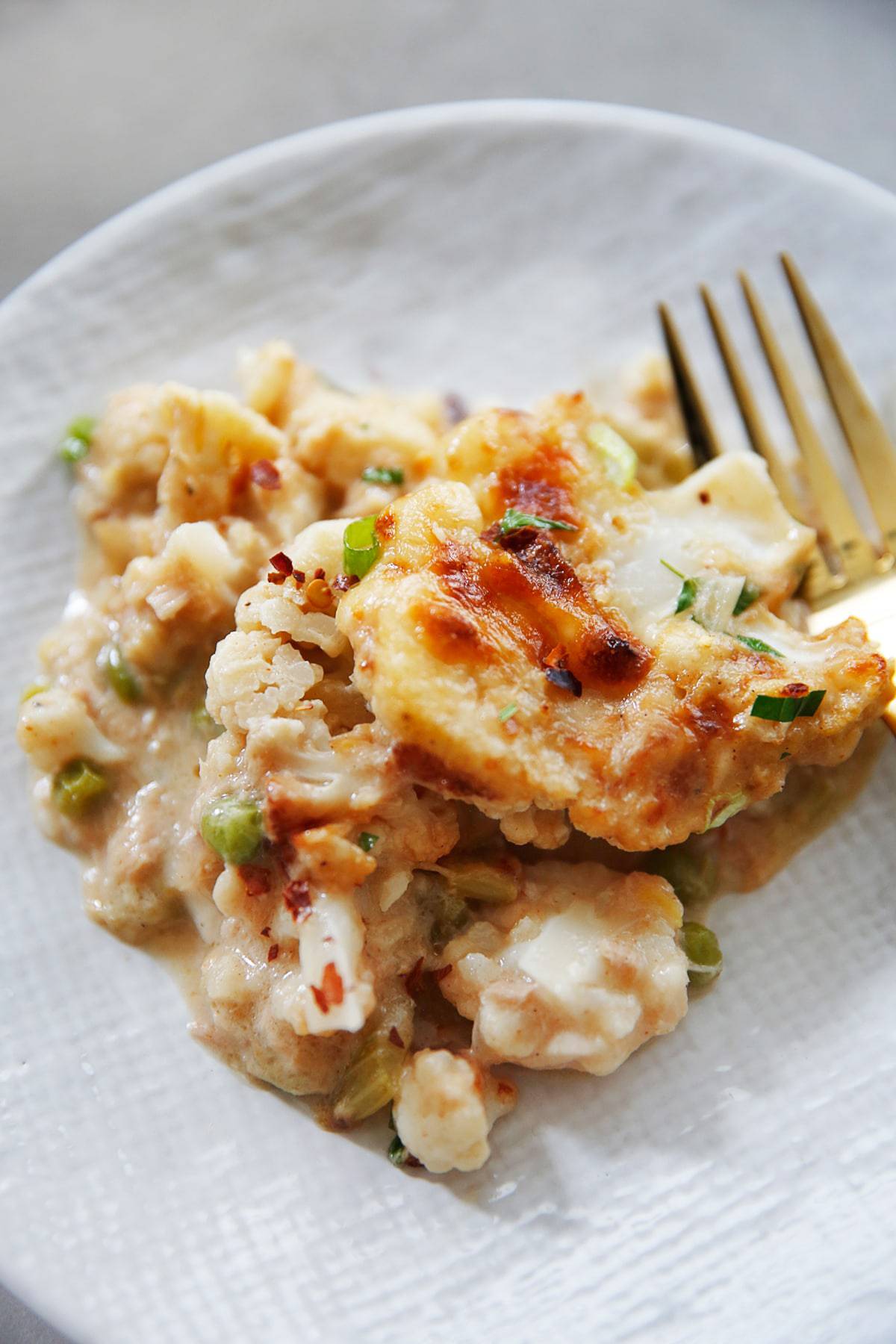 How do you make homemade tuna noodle casserole?
It's simple:
If you're making the pasta version you boil the pasta until al dente.
Saute your aromatics. Here we are using onion, celery and garlic.
Make your base cheese-y sauce (also called a béchamel), using gluten-free ingredients, of course.
Add in the cauliflower and cooked pasta (if using) and bake! We love using an oven safe pan to both start the casserole on the stove and then finish in the oven.
Cooking tools we used with this recipe:
Heavy Bottom Pan (We use one that doubles as an oven safe dish to keep the clean-up minimal)
Whisk
Spatula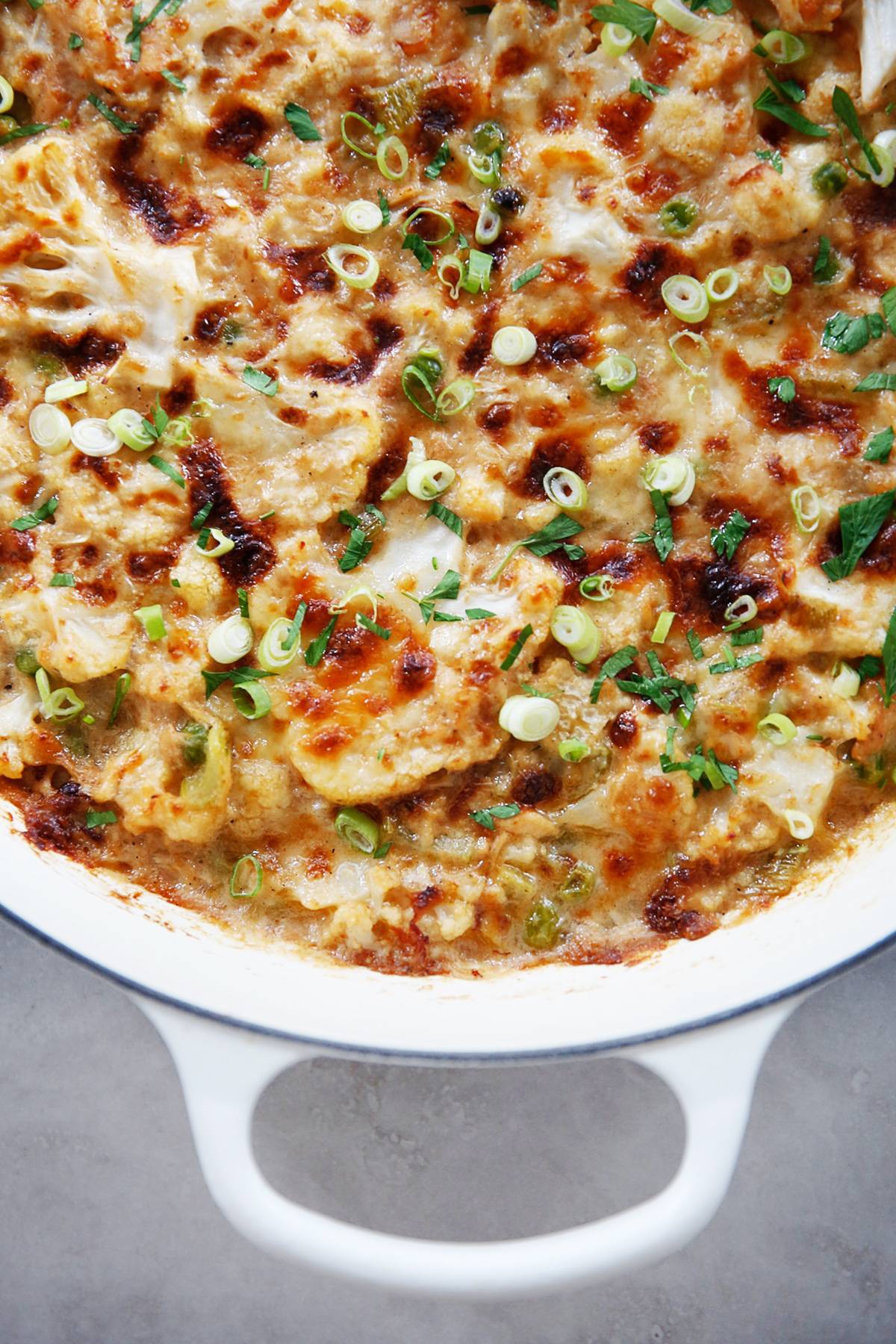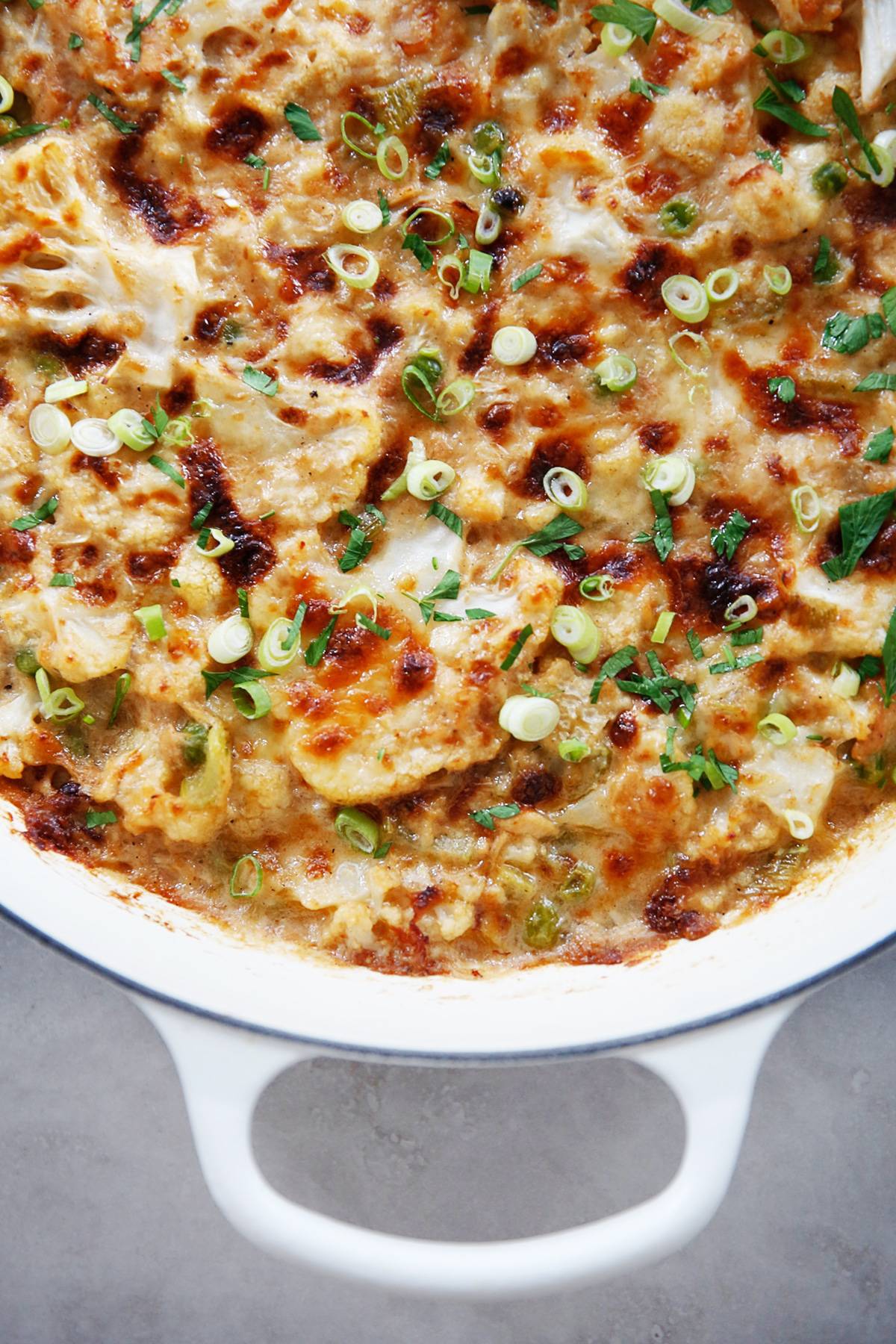 Want other tuna recipes? Try these favorites:
Low Carb Tuna Casserole (With Cauliflower
---
---
Ingredients
2 tablespoons butter
1 onion, diced
2 celery stalks, diced
3 cloves garlic
3 tablespoon arrowroot
2-1/2 cups cashew milk (or milk of choice)
1 tablespoon dijon mustard
1 teaspoon ground black pepper
1 teaspoon fine sea salt
1/2 teaspoon paprika
pinch cayenne (optional)
1/2 cauliflower, about 1 lb., cut into florets (For Low Carb Version use 1 whole cauliflower, about 2-2-1/2 pounds and slice into pieces about 1/4" thick)
2-4oz cans genova tuna, drained
6 ounces brown rice pasta, cooked al dente (For Low Carb Version Omit This)
1/3 cup frozen green peas (optional)
3/4 cup shredded sharp cheddar cheese, divided
scallion, for garnish
Directions
Pre-heat oven to 400ºF.
Heat a large heavy bottom pan, over medium heat and melt butter. Add onion and celery cook until beginning to soften, about 5-7 minutes.
Add garlic, and cook for 30 seconds.
Sprinkle in arrowroot, and then slowly whisk in cashew milk (or milk of choice) a 1/2 cup at a time to avoid any lumps. (see note)
Add dijon mustard, salt, pepper, paprika and cayenne, if using, and whisk to combine.
Add cauliflower and simmer for 5 minutes, stirring occasionally.
Remove from heat and stir in 1/2 cup of cheese. Then add in Genova Seafood Tuna, al dente cooked pasta (Omit for Low Carb Version), frozen peas and mix to fully combine.
Pour into an oven safe dish (if not using one already) and top with remaining 1/4 cup cheese and bake until cauliflower is tender and cheese is melted, 15-20 minutes. If you want the cheese to be bubbly and slightly browned, place under the broiler for 3-5 minutes.
Top with scallions and let sit for 5 minutes before serving.
Recipe Notes
The sauce may seem really thick before it goes in to the oven, but the cauliflower and the tuna exude a lot of liquid so the extra thick sauce stops it from becoming to0 watery after it is baked.
---
Nutrition
Loading nutrition data...
Low Carb Tuna Casserole (With Cauliflower)
This paleo Mediterranean Tuna Salad is made with no mayo is packed with veggies, artichokes, capers, avocado, a delicious red wine vinaigrette, and so much more! It is the BEST lightened-up tuna salad perfect for lunch any day of the week and great for meal prepping! Made in partnership with Genova Seafood!
Mediterranean Tuna Salad with No Mayo!
I am so excited to partner with my friends at Genova Seafood to bring you today's recipe! Bored of your classic tuna salad? Me too! I love Mediterranean flavors, and this tuna salad is the perfect lunch! It is nutritious, flavorful, and a fun spin on tuna salad.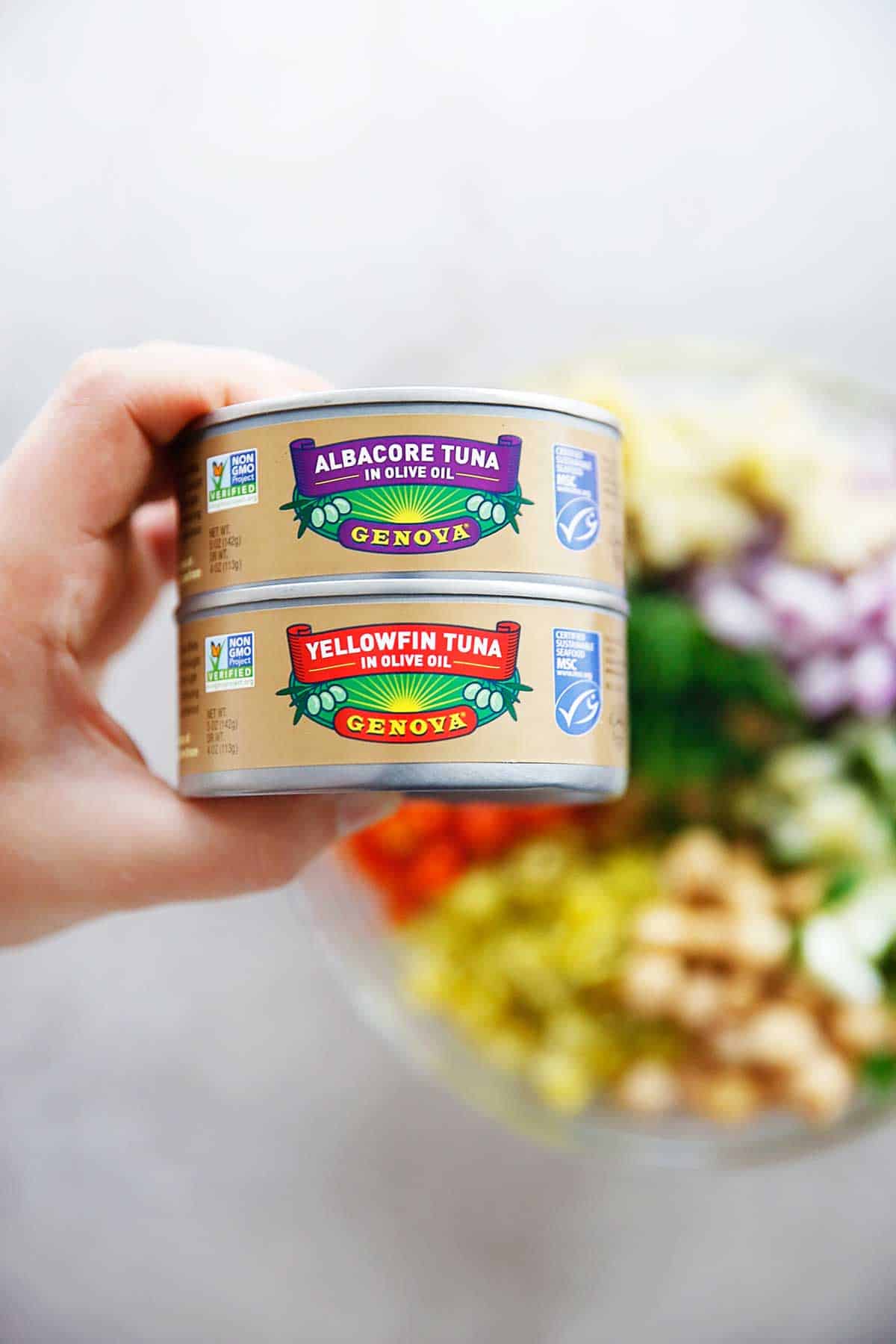 Want to know something cool?  Genova has started a program called Digital Traceability and it's pretty awesome. Genova customers simply enter the 10- to 15-digit number located on the bottom of their Yellowfin and Albacore tuna to receive answers to six specific questions:
What is My Tuna? Visitors are given an initial description of their tuna or other seafood species.
Where Was My Tuna Caught? These results include a world map showing the Food and Agriculture Organization (FAO) Area where the tuna or other seafood was caught, and a link to a species-specific stock status report from the International Seafood Sustainability Foundation (ISSF). 
What Fishing Method Was Used? This section includes both the fishing method and vessel size.
What Fishing Vessel Caught My Tuna? This information includes fishing vessel name, nation of registry and fishing trip start and end dates.
Where was My Tuna Processed and Canned? The can code indicates where the seafood was processed and canned, which may not necessarily be where it was caught. The processing method is subject to Genova's strict compliance requirements andstringent Business Ethics and Labor Code of Conduct.
How Does Genova Support Sustainability?
I love working with companies who are doing their part to show us where our food is coming from!
What are different ways to eat tuna salad?
On a salad
On a sandwich
On a lettuce wrap
In an avocado boat
With gluten-free pasta added in
As a tuna melt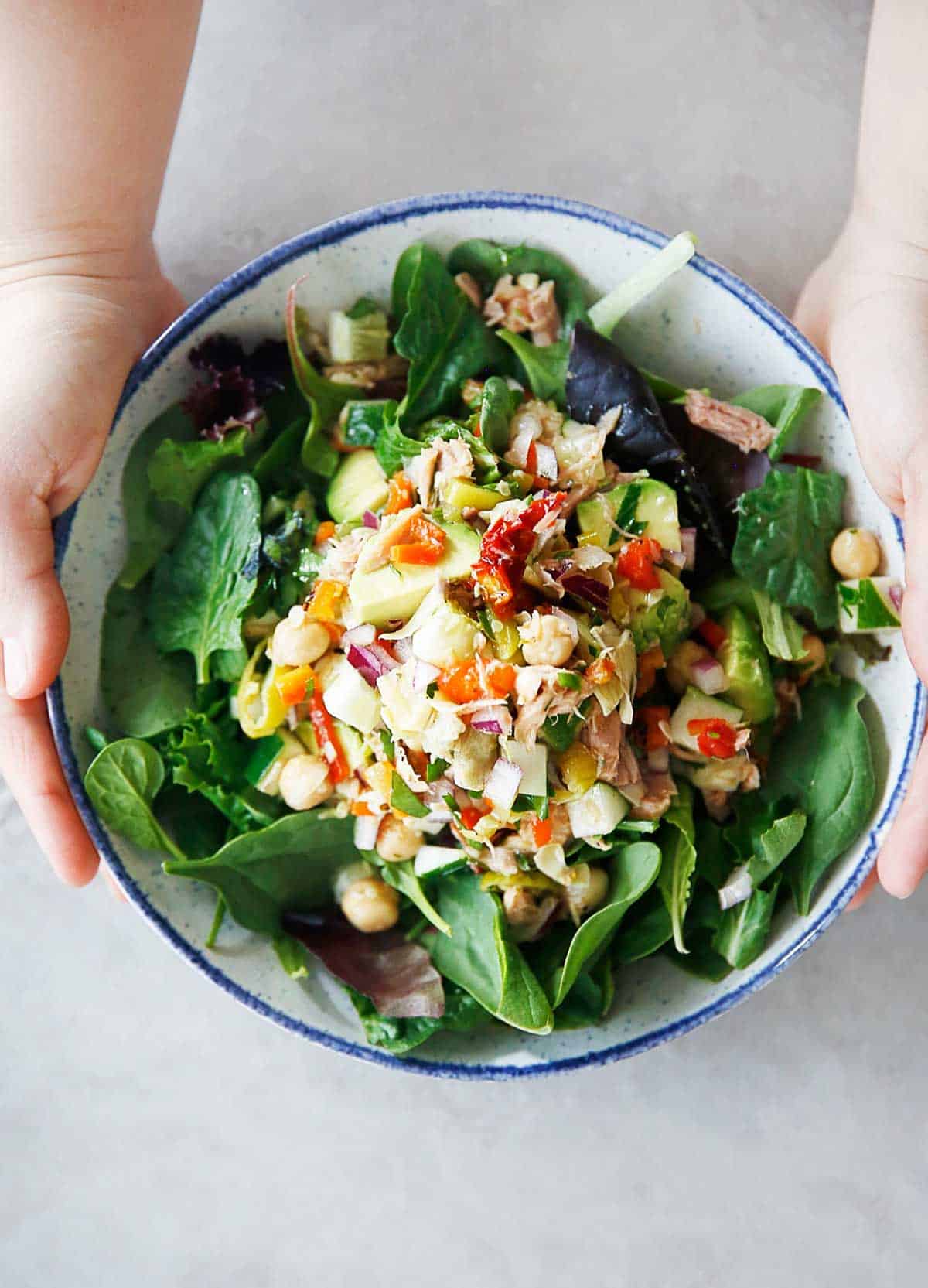 How can I spice up my tuna?
Add herbs
Add veggies
Add a dressing
Add sriracha
Like this recipe? Try these other tuna recipes: Loaded Egg Salad and my Sweet Potato Tuna Melts!

Mediterranean Tuna Salad with Avocado (No Mayo!)
---
---
Ingredients
2 cans Genova Seafood Yellowfin Tuna or Albacore Tuna, drained
1 cucumber, chopped
1/2 red onion, diced
1 cup roasted red peppers, chopped
1/2 cup pepperocini, diced
1/3 cup parsley, finely chopped
Sundried tomatoes, chopped
2 teaspoons capers
Optional: 1/4 cup feta cheese
Optional olives
Optional: 1 14.5 ounce can chickpeas, drained and rinsed
1/2 avocado, diced
Pinch of fine sea salt
Pinch of black pepper
Red Wine Vinaigrette
2 tablespoons olive oil
2 tbsp red wine vinegar
1 teaspoon lemon juice
1 teaspoon dried parsley
1 teaspoon dried oregano
Pinch fine salt
Pinch black pepper
Directions
In a large bowl combine all of the salad ingredients.
In a small bowl, whisk together dressing ingredients.
Pour dressing over ingredients and toss to combine.
Taste and adjust spices as desired!
Serve over a salad, on a sandwich, with pasta added in, on lettuce wraps, or in 1/2 of an avocado!
Recipe Notes
Omit the optional chickpeas for a Whole30 compliant and Paleo-Friendly lunch!
---
Nutrition
Loading nutrition data...


This post is sponsored by Genova Seafood. All thoughts and opinions are always 100% my own! I love the integrity of their products and think you'll love them too. Thank you for continuing to support LCK and the brands I work with!