Everyone needs an amazing chocolate cupcakes recipe, and this one is ours! These Gluten Free Chocolate Cupcakes are moist with a deep chocolate flavor and simply delicious. They're also dairy-free and made without any refined sweeteners. Grab a bowl and a whisk and head straight to the kitchen to whip some up!
Gluten Free Chocolate Cupcakes
In my opinion, a chocolate cupcake should be at least three things: moist, rich and heavy on the chocolate flavor. These gluten free Chocolate Cupcakes check all those boxes and more! These simple-to-make cupcakes are a bit on the healthier side because they are dairy-free, made primarily with almond flour (hello nutrients!) and contain no added refined sugars. And the bonus is you only need two bowls and a whisk to make them! We have a few different options to frost them, including this dairy-free chocolate frosting. Whip them up for your next celebration or your next I-need-a-chocolate-cupcake kind of night!
Ingredients Needed
Almond Flour

Cocoa Powder

Coconut flour

Baking Powder and Soda

Pinch Sea Salt

Espresso Powder (optional)

Eggs

Coconut sugar

Milk (We use almond)

Avocado Oil

Vanilla extract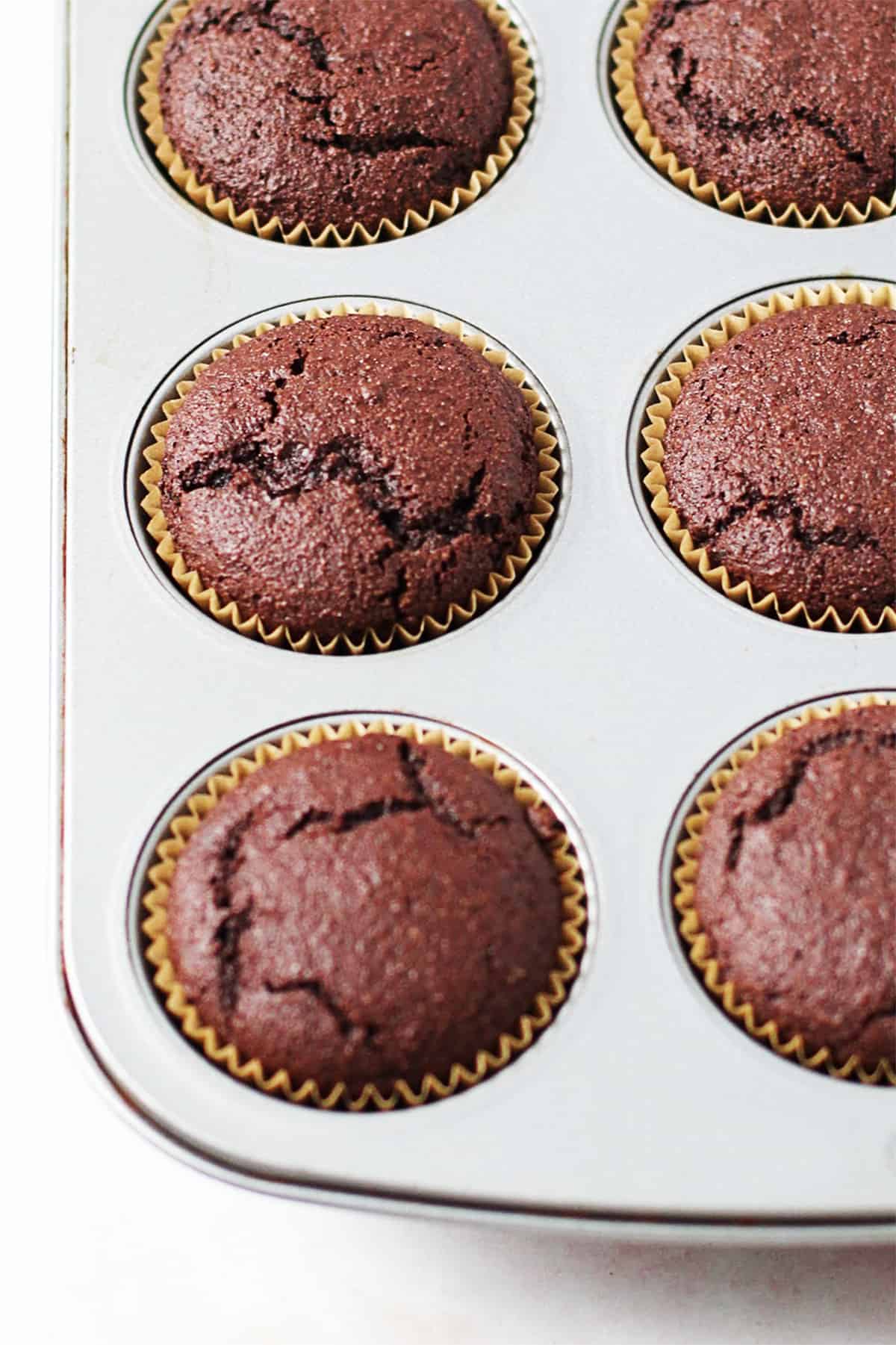 Frosting Options
We've made a few different frosting options over the years. This recipe uses a traditional chocolate buttercream, though it does use butter so it isn't dairy-free. This recipe is for a vanilla buttercream.
If you need a dairy-free and paleo-friendly version, check out this recipe! It is a whipped chocolate ganache frosting that is simple to make. It's also the version shown here in the photographs.
If you like this sweet treat, check out these others:
Chocolate Cupcakes with Chocolate Buttercream and Heart Toppers
2015-02-10 13:46:45
Wet
3 eggs
3 tbsp apple sauce
3 tbsp raw honey
1 tsp vanilla
Frosting
1 cup grass-fed butter, softened
1 cup dark chocolate chunks, I use Enjoy Life's, Guittards, or Whole Foods brand
2 tbsp full-fat coconut milk, more as needed
1/4 cup cocoa powder
1 cup organic powdered sugar
1 tsp vanilla
Dash sea salt
Heart Toppers
1 1/2 cup dark chocolate of choice
Cupcake Directions
Preheat oven to 350
In a mixing bowl combine dry ingredients, excluding the chocolate chunks
Add in wet ingredients and whisk together
Add in chocolate chips
Pour into muffin liners halfway
Bake on 350 for 15-20 minutes, or until a toothpick comes out clean
Let cool completely before frosting
Frosting Directions
Cream softened butter until fluffy
Add in full-fat coconut milk until light and fluffy
Add in vanilla and melted chocolate
Add in cocoa powder and powder sugar until frosting is light, fluffy, and whipped
Frost cupcakes
Store frosting in the refrigerator and let come to room temperature before using
Heart Toppers Directions
Line a baking sheet with parchment paper
Melt chocolate and draw hearts, letters, etc.*
Gently stick toppers into frosting
Store in the refrigerator; bring to room temperature before serving
Notes
*I use these squeeze bottles to draw the hearts and letters, you can do it without, though!
Lexi's Clean Kitchen https://lexiscleankitchen.com/