Avocado and Corn Salsa
This Corn Avocado Salsa recipe is a quick and delicious side to serve up with just about anything! This cool summer side dish is easy to make and is gluten and dairy free!
Avocado and Corn Salsa Recipe
This is the perfect summery side dish to serve when the weather is HOT. This Avocado and Corn Salsa comes together quickly. It is the perfect easy side dish to throw together and flies off the table! This dish is served great with nearly anything, but we especially like it for other quick cooking summer dishes like this Blackened Fish, quick Chicken Tacos or this Garlic and Lime Grilled Steak.
Corn Salsa Ingredients
Fresh Corn on the Cob
Red Onion
Cherry Tomatoes
Avocado
Olive Oil
Lime
Cilantro
Salt and Pepper
Methods to Cook the Corn
The only piece of this salsa that needs to be cooked is the corn! There are a few different methods you can use to cook it. You can quickly boil it, as we suggest in the recipe. Or you could grill it! Additionally you can also cook corn in the Instant Pot using these directions here.
If you like this avocado recipe, check out these others:
If you like this side dish, check out these others:
[yumprint-recipe id='40']
Avocado and Corn Salsa
This simple chicken sheet pan dinner is packed with veggies and flavored to taste like pizza for a unique weeknight dinner! It's easily customizable to add your favorite "pizza" toppings, is gluten-free and easily made low-carb for a meal everyone can enjoy. This recipe comes to us today from the new book by Cassy Joy Garcia, "Cook Once, Eat All Week"!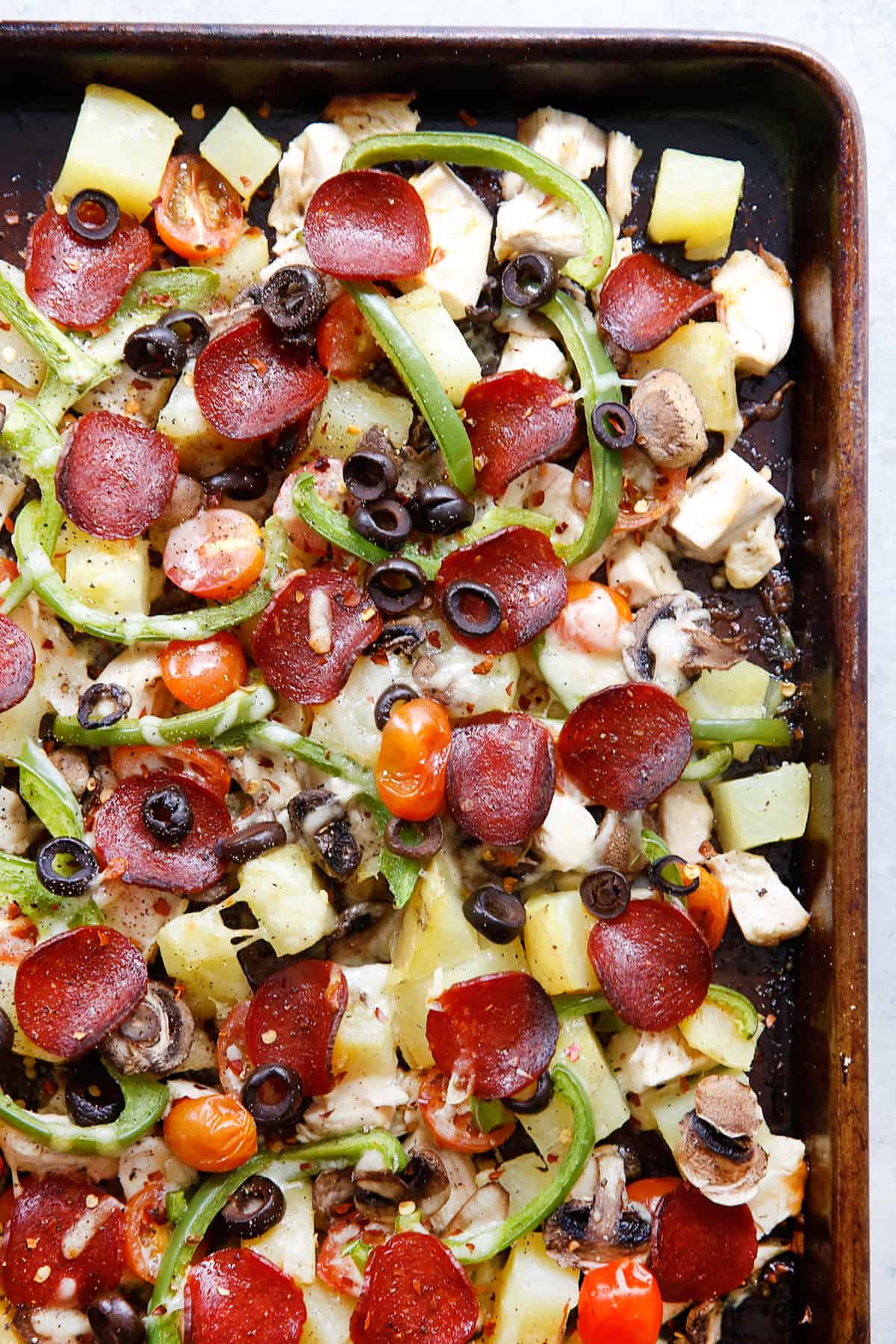 Pizza Flavored Sheet Pan Chicken and Veggies
This sheet pan chicken dinner is just SO FUN! It's coming to us today from "Cook Once, Eat All Week", Cassy Joy Garcia's newest book. When we were flipping through the pages trying to decide which recipe to share (this was hard, because they all looked so good!) we were instantly in love with how unique this sheet pan dinner recipe sounded! It basically has all the flavor and fun of pizza, but made hearty and healthy using protein and veggies!
And of course, like so many sheet pan dinners, it's so easy to throw together! Her book is all about meal prep made easy (see below for more about this) so we made a few minor modifications from her recipe so it could be made as a stand alone dish. We're sure you're going to love this dinner so much you'll definitely want to grab a copy of her book now to see how she guides you on how to make meal prep easy.
Other Options for this "Pizza" Sheet Pan Dinner:
This sheet pan recipe is chock full of chicken, veggies and fun pizza toppings. Cassy has suggested her favorites, and we're adding to that and suggesting a few other options you might find fun to substitute in for this dinner depending on what you have in the house:
Jalapeños
Spinach
Sausage
Side of Marinara Sauce
Red Onions
Barbecue Sauce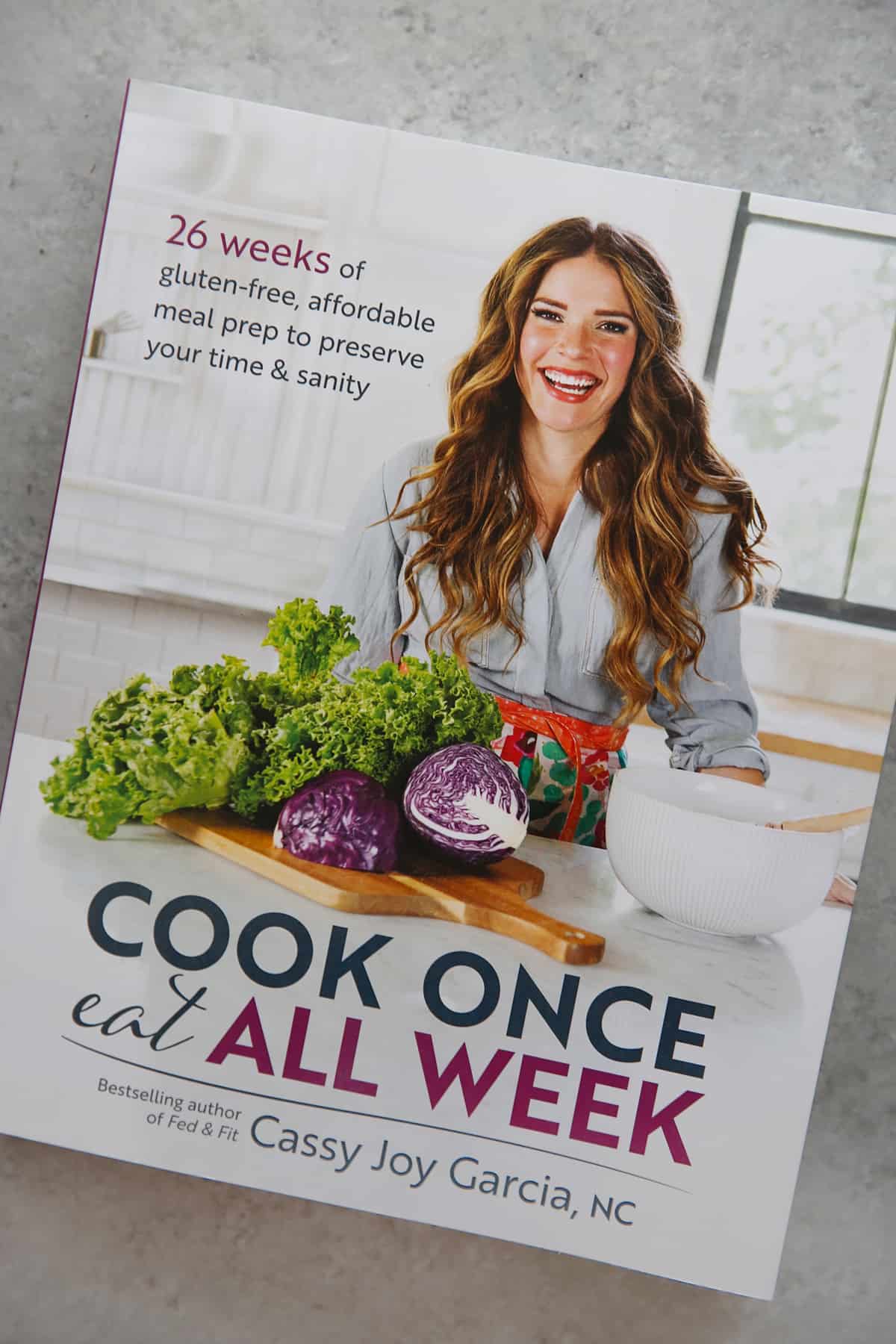 I've known Cassy for around 4+ years now, and she instantly became one of my closest friends right when I met her. Nothing makes me happier than meeting an Internet/blog friend who becomes an in-real-life best friend! We go to conferences together, we go on girl trips, and she even introduced me to Beautycounter! She is just the best.
Let me tell you about Cassy: She is genuine, beyond kind, and SO hard working. So, when she told me about her new book concept I had no doubt it would be an amazing resource, but when I opened it, I was BLOWN AWAY. Ya'll, this book is amazing. It reinvents meal prepping and combines it with batch cooking in a way that makes your weekly meals fun and exciting, without spending the entire day in the kitchen over the weekend! This is one of those books that anyone looking for a REAL solution to help them eat healthy and delicious meals, while also wanting to save time and money, needs in their kitchen!
Here's the premise of Cook Once, Eat All Week: You have a prep day to get all your main ingredients ready to go – a protein, veggie and a starch – then you can make 3 (or more, depending on your needs) different meals throughout the week with those prepped main ingredients.
The book gives you 26 weeks of recipes: 123 recipes, sauces, and spice blends.
Each week will look a little different!
There's also a chapter full of bonus 20-minute meals.
Optional Instant Pot and slow cooker instructions are included to save even more time!
Meal storage and reheating tips.
Supports diets including: gluten-free, dairy-free, Paleo, low carb, egg-free, kid-friendly and more.
Nutritional facts included!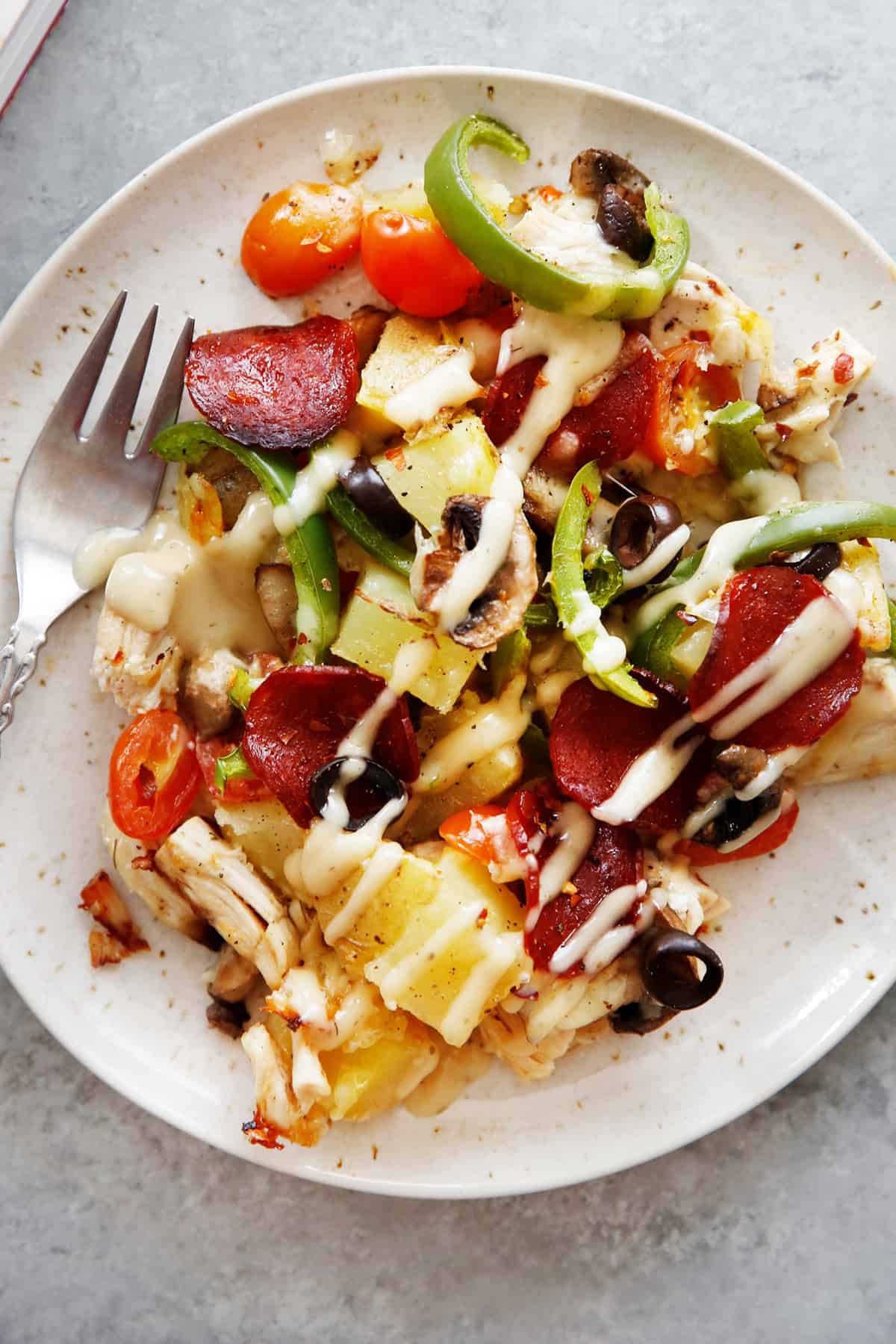 If you like this sheet pan dinner, check out these others:
Grab a copy of Cook Once, Eat All Week here!
---
Chicken "Pizza" Sheet Pan Dinner
This Paleo Chicken Stir Fry uses cauliflower rice, whatever veggies you have on hand, and is so simple to throw together! It is a great Whole30, low-carb, dairy-free, egg-free, and gluten-free meal for any night of the week!
Paleo Stir Fry
Stir-fry night should also be called clean-out-your-refrigerator night to make a delicious, quick meal! Let this recipe serve more as a guide to using up what you have on hand to create a quick meal that everybody will love, with a really delicious paleo stir fry sauce. We serve this with a garlic scallion cauliflower rice, but you could alternative serve the stir fry with regular white rice if you would like!
You could also alternative use another meat here, like thin sliced steak or pork, or you could really fill up on the veggies and make this meatless!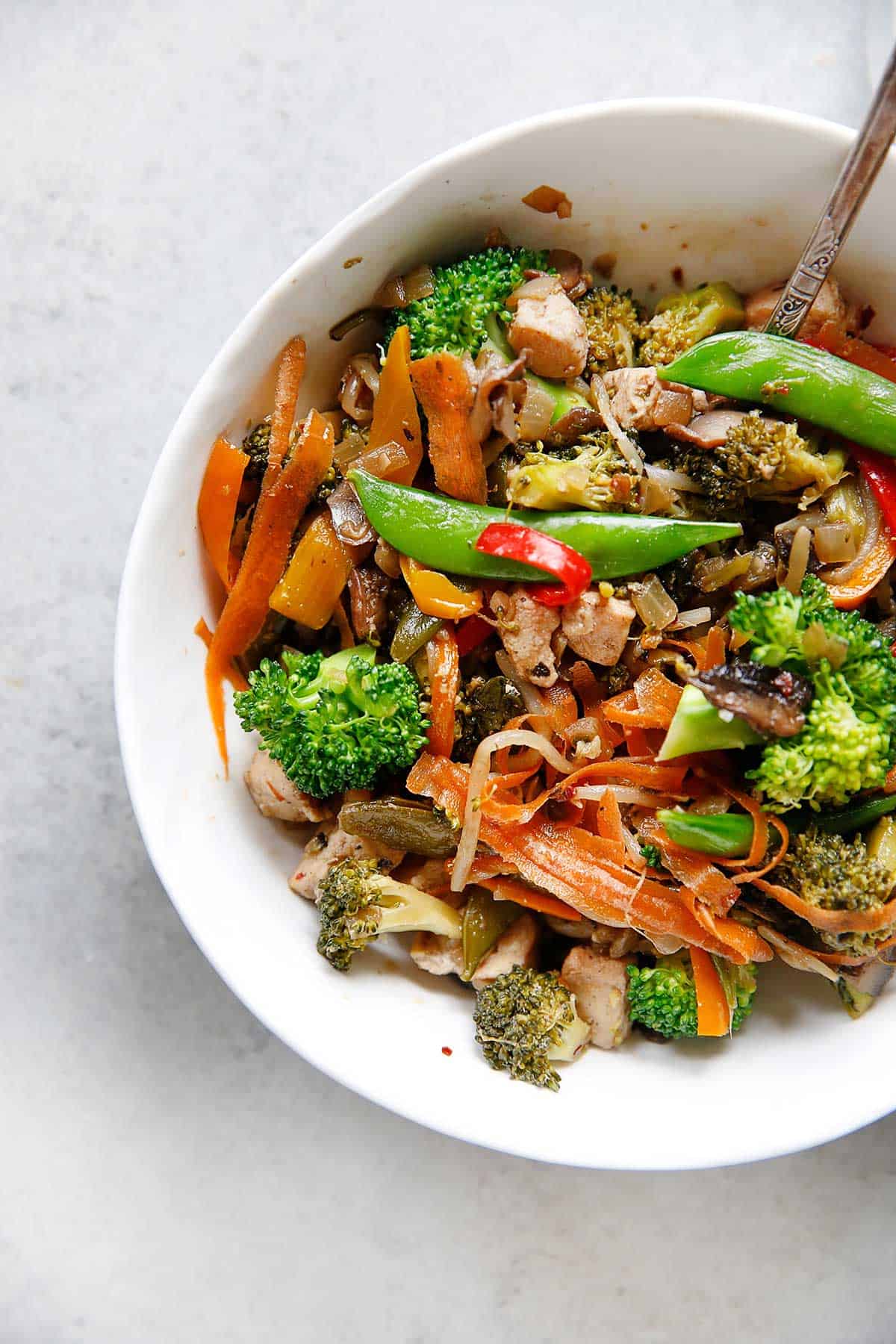 What Veggies Can You Use For This Paleo Chicken Stir Fry
In this recipe we used:
Broccoli
Red Pepper
Snap Peas
Bok Choy
Mushrooms
Carrots
Bean Sprouts
But you could really use any veggies you have on hand or what is in season. This is the perfect dish to cook up all year long, but particularly good during the CSA season when your refrigerator is full of veggies!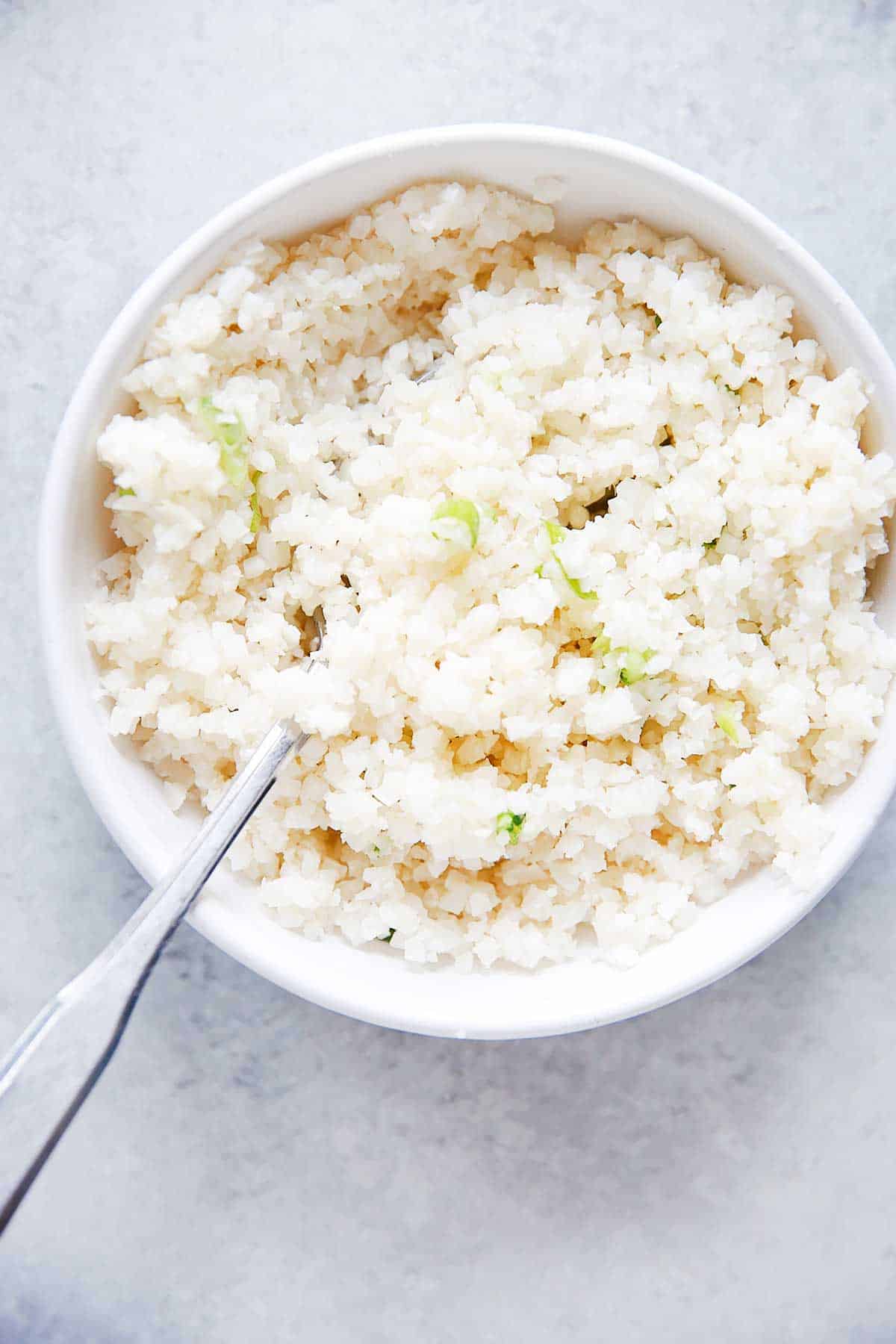 If you like this quick weeknight meal, check out these others:
Paleo Chicken Stir Fry
This Quick Spicy Italian Chicken in Tomatoes is such a simple and quick weeknight dinner, that is packed with so much flavor! There is option to turn up, or eliminate the heat of the dish, but either way it's delicious. Serve these chicken breasts in tomato sauce alongside roasted green beans and you have yourself a perfect low-carb, paleo-friendly, Whole30 approved meal that takes under 30 minutes to prepare! Talk about a WIN!
Quick Cooked Chicken Breast in Tomato Sauce
Easy weeknight dinners are THE BEST! This quick cooking Spicy Italian Chicken in Tomatoes is a super delicious dinner to cook when you have less than 30 minutes to get food on the table and you are relying on pantry staples!
We made this low carb by serving it with roasted green beans, but if you want to go a little heavier with the carbs and have a little bit more time on your hands you can serve it with roasted potatoes, rice or pasta.
Want to make this easy chicken and tomato recipe without the spice?
We love spice, but not everybody does, especially if you are serving kids at the table. Feel free to omit the red pepper flakes in this dish, or lower the heat by adding in just half.
Ingredients Needed to Make this Italian Chicken in Tomatoes:
Boneless, skinless chicken breasts

Italian seasoning

Dried Basil

Onion

Garlic
Whole Plum Tomatoes
Red Pepper Flakes
Green Beans
You can also substitute whatever seasonal veggies you have on hand to roast as well. Cauliflower would be great here, as would zucchini or eggplant.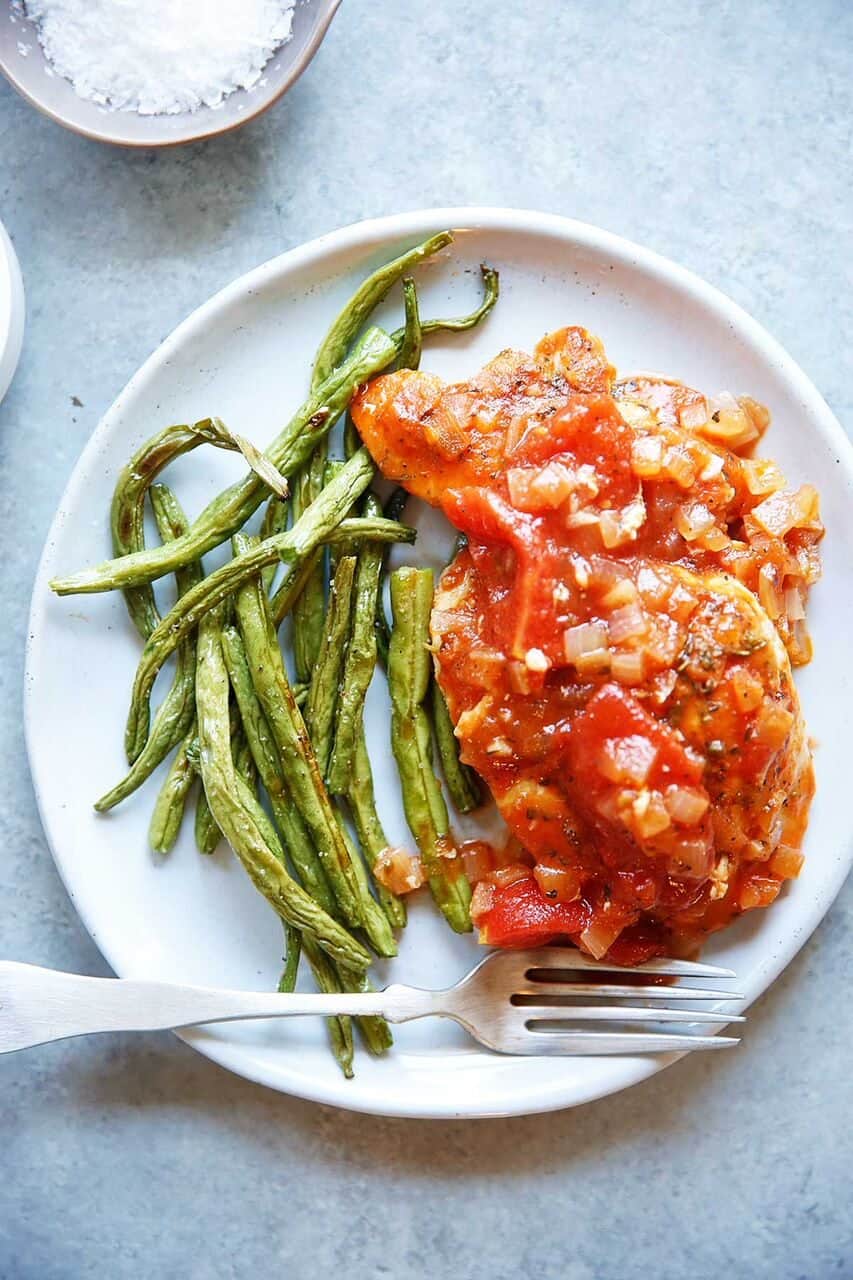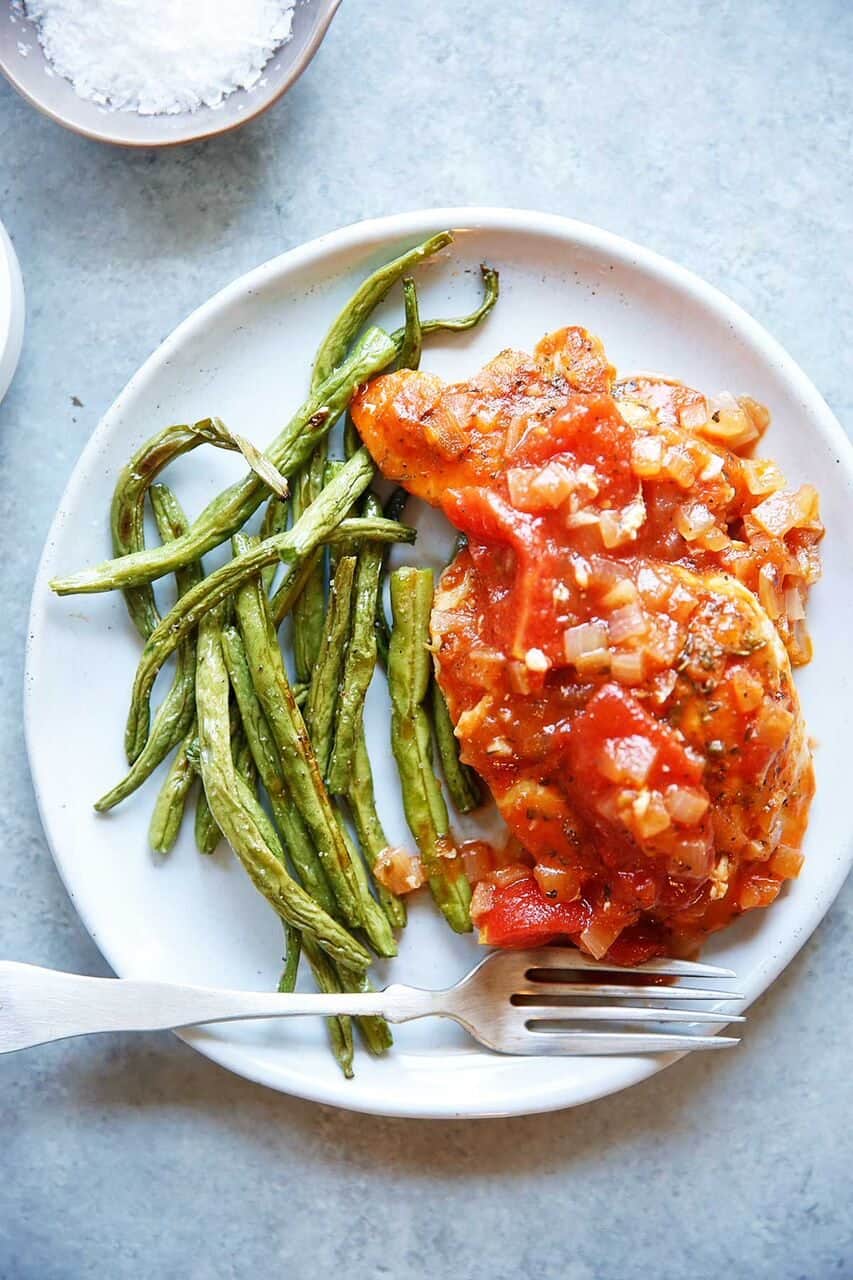 If you like this chicken recipe, check out these others:
Quick Spicy Italian Chicken in Tomatoes
This Slow-Cooker Beef Stew is the perfect healthy comfort food for cold days! It's hearty, flavorful, packed with veggies, and easy to make right in your crock pot. Make it for a cold winter night, or a festive St. Patrick's Day meal! Beef stew is a simple recipe that will wow everyone who tries it.


The Slow Cooker is an amazing phenomenon in my opinion. Even those friends of mine who aren't big cookers use it! Throw all the ingredients in with the right flavor combo and BOOM: the perfect stew. It's hands off, easy to use, and safe!
What is Irish stew made of?
Filled with beef, carrots, mushrooms, onions, and potatoes is the perfect main dish for your St. Patrick's Day celebrations. The beef is so tender, it just melts in your mouth!
Tips For Slow Cooker Beef Stew
Brown your meat
Don't use too much liquid
Don't skimp on the cook time
Layer your beef and veggies
Set it and forget it! The beauty of a slow cooker!

This stew is: hearty, flavorful, tender melt-in-your-mouth beef, and packed with veggies! It is also paleo-friendly, dairy-free, whole30 compliant and has no sugar added… does it get any better than that? I love making this soup at the beginning of the week and enjoy it all week long!
What defines a stew?
In a stew you aren't looking for the consistency of a soup, so minimizing added liquids is helpful!
Beef stew doesn't need to be super, super thick. You'll most likely be using potatoes, and their starch will naturally thicken your stew! If not, don't worry, this stew thickens whithout it, too.
What kind of beef is used for stew?
You can buy beef stew meat, which is cut and cubed and is generally chuck or round! Beef round cuts (bottom and eye) are generally leaner than chuck (shoulder, leg and butt) and very well-suited to stew.
I always add beef stew meat to my ButcherBox order in the cold weather months. Each month, ButcherBox curates a one-of-a-kind selection of the healthiest, tastiest meats, humanely raised and free of antibiotics and hormones. Or you can customize your box and select your favorite cuts and get 20% more meat.The price works out to less than $6.00/meal and shipping is always free. You can also space it out so it's not every 4 weeks, too! ButcherBox delivers your meat for the month, saves you money, and is the best quality! Order Today and get this amazing deal:
Get FREE bacon
FREE Shipping
$15 OFF!
Can you put raw meat in a slow cooker?
You certainly can, but for this beef stew recipe, we prefer to sear the meat first to bring out the amazing flavor that you'll get!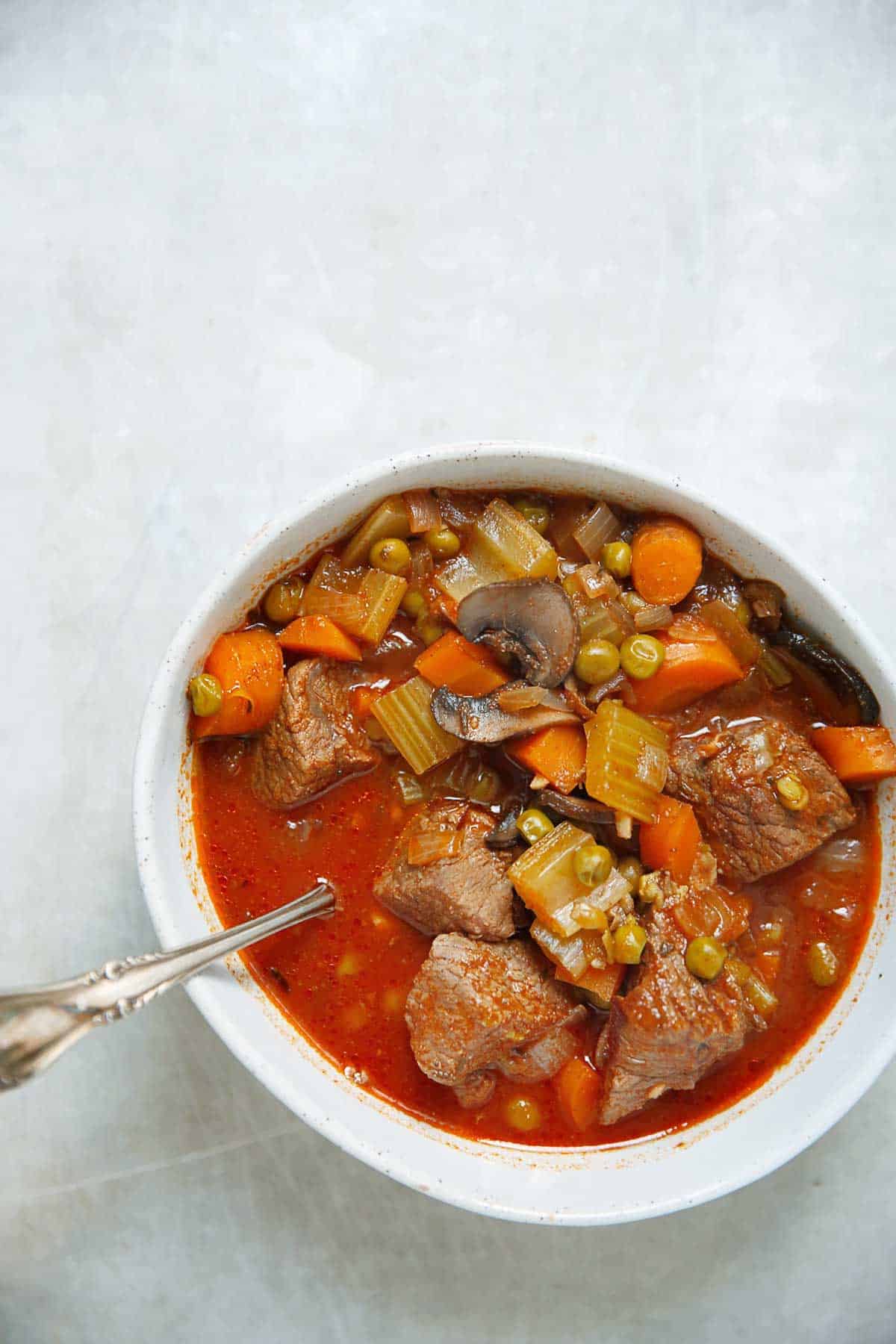 Tools used to make this easy slow cooker beef stew recipe:
Want other slow cooker recipes? Try these favorites:
If you like this beef stew recipe, make these other St Patrick's Day Favorites:
Slow-Cooker Beef Stew
If you are looking for a versatile side dish that works for both a quick weeknight meal or a decadent holiday dinner look no further than this recipe for Maple Roasted Brussel Sprouts with Bacon! Cooking the brussels sprouts with bacon and maple syrup is sure to make this side dish a fan favorite for everybody! This paleo-friendly recipe is sweet and savory and definitely going to be in your winter meal plan rotation!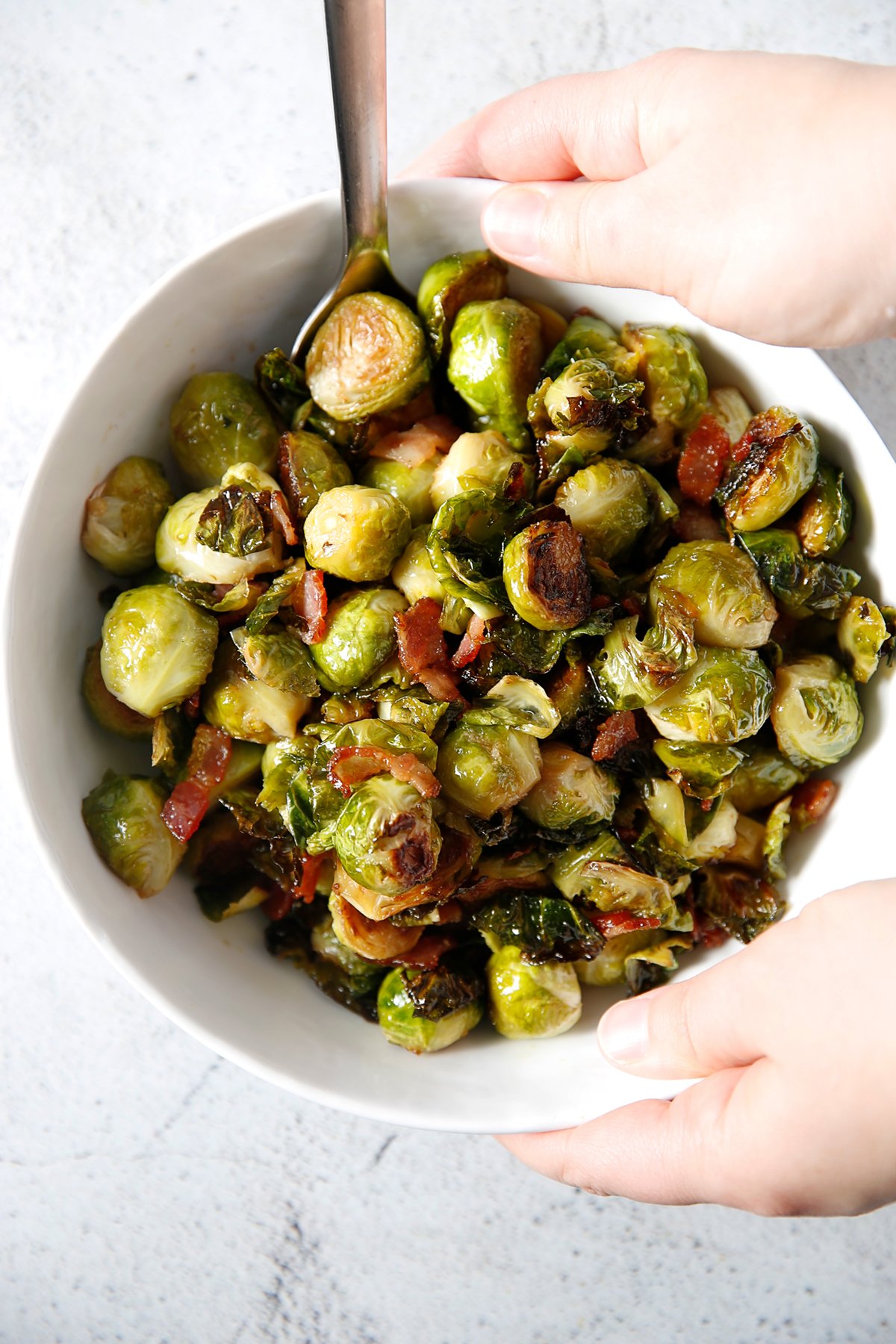 Maple Roasted Brussel Sprouts with Bacon
I was never a fan of brussels sprouts until a few years ago, and now I can't get enough! These Maple Roasted Brussel Sprouts with Bacon convert just about anybody to be a brussel sprout lover. This easy brussel sprouts recipe combines savory and sweet tastes to adhere to just about anyone's liking! Plus, is there any greater combination than maple and bacon together?
Ingredients Needed:
We love the short ingredient list here, especially since this dish is so flavorful!
Brussels Sprouts
Bacon
Maple Syrup
Olive Oil
Salt and Pepper
Garlic Powder

What to serve with Roasted Brussel Sprouts
This dish is the perfect Thanksgiving side dish. But also, it's so darn good you'll want to have this on rotation all Fall and Winter long. This dish would be great served with: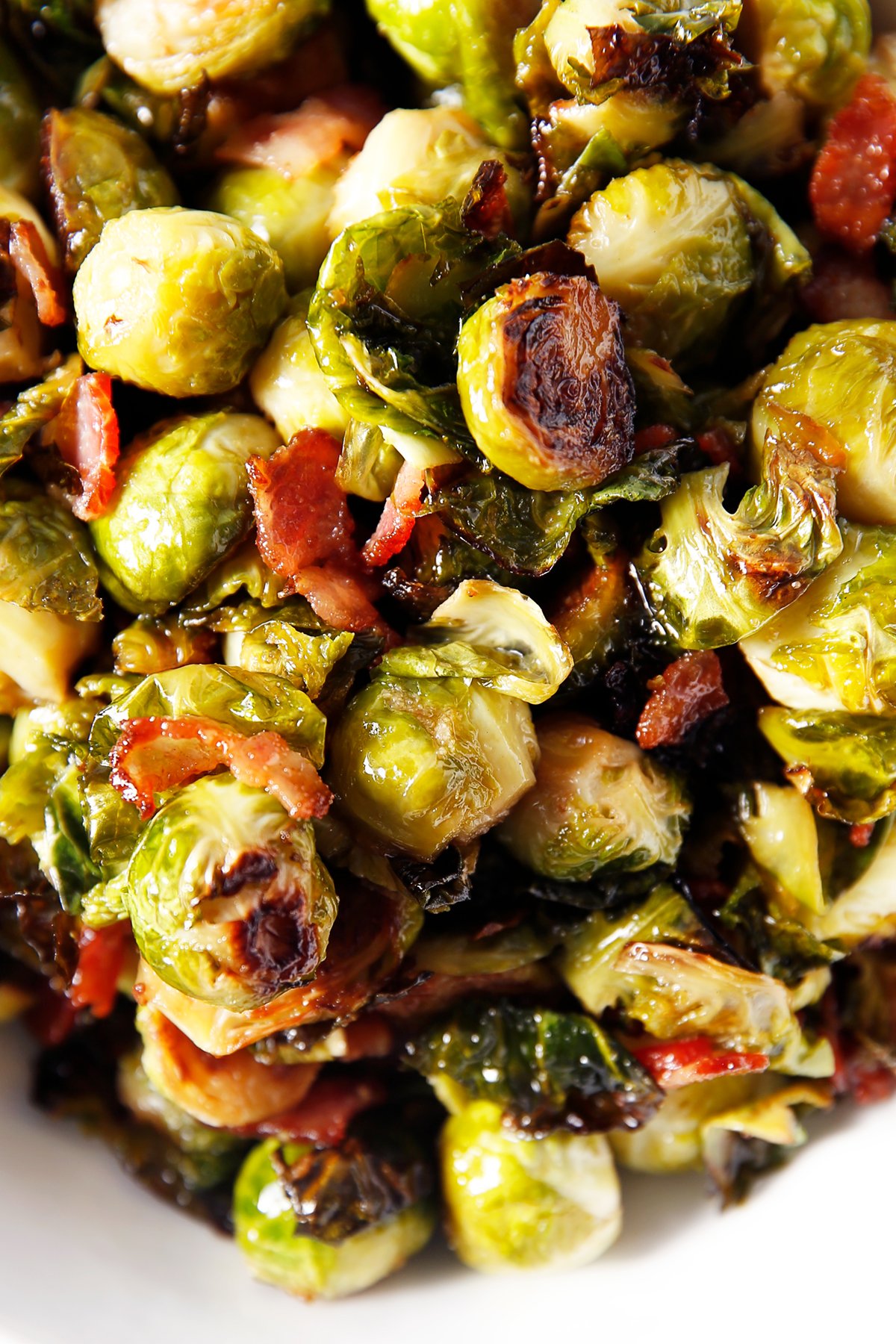 Watch the video:
Like this veggie side dish? Try these other favorites:
[yumprint-recipe id='215′]
Maple Roasted Brussel Sprouts with Bacon
This One Pan Roast Chicken Dinner recipe is the perfect one-pan-meal. The tender and juicy chicken is roasted with garlic and herbs and the accompanying vegetables are baked underneath the chicken. It's a hands-off meal that is easy to prep, so satisfying and versatile as it can be made with any veggies you have on hand. Made in partnership with my friends at Shenandoah Valley Organic!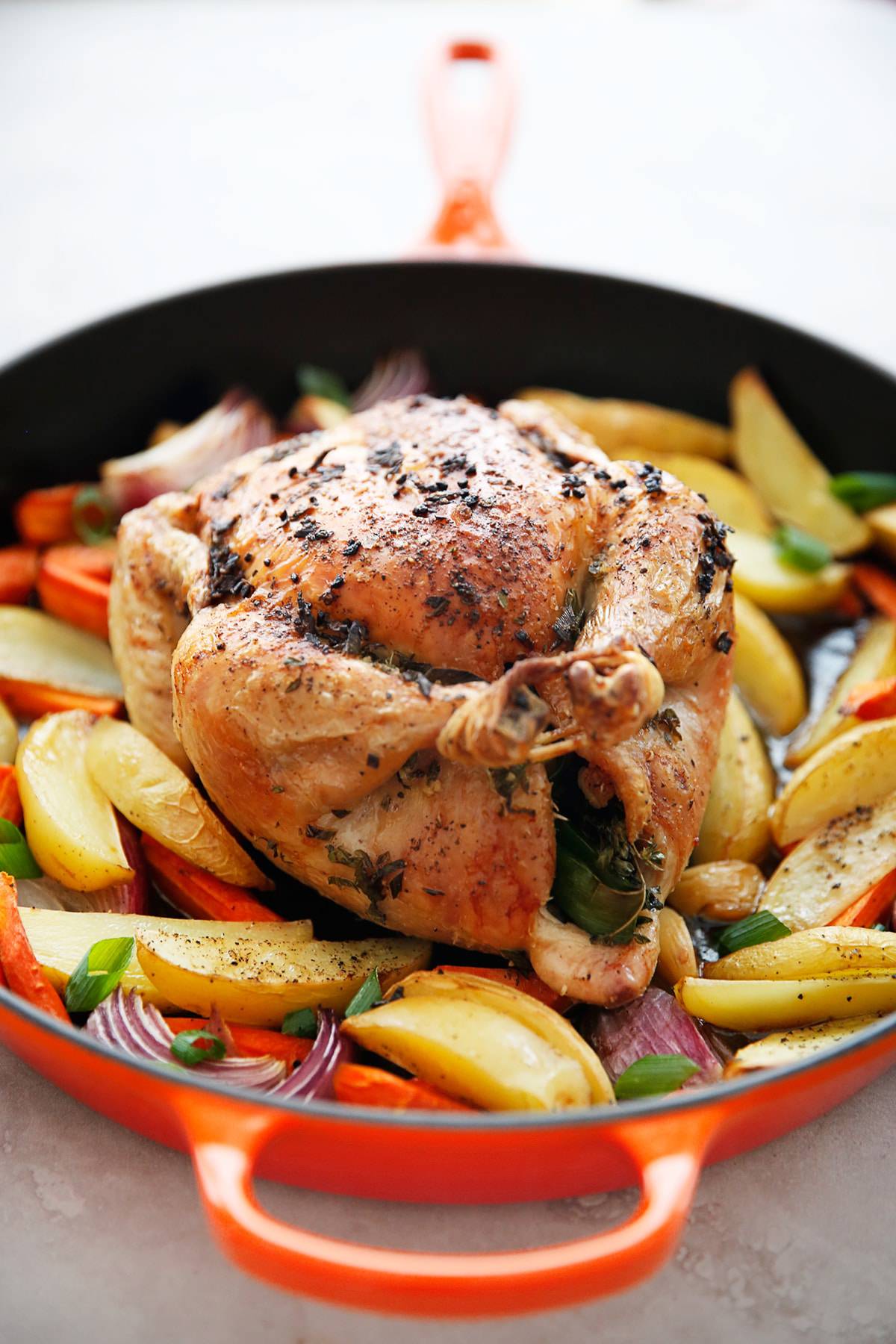 Roasted Chicken Dinner
Look no further, this is your dinner tonight! This Roasted Chicken Dinner is such an essential recipe that everybody should have in their back pocket! It features a bunch of in-season vegetables roasted with garlic underneath an herb and butter chicken that is made easy with hands-off roasting and can be made for a weeknight dinner or a dressed up for a fancy meal. Sometimes simple is the best, and this classic recipe is it.
I love this because you can also customize with whatever vegetables you have on hand. Here we used the classic combo of carrots, potatoes and onions (which caramelize and add a special layer of flavor) but really you can use any seasonal vegetables like fennel, parsnips or butternut squash!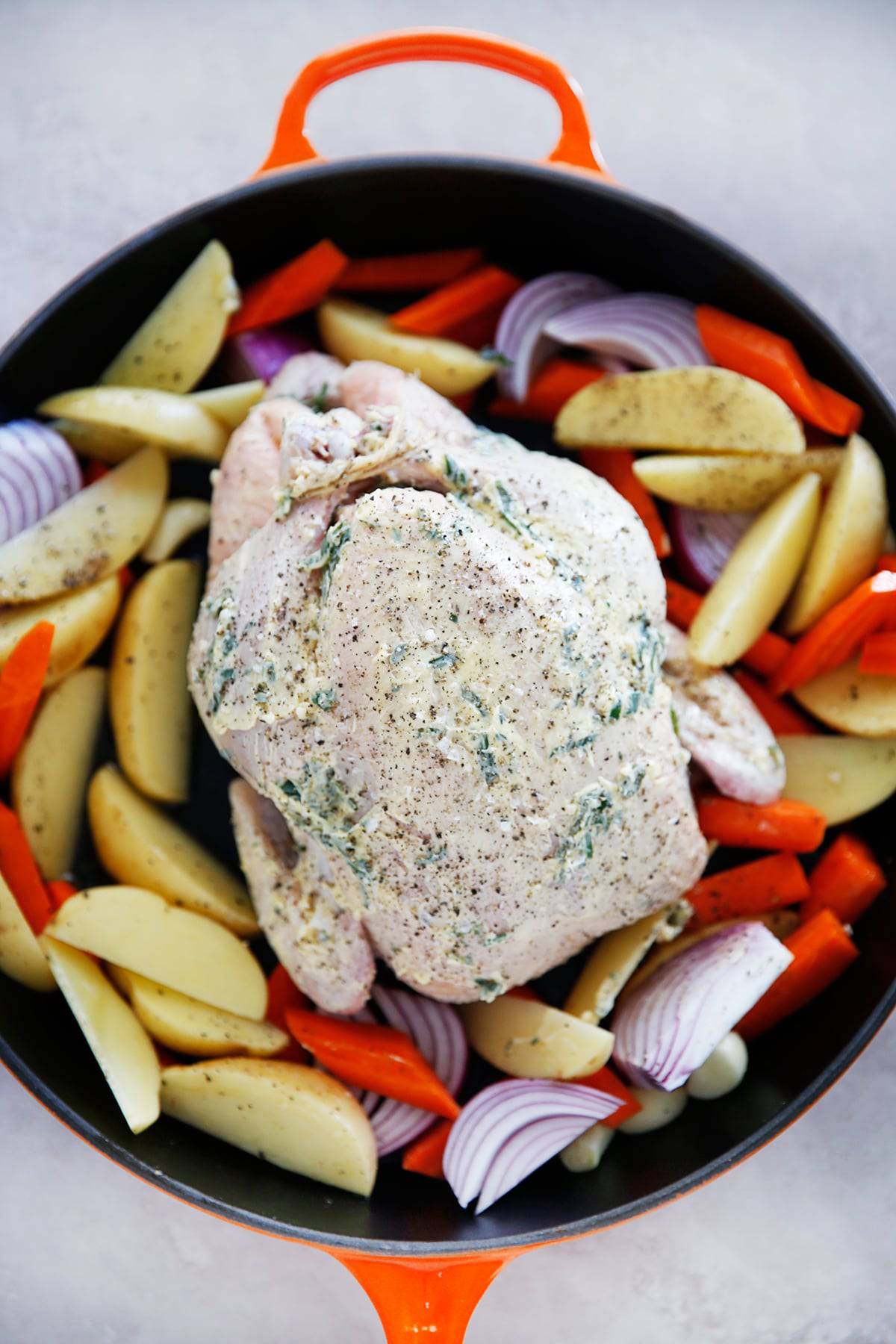 What is the best way to roast a whole chicken?
We love to roast the chicken and the fixins all in the same pan! It's easy prep and easy clean up. Simply:
Add vegetables to the bottom of the pan with oil and salt.
Prepare the chicken by removing giblets and excess fat, season and place in pan.
Bake!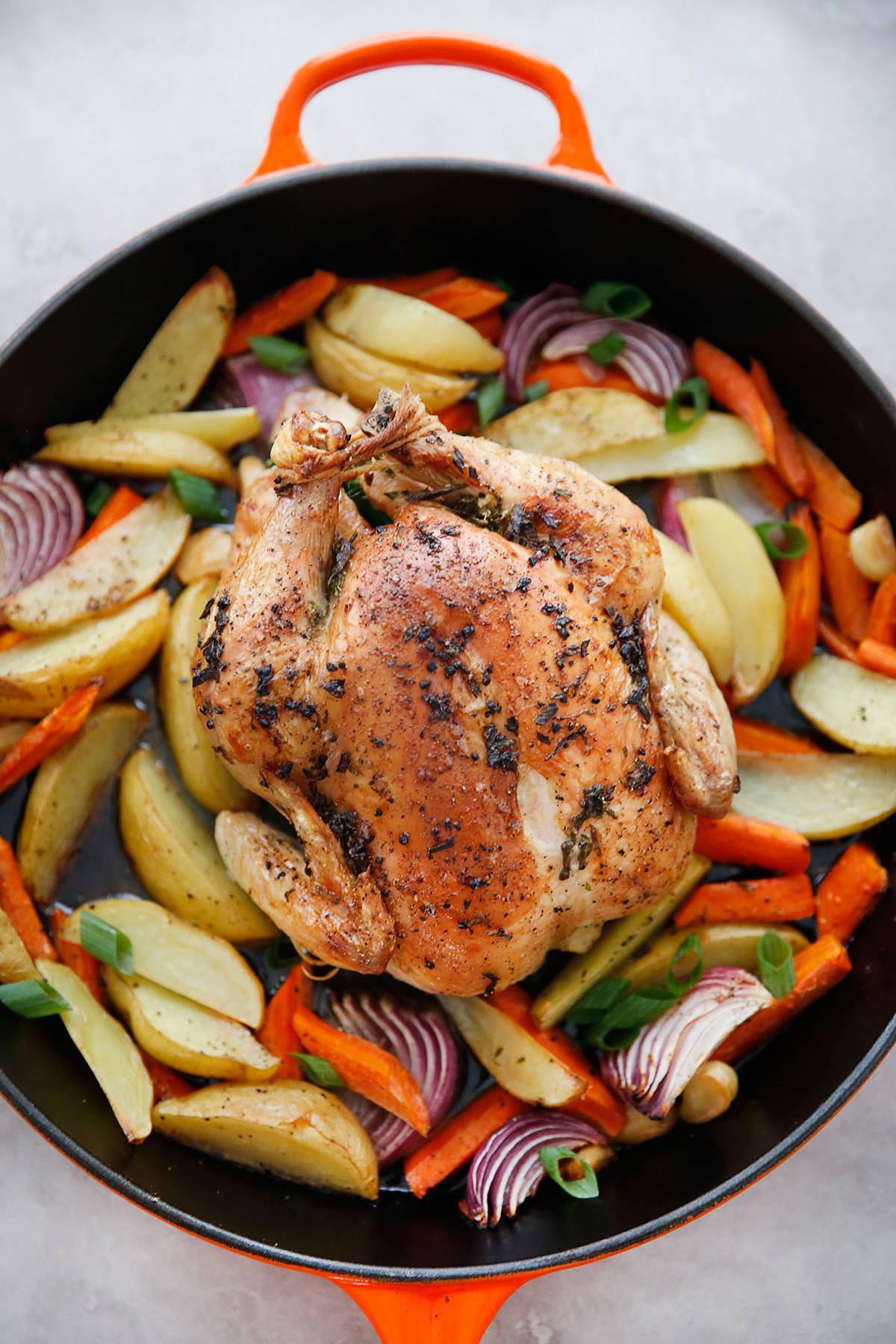 I am so happy to partner with my friends at Shenandoah Valley Organic to bring you today's whole Roasted Chicken Dinner recipe! SVO is my go-to trusted chicken company because they pride themselves in producing the highest quality chicken grown on family-owned farms.
Their chickens are humanely raised and fed a diet free from animal byproducts, pesticides, and antibiotics. On their website you can see where all of the farms are located, so you know just where your chicken was raised! Pretty cool if you ask me!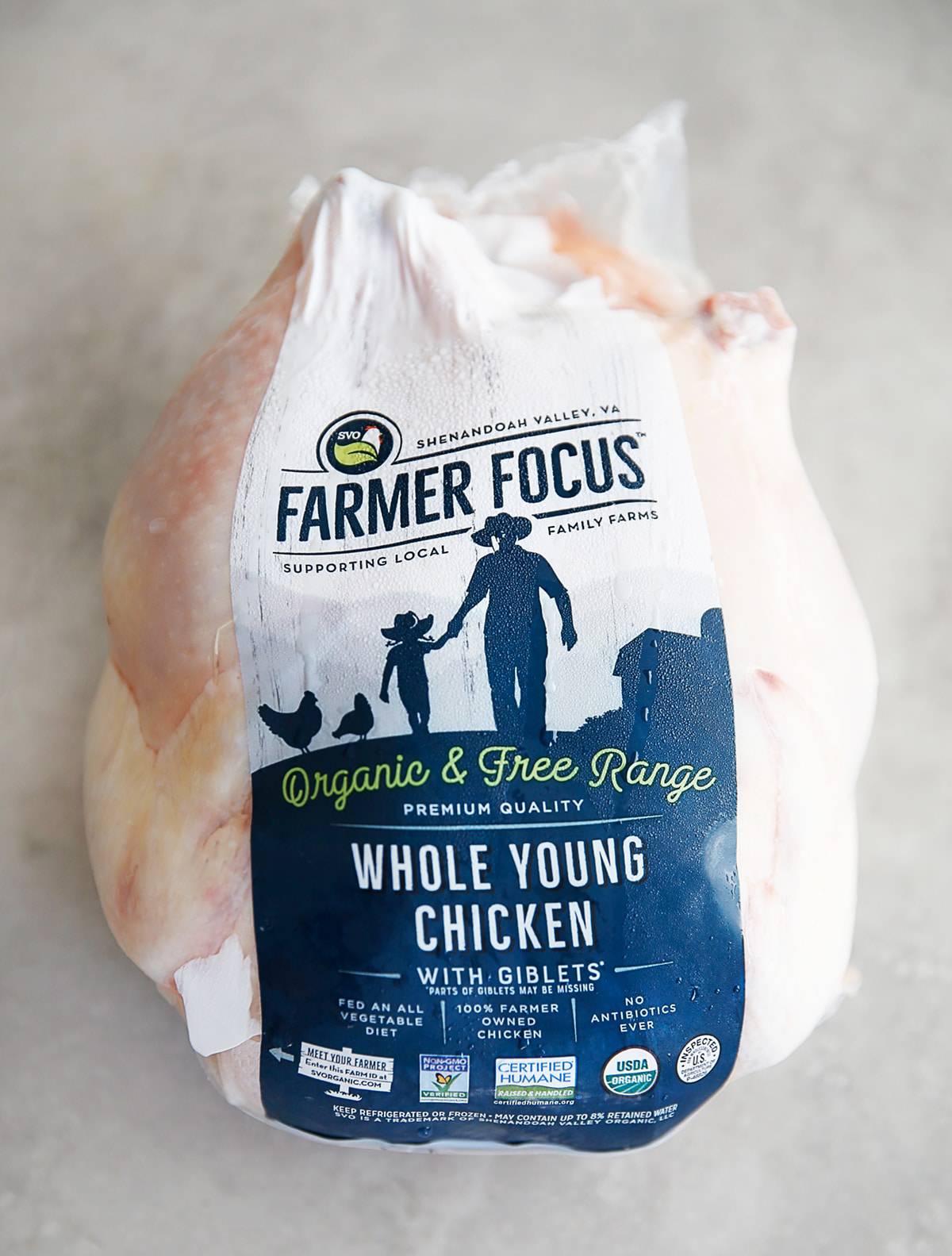 Use their easy store locator to find where you can get this amazing quality chicken near you! Plus, I just love the taste of this chicken! It's just superior!
How do I season my roast chicken dinner?
We went with classic flavors of herb and butter! We used the herbs from my garden: sage, thyme and scallion. We also went heavy on the garlic with 9 whole cloves both on the chicken and with the vegetables. And of course, lots of salt and pepper.
We use butter in this recipe, but if you are dairy free give it a try to use avocado oil in it's place.
Tools we used for this recipe: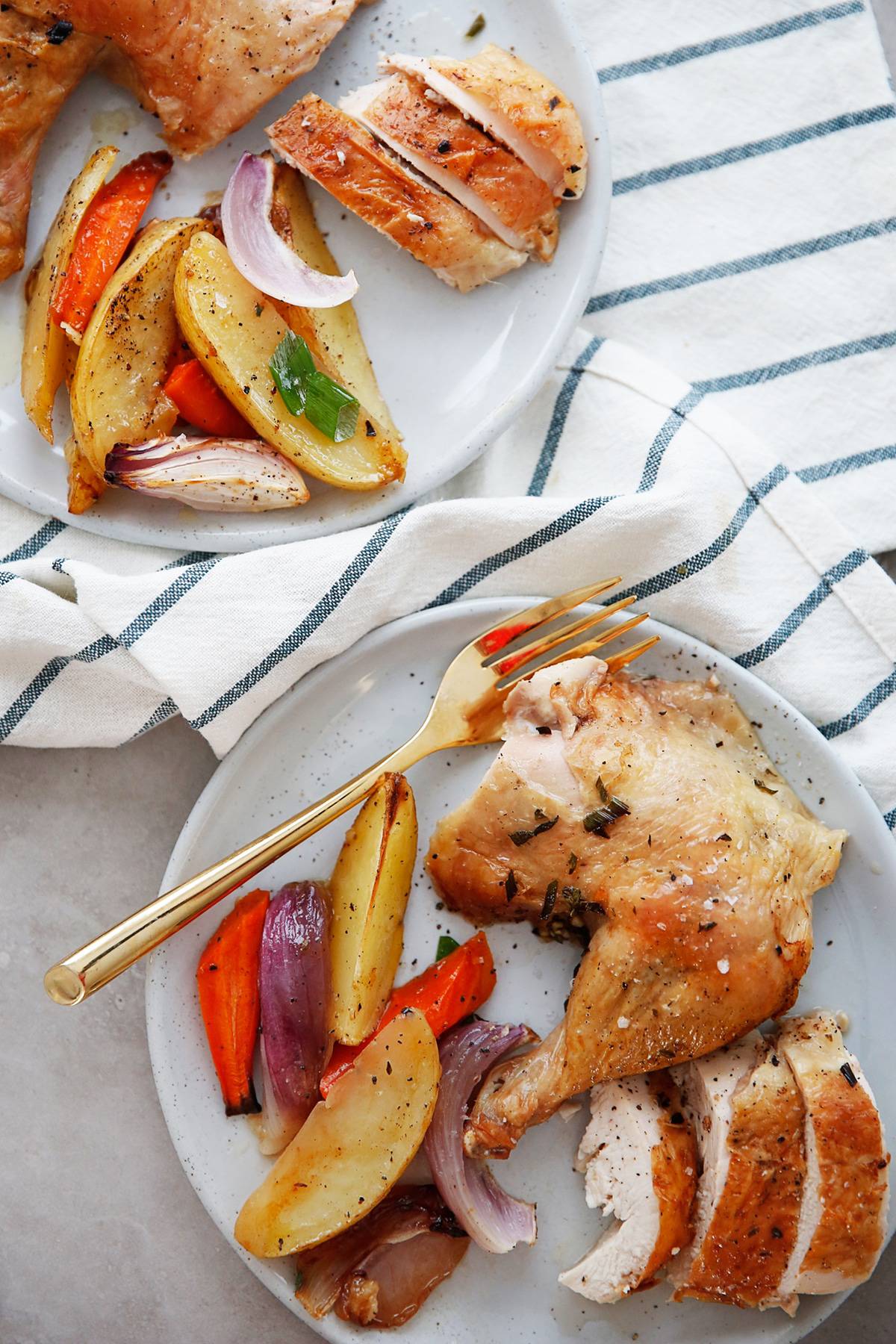 If you like this entire meal recipe, check out these others:

Watch the video:





This post is sponsored by Shenandoah Valley Organic! All thoughts and opinions are always 100% my own! I love the integrity of their products and think you'll love them too. Thank you for continuing to support LCK and the brands I work with!
One Pan Roast Chicken Dinner
This easy Italian meat sauce recipe is my probably my all-time favorite pasta sauce recipe! It's an easy homemade meat sauce recipe that is hearty and flavorful, and perfect for a weeknight meal. Make this healthy meat sauce with ground turkey or ground beef, and let it cook nice and slow! It's gluten-free, paleo-friendly, whole30 compliant, and so yummy! Serve it over zucchini noodles or spaghetti squash for low carb, or gluten-free pasta!

Homemade Meat Sauce Recipe
I LOVE Italian dishes. Especially a quick and delicious meat sauce! I often make my favorite Italian dishes into healthy versions that I love to dig into, weekly. This spaghetti meat sauce is delicious, always a hit and so versatile! Serve it over zucchini noodles, spaghetti squash, the options are endless! I often make a big batch to have for the week, and I never get sick of it!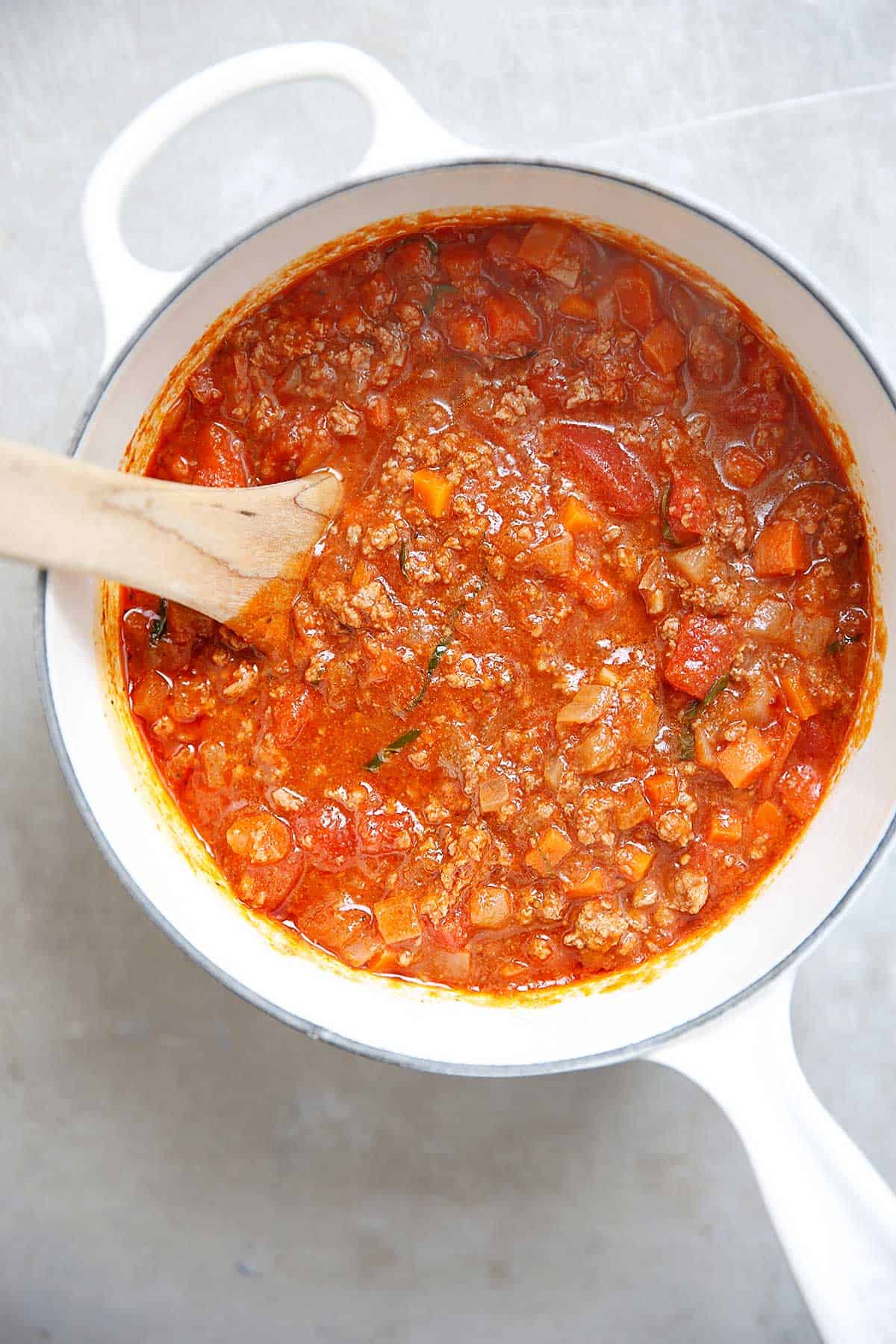 If you love meat sauce, try this spaghetti sauce in these recipes: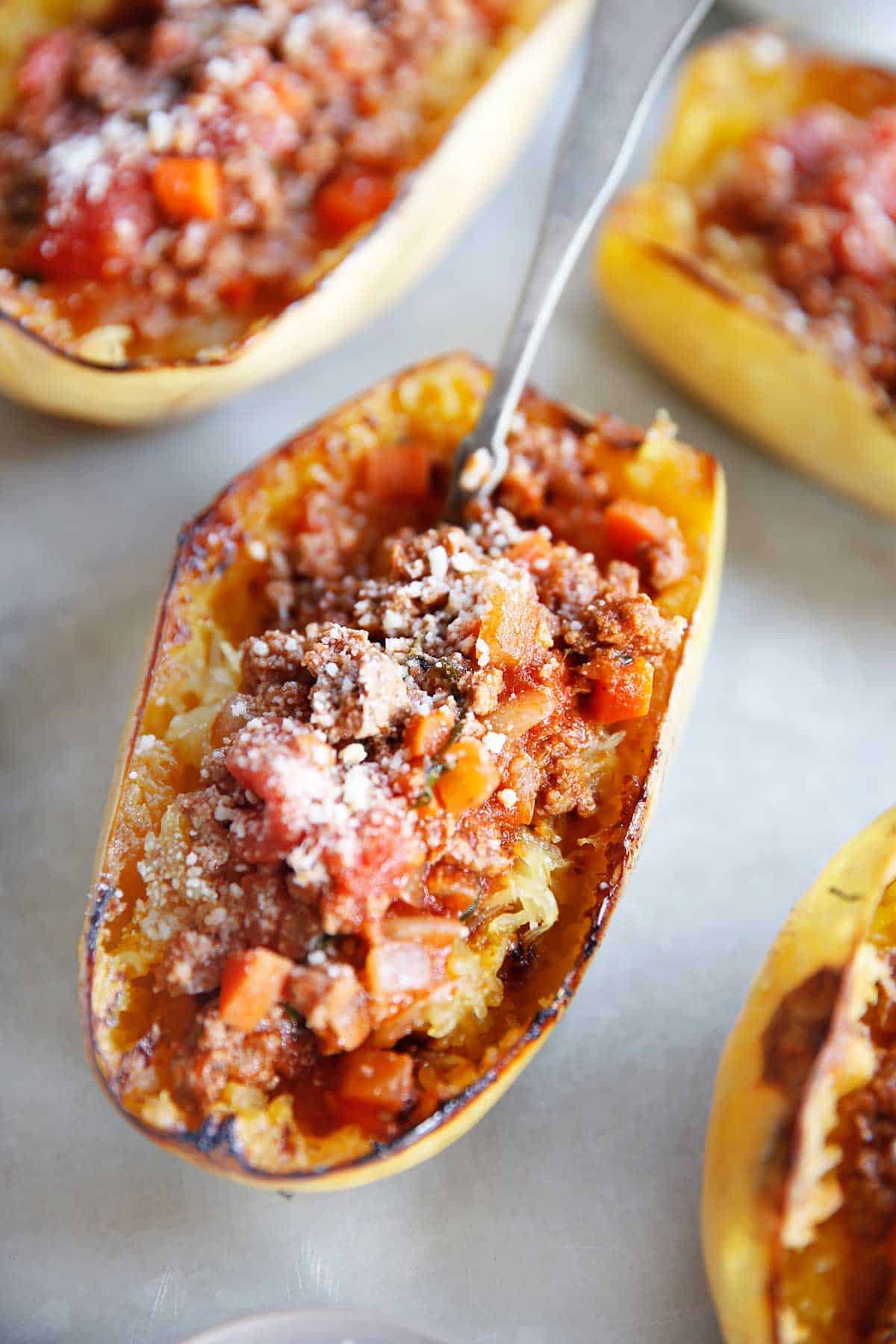 Want other healthier pasta recipes? Try these favorites:
How Do You Make Meat Sauce
Homemade Meat Sauce Recipe
Spring is here!! Whether it's still chilly where you live or beginning to warm up, the produce is coming! I always opt for using fresh, local, in-season produce, plus it can often be cheaper, so let's take a look at the SPRING EDITION of what produce is in season!
Broccoli, cauliflower, leeks, artichokes, all the lettuce greens, asparagus, radishes, peas, parsnips, chives, potatoes, chard, rhubarb, grapefruit, strawberries, and more! It's a good season!
In the next few weeks on Lexiscleankitchen.com, we'll be sharing even more recipes to use all of the fabulous produce in abundance this season.

Get cooking:
Happy Spring Cooking!
What's In Season: SPRING EDITION
This Cauliflower Baked Ziti from the No Excuses Detox Cookbook is the perfect LOW-CARB vegetarian meal! I love the idea of using cauliflower as a lower carb and higher nutrient alternative! This dish is so creamy, dreamy, and a great gluten-free, nut-free, grain-free, and vegetarian meal the kiddos will LOVE!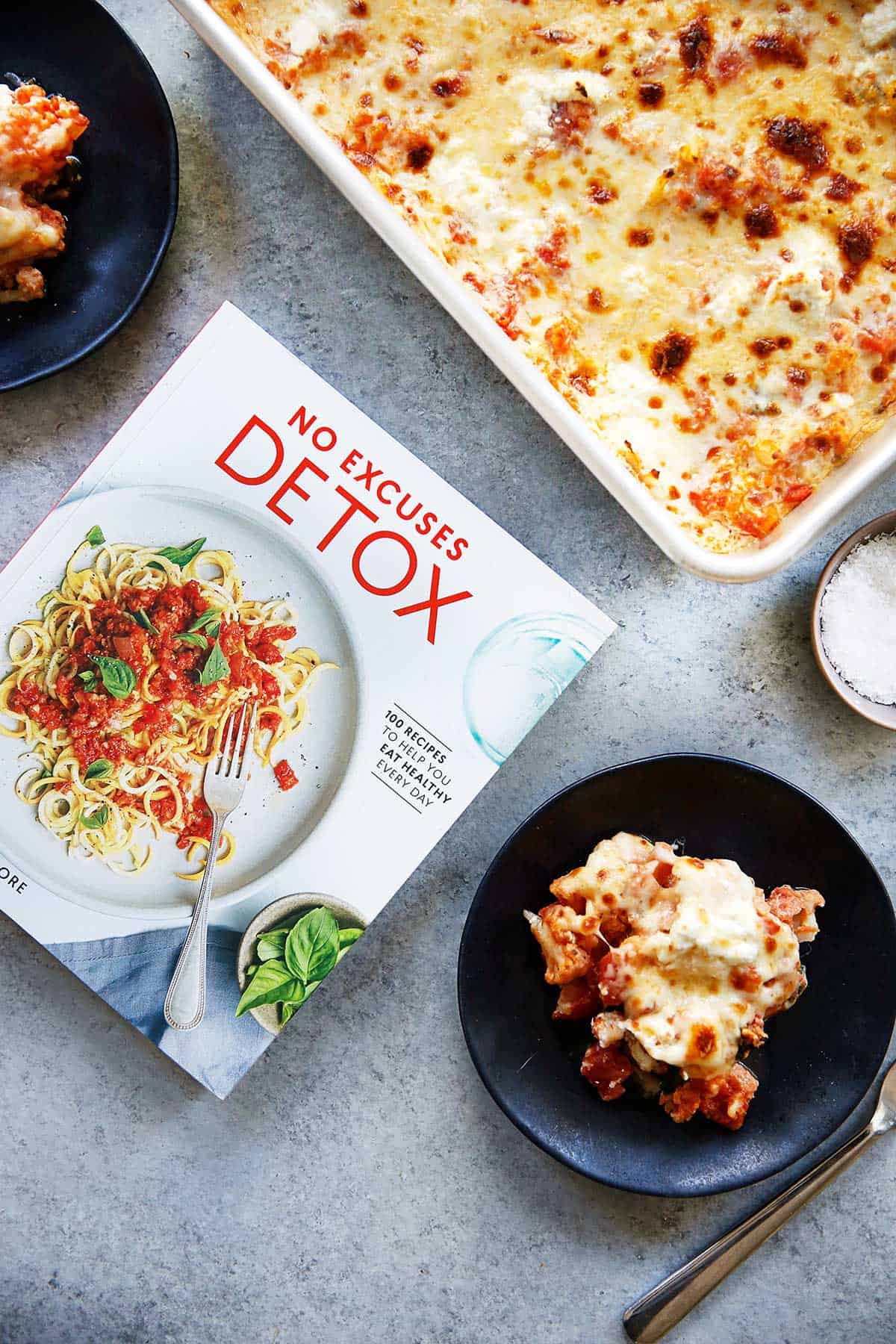 I was super excited when my friend Megan from The Detoxinista's newest book arrived! It's filled with so many family friendly recipes that I cannot wait to make. I started with this Cauliflower Baked Ziti since we are in a grove with our Meatless Monday series! If you tolerate cheese, this recipe is for you!
Here are a few others that I have my eye on:
Butternut Mac n' Cheese
Sweet Potato Queso
Loaded Nacho Dip
Creamy Mushroom Soup
Avocado Caesar Salad
Strawberries & Cream Freezer Pops
Frosty Chocolate Shakes
Carrot Cake Cupcakes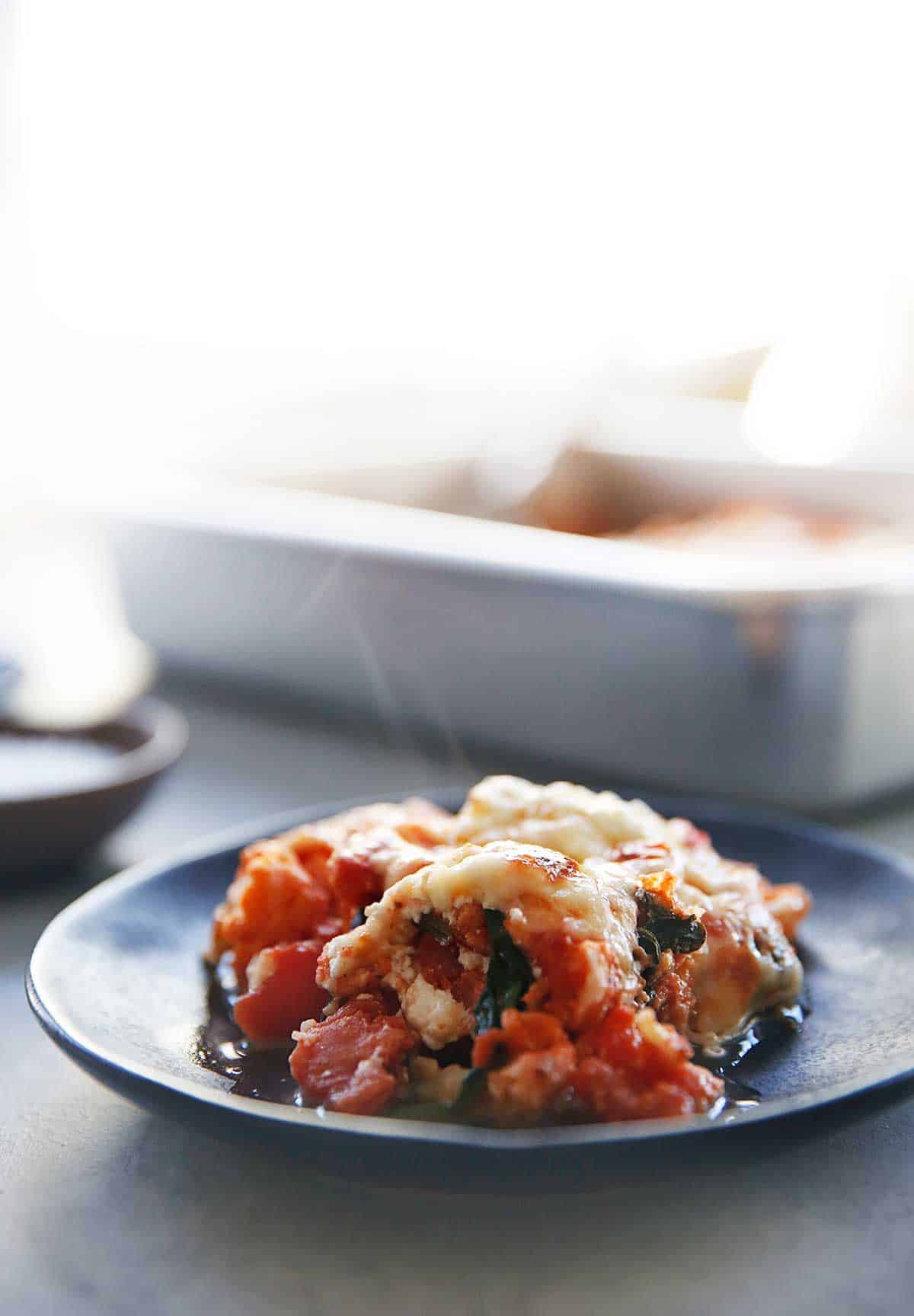 Cauliflower Baked Ziti
---
---
Ingredients
1 head of cauliflower, cut into florets and chopped
2 cups pizza sauce (store-bought or homemade)
4 eggs
1 cup ricotta cheese
2 teaspoons Italian seasoning
1/3 cup grated Pecorino Romano cheese
1/2 teaspoon fine sea salt
2 cups fresh baby spinach
2 ounces shredded cheddar cheese
Recipe Notes
*If you want to add meat, sauté it separately, and then add it to the mixture before baking!
*Make this a freezer-friendly meal: Follow steps 1-3, instead of baking it, pour the ingredients into an oven-safe dish. Cover well and freeze for up to 3 months. When ready to serve, thaw in the fridge overnight and bake!
*Adapted with permission from the No Excuses Detox Cookbook by Megan Gilmore
---
Nutrition
Loading nutrition data...
Grab your copy today!
Cauliflower Baked Ziti
This Crockpot Chicken and Vegetables recipe has everything you want, made in one slow cooker dish. Tender chicken and flavorful veggies are cooked together with herbs and a flavorful sauce. It's the perfect dish to have waiting for you after a long day!
Crockpot Chicken and Vegetables
I love one pot meals, especially when they are made hands-off in my Slow Cooker! This easy Crockpot Chicken and Vegetables is a classic. Made with bone-in chicken thighs, a bunch of veggies that are customizable and a dreamy sauce, this is sure to be a new family favorite. Set it in the morning and have the perfect meal waiting for you when you arrive home.
Ingredients Needed for Crockpot Chicken and Veggies
Bone-In Chicken Thighs
Butter or Oil
Garlic Cloves
Onion
Carrots
Potatoes
Celery
Sweet Potato
Chicken broth
Fish sauce
Fresh ginger
Fresh Herbs
How to Make Crock Pot Chicken and Vegetables
It couldn't be simpler to make this slow cooker dinner. Simply:
Add all of the ingredients to the insert on your crockpot. Pour over the sauce and cook on high for 3 hours, or on low for 7 hours.
To get the chicken skin crispy, so ahead and broil it for a few minutes.
Serve the hot chicken and vegetables with some extra sauce.
If you like this slow cooker recipe, check out these others:
If you like this chicken recipe, check out these others:
Slow Cooker Chicken and Veggie Dinner
Three things I love: veggies, soup in the Fall, and good 'ol meatballs! I also love a soup that can be altered and customized to satisfy everyones wants, needs, and desires! Take this soup for example, you can totally get creative! Add in some beans, throw in your favorite veggies or whatever you have on hand, other meat additions- anything goes.
Meatball and Veggie Soup
This soup is flavorful, easy, packed with veggies and protein, and the perfect weeknight meal.
Like this soup recipe? Try these: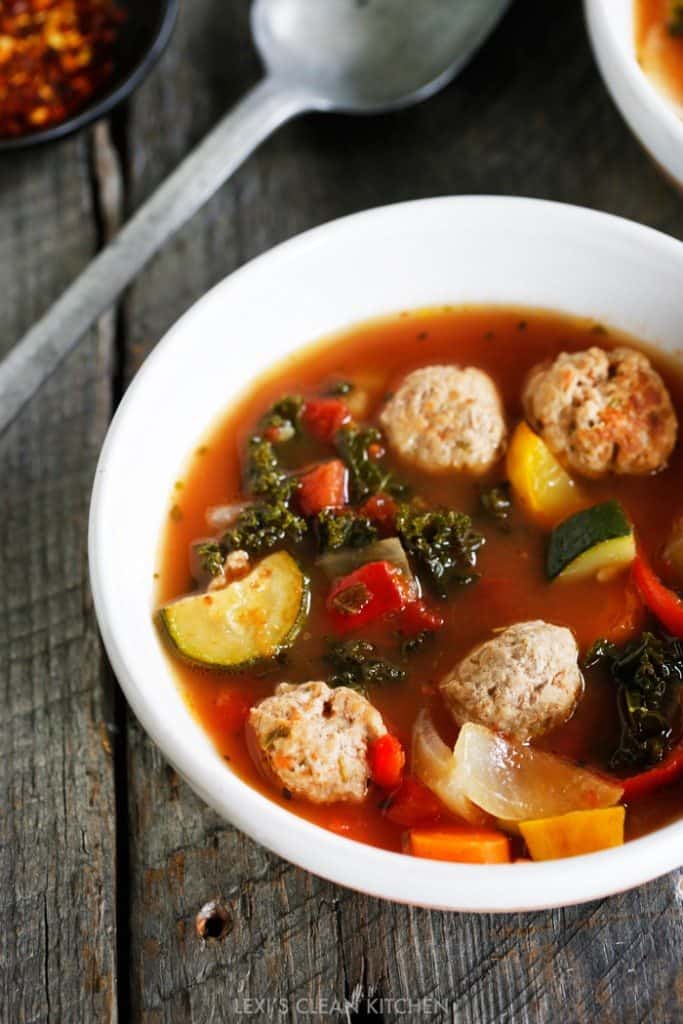 Next time you are using Pacific nut milks in your coffee, broth in your soups, pumpkin in your baked goods, take a photo and share on social! YOU will be helping a family in need. Let's make a difference! P.S. Need some inspo? Aside from this soup, try my Bananas Foster Chia Pudding and my Easy Scallop 'Pasta' Dish– and don't forget to take a photo of it and tag away!!



Disclaimer: This is a sponsored post on behalf of Pacific Foods. All opinions on Lexi's Clean Kitchen are always my own and I only work with brands that I truly stand behind. My sponsors help make LCK possible!
Meatball and Veggie Soup
Let's start with this… I love salads. But sometimes in the winter I want something warm. Now let's combine the two… a warm salad for the perfect meal starter (or hey, add some protein and make it your entire meal)! Warm baked apples, roasted sweet potato and onions drizzled with walnuts and a homemade dressing. Sweet, Savory, and flavorful perfection. Assembling this salad is a breeze, and you can shop Membership Rewards points along the way!
[yumprint-recipe id='88']
In this recipe:
I was selected by American Express to help educate consumers about how to use Membership Rewards points. As such I was paid for my services, but all gift choices selected and opinions about the gifts and American Express are my own. http://t.cmp.ly/68ee5b1be62ebaeb5a

Warm Harvest Salad with Honey Walnut Vinaigrette
I didn't grow up eating shepherd's pie, but since making this recipe I have fallen in love! This Shepherd's Pie: Two Ways is such a perfect Fall dish when you are craving something hearty and comforting. Loaded with protein, Fall veggies, and topped with creamy sweet potato or cauliflower mash for a low-carb alternative!
If you love mashed potatoes as much as I do, this is a must-try!
Savory Sunday is back and this week's recipe is a good one! I can't believe it is Sunday. This weekend was relaxing and productive on my end. Speaking of the last post, did you guys kick it into gear with your November goals? I am pushing hard in my workouts this month.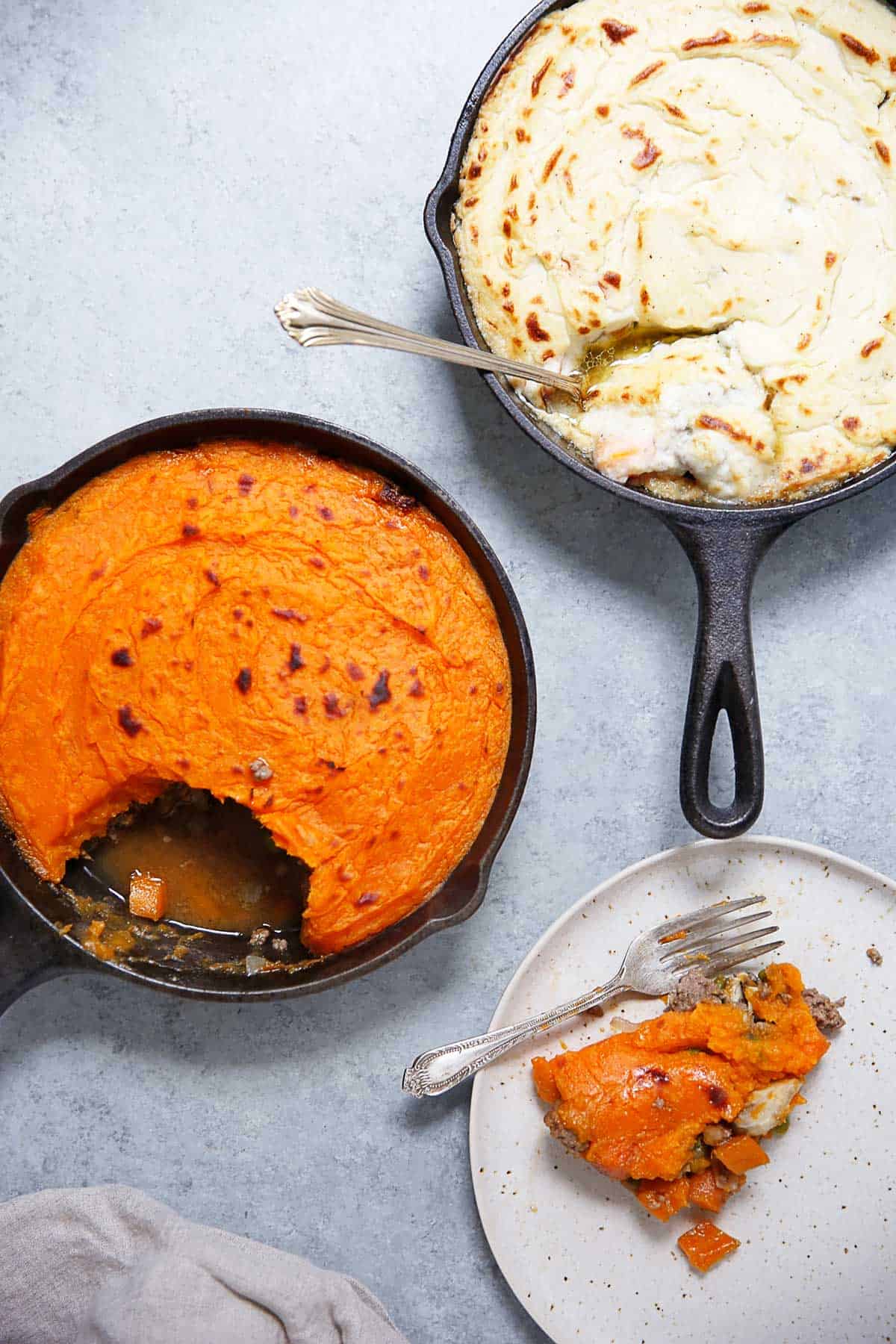 com·fort food
How do you feel about comfort food?
This definition kind of bothers me for some reason.
Maybe because I feel that food shouldn't necessarily be what provides one with a sense of well-being or consolation, and I don't generally find comfort in high sugar or high carb dishes, but I do find comfort in meals associated with home cooking.
This week's Savory meal idea is perfect for the Fall! Healthy comfort food made TWO ways, to satisfy everyone in your home.

What is your favorite comfort food? 
Shepherd's Pie: Two Ways
This Chicken Kale soup is perfect for when your body needs an easy, delicious and light meal. Packed with veggies and healthy protein, this soup is easy to whip up. It's low-glycemic, paleo-friendly, egg-free, dairy-free, and Whole30 compliant!
Chicken Kale Soup Recipe
Swap the juice detox for a soup detox this season! I call this Chicken Kale Soup my detox soup because it is light, healthy, and packed with anti-inflammatory vegetables that are easy on the digestive system! The fiber from the veggies combined with the protein from the chicken makes this such a filling meal for any day of the week!
Mike and I recently came back from a weekend in New York, where we were visiting my family and our friends! It was a truly great weekend! After a weekend of eating out, drinking, and changing up my daily exercise routine though, my body definitely needed a boost. That's where this soup comes in! This soup is now one of my go-to recipes when I feel that I need to detox for a day! I love that every ingredient in this soup is from my local farm! It is also so simple to throw together!
Ingredients for Chicken Detox Soup
Olive Oil
Onion
Garlic
Carrots
Celery
Organic Chicken Breasts
Organic Chicken Stock or Bone Broth
Kale
Fresh Ginger
Fresh Lemon
Salt and Pepper
Fresh Parsley
In addition to eating as healthy as we can, Mike and I have also been working on "detoxing" other things in our life. Check out this list: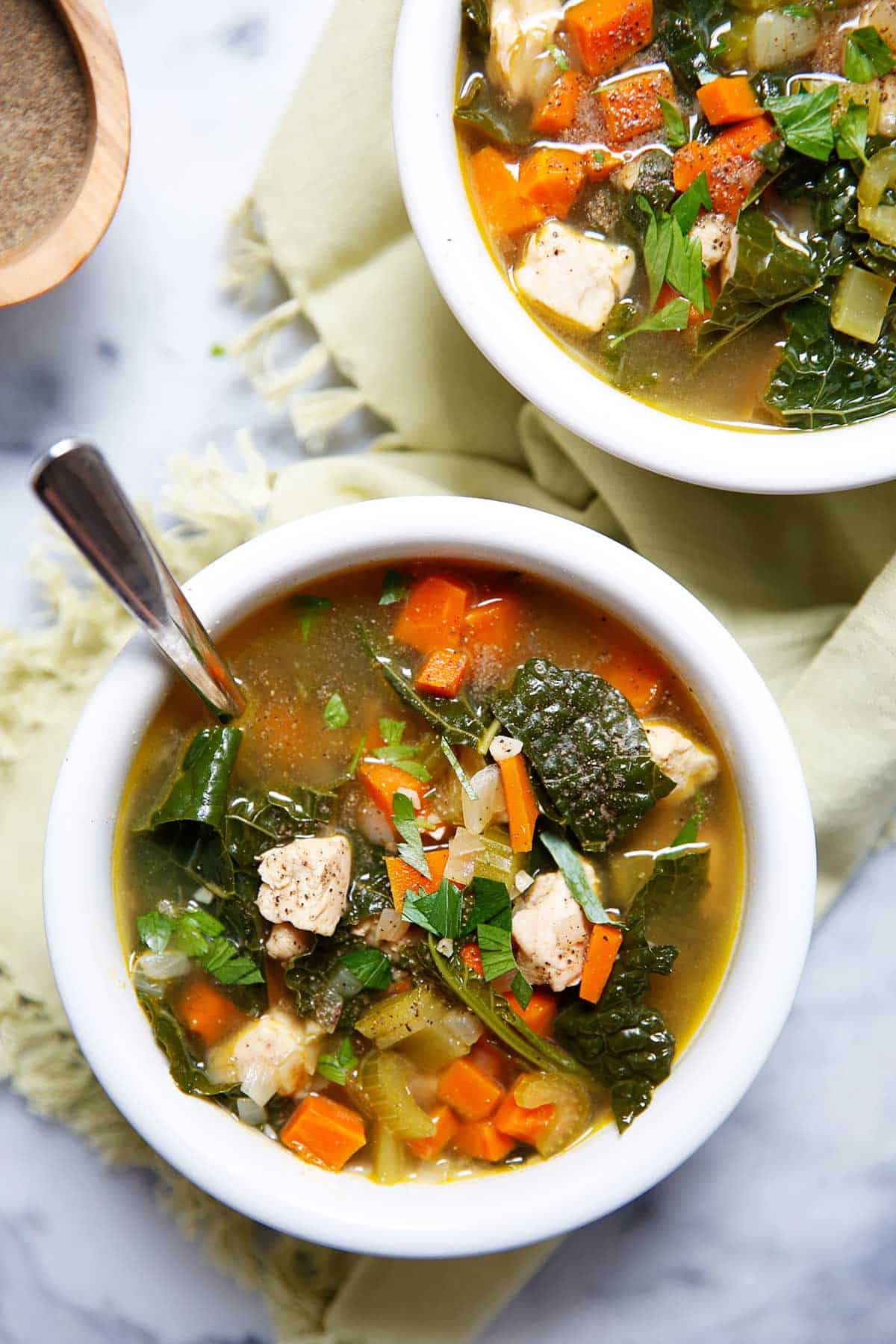 If you like this soup recipe, check out these others:
Detox Chicken and Kale Soup
Football season is about to be here and that means Sundays for me are filled with game day cooking (my favorite)! I always try to prepare healthy game day foods and this Buffalo Chicken Chili will definitely be on the rotation. You can make this buffalo chicken chili recipe in the Instant Pot or on the stove top!
Buffalo Chicken Chili (Instant Pot or Stove Top)
This chili is a must-try, it's the perfect mix of flavors and textures. It's hearty, flavorful, and different! It went over big time in my house tonight!

If you like this chili recipe, try these recipes:
Buffalo Chicken Chili (Instant Pot or Stove Top)
This Seafood Primavera is the perfect healthy alternative to the classic pasta dish! Such a great simple, veggie-packed Dinner for any night of the week!
I realized yesterday that of my many dishes made with spaghetti squash, almost all are meat-based and none of them contain seafood. That had to be changed! I was in Whole Foods when I began conjuring up ideas. Spaghetti squash infused with white wine, spices, garlic, veggies, and seafood? DONE! Eating healthy never has to be boring!