Easy Tomato Basil Soup with Canned Tomatoes
This Tomato Basil Soup (with Grilled Cheese) is my new comfort food favorite. The tomato soup is creamy, flavorful, and smooth and pairs perfectly with this easy grilled cheese! Don't have basil? Omit it for the ultimate pantry staple soup.

Easy Tomato Basil Soup with Canned Tomatoes
I've had a lot of good tomato soup in my day, and this one is up there with all of my favorites. It's rich and creamy, without any added dairy! The extra aromatic veggies add so much flavor. Plus, it's easy to make with pantry staples! You will love this soup time and time again.

Do I need fresh tomatoes for tomato soup?
In a perfect world we'd have all these fresh tomatoes, but depending where you live and the season, it isn't always a reality! You can make delicious (and easy) tomato soup without fresh tomatoes, and with canned tomatoes!
No basil? No problem!
You can omit the basil if you don't have any fresh!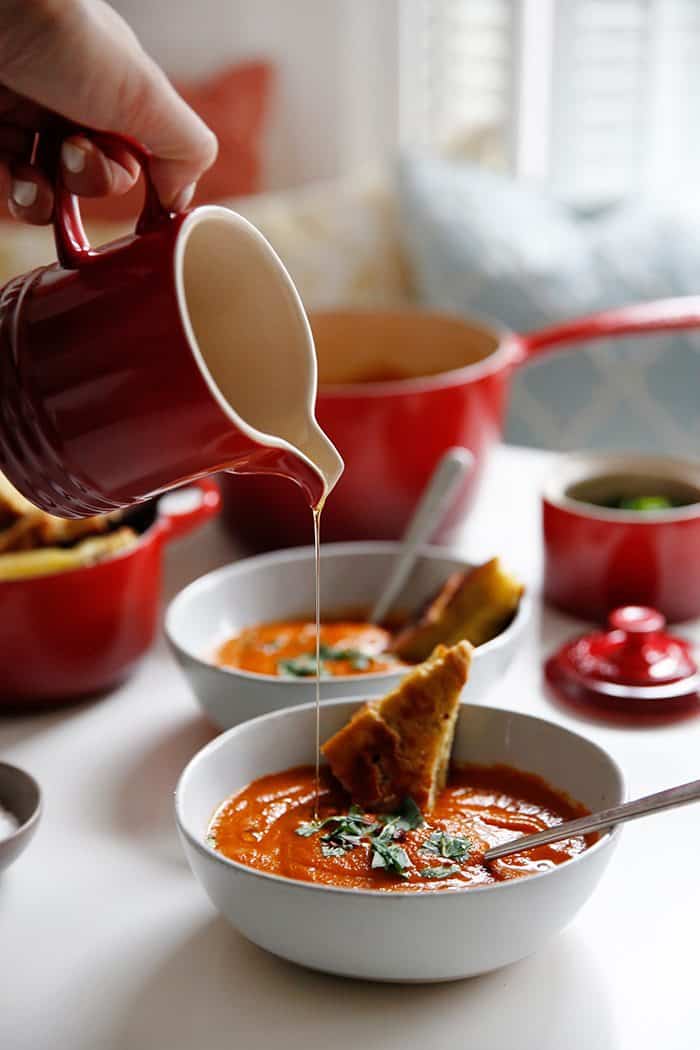 What should I serve it with or garnish with?
My favorite is GRILLED CHEESE!
Croutons
Fresh Parmesan Cheese
Fresh Basil
Cracked Black Pepper
Drizzle of Olive Oil
Want other comforting soup recipes? Try these favorites:

[yumprint-recipe id='410′]
This post is sponsored by AllModern. All opinions are 100% my own and I only work with brands that I 100% stand behind and personally use.
What is your favorite comfort food dish?
Easy Tomato Basil Soup with Canned Tomatoes
This Fall Hash Brown Breakfast Skillet is packed with all of the quintessential flavors of autumn! It's the perfect hearty weekday breakfast (or brinner), and great for a weekend brunch! Hearty, nutrient-dense, and delicious!

The hash browns in this dish make it SO perfect. Instead of dicing the potatoes, simply shred them! It adds wonderful texture to the dish.
P.S. Did you miss that I announced the first leg of the LCK BOOK TOUR? Make sure to RSVP before tickets run out!
[yumprint-recipe id='392′]
I hope you have an awesome weekend and that you LOVE this skillet!
Get the details here!

Fall Hash Brown Breakfast Skillet
This Slow Cooker Thai Curry Chicken will soon become your favorite lunch or dinner. It's packed with delicious flavor and comes together in a pinch! We ate it all week long on top of white rice or cauliflower rice, and it would be great over rice noodles with veggies, too!

 Slow Cooker Thai Curry Chicken
Week 2 of Slow Cooker Sunday is here and it's a goodie! I am so happy to see so many of you making and sharing your Carne Asada from last week, so let's keep it going strong this week!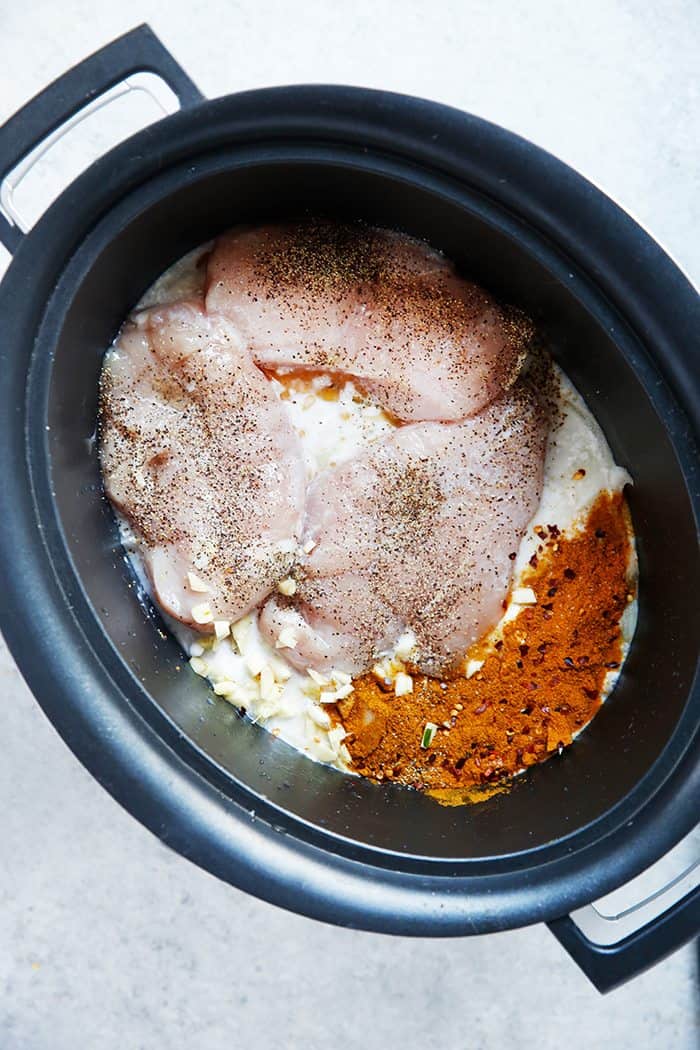 You put it all in…
Mix it up…
Then set it and forget it, and voila! Perfect Thai Curry chicken!

Watch the video:
Slow Cooker Thai Curry Chicken
---
---
Directions
Place sliced onion in the bottom of the insert of your slow cooker.
Add coconut milk, garlic, ginger, fish sauce, lime juice, sesame oil, sugar, and spices. Toss to combine.
Add in chicken and mix to coat.
Set on high for 4 hours. When done, shred with two forks.
Serve over white rice or cauliflower rice, garnish, and enjoy.
Recipe Notes
For Whole30, omit the sugar.
---
Nutrition
Loading nutrition data...
Slow Cooker Thai Curry Chicken [VIDEO]
This Slow Cooker Carne Asada is the perfect set it and forget it meal. On top of a salad, nachos, in lettuce cups for healthier tacos — the options are endless!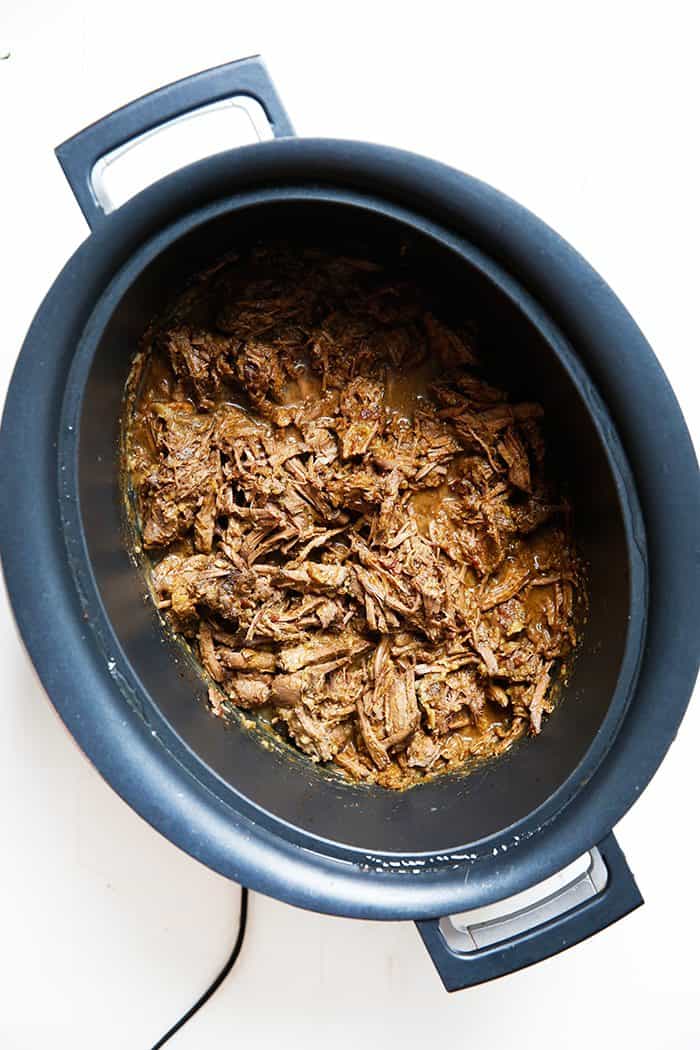 A new series is HERE: Slow Cooker Sunday!! All Fall, I'll be sharing a slow cooker recipe each Sunday for you to pop in your slow cooker and head out for the day, and then come home ready to eat and/or use for your weekly meal prep!
First of all, happy start of FOOTBALL! If you've read my blog for some time, you'll know I love entertaining and creating spreads for Football Sunday– more than I love watching the games!
Another thing you'll know if you've read my blog for a while is that the slow cooker is one of my all-time favorite kitchen tools for that reason. I love a no-fuss meal, and love not having to slave over the stove to make it!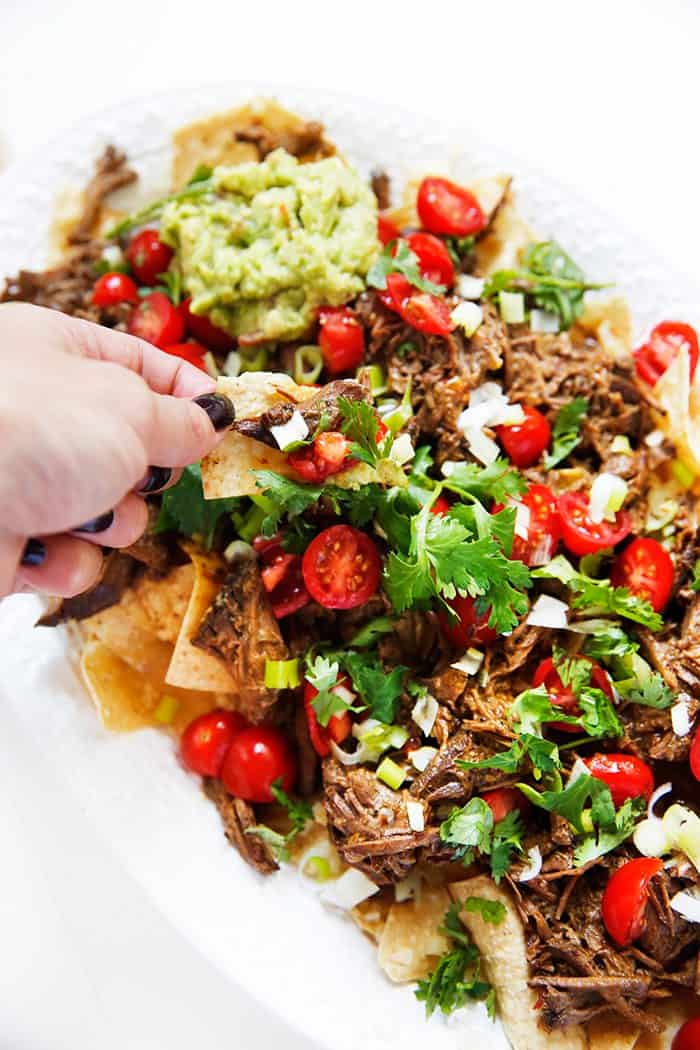 [yumprint-recipe id='386′]
Are you as excited for this series as I am? I have so many awesome slow cooker recipes coming, and I'd love to hear if there are any you are hoping to see! Feel free to comment below or email me!
Slow Cooker Carne Asada
Wow, you guys! We are heading into week 4 of the Weekly Dinner Meal Plans!! Four weeks of dinner plans to help you keep those resolutions going. Don't you worry, if you want to just start, here is week 1, week 2, week 3, and now… week 4! I am so glad so many of you have been loving these and loving how you are feeling!
What else do I have to update you on? Well, I was feeling a little under the weather this week so I loaded up on vitamin C, soup, and a little R&R. I've also been testing, testing, testing for the Lexi's Clean Kitchen Cookbook which I will have lots of more details about, like preorder and all that jazz, SOON!
Also, I joined Snapchat so you should probably come follow me! —> Lexiscleankitch.

Friday: Leftovers
Saturday: Dinner Out
Click to download printable grocery list PDF here!
---
If you'd like to see more of these dinner plans, please comment below!
Lexi's Weekly Dinner Plan Week 4 (2016)
When I think of wings I naturally think of the fried and unhealthy variation from my good 'ol college days, but that doesn't always have to be the case! These Dry-Rub Grilled Wings are healthy, flavorful, and so simple to make! A perfect crowd pleaser for any occasion!

Father's Day weekend = BBQ, BBQ, BBQ!
This week for Healthy Food Friday with American Express, let's transform this wing party into a guilt-free one! These wings are flavor-packed and grilled to perfection. Plus, they are easy breezy! Perfect for anyone on grill duty this weekend.

Not much better than a bucket 'o wings!

Like this wing recipe? Try these:
Want more football recipes? Try these: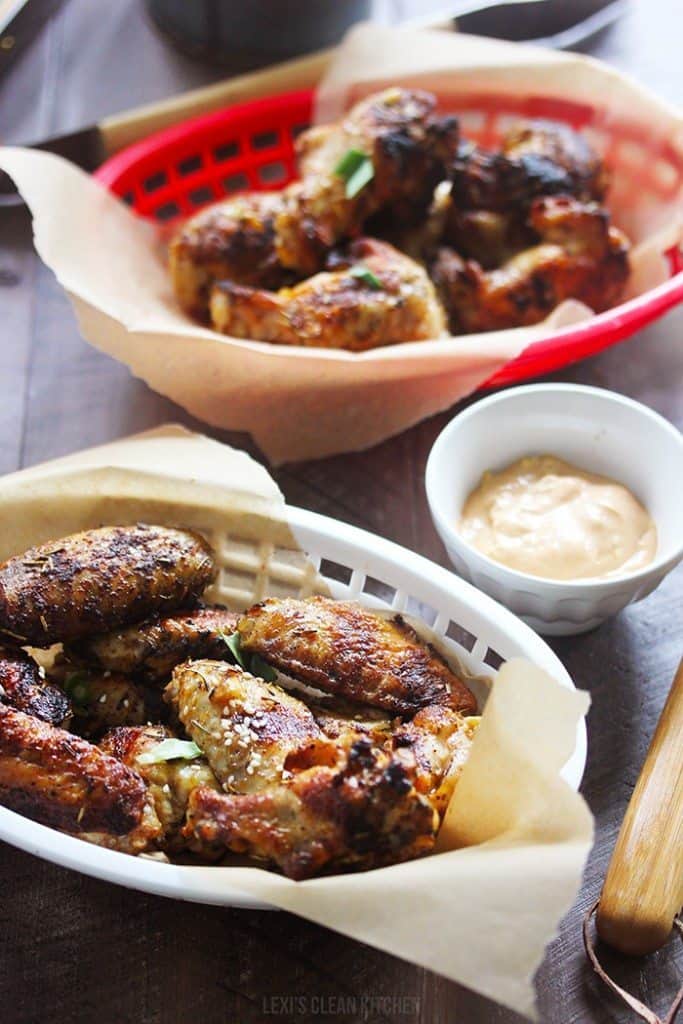 Watch the video here:
Dry-Rub Grilled Wings
---
---
Directions
Place wings in a plastic bag and add in oil, garlic, and spices. Toss to combine.
Let marinade for 30 minutes up to overnight.
Preheat grill to medium heat. Grease grill and place wings on.
Let cook for 7 minutes then flip for a remaining 7, until no pink remains.
Recipe Notes
*Bake these instead: Pre-heat oven to 400°F. Line a baking dish with parchment paper. Bake for 30 minutes. Using tongs, flip wings and bake for another 10 minutes. Broil for 1-2 minutes to get the wings extra crispy. Remove from oven and let cool slightly. Serve warm with dipping sauce!
---
Nutrition
Loading nutrition data...


I was selected by American Express to contribute to their Tumblr community. As such, I was paid for my services, but all opinions in general and about American express are my own.
Dry-Rub Grilled Wings [VIDEO]
January means a new year and new goals, often revolving around healthy eating and transforming old habits into new ones to create a healthy lifestyle. Since that is the basis of Lexi's Clean Kitchen, you can imagine I love having new people on board and new visitors to LCK! Already this month has been amazing. I love hearing all about your new journeys, whether a Whole30, a 21DSD, or simply just eating better and working out!
In leu of all the January diet/detox kick-offs, American Express and I wanted to give you some easy healthy swaps to make your life easier, and to make you feel the best you can!
Here are six recipes to get you started. They are all Whole30 compliant, gluten-free, grain-free, dairy-free, and paleo-friendly!

How are you kicking off 2015?
I was selected by American Express to contribute to their Tumblr community. As such I was paid for my services, but all opinions in general and about American Express are my own.
Healthy Swaps for the New Year
I've been eating this simple (yet super flavorful) soup all week and it's been hitting the spot on these cold cold days we are having here in Boston.
This soup is packed with protein and veggies and the perfect dinner meal, starter, or a nice light lunch! So many of you are on Whole30's and 21DSD's this month, so I am bringing you all sorts of compliant meal ideas! Make sure to connect on social media where I constantly share a ton of them 🙂
[yumprint-recipe id='239′]
What is your favorite type of soup and/or cold weather comfort food?
Turkey Kale Soup
---
---
Directions
In a large pot heat 1 tbsp olive oil and sauté garlic
Add in chopped onion, carrots, and celery and sauté for 7-10 minutes or until slightly soft
Add in ground turkey and let cook, stirring often, until browned
Massage kale with additional 1/2 tbsp of oil, roughly chop it, and add it into the pot
Once wilted, add in diced tomatoes and chicken broth, seasoning and salt and pepper
Bring to a boil, the reduce to a simmer for 15-20 minutes
Taste and adjust spices as desire
---
Nutrition
Loading nutrition data...
Turkey Kale Soup
This Chicken Milanese is the perfect healthy spin on the Italian dish! It's made with a paleo breaded chicken, topped with fresh tomatoes and served with a lemon dressed arugula salad. It's the perfect late summer meal that is grain-free and totally delicious.
Paleo Breaded Chicken Recipe
Fried chicken, you guys! But not just any fried chicken, but paleo breaded chicken pan fried with healthy fats! This nutrient-dense delicious chicken recipe will be loved by all and nobody will know it's grain-free! This chicken is crispy on the outside and juicy on the inside. I love chicken made Milanese style- which is fried in a pan and and topped with arugula, tomato, and layers of freshly grated parmesan! I like to serve mine with a few a bit of good quality parmesan but feel free to omit if you are totally dairy free!

Ingredients Needed
Chicken Breasts
Eggs
Tapioca Flour
Ground Flaxseed
Coconut Flour
Sea Salt and Ground Pepper
Avocado Oil
Arugula
Tomatoes
Lemon
Grated Parmesan Cheese (optional)
If you like this chicken recipe, check out these others:
Chicken Milanese
---
---
Ingredients
Fried Chicken
Other
Directions
In a medium mixing bowl combine flours, salt, and ground black pepper.
In a separate small mixing bowl, whisk together eggs.
Pat chicken dry with a paper towel and season generously with salt and pepper. Using a meat pounder, gently pound chicken until it is 1/4 inch thick. Place on a cutting board, and slice chicken breasts in half.
Dip sliced chicken breasts into the egg, then dredge in flour mixture, dip back into the egg mixture, and into the flour one more time. Dipping the chicken in the egg and flour mixtures twice helps create an extra thick and crispy crust. Repeat until all chicken is coated.
In a large skillet, heat oil for 2-3 minutes until hot.
Place chicken in the skillet and let fry for 5-8 minutes on each side. Cook until chicken is crispy and golden-brown, but juicy in the center.
Toss arugula and tomatoes with oil, lemon, salt, and pepper. Add-in parmesan if using.
Place a bed of arugula on a plate and add chicken. Top with a handful of tomatoes and arugula. Serve warm with a few wedges of lemon.
Recipe Notes
*Cooking time will vary based on thickness of chicken. Make sure to keep an on eye on them to avoid overcooking. Make sure to add more oil if needed during the cooking process.
** Pictures updated May 8th, 2017.
---
Nutrition
Loading nutrition data...