Cauliflower to the rescue again! These buffalo cauliflower nuggets made in the air fryer are downright addictive, with a crispy exterior coated in an easy spicy buffalo sauce. These easy vegetarian bites are gluten free and low carb, with an option to make it paleo and dairy free.
Air Fryer Buffalo Cauliflower Wings
Cauliflower has masqueraded as many different things here on LCK, such as hummus, hash browns, rolls and pizza bites. But these Buffalo Cauliflower Nuggets, from the new Skinny Taste Air Fryer Cookbook might be a new favorite! They are easy to make, and fun to eat!
If you don't know my friend Gina, not only is she one of the kindness people I know, she works so hard, and her cookbooks are a total reflection of that dedication and work ethic! Her newest cookbook is no exception! Gina shares 75 of her best recipes that work in every type of air fryer, including basket models and countertop ovens with air fryer settings. I seriously am amazed at all of the things she makes happen in the air fryer! Not only is the cookbook amazing, but in true Gina fashion, she also has her very own AIR FRYER that you can go ahead and purchase now!
This book is not only an amazing air fryer guide but of course it's filled with with crave-worthy recipes for favorites such as:
Appetizers:

Cauliflower Rice Arroncini
Crispy Coconut Shrimp, Za'atar Chickpeas
Cheesy Crab Stuffed Mushrooms
Pickle-Brined Chicken Tenders

Dinner fav's:

Korean Pork Lettuce Wraps
Roasted Fish with Lemon-Almond Crumbs
Sugar and Spice Acorn Squash
Apple Stuffed Pork Chops
Charred Sesame Green Beans

Baked goods:

Homemade Bagels
Petite Spiced Pumpkin Bread
Cinnamon Rolls with Cream Cheese Icing
This book has plenty of swaps for dietary restrictions, including gluten free and is just all around a great resource.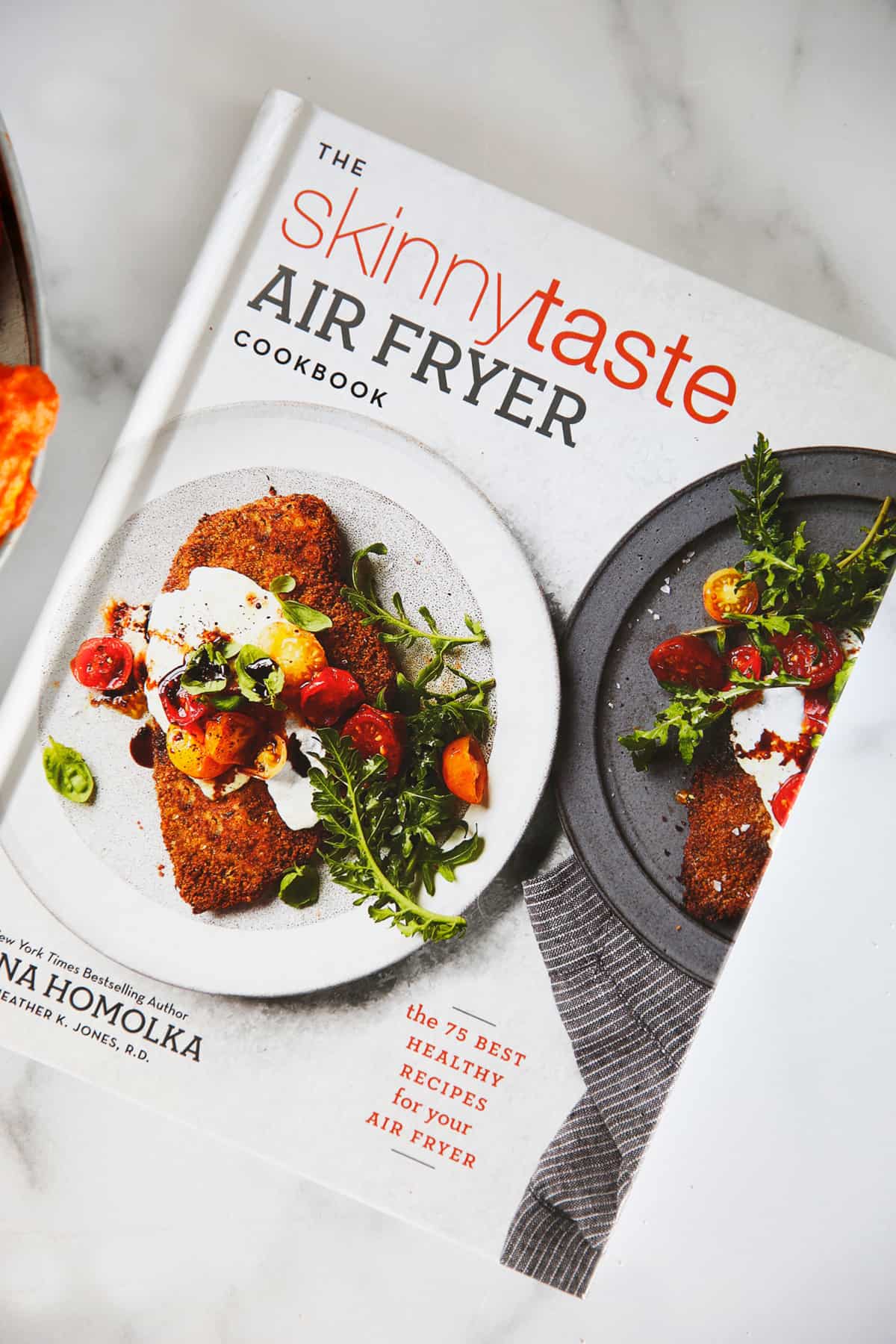 Tips for Making Buffalo Cauliflower Bites
Make sure to cut your cauliflower into similar sized pieces. The cook timing on this recipe is based off of bite sized pieces, which are around 1″ to 1-1/2″ pieces of cauliflower.
Gina instructs to individually coat the pieces, instead of breading them inside of a bag or in large batches. It takes a little bit more time but is well worth it because these bites came out so crispy!
There is no seasoning inside of the breading or egg because the hot sauce is quite salty, but feel free to add some garlic powder or pepper if you desire.
If you want to make the buffalo sauce dairy free, substitute with ghee.
Gina suggests serving this with blue cheese, but ranch would also work as well!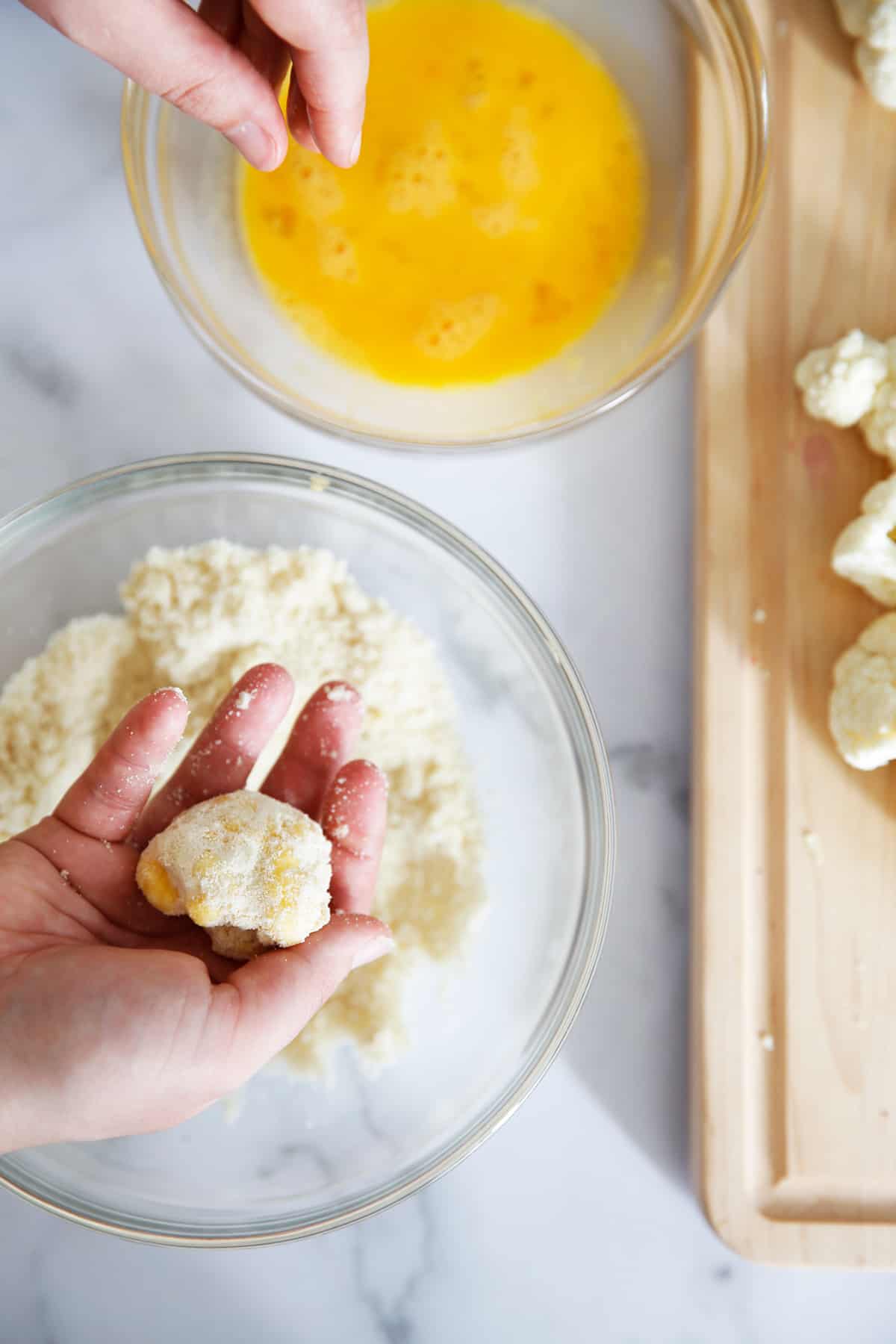 What type of air fryer should I get?
Gina has her very own air-fryer launching in July, which you can grab here!
One we haven't tried, but plan to, is a toaster-style one.
Note: While we love our air fryer, you should know that they are not a small appliance, so just make sure you have the space! And in case you don't, we went ahead and tested these baked for you!
Can these be baked?
If you don't have an air fryer (YET!), these cauliflower bites can be baked on a sheet pan lined with parchment paper in a preheated 375ºF for 25-30 minutes, flipping halfway through, until cauliflower is tender.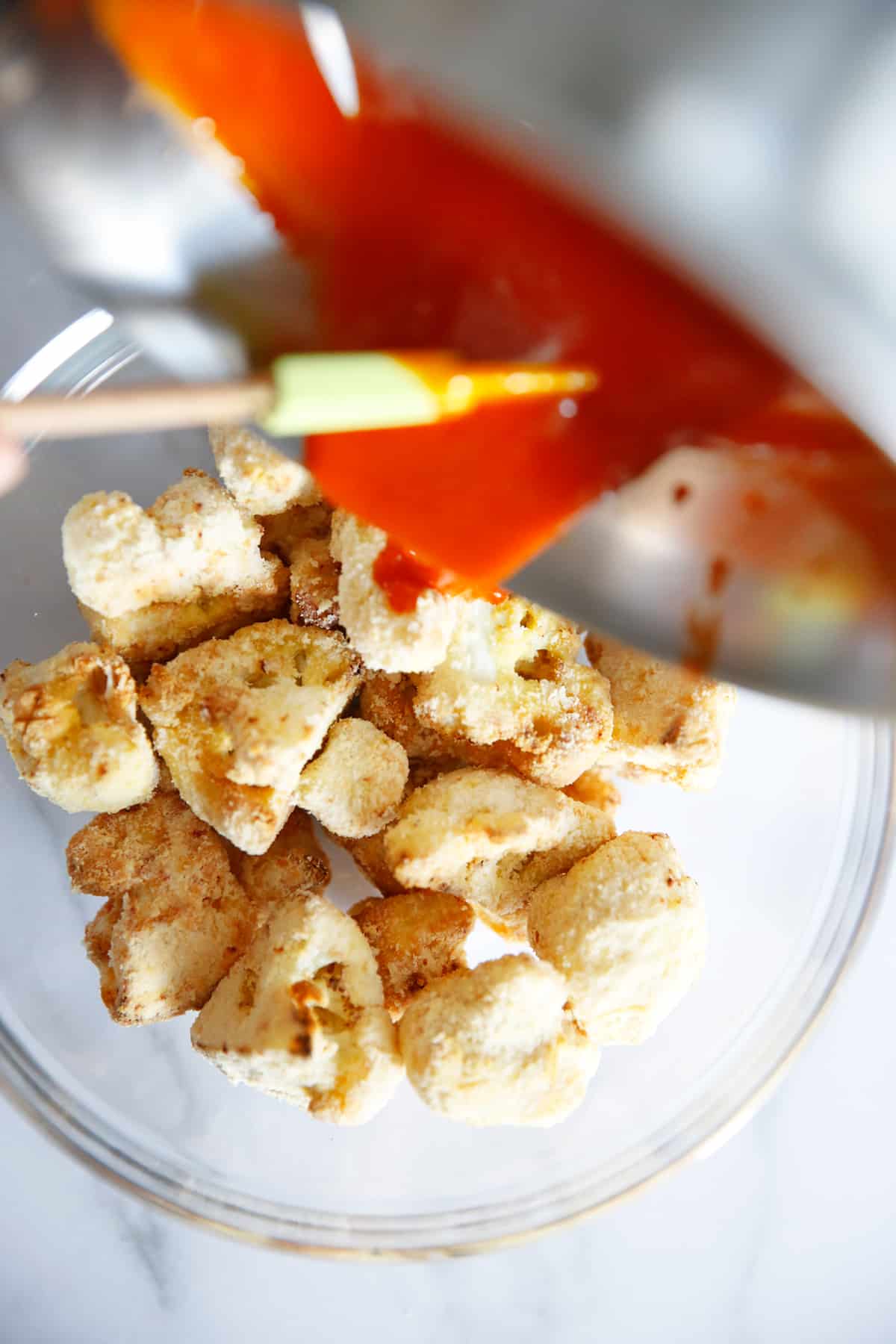 If you like this cauliflower recipe, check out these others favorites:
Love Buffalo Sauce like we do? Try these Buffalo favorites:
Grab your copy of The Skinny Taste Air Fryer Cookbook here!
---
Air Fryer Buffalo Cauliflower Nuggets
Ingredients
3 large eggs, beaten
1/2 cup almond flour, more if needed
28 bite-size (about 1 inch) cauliflower florets (16 ounces)
Olive oil or avocado oil spray
6 tablespoons Frank's RedHot Sauce
1 tablespoon unsalted butter, melted (or ghee for dairy free/paleo)
Carrot sticks and celery, for serving (optional)
Directions
Preheat the air fryer to 380ºF.
Place the eggs in small bowl. Place the almond flour in a separate medium bowl. Dip the cauliflower into the egg, then into the flour to coat, shaking off excess. Place on a sheet tray and spray both sides with oil.
Working in batches. arrange a single layer of the cauliflower in the air fryer basket.
Cook for 7-8 minutes, flipping halfway, until golden and tender.
When all the batches are done, return all of the cauliflower to the air fryer and cook for 1-minute to heat through (for a toaster oven style air-fryer, cook at 350ºF; timing remains the same).
Transfer to a large bowl and toss with the hot sauce and melted butter.
If desired, serve with celery and carrot sticks, and dipping sauce of choice.
Recipe Notes
This recipe comes from The Skinnytaste Air Fryer Cookbook (p. 122) and was reprinted with permission. This recipe shared reflects the alternative of almond flour instead of a gluten-free flour blend.
Use more almond flour as needed.
We recommend using avocado oil spray (that contains no added ingredients) for high heat cooking.
Loading nutrition data...
There may be affiliate links in this post! By clicking on them, or purchasing recommended items I may receive a small compensation, at no cost to you! However, I only recommend products I absolutely love and use in my own home! Thank you for supporting Lexi's Clean Kitchen when you shop! See my
privacy policy
for more information about this, the information we save, and more!