Lemon Curd and Blueberry Compote Breakfast Parfaits
This Lemon Curd and Blueberry Compote Breakfast Parfait is a fabulous on-the-go breakfast option! It has all of my favorite flavors and textures in one hearty breakfast parfait!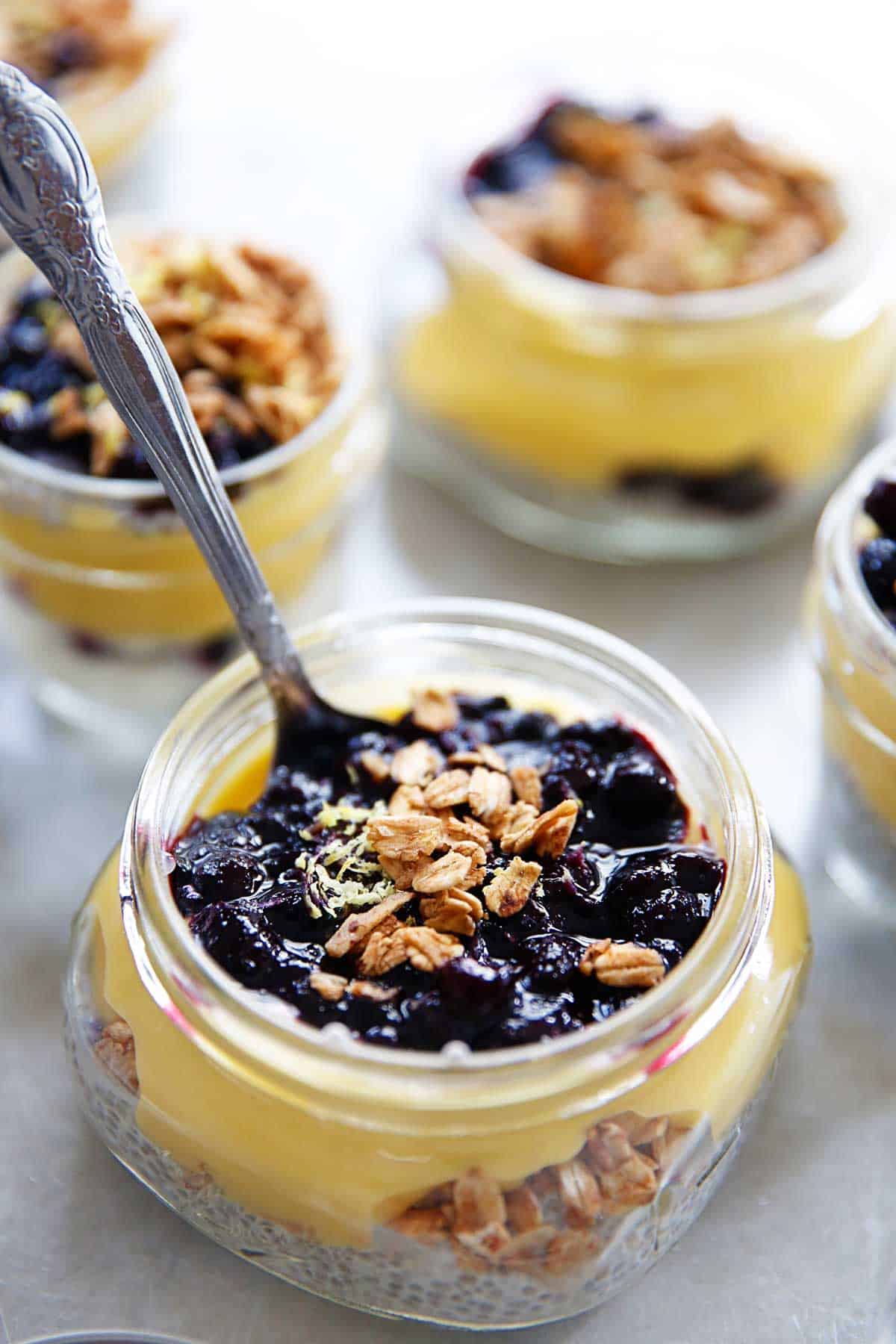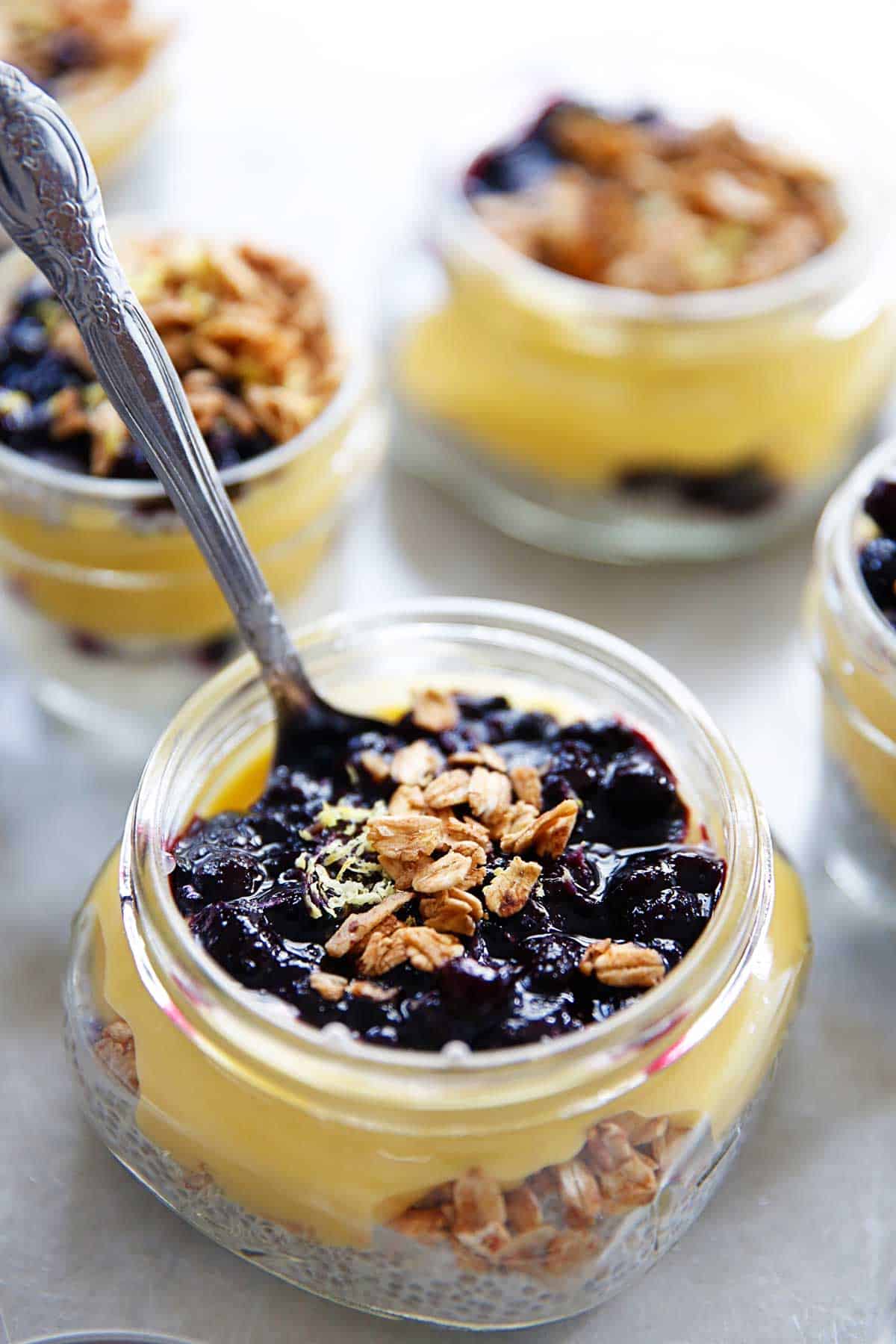 Creamy lemon curd, sweetened-just-right blueberry compote, nutritious chia pudding, and crunchy granola! Made in partnership with Wyman's Wild Blueberries.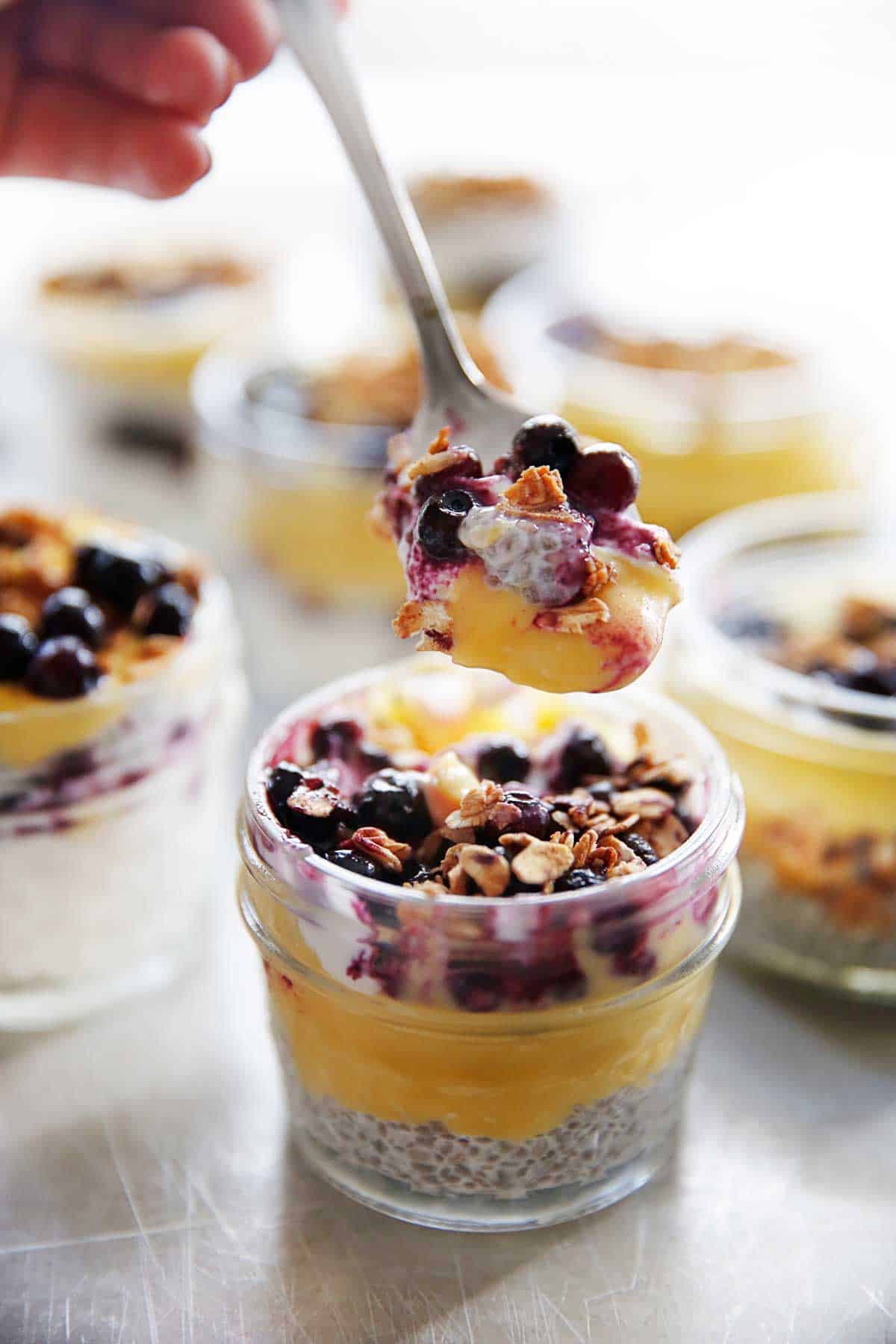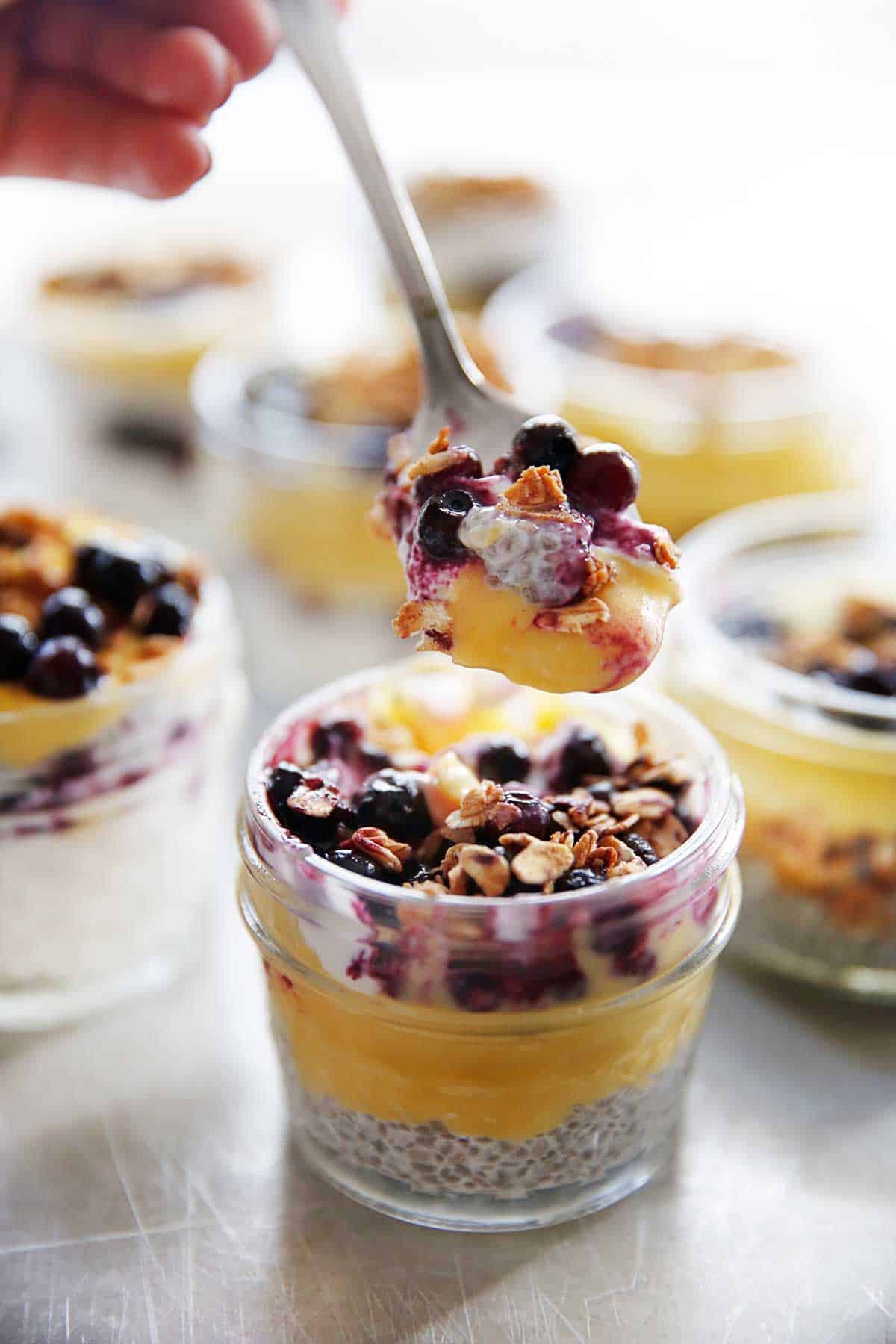 I am so excited to partner with my friends at Wyman's today to bring you this nutritious and delicious breakfast option! Wild blueberries are smaller and have more antioxidants than domesticated blueberries, and 2x the antioxidant power! Wyman's prides itself on harvesting wild blueberries, which are picked fresh and immediately frozen to maximize health benefits to consumers.
Wyman's Wild Blueberries have no added sugars, preservatives, sodium, or starches and since they are smaller and more compact, you get more wild blueberries per pound!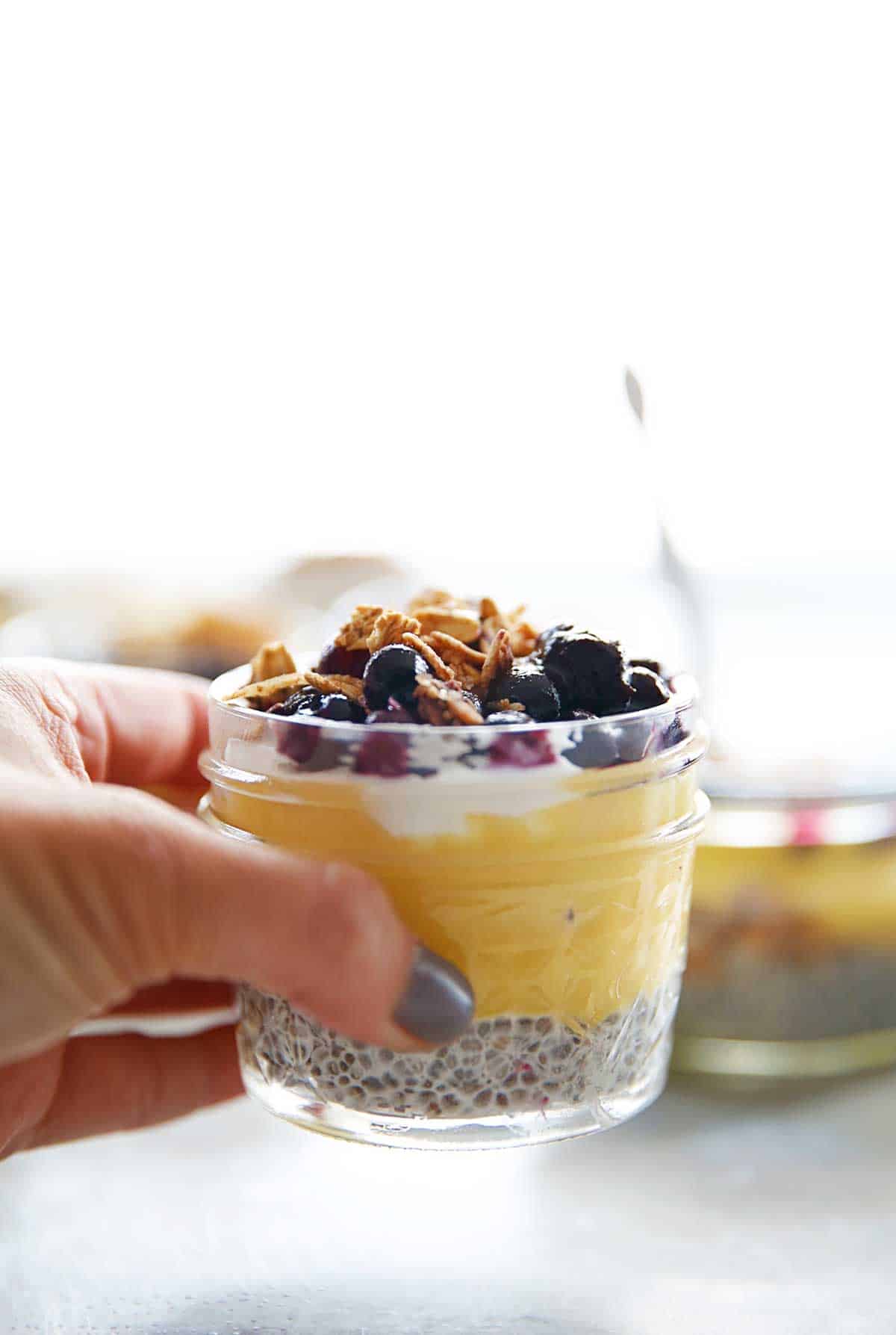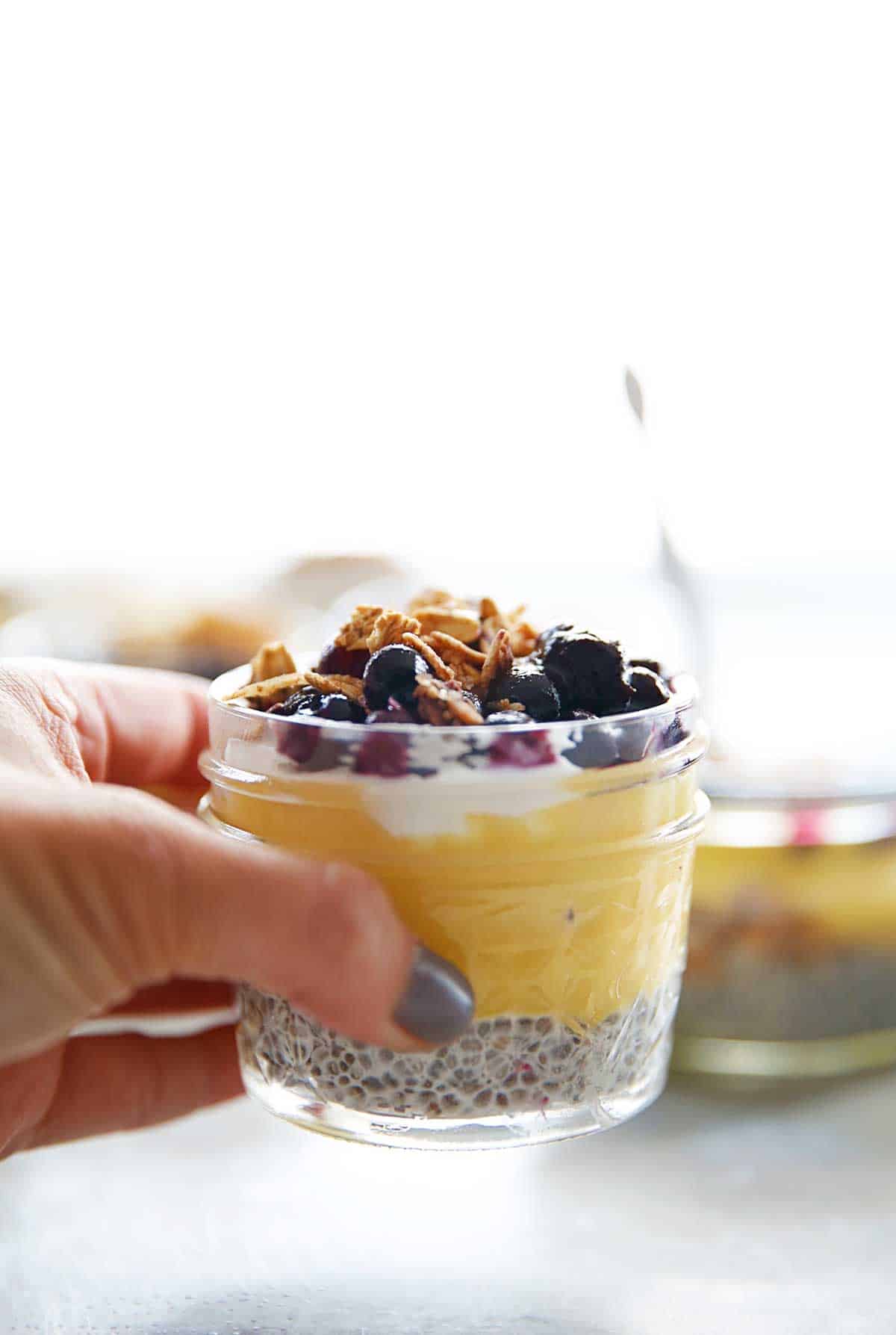 Tart lemon, sweet blueberries, creamy chia pudding, and optional Greek yogurt = the perfect protein-packed breakfast for any day of the week!
Lemon Curd and Blueberry Compote Breakfast Parfaits
---
---
Ingredients
Blueberry Compote
3 cups Wyman's Frozen Wild Blueberries
1 tablespoon plus 1 teaspoon honey
1 tablespoon lemon juice
Chia Pudding
1 cup unsweetened cashew milk, or any nut milk of choice
1/4 cup chia seeds
Optional: 2 teaspoons honey
1 batch gluten-free granola
Other Ingredients
2 teaspoons lemon zest for garnish
1/2 cup Wyman's blueberries
Optional: 2 cups plain Greek yogurt
Directions
Heat all blueberry compote ingredients in a small saucepan over medium-low heat. Let simmer for 10-15 minutes until most of the liquid has evaporated. Taste and adjust lemon and sweetener as desired. Once done, take off heat and let cool before pouring into a small mixing bowl.
Divide the lemon curd, blueberry compote, chia pudding and Greek yogurt (if using!) among 8 4-ounce containers or 4 8-ounce containers. Top with granola and lemon zest and either eat right away or store in the fridge for later!
Recipe Notes
*Save the rest of the lemon curd for more delicious treats! We love using it in our lemon bars, top it with whipped coconut cream and berries for a fun no-bake treat, or even as a topping on our favorite Fluffy Paleo Pancakes!
*This should keep refrigerated for 1-2 weeks!
---
Nutrition
Loading nutrition data...


This post is sponsored by Wyman's of Maine. All opinions are always, 100% my own!