Creamy 'Pasta' Alla Vodka
So… March is here!! I think I can speak for all of us when I say I am ready to say good-bye to the Winter and welcome Spring with open arms (and pray that the cold is past us and that I didn't just jinx it).
You're going to love this Vodka Sauce. Serve it over zucchini linguine and watch it quickly become a staple in your house. A dairy-free creamy vodka sauce loaded with crispy prosciutto, shallots, basil, and garlic. It is heaven.
My blogging girlfriends and I are back with another collaborative post for you! This month it is all about the SPIRALIZER aka spiraled veggies turned into healthy spiralized meals! There are a few reasons why I love the spiralizer. One because it makes the perfect alternative for linguine/noodles, and two because you can literally spiralize SO. MANY. VEGGIES.
It's amazing. Really.

Lets get right to it!


Paleo Pad Thai from Kelly of Nosh and Nourish


And now I bring you, my Creamy 'Pasta' Alla Vodka! I think of childhood when I think of vodka sauce. One of my best friends and I always used to order it before our weekly art classes. The rich creamy sauce over pasta. Nothing better! I bring you a dairy-free creamy vodka sauce loaded with crispy prosciutto, shallots, basil, and garlic. Mike asked tonight if we can have it again for dinner tomorrow! Serve it over zucchini linguine for the perfect dinner!
It is the perfect pasta alternative of your favorite classic dish, made guilt-free!



[yumprint-recipe id='263′]




How do you spiralize? What is your favorite spiralizer dish?

Creamy 'Pasta' Alla Vodka
---
---
Ingredients
Vodka Sauce
Everything else
Directions
In a skillet heat oil/butter with garlic cloves, onion, and shallot
Let cook for 2-4 minutes then add in your chopped prosciutto
Let cook for 4-7 minutes until prosciutto is crispy and onions are cooked down
Add in tomatoes and vodka, mix, and let simmer for 10 minutes until vodka reduces
Add in coconut milk and seasoning
Bring to a boil then reduce heat and let simmer for 25 minutes
Taste and adjust spices as desired
Serve over spiralized zucchini- spiralize zucchini and toss in a skillet with 1 tbsp oil for 4-5 minutes, tossing often
Optional: garnish with fresh grated parmesan cheese and add grilled chicken if desired
---
Nutrition
Loading nutrition data...
Creamy 'Pasta' Alla Vodka
This Cajun Garlic Shrimp Paleo Noodles recipe is the perfect 20 minute meal! Whole30-compliant, easy, and delicious with a little kick of spice!
Cajun Garlic Shrimp Paleo Noodles
This simple weeknight dinner isn't complicated, but tastes absolutely fantastic! Using only a handful of ingredients this easy Paleo Noodle Bowl has tons of veggies and cajun garlic shrimp with a little bit of a kick.
Now, because this is paleo, there aren't actually any noodles in this recipe. Instead I use zucchini noodles. I love my spiralizer. I use it at least once of week and usually don't stray far from my beloved zucchini linguine. And it works perfect here as gluten free noodles!
Ingredients Needed
Shrimp
Avocado Oil
Garlic
Red Pepper
Onion
Spiralized Zucchini
Green Onions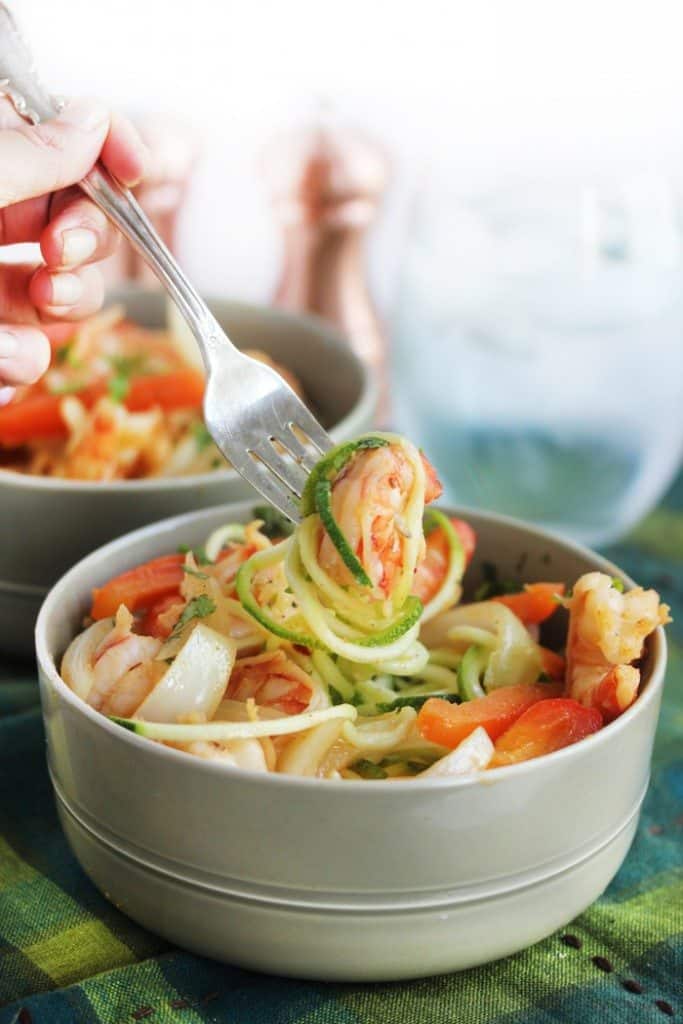 Check out these other Paleo Shrimp Recipes: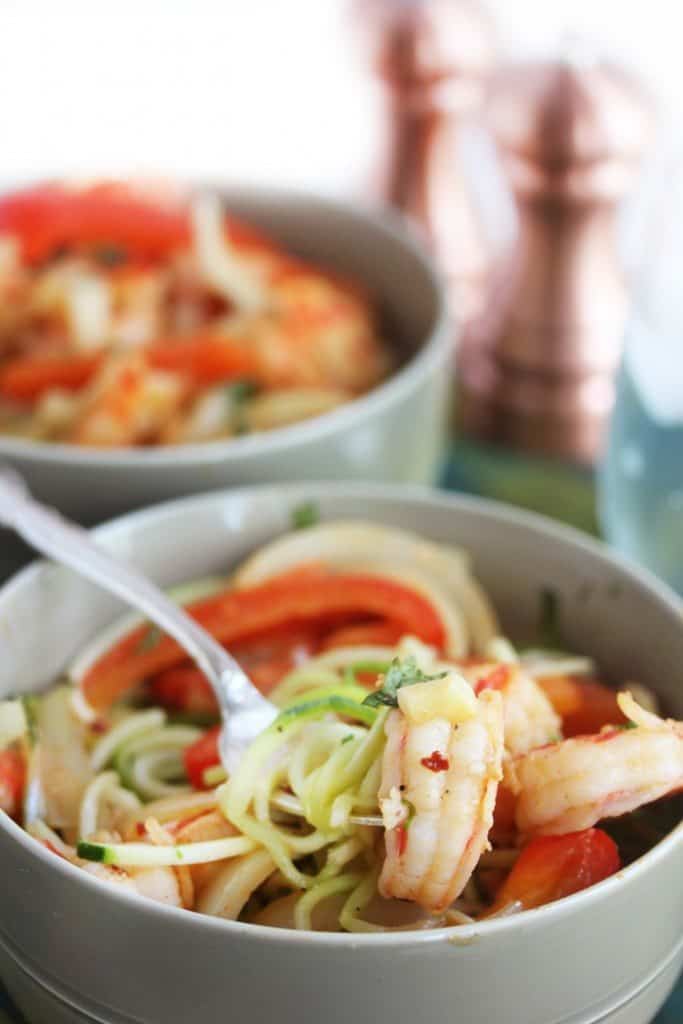 If you like this quick weeknight paleo dinner, check out these others:
Cajun Garlic Shrimp Noodle Bowls
---
---
Ingredients
3 cloves garlic, crushed
3 tablespoons grass-fed butter
10-20 jumbo shrimps, detailed
Cajun seasoning
Other
Directions
Spiralize your zucchini using a spiralizer or even a mandolin will work, set aside
Combine cajun seasoning in a bowl and toss with shrimp
Heat butter and garlic in a pan over medium-high heat.
Add in red pepper and onion and sauté for 3-4 minutes.
Add in cajun shrimp and let cook until opaque.
In a separate pan heat remaining tbsp of butter and lightly sauté zucchini noodles for 3 minutes.
Place zucchini noodles in a bowl and top with garlic cajun shrimp and veggie mixture.
Taste and add salt and seasoning as desired.
---
Nutrition
Loading nutrition data...