These Chocolate Chip Paleo Zucchini Muffins are fluffy, moist, and packed with good-for-you ingredients. Made with a combination of almond flour and coconut flour, this gluten-free muffin recipe is made with unrefined sweeteners, zucchini, dark chocolate and is the perfect grab-and-go breakfast!
Chocolate Chip Paleo Zucchini Muffins
This Paleo Zucchini Muffin recipe is an OG Lexi's Clean Kitchen and still a goodie all these years later! This recipe was originally published in celebration of LCK turning 1 back in 2014. We're republishing today because this recipe has stood the test of time and is worth the photo facelift it got to reshare today!
These gluten free muffins made with a blend of almond flour and coconut flour have the perfect texture! They are the best way to use up zucchini and your picky eaters will never know there are some veggies inside the muffin! Grab one when you are running out the door, or for a guilt-free mid-day snack. They freeze well, too!
Ingredients for these Gluten Free Zucchini Muffins:
Almond Flour
Coconut Flour
Eggs
Honey
Vanilla
Unsweetened Apple Sauce
Baking PowderZ
Zucchini
Chocolate Chips
Is Almond Flour Healthy?
I love using almond flour as the base for my muffin recipes because they make the best gluten-free muffins without needing to add a lot of other fussy ingredients. Almond flour is a delicious and nutrient dense alternative to any other flour. It is low in carbs and high in fat which makes it a great healthy flour that makes you feel fuller, longer.
How to Measure Almond Flour
If you have an electronic kitchen scale at home, it's best to use it here to measure almond flour. Almond flour can be tricky to measure as it can be easily compacted, even straight from the bag. The same goes for coconut flour because such a small difference in measuring can impact a recipe because it's such an absorbent flour. So we've included the weight in grams here. Any electronic kitchen scale can switch between grams and ounces, and grams are more precise so we're offering that. If you don't have a scale: lightly scoop the almond flour or coconut flour into the cup measurement and level it off.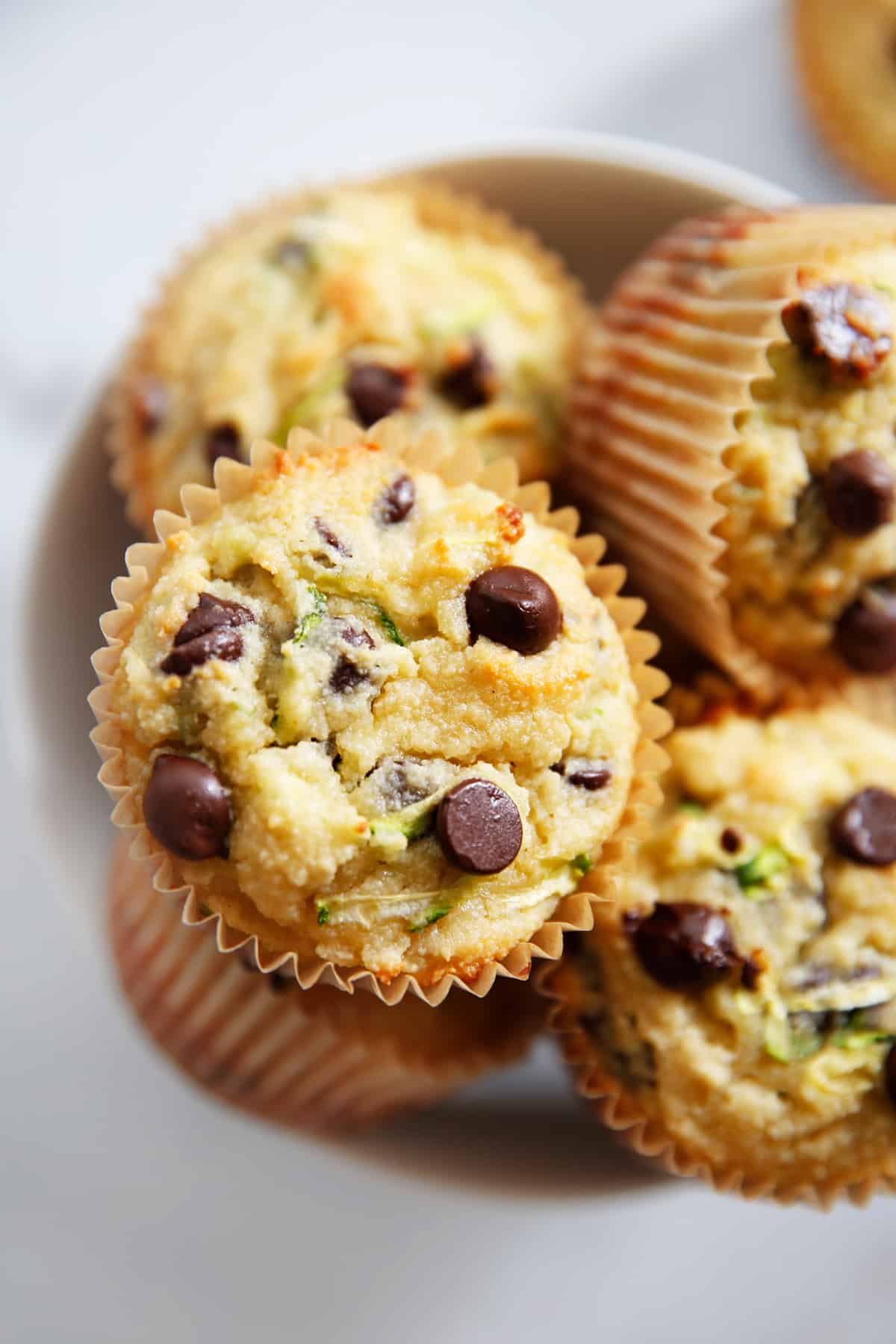 Looking for other recipes to use up zucchini? Check out these others:
If you like this muffin recipe, check out these:
---
Chocolate Chip Zucchini Muffins
2014-05-27 13:11:58
Ingredients
2 cups almond flour
1 tablespoons coconut flour
3 tablespoons tapioca starch
1/8 teaspoon Himalyan sea salt
¼ teaspoon baking powder
3 eggs
4 tablespoons raw honey
1 teaspoon organic vanilla extract
1/2 cup unsweetened applesauce
1 cup grated zucchini
1/3 cup dark chocolate chips
Instructions
Preheat oven to 350
Place 12 baking liners in muffin tin or simply directly on a baking sheet
In a mixing bowl combine almond flour, coconut flour, tapioca starch, salt, and baking powder
Add in eggs, honey, vanilla, and applesauce and mix well
Fold in grated zucchini and dark chocolate
Bake for 15 minutes or until a toothpick comes out clean
Lexi's Clean Kitchen https://lexiscleankitchen.com/