Lemon Parmesan Chicken with Zucchini Noodles
This Lemon Parmesan Chicken with Zucchini Noodles is a perfect easy weeknight meal that comes together quickly and is packed with flavor! It's a fabulous chicken zucchini pasta recipe that is light, low carb, and so yummy. Made in partnership with Green Giant and their new Veggie Spirals!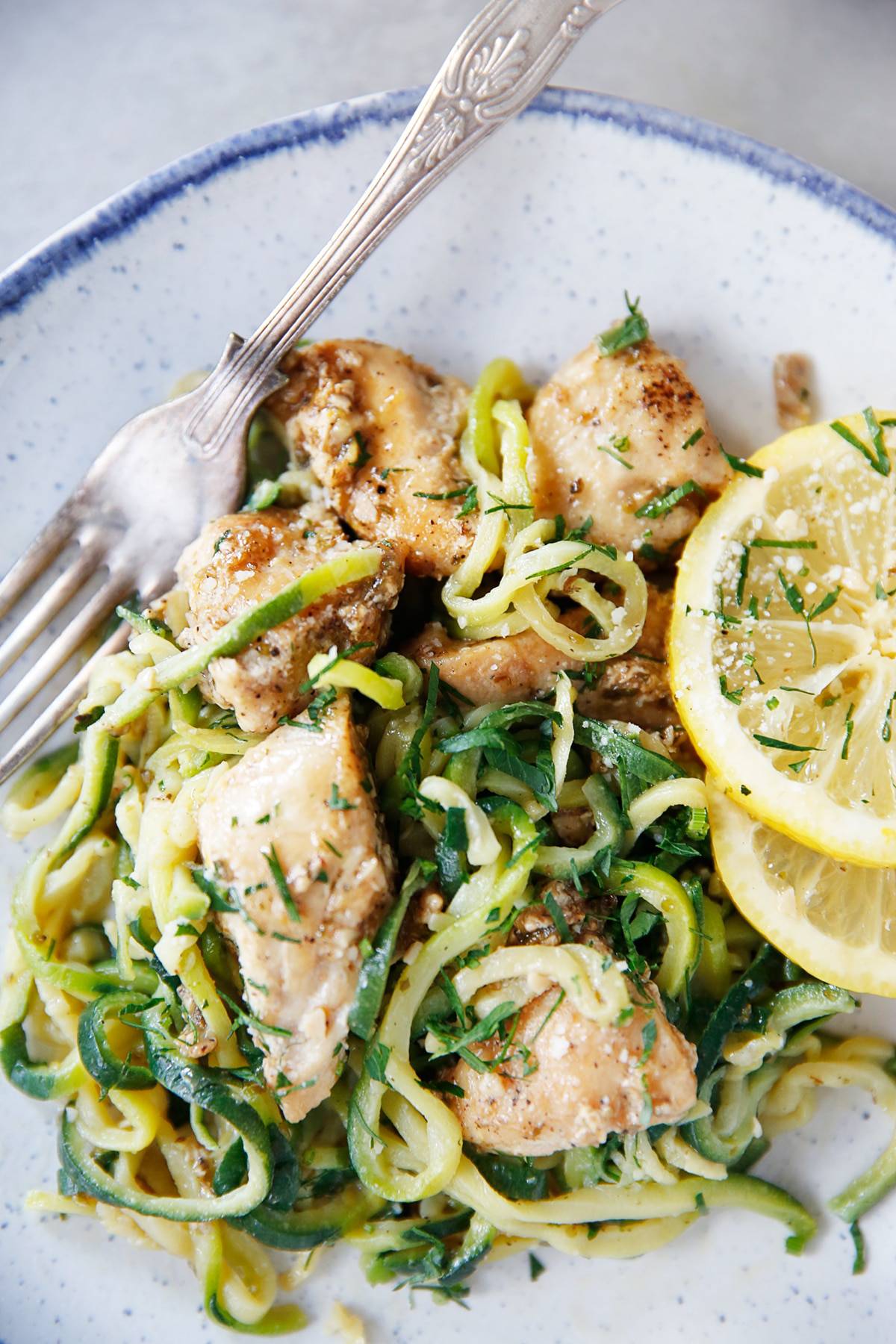 Lemon Parmesan Chicken with Zucchini Noodles
I am so excited to partner with Green Giant today and to work with their new Veggie Spirals for this dish! If you're busy like the rest of us, these veggie spirals are a perfect swap-in for traditional pasta and are super convenient! You don't need to grab your spiralizer and your veggies, it's all ready to go for you!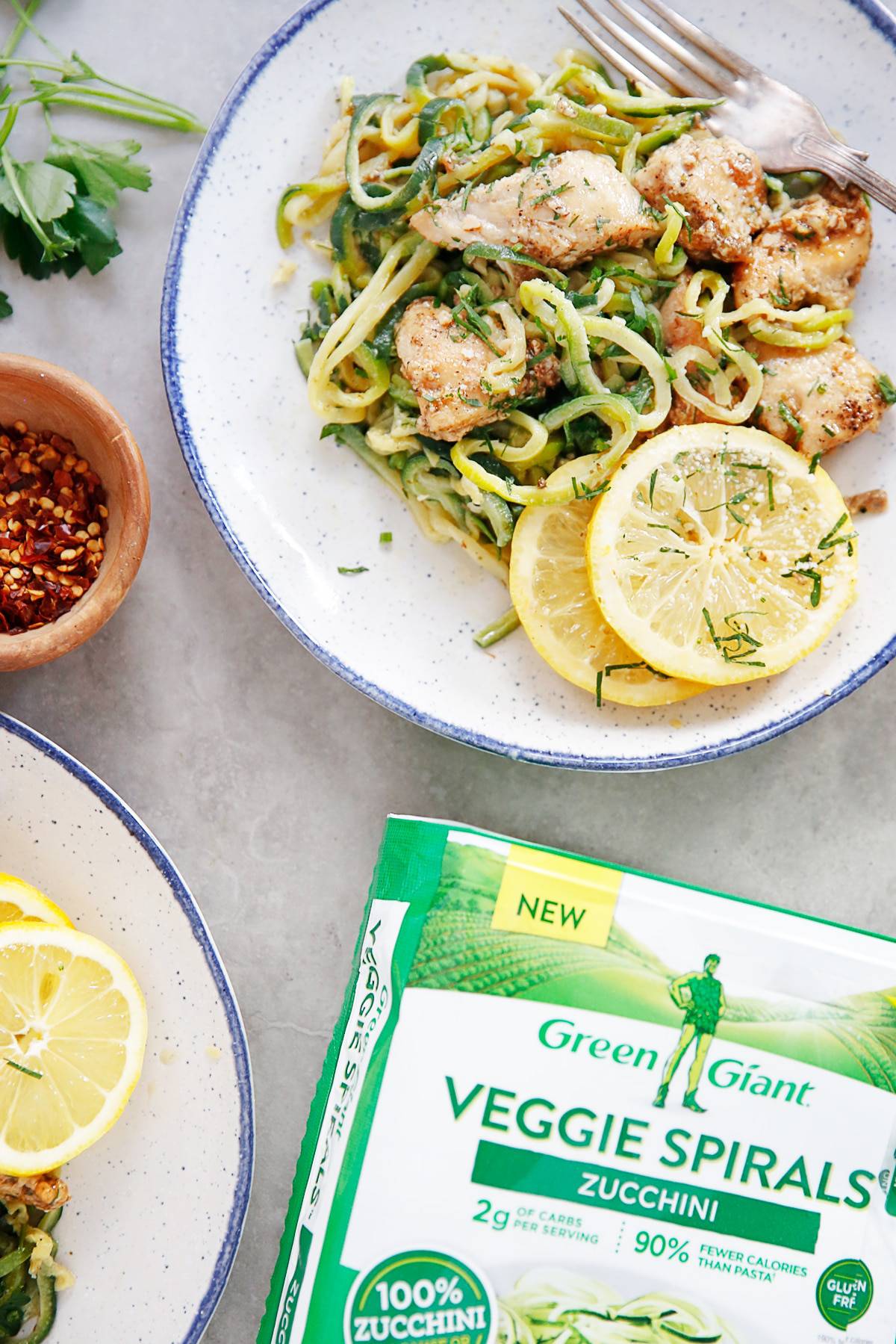 Green Giant Veggie Spirals™ are made with only the vegetable, are naturally gluten-free, and come without sauce or seasoning, so you can prepare them just the way you like! They come in beet, butternut squash, carrot, and zucchini and are great for throwing together a quick and healthy meal. I know my non-cooking hubby will be pulling these out of the freezer when he has to cook for himself!!
These lemon garlic noodles are:
Creamy
Bright
Flavorful
Veggie Packed
Low Carb
A perfect healthy weeknight meal!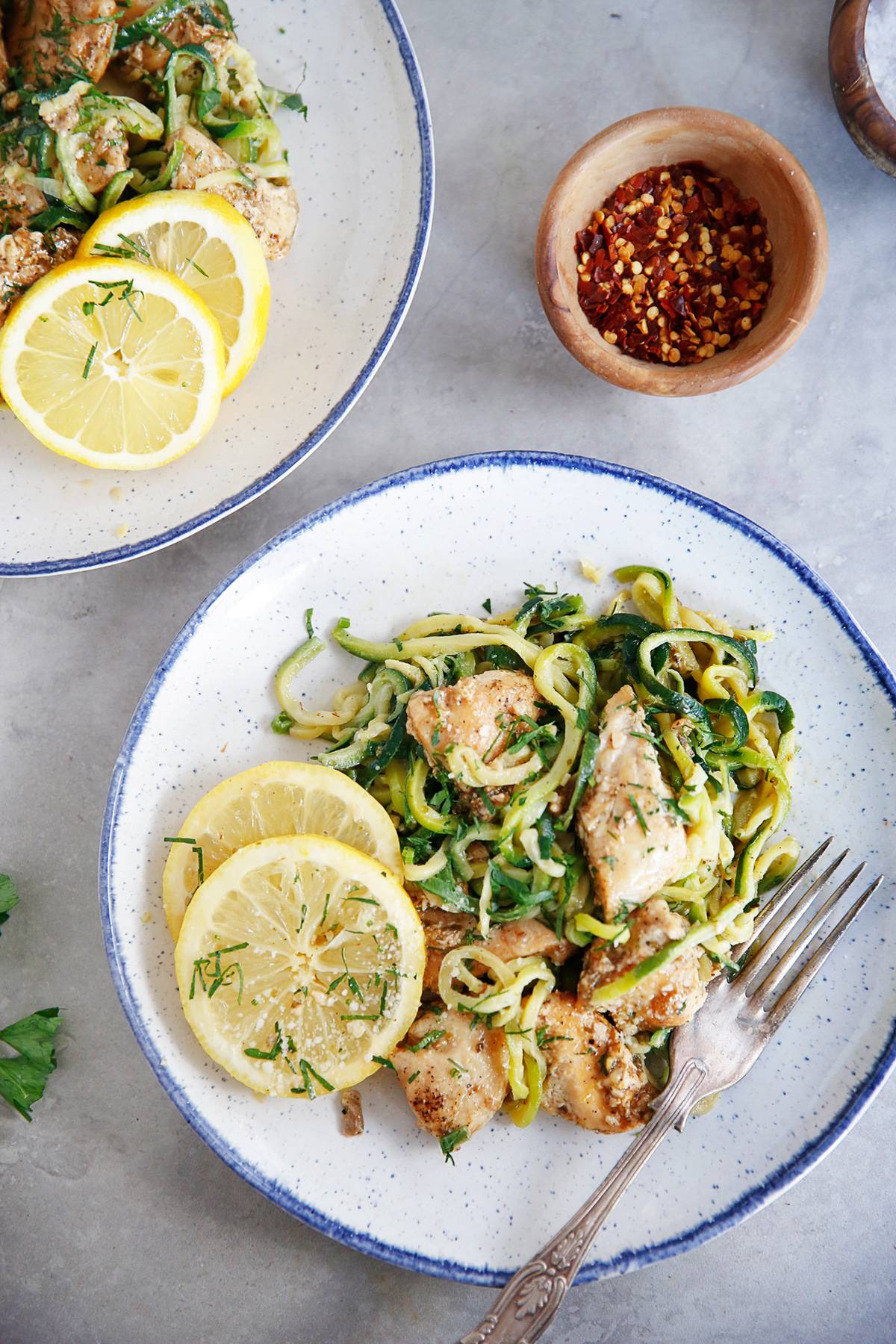 If you like this veggie-packed dinner, try these other spiralized pasta favorites: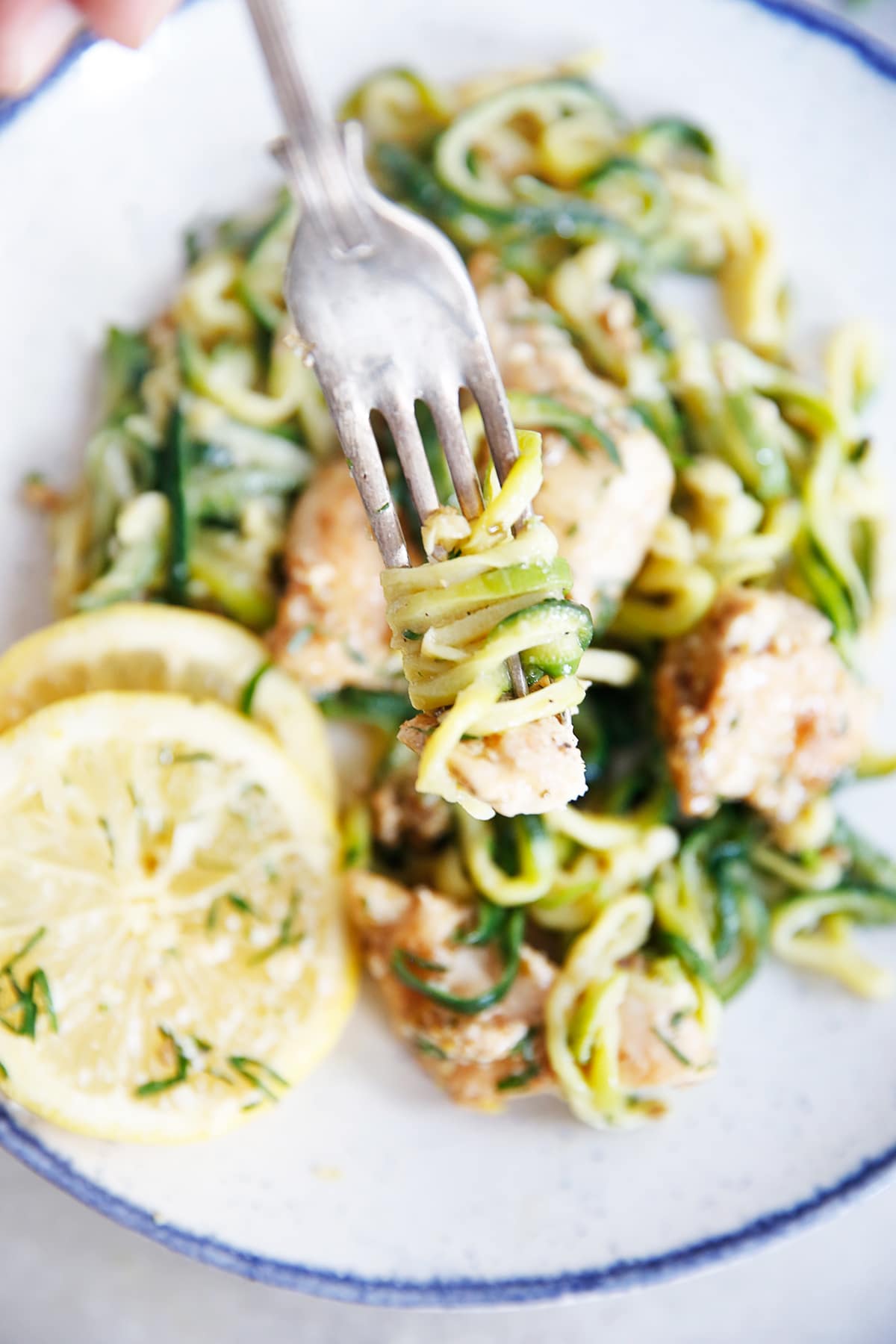 Watch the video:
Lemon and Parmesan Chicken with Zucchini Noodles
---
---
Ingredients
2 packages Green Giant Veggie Spirals
1-1/2 lbs. boneless skinless chicken breast, cut into bite-sized pieces
1 teaspoon fine sea salt
1/2 teaspoon ground black pepper
2 teaspoon oil
4 garlic cloves, minced
2 teaspoon dried oregano
2 tablespoon high-quality butter
2 teaspoon lemon zest
2/3 cup broth
1/3 cup parmesan
Lemon slices, for garnish
Parsley, for garnish
Directions
Cook zucchini noodles according to package instructions. Drain well.
Heat oil in large skillet over medium heat. Season chicken with salt and pepper and brown chicken pieces, about 3-4 minutes per side depending on the thickness. Cook in batches if necessary. Remove chicken from pan.
To the skillet, add garlic, and cook until fragrant about 30 seconds.
Add butter, oregano and lemon zest. Pour chicken broth to deglaze making sure to scrap up all the browned bits on the bottom of the pan.
Turn heat to medium-high to bring sauce and chicken up to a boil. Immediately lower the heat and stir in the parmesan cheese. Place chicken back in pan and let gently simmer for 3-4 minutes, or until sauce has slightly reduced and thickened up. Taste and adjust seasoning.
Serve warm over zucchini noodles garnish with parsley and lemon slices.
Recipe Notes
For Whole30, replace butter with ghee and omit Parmesan cheese.
---
Nutrition
Loading nutrition data...


This post is sponsored by Green Giant. All thoughts and opinions are always 100% my own! Thank you for continuing to support LCK and the brands I work with!
Lemon Parmesan Chicken with Zucchini Noodles
If you have been here a while, you know I'm all about the spiralizer these days! I love pasta, so it really is the perfect way to satisfy that pasta craving- BUT WITH VEGGIES. So much yes!
This Creamy Pesto Chicken "Pasta" is flavorful, delicious, full of good-for-you ingredients, and makes the perfect nutritious dinner for your family.

This weekend was kind of relaxed. We laid low and managed to have a fun-filled day of registering *gasps* for our wedding!  We binge-watched The Jinx (a new HBO Documentary short series), and I met my girlfriends for brunch yesterday.  A nice relaxing weekend for busy week ahead! Cooking for Passover, heading to NY, taking care of wedding stuff, blog work, gym time, and so much more. Busy busy busy. That's why I need to fuel up with dinners like this.
Protein, good-for-you fats… the works!


[yumprint-recipe id='268′]


What is your favorite type of pasta dish? How do you fuel your mind & body for busy weeks?
Creamy Pesto Chicken "Pasta"
So… March is here!! I think I can speak for all of us when I say I am ready to say good-bye to the Winter and welcome Spring with open arms (and pray that the cold is past us and that I didn't just jinx it).
You're going to love this Vodka Sauce. Serve it over zucchini linguine and watch it quickly become a staple in your house. A dairy-free creamy vodka sauce loaded with crispy prosciutto, shallots, basil, and garlic. It is heaven.
My blogging girlfriends and I are back with another collaborative post for you! This month it is all about the SPIRALIZER aka spiraled veggies turned into healthy spiralized meals! There are a few reasons why I love the spiralizer. One because it makes the perfect alternative for linguine/noodles, and two because you can literally spiralize SO. MANY. VEGGIES.
It's amazing. Really.

Lets get right to it!


Paleo Pad Thai from Kelly of Nosh and Nourish


And now I bring you, my Creamy 'Pasta' Alla Vodka! I think of childhood when I think of vodka sauce. One of my best friends and I always used to order it before our weekly art classes. The rich creamy sauce over pasta. Nothing better! I bring you a dairy-free creamy vodka sauce loaded with crispy prosciutto, shallots, basil, and garlic. Mike asked tonight if we can have it again for dinner tomorrow! Serve it over zucchini linguine for the perfect dinner!
It is the perfect pasta alternative of your favorite classic dish, made guilt-free!



[yumprint-recipe id='263′]




How do you spiralize? What is your favorite spiralizer dish?

Creamy 'Pasta' Alla Vodka
---
---
Ingredients
Vodka Sauce
Everything else
Directions
In a skillet heat oil/butter with garlic cloves, onion, and shallot
Let cook for 2-4 minutes then add in your chopped prosciutto
Let cook for 4-7 minutes until prosciutto is crispy and onions are cooked down
Add in tomatoes and vodka, mix, and let simmer for 10 minutes until vodka reduces
Add in coconut milk and seasoning
Bring to a boil then reduce heat and let simmer for 25 minutes
Taste and adjust spices as desired
Serve over spiralized zucchini- spiralize zucchini and toss in a skillet with 1 tbsp oil for 4-5 minutes, tossing often
Optional: garnish with fresh grated parmesan cheese and add grilled chicken if desired
---
Nutrition
Loading nutrition data...