While applying the invaluable principles of gluten-free and Paleo lifestyles, Lexi's Clean Kitchen takes a practical approach to clean eating that won't deprive you of your favorite foods. This cookbook transcends dietary labels – it is for everyone who loves preparing delectable meals that satisfy every palate and every craving.
✓ Over 150 delicious, tried and true recipes from my kitchen to yours. Recipes are free of negative health instigators like gluten, grains, dairy, soy and refined sugars- while still delivering the taste and gratification that you want!
---
✓ Chapters including Rise & Shine Breakfasts, Main Dishes, Soups & Salads, On the Side, Little Bites, Lexi's Basics, Sweet Treats, and Beverages.
---
✓ Step by step instructions and full color photos for every single recipe.
---
✓ Allergy & Special Diet labels, including dairy-free, egg-free, nut-free, vegan, and paleo-friendly for easy navigation (all of the recipes are gluten-free).
---
✓ Ingredients and Pantry Staples Guide — so you're prepared to cook the recipes!
---
✓ A variety tips, tricks, and tools such as A Guide To Clean Eating, A Conversion Chart, Cheat Sheet Guides, & much more.
---
✓ Healthy meals that are packed with flavor, including: Classic Chili, Braised Short Ribs, One-Pan Arroz Con Pollo, Thai BBQ Salmon, and BBQ Chopped Cobb Salad, and healthier options for your favorite indulgent foods, such as French Toast Sticks, Perfect Waffles, Birthday Cake, Sandwich Bread, and No-Bake Cookie Dough Cups.
---
& More!
Better Than Takeout Pineapple Chicken Fried Rice
"If your mantra is to eat clean in 2017, this is the recipe book to own."
— The Today Show
"When you thought every paleo recipe had already been made, Lexi proves that her creativity is endless. With recipes like French Toast Sticks, Focaccia Bread, and New England Lobster Rolls, you will constantly be amazed what you are still able to eat while eating clean! If you were to stock your bookshelf with just one cookbook, it should be this one because you will absolutely never get bored when it comes to your healthy meals!"
— Juli Bauer, New York Times best-selling author of The Paleo Kitchen, Juli Bauer's Paleo Cookbook and OMG. That's Paleo?  
"With Lexi's Clean Kitchen, you not only get 150 delicious, clean recipes, but a comprehensive guide to healthy living, too. That's what makes this cookbook special. It's approachable and practical. Lexi's tips, tricks, and recipes make clean eating attainable for all of us."
— Andie Mitchell, New York Times Best Selling Author of It Was Me All Along and Eating In The Middle: A Mostly Wholesome Cookbook
"Creative. Exciting. Delicious. Clean! These are the words that come to mind when I think of Lexi's recipes – and this book is a beautiful collection of the best of the best. Lexi takes the guesswork out of cooking healthy meals that'll keep your whole family happy and eager to sit down to eat. Her recipes are completely approachable, but with just the right amount of flair to keep you on your toes, keep the flavors bold, and delight your palate."
— Diane Sanfilippo, New York Times best-selling author of Practical Paleo and The 21 Day Sugar Detox
"Lexi has created such a beautiful cookbook. There are so many mouth-watering choices, I don't even know where to begin! Aji Tuna Bites, Proscuitto Flatbread with Grilled Peaches, Creamy Chicken Bacon Spaghetti Squash Bowls – sign me up! Even if you don't follow a Paleo lifestyle, anyone can enjoy this cookbook."
— Gina Homolka, New York Times best-selling author of The Skinnytaste Cookbook
"First of all, the moment I started reading Lexi's book I could relate to the gut issues she wrote about and the journey that she took to overcome them and find the healthiest, happiest version of herself. As a fellow believer in the power of food, you could NOT be in better hands than you are with this book. From health do's and don'ts to tons of amazing recipes — those chia puddings, by the way, WOW — you will find yourself inspired to get in the kitchen and choose your healthiest you! Plus, those food photography skills are untouchable."
— Jordan Younger, founder & editor of The Balanced Blonde blog & author of Breaking Vegan
"This cookbook proves that healthy eating doesn't have to be boring or restrictive. I love how Lexi makes clean eating so flexible and approachable, with a delicious collection of recipes that will have you drooling!"
— Megan Gilmore, author of Everyday Detox and Detoxinista.com
Thank you SO much for all of your support for the Lexi's Clean Kitchen Cookbook! If you cook something, please snap a photo on social, using the hashtags #lexiscleankitchencookbook! I love seeing your remakes and regramming my favorites! Happy cooking!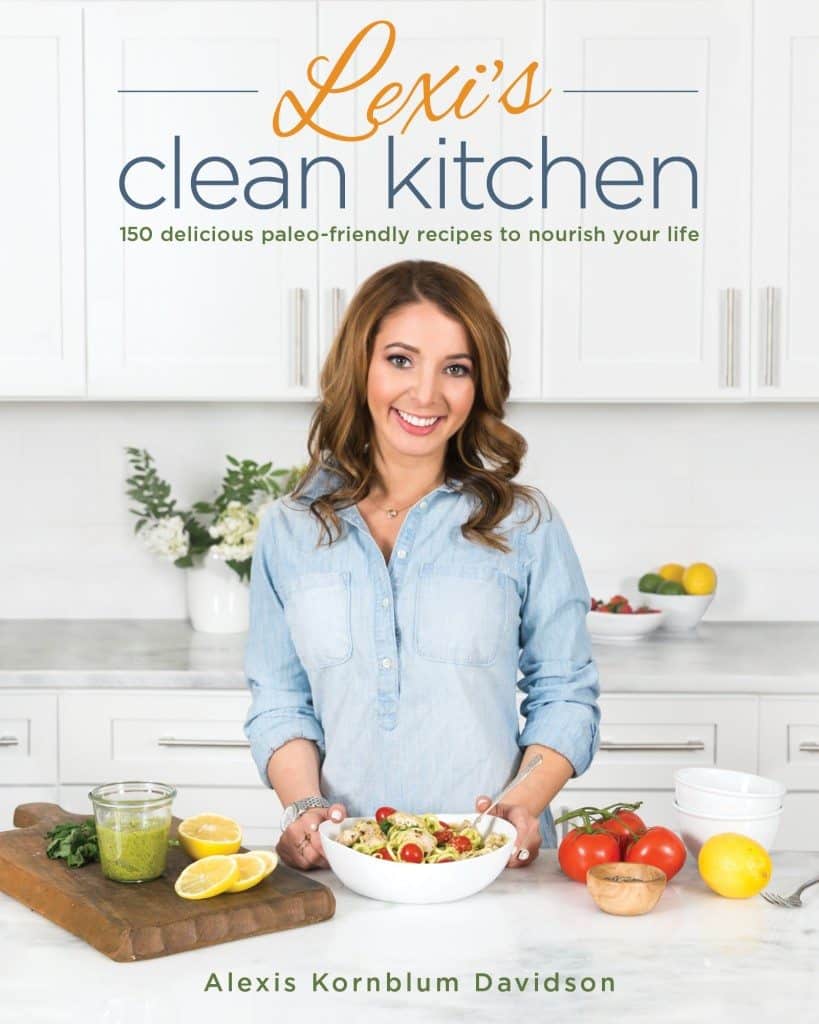 About Lexi
Alexis Davidson is the voice behind Lexi's Clean Kitchen—the go-to food blog for clean and delicious recipes that shows readers that living a healthy lifestyle can be simple, fun, and above all satisfying. After discovering firsthand the healing power of food, Lexi was inspired to create recipes that omit negative health instigators like gluten, grains, dairy, and refined sugars while still delivering the taste and gratification people expect. She inspires readers to get creative, whether they are gluten-free, eat Paleo, or just love delicious food.
Lexi has been featured in Cosmopolitan, Redbook, Self, Women's Health, 

Yahoo.com

, and many other publications.