Greek Veggie Bowls
These Greek Veggie Bowls with Greek Cauliflower Rice are a weeknight favorite of ours! Packed with veggies, fresh herbs, hummus, and so much flavor, these easy-to-prepare gluten-free bowls are a fabulous dinner or lunch, and perfect for meal prep!

I am loving all things Mediterranean, Greek, and Middle Eastern lately. If you tried my Mediterranean Fritters or Bowls, you know just where I'm coming from. The flavors are just so delightful, healthy, and fresh!  These Greek Veggie Bowls are simple and perfect for meal prepping or a quick meal any night of the week!

All those fresh herbs going into that cauli rice!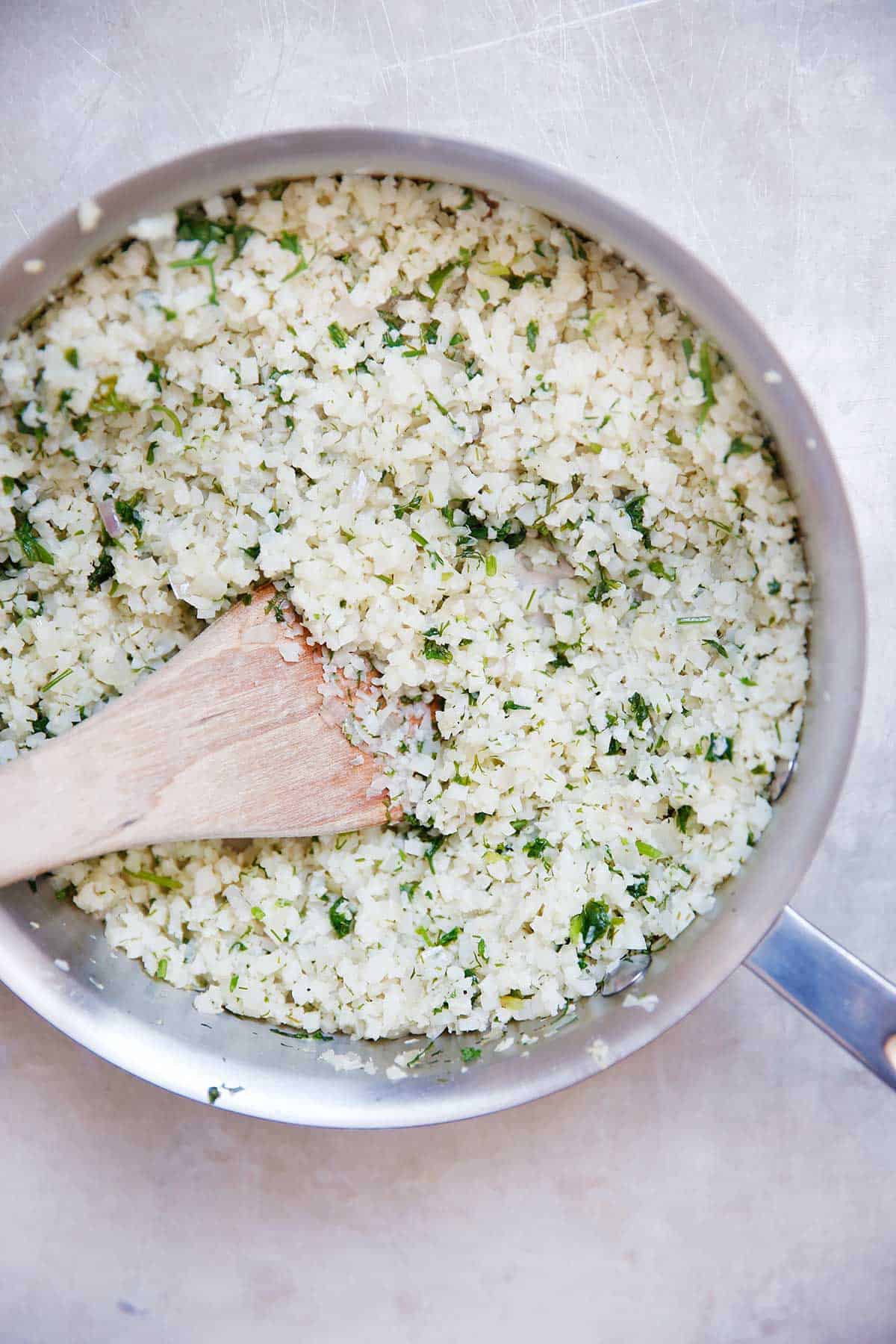 These bowls are loaded with:
Roasted or Grilled Veggies
Fresh herbs
Greek Cauliflower Rice
Hummus to top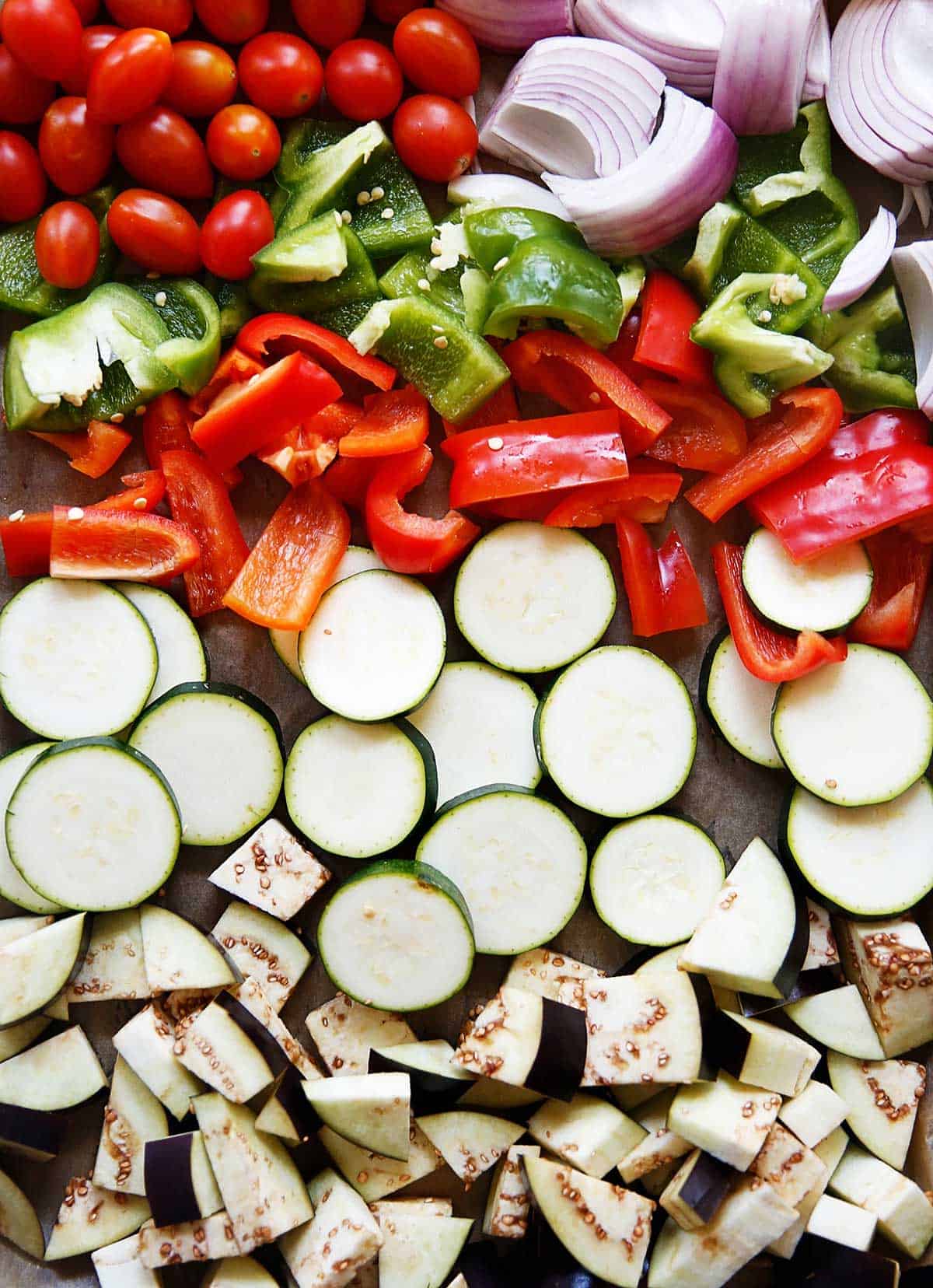 Roasted veggie time!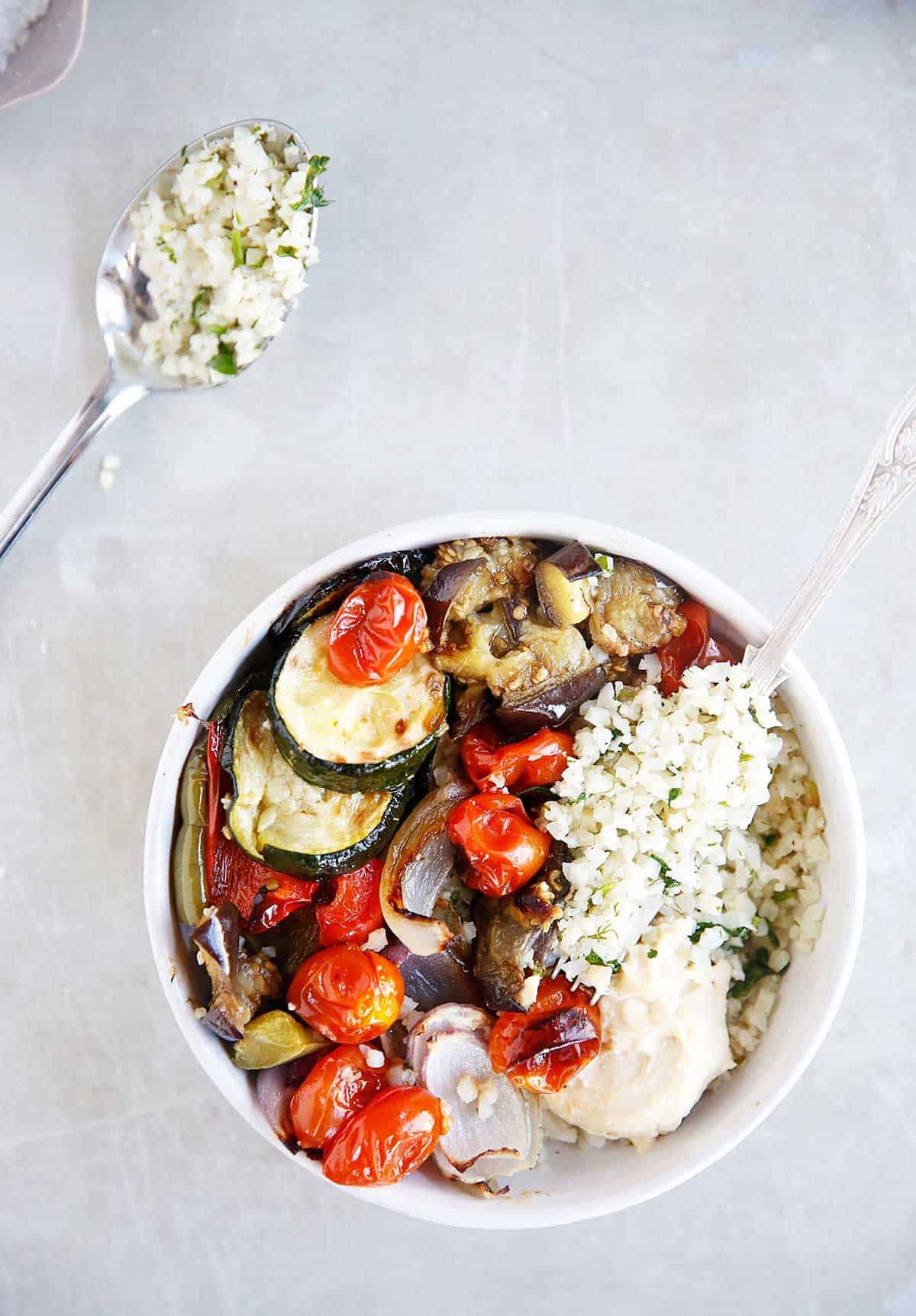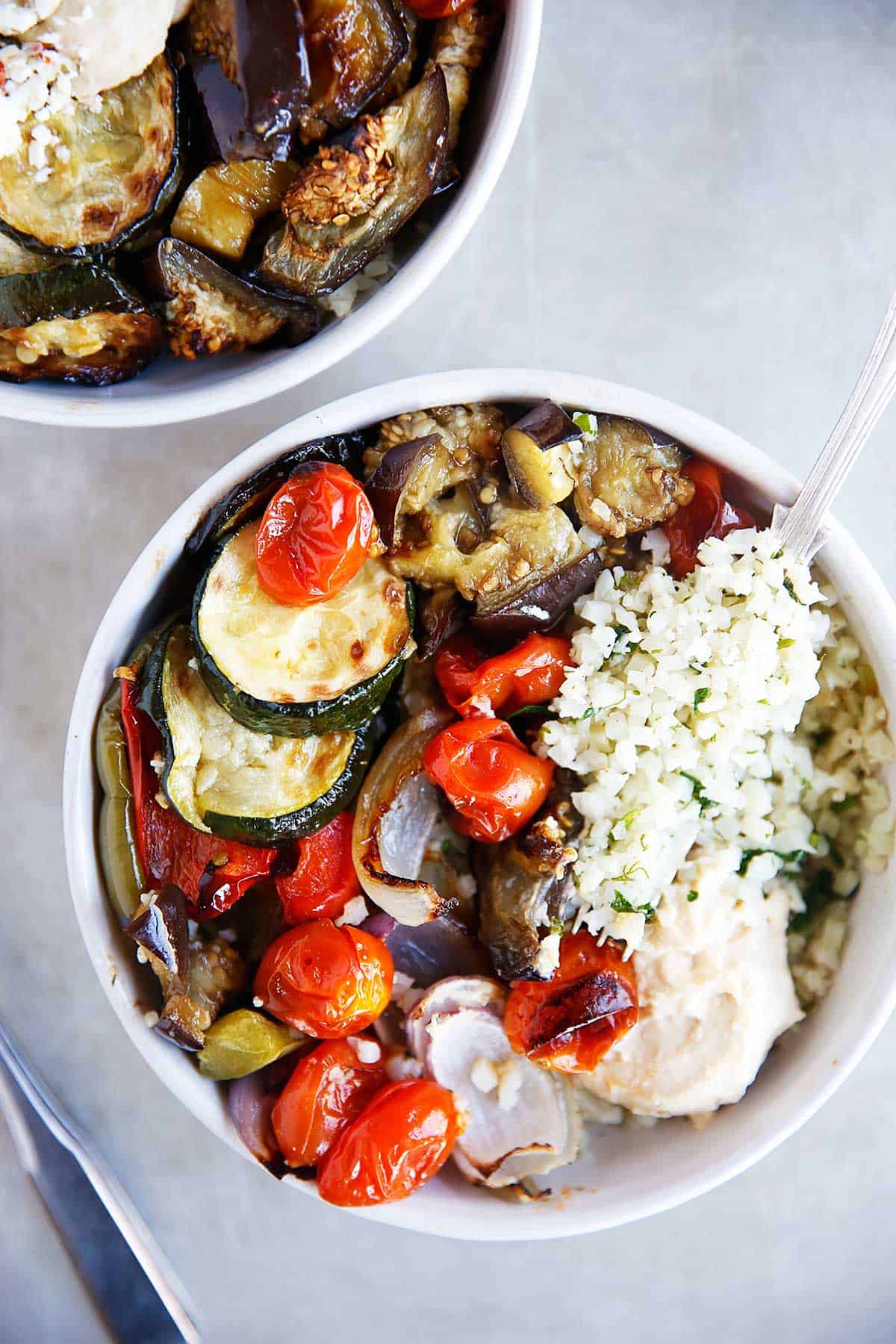 Greek Veggie Bowls
---
---
Ingredients
Grilled Or Roasted Veggies
Cauliflower Rice: (See notes for regular rice)
Everything Else
Hummus, for topping (homemade or store-bought)
Optional: crumbled feta cheese
Directions
Preheat oven to 400°F.
Line a baking sheet with parchment paper and spread veggies across it in one single layer. Toss with extra-virgin olive oil, sea salt, and black pepper. Bake for 45-5o minutes, or until veggies are soft and start to blister.
Heat oil in a medium saucepan over medium-high heat. Add in onion, garlic, and herbs and cook until the onion turns translucent. Add in cauliflower rice and lemon and cook for 5 minutes. Take off heat and set aside.
Assemble the bowl! Place roasted veggies and cauliflower rice in serving bowls of choice. Top with hummus, feta cheese (if using), and serve right away or store in an airtight container for later.
Recipe Notes
*To make this dish with regular rice, follow the directions on your basmati rice package, and add fresh herbs, garlic, and onion to the water while cooking your rice!
---
Nutrition
Loading nutrition data...
Greek Veggie Bowls
Throw together this flavorful Chicken Buddha Bowl with Spicy Mango Sauce packed with spicy broccoli, roasted sweet potato, avocado, and MORE. Top it with this light spicy mango sauce for a perfect and hearty lunch or dinner.
Chicken Buddha Bowl with Spicy Mango Sauce
I'm obsessed with meals in bowls right now! Something about it just speaks to me. This month with my blogging girlies, we're bringing you 4 healthy meals to eat in BOWLS and I'm so excited about it.
Put that can of tuna in your pantry to good use with this inexpensive, easy and flavorful Broccoli Avocado Tuna Bowl recipe.
Make your own healthy, gluten free and paleo-friendly Chipotle Burrito Bowl at home with this quick and easy, 30 minute recipe! It's perfect for busy weeknights and under 450 calories!
These protein packed polenta breakfast bowls are made with creamy coconut milk and filled with juicy ripe spring strawberries for a sweet start to the day.
---
Now, my Chicken Buddha Bowl with Spicy Mango Sauce.
What exactly is a Buddha bowl, you may ask?
Generally, it's a combination of: Grains, Protein, Veggies, and Toppings/Dressing. I swapped out the grains for spinach and kale, but this bowl is awesome with some cooked white rice, too!
I love it because it's customizable to what you have on hand, and absolutely anything and everything is awesome with this Spicy Mango Sauce on top!
If you have a rotisserie chicken made, chop it up and use that. Have no chicken made? Dice, marinade, and cook in a skillet. The options are endless and all results in a delicious and nutritious meal.

Roasted Chicken Buddha Bowls with Spicy Mango Sauce
---
---
Ingredients
Mango Dressing
Buddha Bowl
1 cup roasted sweet potato or sweet potato and purple potato combination
1 1/2 cup spicy roasted broccoli
1 1/2 cups roasted chicken (slow-cooker, skillet cooked, or rotisserie)
1 cup baby spinach or chopped kale
1 avocado, sliced
1 mango, cubed
Optional: 1 cup cooked rice
Roasted Potatoes
Spicy Roasted Broccoli
Directions
Preheat your oven to 400°F
In a high-speed blender, blend Mango Sauce ingredients and set aside.
On two lined baking sheets, toss sweet potatoes with oil and salt on one, and broccoli with olive oil and sauce on the other. Roast for 45 minutes until fork tender. When done, toss broccoli with chili paste.
Place 1/2 cup of greens in each bowl and rice if adding.
Top with roasted potatoes, avocado, chicken, mango, and drizzle or toss with sauce.
Serve immediately and enjoy!
Recipe Notes
Adjust the amount of potatoes, broccoli, mango, and avocado to your desired amount!
---
Nutrition
Loading nutrition data...