Healthy Homemade Nutella
Homemade Nutella is so simple to make! It's rich, full of chocolate flavor and can actually be considered healthy when made at home with real, wholesome ingredients. This version actually contains tons of hazelnut flavor and absolutely no refined sugars. Make it in under 20 minutes!
Homemade Paleo Nutella
Can I get a huge yes for homemade Nutella? This spreadable goodness is essentially a chocolate nut butter. Hazelnuts are a good source of healthy fats and are rich in vitamin E, calcium and magnesium. They're already delicious on their own, but when paired up with chocolate they're downright dangerous.
The store-bought chocolate hazelnut spread may be tasty, but honestly it's so laden with sugar that it hardly retains any health benefits at all. Why bother when you can easily make your own at home with just a few simple ingredients?
Ingredients Needed
Raw Hazelnuts

Dark Chocolate + Cocoa Powder

Coconut Sugar

Coconut Oil

Vanilla Extract

Sea Salt
How to Make It
Start by toasting the hazelnuts! This not only improves the flavor of the hazelnuts, but it also makes it easier to rub off the skin if your raw hazelnuts have them. Just make sure to watch the nuts closely so they don't burn. To remove the skin, place them inside of a clean kitchen towel and rubbing vigorously until most of the skin has come off. Some skin left behind isn't a big deal, so don't stress about getting every tiny piece off.
Meanwhile, melt the chocolate over a double-boiler or on slowly on low-power in the microwave. Set aside to cool.
Transfer hazelnuts to a food processor and process until a hazelnut butter forms, about 5-7 minutes, scraping down the sides every few minutes. During this stage you might feel like it'll never come together, but it will! Keep going!
Once you have a smooth nut butter, add in the coconut sugar, cocoa powder, coconut oil and vanilla and process until smooth, about 3 minutes more.
Then add cooled chocolate and blend until smooth and creamy.
Troubleshooting
After you've added the coconut sugar and cocoa powder to the nut butter, if your mixture seizes up, add in a couple of tablespoons of warm water until the mixture is smooth and creamy again. Make sure it is smooth before adding in the melted chocolate or you will have trouble getting the mixture to come back to smooth.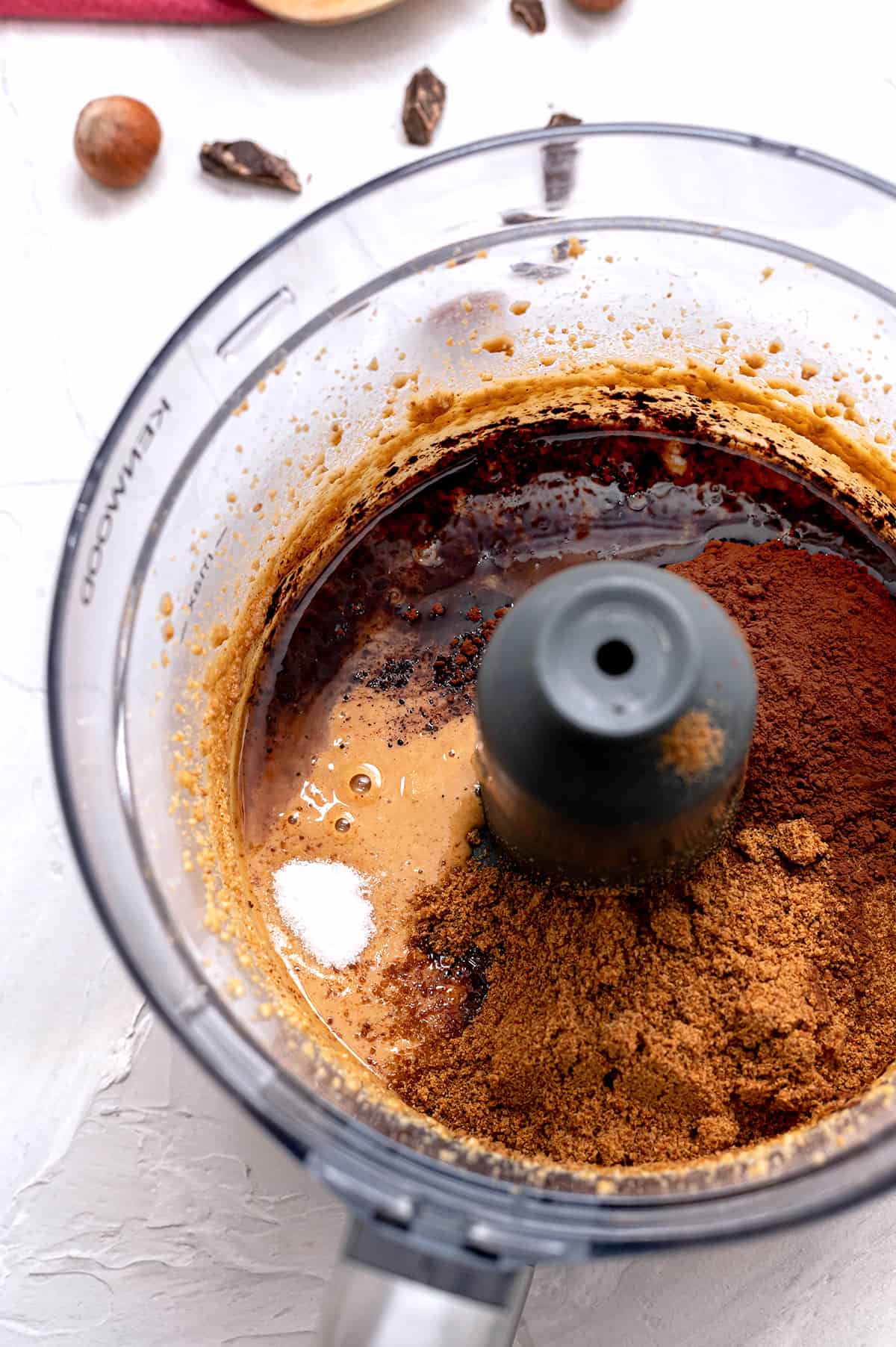 How to Use Homemade Nutella
On Toast
Fresh Fruit
OR GRAB A SPOON!
If you like this healthy chocolate recipe, check out these others:

[yumprint-recipe id='183′]
---
Pin it For Later: