Healthy Turkey Chili
This easy-to-make Healthy Turkey Chili is perfect for a big gathering, football Sunday festivities, or for weekly meal prep option since there are tons of leftovers! With ground turkey, beans and tomatoes, it is hearty comfort food. It's made easily in the slow cooker or Instant Pot and easily customizable by adding on all your favorite toppings. It's gluten-free, dairy-free and Paleo friendly.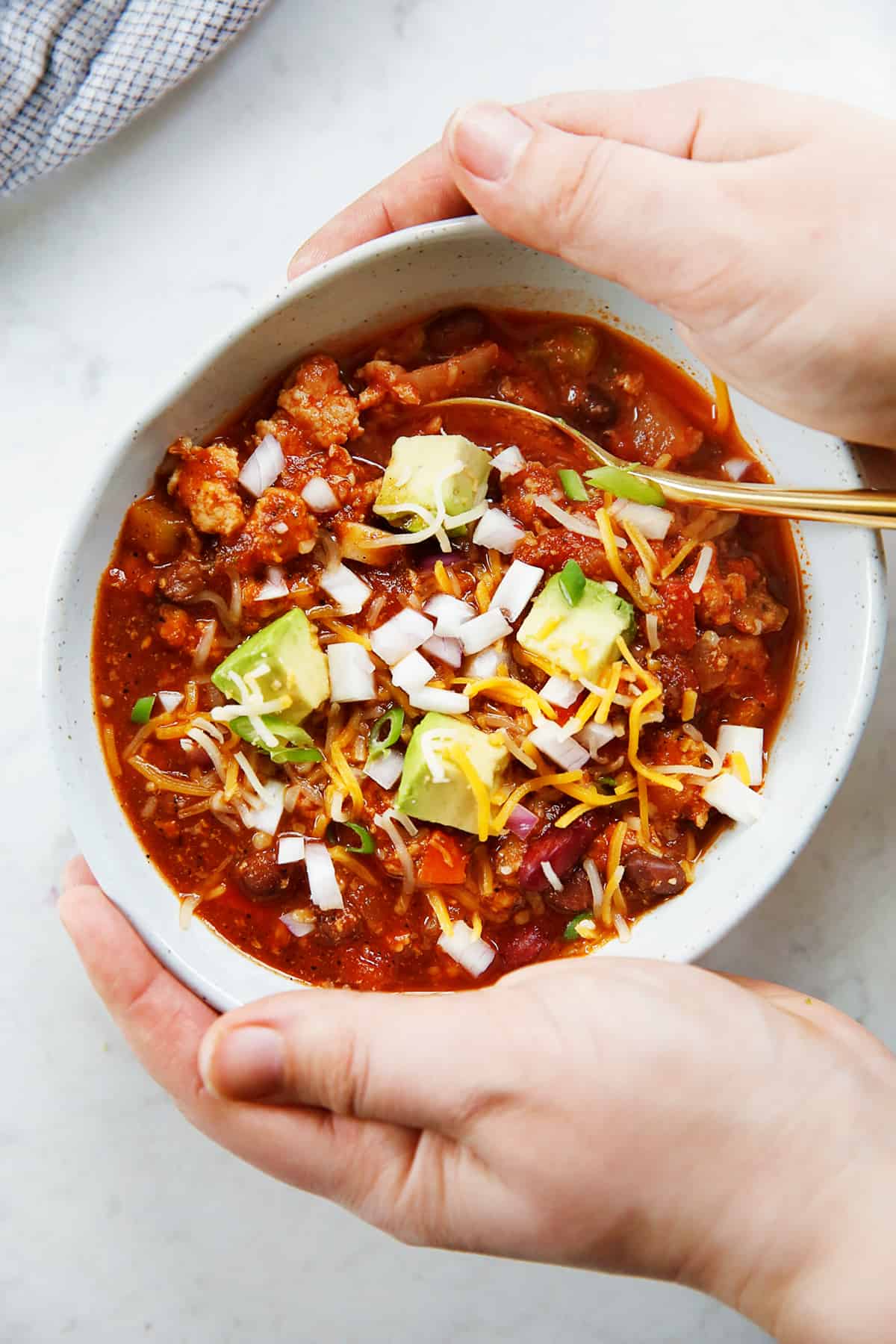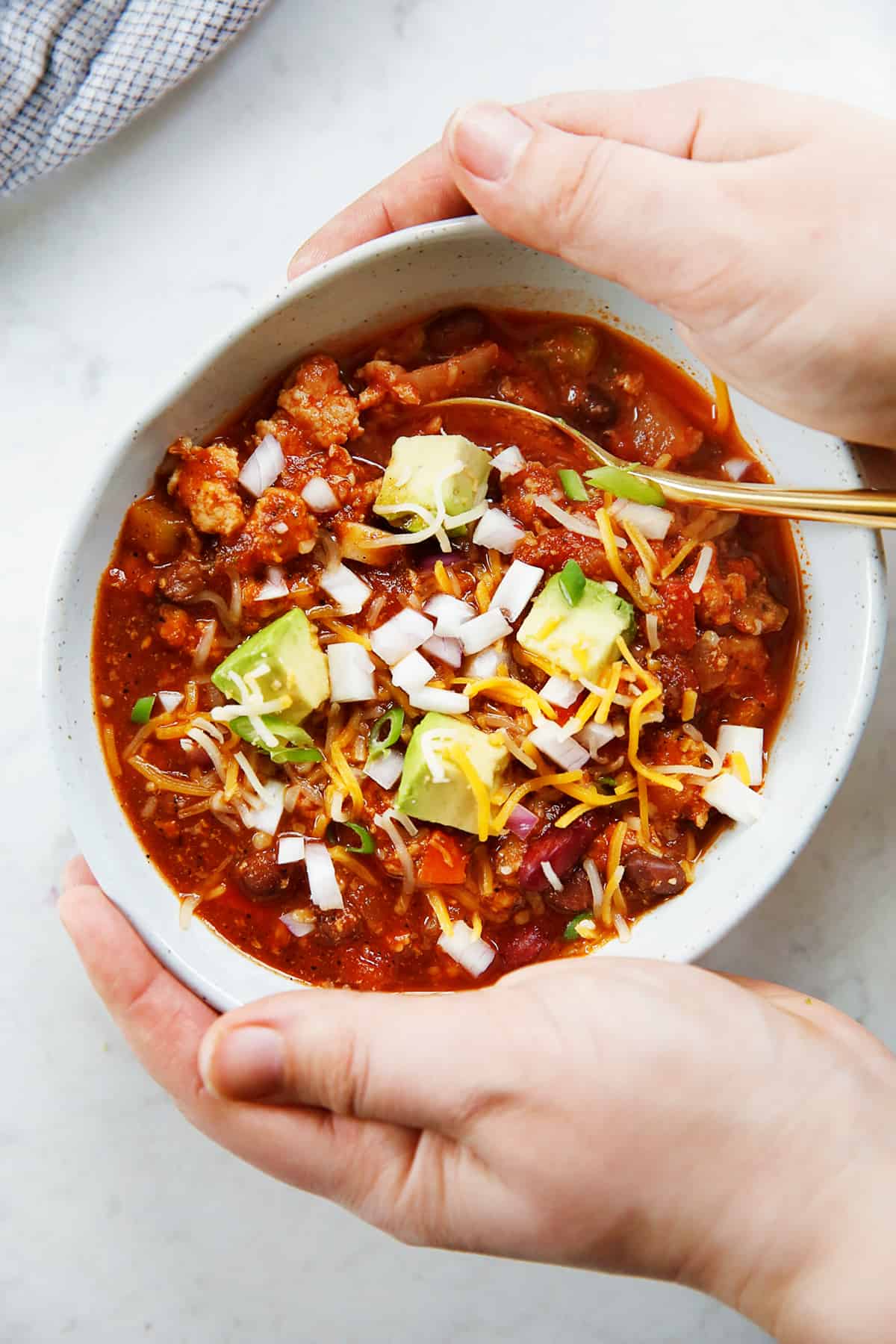 Healthy Turkey Chili Recipe
This is my classic go-to healthy turkey chili recipe all fall and winter long. I think I could make this recipe with my eyes closed at this point because I truly make it weekly! It is always a huge hit and it's one of my top rated recipes for years now. We've given the photos an update so more of you can find this amazing recipe. It's perfect for game day eats or even meal prep. The best part of the chili is you can customize to your liking, some days I'll add more vegetables based on what's in season! For a beanless turkey chili, and to make this Whole30 compliant and Paleo, simply omit the beans! And of course you get to choose the toppings to customize your dietary needs.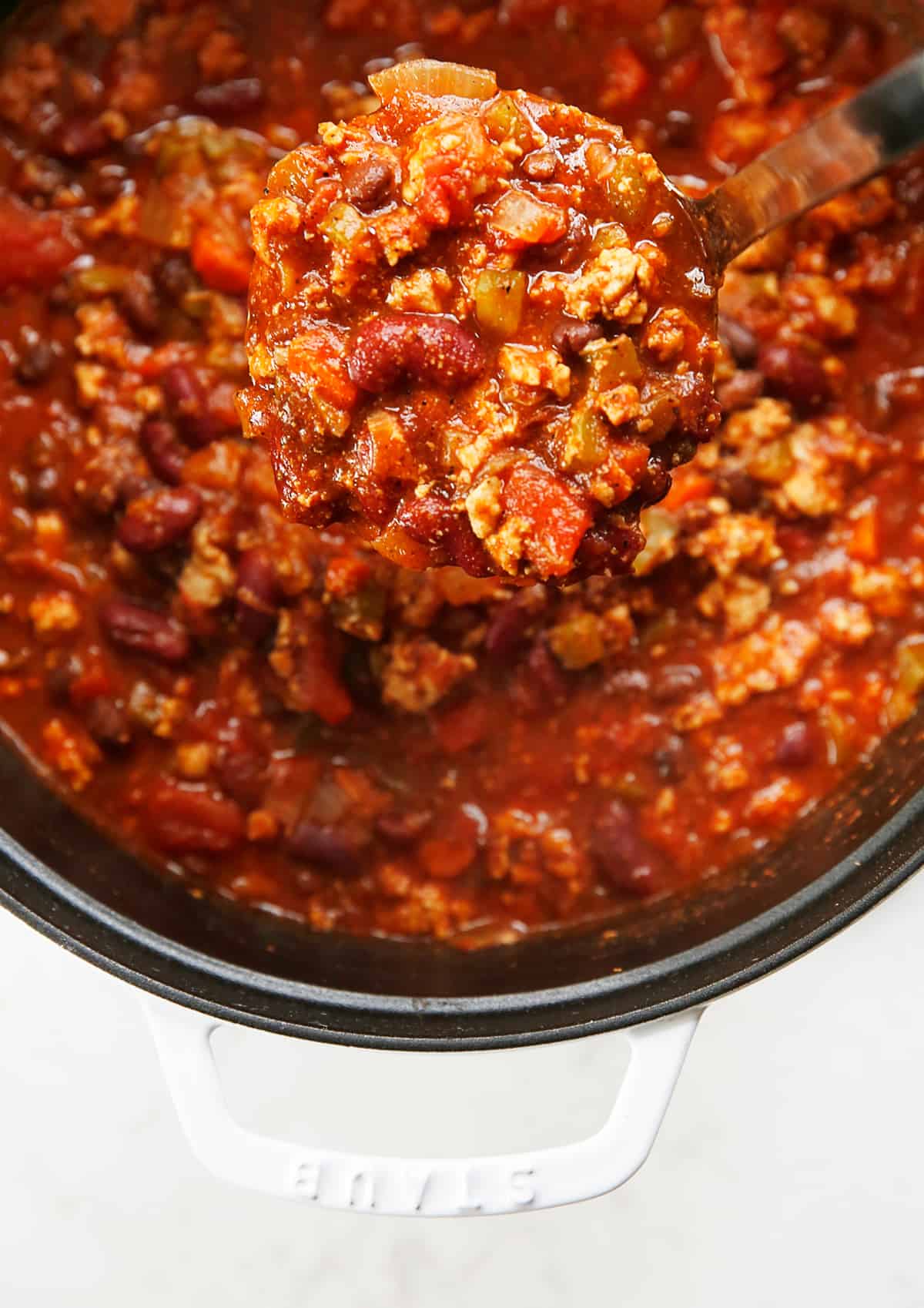 Ingredients Needed
Ground Turkey or Beef
Bell Peppers
Celery
Carrots
Onion
Garlic
Sweet Potatoes (optional)
Beans (optional)
Broth
Spices
Tomato Sauce and Paste
Diced Tomatoes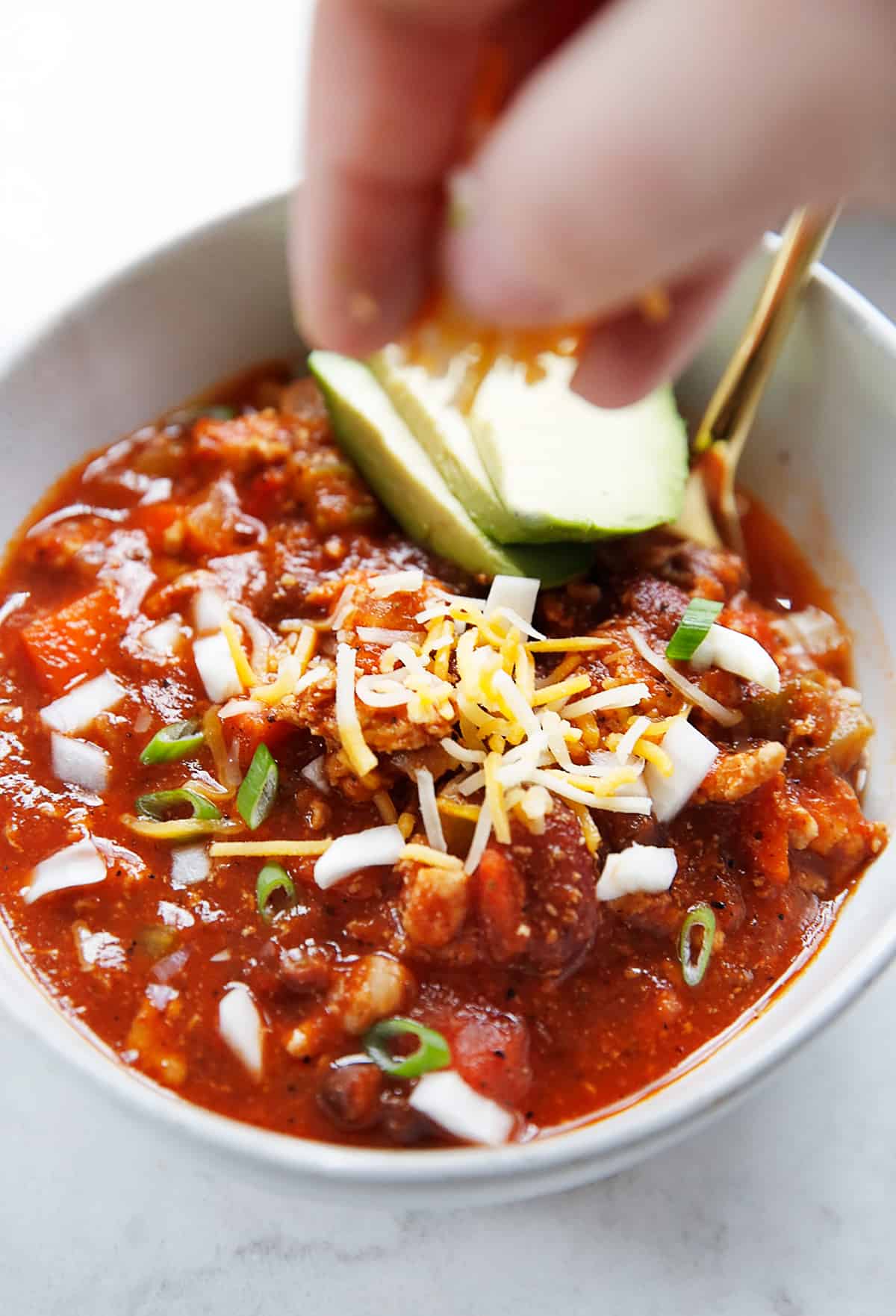 How to Make It
We've got options for making this for both the stove top and the pressure cooker.
Making it in the Instant Pot is great because it builds flavor quickly without much hands on time. The chili is under pressure for 15 minutes, with a quick pressure release. However, don't forget to account for the prep time (gathering up your ingredients and dicing some up), the saute of the veggies and the time it takes to come up to pressure. It will take at most about an hour to cook this in the Instant Pot. But it's mostly hands-off cooking time and it adds a ton of flavor.
When I cook this on the stove top I simmer it for a long time, close to 2 hours, so it's perfect to cook on a slow Sunday afternoon. Make sure to check back in on it, stirring occasionally and adding in more water if needed.
Chili Toppings
Scallions
Avocado Slices
Cheese
Cilantro
Diced or Marinated Onions
Cilantro
Diced Tomatoes
Guacamole
Tortilla Chips
Shredded Lettuce
Sour Cream
Cornbread with Chili?
OH yeah, if it's your thing! Cornbread is super popular served with chili. Here is our easy recipe for cornbread and it's a winner for sure.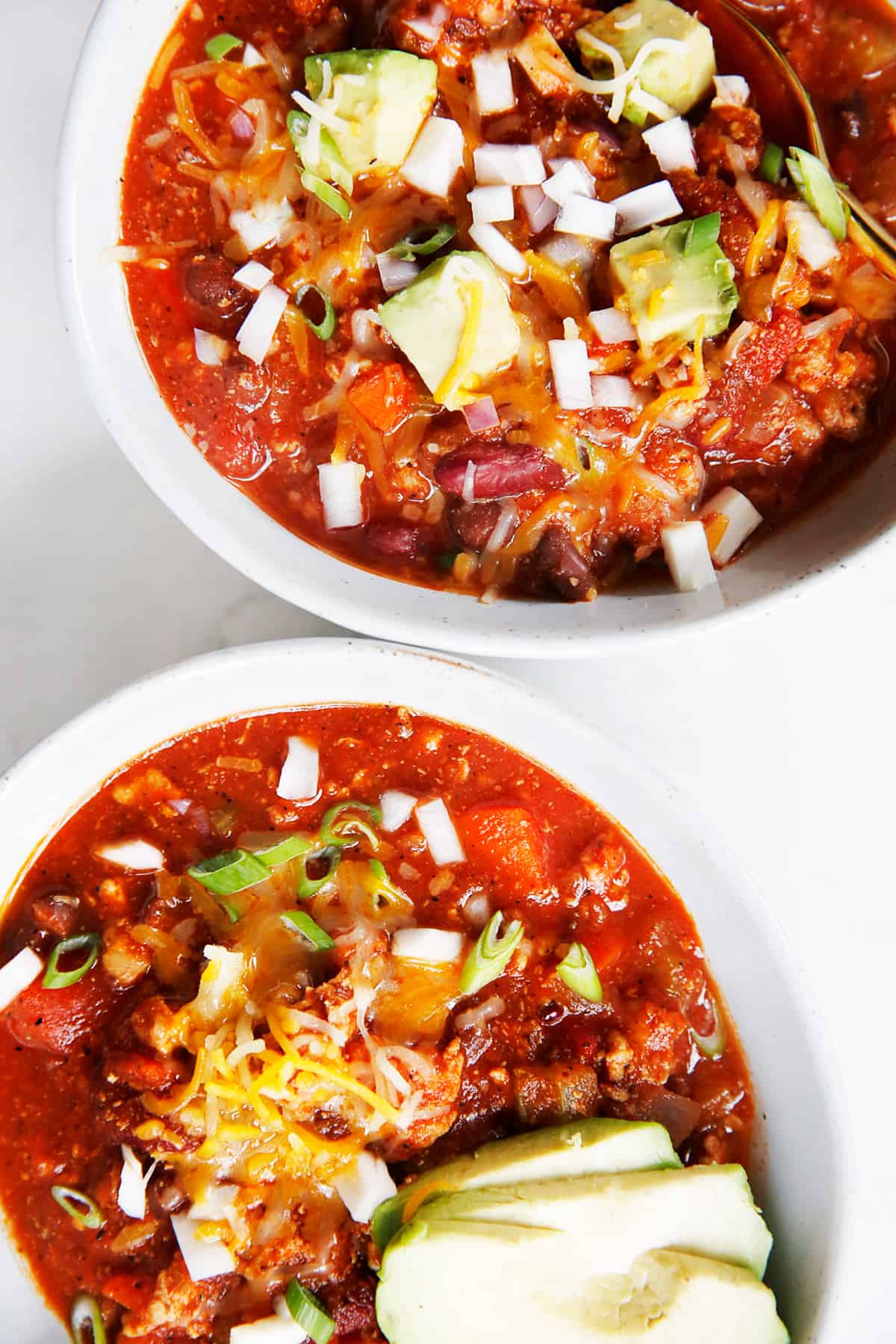 Watch the video here:
---
---
If you love chili, check out these other recipes:
For more soup recipes, check out these:
---
Turkey Chili
---
---
Ingredients
1 tablespoon extra-virgin olive oil
3 cloves garlic, minced
2 medium onions, diced
2 bell peppers (any color), chopped
2 large carrots, chopped
2 celery ribs, chopped
Optional: 1 medium sweet potato, peeled and cubed
2 pounds ground turkey or grass-fed beef
2 cups water, more as needed
1 (15-ounce) can diced tomatoes
1 (15-ounce) can tomato sauce
1 (6-ounce) can tomato paste
1 teaspoon fine sea salt, more to taste
3 tablespoons chili powder
1 tablespoon paprika
1/2 teaspoon cayenne pepper, more to taste
1 tablespoon ground cumin
2 teaspoons celery seed
1/2 teaspoon ground black pepper, more to taste
Red pepper flakes, to taste
Optional: 1 (15-ounce) can black beans
Optional: 1 (15-ounce) can kidney beans
Optional: 1 small jalapeño pepper, finely chopped
Directions
In a soup pot, heat the oil over medium heat and sauté the garlic, onions, peppers, carrots, celery, and sweet potato, if using, for 5 to 7 minutes, until soft.
Add the meat to the pot and cook until browned, stirring often to break up the meat.
Once the meat is browned, add the water, diced tomatoes, tomato sauce and paste, salt, and all of the spices. Mix well to combine. If you are adding the beans and jalapeño, do so here.
Bring to a boil and then reduce the heat and let simmer, uncovered, until the chili is nice and thick, about 3 hours. Add additional water during this time if you want your chili more souplike. Towards the end of the cooking time, taste and adjust spices as desired. Add additional cayenne for an extra kick, and more salt and pepper as needed.
Serve garnished with your favorite chili toppings, if desired. Mine are listed above.
Store in refrigerator for 1 week or store in the freezer.
Recipe Notes
*Omit beans to make this Whole30 compliant and paleo-friendly
How to Make Chili in the Instant Pot

Using the sauté function, sauté the veggies until soft.
Add meat and cook until brown.
Add in the spices, tomatoes, and water (reduce water to 1 cup)
Lock the lid and cook under manual -> high pressure for 15 minutes.
Turn the knob to venting and release the pressure manually or let the pressure naturally come down.
Open and taste the chili! Add beans here if adding. Adjust the seasoning if necessary.
Notes:

If you added too much water, use the sauté function for a few minutes to reduce the water down!
---
Nutrition
Loading nutrition data...
Healthy Turkey Chili
Football season is about to be here and that means Sundays for me are filled with game day cooking (my favorite)! I always try to prepare healthy game day foods and this Buffalo Chicken Chili will definitely be on the rotation. You can make this buffalo chicken chili recipe in the Instant Pot or on the stove top!
Buffalo Chicken Chili (Instant Pot or Stove Top)
This chili is a must-try, it's the perfect mix of flavors and textures. It's hearty, flavorful, and different! It went over big time in my house tonight!

If you like this chili recipe, try these recipes:
Buffalo Chicken Chili
---
---
Directions
Cook chicken: Shredded Crock Pot Chicken or use a rotisserie chicken.
In a large pot over medium heat, heat oil and sauté garlic. Add chopped carrots, onion, celery, peppers, cooked corn, and jalapeño pepper, if using. Cook until veggies begin to soften, about 5 minutes.
Add in chicken broth, tomato sauce, and diced tomatoes and stir well. Add in 3 cups shredded chicken. Add in hot sauce and spices and mix well to combine. Let simmer for 15 minutes.
Taste and adjust spices as desired. Garnish and serve hot.
---
Nutrition
Loading nutrition data...