Cooked spaghetti squash is a great nutrient dense, gluten-free, lower carb alternative to pasta or rice noodles. There are two great methods how to cook spaghetti squash and we're giving you all the details you need to know!
How to Cook Spaghetti Squash
Spaghetti squash noodles are probably the easiest alternative to traditional pasta there is. While it doesn't taste exactly the same, spaghetti squash is a nutrient-dense, low carb alternative to pasta (whether gluten-free or not). If you can't eat pasta or noodles for whatever reason, this is a pretty good substitute. It can take the place of almost any noodle dish, ranging from a classic "spaghetti" and meatballs, to a baked Italian "pasta" dish or even as a Pad Thai. Cooking spaghetti squash is so simple, being a mostly hands off cooking task. The hardest part is slicing it in half, so we are giving tips below.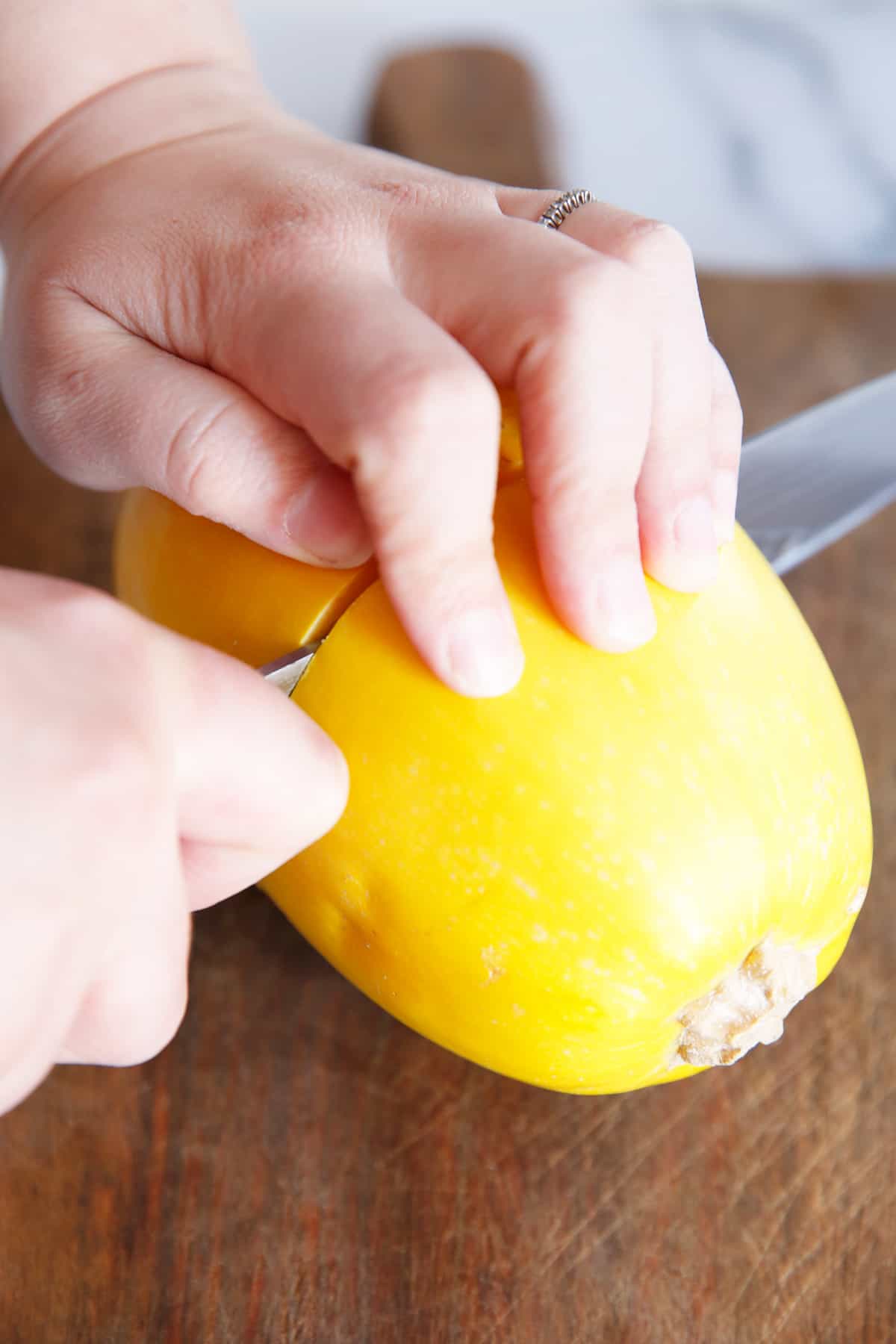 How to Safely Cut It:
Your best answer to safely cutting a spaghetti squash is to have a large sharp knife, and a flat stead surface to cut it. With one hand, steady the spaghetti squash, and with the other press the knife into the squash before using your weight to leverage the knife through the squash. Once the knife is at least an inch inside the squash use your other hand to push down on the knife until it cuts through the squash entirely.
We cut the squash in two ways:
Crosswise the the middle: This is our preferred method. This way is easier because there is less squash to cut, and you don't have to go close to the stem. This results in long strings of noodles.
Lengthwise: This method is harder to cut the squash and results in shorter noodles. Don't try to attempt to cut through the hard stem. Once you've cut to that, take the knife out and use your hands to pull apart the spaghetti squash halves.
Still are afraid to cut the squash? You can always cook the squash whole, and cut after it is cooked. It's obviously much easier to cut after it is soft, but we don't prefer this method (see below as to why).
Can you Cook Spaghetti Squash Whole?
Yes you can, but this was not our favorite method of cooking it. If you are truly intimidated by cutting a squash, cooking it whole certainly makes it a lot easier to cut, but if you follow the tips above you should be able to safely cut a spaghetti squash. We didn't like the result of a whole cooked spaghetti squash because it is harder to scoop out the seeds when they're soft because you can't easily distinguish between the inedible seeds and the edible squash strands.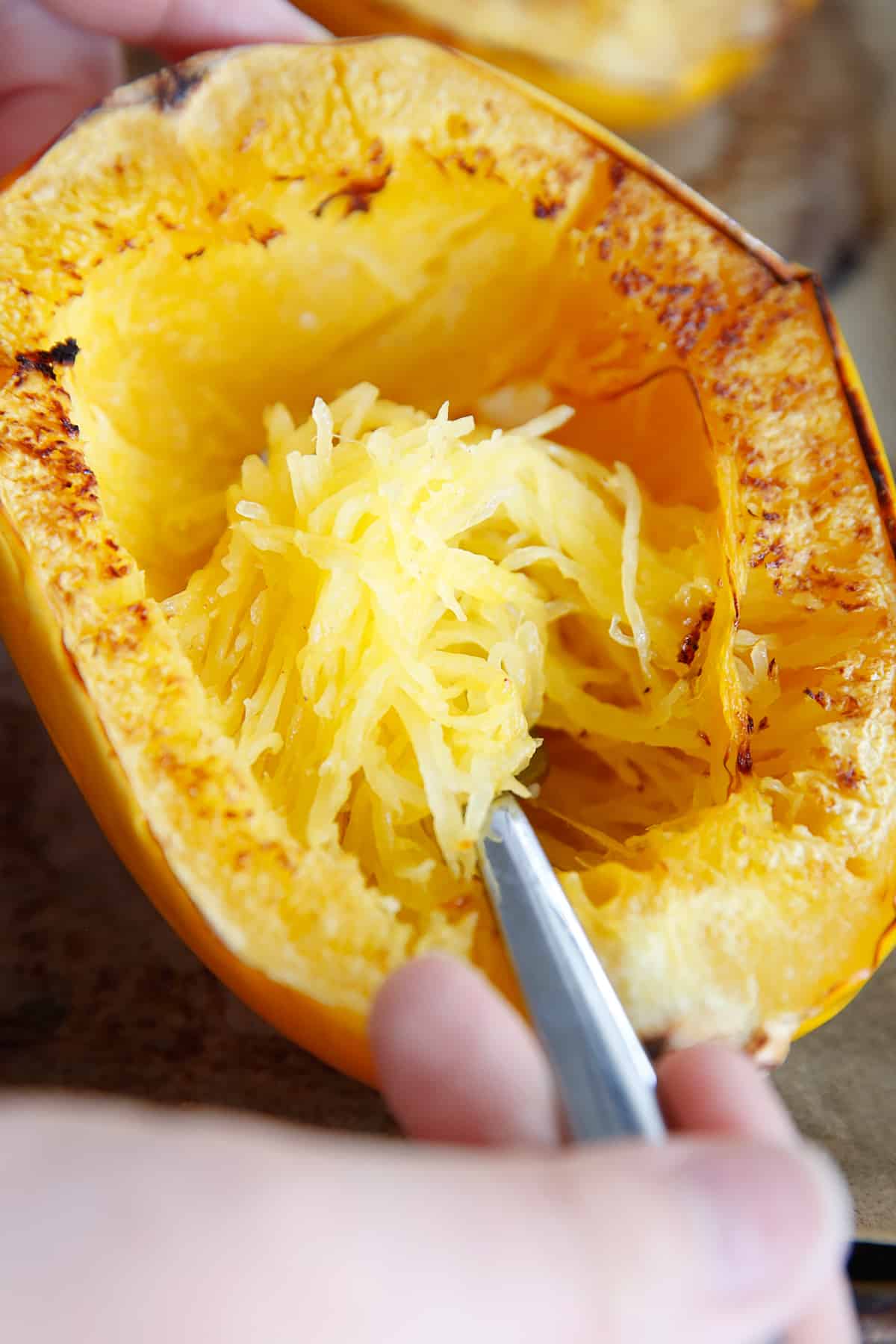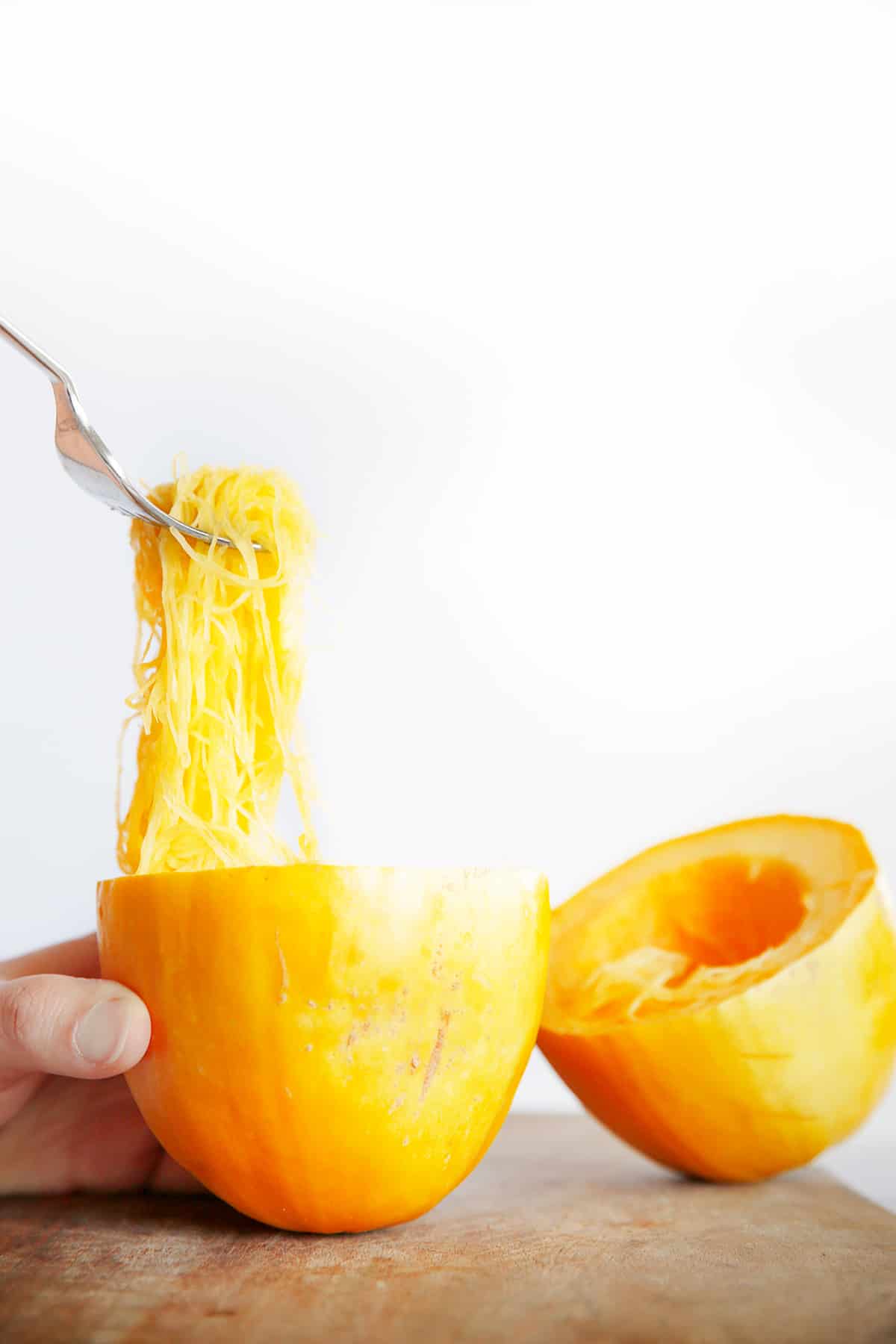 Our Favorite Way to Cook It
We are fans of cooking spaghetti squash in both the oven and in the Instant Pot. There is a slight difference in taste, and an even greater difference in cook time between these two, but knowing both is useful.
How to Cook Spaghetti Squash in the Oven
Roasting spaghetti squash in the oven takes longer, but it results in tender caramelized squash noodles. This is definitely our preferred method if we have the time. To make it, all you do is split the spaghetti squash, scoop out the seeds and drizzle with oil, salt and pepper and roast until fork tender. More detailed directions are below in the recipe section!
How to Cook Instant Pot Spaghetti Squash
Steaming spaghetti squash in the Instant Pot is by far the quickest method, and great when short on time! The squash noodles have a more straight-forward taste to them since there is no caramelization occurring. We prefer splitting the spaghetti squash and scooping out the seeds before cooking it, but you can steam it whole.
Do you Eat the Skin of the Spaghetti Squash?
No! While some squash has edible skin, this is not one of them. Simply scoop out the "noodles" and discard the skin.
How to Use it
Treat spaghetti squash noodles like pasta! It can be eaten as is with a little oil, salt and pepper and parmesan cheese or you can use it in any variety of recipes. Check out below for some of ours:
Recipes using Spaghetti Squash:
Watch the video:
How to Cook Spaghetti Squash
Ingredients
1 3-4lb. spaghetti squash (see note)
splash of oil (roasting only)
salt and pepper
Directions
For the Oven:
Preheat oven to 400ºF and line a baking sheet with foil
Cut spaghetti squash lengthwise (for short "noodles") or crosswise (for long "noodles") and scoop out seeds.
Scoop out seeds and discard.
Brush inside with oil, and sprinkle with salt and pepper.
Place facedown on baking sheet and bake for 45-50 minutes, or until you can pierce with a fork.
When cool enough to handle, scrape out "spaghetti" with a fork.
Cooked spaghetti squash will keep for 5 days in the refrigerator.
For the Instant Pot:
Cut spaghetti squash lengthwise (for short "noodles") or crosswise (for long "noodles") and scoop out seeds. Sprinkle with a pinch of salt.
Add 1 cup of water to the Instant Pot.
Stack the spaghetti squash on top of each other (cut-side up).
Close the lid and make sure the knob is turned to sealing.
Set to manual high-pressure for 10 minutes (longer time will be needed for bigger squash)
When the timer goes off, turn the vent on the top of the lid to venting to release the steam.
Once the venting knob has dropped, open the lid and shred the spaghetti squash with two forks to turn squash into spaghetti-like noodles!
Cooked spaghetti squash will keep for 5 days in the refrigerator.
Recipe Notes
If your spaghetti squash is a different size, you may have to adjust the cooking time, especially for the Instant Pot.
Loading nutrition data...
There may be affiliate links in this post! By clicking on them, or purchasing recommended items I may receive a small compensation, at no cost to you! However, I only recommend products I absolutely love and use in my own home! Thank you for supporting Lexi's Clean Kitchen when you shop! See my
privacy policy
for more information about this, the information we save, and more!