The BEST Paleo Bread (5-Ingredients and One Bowl)
This super popular paleo bread recipe has the perfect texture and is such a satisfying grain-free, gluten-free, dairy-free bread. It's perfect for a sandwich, burgers or a slice of toast with nut butter! It uses almond flour and tapioca flour and the batter is put together in just one bowl, making this so incredibly easy to make! Want to to make it but can't have nuts? We also made this nut-free with this recipe here so everyone can make it and we've recently updated this recipe to include instructions on how to make as a bread loaf too!

How to make paleo sandwich bread
This recipe is one of my most popular paleo recipes and for good reason! This recipe can be made in both a loaf pan, or also as rolls. This paleo bread is gluten-free, grain-free, fluffy, sliceable, and TOTALLY BREAD-LIKE with the best texture! Plus, it's simple to prepare made all in one bowl without any kneading or rest time.
I wasn't a fan of gluten-free bread, whether store-bought or homemade, until this recipe. I always felt they were dense, not the right flavor, or difficult to make. But this paleo bread recipe? It has the right flavor and it's fluffy, soft, air-y, and with the perfect bread-like texture.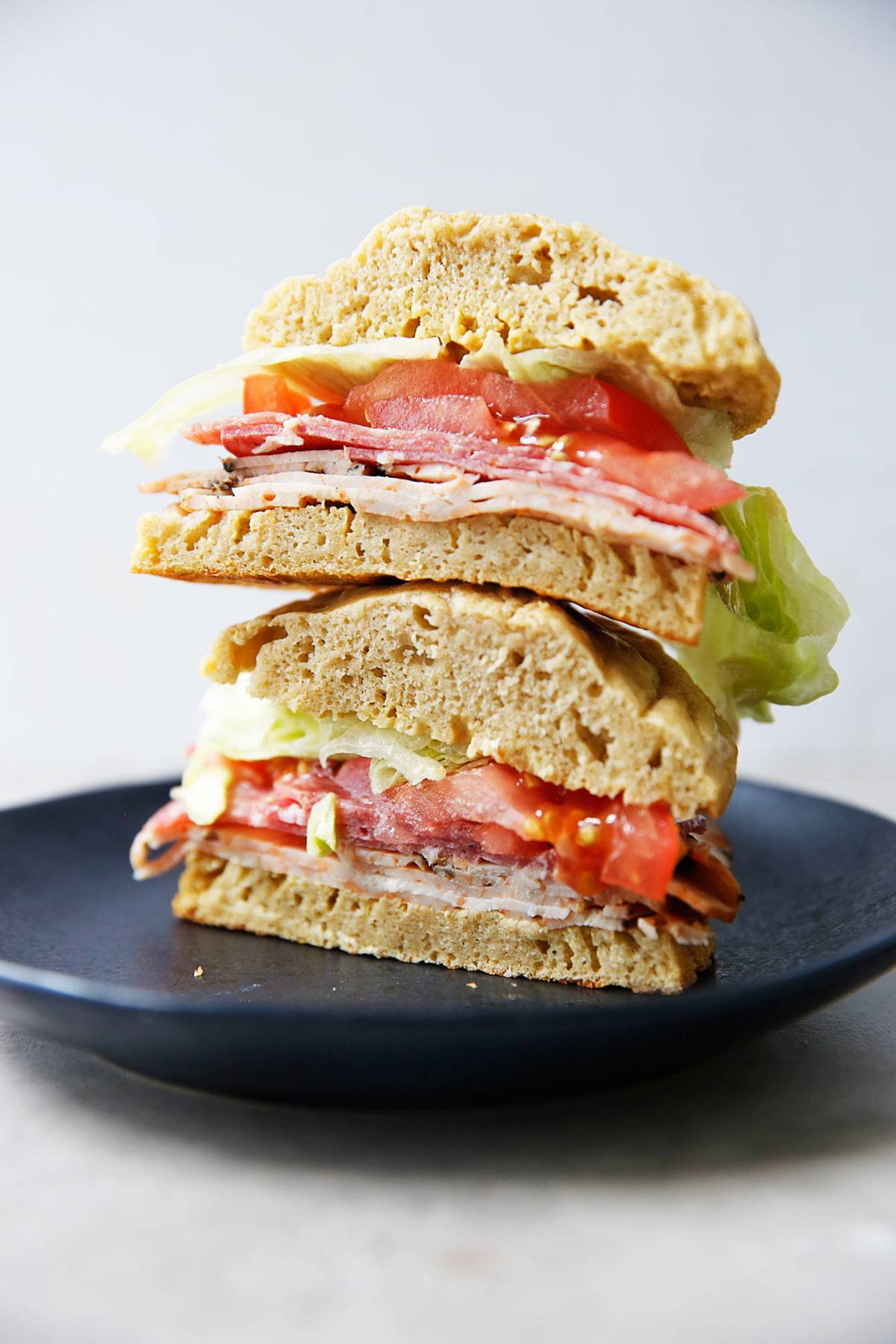 Can this be made as rolls or a loaf bread?
Originally when this recipe was first made a few years back the bread was made either as rolls, or as a long square loaf. I LOVE making it that way, but per request we've done some recent testing to include instructions on how to make it as a loaf pan! This is such a great update and hope you enjoy it too!
Watch how to make it:

Here's what you need to make it:
almond flour
tapioca flour
eggs
unsweetened apple sauce
baking powder
fine sea salt
We've made some updates to this recipe!
This bread recipe has long been a reader favorite and a cornerstone recipe for Lexi's Clean Kitchen! We've recently made some updates to it to include some instructions on how to make it into a loaf pan. We still enjoy the paleo rolls, and prefer making them that way but so many requested the ability to make this into a loaf pan, so we put it through some testing to get it to be able to do that! We call for using a smaller than average sized loaf pan, a 7.75″ x 3.75″ that way you get the proper rise for the loaf. If you use a bigger one the bread loaf won't be as tall.
What kind of bread can you eat on the Paleo diet?
Making this homemade bread is easy and kid-friendly! Paleo bread is different from gluten free bread because often on the paleo diet most grains are avoided. So gluten-free breads made with gluten-free flours like rice flour, teff flour, and corn meal would not be considered paleo bread! The combination of almond flour and tapioca flour as it creates the most legit paleo bread, and gluten-free I've ever tried!

How to use the bread:
If you like this paleo recipe, check out these others:
Paleo Sandwich Bread
---
---
Directions
Preheat oven to 350°F.
In a bowl combine almond flour, tapioca, baking powder, and dash of sea salt.
Add in eggs and apple sauce and mix to combine.
Place round molds or large mason jar lids on a baking sheet and grease well.
Pour batter into molds until almost at the top, a little less.
Bake for about 15 minutes, or until a toothpick comes out clean*
Let cool slightly, slice in half, and serve.
Store in the refrigerator.
Recipe Notes
*Baking time might vary slightly based on how thin or thick you make your rolls
I use round molds or mason jar lids, and it yields 4 fluffy sandwich rolls. See the comments for how readers have adapted!
Updated 2/2017. I used to add 1 tablespoon of coconut oil or palm shortening but don't find it necessary for the texture so it has been removed.

Calories: 167

Total Carbohydrate 17.3g

Sugars 2g

Protein 5.9g
---
Nutrition
Loading nutrition data...