How to Make Pumpkin Butter
Pumpkin Butter is a sweet spread made up of cooked pumpkin puree with added sweetener and warm spices. It can be made either in the Instant Pot or in the Slow Cooker and is guaranteed to make your home smell delicious while it's cooking! Use it on your favorite bread, muffin, on top of oatmeal or straight from the spoon!
Pumpkin Butter Recipe
I first tried pumpkin back in my college days at this adorable little restaurant called Judie's. Back before I changed my diet, I would enjoy the giant popovers they served, slathered with the most delicious pumpkin butter or apple butter. It has been a while since I've been there, but luckily I get to remember it every time I make and eat this amazing healthy pumpkin butter! This sweet spread is easily made in the slow cooker or the Instant Pot and is perfect to serve on just about anything. We also use it to make our new favorite Easy Pumpkin Coffee, with a recipe coming for that this week!
Ingredients Needed
Pumpkin Puree (homemade or store-bought)
Honey or Maple Syrup
Coconut Sugar
Cinnamon
Pumpkin Pie Spice
Sea Salt
Apple Cider
How to Make Slow Cooker Pumpkin Butter
Making crock pot Pumpkin Butter couldn't be easier because all you do is add in all the ingredients and let it cook away for 6 hours, or until it's reach the desired consistency! The recipe calls for a total of 4 cups of pumpkin puree and assumes you are using a standard 6 quart model. If you had a smaller slow cooker you could (2-3 quart) halve the recipe with success.
How to Make Pumpkin Butter in the Instant Pot
Cooking it in the Instant Pot is a bit more complicated than in the slow cooker. Because the pumpkin puree is pretty thick, there is a possibility that the mixture has a "burn" notification when cooked in the Instant Pot. To avoid this you must place your ingredients in the Instant Pot in a certain order, and not mix all of the ingredients together. Don't worry all of the flavors still infuse throughout, and will be thoroughly whisked together after it's finished cooking.
In addition, because the Instant Pot does not let any liquid escape during cooking, the Instant Pot Pumpkin Butter isn't as concentrated as Crock Pot Pumpkin Butter. We didn't find this to be a problem, and really enjoyed the flavor of both versions, but if you prefer a thicker spread feel free to let it sauté for 10 or so minutes after it has finished cooking or until it's reached your desired consistency.
A Note about Pumpkin Puree
We tested this recipe with several different brands of pumpkin puree, as well as a homemade version. They all varied in thickness and concentration. The homemade version, depending on the type of pumpkin you use, will have a higher water content. Organic pumpkin puree also has a higher water content compared with the conventional store-bought puree. If you find your pumpkin butter feels too thin, feel free to cook it until it reaches your desired consistency.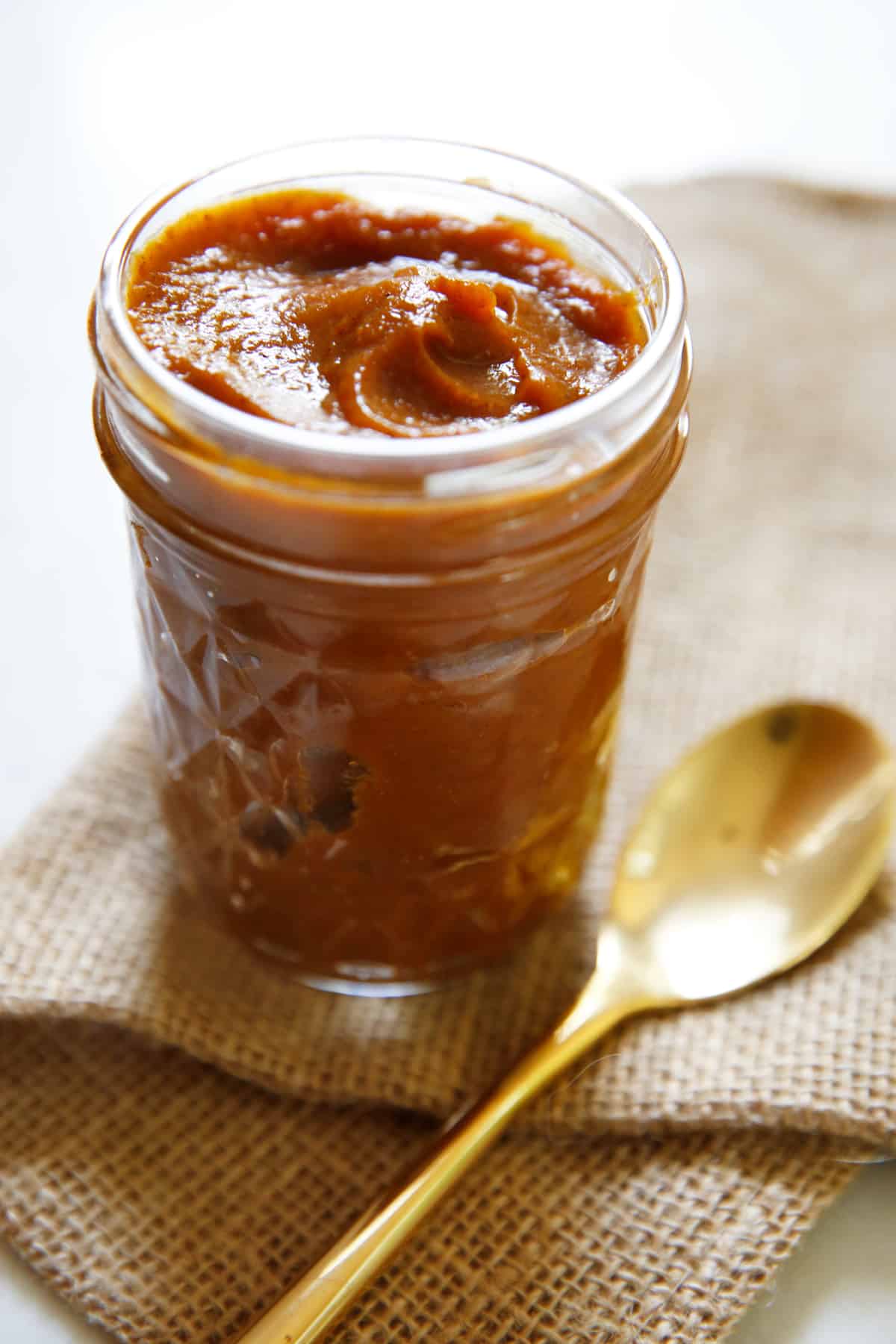 How to Use It
Use this pumpkin butter just like you would apple butter:
On toast
On a muffin
In oatmeal
In Pumpkin Bread (recipe coming soon)
In Coffee (recipe coming soon)
If you like this fall recipe check out these others:
[yumprint-recipe id='316′]