Hello perfect weekend brunch! This Potato and Leek Fritatta is just what a lazy Sunday morning breakfast calls for. Potato, leek and chard are quickly cooked up in a skillet before pouring over some eggs and finishing off cooking it in the oven. It's quick and simple and also free from dairy and gluten.
Potato Leek Frittata with Chard
Frittata's are a little underrated. They can be overlooked by their cousin, the quiche. But personally I love a good veggie packed frittata either for an easy weekend brunch of a quick and simple dinner. This Potato and Leek Frittata packs as much veggies as it can in.
Ingredients for Potato Leek Frittata
Butter and Oil (omit butter for dairy-free)

Leek

Potato

Garlic

Chard

Eggs

Salt and Pepper
Paprika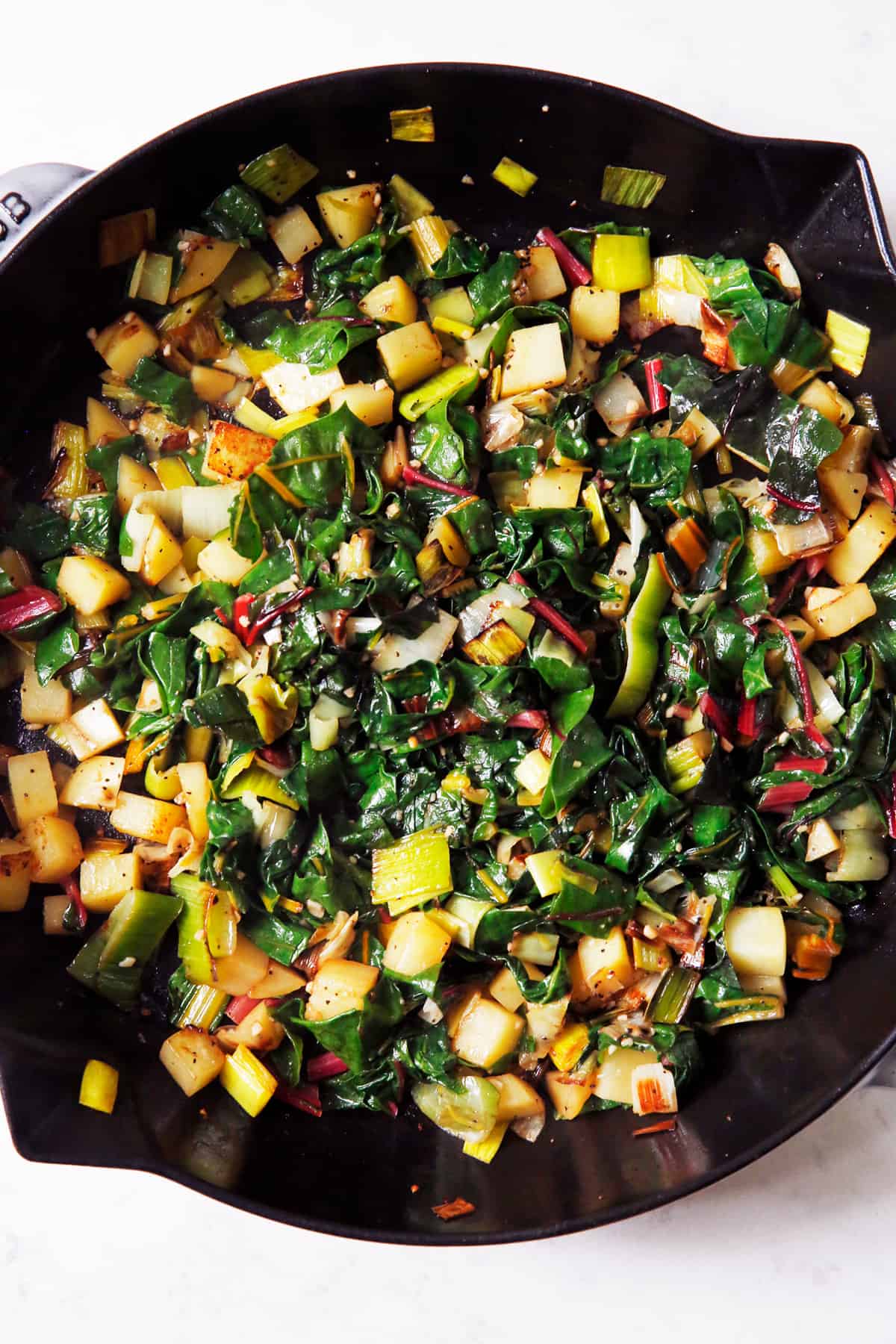 How to Clean Leeks
Leeks can be notoriously dirty. It's important to clean them well before using them. To clean leeks:
Cut off the hard and dark green parts of the leeks off and discard. Cut off the bottom of the leek and then slice the leek in halve. Take that halve and slice it into 1/4″ pieces.
Fill a large bowl with cool water.
Submerge the leek pieces and swish around for 10 seconds.
Let the leeks sit for 1 minute in the cool water to let any grit sink to the bottom of the bowl.
Without agitating the water too much, quickly pick up the leeks directly out of the water, leaving behind any sand or dirt.
Empty the water and rinse out the bowl and repeat this until step until the water is clear after you remove the kale.
How to Make a Frittata
Making a frittata is a two step process, but it's still pretty simple to do.
First you will start by cooking and of the ingredients you plan to use to flavor the frittata. In this case, we're using potato, leeks and chard. All of these will be sautéed until mostly tender. Next you add in the whisked eggs and you scramble them around for a minute. This helps set the eggs on the bottom. You let them continue to cook for a few minutes until they are mostly cooked on the edges and then you transfer the whole dish to the oven.
The frittata then finishes cooking in the oven.
How to Serve a Frittata
This frittata is best served straight from the oven. However, it also works at room temperature so this is a perfect make ahead dish for a brunch.
If you like this brunch recipe, check out these others:
Potato, Leek, and Chard Frittata
2016-08-31 13:03:02
Ingredients
1 tablespoon grass-fed butter or avocado oil, more as needed
1 1/2 cup potatoes, cut into small cubes
1 leek, finely diced
1 bunch chard, chopped
Optional: 1/3 to 1/2 cup cherry tomatoes
10 large eggs
1 teaspoon fine sea salt
1/2 teaspoon black pepper
1/2 teaspoon paprika
1/2 teaspoon garlic granules
Instructions
Preheat oven to 375°F.
In an oven-safe skillet, heat oil and sauté leeks for 30 seconds. Add in potatoes and sauté for 5 minutes.
Add in chard and toss until wilted. Sprinkle 1/2 teaspoon of the salt.
In a bowl whisk together the eggs. Add in remaining salt, pepper, and paprika.
Pour into skillet and let set for 30 seconds to 1 minute.
Transfer skillet to the oven and bake for 20 to 30 minutes until eggs are set and no longer jiggly.
Slice and serve hot.
Lexi's Clean Kitchen https://lexiscleankitchen.com/