With a sweet little center filled with either jam or chocolate hazelnut spread, These Gluten Free Thumbprint cookies are a must make. These cookies have a crispy exterior with a chewy middle, are easy-to-prepare and perfect to make year round. The dough is made in 1-bowl and they are free from gluten, grains and refined sugar but still perfectly delicious.
Gluten Free Thumbprint Cookies
These Gluten Free Thumbprint cookies are the cutest little cookie! A perfectly textured thumbprint cookie filled with your choice of a sweet jam or Nutella middle. What we really love about this recipe is that it is truly easy to make. We simplified the steps needed to make this cookie by using just 1-bowl and a sturdy spoon to mix the dough all together. Which means you can have fresh, hot cookies on your table quickly. They don't need to be chilled (but can be if you want to make the dough ahead of time) and don't dirty up a lot of dishes. This is also a great recipe to make with the kids!
Here's what you need to make them:
Almond Flour

Coconut Flour

Butter
Coconut Sugar
Vanilla Extract

Baking Powder

Salt

Jam (homemade or store-bought)
Nutella (homemade or store-bought)
Filling the Thumbprint Cookies
We've filled these cookies with a chocolate hazelnut spread (that can either be homemade or store-bought) and strawberry jam (again, homemade or store-bought). But let your imagination run wild and use whatever you'd like to make these thumbprint cookies. It could be fun to switch it up and fill it with a sweetened almond butter, pumpkin butter or even fill it with marshmallow cream before it is set up to make marshmallow thumbprint cookies! We can't wait to see you're creations.
Tips for Making Gluten Free Thumbprint Cookies
Make sure your butter is fully softened. This recipe requires the butter to be room temperature because it is mixed in with the dough as is, as opposed to creaming it or melting it. Room temperature butter can easily be mixed into this almond flour dough, with no chunks of butter remaining.
Use a study spoon and a bit of muscle.We use a bit of an unusual method of making this dough: all the ingredients are simply mixed together in a bowl until the dough has come together. It's easiest to achieve smooth dough if you use a sturdy spoon, such as metal or wooden, and really mix up the dough well. At some point while you are making the dough you are going to feel like it won't ever come together–but keep mixing: it will.
Double indents! You'll need to make an indent before the cookie is baked, and after. The cookies puff and spread slightly when baking, so when they come out of the oven, carefully use a teaspoon sized measuring spoon and press gently in the well to reform it.
Storing Gluten Free Dough and Baked Cookies
The cookie dough can be made up to 3 days ahead of time. The dough can be frozen if desired, but portion them out and make the indentation before freezing.
As with any of our gluten-free cookie recipes, these are best eaten on the first or second day they are made. On day 1, the outside is crisp in the middle is soft and chewy. The cookies can be stored in a bag or container at room temperature for up to 2 days, but they soften as time goes on.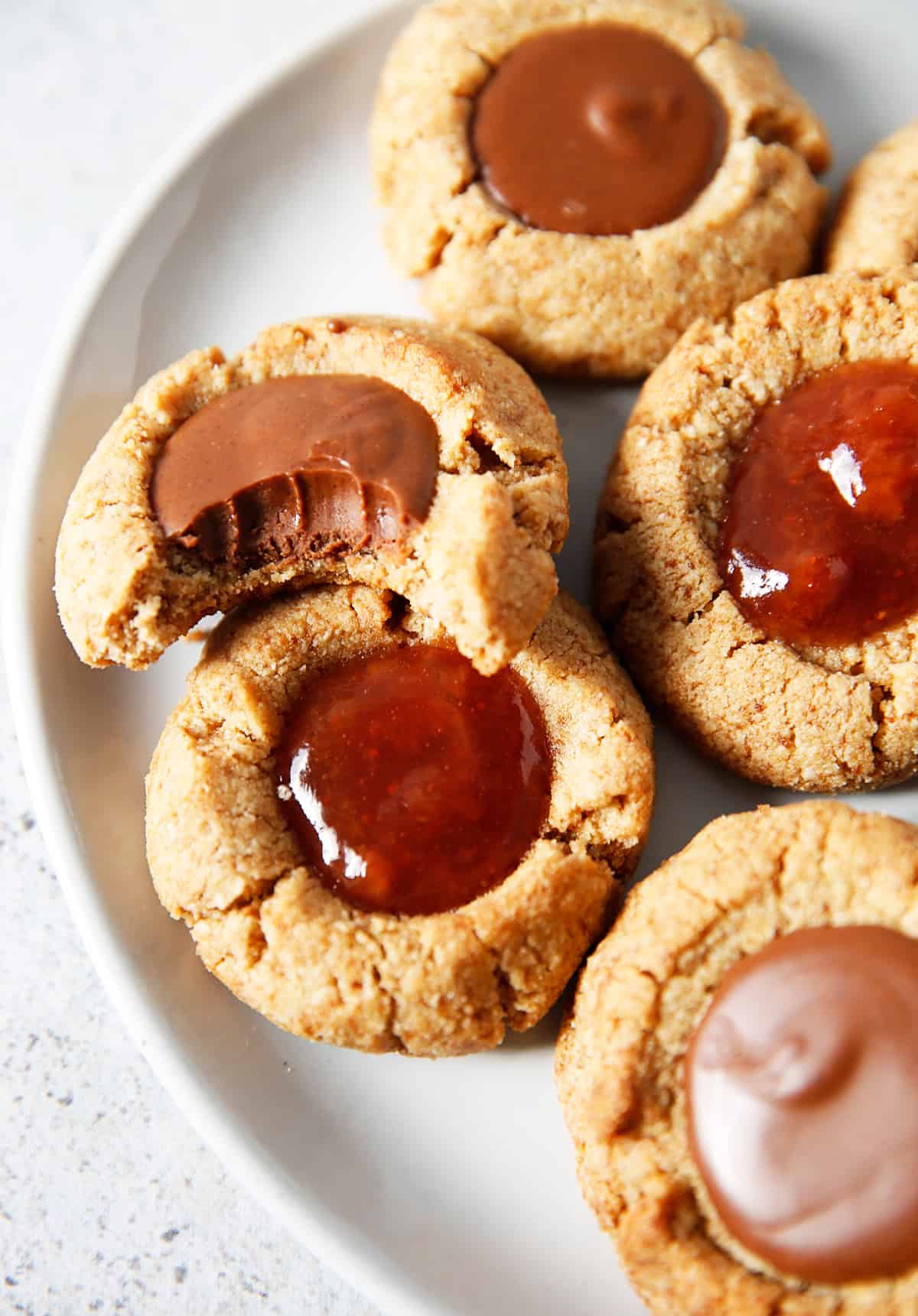 If you like this gluten free cookie recipe, check out these others: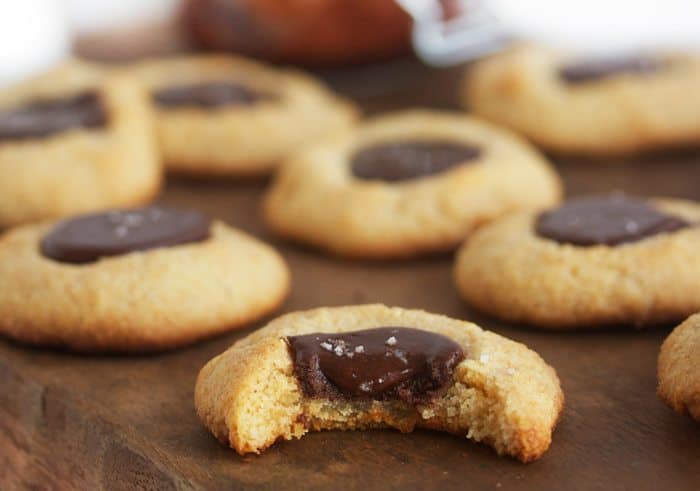 Sea Salt Nutella Thumbprint Cookies
2014-12-03 02:04:04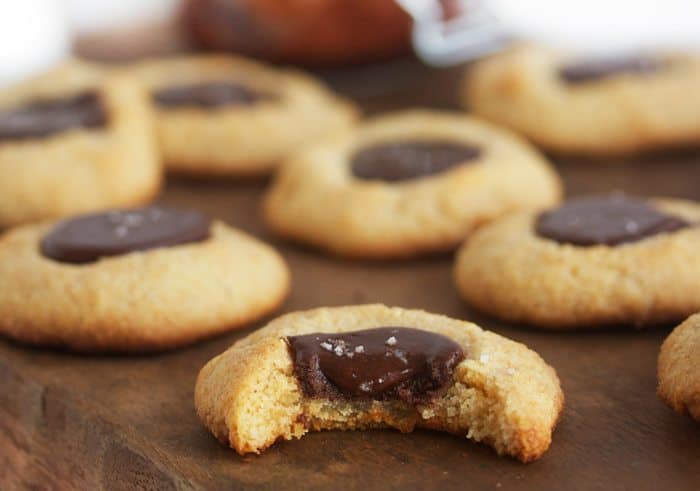 Wet Ingredients
4 tbsp grass-fed butter
3 tbsp raw honey
Other
Nutella recipe here
Coarse sea salt
Instructions
Preheat oven to 350
In a bowl combine dry ingredients minus the chocolate chips
Add in wet and mix well (use your hands or a stand mixer to get the butter mixed in well)
Line a baking sheet with your baking liner or parchment paper
Drop spoonfuls of the dough onto the sheet and press your thumb slightly into each center*
Bake for 10 minutes, or until cooked through
Remove (you may want to press your thumb in slightly again), and place 1 tsp nutella into the center of each cookie**
Drizzle with sea salt and let cool before removing from the baking sheet and serving***
Notes
*If the dough is a bit sticky, wet your hands slightly to help form the cookies
**You can sub melted chocolate
***If you want the nutella to harden quickly, transfer baking sheet to the refrigerator
Lexi's Clean Kitchen https://lexiscleankitchen.com/