We're diving in to How to Make Sweet Potato Toast today because they are our new favorite breakfast, snack, or lunch and can guess they'll be yours too! Sweet potato toasts are easy to make, nutrient-dense, and there are so many options to shake up your toast topping game. Sweet potato toast is a great fiber-rich, gluten-free, Whole30 approved, and vegan healthy toast replacement! PLUS, they are super easy to make!
How to Make Sweet Potato Toast
Making sweet potato toast is about to become your new favorite breakfast, snack, lunch, or hey, even dinner! These Pinterest-worthy lower carb "toasts" have been making the rounds lately. What is sweet potato toast? Well basically they are cooked slices of sweet potato that are a great nutrient-dense alternative to regular toasted bread that can hold a hefty portion of toppings. Did we mention they are also delicious? Today we're diving into all the details on How to Make Sweet Potato Toasts for our ongoing How to Wednesday series and sharing our favorite topping choices as well!
What kind of sweet potatoes are best?
Look for large round sweet potatoes! These work best because you can get good slices out of them. Curved ones, or oddly shaped ones, aren't great for toast because you'll waste more of the sweet potato when you're slicing them up!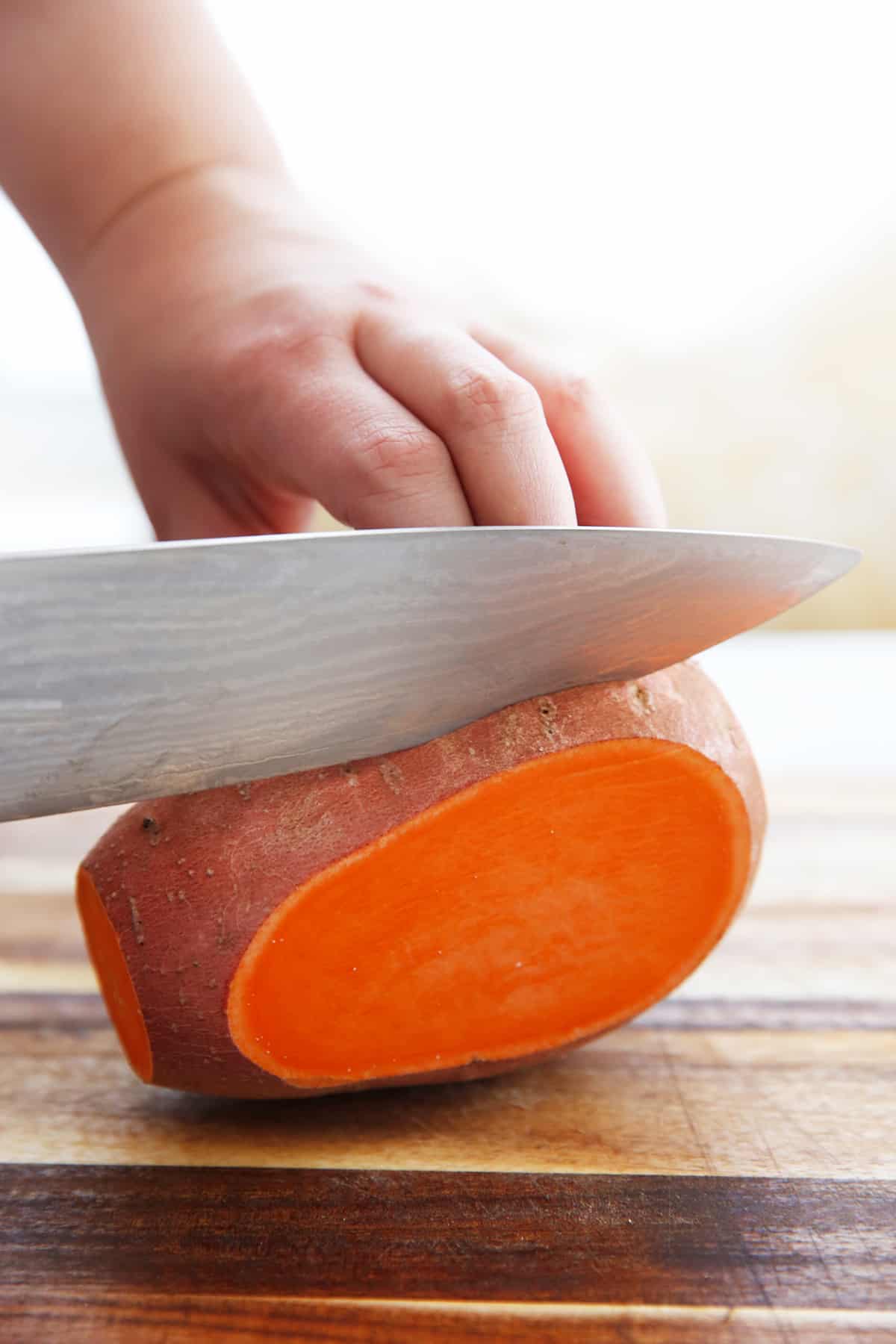 What are the different kinds of sweet potatoes?
Well this isn't the most straightforward question! These day the grocery stores can sell a few different types of sweet potatoes and sometimes they are labeled yams (but apparently they're not actually yams?). For this purpose the best type of sweet potato is usually labeled as a Garnet Yam, but a Beauregard or a Jewell Sweet Potato will work best too.
How do you easily cut up sweet potatoes
There are two options for slicing up the sweet potatoes. You can either use a mandolin, though it will need to be a good quality one with a sharp blade. Or use a sharp knife! If you are a little unsteady with your knife skills, slice of a piece of the sweet potato so you can rest it on that fast surface for safer cutting.
Do you peel sweet potatoes?
Peel the sweet potato if desired! The skin is edible, but can be rough and fibrous, so if you are concerned with texture you can peel the skin off. The most important thing is to aim to make them all the same size. For sweet potato toast, we find it's easier to leave the skin on because it helps the sweet potato keep it's shape.
Why we aren't making sweet potato toast in the toaster
We know this method is out there–but we don't recommend it. It takes too long to cook the sweet potato in the toaster (unless you are using a powerful toaster oven) so we recommend using the oven bake method first, and then to reheat you can use a toaster to warm it up and get it slightly crispy.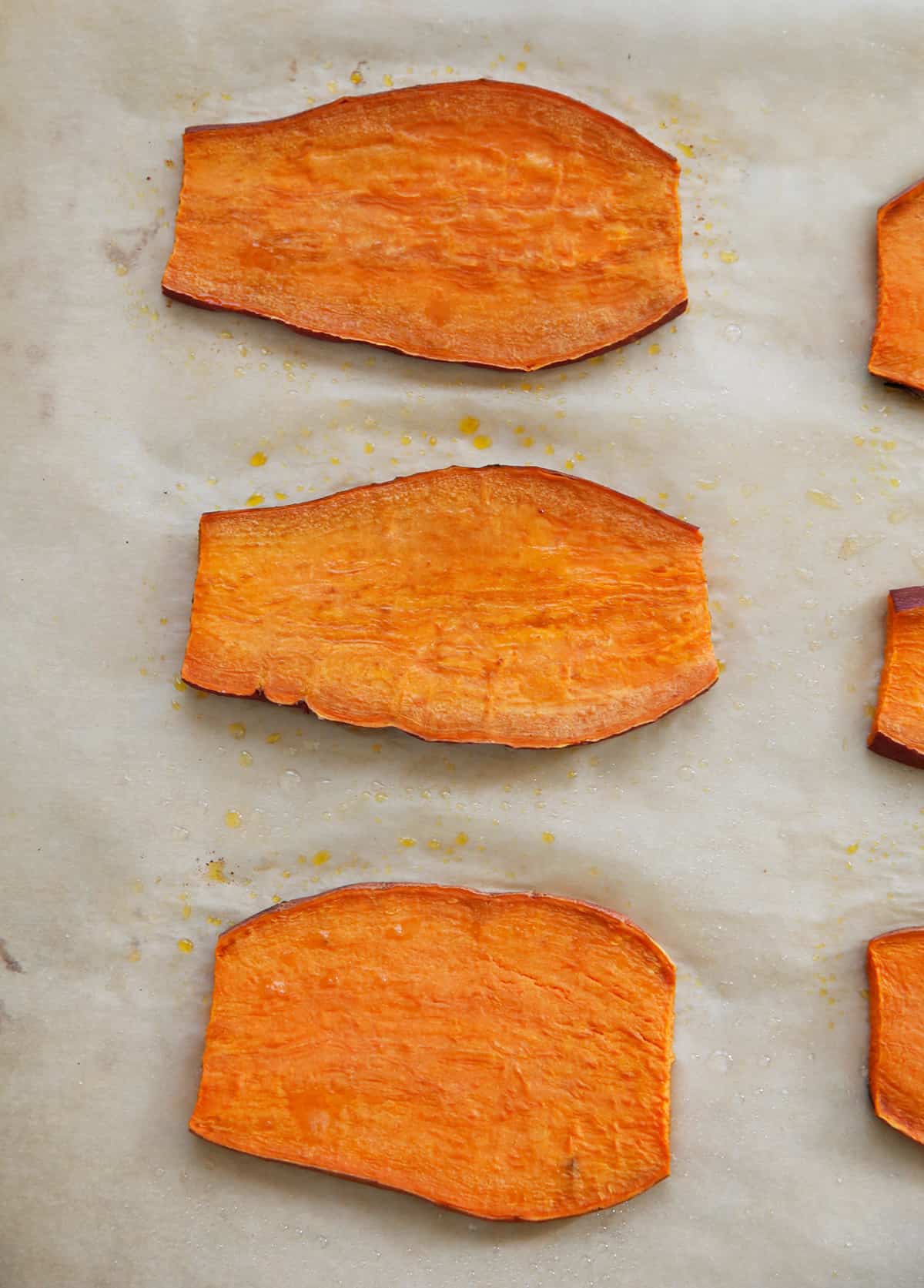 There really are endless options for topping the sweet potato toast. You can go with savory or sweet, or even make a DIY sweet potato bar and let your loved ones make their own!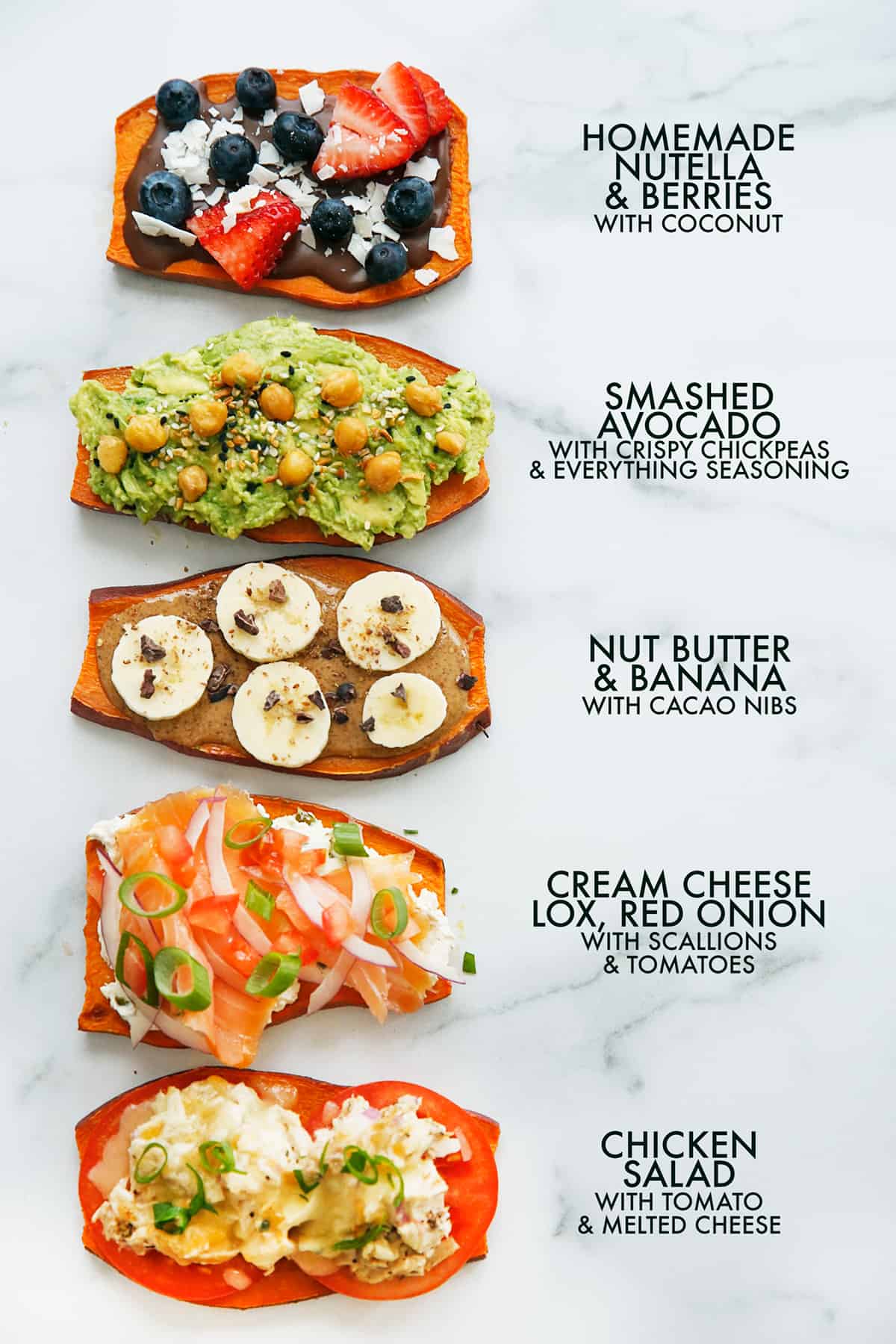 Savory Ideas:
Sweet Ideas:
How to Reheat:
This recipe makes a large make ahead batch for the week. To reheat as needed either stick it in a toaster, a toaster oven until hot and edges are crispy. It's best to top as needed (like regular toast) but you can prep one for lunch to reheat at work later and reheat like any other food, though the sweet potato won't be crispy.
---
If you like this how to, check out these others:
Ingredients
2 large, uniform sweet potato or yam
1 tablespoon avocado oil, or spray
1 teaspoon salt
Directions
Preheat an oven to 425ºF and line a baking sheet with parchment paper.
Scrub and wash and dry the sweet potato clean.
Cut off the tips of the sweet potato.
Using a knife (or alternatively a mandolin) slice the sweet potato into 1/4" thick pieces. Discard the end pieces that have the most bit of skin.
Lay on parchment paper with room in between and either spray or brush avocado oil on both sides. Sprinkle with salt.
Bake for 5 minutes, then flip and back for an additional 5 minutes. The sweet potato should be fully cooked through, meaning you can easily stick a fork through it, but not overcooked that it would fall apart when you picked it up.
Either use immediately with toppings of choice, or cool completely before moving to an air tight container and storing in the fridge. Use within 3-5 days.
To re-heat as needed for topping either stick it in a toaster, a toaster oven until hot and edges are crispy.
Recipe Notes
See post for inspiration on how to top your sweet potato toasts.
If topping and reheating outside of the home a toaster oven or microwave will work.
Loading nutrition data...
There may be affiliate links in this post! By clicking on them, or purchasing recommended items I may receive a small compensation, at no cost to you! However, I only recommend products I absolutely love and use in my own home! Thank you for supporting Lexi's Clean Kitchen when you shop! See my
privacy policy
for more information about this, the information we save, and more!