This Pecan Popcorn Chicken makes for the perfect kid-friendly & adult-loved chicken nugget.
Looking for flavorful, crispy, tender, and juicy popcorn chicken? This recipe is for you!  Made in partnership with the American Pecan Council!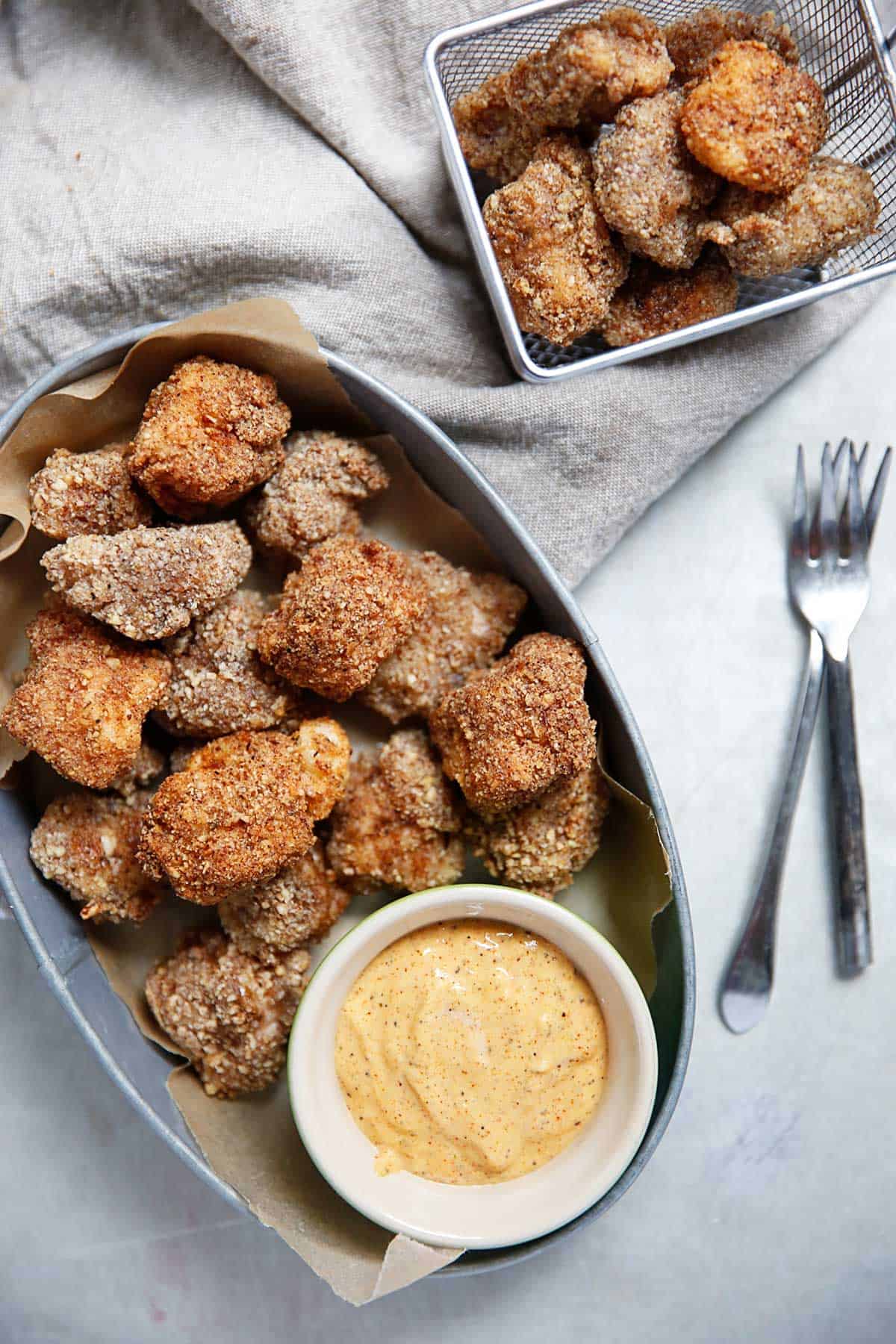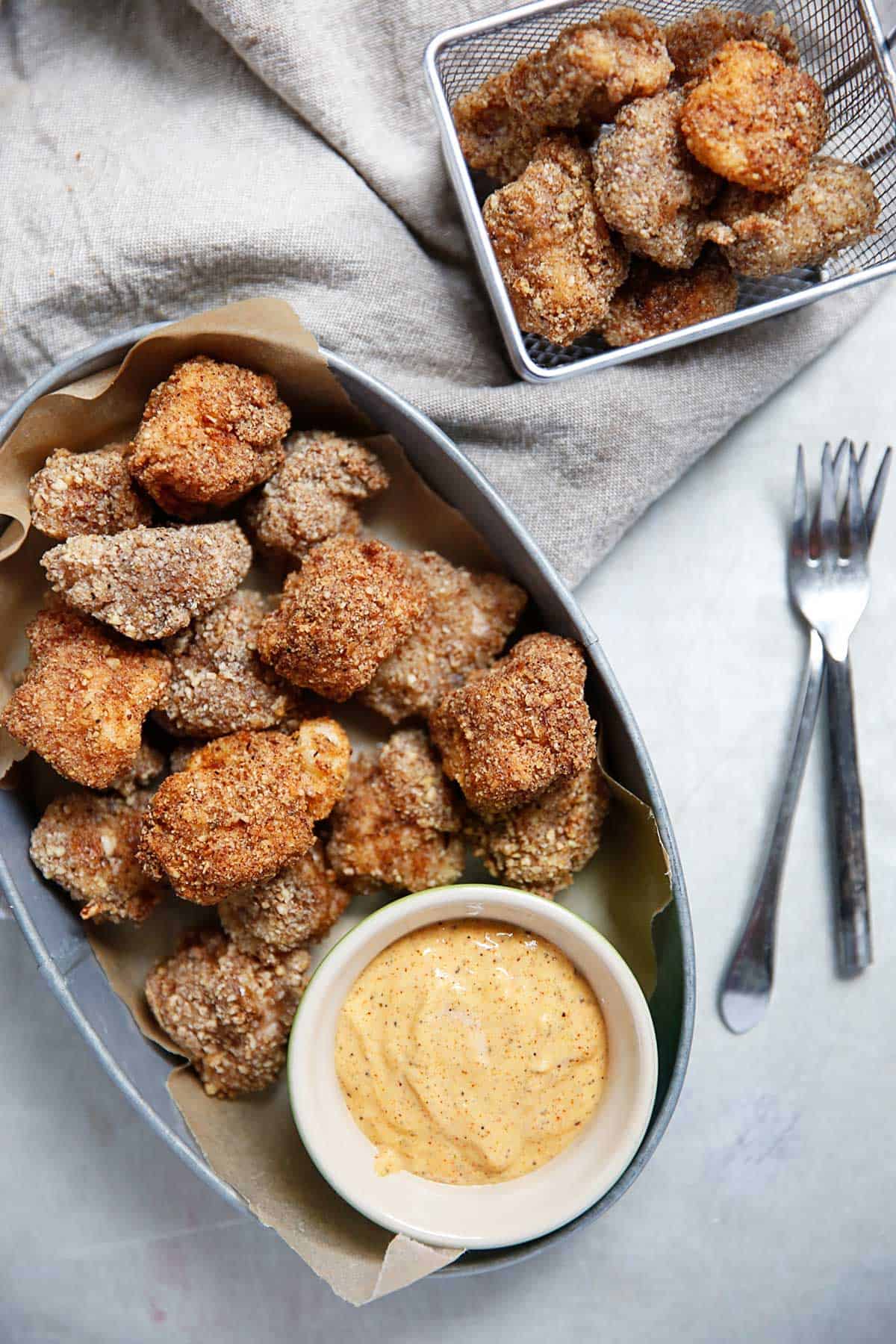 When I think of popcorn chicken, I think of KFC. Though I would certainly not eat that now, I wanted this popcorn chicken recipe to be reminiscent of the crunchy, crispy exterior, with a tender, juicy center! This recipe is just that!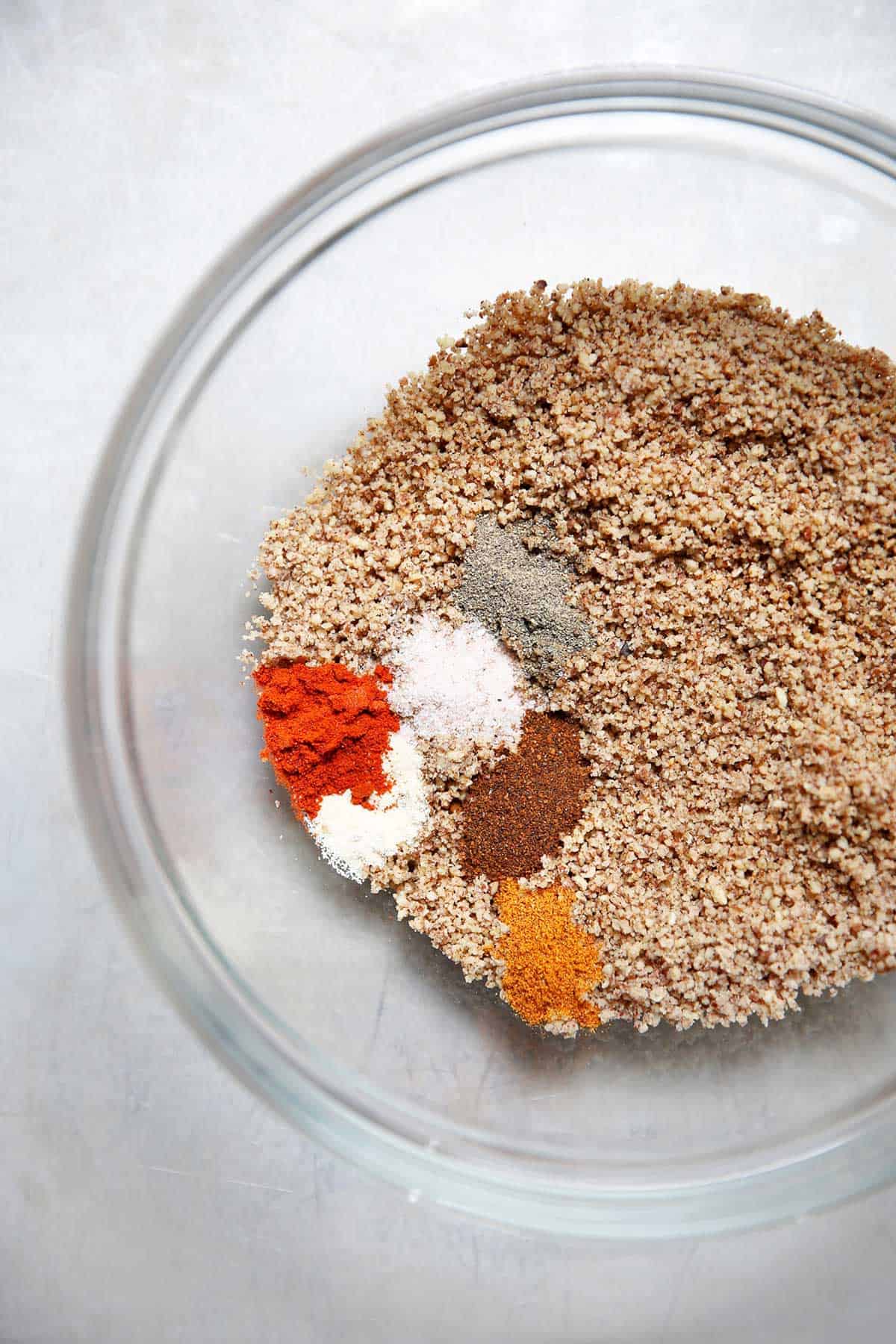 These chicken nuggets, or popcorn chicken bites, are nutrient-dense, so you'll feel GOOD about serving these! Pecans are lower in carbs and higher in fiber compared to many other nuts, and they're among the highest in monounsaturated fats, including the beneficial oleic acid that's found in olive oil!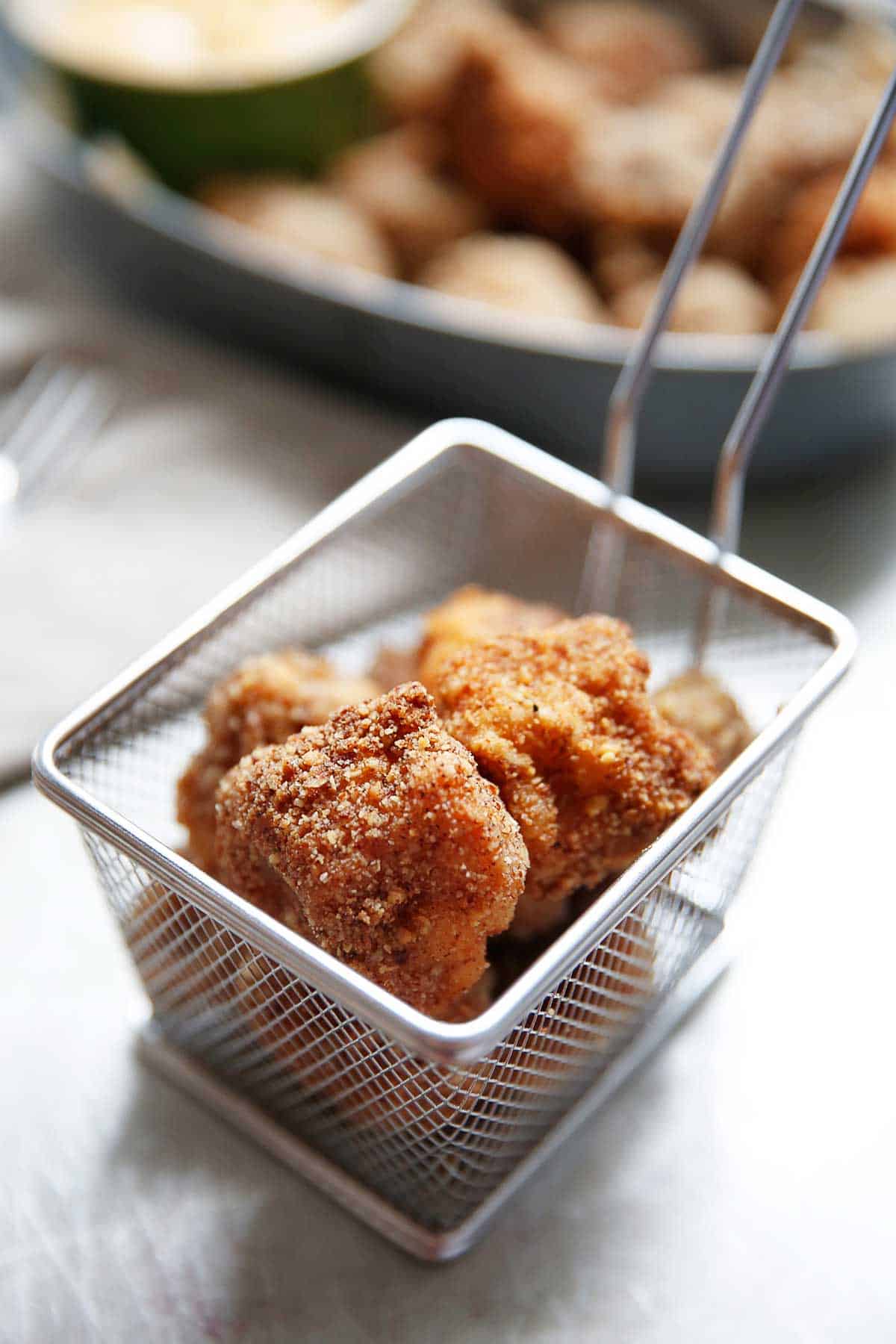 Dairy-free, Grain-free, gluten-free, and paleo-friendly! Plus, that Cajun Garlic Dipping Sauce is truly AMAZING.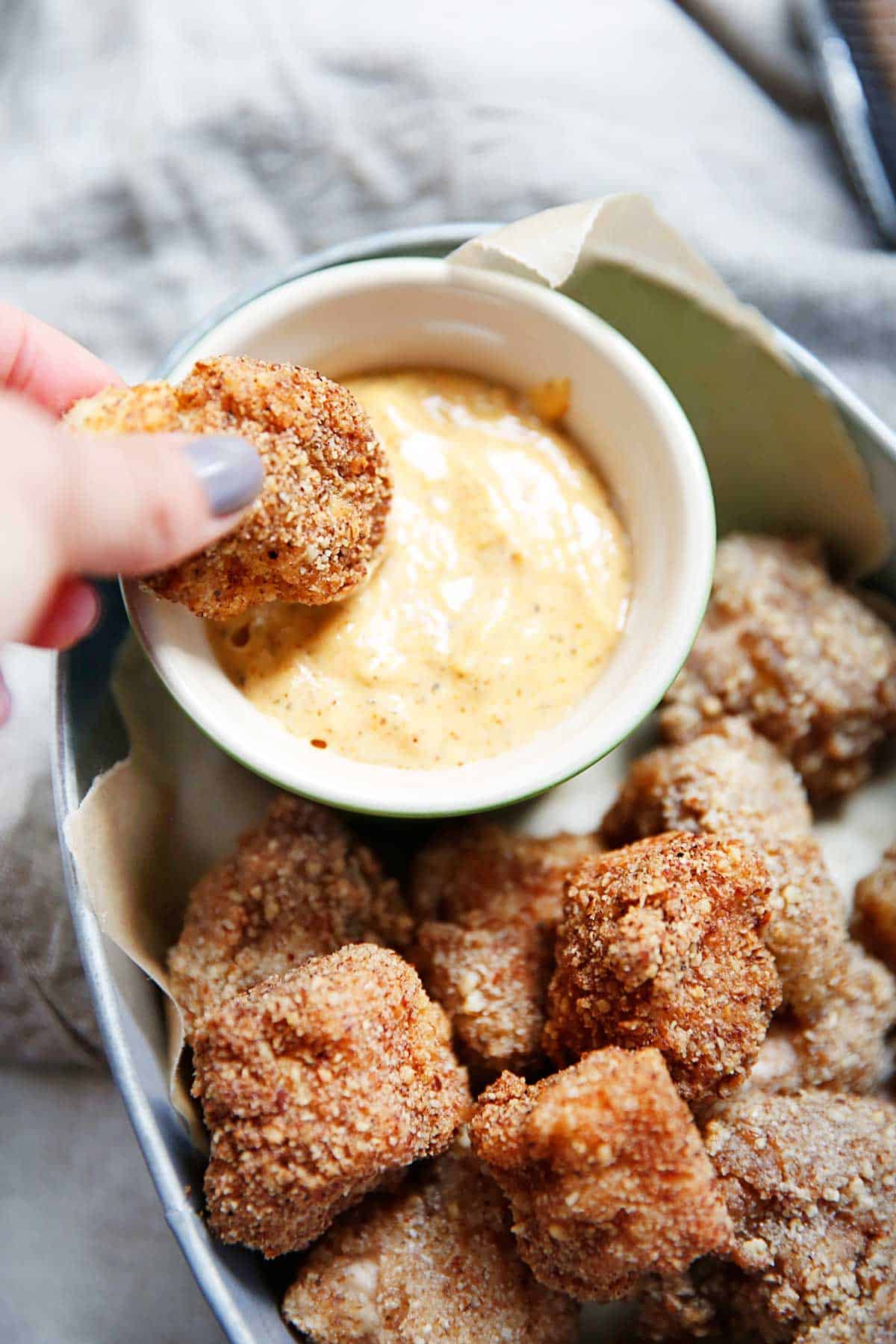 Pecan Popcorn Chicken
---
---
Ingredients
Pecan Mixture
Egg White Mixture
Other Ingredients
Cajun Garlic Dipping Sauce
Directions
1. Mix all ingredients for the pecan mixture in a medium mixing bowl and set aside.
2. Place arrowroot flour and egg white mixture in two separate mixing bowls and set aside.
3. Line a baking sheet with parchment paper and set next to the three mixing bowls.
4. Place chicken in the egg mixture, dredge in arrowroot flour, place back into the egg mixture and then dredge in the pecan mixture. Make sure to coat the chicken generously in the pecan mixture.
5. Heat the avocado oil in a large skillet over medium heat. Splash a drop of water in it, if it sizzles, it is ready to go!
6. Carefully, place the chicken in the hot skillet and fry for about 8-10 minutes, or until outside is golden and no pink remains. Transfer to a plate lined with paper towels.
6. While chicken is cooking, place the Cajun garlic dipping sauce ingredients into a high-speed blender. Blend until just combined. Taste and adjust lemon and spices as necessary. Pour into desired serving cups and set aside until ready to eat.
7. Serve warm!
Recipe Notes
*Bake the chicken poppers instead of frying!
Pre-heat oven to 400 °F. Bake for 12 minutes. Transfer chicken to the top rack of the oven and broil on high for 1-2 minutes on each side, until the outside is golden.
---
Nutrition
Loading nutrition data...
This post is sponsored by the American Pecan Council. All thoughts and opinions are always 100% my own! I love the integrity of their products and think you'll love them too. Thank you for continuing to support LCK and the brands I work with!
21 comments
August 9, 2017
Subscribe to
Lexis Clean Living
Join our email list to get instant updates and weekly summaries of our top content and special exclusive offers along with our free clean eating kickstart guide!
This website may at times receive a small affiliate commission for products that we shared with you in our posts. Although we may receive a commission for linking certain products, there's no additional costs to you and all of our opinion and suggestions are 100% our own and unbiased. That's our promise to you!