Orange Power Pasta with Cauliflower Alfredo Sauce
This Orange Power Pasta with Cauliflower Alfredo is super creamy and simple to throw together. No one will be able to tell that the Alfredo sauce is made from CAULIFLOWER! Serve it with zucchini noodles, spaghetti squash, or gluten-free pasta of choice for a great meatless dinner for any night of the week!

I am so excited  to share this recipe today from my friend Kelly of Nosh and Nourish's second cookbook, Superfood Weeknight Meals! This book is packed with tons of meals made in under 30 minutes! I'm loving all things cauliflower right now, so this alfredo was a must-make on my list! Up next are the Sriracha Cauliflower Tacos!
A bed of delicious roasted veggies on top of creamy pasta is a great way to sneak some extra veggies into your meal!
Check out this creamy alfredo sauce, made without any cheese!
[yumprint-recipe id='429′]
Grab a copy of Kelly's book here! Happy Cooking!
Orange Power Pasta with Cauliflower Alfredo Sauce
Are you ready for Fall? Fall recipes, cooler weather, apple picking, all things pumpkin, leggings, boots, scarves? Ready or not, it's a-comin'! This Spaghetti Squash Alfredo with Chicken and Caramelized Onions is hearty comfort food meets healthy and nutritious! A perfect meal all autumn long!

Spaghetti Squash Alfredo
Let me tell you, this Alfredo isn't your ordinary Alfredo sauce. It's creamy and delicious, but not JUNKY! Wait what? Yes! Plus caramelized onions and chicken. You guys, run to make this one!

The combination of the good quality mayo + Pacific Foods Original Almond Milk (my favorite milk substitute for baking or cooking) + garlic and spices gives you ALL THAT FABULOUS FLAVOR.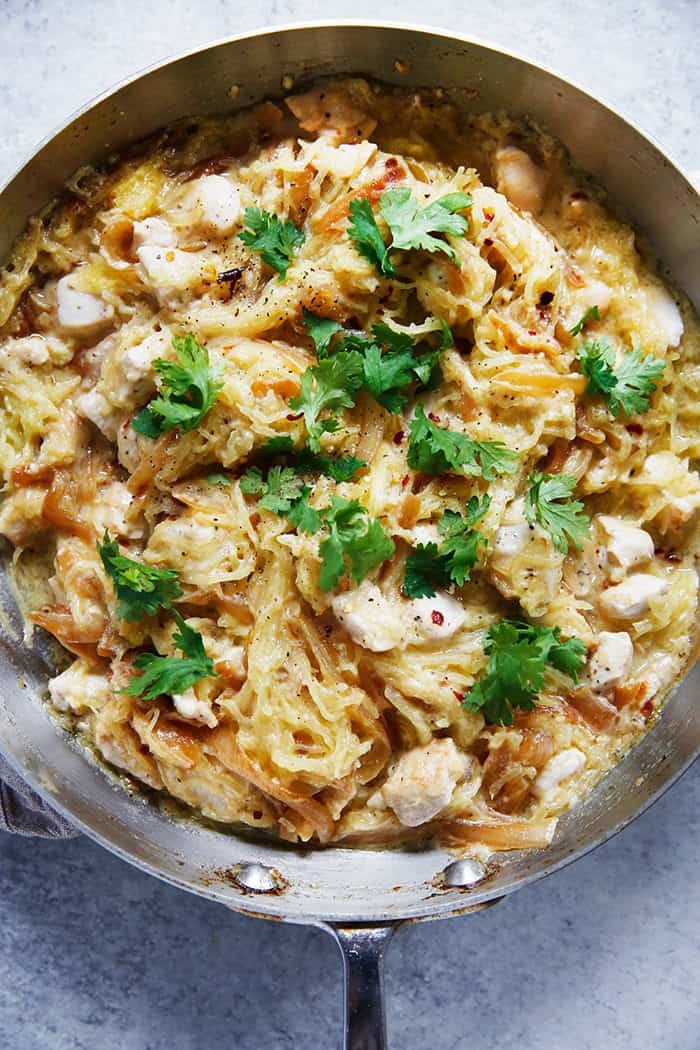 Want more spaghetti squash recipes? Try these:
[yumprint-recipe id='384′]
Creamy, healthy, goodness. How are you celebrating Fall?