Spaghetti Squash Alfredo with Chicken and Caramelized Onions
Are you ready for Fall? Fall recipes, cooler weather, apple picking, all things pumpkin, leggings, boots, scarves? Ready or not, it's a-comin'! This Spaghetti Squash Alfredo with Chicken and Caramelized Onions is hearty comfort food meets healthy and nutritious! A perfect meal all autumn long!

Spaghetti Squash Alfredo
Let me tell you, this Alfredo isn't your ordinary Alfredo sauce. It's creamy and delicious, but not JUNKY! Wait what? Yes! Plus caramelized onions and chicken. You guys, run to make this one!

The combination of the good quality mayo + Pacific Foods Original Almond Milk (my favorite milk substitute for baking or cooking) + garlic and spices gives you ALL THAT FABULOUS FLAVOR.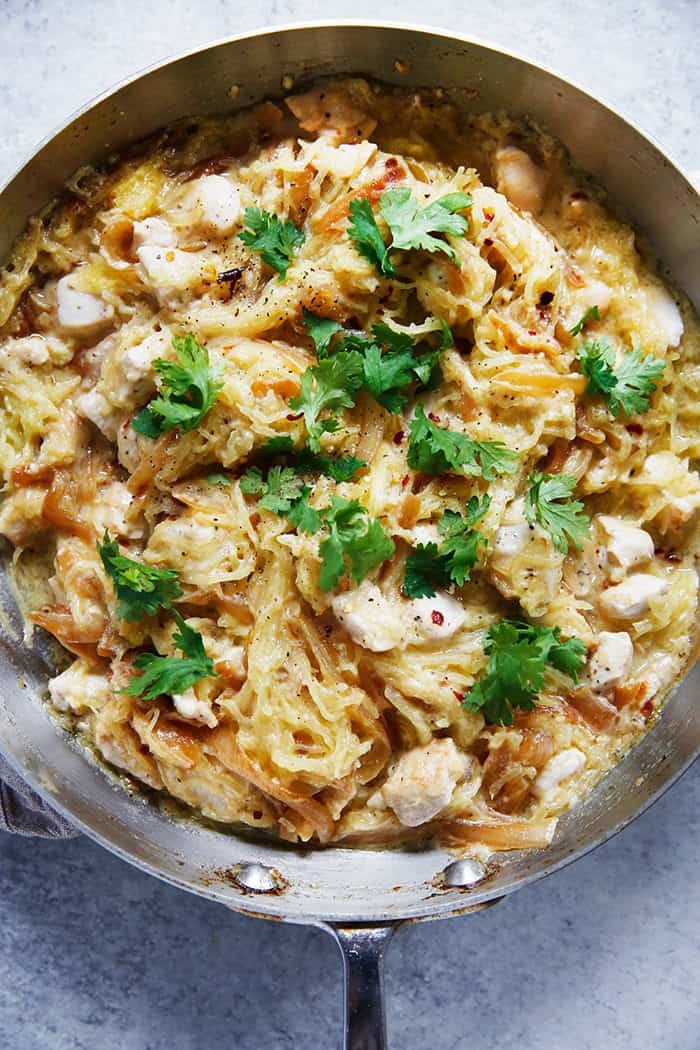 Want more spaghetti squash recipes? Try these:
Spaghetti Squash Alfredo with Chicken and Caramelized Onions
---
---
Directions
Preheat oven to 400°F.
Slice spaghetti squash in half and scrape out seeds. Drizzle with extra-virgin olive oil and place face down on a lined baking sheet and roast for 30 minutes or until fork tender.
Make caramelized onions: In a skillet heat 1 tablespoon of grass-fed butter with onions. Sauté on medium-low heat until onions begin to caramelize and brown, but not burn. Yields about 1 cup of caramelized onions.
In a skillet over medium heat, heat butter and sauté garlic for 1 minute.
Season chicken with salt and pepper and add into the skillet. Let cook for 6 minutes, or until no pink remains, flipping halfway through.
Add in mayo, almond milk, and spices. Mix to combine.
Add in caramelized onions and spaghetti squash. Toss to combine. Add the parmesan cheese and adjust spices as desired.
Garnish with fresh parsley and serve hot.
---
Nutrition
Loading nutrition data...
Creamy, healthy, goodness. How are you celebrating Fall?
34 comments
September 14, 2016
Subscribe to
Lexis Clean Living
Join our email list to get instant updates and weekly summaries of our top content and special exclusive offers along with our free clean eating kickstart guide!
This website may at times receive a small affiliate commission for products that we shared with you in our posts. Although we may receive a commission for linking certain products, there's no additional costs to you and all of our opinion and suggestions are 100% our own and unbiased. That's our promise to you!