Blueberry Pancake Fat Bomb
These Blueberry Pancake Fat Bombs are so easy to make and the perfect quick snack to have either on-the-go or as a pick-me-up between meals. They are no bake, taste just like blueberry pancakes and are gluten free and keto-friendly.
Blueberry Pancake Fat Bomb
If you don't have time to wake up early and cooking yourself up a pile of fresh pancakes, make these Blueberry Pancake Fat Bombs instead the night before! We love these high-fat, low (or no) sugar snacks that can keep hunger at bay in between meals or substitute in to keep your energy high. These no-bake Blueberry Pancake Fat Bombs are not only super easy to make, but they really taste like Blueberry Pancakes!
The key to the blueberry pancake taste is using freeze dried blueberries and a hint of maple syrup. If you are on a keto diet there are a some options out there for sugar-free maple syrup substitutes like the one from the brand Lakanto which is a blend of monk fruit and erthyritol.
What are fat bombs?
Similar to energy balls, fat bombs are small treats or snacks that pack a punch of energy, but instead of being made with ingredients like dates, dried fruit and nuts fat bombs prioritize ingredients like coconut oil, cacoa butter and other high-fat, low-carb ingredients. They're also called keto bombs or fat fudge. You don't have to be on a keto diet however to benefit from eating fat bombs as you only need a small amount to strike down any sudden hunger pangs that will help you making good decisions about your food choices until your next meal!
Are fat bombs healthy?
Everybody is going to have their own personal level of fat that they want to include in their diet. We love that these are heart-healthy fats and fats that fuel your brain like coconut oil.  When eaten in moderation fat bombs can help you make better food choices instead of grabbing whatever you can find in a state of hunger, or as a better alternative for a refined-carb high-sugar dessert. These will fill you up when you eat only one because it is a dense amount of fat (or energy).
If you like this keto friendly recipe, check out these others keto recipes:
---
Blueberry Pancake Fat Bomb
This Paleo Fudge is a lightened-up chocolate-y treat that is good any time of day and takes less than 10 minutes to whip up! It's made nut-free with healthy fats and antioxidant rich cocoa powder and is barely sweetened with only a touch of maple syrup. It's vegan, gluten-free, dairy-free and most important out-of-this-world-good! This will be your NEW favorite fudge recipe, promise.
Paleo Fudge
February calls for chocolate, and this Paleo Fudge doesn't disappoint! We have a few festive treats planned for you, and we kicked it off with the Strawberry and Chocolate Ganache Sandwich Cookies from yesterday. Like that recipe, this one is also nut-free, which means it's inclusive for those with nut allergies and you are able to send it to school with your kids. This Paleo Fudge is a treat you can feel good about eating, made with real food but most importantly insanely delicious.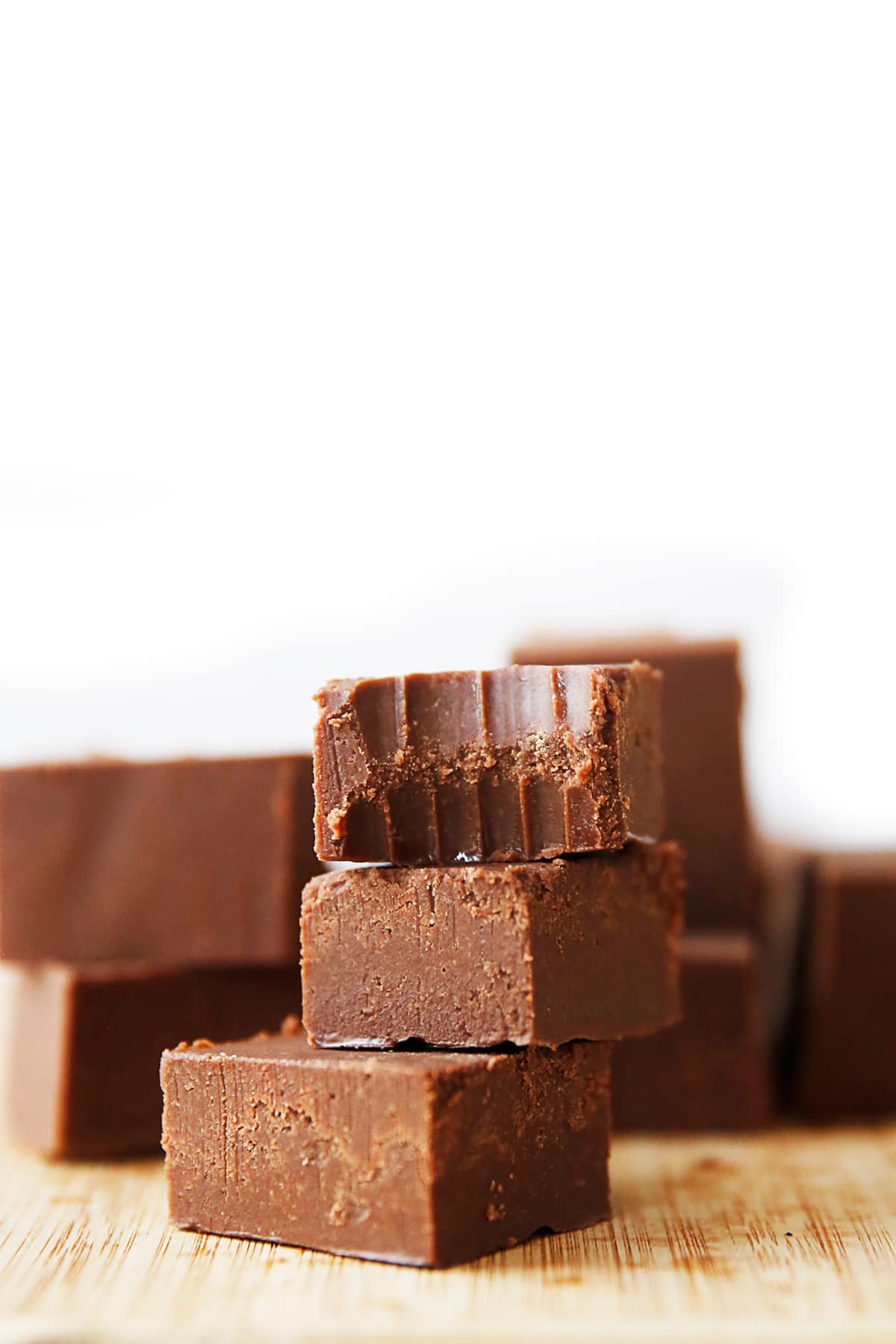 But this isn't your average fudge recipe. First off, we call for cocoa powder. We love that it is rich in antioxidants and doesn't have any added sugar or dairy, but more importantly it's SO FUDGEY. Second, this one is nut-free. A lot of alternative fudge recipes call for almond butter, including this previous fudge on LCK, but this one uses sunflower butter (or alternatively tahini). Third, we add a bit of coconut flour to help firm up the fudge and give it the perfect texture. We discovered, and fell in love with that trick while testing for our PB & J Fat Bombs. And finally we love the added healthy fats thanks to the coconut oil. Having a piece of this fudge as a snack will definitely give you some energy that will last for a while!
While this fudge cannot stay for hours at room temperature, it will last for quite a while outside of the refrigerator and they don't need to be stored in the freezer, and we like that!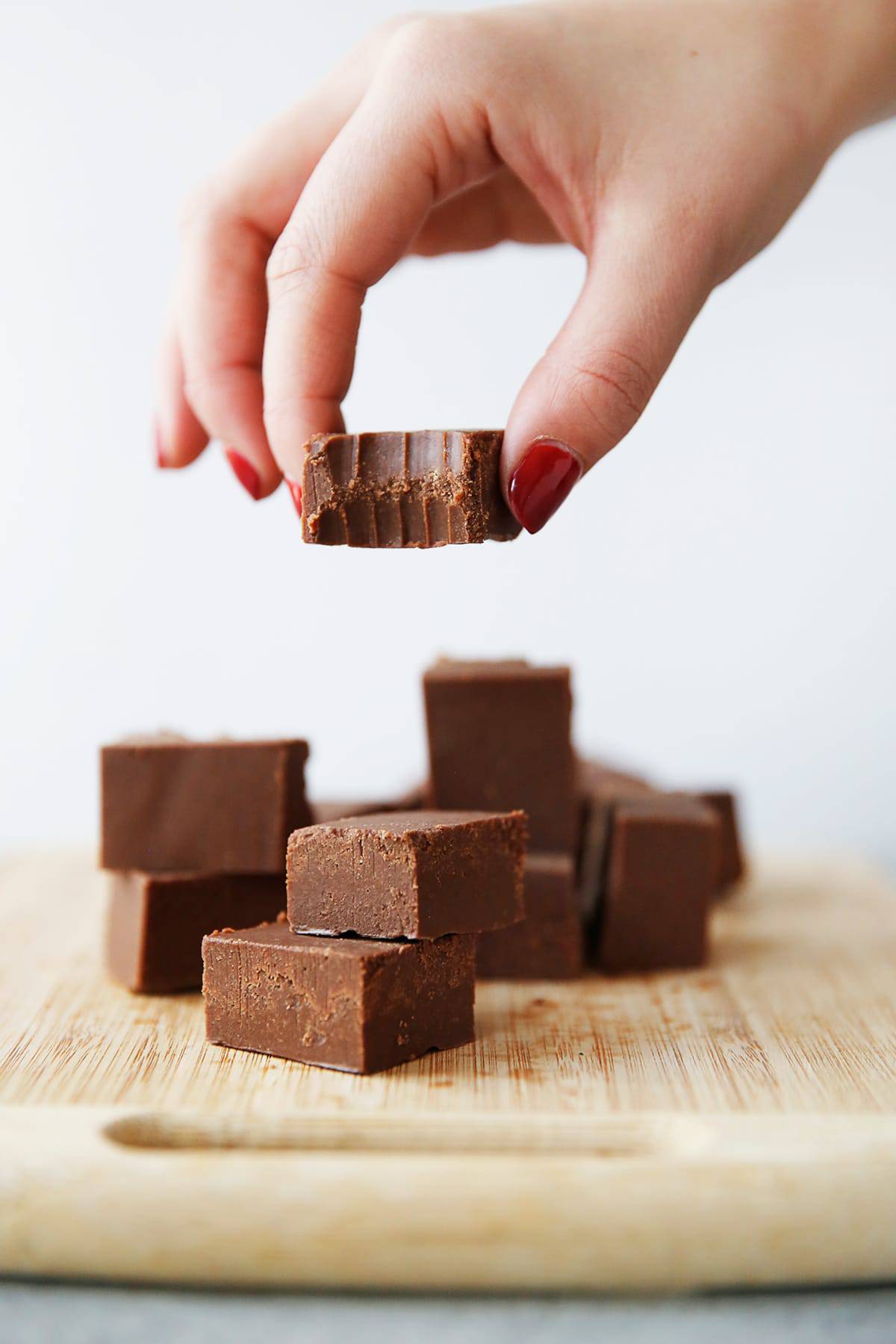 If you like this chocolate recipe, check out these others:
Paleo Fudge (Nut-free)
Happy Foodie Friday with American Express! I'll often whip up some healthy fried plantains to go along with breakfast, Mexican night dinner, lunches, and so on. Whenever I make plantains and share photos on my Instagram page, I get asked over and over how exactly I make them!
Let's make today our little how-to day! Now go out and buy those plantains 🙂
[yumprint-recipe id='255′]
We eat fried plantains with eggs for breakfast, mexican night plates, or with beef barbacoa salads and bowls! They make for a perfect carb, especially when you're craving a little something sweet.

I was selected by American Express to contribute to their Tumblr community. As such I was paid for my services, but all opinions in general and about American express are my own.
Do you love plantains? What's your favorite way to eat them?