This healthy Gluten Free Apple Crisp is the perfect healthier dessert for the holidays. It's made without oats, with a nice pop of color and tartness thanks to added cranberries and is sweetened just right! It's also vegan, paleo-friendly and with dairy-free options.

Gluten Free Apple Crisp
This Gluten Free Apple Crisp should definitely be included on your Thanksgiving table this year! What I love about this is the balance of flavor between the sweet juicy apples and the burst of tartness and pop of color from the cranberries. They give a beautiful red hue to dish. The crisp topping is made using almond flour and finely chopped walnuts. There is a dairy-free option as well and absolutely no refined sugar in the whole dessert!
Ingredients Needed
Baking Apples
Cranberries
Lemon
Arrowroot Starch
Cinnamon
Honey or Maple Syrup
Almond flour
Walnuts
Vanilla Extract
Coconut oil or Grass-fed Butter
How do you make an apple crisp without oats?
Not only is this Cranberry Apple Crisp gluten-free, it's also grain free! The crisp topping is made without any oats at all, instead using a combination of walnuts and almond flour. You could also substitute pecans if you prefer. To make the grain-free crisp:
Whisk together the dry ingredients.
Add in the liquid sweetener (you can choose between maple syrup or honey), a splash of vanilla extract and either coconut oil or butter. The fat must be at solid room temperature. It should be soft enough to mix into the dry ingredients easily. Mix it together either using or fork, or crumble it together using your fingers.
Which Apples to Use
Admittedly, not all apples are created equally. While they all taste delicious, different apples perform better for cooking, eating and baking. It's great to use a mix of apples for this crisp, or you can just pick one variety. For this, you want an apple that has good flavor but will hold it's shape for the long baking time. We liked a mix of gala and Granny Smith, but any apple that is good for baking will work here.
Best Apples for Gluten Free Apple Crisp:
Cortland
Gala
Granny Smith
Golden Delicious
How to Serve Gluten Free Apple Crisp
Serve this Cranberry Apple Crisp slightly warm or at room temperature. If you serve it very hot, the juice will be very thin. As it cools, it thickens.
You can make this dessert up to 1 day ahead of time. Cover and leave at room temperature.
Serve as is, with ice cream or dairy-free coconut whipped cream.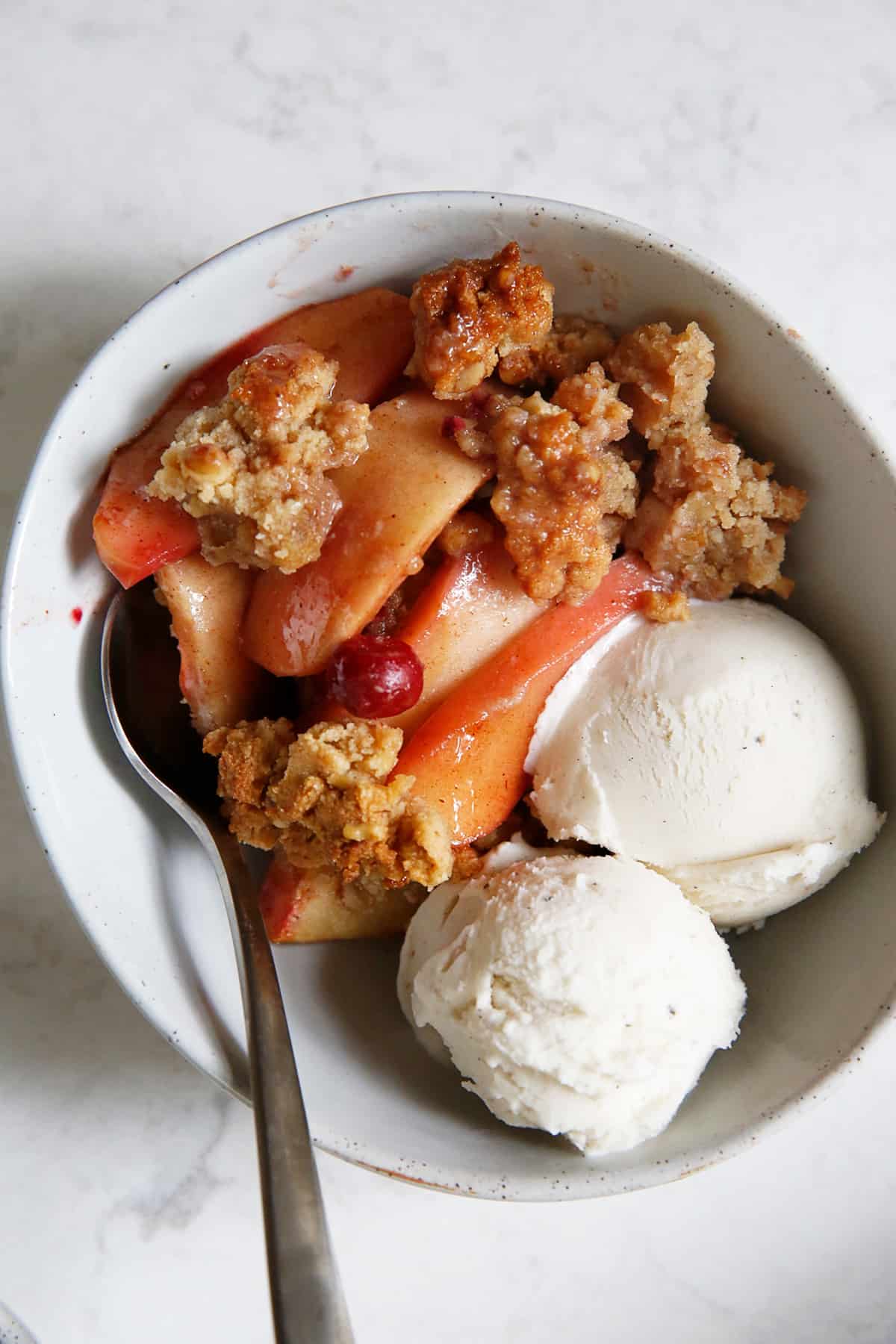 Check out these other Thanksgiving recipes:
If you like this apple recipe, check out these:
Watch the video:
---
Cranberry Apple Crisp
2013-10-27 21:06:28
Filling
4 apples, peeled, cored, sliced
1 cup fresh cranberries
1 teaspoon arrowroot flour
2 tablespoons raw honey
1 teaspoon cinnamon
Juice of 1/4 lemon
Topping
1 cup almond flour
1/3 cup ground walnuts
2 tbsp pure local honey or maple syrup
2 tbsp coconut oil or grass-fed butter
1 tsp cinnamon
1/2 tsp vanilla extract
Pinch sea salt
Instructions
Preheat oven to 350 degrees
Using apple corer, peel, core, and slice apples
In a bowl combine sliced apples, cranberries cinnamon, corn starch and honey; mix well
Line a 9x13 glass baking dish (I used two small dishes- whatever you have will work great), or a cast iron skillet with apple & cranberry mixture
Place walnuts in a nut grinder or food processor and grind fine (will be 1/3 cup after ground)
In a bowl combine all topping ingredients and mix with a fork until crumbly
Pour crumble mixture evenly over fruit mix
Bake until top is golden brown and fruit is hot and bubbly, 40-50 minutes
Other creative ways to shop your points
I'll serve mine as dessert or even as breakfast (don't judge) with a nice cup of freshly brewed coffee
Serve your crisp on some simple white dishes and accent with holiday napkins & accessories!
Serve with homemade dairy-free ice cream!
Lexi's Clean Kitchen https://lexiscleankitchen.com/