Looking for an easy and delicious snack idea? These healthy Eggplant Parm Bites are crunchy and crispy and seasoned just right! Like a little bite of eggplant Parm, but made healthy, gluten-free and optionally dairy-free. Serve as a snack or as an appetizer!
Gluten Free Eggplant Parmesan Bites
These Gluten Free Eggplant Parmesan Bites are highly addictive! With a crispy crunchy coating made from almond flour, they are pan fried and served with your favorite marinara sauce. They'll be loved be all! While this recipe makes enough to serve about 4-6 people, you may be left wishing you had double or tripled the recipe because they are THAT good!
How to Make Eggplant Parm Bites
Like any eggplant parmesan dish you are doing to start off with a breading situation! First you'll whisk up your eggs to help the breading stick! As always, make sure to season as you go so add in a pinch of salt and pepper to your eggs.
Here we are using our classic gluten-free breading mix which is made up of almond flour and seasoning. To make this eggplant "parmesan" we added in parmesan cheese. If you are strictly dairy-free go ahead and leave that out. We tested it both ways and both were delicious.
Next, cut up your eggplant into bite sizes pieces, about 1″ or so. Sprinkle with salt and then begin breading the eggplant!
First the eggplant goes in the egg to coat. Next it's coated with the almond flour "breadcrumbs" and finally it's fried! I use avocado oil when I fry because it's a great healthy fat with a high smoke point, but you can use whatever you are comfortable with that is good for frying.
After you have lightly fried the eggplant cubes, serve immediately with your favorite marinara. Seriously, you're going to love these!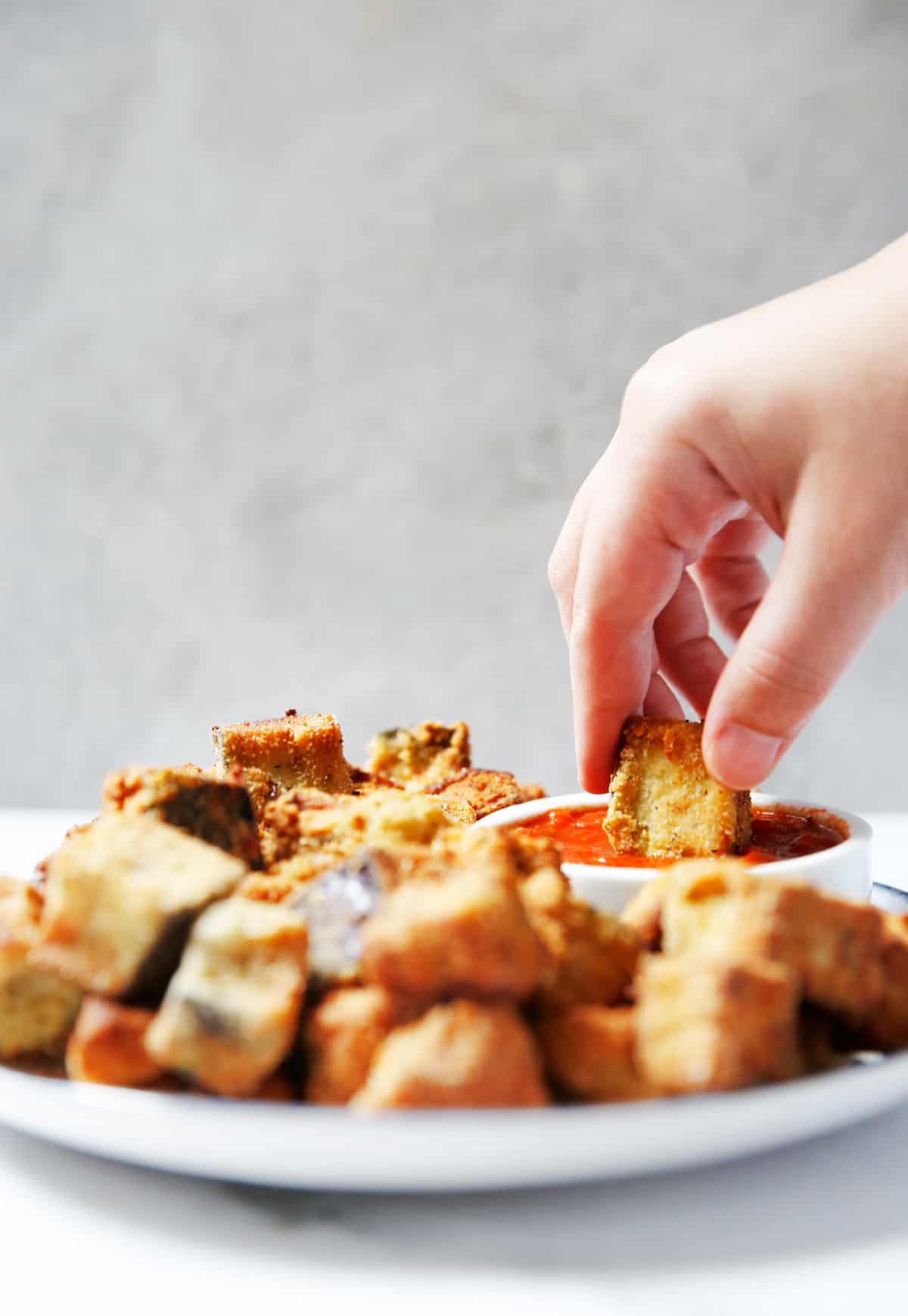 Ingredients for Gluten Free Eggplant Parmesan Bites
Eggplant
Eggs
Almond Flour
Fresh Parmesan Cheese (omit for dairy-free)
Italian Seasoning
Garlic Granules
Avocado oil, for frying
Marinara sauce, for serving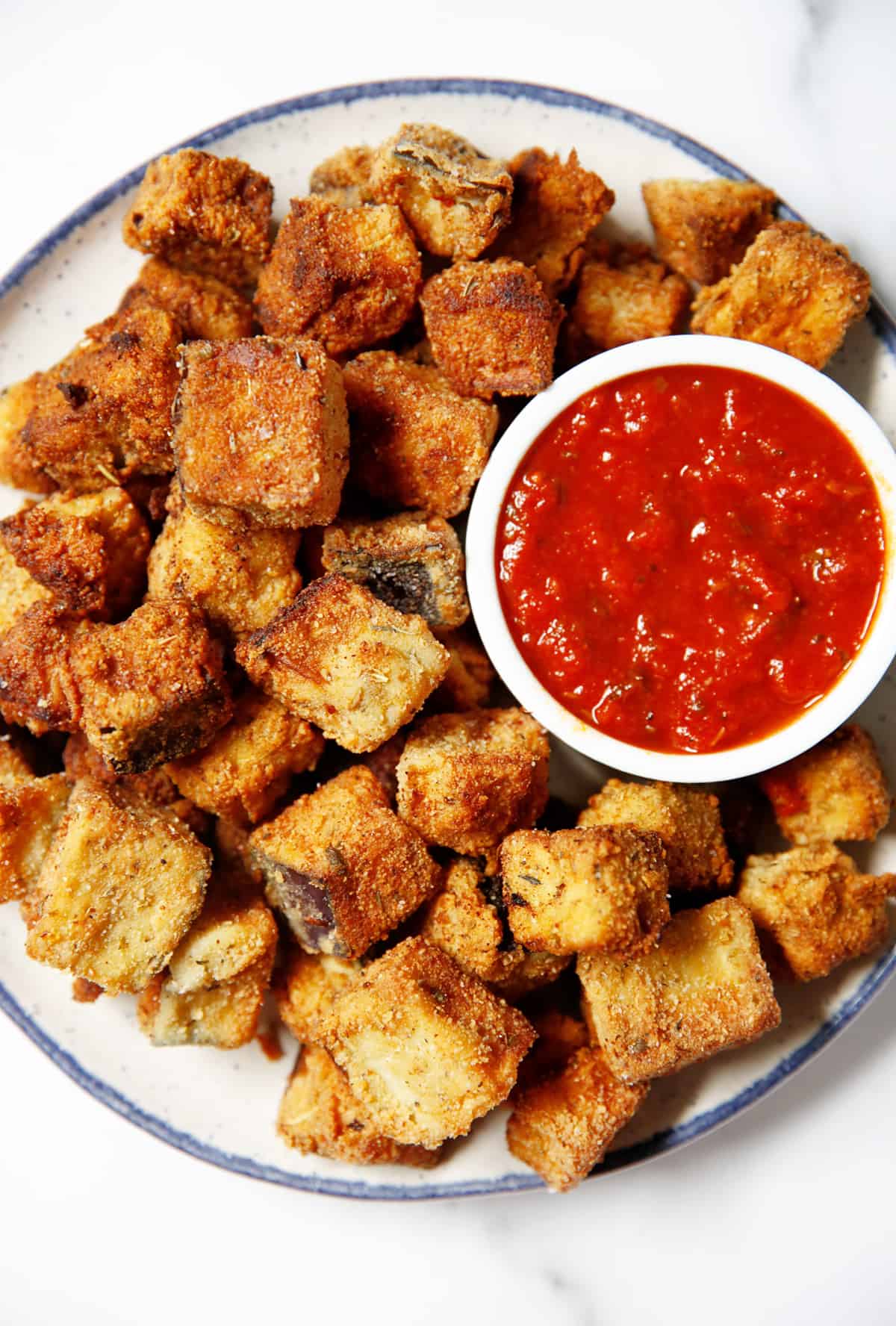 If you like this seasonal eggplant recipe, check out these others:
If you like this gluten-free snack recipe, check out these others:
Watch the video:
---
Eggplant Parm Bites
2015-09-03 19:26:39
Serves 5
Ingredients
1 cup almond flour
1 tablespoon Italian seasoning
1/2 teaspoon garlic granules
1/2 teaspoon fine sea salt, more for sprinkling
Optional: 1/4 teaspoon red pepper flakes
Optional: 1/4 cup fresh parmesan cheese
2 pastured eggs
1 large eggplant
1/4 teaspoon sea salt
Olive oil or avocado oil, for frying
1/2-1 cup favorite marinara or pizza sauce, store-bought or homemade
Instructions
In a bowl, combine almond flour, Italian seasoning, garlic, sea salt, and optional red pepper flakes and Parmesan cheese
In a separate bowl whisk together two eggs
Cut eggplant into cubes and sprinkle with sea salt
Place cubed eggplant into egg mixture, making sure all cubes are covered
Transfer eggplant cubes into the breading mixture and coat evenly
In a skillet, heat enough oil to cover 1/2 to-1 inch of your skillet
Once oil is hot, transfer eggplant cubes to the skillet
Let cook for 3-4 minutes, then flip and cook for an additional 3-4 minutes or until golden brown
Repeat with any remaining eggplant cubes
Serve hot
Lexi's Clean Kitchen https://lexiscleankitchen.com/