Where healthy meets chocolate, these Paleo Chocolate Truffles are made with a few simple ingredients and are down-right delicious. This decadent chocolate treat is simple to put together but looks stunning! Aside from being Paleo Friendly, these truffles are also vegan and don't have any added refined sugars. Make these for that certain holiday for lovers, or really anytime of year!
Easy Paleo Truffles
These Paleo Chocolate Truffles are decadent and down-right delicious, but also super easy to make! Basically you just make a thick chocolate ganache, let it chill and then roll into balls! You can coat these chocolate-y treats in a variety of flavors, but our favorites include the classic cocoa powder finish, as well as shredded coconut and freeze-dried fruit. They're the perfect sweet treat to share with a friend, partner or to enjoy all by yourself!
Ingredients Needed
Dark Chocolate

Coconut Cream

Coconut Oil

Maple Syrup (optional)

Instant Espresso Powder (optional, but deepens the chocolate flavor)

Sea Salt
Options for Coating
We coated these with three of our favorites for truffles.
Cocoa Powder: This is the most obvious! It's classic, and for a reason.
Finely Shredded Coconut: You can leave this natural or you can toast it for a deeper coconut flavor.
Freeze Dried Fruit Powder: A fun way to add flavor to these truffles! Freeze dried fruit is now commonly found in most grocery stores and is inexpensive! Make sure to read the label to check that the only ingredient listed is the actual fruit and does not include any additives. We love the 365 brand of them at Whole Foods or the options at Trader Joe's. Use any type of freeze dried fruit you like, but we found raspberry and strawberry to be a natural pairing with chocolate.
Making Paleo Chocolate Truffles
Essentially, to make these chocolate truffles you'll be making a thick chocolate ganache, then chilling it until it's easily rolled into a ball, and finally coating them with your flavor of choice! Nothing here is complicated but there are a few steps to get the chocolate to the right consistency.
The trickiest part for making these is gauging when the chocolate is the right consistency for rolling. First you'll let the chocolate cool at room temperature for about 30 minutes, and then place it in the freezer until it's chilled enough to scoop out and roll into balls, about 1 hour.
Because the chocolate has coconut oil added to it, it can be tricky to roll into balls without making a sticky mess. Work quickly, and if it does get to be too messy, you can place the chocolate back in the freezer to harder. I've also found that washing your hands if they get too sticky to be helpful.
Tips for Working with Chocolate
Use a medium to good quality chocolate, especially if you are using chocolate chips. While we love that this is an affordable DIY chocolate option, using low quality chocolate with a lot of additives, will negatively impact the final product. This is especially true if you are using chocolate chips, which are manufactured to hold their shape. Look for chocolate or chocolate chips with only a few ingredients for the best bark taste and texture. It doesn't have to be the most expensive chocolate, but shoot for a minimum of the mid range brands such as Enjoy Life (for dairy-free), Ghiradelli, Trader Joe's, 365 Brand, or Guittard, at a minimum. And of course, pay attention to added ingredients if you have dietary restrictions. And if you can afford better quality chocolate, go ahead as this will be the recipe to use it for.
Make sure all utensils are clean and dry. Water and chocolate do not mix! Even a small addition of water to chocolate can make it break, which would mean gritty chocolate. Make sure your bowls and utensils are clean and dry.
Melt chocolate in a double boiler. We suggest melting the chocolate mixture over a double-boiler because it's the most gentle way to melt it. Most people don't have a double boiler at home, so make up your own by placing a heat proof bowl over a simmering pot of water. Just make sure that the bowl is not touching the water. Using this method to melt the chocolate is an easy way to melt it, while making sure you don't over cook the chocolate.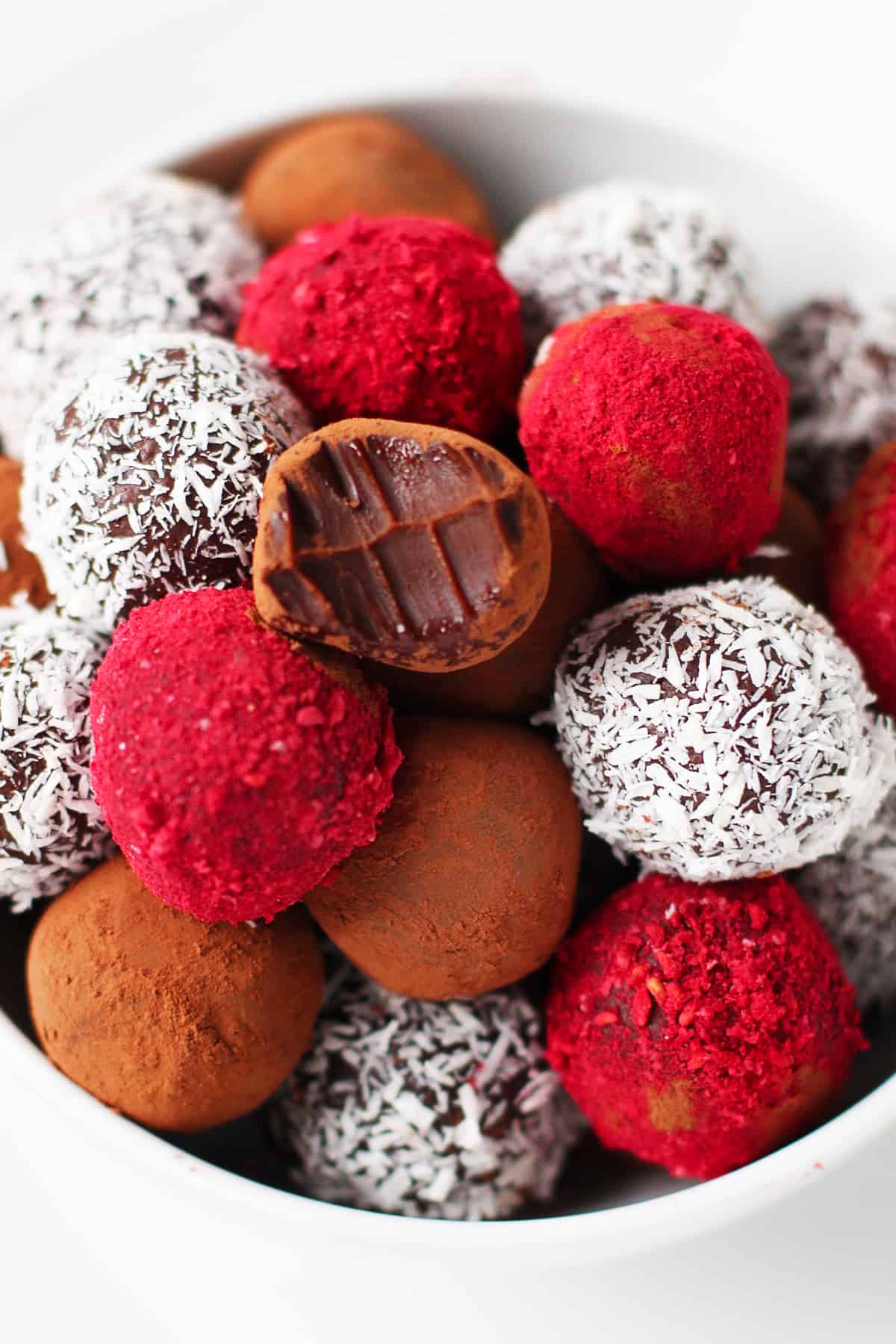 If you like this chocolate recipe, check out these others:
Want more Valentine's Day recipes & ideas? Here are some we love:
---
Paleo Chocolate Truffles
2015-02-09 14:13:25
Ingredients
12 oz. dark chocolate
1 cup full-fat coconut milk
1/2 tsp instant espresso powder
1 tbsp maple syrup
Dash sea salt
½ cup cocoa powder for rolling
Optional: 1-2 drops Young Living Lavender Essential Oil
Instructions
Break up chocolate into pieces if it's in bark form
In a pot heat coconut milk and chocolate
Add in espresso powder and maple syrup
Mix until combined; the mixture will be thick and look somewhat gooey
Remove and add in dash of sea salt and lavender
Set the bowl in the refrigerator for 4-6 hours, or in the freezer for 1 hour or until mixture hardens
Set on the counter to soften for a few minutes before scooping
Scoop out about 1/2 inch balls with a spoon and lay them out on parchment paper covered board. Refrigerate for about 30 minutes
Roll truffle balls with your hands to make them evenly round
Roll truffles in cocoa powder and serve
Keep refrigerated when not in use
Lexi's Clean Kitchen https://lexiscleankitchen.com/