Gluten Free Pigs in a Blanket
These Gluten Free Pigs in a Blanket are as perfect for a large holiday gathering as they are for game day eats. They are made using an easy gluten-free and nut-free dough that doesn't need any chilling time. These are a sure crowd pleaser for both kids and grown-ups alike!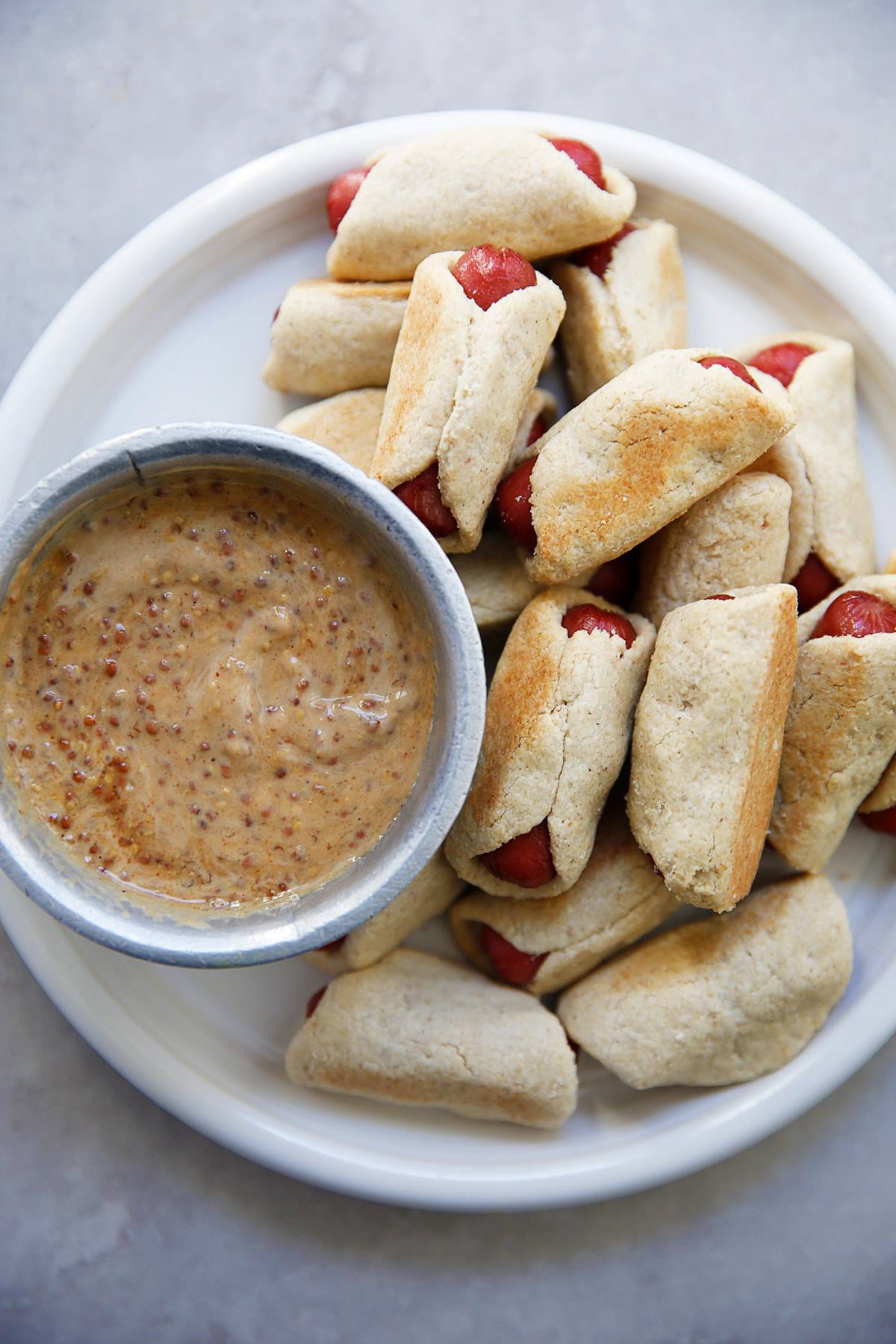 Gluten Free Pigs in a Blanket
Just because we don't eat wheat doesn't mean we shouldn't be able to eat pigs in a blanket, right? This Gluten Free Pigs in a Blanket recipe saves the day because this adorable appetizer is both tasty and easy to put together for the next time you need to feed a crowd!
I'll let you in on a little secret, this recipe was in development for a while! Sometimes you get a recipe right in the first trial or two, and sometimes you question whether you are ever going to get it to right where you want it to be! And there was a moment when we didn't think we would ever hit publish on our Gluten Free Pigs in a Blanket. But we had a breakthrough and we're so happy with the final result.
The first few times we tested this we were using our typical almond flour and tapioca flour blend that is usually our first stop in baked goods. Unfortunately these resulted in dough that had good flavor but was a bit too crumbly for our liking, and was somewhat hard to roll out.
While we were testing these we were also testing our new gluten-free and nut-free crust on Pumpkin Pie. We really loved the ease of working with that dough and thought it had a nice neutral flavor so we gave it a go on our Pigs in a Blanket and it was then we knew we were on to something. We changed up a few things including introducing more savory elements and at last we had a winner! We added apple sauce to this dough and loved the results. You don't know there is apple sauce in it, but it contributes to an improved flavor and texture.
Ingredients needed for Gluten Free Pigs in a Blanket
Oat flour (store-bought only)
Tapioca flour
Butter (we always use grass-fed butter such as Kerrygold)
Applesauce
Spices
Mini Hot Dogs
The dough comes together in a food processor in a few minutes. Just make sure that you don't overprocess the dough: Once it has come together stop running the processor. After it's made you CAN roll out the dough right away, which we love. This is unusual for pie crusts, that usually need to wait to rest and firm up. We found it easiest to roll the dough between two sheets of plastic. Normally we shy away from plastics, but in this crust it really is easiest if you use that vs. parchment paper. But if you don't keep plastic in your home (we get it!), parchment will do in a bind!
During testing we discovered that oat flour is a bit difficult to measure out properly in the cup measurement because sometimes it is more densely packed in the bag than others. For fool proof measuring you can weigh out the oat flour instead. If you find your dough a bit more wet than the above photo add in oat flour a tablespoon at a time until it feels workable.
Working with Oat Flour Crust
To roll it out we suggest using plastic wrap. Parchment paper can work too, but it isn't as easy. Wax paper might work as well, but we did not test that.
Once it's rolled out we use a simple round cookie cutter, with the width the same size as the hot dogs we were using to stamp out a piece of dough and then wrap it around. We preferred this method than cutting out triangles and rolling them, because this method gave us equal portions of hot dog and dough!
For this recipe we used these tools:
Circle cookie cutters
Essential items: Sheet Pan, spatula, plastic wrap
If you like this fun appetizer recipe, check out these others:
Gluten Free Pigs in a Blanket
A charcuterie board is a quick, delicious and beautiful appetizer idea to feed a crowd. Fill a big board (or platter) with all of your favorite meats, cheeses, and crudités, and follow my tips to make it gorgeous, for the most festive spread this holiday season! Made in partnership with my friends at Applegate!
Charcuterie Board 101
When entertaining season rolls around, a charcuterie board can be such a festive spread to make for your guests! I've talked about building them before, but today, let's talk about creating the ultimate festive charcuterie board with cheeses and fun additions! Plus, you'll get my Bacon Onion Jam recipe! Meat and cheese boards are customizable, gorgeous, require no cooking, and are the perfect hearty appetizer spread!
What is in a charcuterie board?
Charcuterie (shahr-cute-uh-ree) is a French word devoted to prepared meat products, such as bacon, ham, sausage, terrines, galantines, ballotines, pâtés, cured meats and confit. It is often served with various cheeses, crackers & bread, and other fun additions like jams, candied nuts, and more!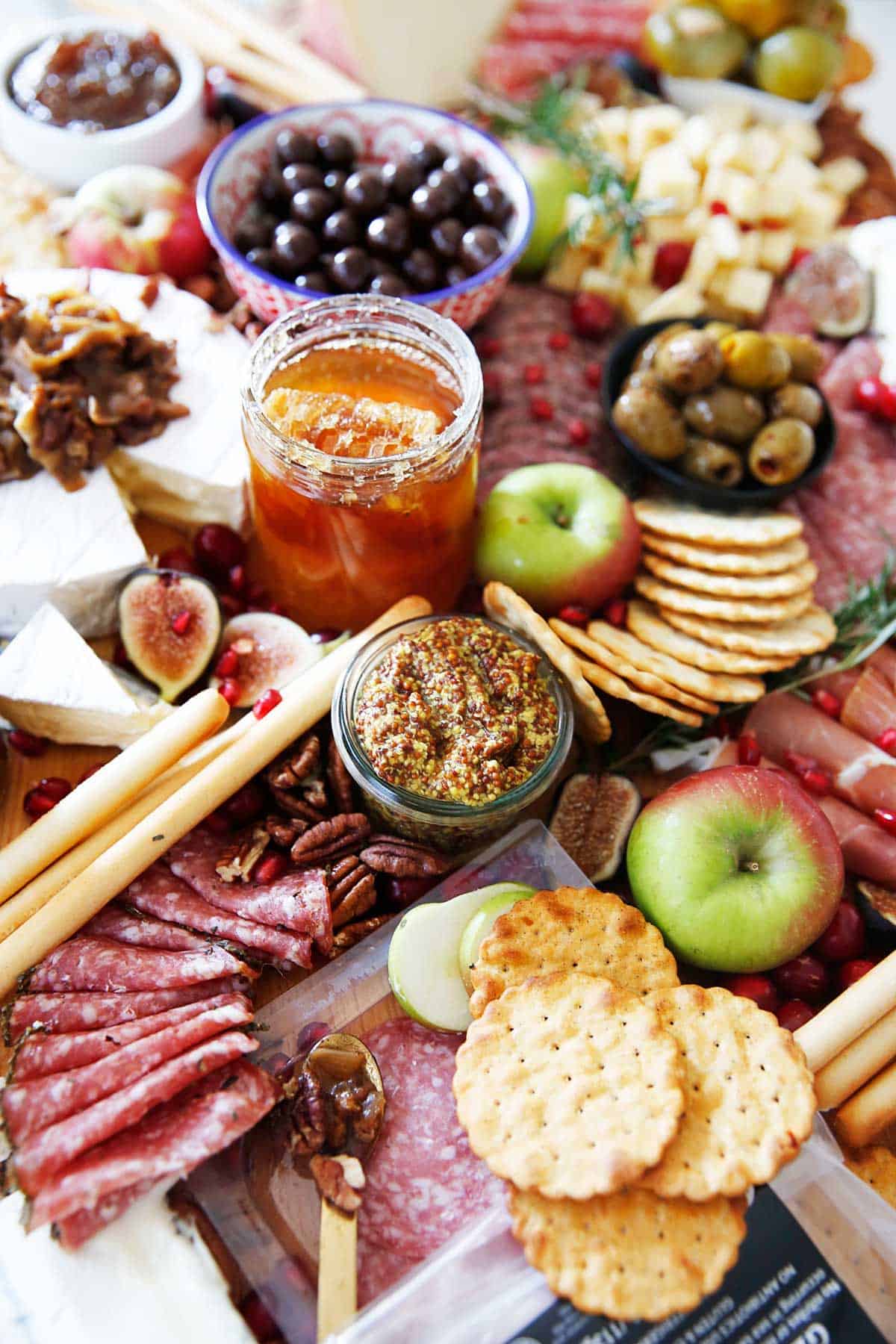 How to Make a Charcuterie Board
Follow these guidelines for making the most epic charcuterie board, with something for everyone.
Start with the platter! Grab one or two platters or other unique serving idea You may be surprised to find that you may already have things to use at home like wooden boards, wood cutting boards, slate or chalk board, or even a marble slab!
Next move on to the cheese: You'll need approximately 3 ounces per person that you plan to serve. Pick your variety of cheeses (3 or more, depending on how many people you are hosting) & add labels and separate knives for each cheese. Try to get a variety of different types of cheese such as cow, goat or sheep cheese, as well as factoring in the different types such as soft, hard, aged, etc.
Then add in your meats: Cured meats, pâtés and sausages go well. Try to pick a variety, and ones that are relatively easy to eat on-the-go. Roll up any large ones so they are easy to pick up.
Fill in with Crackers & Breads: I always like an assortment that can work for anyone and everyone! Do a variety of grilled breads or crackers, making sure to get both gluten-free if you can who need it.
Add some nuts: Candied or regular nuts are a great accompaniment (or just to snack on)! Grab bowls to place around your board to place your nuts in, or scatter around!
Something sweet: Some fresh or dried fruit is always wonderful, along with jams (a must!). Grab some small bowls to place around your board to place your sweet additions in.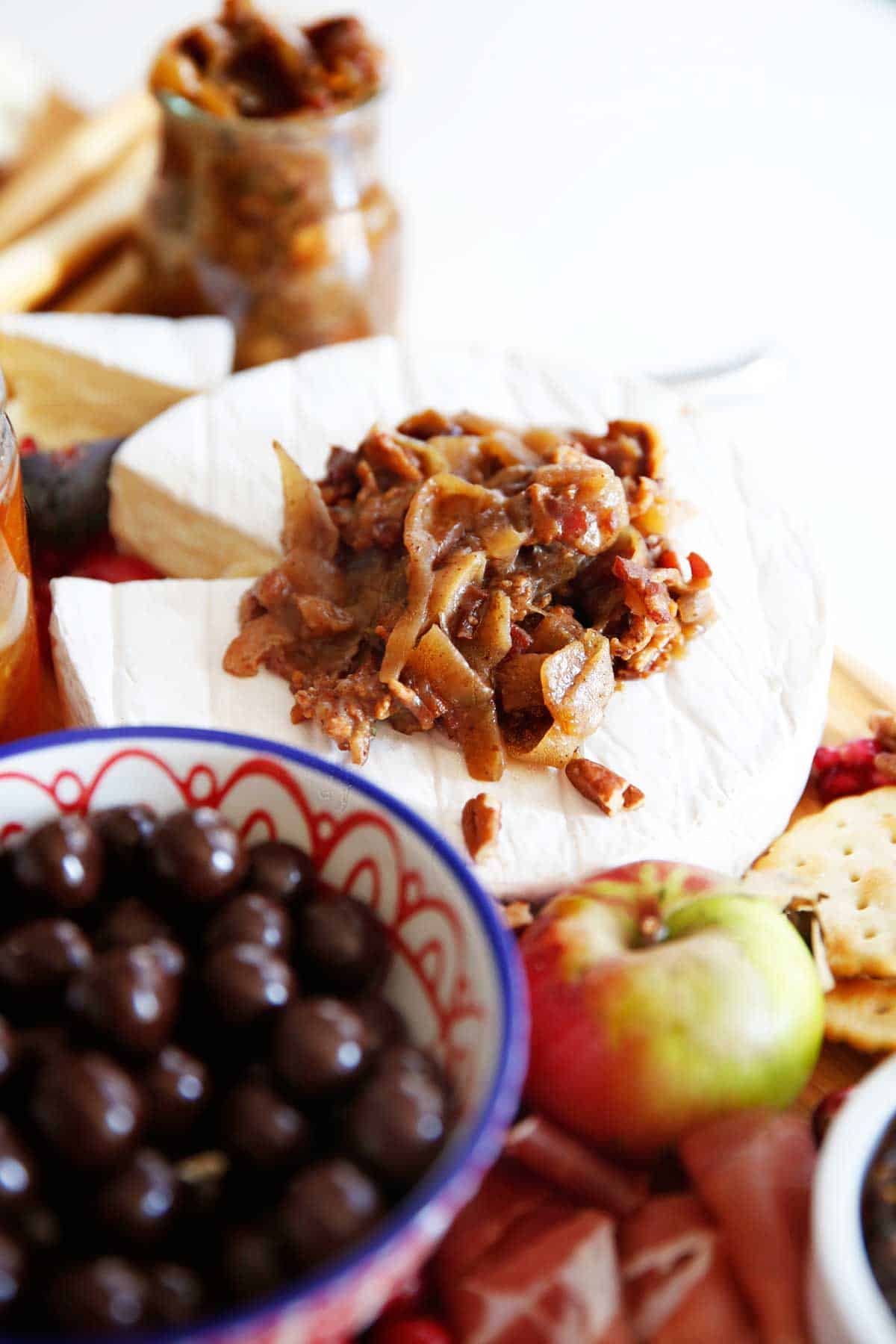 How to Make a Charcuterie Board Beautiful
After you've selected everything you'd like to place on the board, go ahead and make it festive! I'll place a few bowls throughout the spread and add olives, chocolate candies, marinated cherry peppers, etc. I'll also garnish the board with festive holiday touches such as rosemary, pomegranate seeds, pears, and cranberries.
Make sure to fill in as much blank space as possible with those extra items, because the fuller it looks the more beautiful it is.
Keep some back-up cheese, meat and crackers to fill in as the night goes on.
Watch the video:
The Best Meats and Cheese for a Charcuterie Board
I am so excited to partner with Applegate today to bring you this festive holiday entertaining spread! I truly love Applegate because they offer a wide variety of high quality natural and organic products that I know I can trust. Their animals are raised humanely without antibiotics or hormones and are fed a vegetarian or 100% grass diet. Their meats are free of added chemical nitrites, nitrates or phosphates, and free of artificial ingredients or preservatives. I know I can find my trusty Applegate at a retailer nearby wherever I am during the holidays!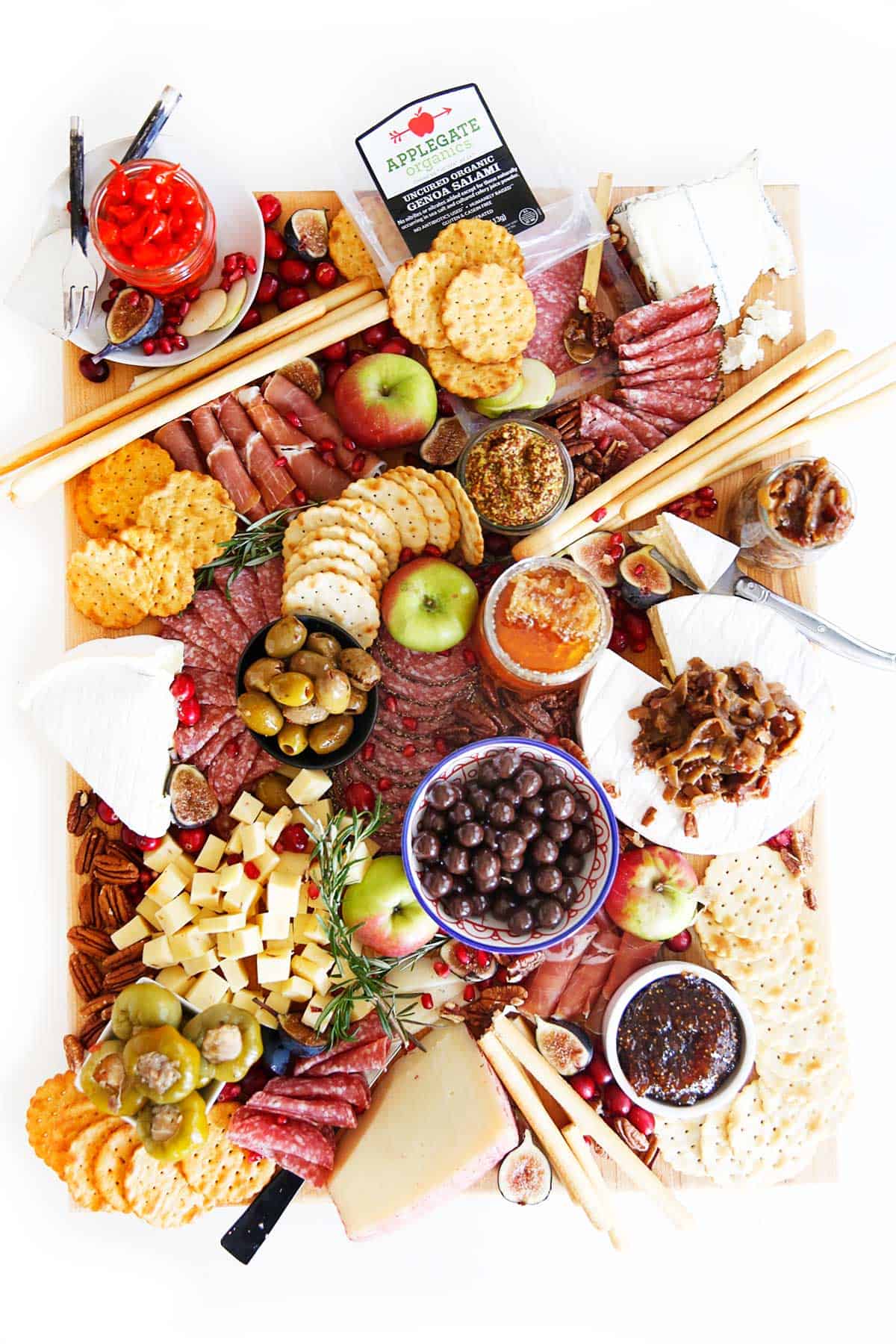 If you like this recipe to entertain a crowd, check out these others:


This post is sponsored by Applegate. Find out where to buy product and find other easy and delicious holiday recipes at www.applegate.com. All thoughts and opinions are always 100% my own! I love the integrity of their products and think you'll love them too. Thank you for continuing to support LCK and the brands I work with!
How To Make a Charcuterie Board (& Bacon Onion Jam Recipe)!
Fall is here and that means it's definitely crock-pot time! My new favorite slow-cooker addition is a whole roasted chicken. It is so easy to throw together, and super flavorful! Who needs store-bought when you can set it and forget it, am I right?

A quick prep and there you have it…

A perfect whole chicken, ready to devour!
Now, before we get to the chicken, my blogging friends are back with me sharing FIVE other slow-cooker recipes for you and they are AH-MAZING.

Let's get rolling…
Craving Mexican? Simply toss all the ingredients for fajitas in your slow cooker and a few hours later you'll have a comforting soup that's packed with flavor and a hint of spice.

All you need are two ingredients (apples and cinnamon) and your slow cooker to make this super easy and sugar-free slow cooker applesauce recipe! Perfect for Fall snacking or to use in baked goods!

Serve it over mashed sweet potatoes or toss it with pasta, either way this slow cooker short rib ragu is the perfect comfort food as the weather gets cooler.

All you need are 5 ingredients to make this delicious, clean-eating crock-pot honey sriracha chicken that's made with REAL food!

This tender, paleo slow cooker roast beef is mixed with pumpkin and salsa and then shredded! It's perfect in tacos or on a salad for a healthy, weeknight meal, that is full of fall flavor!

---
Dinner has never been so good! Packed with delicious flavors, this slow-cooked roasted whole chicken is so easy to throw together, and makes for the perfect meal! Pair it with veggies, salad, or anything you'd like and you are ready to go!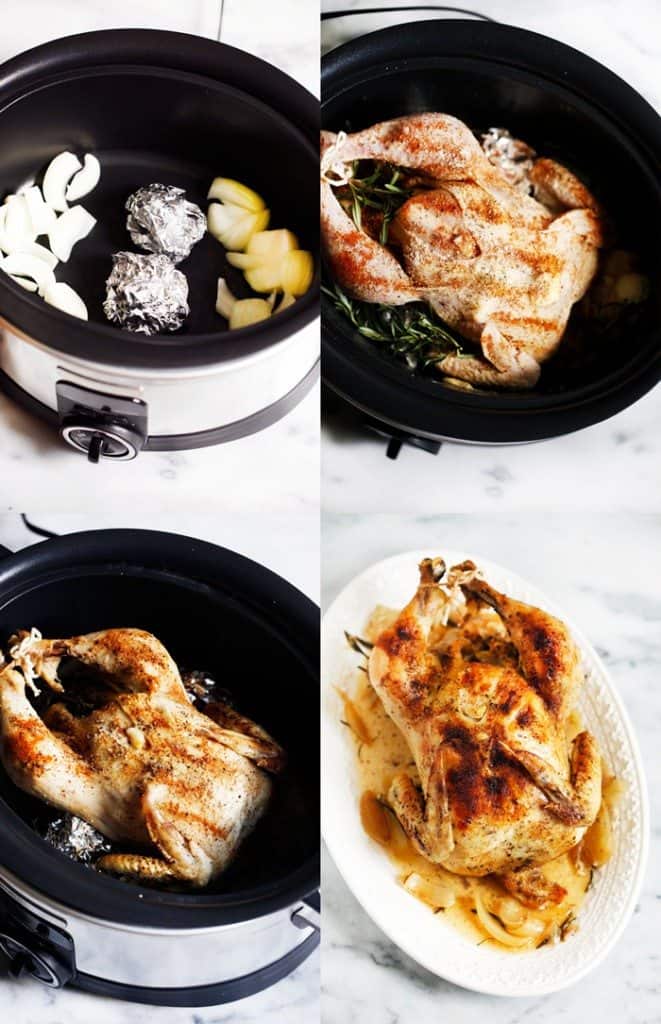 [yumprint-recipe id='312′]

---

What is your favorite slow cooker recipe?

Slow-Cooker Roasted Chicken
December and the holidays make me happy. I love the festive decor, I love the spirit people are in, and I love to give. Truthfully I do. One thing I know for sure is that homemade gifts are always extra appreciated, and especially when it's food (duh). Think about it: a gift of something special that you spent time making because you knew the recipient would love it. What is better than that?
Throughout the year I gift Nutella Jars, Granola (grandma), Apple Butter, Pancake Mix (mom), and so on. Everybody always goes nuts! The one thing that was missing all this time? Personalized labels.
I'm excited that this week for Healthy Food Friday with American Express I can bring you FREE printable labels that you can use on all of your edible gift giving this holiday season!

Fill in your name, write in the ounces and there you have it! The perfect customizable gift.


Labels: I use these!
A variety of mason jars or jars in general: I like these or these for smaller items, and varieties like these for larger ones.

RECIPES:
Pancake Mix: 1/2 cup almond flour, 1/2 cup tapioca, 1 tsp baking powder, dash sea salt (the label has what they need)!



I was selected by American Express to contribute to their Tumblr community. As such I was paid for my services, but all opinions in general and about American express are my own.
What edible gifts will you be making this year?