How to Make a Charcuterie Board: Your step-by-step guide to designing the best charcuterie board for your holiday parties! Load it up with your favorite meats, cheeses, jams, crackers, nuts, you name it!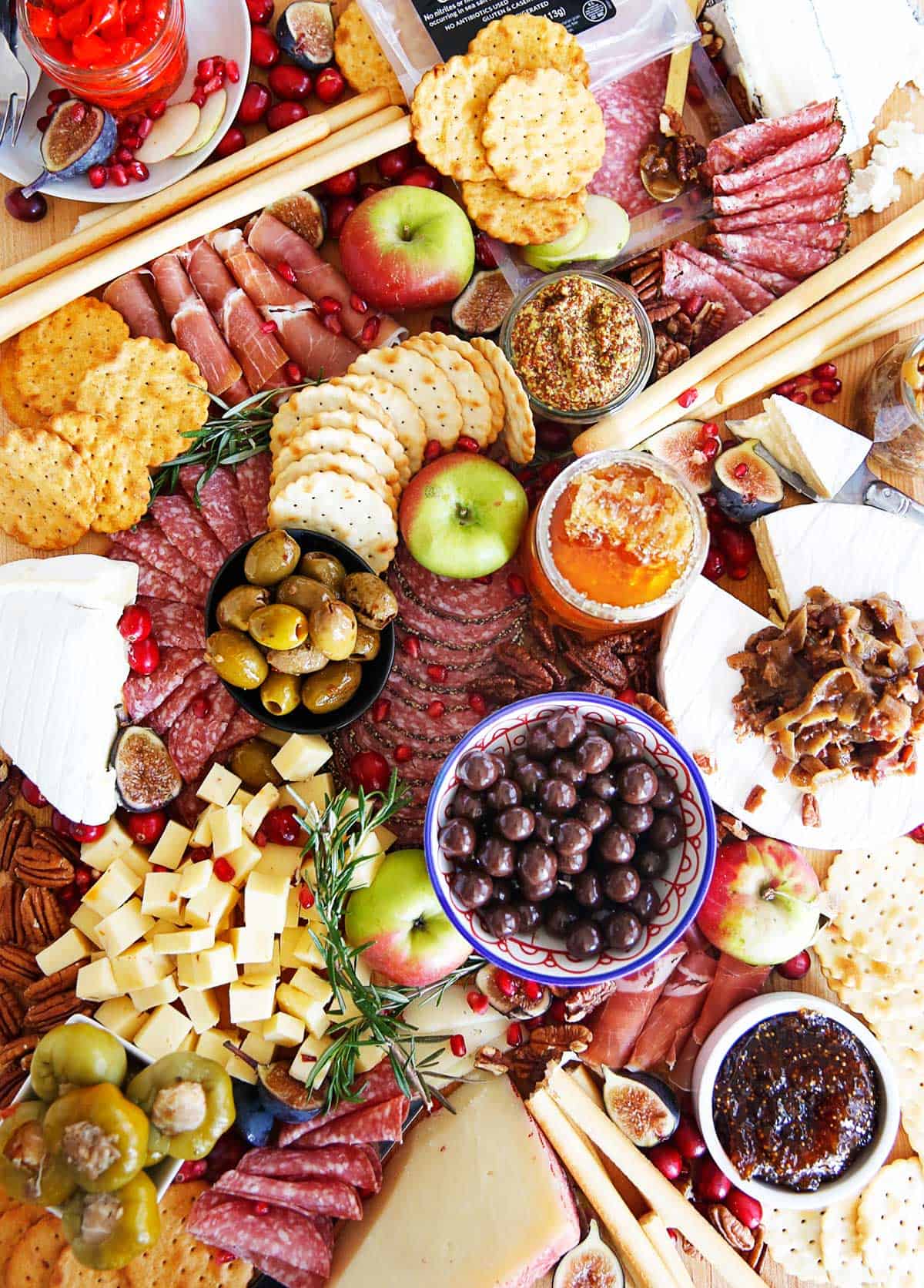 Easy Holiday Charcuterie Board
Are you stumped about what to serve at your next holiday party? Try a charcuterie board! These snack boards are not only beautiful to look at, but they're so quick and easy to make and they can be customized just how you like them. They're also one of the best ways to feed a crowd.
Keep reading for my tips and tricks on how to make the best charcuterie board! Just grab your favorite board or platter and pile it high with all your favorite snacks. This will be your go-to every holiday season!
What is a Charcuterie Board?
Charcuterie, pronounced shahr-cute-uh-ree, is a French word that refers to a display of prepared meat products such as bacon, ham, sausage, terrines, galantines, ballotines, pâtés, cured meats, and confit.
A charcuterie board is a carefully designed snack board that includes cured meats as well as various cheeses, crackers, breads, and other fun additions like jams, candied nuts, quick peppermint bark pieces, and more!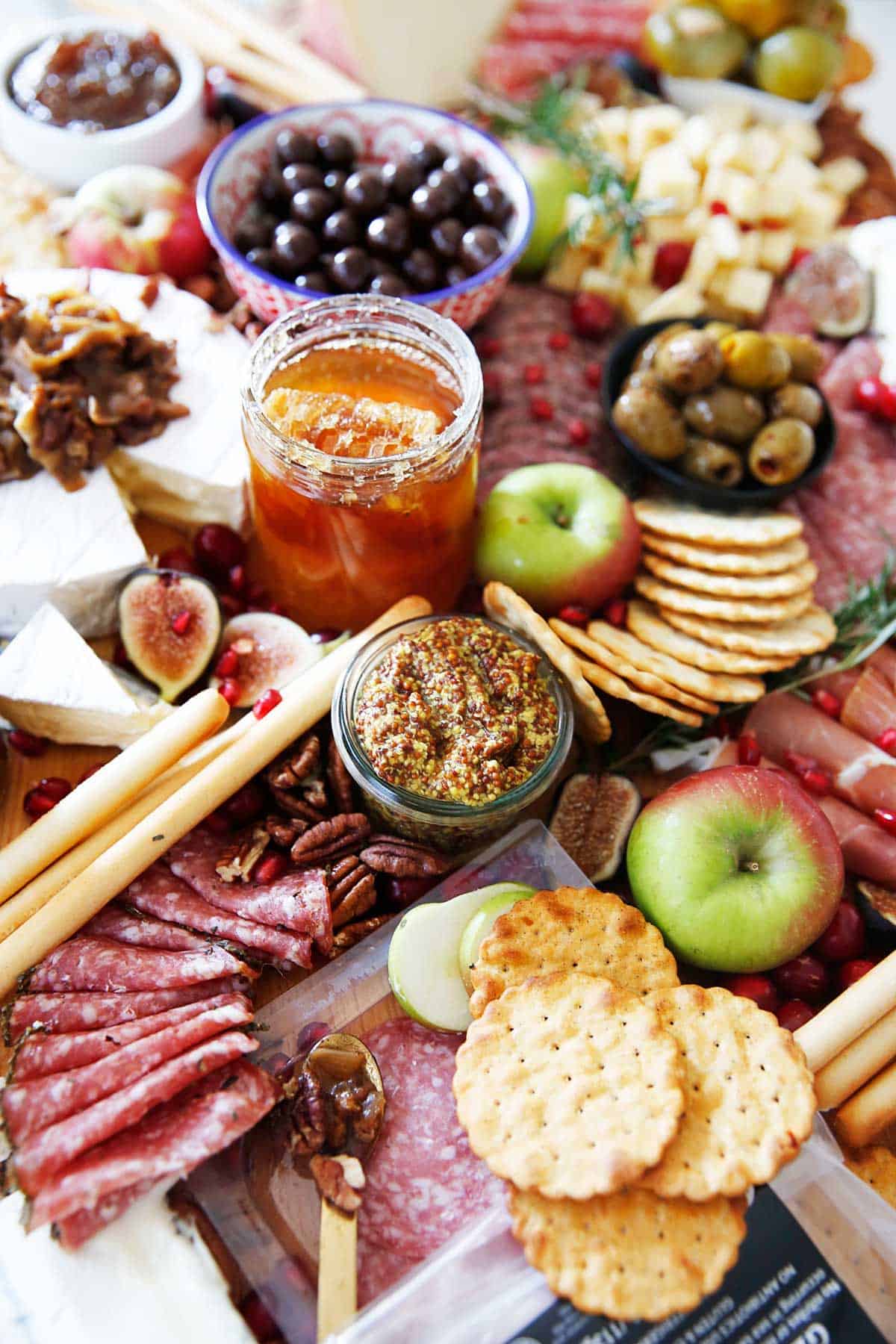 What Should Be On a Charcuterie Platter?
Truly, whatever you want! That's the beauty of a charcuterie board. You can customize it with all of your favorite things. Cured meats, cheeses, jams, nuts, pickles or olives, fresh or dried fruit, crackers…you really can't go wrong!
See below for some of my suggestions.
Okay, Here's How to Make a Charcuterie Board:
Here is my step-by-step guide for putting together the best looking snack board out there!
Start with the platter: Grab your favorite platter, cutting board, or marble slab to fill with the snacks. Make sure you pick one that you can fill up completely with the food. Use a big one for more food and a small one for a more personal-sized snack board.
Add the cheese: Plan for about 3 ounces of cheese per person. I recommend a variety of cheeses (3 or more) depending on how many people you're serving. Try cow cheese, goat cheese, sheep cheese, hard, aged, soft, you name it. You can even use vegan cheese!
Add the meats: Cured meats, pâtés, and sausages are great for charcuterie boards. Again, try to pick a variety and ones that are easy to eat on-the-go. Roll up any larger ones so they are easier to pick up.
Fill in with crackers and breads: I like to provide an assortment of crackers and little bread slices so there's something for everyone. You can do gluten-free or not depending on your dietary needs!
Add some nuts: Candied or regular nuts are a great addition. Place them in cute little bowls to set around the board or just scatter them around to fill in any gaps.
Finish with something sweet: Add your favorite fresh fruit, dried fruit, or jams. Place any jam or jelly into small bowls with a spreading knife for easy serving.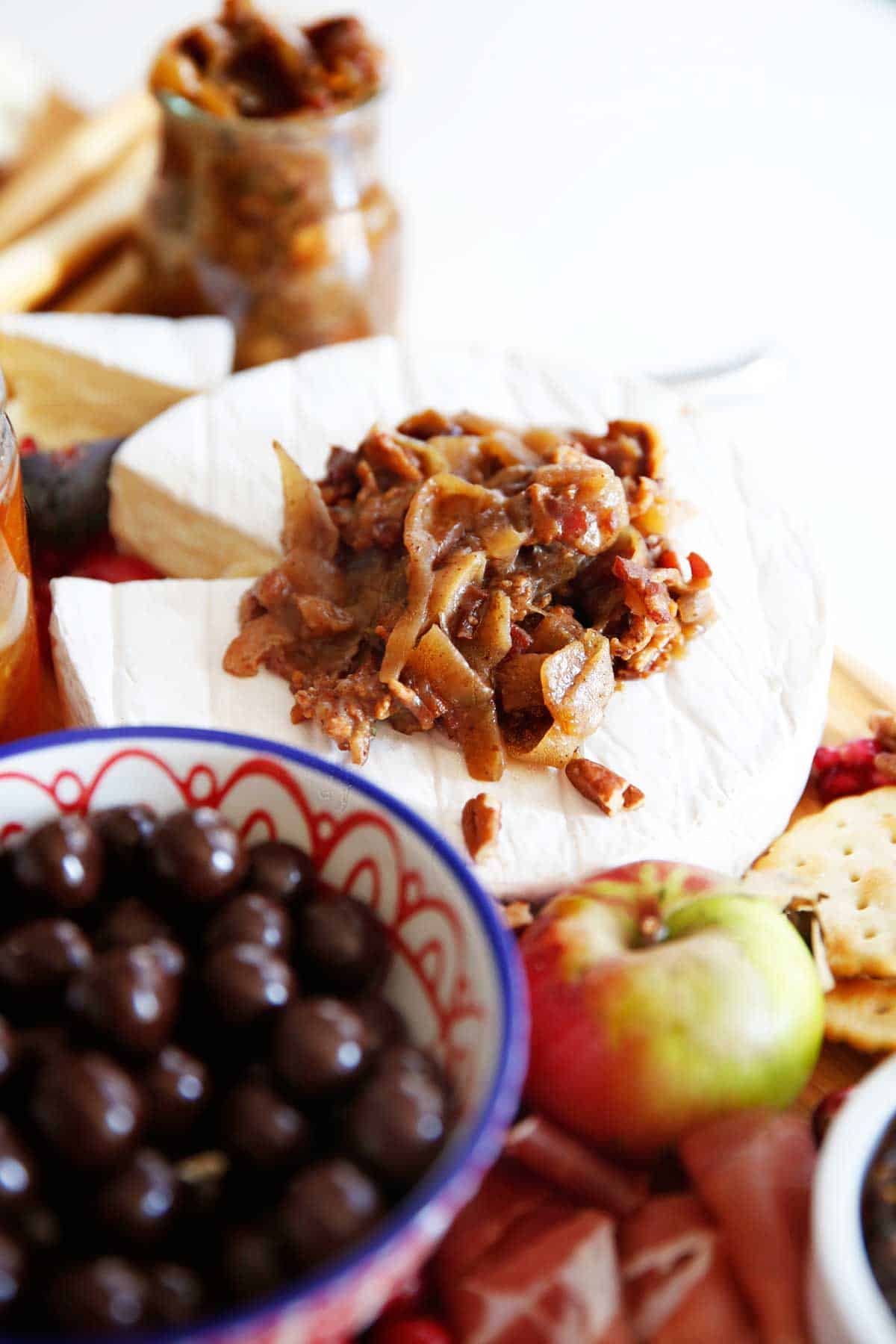 Tips and Notes for the Best Charcuterie Board
Fill the entire board. If you're serving a big crowd, use a big board. If you're serving a smaller crowd, use a smaller board. It looks so much better when the board is completely filled. We don't want big gaps or open spaces.
Add variety. Think sweet, salty, crunchy, creamy, savory, pickled…a little bit of everything means there's something for everyone.
Small amounts are key. Add smaller piles all around the board as opposed to big piles in one place. This makes it much more interesting to look at!
Pile them up. If you're making piles, try to pile them higher as opposed to creating flatter piles. The more depth there is, the more pleasing to the eye it will be.
Label ingredients. Make sure you add cute little labels to differentiate between different cheeses, jams, or anything that might not be obvious. That way everyone knows what they're getting.
Use small bowls. Smaller bowls make a more uniform design. Big bowls will just take over the whole platter.
Provide utensils. Make sure you add little spoons or spreading knives for spreadable cheeses or jellies. We want everything to be easy to serve. Don't forget serving plates!
Making Ahead of Time
Want to prep some of the board in advance? Arrange the meats, cheeses, nuts, crackers, and jams, then cover and store in the fridge for a couple of days.
When you're ready to serve, set the board out on the counter for 30 minutes or so, add on the fresh fruit, and dig in!
Watch The Video:
More Recipes to Serve a Crowd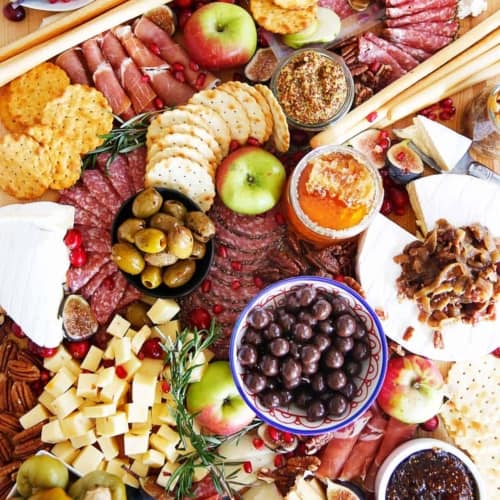 How To Make a Charcuterie Board Festive For The Holidays!
Your guide to designing the best charcuterie board for your holiday parties! Load it up with your favorite meats, cheeses, jams, crackers, nuts, you name it! 
Ingredients
Condiments:
Bacon Jam

Recipe Below

Fig Jam

Grainy Mustard

Honeycomb
Cheese:
Manchego Cheese

Pepper Jack Cheese, Cheddar (Hard Cheese)

Brie

Humboldt Fog, Forager d'Affinois (Soft Cheese)
Crackers:
Bread Sticks

Gluten-Free Crackers

Other Crackers
Meat:
Applegate Salami

Applegate Prosciutto

Applegate Salami Trio
Other:
Olives

Rosemary Sprigs

Mini Marinated Peppers

Marinated Artichokes
Sweet:
Apples

Pomegranate Seeds

Fresh Cranberries

Candied Pecans
Bacon Jam Recipe:
1

package Applegate Sunday Morning Bacon

1

red onion

1

tablespoon

bacon fat

1

tablespoon

butter

1/2

teaspoon

salt

1/4

cup

water

1.5

teaspoon

balsamic vinegar

1

teaspoon

thyme leaves

picked

1.5

teaspoon

pepper
Instructions
In a large skillet over medium heat, cook finely diced bacon until crispy.

Drain bacon, leaving 1 tablespoon of fat in the pan. Add butter and 1/2 teaspoon salt.

 Slice onion thin and add to pan and cook on low heat for 40 minutes. Add bacon back into the pan.

Deglaze pan with ¼ cup water: Deglaze the pan by adding in the water and scraping up the browned bits in the bottom of the skillet for about 30 seconds.

Add balsamic vinegar, thyme leaves, and pepper and remove pan from heat.

Serve warm on top of brie or in a dish on your board.

Store in the refrigerator for up to 4 days, and reheat before serving. Yields about 1 cup of jam.
This post is sponsored by Applegate. Find out where to buy product and find other easy and delicious holiday recipes at www.applegate.com. All thoughts and opinions are always 100% my own! I love the integrity of their products and think you'll love them too. Thank you for continuing to support LCK and the brands I work with!