Greek Veggie Bowls
These Greek Veggie Bowls with Greek Cauliflower Rice are a weeknight favorite of ours! Packed with veggies, fresh herbs, hummus, and so much flavor, these easy-to-prepare gluten-free bowls are a fabulous dinner or lunch, and perfect for meal prep!

I am loving all things Mediterranean, Greek, and Middle Eastern lately. If you tried my Mediterranean Fritters or Bowls, you know just where I'm coming from. The flavors are just so delightful, healthy, and fresh!  These Greek Veggie Bowls are simple and perfect for meal prepping or a quick meal any night of the week!

All those fresh herbs going into that cauli rice!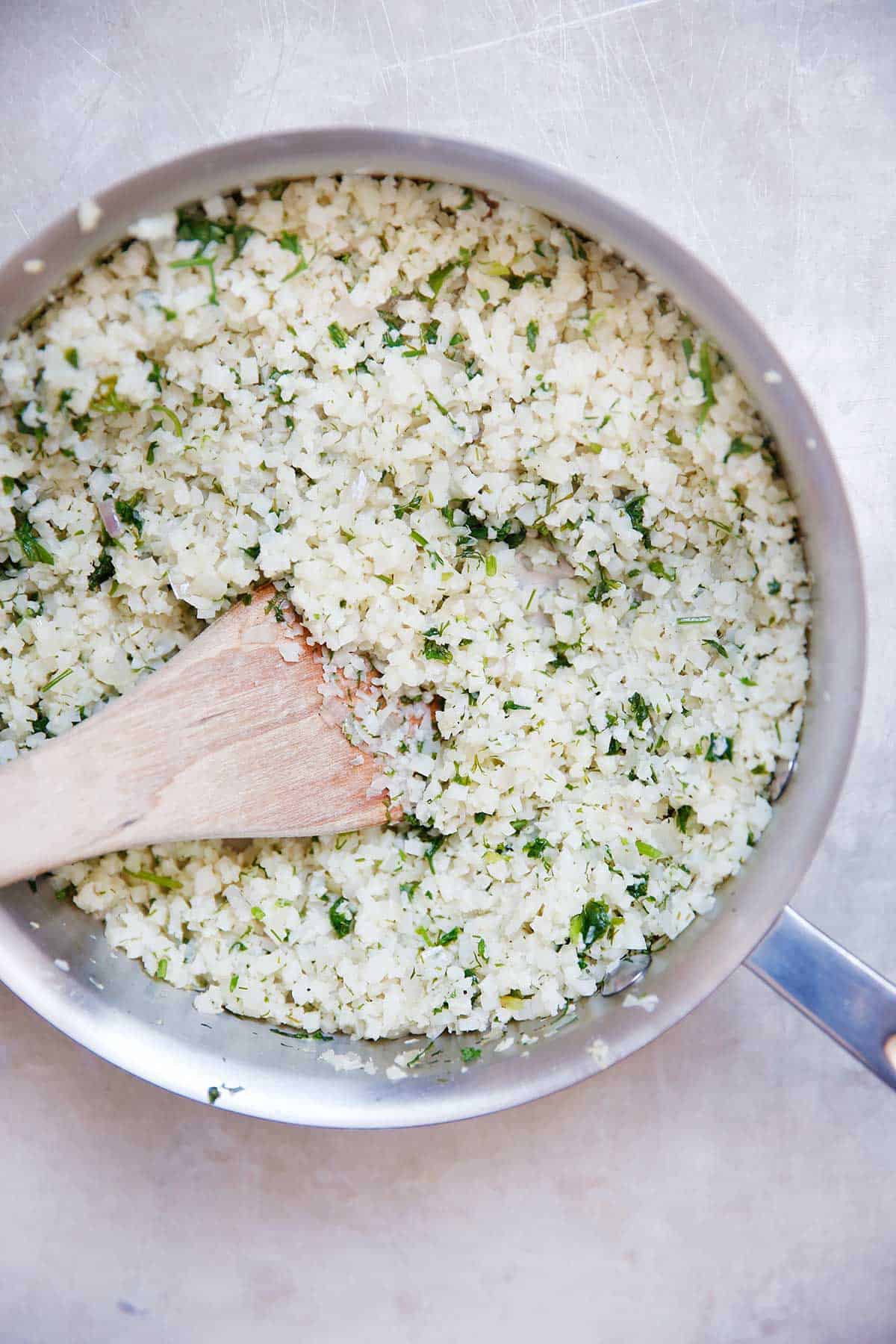 These bowls are loaded with:
Roasted or Grilled Veggies
Fresh herbs
Greek Cauliflower Rice
Hummus to top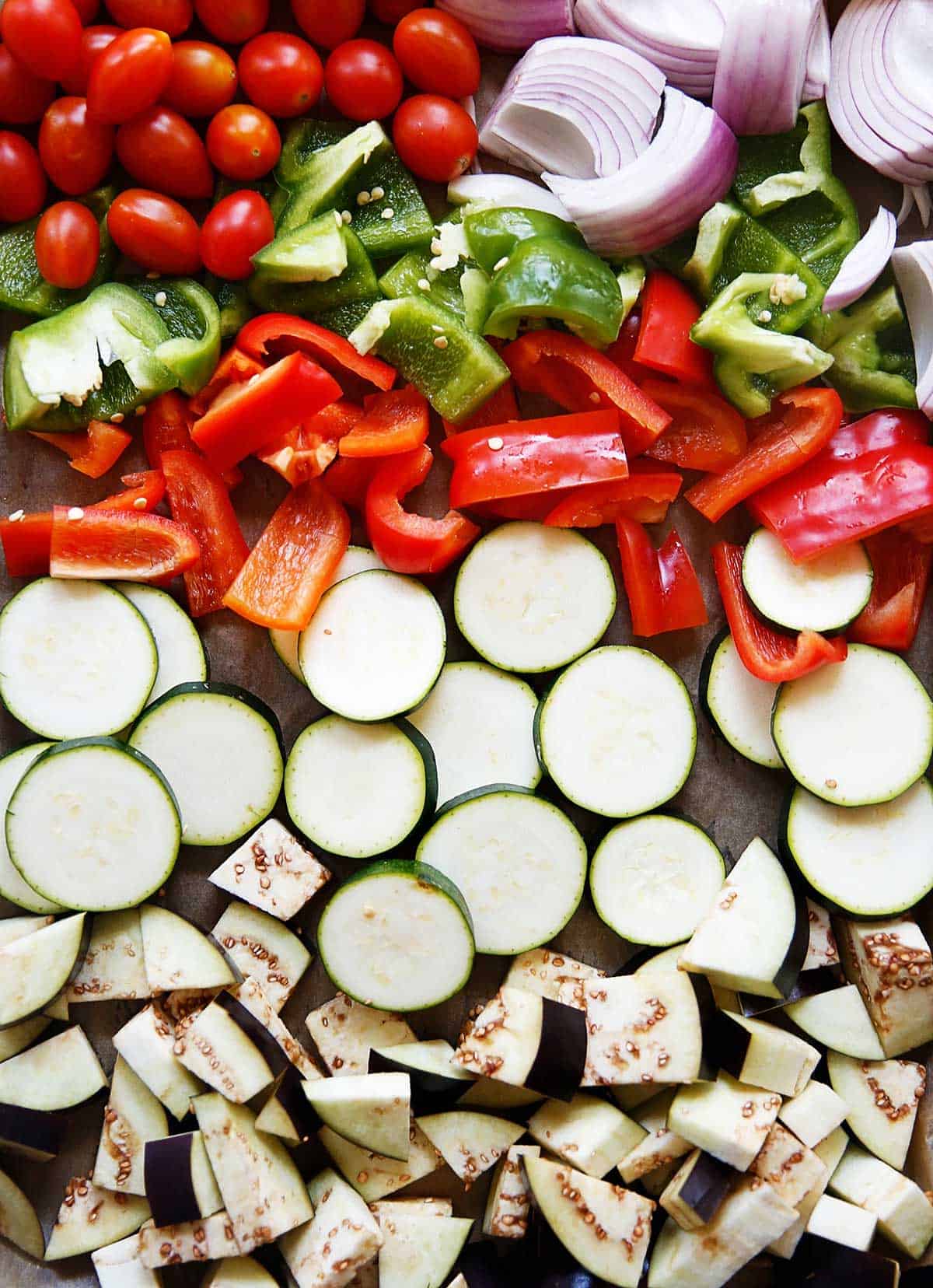 Roasted veggie time!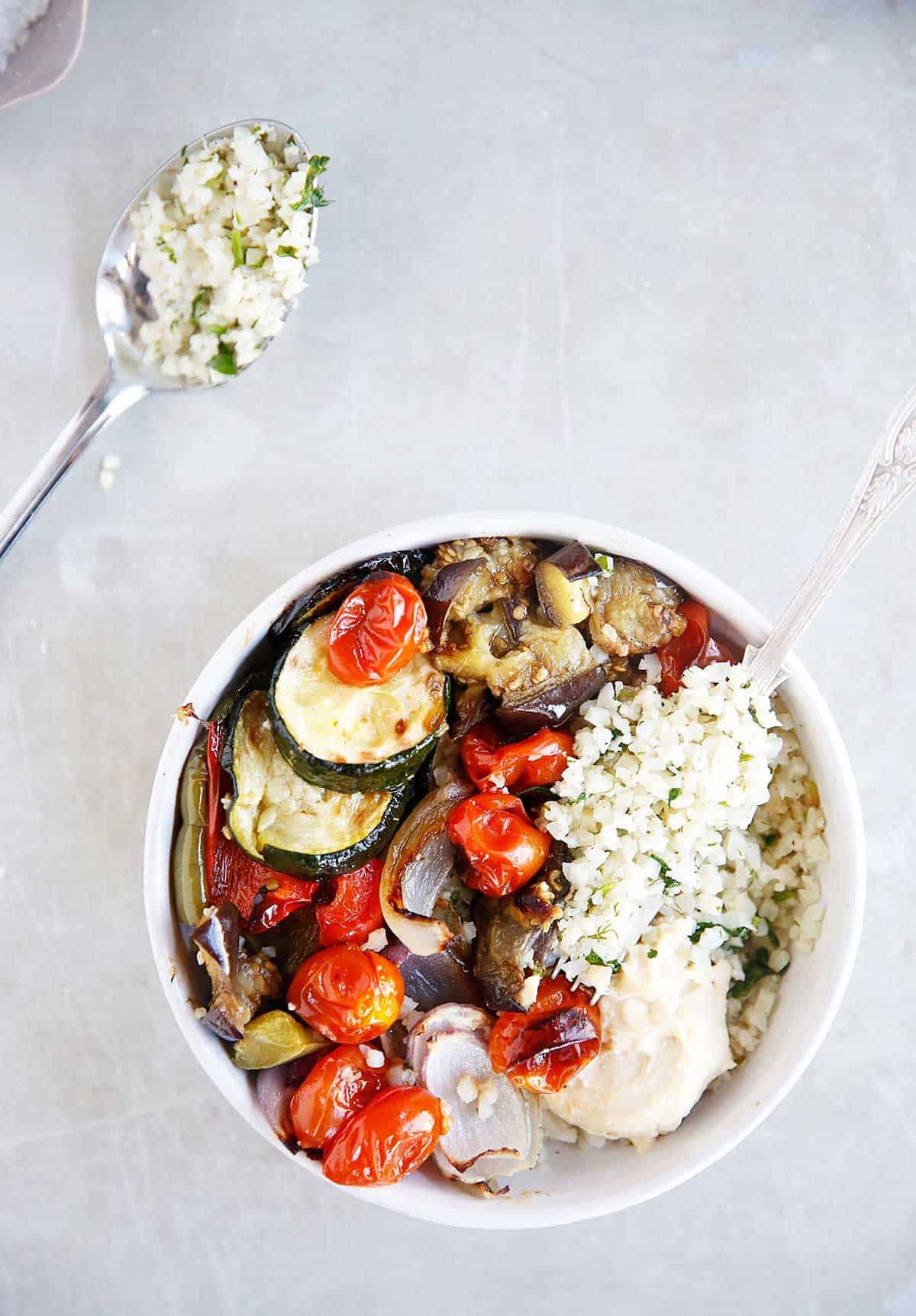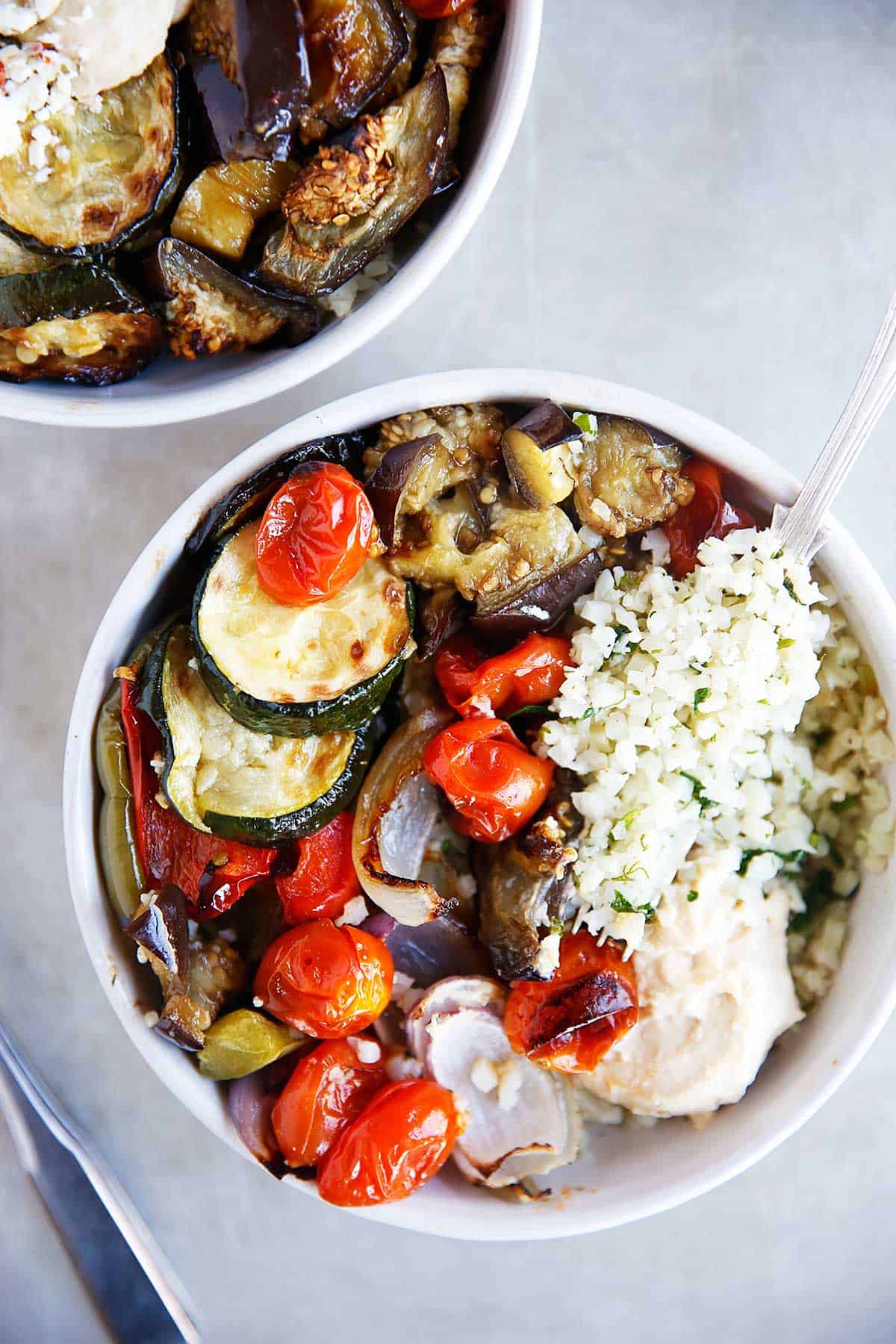 Greek Veggie Bowls
---
---
Ingredients
Grilled Or Roasted Veggies
Cauliflower Rice: (See notes for regular rice)
Everything Else
Hummus, for topping (homemade or store-bought)
Optional: crumbled feta cheese
Directions
Preheat oven to 400°F.
Line a baking sheet with parchment paper and spread veggies across it in one single layer. Toss with extra-virgin olive oil, sea salt, and black pepper. Bake for 45-5o minutes, or until veggies are soft and start to blister.
Heat oil in a medium saucepan over medium-high heat. Add in onion, garlic, and herbs and cook until the onion turns translucent. Add in cauliflower rice and lemon and cook for 5 minutes. Take off heat and set aside.
Assemble the bowl! Place roasted veggies and cauliflower rice in serving bowls of choice. Top with hummus, feta cheese (if using), and serve right away or store in an airtight container for later.
Recipe Notes
*To make this dish with regular rice, follow the directions on your basmati rice package, and add fresh herbs, garlic, and onion to the water while cooking your rice!
---
Nutrition
Loading nutrition data...
Greek Veggie Bowls
Looking for a veggie side dish? These Mediterranean Veggie Fritters are packed with veggies, loaded with Mediterranean flavors, and are gluten-free, vegetarian, and paleo-friendly!

Mediterranean Veggie Fritters
Meatless Monday is here, and today we're giving you our new favorite side dish! These fritters can be baked or pan-fried, and are SO flavorful. Crispy on the outside, just the way we like them!
How to make veggie fritters
Bonus: You'll be eating all the veggies!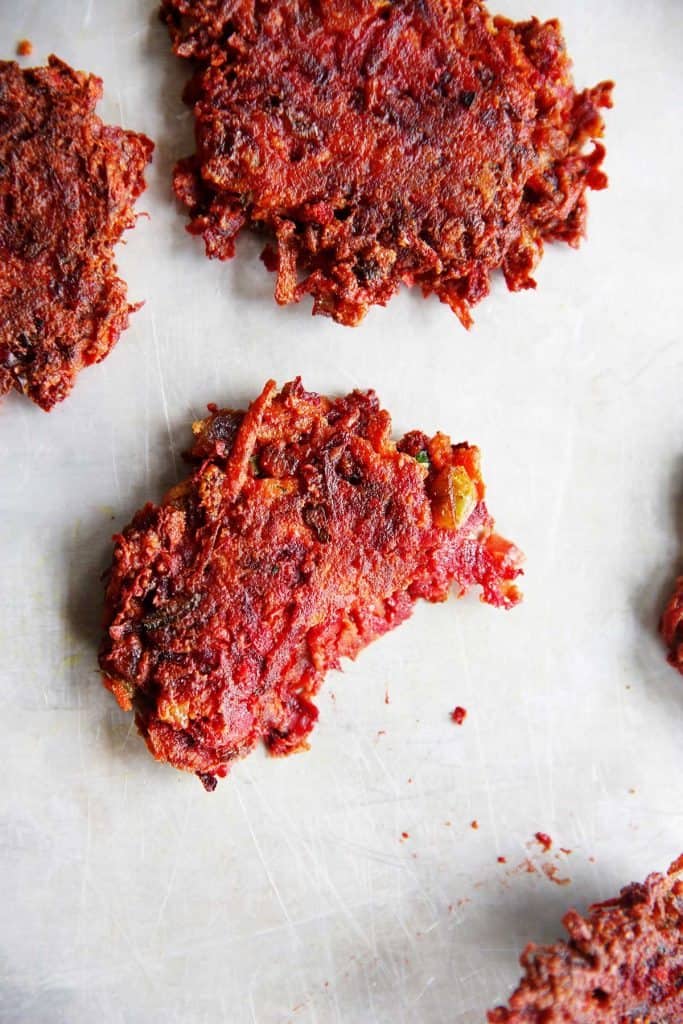 Watch the video:
Mediterranean Veggie Fritters
---
---
Ingredients
2 onions, mined
2 cloves of garlic, minced
4 scallions, thinly slices, about 1/4 cup
2 teaspoons cumin
1/2 teaspoon turmeric
1/4 teaspoon ground coriander
2 teaspoons salt, more to taste
2 teaspoons pepper, more to taste
2 tablespoons parsley, roughly chopped
1/4 teaspoon fresh lemon juice
1/2 cup almond flour
2 medium beets shredded, about 2 cups, water squeezed out
2 eggs
1/4 cup tapioca flour
2 cups avocado oil
Directions
6. Once the oil is at frying temperature (365℉), spoon 2 tablespoons of the batter into the pan to make a fritter that is about 2 inches in diameter. Use the spatula to help form it. Let fry for 3-5 minutes on each side, or until the fritters start to crisp up and turn a deep brown. Repeat with remaining veggie batter.
7. Place the cooked fritters on a plate lined with paper towels and set aside until ready to serve. Serve warm.
Recipe Notes
Recipe inspired by Persiana cookbook by Sabrina Ghayour
You can bake these instead of frying them. Bake at 375°F until both sides are crispy.
---
Nutrition
Loading nutrition data...