Mediterranean Veggie Fritters [VIDEO]
Looking for a veggie side dish? These Mediterranean Veggie Fritters are packed with veggies, loaded with Mediterranean flavors, and are gluten-free, vegetarian, and paleo-friendly!

Mediterranean Veggie Fritters
Meatless Monday is here, and today we're giving you our new favorite side dish! These fritters can be baked or pan-fried, and are SO flavorful. Crispy on the outside, just the way we like them!
How to make veggie fritters
Bonus: You'll be eating all the veggies!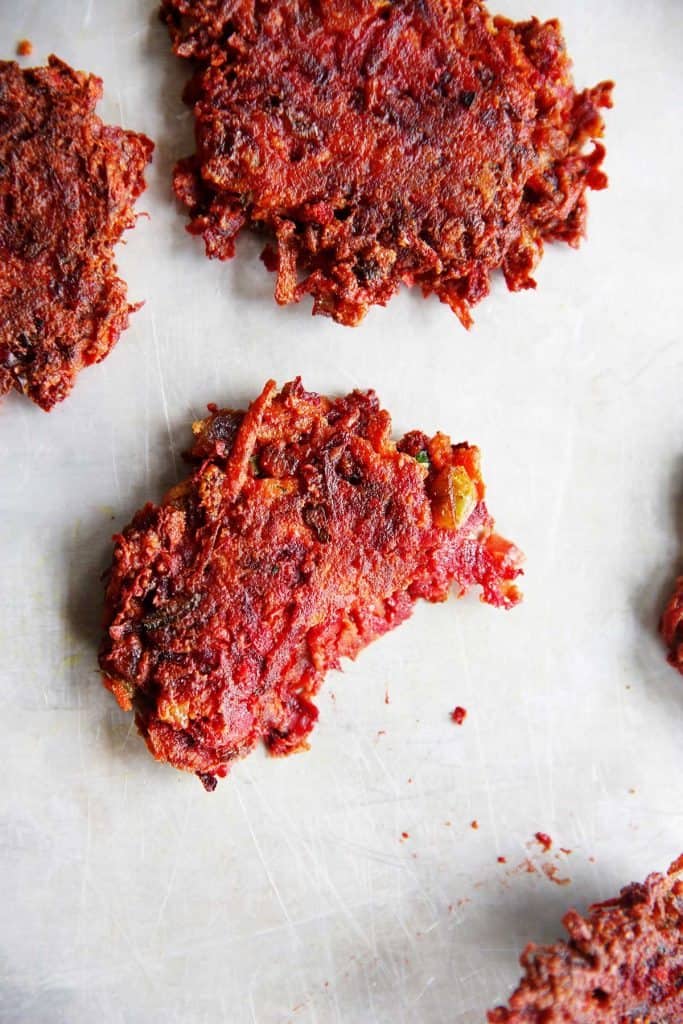 Watch the video:
Mediterranean Veggie Fritters
---
---
Ingredients
2 onions, mined
2 cloves of garlic, minced
4 scallions, thinly slices, about 1/4 cup
2 teaspoons cumin
1/2 teaspoon turmeric
1/4 teaspoon ground coriander
2 teaspoons salt, more to taste
2 teaspoons pepper, more to taste
2 tablespoons parsley, roughly chopped
1/4 teaspoon fresh lemon juice
1/2 cup almond flour
2 medium beets shredded, about 2 cups, water squeezed out
2 eggs
1/4 cup tapioca flour
Avocado oil, for frying
Directions
1.In a medium
skillet
sauté onion and garlic until the onion turns translucent and the garlic begins to brown. Turn off heat, let cool and place in a medium mixing bowl.
2. Add scallions, carrots, spices, parsley, lemon juice, and
almond flour
.
3. Place the
shredded
beet
in a paper towel or cheesecloth, squeeze out as much liquid as you can, and add it to the carrot mixture.
4. In a small mixing bowl, whisk together the
eggs
and tapioca powder to form a thick paste. Add the paste to the
beet
/carrot mixture and stir until just combined. Taste and adjust seasoning as needed.
6. Once the oil is at frying temperature (365℉), spoon 2 tablespoons of the batter into the pan to make a fritter that is about 2 inches in diameter. Use the spatula to help form it. Let fry for 3-5 minutes on each side, or until the fritters start to crisp up and turn a deep brown. Repeat with remaining veggie batter.
7. Place the cooked fritters on a plate lined with paper towels and set aside until ready to serve. Serve warm.
Recipe Notes
Recipe inspired by Persiana cookbook by Sabrina Ghayour
You can bake these instead of frying them. Bake at 375°F until both sides are crispy.
---
Nutrition
Loading nutrition data...
16 comments
March 6, 2017
Subscribe to
Lexis Clean Living
Join our email list to get instant updates and weekly summaries of our top content and special exclusive offers along with our free clean eating kickstart guide!
This website may at times receive a small affiliate commission for products that we shared with you in our posts. Although we may receive a commission for linking certain products, there's no additional costs to you and all of our opinion and suggestions are 100% our own and unbiased. That's our promise to you!