Molasses Fudge Cookies
December is the best of the winter months in my opinion. Yes, it's steadily becoming more and more freezing (like the horrible temperature today here in Boston). But the festive nature of the month brings such an amazing energy that the weather often gets overshadowed, and the holiday spirit is there in full force.
That is also why this is one of my favorite months for Healthy Food Friday with American Express. Not only do I get to share with you holiday eats (I'm talking about COOKIES), but I get to give you gift giving ideas for your loved ones! Last week I gave you printable labels for all of your edible gifts, so this week, let's get to some cookies that you can give out!
I recently started going to a new gym (I'll eventually share more on this). I've been there for one week and already have met such wonderful people! Why do I bring this up? Because I brought these cookie sandwiches for some of them to try, and they said they would go out and buy them in a store, and that they wouldn't have known they were gluten-free, dairy-free, and paleo-friendly. Winning! Aside from those lovely words, these got tons of other thumbs up, too!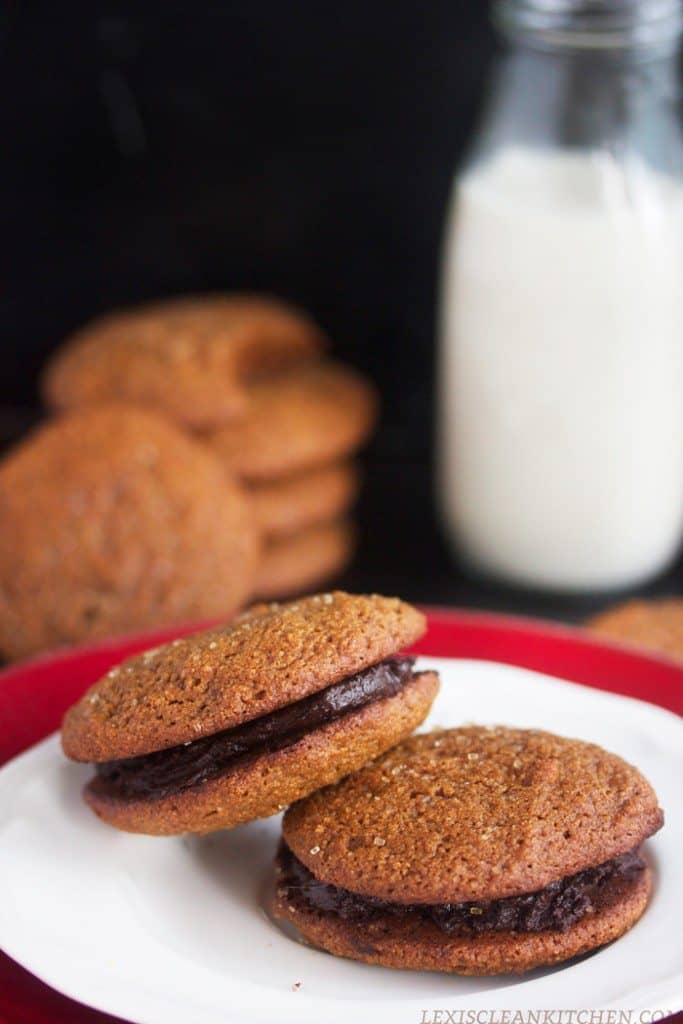 These cookies are: soft, perfectly spiced, and lightly sweetened. That plus the center of fudge… you have yourself an epic holiday cookie sandwich!
[yumprint-recipe id='230′]

I was selected by American Express to contribute to their Tumblr community. As such I was paid for my services, but all opinions in general and about American express are my own.
Here's some cookware that I used for this recipe, all available with Membership Rewards(r) points and perfect gifts for the chef in your life:
Plus, if you have an American Express card with Membership Rewards(r) points, you can use your points to get cookware for this recipe and more! Check it out.
What are you baking this holiday season? What are your favorite winter flavors?