December is the best of the winter months in my opinion. Yes, it's steadily becoming more and more freezing (like the horrible temperature today here in Boston). But the festive nature of the month brings such an amazing energy that the weather often gets overshadowed, and the holiday spirit is there in full force.
That is also why this is one of my favorite months for Healthy Food Friday with American Express. Not only do I get to share with you holiday eats (I'm talking about COOKIES), but I get to give you gift giving ideas for your loved ones! Last week I gave you printable labels for all of your edible gifts, so this week, let's get to some cookies that you can give out!
I recently started going to a new gym (I'll eventually share more on this). I've been there for one week and already have met such wonderful people! Why do I bring this up? Because I brought these cookie sandwiches for some of them to try, and they said they would go out and buy them in a store, and that they wouldn't have known they were gluten-free, dairy-free, and paleo-friendly. Winning! Aside from those lovely words, these got tons of other thumbs up, too!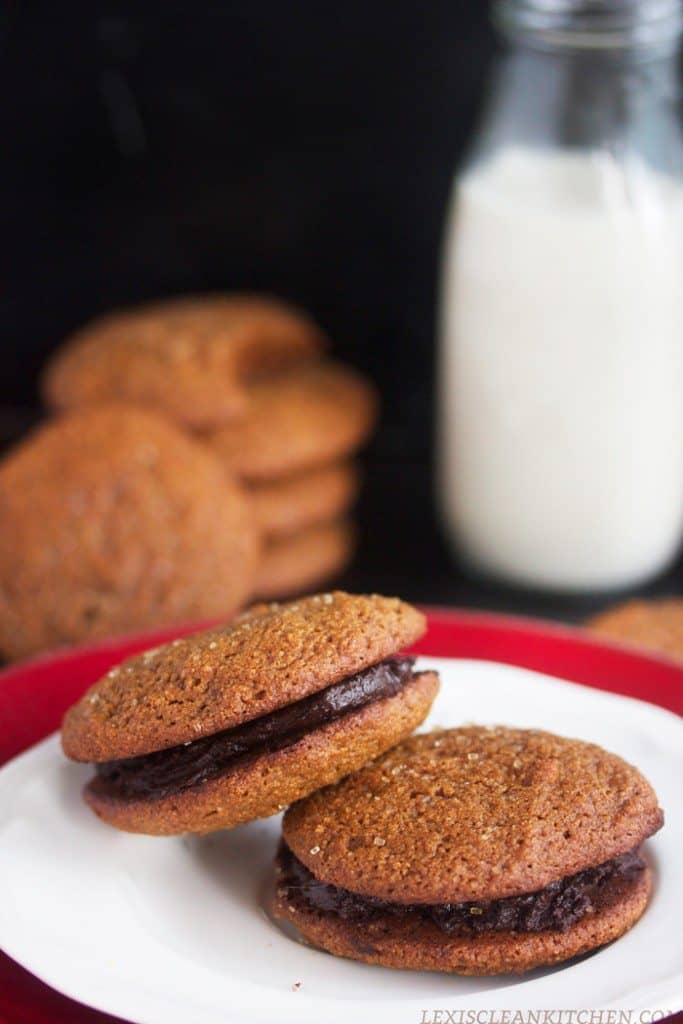 These cookies are: soft, perfectly spiced, and lightly sweetened. That plus the center of fudge… you have yourself an epic holiday cookie sandwich!
---
Yields
15
Prep Time
8 min
Cook Time
15 min
Total Time
23 minutes



Author: Lexi
---
Directions
Preheat oven to 350
Line baking sheet with baking liner
Mix dry ingredients in one mixing bowl
Mix wet ingredients in another mixing bowl
Combine wet and dry ingredients
Using a cookie scoop, scoop spoonful at a time onto baking liner
Sprinkle optional sugar crystals
Bake for 15 minutes or until fully cooked
Let cool completely on cooling rack
While cooling heat chocolate and mix in coconut milk
Once cookies are cooled, spoon in 1 tsp- 1 tbsp (based on preference), in the center of a cookie and sandwich together
---
Nutrition
Loading nutrition data...

I was selected by American Express to contribute to their Tumblr community. As such I was paid for my services, but all opinions in general and about American express are my own.
Here's some cookware that I used for this recipe, all available with Membership Rewards(r) points and perfect gifts for the chef in your life:
Plus, if you have an American Express card with Membership Rewards(r) points, you can use your points to get cookware for this recipe and more! Check it out.
What are you baking this holiday season? What are your favorite winter flavors?
14 comments
December 12, 2014
Click to edit CSS
Click to edit CSS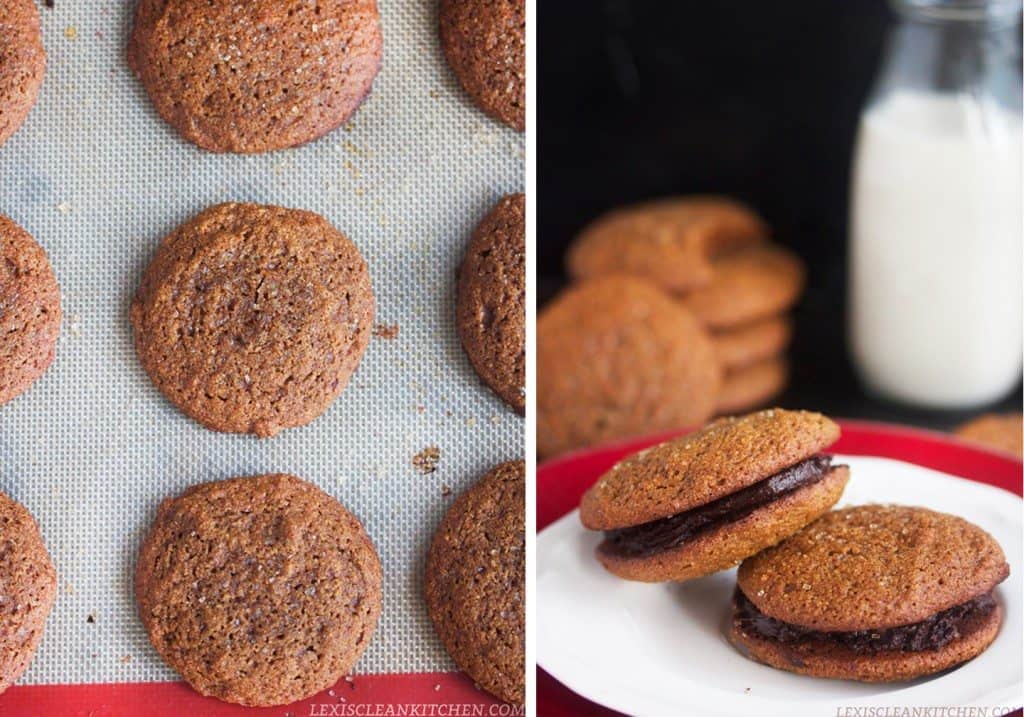 Subscribe to
Lexis Clean Living
Join our email list to get instant updates and weekly summaries of our top content and special exclusive offers along with our free clean eating kickstart guide!
This website may at times receive a small affiliate commission for products that we shared with you in our posts. Although we may receive a commission for linking certain products, there's no additional costs to you and all of our opinion and suggestions are 100% our own and unbiased. That's our promise to you!