One Pan Moroccan Fish
This One Pan Moroccan Fish is a super flavorful and easy-to-prepare weeknight dish! It's got a nice hint of heat and is loaded with hearty veggies! Made in under 30 minutes, this Paleo and Whole30 friendly dish is your ticket to healthy and comforting dinner.

One Pan Moroccan Fish
I love getting inspired by other cuisines. I am always impressed with the different combinations of various spices and how they come together to bring delicious warm flavors. This one pan Moroccan fish recipe is just that: it's loaded with flavor and packed with veggies. It's also an elegant looking dinner that nobody would guess was super easy to prepare. It takes less than 30 minutes and requires only ONE pan.
This spiced Moroccan Fish recipe is so hearty and comforting. You start off by sautéing some veggies in a pan and then keep building the flavor up from there with warms spices and tomatoes. Next, you nestle in the halibut for a quick 7 minute cook time. It is filling all on it's own, but certainly can be served with some rice or even some light beans, like chickpeas!
How can you tell when fish is cooked through?
Fish cooks quickly and becomes more "fishy" if it's overcooked so it's important to cook it correctly! There are a few ways to tell when a fish is done. A fish is cooked through when it is opaque and flakey on the outside. To ensure it's cooked through in the middle you can stick a thin butter knife into the center of the fish. If the fish gives any resistance, then it's still needs a bit more cooking time. If the butter knife is inserted easily inside the fish without any resistance the fish is done. Remove it from the heat immediately.
Alternatively you can take the fish temperature with an instant read thermometer. Properly cooked fish can be taken off of the heat at 140ºF, and it will continue to cook for another minute or two off of the heat naturally and will bring it up to the proper temperature of 145ºF.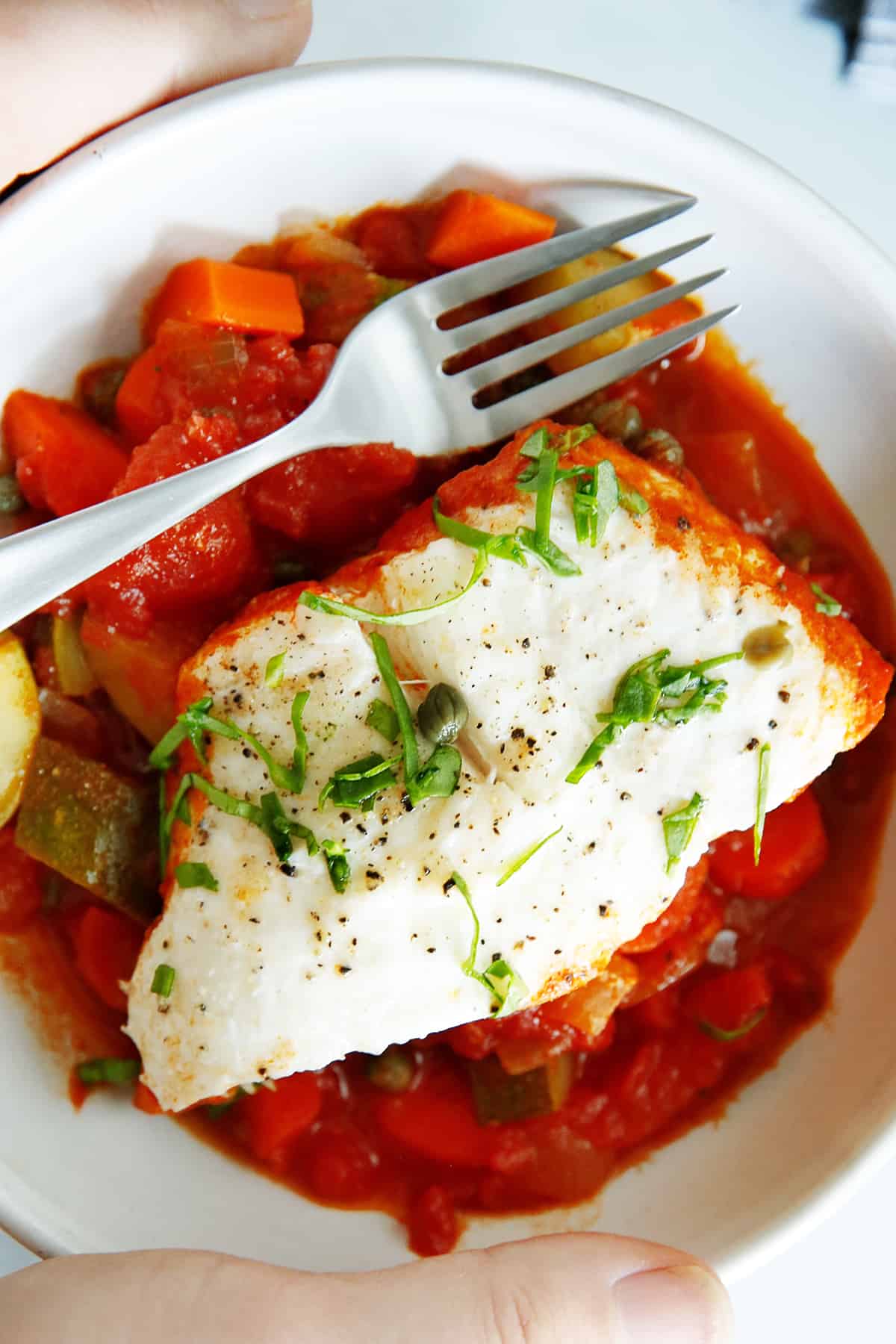 If you like this Moroccan inspired recipe, check out these others:
If you like this fish recipe, check out these others:
One Pan Moroccan Fish
Need a delicious light dinner that doesn't require much cooking and is so DELICIOUS? Then this Instant Pot Lemon Chicken with Artichokes and Asparagus is just what you need to make tonight! This seasonal and bright dinner is perfect for a night you still want something delicious but don't want to cook much. It's also gluten-free, paleo, low carb and whole30 friendly. Made in partnership with my friends at Shenandoah Valley Organic (SVO Farmer Focus)!
Easy Instant Pot Lemon Chicken Recipe
This Instant Pot Lemon Chicken recipe with asparagus and artichokes is exactly why we love the Instant Pot! It cooks up delicious meals, using mostly hands-off cooking, and quickly! We love how flavorful this dish is with the bright lemon that compliments the earthy artichokes, asparagus and hearty chicken. This meal is pretty low-carb on its own, but if you'd like you can serve it alongside pasta, rice or cauliflower rice.
Of course, not all of the ingredients cook at the same time so there are a few steps in this recipe. It's not difficult though, and it makes it so that you are mostly just placing ingredients inside the instant pot, and then letting it work it's magic!
Here's what you need:
How to Prep Asparagus
Asparagus is in season throughout the spring. Look for asparagus in the store with medium sized spears that have dry tips. Try giving the tips of the asparagus a quick smell, it should be earthy and fresh. If it smells funky, pass on them.
To clean asparagus rinse the spears to remove any grit. The end of the spear is woody. You can snap off the bottom and they will naturally break where the woody part is. Alternatively, if you prefer not to lose too much asparagus you could cut off 1″ of the stem and peel a few layers off of an additional 1-2″ of the spears.
How To Cook Asparagus in the Instant Pot
The timing for this asparagus is based off of fairly average supermarket asparagus. If your asparagus is very thin, you might be better off cooking the asparagus on the saute mode in the lemon broth instead. Simply saute until al dente. For average asparagus:
Clean the asparagus

Place in instant pot and cook on low pressure for ZERO minutes. The Instant Pot is cooking the food while it's coming up to pressure and this is just the correct amount needed to cook the asparagus.

Use the quick release function
I am so happy to partner with my friends at SVO Farmer Focus to bring you today's easy Instant Pot chicken recipe! Shenandoah Valley Organic (SVO) is my go-to trusted, farmer focus, chicken company for years now because they pride themselves in producing the highest quality chicken grown on family-owned farms.
These days you can go to the grocery store and *think* that you are picking up chicken that comes from an all-natural sounding brand that does things right, but then unfortunately if you look further into who owns that chicken company, you might be surprised to find out that it's just the giant chicken manufacturer in this country.
Shenandoah Valley Organic is building partnerships with growers through a Farmer Focus Business Model
I love that with SVO Farmer Focus you know that they are supporting their farmers and is a company that is working hard to do things right and truly raise and produce the highest quality chicken! Every SVO Farmer Focus product includes a 4-letter farm I.D. that traces your chicken to the farm that raised it. How cool is that? So aside from the best quality chicken (truly), Farmer Focus also delivers the peace of mind that I am supporting hard working family farmers.
SVO chickens are humanely raised and fed a diet free from animal byproducts, pesticides, and antibiotics. On their website you can see where all of the farms are located, so you know just where your chicken was raised!
You can also use their easy store locator to find where you can get this amazing quality chicken near you.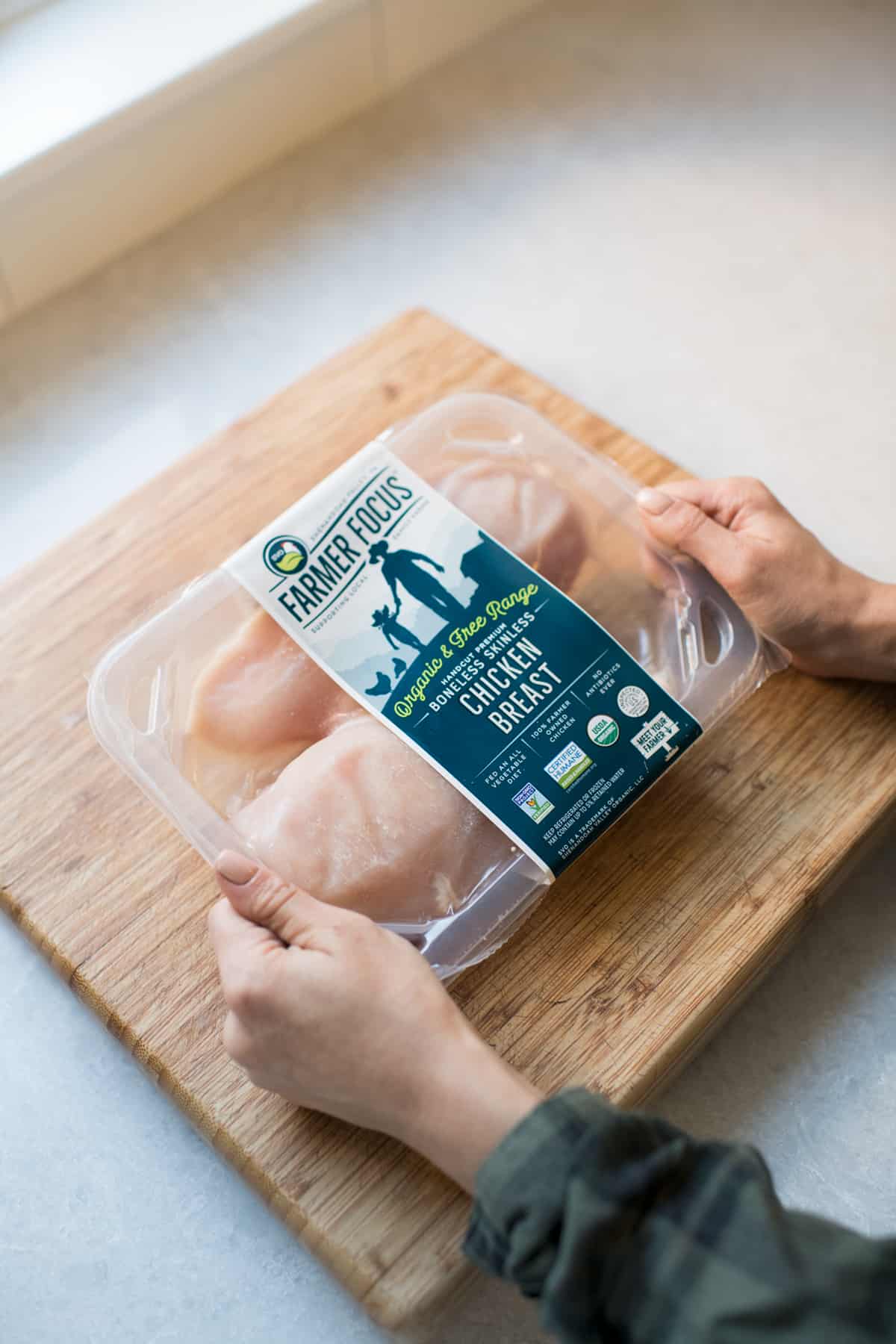 If you like this chicken recipe, check out these others:
If you like this Instant Pot Recipe, check out these others:
Watch the video:
---
---
This post is sponsored by Shenandoah Valley Organic! All thoughts and opinions are always 100% my own! I love the integrity of their products and think you'll love them too. Thank you for continuing to support LCK and the brands I work with!
Instant Pot Lemon Chicken with Artichokes and Asparagus
This 30-Minute Loaded Taco Skillet is loaded with veggies, lean protein, and so much flavor! All you need is 30 minutes and one skillet to prepare this low carb, healthy meal that everybody will devour!

This skillet is flavorful and veggie packed. It's perfect for a weeknight meal or to make and package up in containers for lunches!
This month my blogging ladies and I are showing you recipes to make using only ONE SKILLET. Yes, that's right! Easy, light on the clean up, and delicious.
Taylor made you a Mexican Sweet Potato Rice Bake
This one-pot chicken Mexican rice casserole uses sweet potato for extra creaminess! It's a healthy, gluten free, 8 ingredient dinner for busy weeknights that is only 330 calories.
Gina made you a Turkey Skillet Mac and Cheese
This one-pot turkey skillet mac and cheese is like a grownup version of hamburger helper and a much healthier option than that boxed stuff. Filled with spinach, peppers, real cheddar cheese, on the table in just 30 minutes and easily made gluten-free too!
Brittany made you a Zucchini Noodle Shrimp Lo Mein
Dinner is done in less than 20 minutes with this quick and easy zucchini noodle lo mein. It's loaded with shrimp and veggies for a low-carb protein packed meal that's perfect for busy weeknights. Paleo and gluten-free.
Lindsay made you a Mediterranean Marinated Balsamic Pork Loin Skillet
This Mediterranean Marinated Balsamic Pork Loin Skillet
with vegetables makes for an easy one pan meal! Healthy, Balanced, Paleo and ready 45 minutes. Feed your family with this Flavorful Mediterranean pork dish in a tangy balsamic sauce.
Watch the video: