Apple Cider Sangria
This Apple Cider Sangria is everyone's favorite Fall cocktail! It's flavorful, packed with cinnamon, ginger, apple cider, and white wine for the perfect dinner party sangria! Serve it with a caramel rim (or opt out for simplicity), make a large pitcher, and enjoy this easy fall cocktail!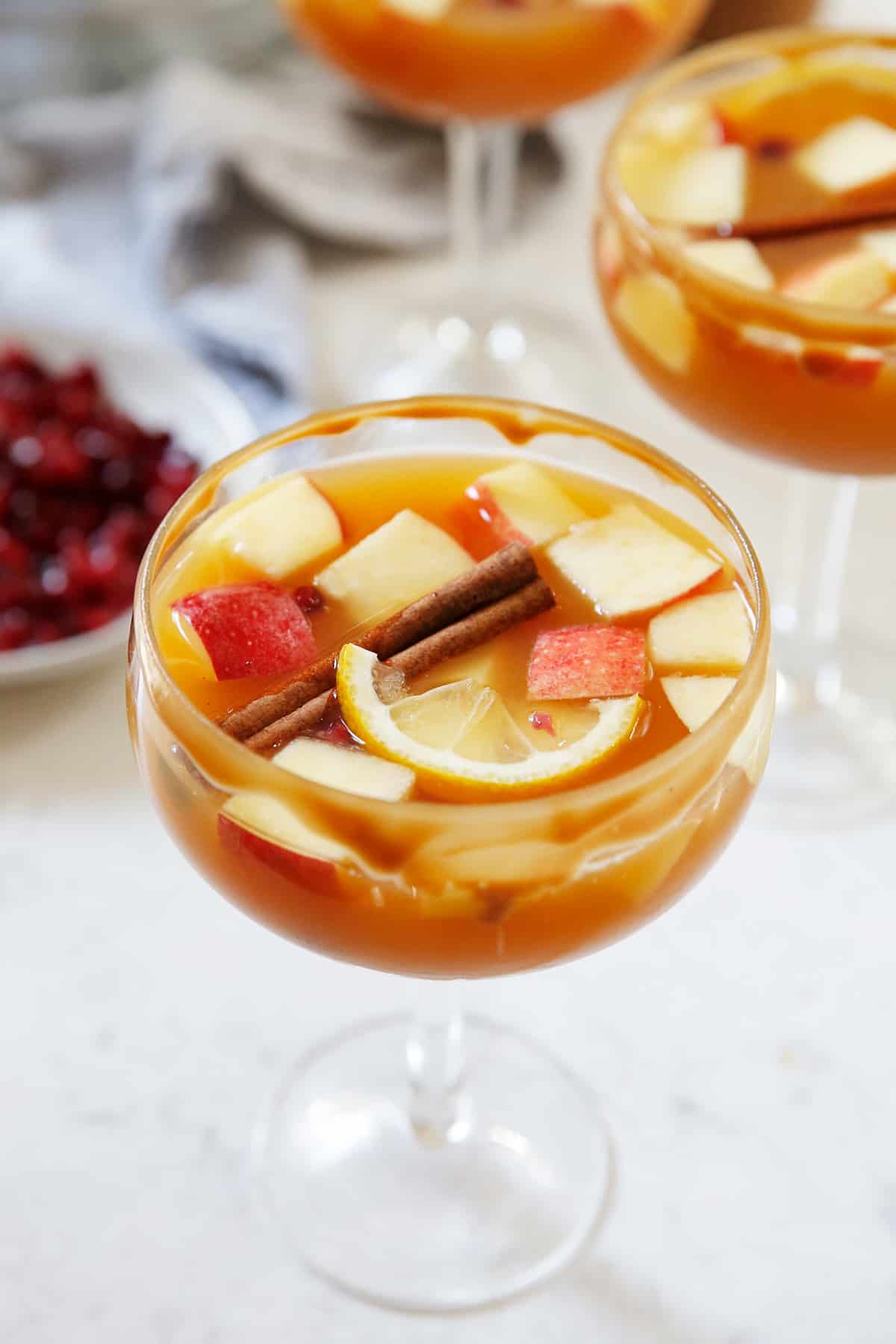 Apple Cider Sangria
This Apple Cider Sangria has everything you love about fall: it's spiced just right, is so comforting and has all that classic apple flavor! It's also super easy to make and a great cocktail to serve at a party without having to individually make drinks for each guest. Make this sangria using white wine flavored with fall fruit ahead of time and check one thing off your to-do list. It's refreshing, festive and so delicious. Want to make it even more special? Garnish the rim of the glasses with this paleo caramel! It'll be worth it!
Ingredients Needed
1 bottle white wine
Fresh apple cider
Carbonated water
Cinnamon sticks
Gluten-free vodka
Apples
Honey
Cinnamon
Pomegranate Seeds
Orange slices
How do you make Apple Cider Sangria?
We're not lying when we say sangria is easy to make! All you do is mix together all of the ingredients and then let sit for anywhere from 2 to 24 hours. When you are ready to serve, you can add in the carbonated water. Additionally, you may want to have some fresh fruit on hand to top off the glasses with.
How to Make it a Mocktail
This drink is so festive for all of the fall holidays and gatherings. Make it a cocktail by omitting the white wine and vodka and replacing it with additional half carbonated water and half fresh squeezed orange juice!
How far in advance should sangria be made?
Sangria should be made at least 2 hours before serving, so all the fruit can mix well with the rest of the ingredient and so that it can have time to chill! Sangria gets better and better as it sits, so even 24 hours ahead will be great.
Watch the video:
Other favorite cocktail recipes:
---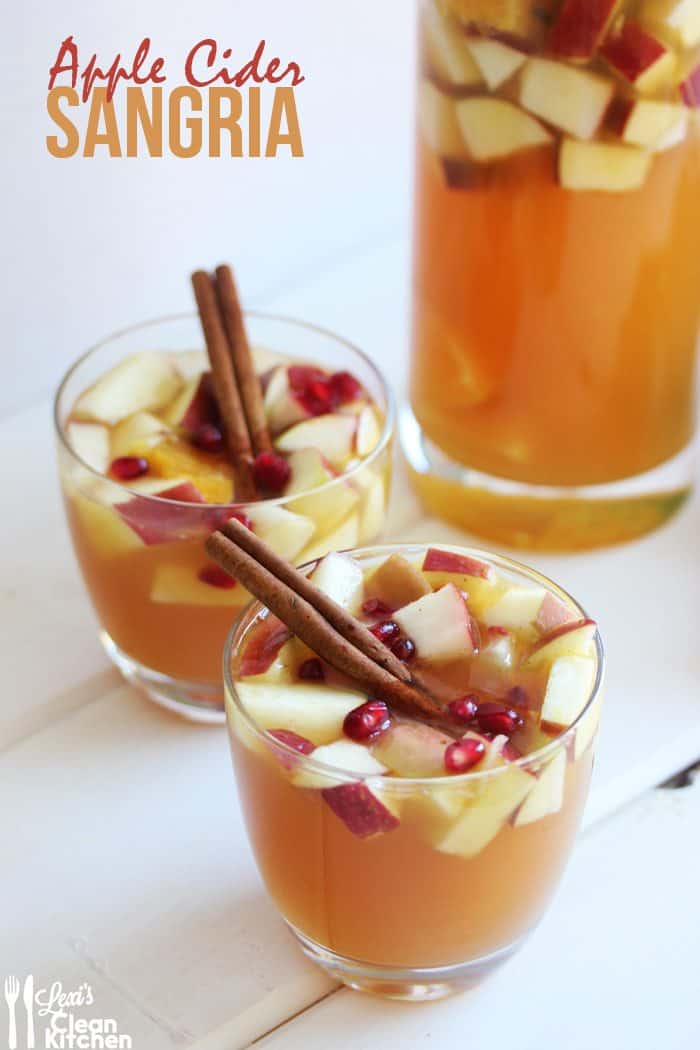 Apple Cider Sangria
This easy-to-make Paleo Orange Chicken is simple, flavorful and perfect for a weeknight dinner. It'll be loved by both kids and adults alike and it just so happens to be gluten-free, dairy-free and paleo!
Healthy Orange Chicken Recipe
It's almost hard to believe that this healthy and flavorful orange chicken recipe only takes about 20 minutes to get on the table, but it's true! The paleo orange chicken has simple ingredients and simple instructions and your whole family will love it! Serve it with your favorite side, but we suggest cauliflower rice and if you're feeling like you need some extra veggies in your life some green beans or broccoli would fit right in here.
We love this orange chicken because it's one of those magical recipes that is so easily made paleo and with other dietary restrictions in mind by simply using real whole ingredients. Fresh orange juice as the main player in this dish, giving it a bright, bold flavor. The chicken is coated in arrowroot starch which helps make it crispy after it's quickly pan seared and it also helps thicken the sauce to keep it gluten-free.
Here is what's in it:
chicken breast (or thighs)

arrowroot starch

Salt and pepper

oil

fresh orange juice

orange zest

rice wine vinegar (or apple cider vinegar)

fish sauce

honey

garlic

ginger

sesame oil

Pinch red pepper flakes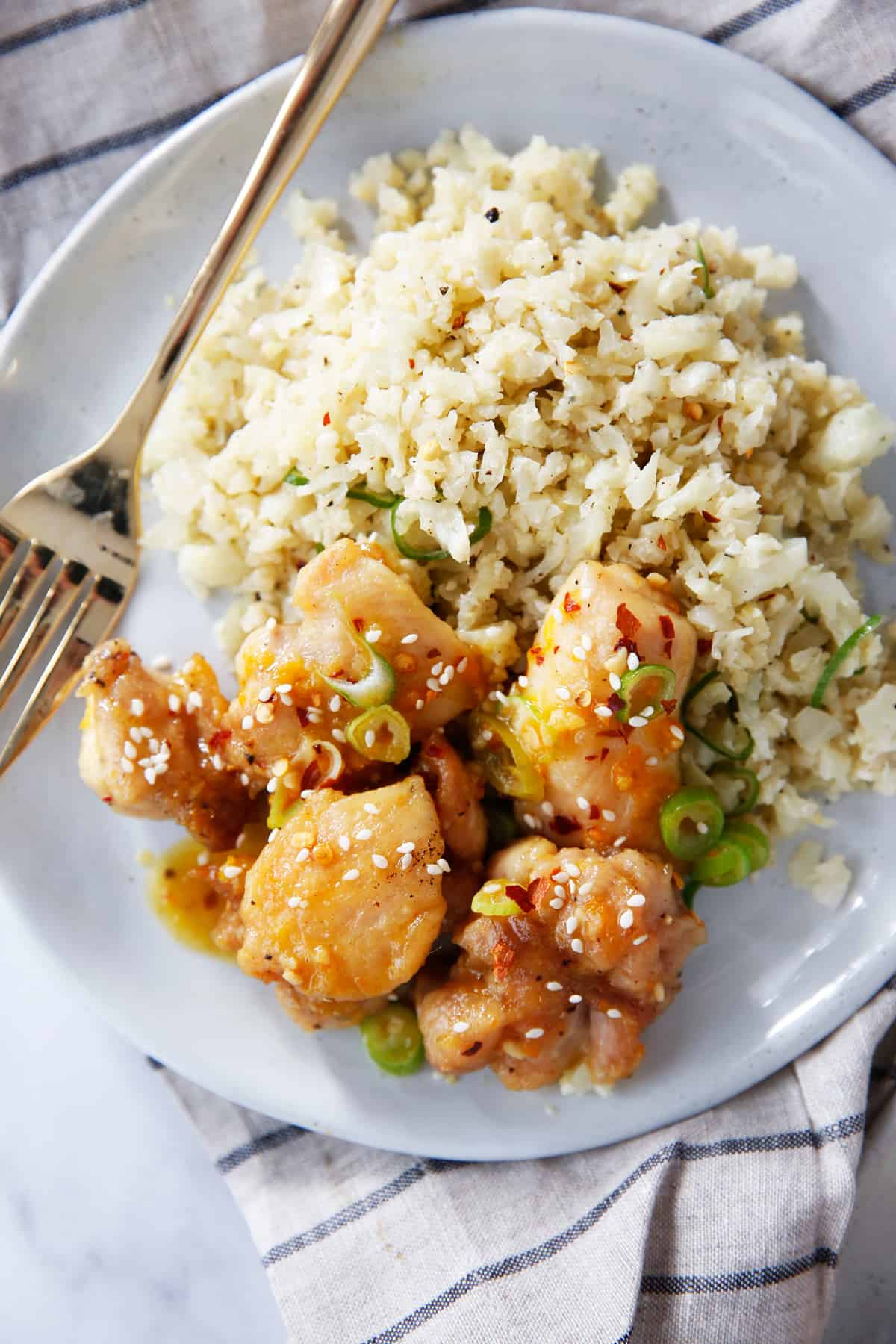 What can you serve with this Paleo Orange Chicken?
We served ours with cauliflower rice, but it would also go well with:
white rice
brown rice
quinoa
steamed broccoli
cooked green beans
steamed cauliflower
roasted spaghetti squash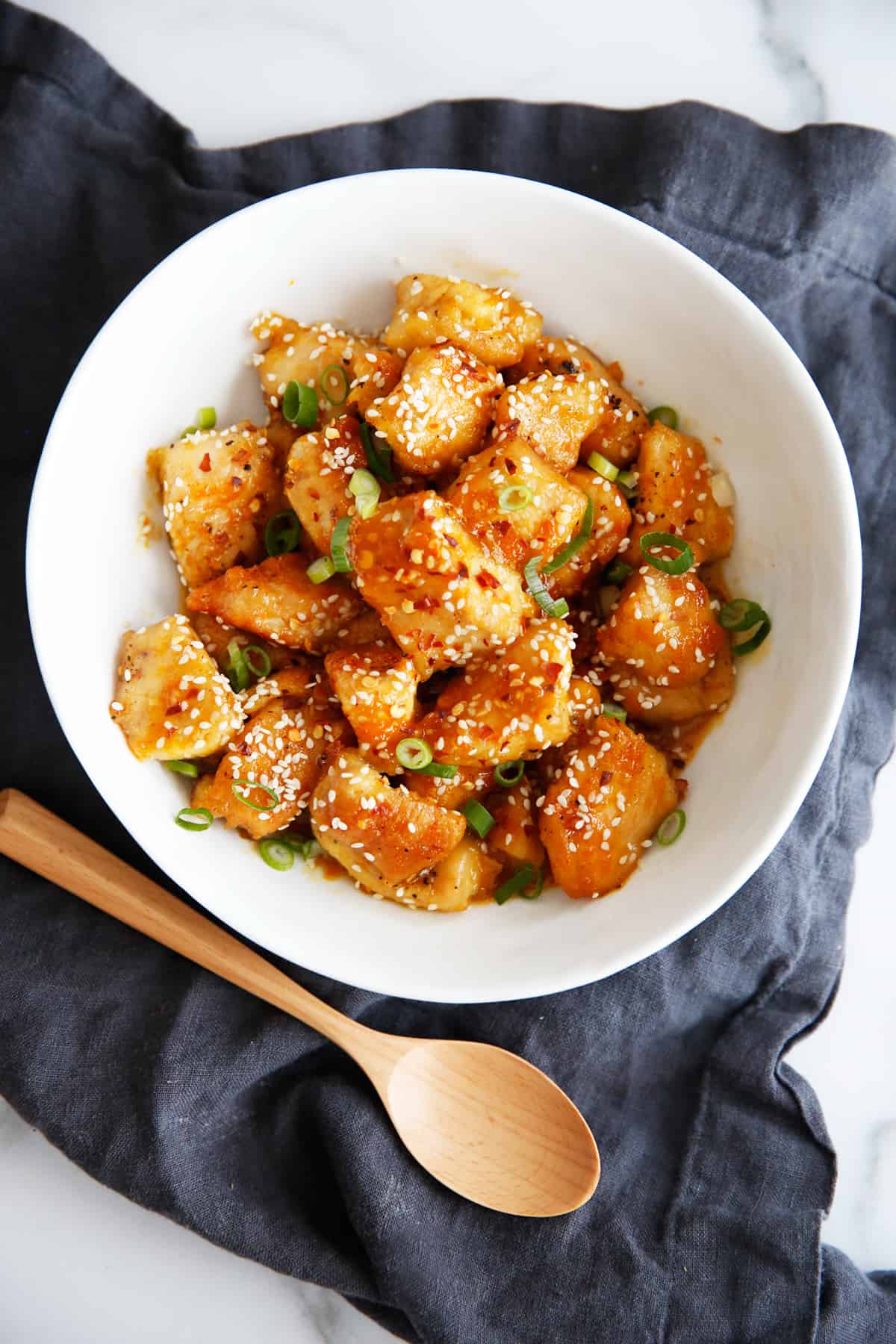 If you like this quick weeknight chicken dinner, check out these others:
Paleo Orange Chicken
We are well into cold and flu season and this Ultimate Kick-that-Cold Juice is a recipe you need in your back pocket! If you feel a cold coming on, or you are currently in the throes of one, this juice recipe with oranges, lemon, carrots, ginger and turmeric will give you an extra boost of vitamin C and antioxidants to help your body naturally feel better!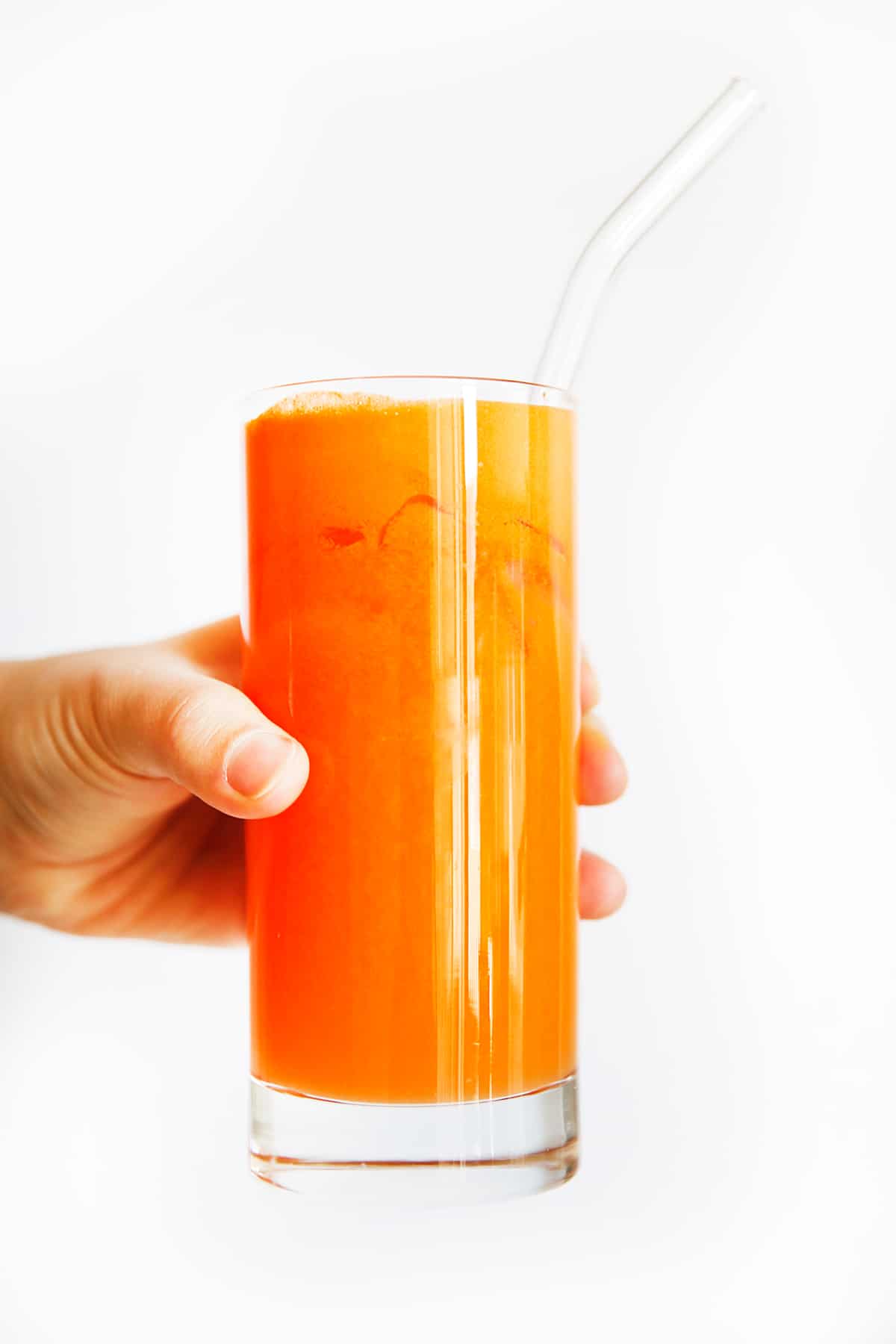 Kick-that-Cold Juice
When cold and flu seasons hits staying healthy can be a top priority. Our bodies naturally do a great job at utilizing their own defenses to fight off colds but it can never hurt to arm yourself with some extra Vitamin C and antioxidants to do it. This recipe has been used in my house for years and it's time it's officially landed on the blog. If we feel ourselves starting to get sick we immediately make this Ultimate Kick-that-Cold Juice and drink up! I swear by it, but it's also super delicious and a good pick-me-up.
Benefits of juicing:
Juicing can be controversial in the health world as it does remove some fiber from the fruit and veggies, but I've found, when I am coming down with something, this really does the trick! While of course fiber IS important (because it also contains nutrients and helps digestion), practically speaking, you will absorb more nutrients because the gut doesn't need to digest all that fiber at the same time! Want more info? I like this article!
Juicing extracts the juice from fresh fruits or vegetables. The resulting liquid contains most of the vitamins, minerals and phytonutrients found in the whole fruit! Since you have to use a far larger quantity of fruits and vegetables to make a glass of juice than you typically would eat in a sitting, you will get higher doses of those micronutrients and phytochemical. Juice quickly reaches your vital organs, can help reset your body, re-oxygenates yourblood, flush out fat, and more!
What I will say is: when ordering juice out, ask them how much fruit is going into your juice (so you can watch the sugar intake). Nobody needs 3 apples in one sitting!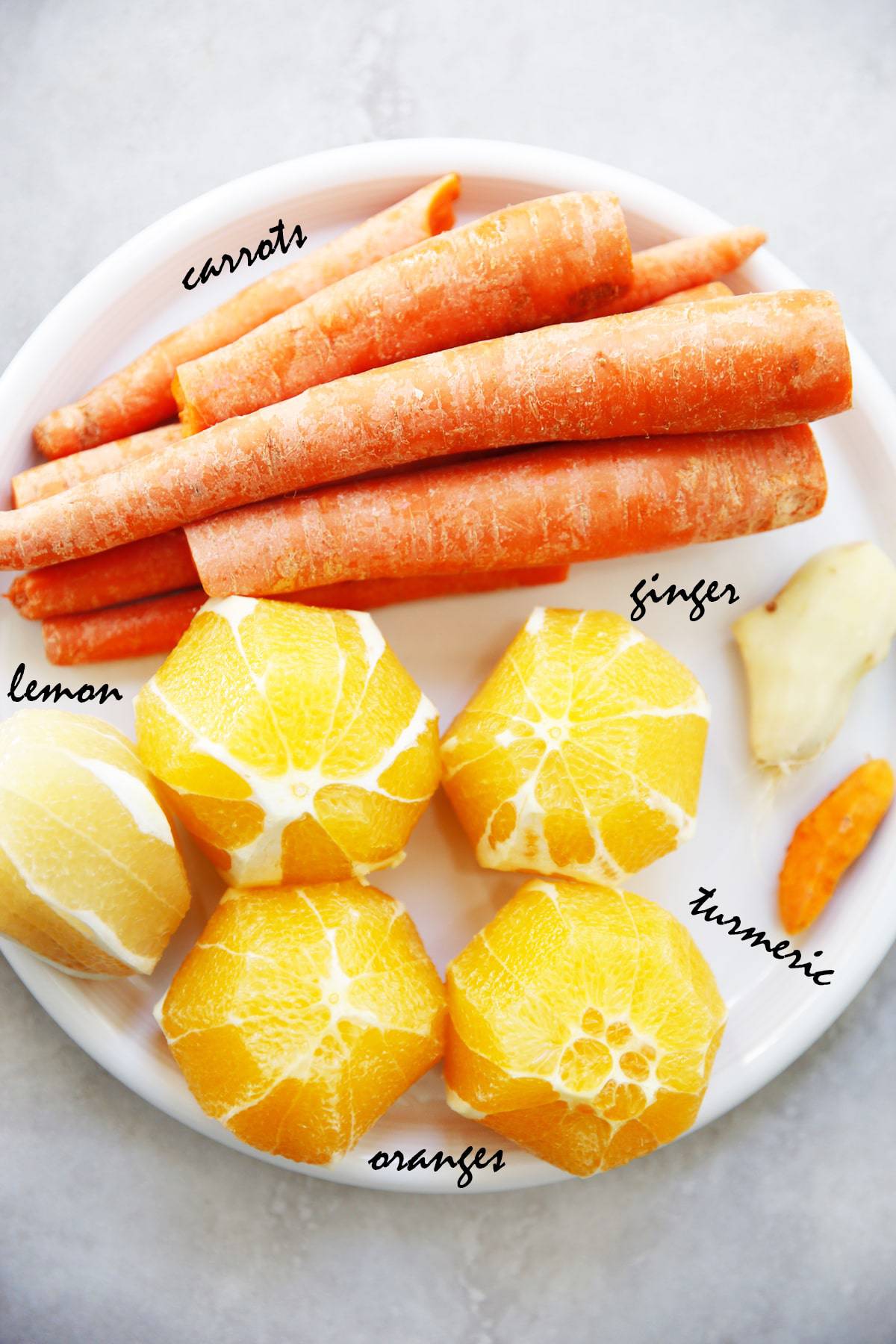 The juice is made up of oranges, carrots, lemon, fresh ginger and turmeric! The citrus and carrots add a much needed boost of vitamin c and antioxidants, the ginger is a natural antiviral and the turmeric has the nutrient curcumin which is a powerful anti-inflammatory.
To prep the fruits and veggies you remove the rinds from all of the fruit before juicing. This is important because the skin/rind is what can hold the most pesticide residue and we want to keep away all that harmful chemicals, especially when your body is fighting off a cold. You can either just wash the carrots, or peel them.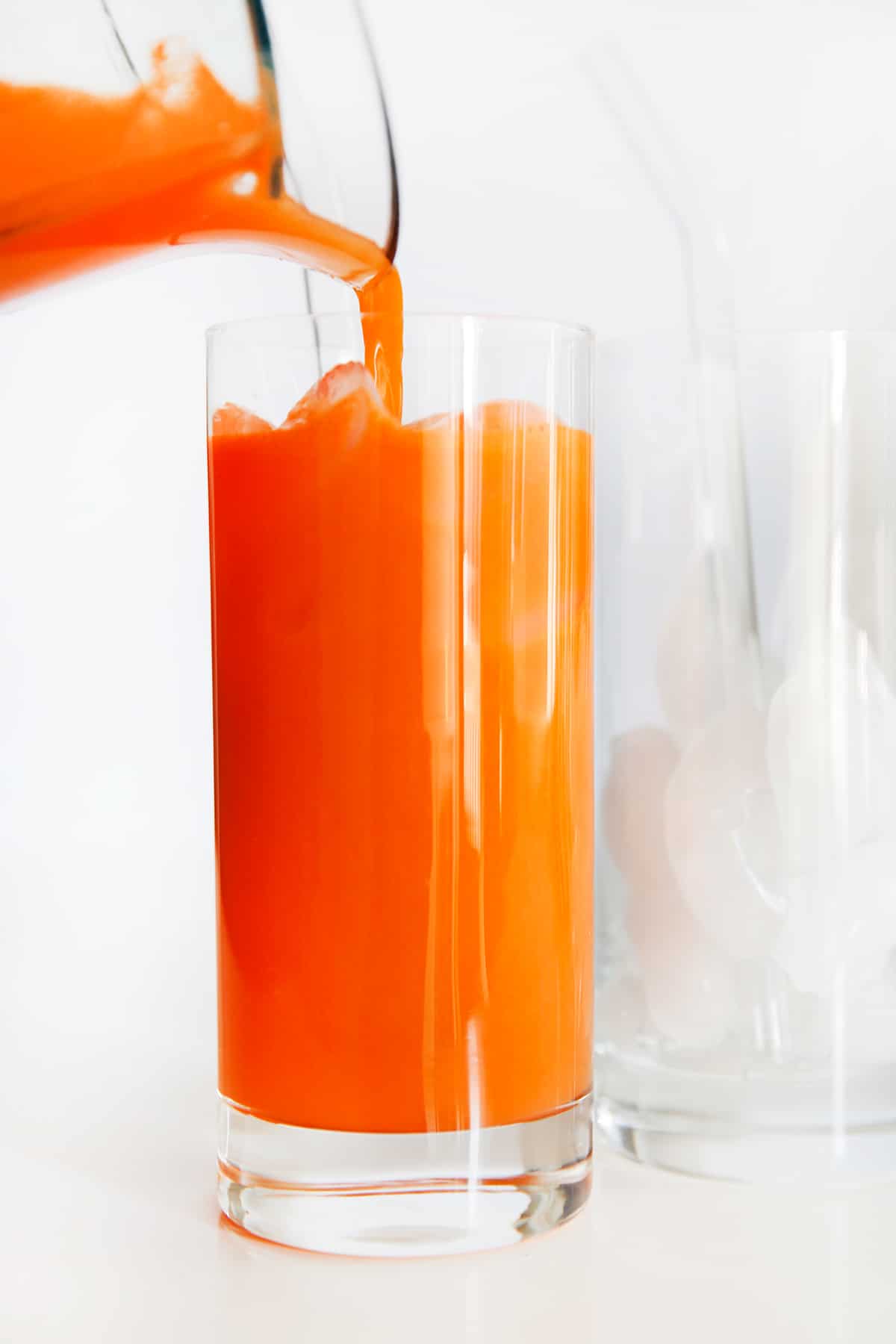 ---
Tools for juicing:
If you like this good-for-you recipe, check out these others:
Pin it for later:

What is your go-to natural cold remedy?
Ultimate Kick-that-Cold Juice
This Crockpot Cranberry Sauce is an easy update on the classic Thanksgiving staple! It is such a great combination with tart cranberries, along with sweet apples and just the right amount of citrus. This slow cooker cranberry sauce uses hands-off cooking so you can focus on other aspects of your holiday meal! It contains no refined sugars and is bound to be a new family favorite!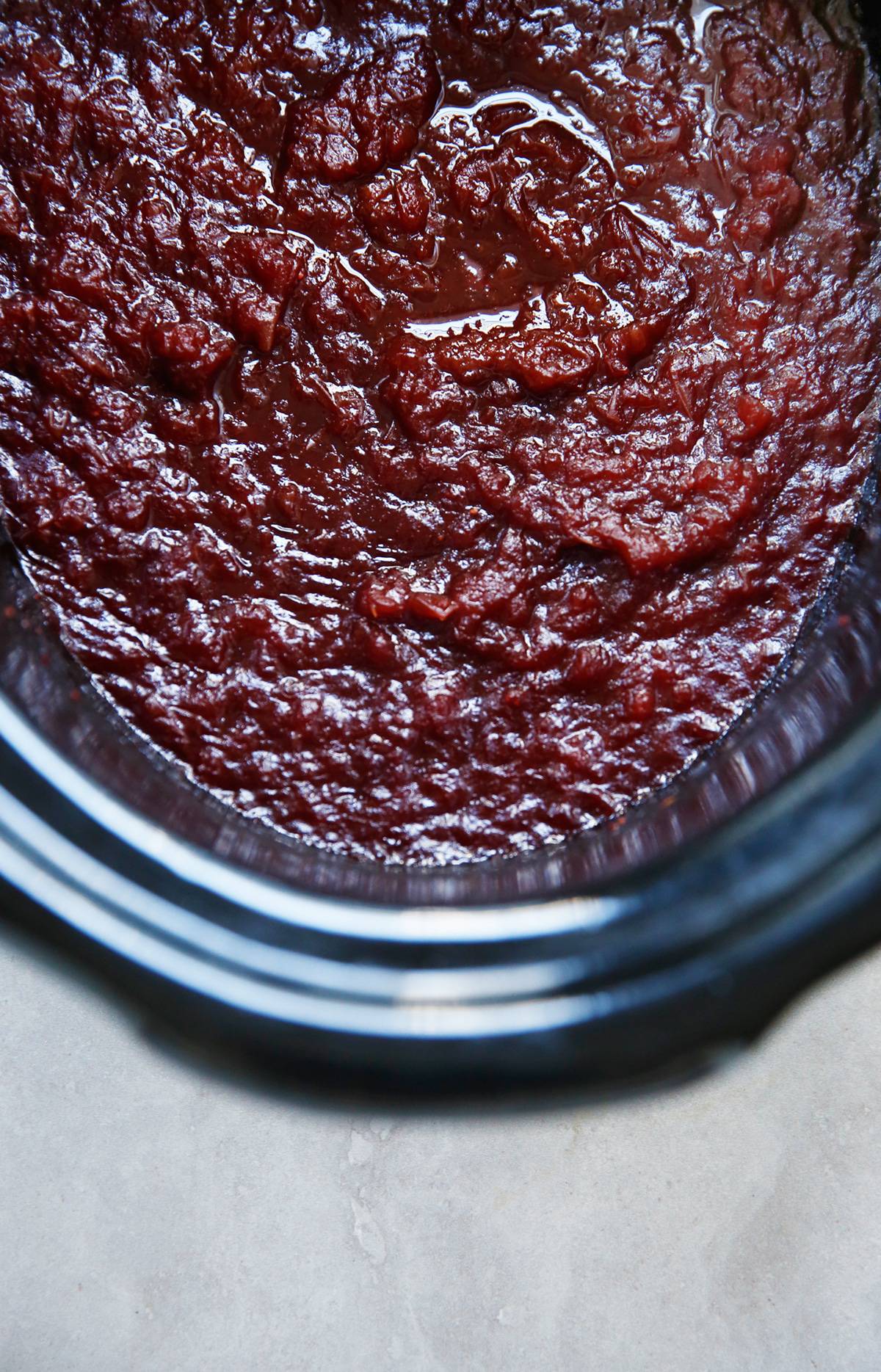 Crockpot Cranberry Sauce
Forget the over sweetened canned cranberry sauce this year because it is SO EASY to make this Crock Pot Cranberry Sauce! You essentially throw all the ingredients in your slow cooker and walk away! It also is refined sugar free relying on coconut sugar, honey and sweet apples to balance the tart cranberries and citrus.
This sauce is of course well known as a Thanksgiving staple, but I also love to put a spoonful right on top of of latkes or as a versatile spread for breakfast or leftovers!
Ingredients for Slow Cooker Cranberry Sauce
Fresh Cranberries
Apples
Orange
Coconut Palm Sugar
Honey
Cinnamon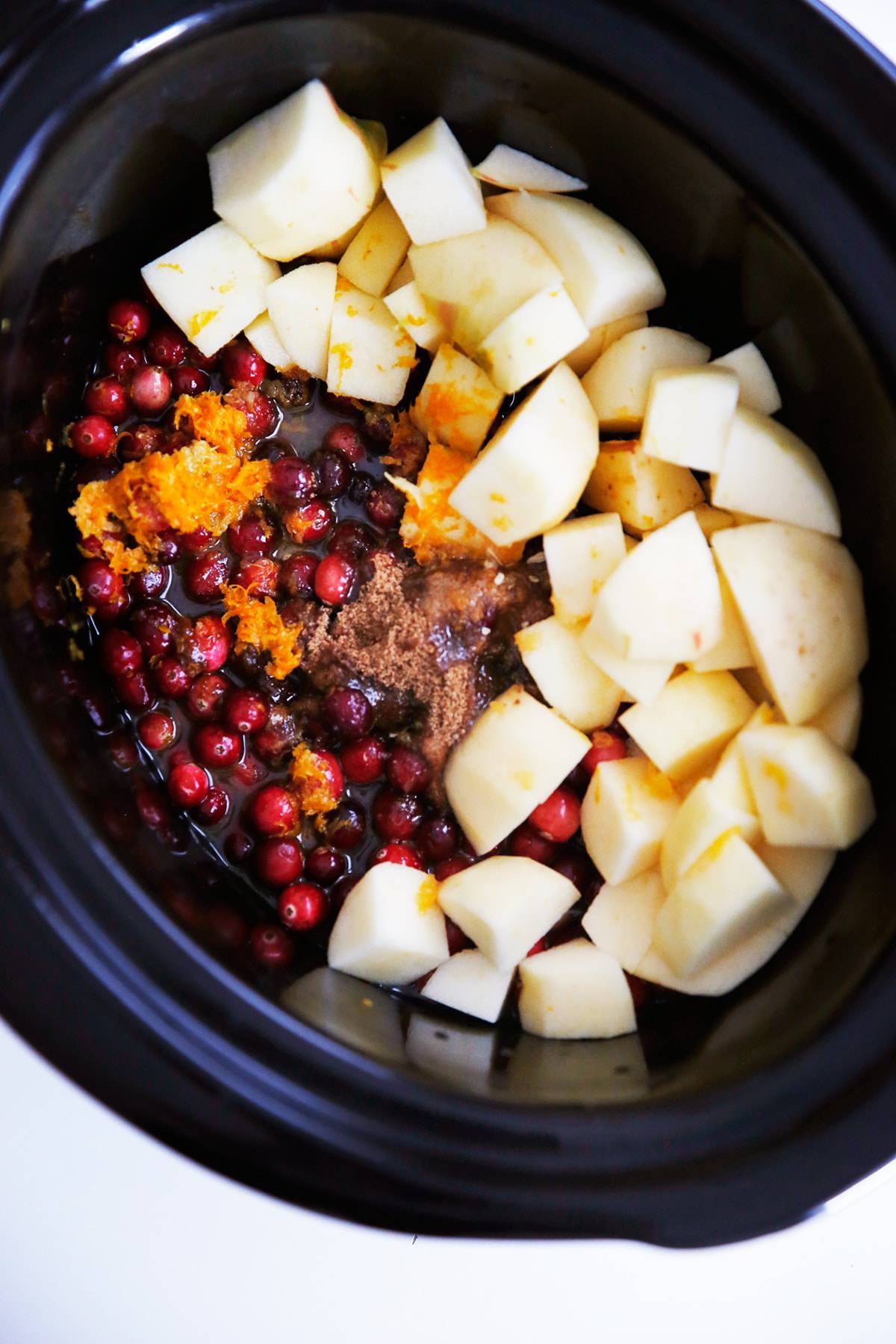 How do you sweeten slow cooker cranberry sauce?
We used a combination of naturally sweet apples, orange juice, honey and coconut sugar!
How long does crockpot cranberry sauce last?
Homemade cranberry sauce will last quite a while, so this makes it a great make-ahead part of your holiday feast! We'd recommend using it within 7-10 days after making for optimal freshness, but it could very well last longer. For Thanksgiving it might make sense to make the cranberry sauce a few days ahead of time! You can serve it cold or you can re-heat gently in a pot over low heat.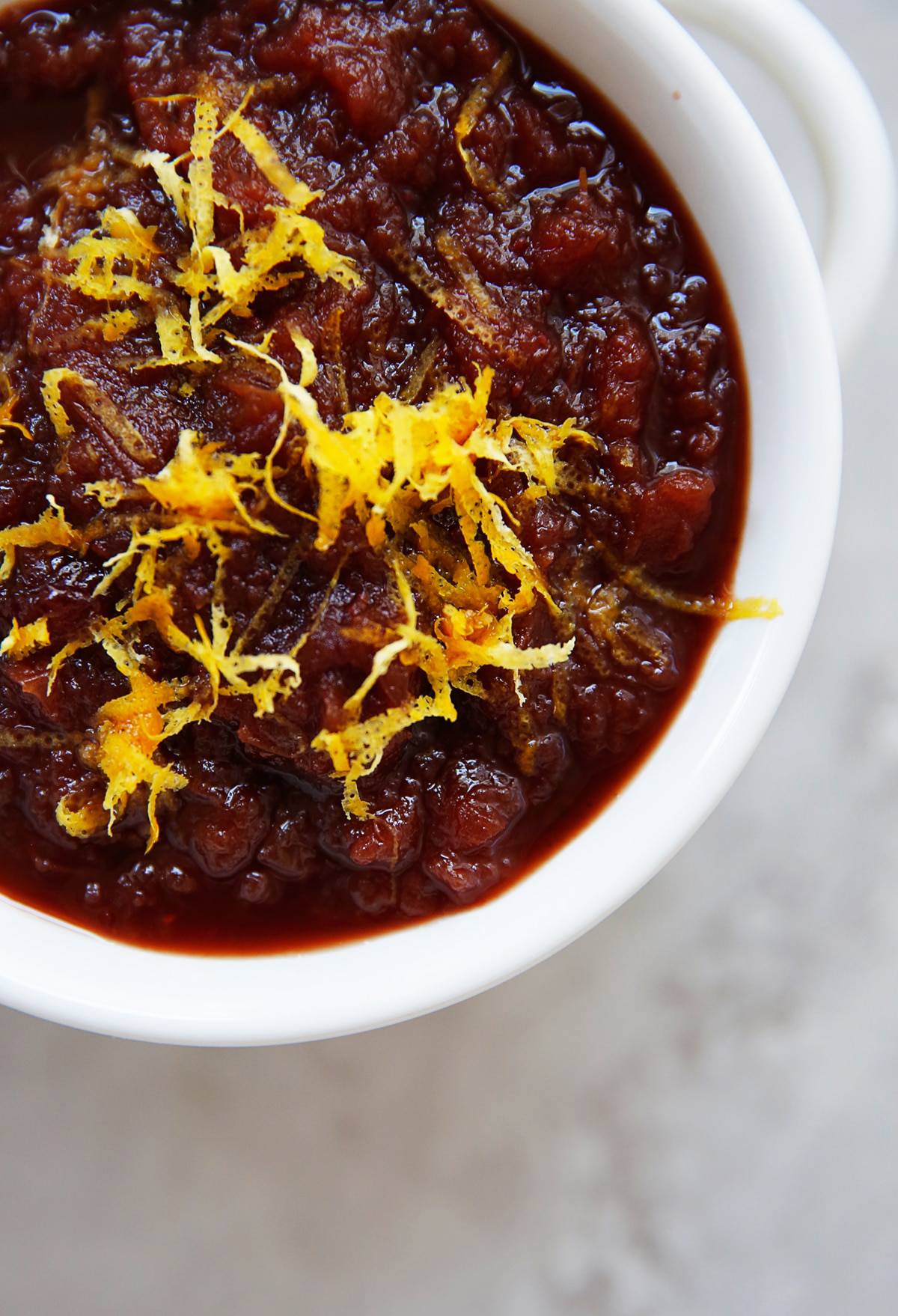 Like this Thanksgiving / Holiday recipe? Check out these others:
Crockpot Cranberry Sauce
This Tropical Easy Shrimp Ceviche recipe is the perfect light appetizer or meal that is easy to make and requires no cooking! Everyone loves the flavors in this homemade ceviche! It's gluten-free, paleo, and Whole30 friendly! Plus it's made in 1 bowl in under 15 minutes!
Easy Shrimp Ceviche Recipe
Last month I taught a cooking class here in Boston and this Tropical Shrimp Ceviche was a major hit. Generally speaking, ceviche uses raw seafood, but in this ceviche I used precooked shrimp. Not everyone at your dinner party may be up for raw, so I make it this way to accommodate all my guests. It is absolutely the perfect no cook appetizer to make when entertaining! It also is put together in under 15 minutes and in one bowl! Trust me, you're going to love this!

I love the citrus in this dish! When I am feeling under the weather one of my go to routines is to bust out my simple hand juicer and have some fresh squeezed OJ. I supplement with vitamin C daily, but there's just something about fresh squeezed orange juice that makes me feel all happy and healthy. Alternatively, when I am making a dish for company I go right to oranges for the bright color and perfect citrus flavor.

Want more shrimp recipes? Try these favorites:


I was selected by American Express to contribute to their Tumblr community. As such I was paid for my services, but all opinions in general and about American express are my own.