This Oven Roasted Turkey Breast with Pear Chutney is a Fall meal at its best and a staple at my family holiday dinners! The perfect simple and flavorful dish to please a crowd!
Easy Boneless Turkey Breast Recipe
I absolutely love all the fall and winter holidays, for two reasons. The first is that it brings all my family together. Second, it means we all get together and cook and eat ALL the best comfort food. For my family, a turkey roast is always on the menu (along with Nanny's famous rolled cabbage, brisket, and Sweet and Sour Meatballs). I grew up eating this delicious turkey roast, so I have to give a big Lexi's Clean Kitchen shout out to my amazing mom who made this constantly! She's not a huge cook, so trust me when I say that you will not believe how simple this is to throw together!
This turkey breast roast is a little different than the Stuffed Turkey Breast I have on the site. For one, this roast isn't stuffed, but conveniently left in the butcher's twine and cooked as is. And this recipe is made sweet and savory, thanks to the pairing of this easy pear chutney. It's the perfect fall meal, small Thanksgiving feast or winter holiday dinner meal. I know we'll likely have it on our menu this year, and I hope you give it a try too!
Ingredients Needed for Boneless Turkey Breast Roast
Boneless Turkey Breast Roast
Olive Oil
Chicken or Turkey Broth
Onion
Paprika
Sea Salt and Pepper
I paired this turkey breast roast with the most delicious pear chutney. It's simple to makes and really makes this dish special. I love that salty and sweet combination this dish has.
How to Roast a Boneless Turkey Breast
First, place the boneless turkey breast in a roasting dish.
Rub oil, spices and grated garlic on top of the turkey breast. Then add onions and broth to the baking dish.
Bake for 1-2 hours until the meat thermometer reaches 170 °F while basting every 30 minutes.
Once it's done cooking let it rest for 10 minutes before slicing. Drizzle with pan drippings before serving.
Sides to Pair with this Oven Roasted Turkey Breast Recipe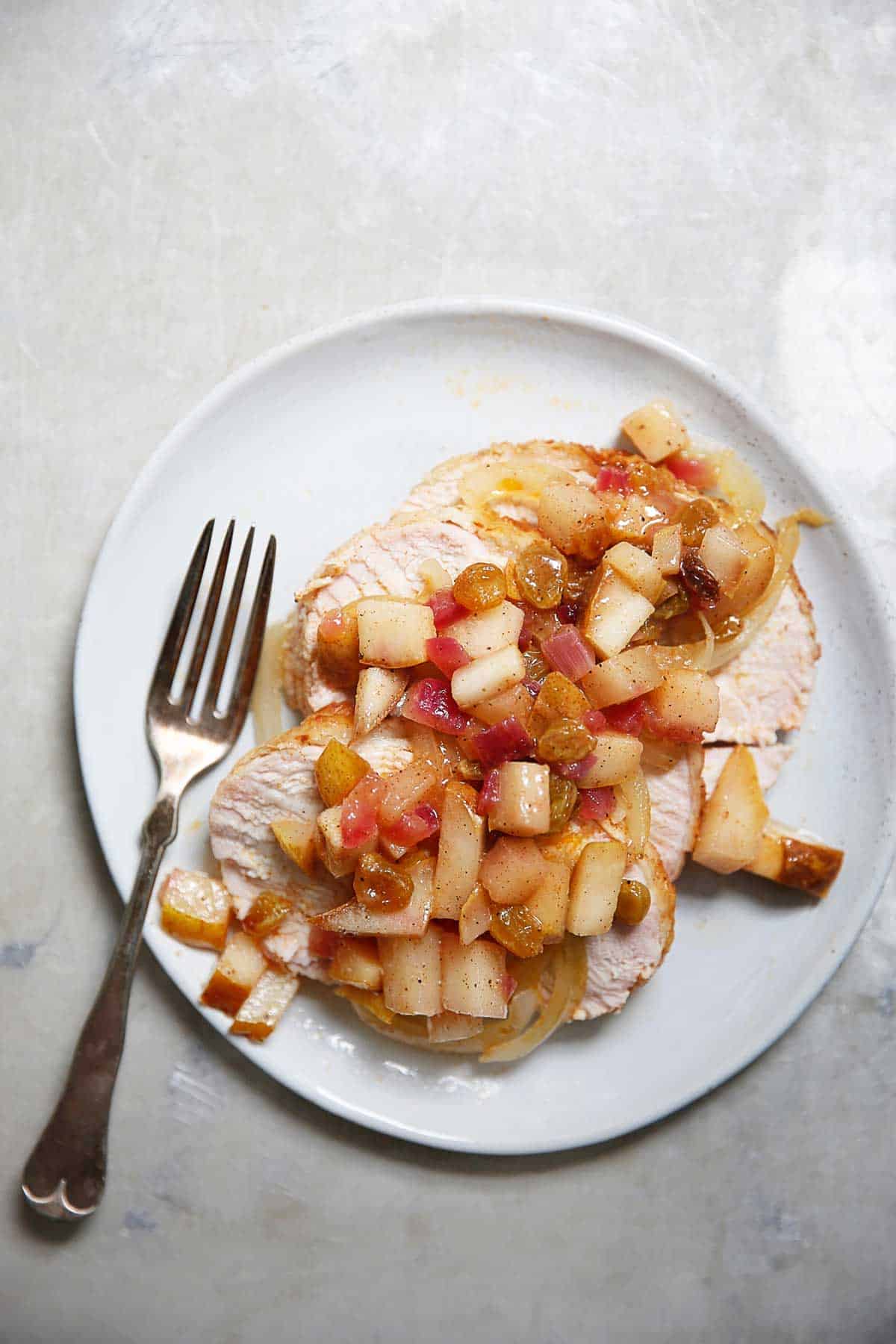 If you like this fall inspired dinner recipe, check out these others:
Turkey Roast with Pear Chutney
Ingredients
Pear Chutney
Turkey Roast
Directions
Make the chutney: In a medium saucepan, heat oil for about 2-3 minutes until hot. Add in onions and stir until translucent, about 5 minutes. Add raisins and let cook for another 2 minutes. Pour in everything else and stir well. Let simmer for 10 minutes, until sauce thickens and pears are fork tender. Taste and adjust seasoning as needed.
Preheat oven to 350 °F.
Place boneless turkey breast into baking dish.
Add oil, chicken broth, garlic, onions, salt, and freshly ground pepper.
Bake for 2 1/2 hours until the meat thermometer reaches 165 °F (adjust cooking time for the size of the roast you buy). Every 30 minutes, make sure to baste the turkey by spooning a few spoonfuls of sauce over it. During this basting process, check the temperature of the turkey breast. The baking time will change depending on the size of the turkey roast you choose!
Before serving, baste again with the onion/juice mixture!
Serve and enjoy!
Recipe Notes
Note: Make sure to baste the turkey! Every 30 minutes carefully pour a little of the broth over the turkey until the turkey is fully cooked and the internal temperature reaches 165ºF.
Loading nutrition data...
There may be affiliate links in this post! By clicking on them, or purchasing recommended items I may receive a small compensation, at no cost to you! However, I only recommend products I absolutely love and use in my own home! Thank you for supporting Lexi's Clean Kitchen when you shop! See my
privacy policy
for more information about this, the information we save, and more!