Ready for the juiciest chicken breasts, perfectly cooked potatoes and braised kale in sweet balsamic glaze for dinner without even turning on the stove? Then this Instant Pot Balsamic Chicken is just what you need to make tonight! This dish is perfect for those hot steamy summer nights (or cool, lazy fall or winter ones) when you want to eat a home cooked meal but don't want to heat up the house. It's also gluten-free, paleo, low carb and whole30 friendly. Made in partnership with my friends at Shenandoah Valley Organic (SVO Farmer Focus)!
Instant Pot Balsamic Chicken Dinner
This Balsamic Chicken Dinner recipe made in the Instant Pot doesn't require a whole lot of actual hands-on cooking and the resulting dish is just SO delicious! Juicy chicken breasts, perfectly cooked potatoes and braised kale all covered in a savory and sweet balsamic glaze! This meal is perfect served as is for one of those hot steamy summer nights when you want a delicious dinner but do not want to turn on that oven or stove!
Why Cooking Dinner in the Instant Pot is the Best
We could sing praises all day about about why we love the Instant Pot, especially for easy dinners! This appliance isn't just for making quick work of typically long braised dishes like beef barbacoa or pork carnitas. It's also great for quick weeknight dinners that don't actually require much hands-on cooking. This Instant Pot Balsamic Chicken dish is great for all of that. The recipe doesn't require very much prep work aside from gathering some ingredients and washing off some produce. All that means an easy delicious meal without much effort.
A few notes to make this meal a success in the Instant Pot
Make sure to get the right size potatoes.
Don't stack the chicken on top of one another when cooking, it can interfere with the chicken breasts cooking all the way through.
Make sure to read the directions all the way before you begin cooking so you can have anything prepped that you need to make cooking go smoothly.
How to Clean Kale
Kale, especially when it comes from the farm can be pretty gritty. To wash it:
Take the hard part of the stems off of the kale. We usually just rip the leaf off the stem, but if you want you could cut it.
Fill a large bowl with cool water.
Submerge the kale leaves and swish around for 10 seconds.
Let the kale sit for 1 minute in the cool water to let any grit sink to the bottom of the bowl.
Without agitating the water too much, quickly pick up the kale directly out of the water, leaving behind any sand or dirt.
Empty the water and rinse out the bowl and repeat this until step until the water is clear after you remove the kale.
What Size Potatoes to Use
Because we're cooking this dinner up in the Instant Pot, it's important to get the correct size potatoes. For this recipe we're using a medley of small (or baby) potatoes, that are all about 1″ in size. If you are getting potatoes that are larger than this they may not cook up in the same amount of time if left whole. If you can't find 1″ potatoes, you can cut up a potato to 1″ pieces.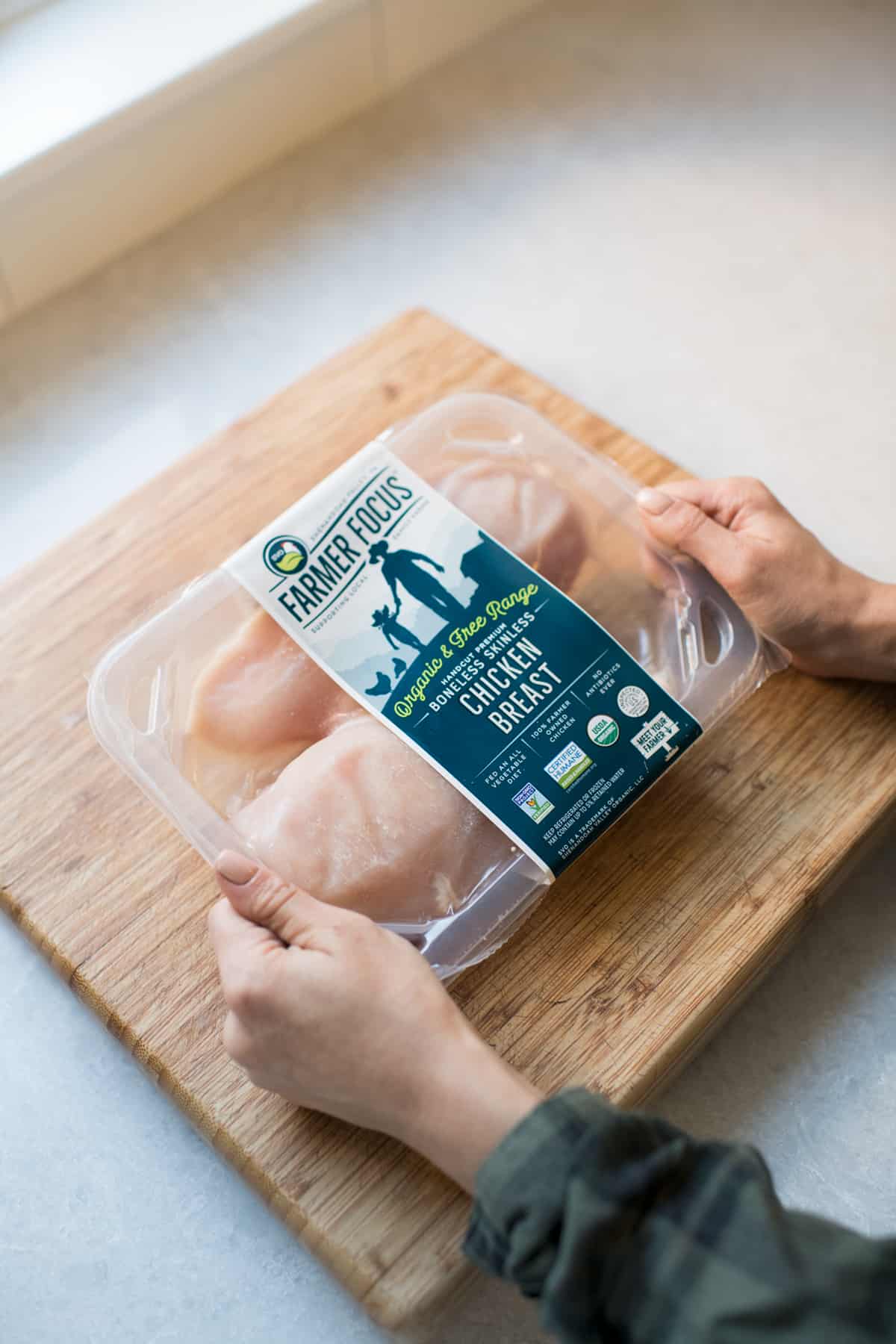 I am so happy to partner with my friends at SVO Farmer Focus to bring you this Instant Pot Balsamic Chicken recipe! Shenandoah Valley Organic (SVO) has been my go-to trusted, farmer focus, meat company for a few years now. SVO Farmer Focus prides themselves in producing the highest quality chickens grown on family-owned farms. You can 100% taste the difference.
If you are like me, choosing organic meat for my family that I can trust, that doesn't have any added antibiotics or hormones is a top priority. It can be frustrating to go to the grocery store these days and *think* that you are picking up chicken that comes from an all-natural sounding brand that does things right, but then unfortunately if you look further into who owns that chicken company, you might be surprised to find out that it's just the giant chicken manufacturer in this country.
Shenandoah Valley Organic is building partnerships with growers through a Farmer Focus Business Model
I love that with SVO Farmer Focus, you know that they are supporting their farmers and they are a company that is working hard to do things right. But not only that, they also truly raise and produce the highest quality chicken! Every SVO Farmer Focus product includes a 4-letter farm I.D. that traces your chicken to the farm that raised it, so you know it's trusted and they are accountable.
SVO chickens are humanely raised and fed a diet free from animal byproducts, pesticides, and antibiotics. On their website you can see where all of the farms are located, so you know just where your chicken was raised! Use their easy store locator to find where you can get this amazing quality chicken near you.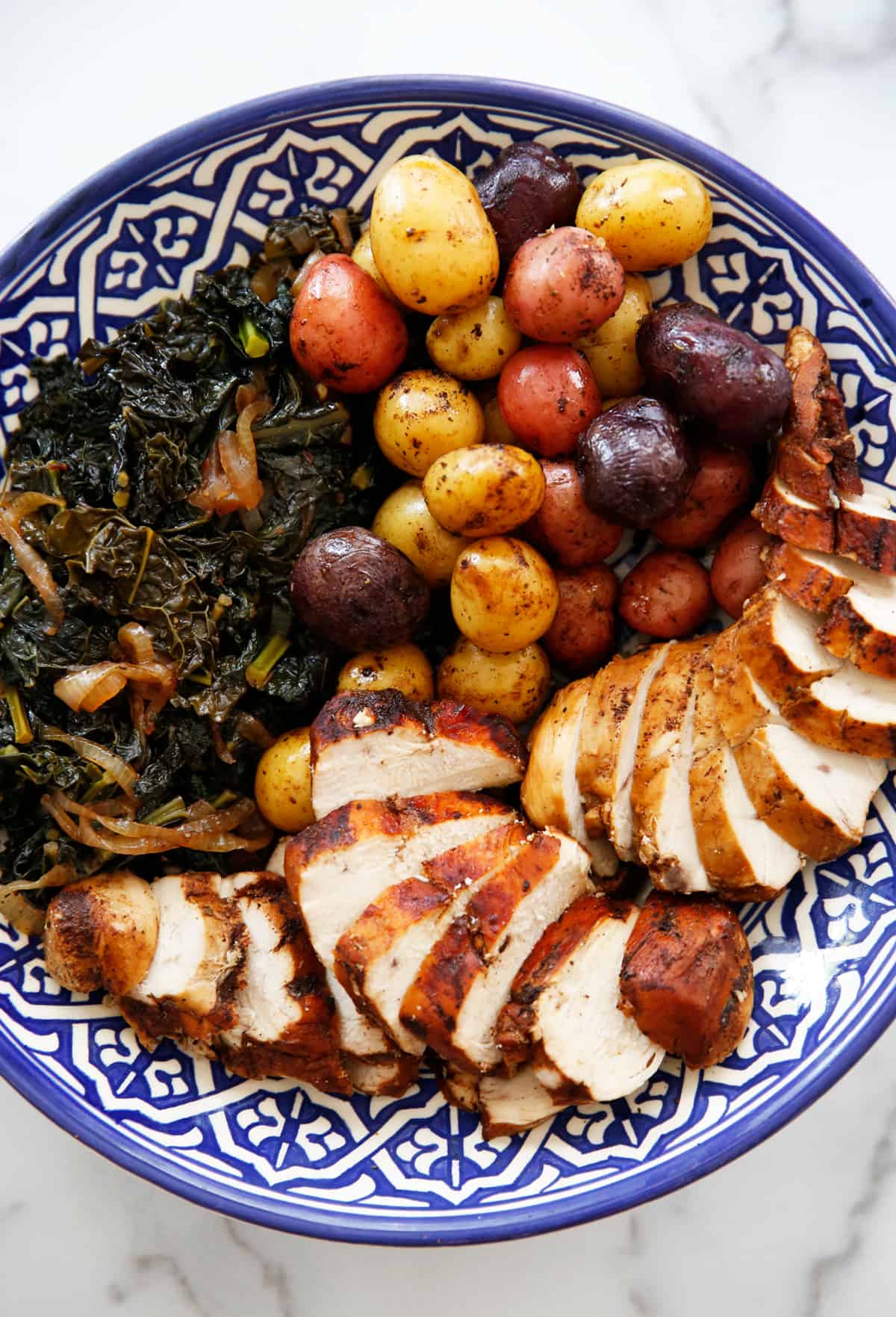 Watch the video here:
If you like this Instant Pot chicken recipe, check out these others:
---
Balsamic Chicken in the Instant Pot
Directions
Place chicken breasts, balsamic vinegar, chicken stock, olive oil, italian seasoning, salt, pepper and potatoes in the liner of a 6 or 8 quart Instant Pot. Mix together to combine and make sure that the chicken is not stacked on top of each other. Close the lid and set vent to sealing.

Cook on manual high pressure for 8 minutes and once done use the quick release function. Remove chicken and potatoes and cover to keep warm and set aside.

Add onion and kale to the pot. Close the lid and set to sealing and cook on manual high pressure for 3 minutes. Use the quick release function when done.

Slice the chicken and divide on four plates along with potatoes and kale.

If desired, you can thicken up the sauce at this point: Press the saute function. Add 1 teaspoon of arrowroot to a small bowl and scoop out some of the balsamic liquid and whisk it with the arrowroot to create a slurry. Return it to the pot and let cook until it has thickened, about 1 minute. Drizzle over the chicken and potatoes and serve hot!
Recipe Notes
You do not need to thicken this sauce up, this step can be skipped and the sauce served as is. But if you prefer to have a thick sauce to coat you can use the arrowroot option. The amount of arrowroot you need will vary depending on how much liquid remains in the pot at the end (this varies). If 1 teaspoon is not enough you can add 1 teaspoon at a time as instructed until it's reached your desired consistency.

If your chicken has cooled too quickly in between steps, place back in the pot when thickening up the sauce to warm up briefly.
Loading nutrition data...
There may be affiliate links in this post! By clicking on them, or purchasing recommended items I may receive a small compensation, at no cost to you! However, I only recommend products I absolutely love and use in my own home! Thank you for supporting Lexi's Clean Kitchen when you shop! See my
privacy policy
for more information about this, the information we save, and more!