Paleo Asian Beef and "Rice" Meal Prep
This healthy asian paleo beef recipe, made mostly in the slow cooker, is the perfect make ahead lunch or dinner! It's paired with cauliflower "rice" and veggies and is a great low-carb, whole30 and paleo meal prep. Double the recipe and you can also make it dinner one night and lunch for the next few days!
Paleo Asian Beef Rice Bowl
This Whole30, Keto and Paleo Asian Beef and Rice bowl is a great addition to your meal prep rotation! The savory shredded beef is cooked in a slow cooker and then served with veggies, paleo cauliflower rice and a really delicious asian style sauce. We use onions, red pepper and broccoli but you can really swap out with any veggies you have on hand that you think will go well in this dish like carrots, bok choy, or cauliflower.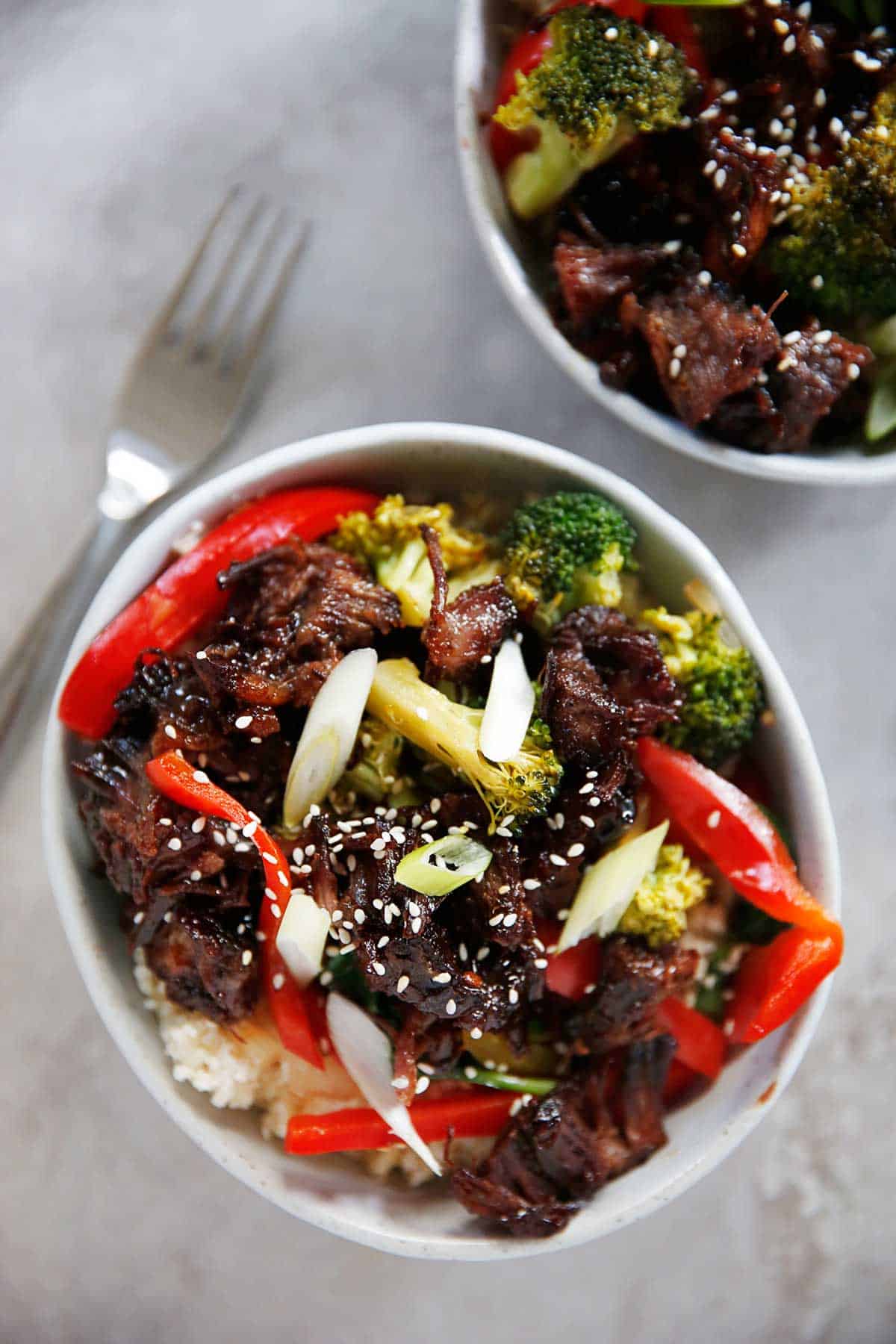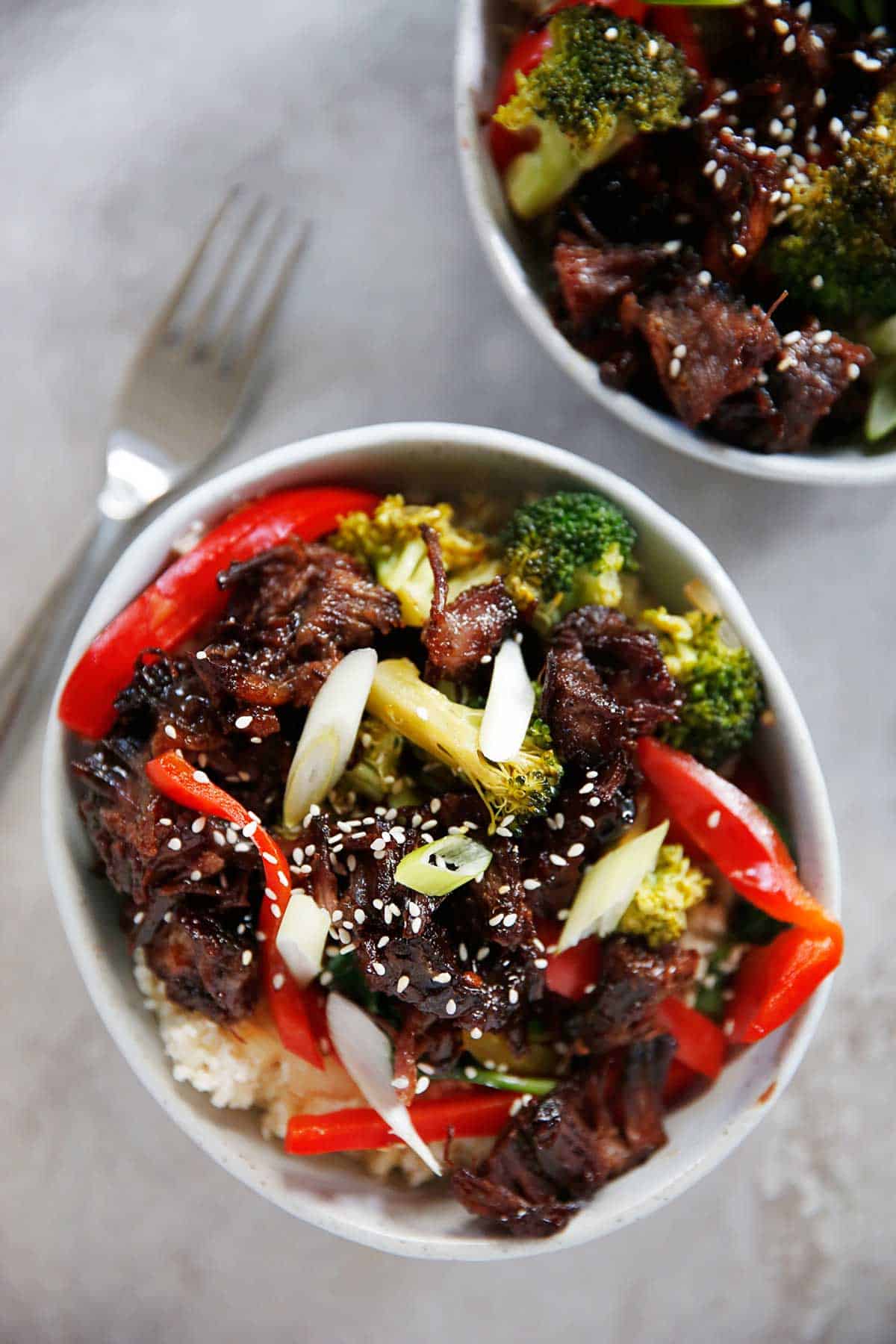 What You Need to Make this Slow Cooker Paleo Beef Recipe:
Boneless chuck roast (feel free to double this amount if you want extra meat for future meals)

Coconut aminos (this is a soy-free and gluten-free alternative to soy sauce)

Coconut sugar

Rice wine vinegar

Garlic

Toasted sesame oil

Ginger

Cauliflower (to make the grain-free "rice")

Red bell pepper

Onion

Broccoli florets

Scallions
Sesame seeds
Can You Use Premade or Frozen Cauliflower Rice?
Yes! We take advantage of frozen cauliflower all the time, and love that it's readily available now. There isn't much difference between fresh or frozen except that the frozen can hold a little bit more water in it. So if you don't want to do the extra step of making your own cauliflower rice, feel free to use premade!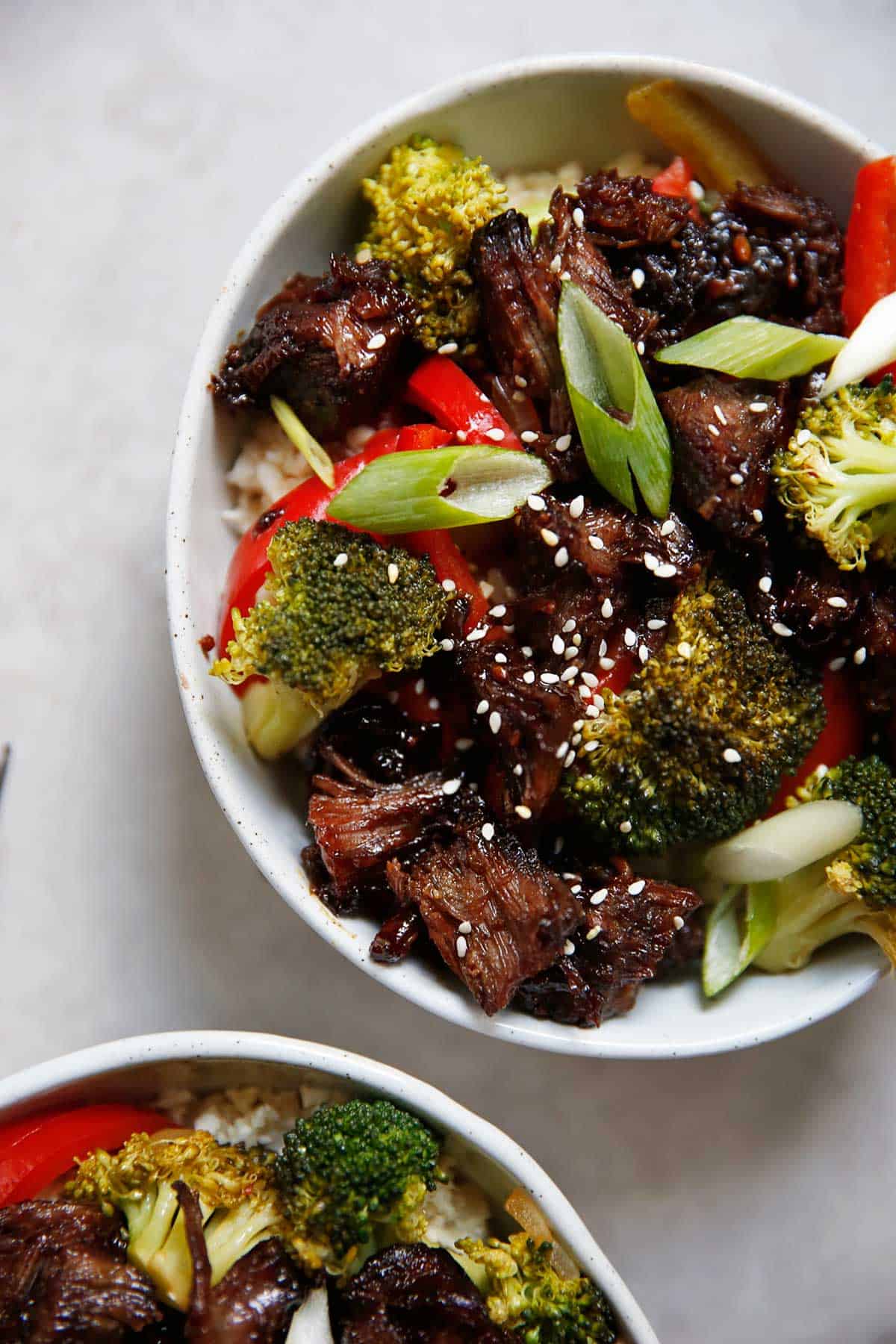 Watch the video:
If you like this asian inspired recipe, check out these others:
---
Crock-Pot Asian Beef & Paleo 'Rice' Bowls
---
---
Ingredients
2 lb grass-fed boneless chuck steak
Marinade
Paleo Rice Bowls
Directions
Season chuck with salt and pepper and in a large skillet, greased, sear on both sides for 30 seconds.
Place boneless chuck steak in slow cooker.
In a bowl mix together marinade and pour over chuck. Cook on high for 4 hours.
Once done, remove from crock-pot and shred, discarding the fat.
Pulse cauliflower in food processor until rice-sized pieces form.
In a pan heat 1 tablespoon of oil and 1 garlic clove for 30 seconds until flagrant. Add cauliflower rice and mix for 3 to 5 minutes until softened. Remove from heat and set aside.
Add 1 tablespoon of oil to pan along with last garlic clove. Add in veggies and sauté for 5-8 minutes until translucent. Add coconut aminos, rice vinegar, red pepper flakes, and salt. Mix and let cook for an additional 5-8 minutes, until soft. Add in shredded beef and let cook together for 5 minutes.
Assemble: In a bowl, add cauli rice and then add veggie/beef mixture. Garnish with sesame seeds and scallions.
Recipe Notes
You can mix up any vegetables you have on hand!
---
Nutrition
Loading nutrition data...