Slow Cooker French Onion Soup (Gluten-Free)
This gluten-free and healthy Slow Cooker French Onion Soup is comfort food at it's finest. It's made using simple ingredients you likely already have in your pantry, is largely hands-off cooking, is an economical meal and is so rich and flavorful. It can be eaten as is as a light soup, or more traditionally topped with melted cheese and either store-bought or homemade bread.
Slow Cooker French Onion Soup
French Onion Soup is such a classic comfort food, it's hard not to love. If you've only eaten it at restaurants you might think it's difficult to make because it's SO rich and flavorful, but truly it isn't that hard at all! And we've made it even easier by throwing the whole thing in the slow cooker for easy, hands-off cooking! This Slow Cooker French Onion Soup is a great example of taking really basic pantry items like onions, broth and a few other simple ingredients and turning it into something amazing by slow and low cooking. Recipes using pantry staples are a great to have in your back pocket on days when you don't have time to run to the grocery store but still want to be able to cook up a great meal for your family.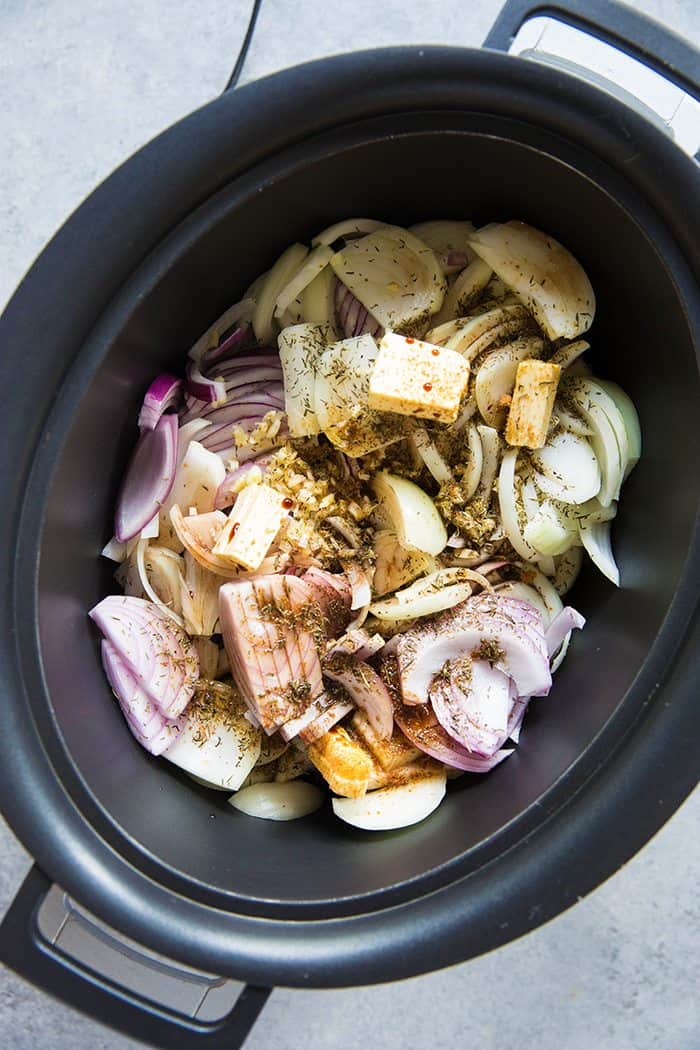 What is French Onion Soup Made Of
Traditionally French onion soup is made by slowly caramelizing onions on the stove top, which can require lots of babysitting and stirring to make sure the onions don't burn. The onions are then coated in flour and simmered for longer with broth. This Slow Cooker French Onion Soup recipe however takes all the amazing flavors of this bistro classic and tosses them all in the slow cooker to make while you are busy doing other things! The first step is to cook all the onions for about 6 hours, which doesn't require any stirring. This step can have some wiggle room if you are about and about because it's hard to burn onions in the slow cooker, so if you aren't home during the end of the 6 hours of cook time, the onions will likely be fine for 2-3 hours after. Next you simmer the onions in the broth for the remainder 2 hours of cooking time. Classic French onion soup is topped with a large crouton-like piece of bread and cheese. We've given directions on how to do this, but truly you can leave this off and this soup is still really flavorful!
What is the best onion to use for French onion soup
This Slow Cooker French Onion Soup recipes uses two kinds of onions. Yellow onion are more sweet with a really bright flavor and red onions have more depth with a touch of bitterness. Together they make a really nuanced and flavorful french onion soup!

Can you cook French Onion Soup in the Instant Pot?
The short answer is: yes! We've included the directions for cooking this soup in the Instant Pot in the notes section of this recipe. However we have to say that it is a little bit more hands on cooking than the slow cooker version.
If you like this slow cooker SOUP recipe, try these other favorites:
Want to try other crock pot comfort food favorites? Try these:
Watch the video:
---
[yumprint-recipe id='389′]