Crockpot French Onion Soup
This Crockpot French Onion Soup is an easy and delicious comfort food meal option. It can be served as a light soup or topped with bread and cheese for a heartier, more traditional option! Either way is delicious!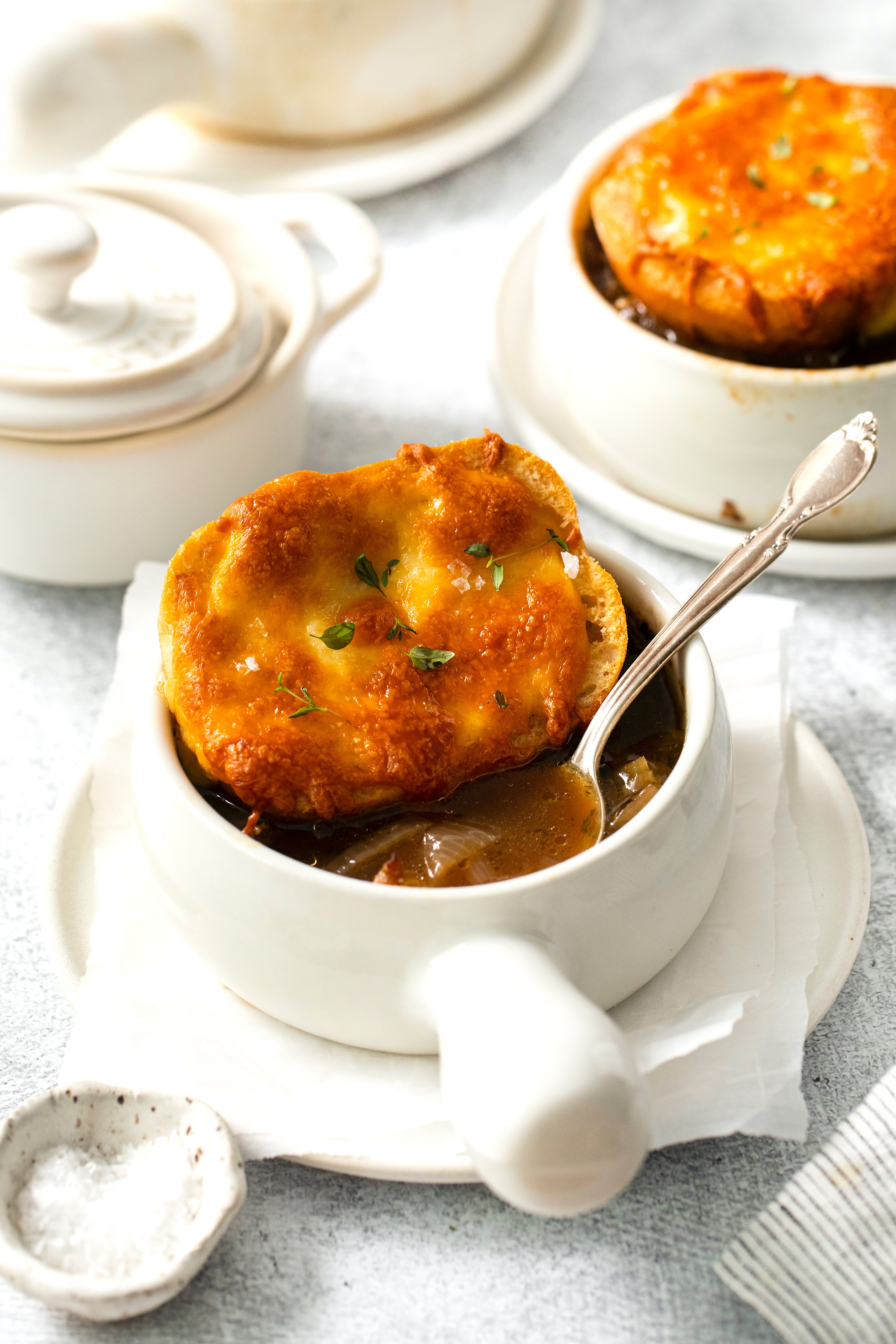 Best French Onion Soup Recipe
There is nothing quite like sitting down with a cozy bowl of warm French onion soup. And this Crockpot French Onion Soup is the perfect recipe for doing just that! It's a rich flavorful soup that can be served as-is or topped with toasted bread and gooey, golden cheeses. I mean, what sounds cozier than that?
The other perk? It's so easy to whip up. Just throw a few basic ingredients in the crockpot and let it work its magic. This recipe makes a ton and, while slow to cook, takes very little time to prepare. Just 15 minutes of hands-on time needed.
What is the Difference Between Onion Soup and French Onion Soup?
While the two are similar, there are a few subtle differences.
First, French onion soup tends to use a combination of yellow and red onions to create a specific flavor profile. English onion soup uses an even wider variety of onions including shallots and leeks.
Second, the broth. French onion soup is always made with beef stock. English onion soup, on the other hand, can be made with any type of broth.
And lastly, the toppings! Both kinds of onion soup are traditionally topped with bread and cheese. However, French onion soup tends to be served with cheeses such as gruyere and mozzarella. English onion soup is traditionally served with cheddar.
Ingredients Needed
Onions: We like to use both yellow and red for a nice compliment of flavors.
Garlic: Use freshly minced garlic for the best flavor.
Coconut Sugar: This provides a natural sweetness to the soup and enhances the sweetness of the onions.
Butter, Oil, and Balsamic Vinegar: These give us the liquid mixture to slow cook the onions. They add flavor and texture, and the vinegar helps tenderize the onions.
Broth: Beef broth provides a flavorful base for the soup.
Fish Sauce: Gives the soup a hint of savory, umami flavor.
Seasonings: We're using a combination of fresh and dried thyme, bay leaves, black pepper, and salt to enhance the flavor of the soup.
Arrowroot Flour: Helps thicken the soup.
Optional Toppings
Cheese: You can't go wrong with a topping of melted gruyere and mozzarella.
Bread: A batch of bread to serve with the soup is never a bad idea. You can have either homemade or store bought to use for toasting and topping the soup before baking. Use gluten-free or regular depending on your needs.
Red Pepper Flakes: These are also optional, but if you love a little extra spice, a sprinkle of pepper flakes does the trick!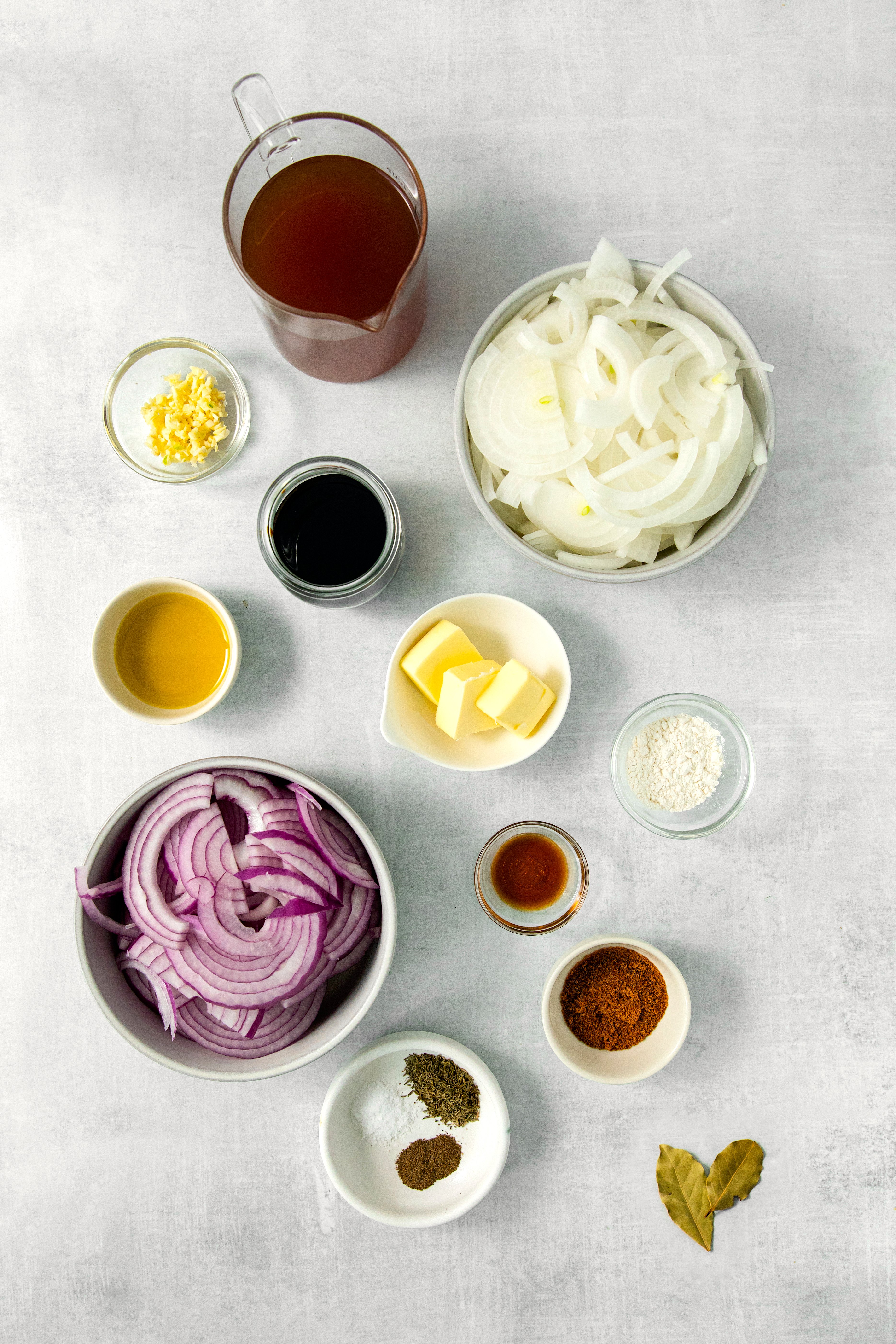 How To Make Crockpot French Onion Soup
This really is the best French onion soup. This hearty recipe takes a quick 15 minutes to prep and then it's hands off cooking after that!
Cook the onions: Add the butter and oil to the bottom of the slow cooker, then add in the onions, coconut sugar, garlic, vinegar, thyme, bay leaves, and half of the salt and pepper. Cover and cook on low for 6 hours.
Add the broth: Next, add in the beef broth, fish sauce, arrowroot flour, and the remaining salt and pepper. Cover and cook for another 2 hours.
Bake: You're almost there! Once the soup is done slow cooking, you can totally serve it as-is. BUT if you want to serve it more traditionally, divide it into oven safe bowls, then top each bowl with a slice of toasted bread. Sprinkle that with cheese, then bake at 350ºF for 20-30 minutes. Finish by broiling on high for 1 minute to brown the cheese.
Cool and serve: Remember, the bowls will be hot when you take them out of the oven. Let them cool for a few minutes before digging into the soup.
Which Onions Are Best for French Onion Soup?
This French onion soup recipe uses two kinds of onion. First, we're using yellow onions which have a sweeter, brighter flavor. Second, we're using red onions which have more flavor depth and a touch of bitterness.
The two together creates a deliciously nuanced and flavorful French onion soup!
Can You Put Raw Onions in the Slow Cooker?
Yep! Except you'll let them cook on their own first. In a traditional stovetop French onion soup recipe, the onions are cooked on their own first to allow them time to really caramelize.
For the crockpot version, we're adding them into the crockpot raw, but they're cooking on their own with just the garlic, sugar, butter, oil, and vinegar for 6 hours. This helps really bring out thir sweetness and flavor. Once they're well cooked, you'll add in the remaining soup ingredients.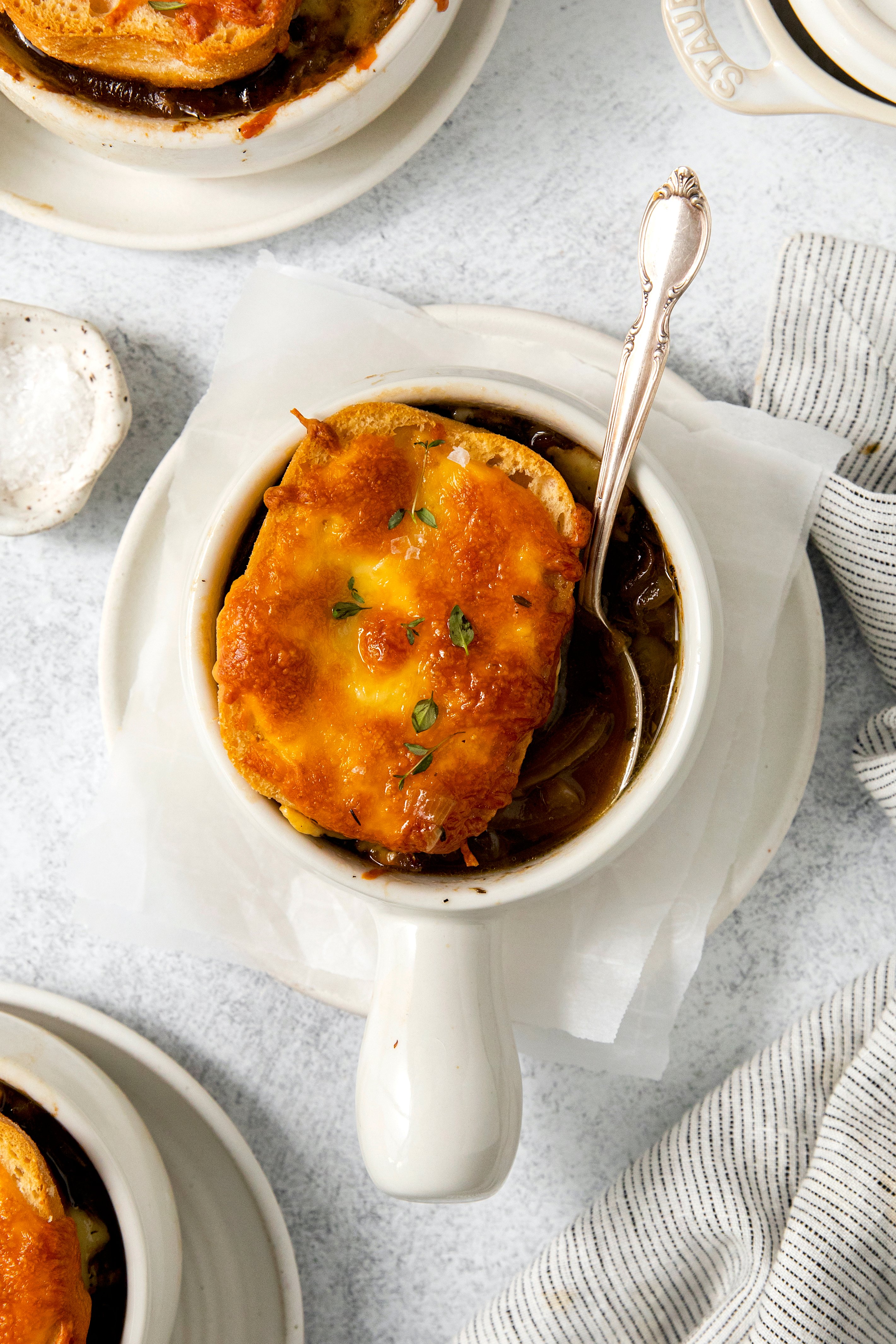 How Do You Deepen the Flavor of French Onion Soup?
This French onion soup recipe is plenty deep, rich, and flavorful on its own. The addition of the balsamic vinegar, fish sauce, and seasonings gives it plenty of flavor depth.
However, some people like to add a splash of red wine or even some Worcestershire sauce to add in another layer of flavor. Feel free to do that if you want!
Is French Onion Soup Healthy?
Good news! While this French onion soup looks and tastes like a total comfort food, it actually is a healthy meal. Onio
Good news! Sure it's a comfort food, but French Onion Soup is actually a healthy meal option. Onions are high in antioxidants and loaded with nutrients. What could be better than guilt free comfort food?
Tips and Notes
Use oven-safe bowls. We don't want them to crack as they bake!
Want to make your French onion soup in the instant pot? It's a little more hands-on than the crockpot version, but perfect if you're shorter on tine. See the notes in the recipe card below for full instructions.
For a lightened up option, simply follow the recipe as-is, but leave off the toppings/baking in the oven. Your soup will still be delicious!
Serving Suggestions
French Onion Soup is a delicious meal all by itself, but it can be fun to round it out with a couple of sides. Here are a few favorites: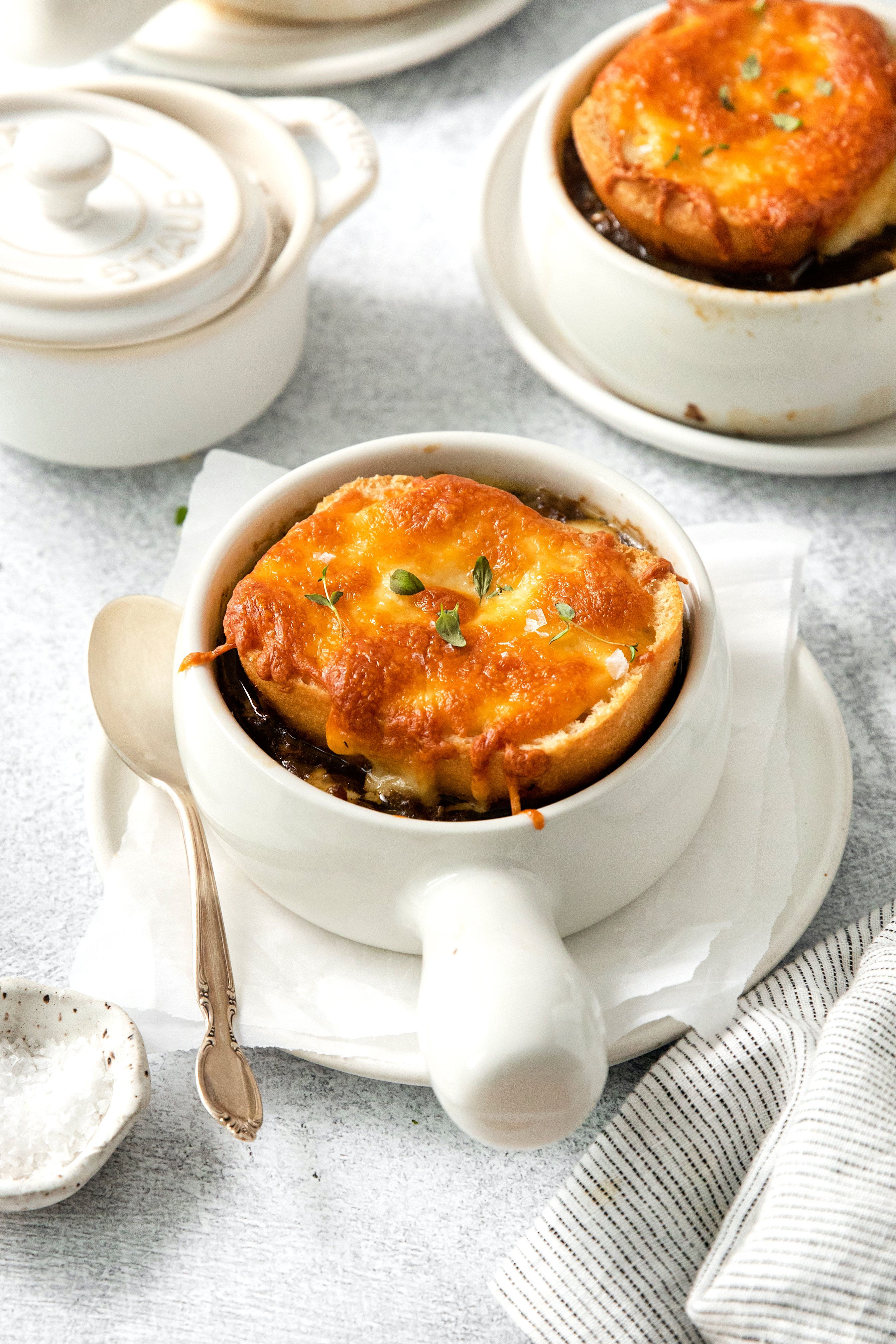 How to Store
I recommend storing any leftovers without the bread and cheese, so bake only as many bowls as you'll serve.
The leftover soup will last in an airtight container in the fridge for 3-4 days or in the freezer for up to 3 months.
To reheat, warm on low on the stove until heated through, then portion into bowls, top with bread and cheese, and bake as directed.
More Slow Cooker Recipes
Watch the Video:
---
Print
Slow Cooker French Onion Soup
This Crockpot French Onion Soup is a delicious and comforting. Serve as a light soup or top with bread and cheese for a heartier option!
Author:
Prep Time:

15 minutes

Cook Time:

8 hours and 30 minutes

Total Time:

8 hours and 45 minutes

Yield:

4

–

6

1

x
3 tablespoons

butter

1 tablespoon

extra-virgin olive oil or avocado oil

4

white onions, sliced

2

red onions, sliced

1 tablespoon

coconut sugar

3

cloves of garlic, minced

1 teaspoon

salt, more to taste

1 teaspoon

black pepper, more to taste
 

1/4 cup

balsamic vinegar

2 teaspoons

dried thyme or

2

fresh thyme sprigs

2

bay leaves

7 cups

beef broth

1/2 teaspoon

fish sauce

1 tablespoon

arrowroot flour
Optional: red pepper flakes, for serving
Options: 1/4 cup shredded Gruyere cheese
Optional: 1/4 cup shredded mozzarella cheese
Instructions
Place butter and oil in the bottom of your slow cooker insert.
Add in sliced onions, coconut sugar, garlic, balsamic vinegar, half the salt and pepper, thyme and bay leaves. Toss to coat and cook on low for 6 hours.
After 6 hours, add in beef broth, fish sauce, arrowroot flour, and the remaining salt and pepper.
Let cook for the remaining 2 hours. Remove bay leaves and thyme sprigs if using fresh thyme. Taste and add salt and pepper as desired.
Heat the oven to 350°F. Divide the soup between oven-safe bowls. Top each with a slice (or two) of toasted bread and sprinkle cheese in a thick layer over the bread and up to the edge of the bowl. Bake for 20 to 30 minutes until cheese is bubbling. Broil on high for 1 minute.
Notes
To make in the Instant Pot:
Press the saute function on the Instant Pot.  When hot place butter and oil in the pot along with the onions. Cook for 5 minutes, stirring once. Add in coconut sugar, garlic, balsamic vinegar, salt and pepper, thyme and bay leaves and cook on high pressure for 20 minutes. Once finished use the quick release function
Press cancel and remove the lid. If there is a lot of liquid in the bottom of the pot, press saute and cook until it has almost evaporated and the onions are a nice brown color and very jammy. 
Add the arrowroot and stir until it has disappeared. Add in 4 cups of beef broth (this is different than the directions for the slow cooker) and fish sauce and close the lid and set to sealing. Finish cooking on manual high pressure, for 5 minutes. Use the quick release function. Season to taste. If topping the soup with bread and cheese follow the directions up above from step 5.
Nutrition
Serving Size:

4-6

Calories:

163

Sugar:

6 g

Sodium:

981mg

Fat:

10g

Saturated Fat:

4.6g

Carbohydrates:

11.1g

Fiber:

1.8g

Protein:

7.1g

Cholesterol:

16mg
11 comments
January 5, 2023
This website may at times receive a small affiliate commission for products that we shared with you in our posts. Although we may receive a commission for linking certain products, there's no additional costs to you and all of our opinion and suggestions are 100% our own and unbiased. That's our promise to you!
Subscribe to get our FREE clean eating guide!
Join our email list TODAY to start recieving our newsletter weekly, access to exclusive content and deals, *and* a FREE complete 24-page clean eating guide!