Paleo Chicken Stir Fry
This Paleo Chicken Stir Fry uses cauliflower rice, whatever veggies you have on hand, and is so simple to throw together! It is a great Whole30, low-carb, dairy-free, egg-free, and gluten-free meal for any night of the week!
Paleo Stir Fry
Stir-fry night should also be called clean-out-your-refrigerator night to make a delicious, quick meal! Let this recipe serve more as a guide to using up what you have on hand to create a quick meal that everybody will love, with a really delicious paleo stir fry sauce. We serve this with a garlic scallion cauliflower rice, but you could alternative serve the stir fry with regular white rice if you would like!
You could also alternative use another meat here, like thin sliced steak or pork, or you could really fill up on the veggies and make this meatless!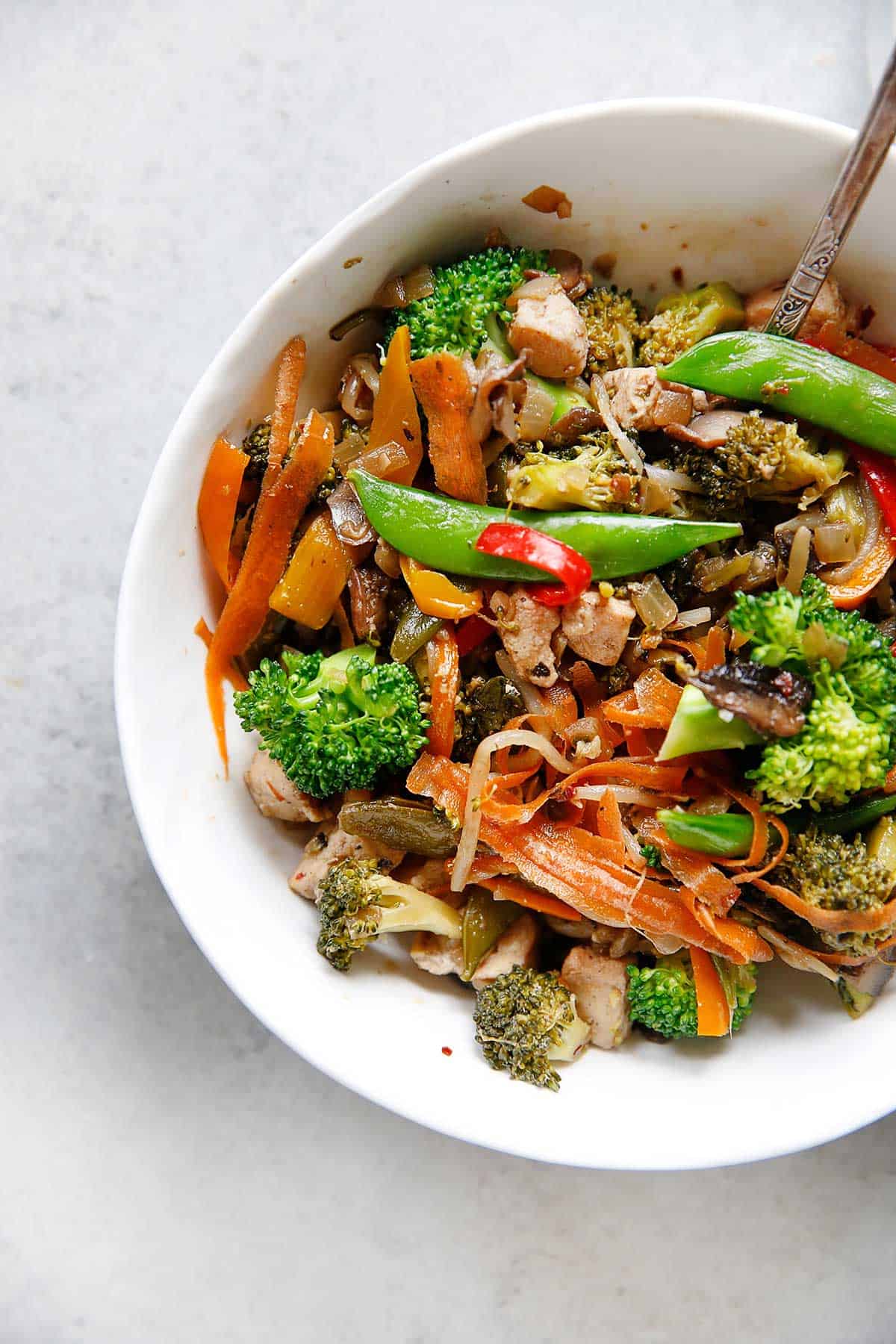 What Veggies Can You Use For This Paleo Chicken Stir Fry
In this recipe we used:
Broccoli
Red Pepper
Snap Peas
Bok Choy
Mushrooms
Carrots
Bean Sprouts
But you could really use any veggies you have on hand or what is in season. This is the perfect dish to cook up all year long, but particularly good during the CSA season when your refrigerator is full of veggies!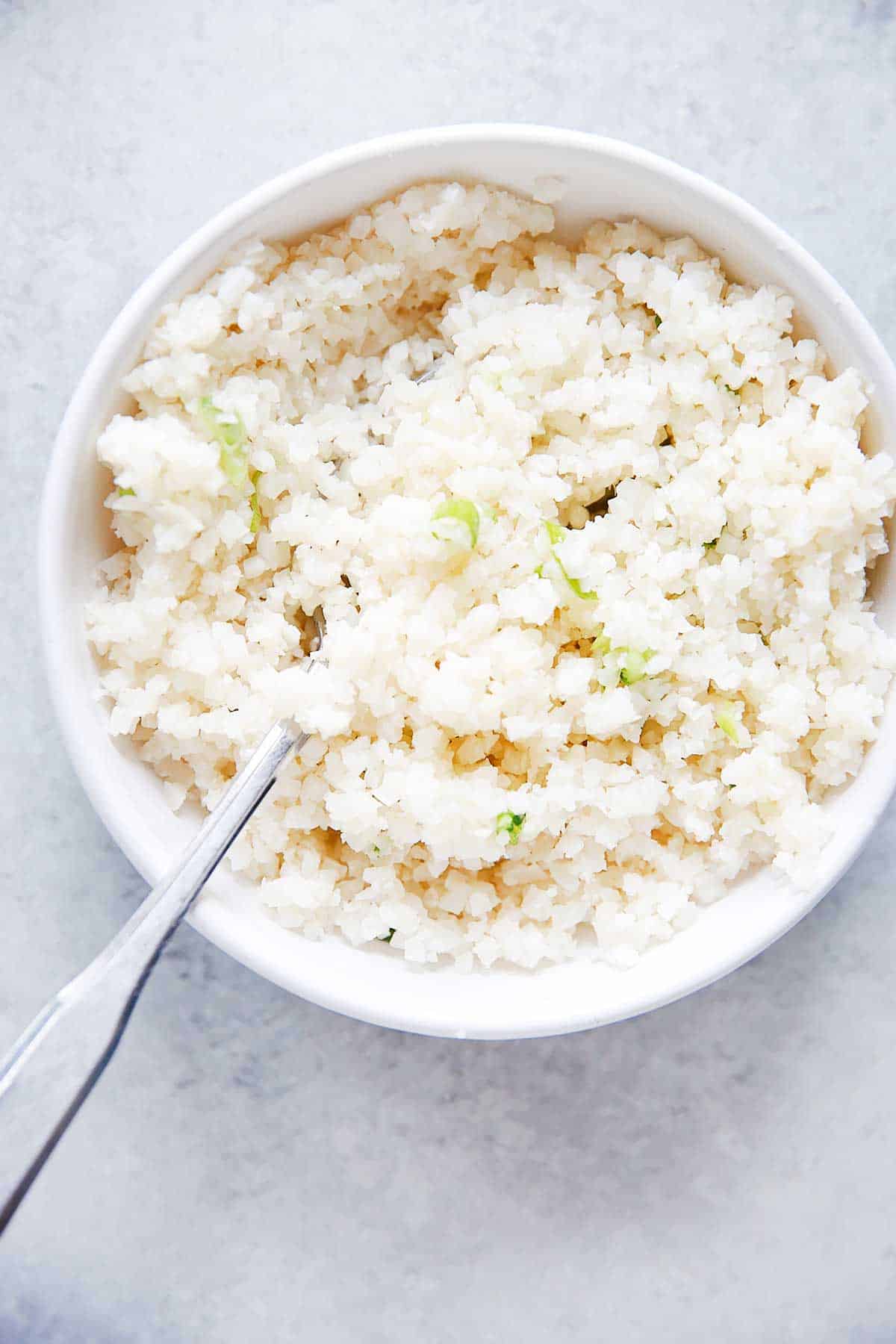 If you like this quick weeknight meal, check out these others:
Stir-Fry with Garlic Scallion Cauli Rice
---
---
Ingredients
Teriyaki sauce
Stir Fry
2 tablespoons sesame oil
2 garlic cloves, minced
1 red onion, sliced
2 broccoli crowns, chopped
1 cup mushrooms, thinly sliced
1 organic red pepper, chopped
1/2 cup snap peas
1 lb organic chicken breast
2 handfuls fresh organic spinach
1 bunch baby bok choy, sliced in half
2 cups bean sprouts
Garlic Scallion Cauli-Rice
Directions
1. In a bowl, mix together teriyaki sauce ingredients and set aside.
2. In a large skillet, heat sesame oil over medium-high heat.
2. Add garlic and onion and let cook until the onion turns translucent, about 3-5 minutes.
3. Add broccoli, mushrooms, red pepper, and snap peas and cook for 3-5 minutes, or until mushrooms have softened.
4. Add chicken and cook until the chicken is fully cooked through and no pink remains.
5. Pour in teriyaki sauce and mix well. Add in spinach, baby bok choy, and bean sprouts. Once the spinach starts to wilt, turn off the heat and set aside.
6. Using a food processor or cheese grater, pulse/grate cauliflower until rice consistency.
3. Heat a medium-sized skillet over medium-high heat.
4. Add in cauliflower rice, seasoned vinegar, salt, and scallions.
5. Let cook, stirring often, for 3-5 minutes or until the cauliflower starts to soften.
6. Transfer to bowl and serve hot.
Recipe Notes
Updated 3/1/2017
---
Nutrition
Loading nutrition data...