Paleo Sloppy Joes
A comfort food classic, this Paleo Sloppy Joes recipe will definitely be a hit with the whole family. This cleaned up version is free from any added sugar, but still full of flavor and perfect to serve on a (paleo) roll with your favorite toppings for an EASY weeknight meal you'll be putting on repeat.
Paleo Sloppy Joes
I have this thing with sloppy joes. I've always just LOVED them. This is some seriously delicious comfort food, and with a quick update on ingredients this can be made Paleo friendly! Serve them on top of my paleo rolls for a deliciously satisfying meal, or if you want over a baked potato or sweet potato or spaghetti squash.
Ingredients Needed
Olive Oil
Garlic
Ground Beef
Arrowroot Powder
Tomato Sauce
Mustard
Vinegar
Onion Powder
Paprika
Chili Powder
Sea Salt
How to Serve Paleo Sloppy Joes
Obviously, Sloppy Joe's are traditionally served on a roll or some type of bread. Luckily I have a paleo bread recipe that makes amazing rolls so you can still use that option if you're following a Paleo or gluten-free diet. Check out that recipe here.
If you are looking to skip the bread all together, feel free to serve this over a baked potato or sweet potato, or with spaghetti squash!
I love topping these with jalapeños, roughly chopped lettuce, sliced red onion and tomatoes but these are delicious all on their own as well!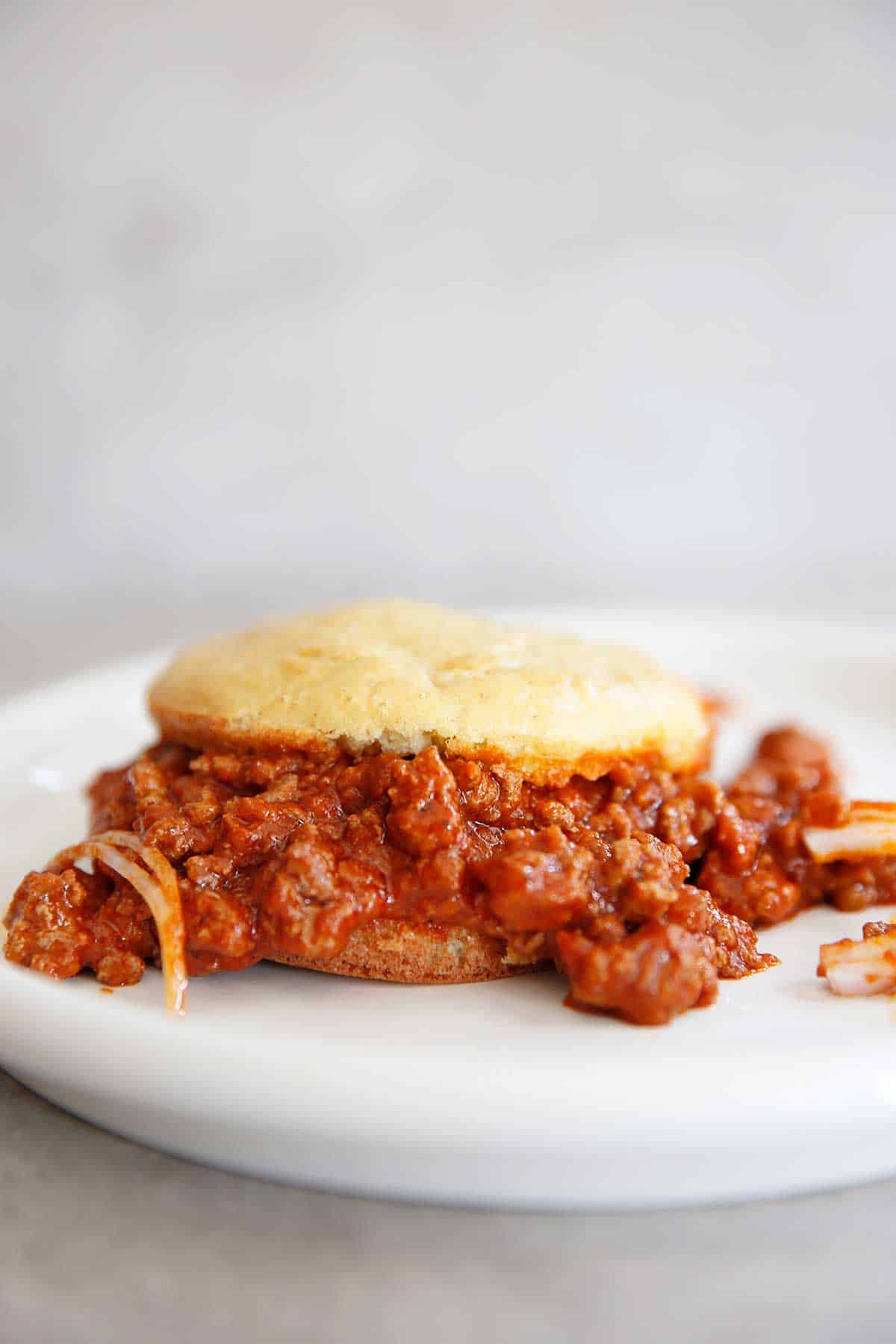 If you like this easy weeknight dinner recipe, check out these others:
Paleo Sloppy Joes
This Zucchini Spaghetti with Homemade Meat Sauce is a delicious and hearty meal your family will LOVE! It's low carb, grain-free, gluten-free, and dairy-free if you omit the cheese. The meat sauce is cooked up quickly and is served over lightened up zucchini noodles making for a healthy weeknight dinner!
Zucchini Spaghetti Recipe
This Zucchini Spaghetti is ultimate comfort food, but lightened up of course! Zucchini noodles are especially delicious during those summer months when they are abundant and you are looking for clever ways to use them up. Serving them with this quick meat sauce is perfect for an easy weeknight dinner when you are looking for something comforting, flavorful and simple!
What I love about this dish is that these days it is easily to find zucchini noodles pre-made in the store, so you can skip the step of spiralizing your zucchinis if you buy them. Additionally this meat sauce is super quick. While yes, traditional meat sauce is simmered for hours, this meat sauce is made specifically for an easy weeknight dinner thanks to the addition of tomato sauce. Look for a good quality brand with no strange ingredients or added sugar.
Tips for Using and Cooking Zucchini Noodles
Zucchini noodles are a great healthy and nutrient-dense substitute for regular pasta. Do they taste exactly the same? No, they're zucchini. But most people who make this swap are happily satisfied to eat the zoodles, as they are known, topped with whatever sauce you are using. Below are some tips on how to best enjoy zucchini noodles!
You can eat them raw! Eating the zucchini noodles while raw will make for the firmest (and not soggy) zucchini noodles. Just toss with a touch of olive oil and salt and pepper before serving with your sauce.
If you are cooking them, don't overcook them! The longer you cook zucchini noodles the softer and soggy they become! Cook for just a few minutes and stop cooking them before they actually looked cook. The zucchini will continue to cook a bit once they are off heat.
You can drain the noodles a bit before you serve them. Once cooked, set over a colander for a few minutes.
Sauce the noodles after they are cooked!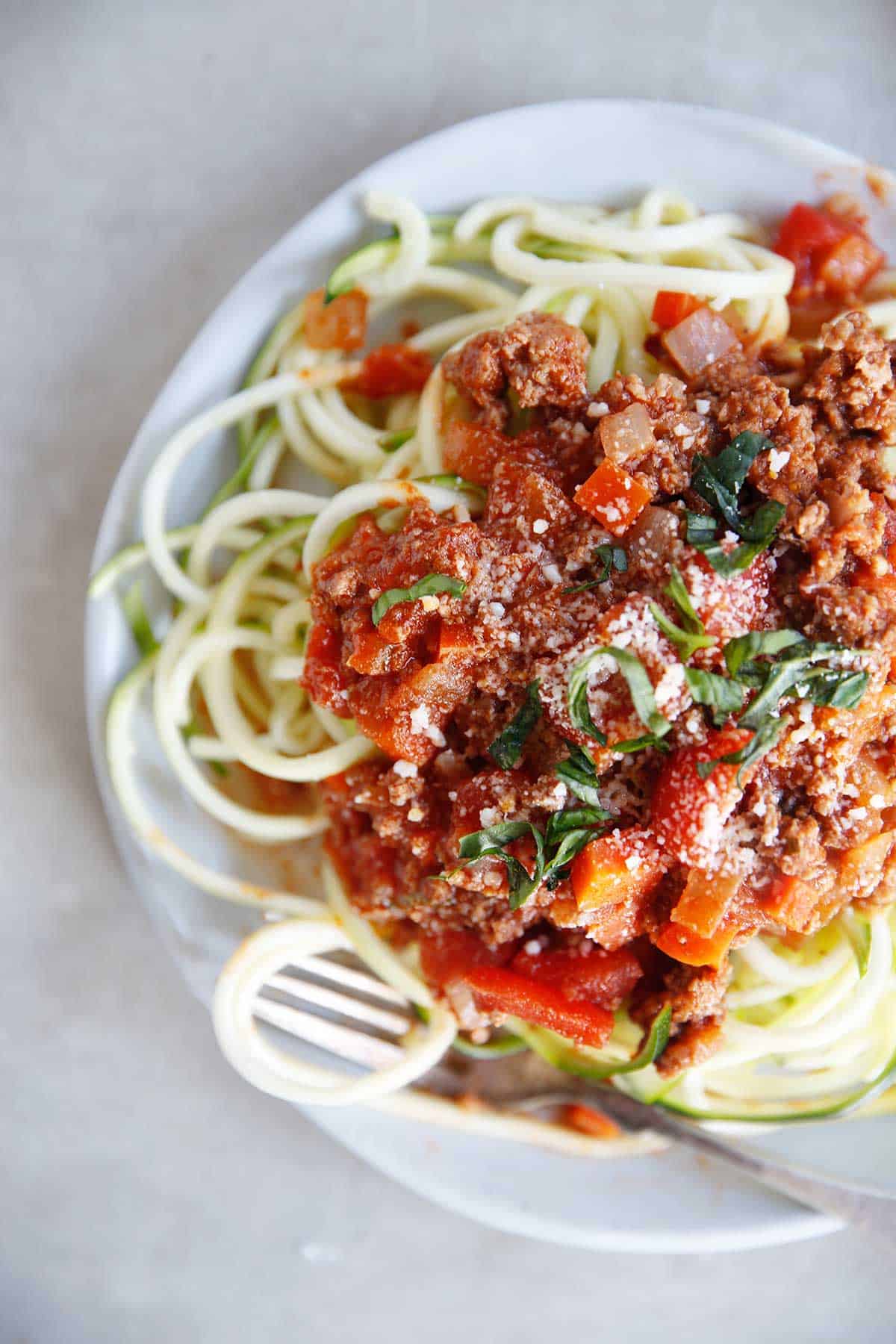 If you like this classic comfort food lightened up, check out these recipes:
If you like this zucchini recipe, check out these others:
Zucchini Spaghetti with Homemade Meat Sauce
This Chicken Enchilada Spaghetti Squash Casserole is comfort food lightened up! All the classic flavors of your favorite chicken enchiladas, including refried beans, made healthier with spaghetti squash as its base. This gluten-free and dairy-free meal is the ultimate family favorite meal that is great for meal prep, too. Made in partnership with Tuttorosso Tomatoes!
Chicken Enchilada Spaghetti Squash Casserole
This Enchilada casserole is the ultimate gluten-free casserole! This healthy and hearty enchilada casserole made with spaghetti squash has all the Mexican flavor you love that is a definite crowd favorite. This recipe has loads of veggies, shredded chicken, homemade refried beans, spaghetti squash and is so comforting.
Here's what you need to make it:
5 cups cooked spaghetti squash
2 cups shredded chicken (rotisserie chicken or make it)
1 green bell pepper
1 red pepper
1 yellow onion
2 cups spinach
1 batch refried beans (or buy it)
arrowroot flour
enchilada spices
tomato Sauce
chicken broth
herbs for garnish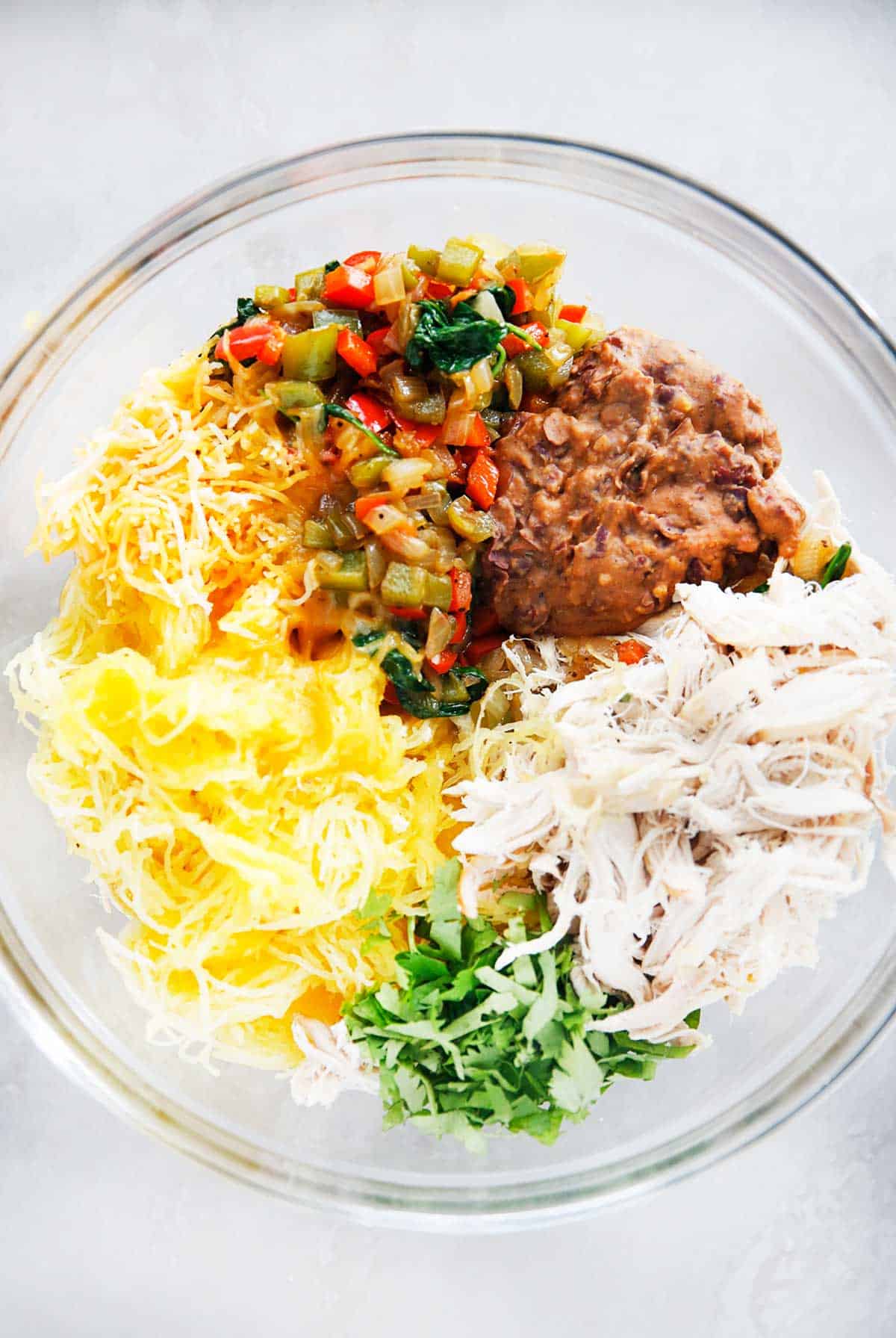 This recipe is made in partnership with my friends at Tuttorosso Tomatoes, my favorite tomatoes that I trust time and time again in my kitchen. Other Tuttorosso favorites include my Lasagna Soup, Instant Pot Chicken Cacciatore, Pizza Stuffed Peppers, and One Pan Indian Spiced Chicken and Cauliflower!

How to Make this Enchilada Casserole
Roast or cook the squash in an Instant Pot. Check out this article for more info.
Pre-cook and veggies that go with it.
Make the refried beans and sauce.
Assemble and bake!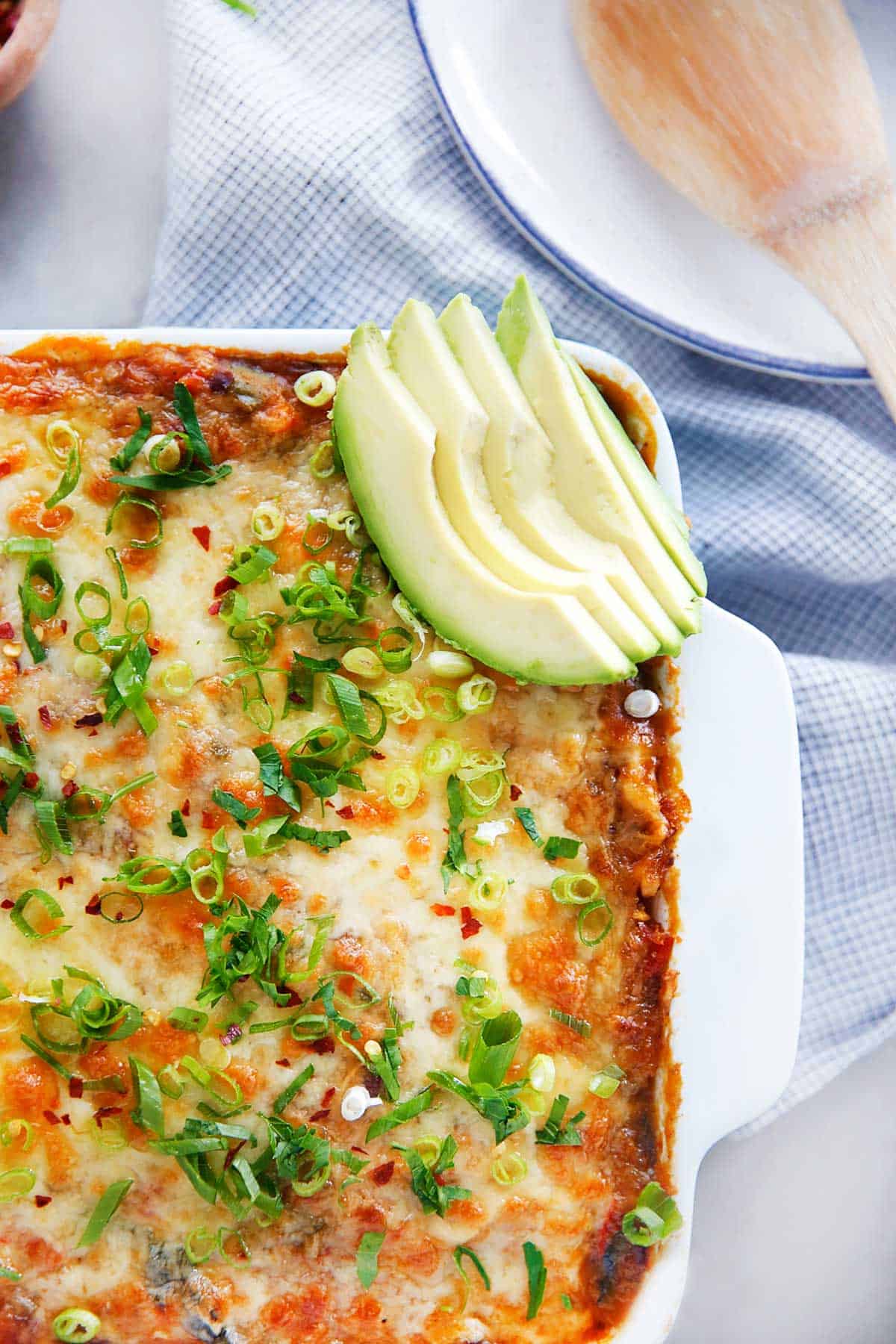 Watch the video:
If you like this recipe, try these other Spaghetti Squash Recipes: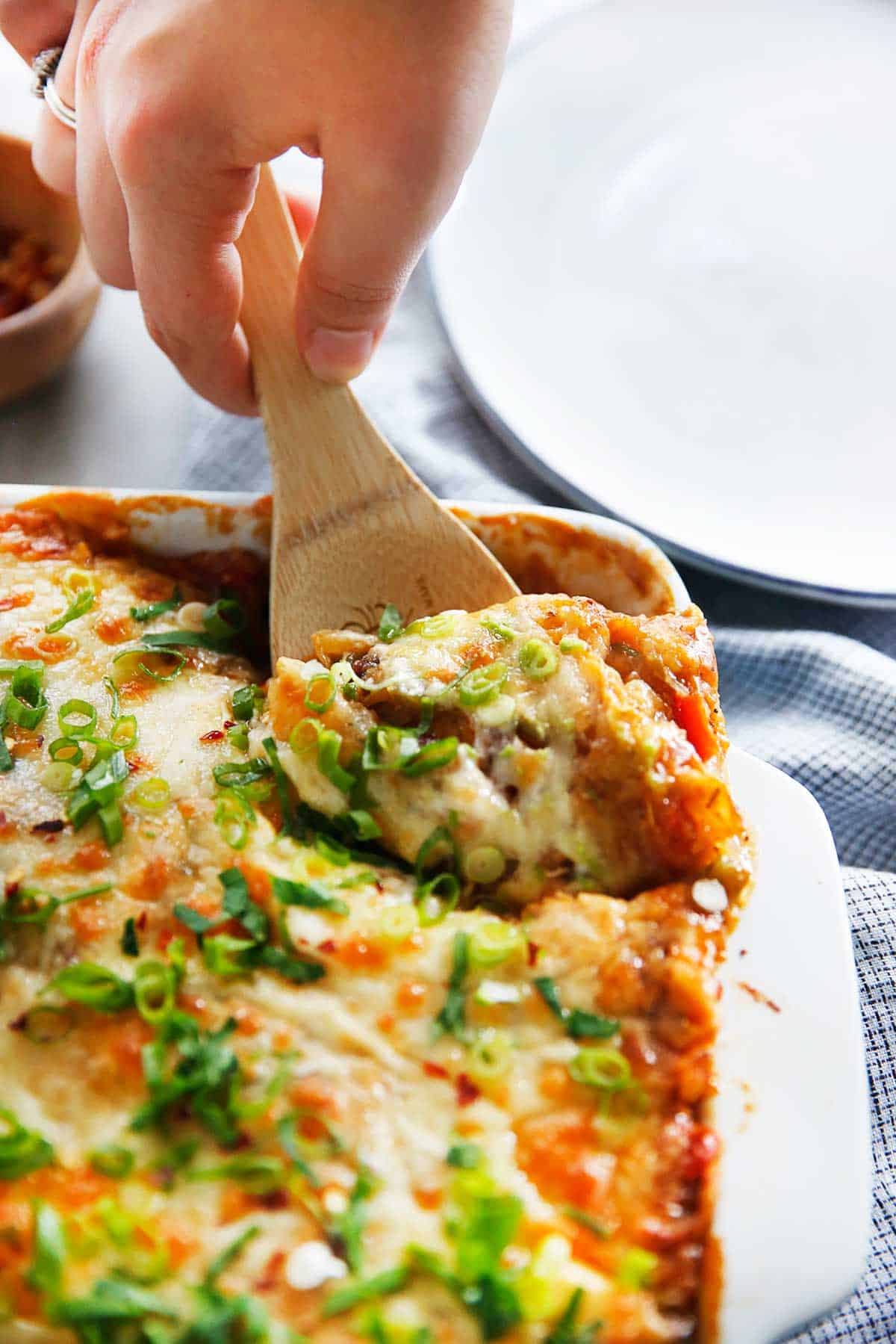 This post is sponsored by Tuttorosso Tomatoes. All thoughts and opinions are always 100% my own! I love the integrity of their products and think you'll love them too. Thank you for continuing to support LCK and the brands I work with!
Chicken Enchilada Spaghetti Squash Casserole
Have an abundance of tomatoes right now? The perfect way to use them up is to make Tomato Sauce from Fresh Tomatoes! This Freezer Friendly Tomato Sauce is a labor of love, but so so worth it! The perfect way to make use of all of these fresh tomatoes during tomato season!
Tomato Sauce From Fresh Tomatoes Recipe
This time of year is one of my favorites. Tomatoes on EVERYTHING. A few years ago I visited tomato farms and really gained an appreciation for them. So many variations, so many flavor profiles. I can eat the little grape tomatoes like candy, no joke. Plus, they are gorgeous, too!
How to Make Homemade Tomato Sauce
First you'll want to process the fresh tomatoes, if using! You'll need to take the skin off, core them and puree or mash them down.
Then you'll sauté your aromatics, or the onion and garlic.
Add in your spices and toast them until they are fragrant and have released there oils.
Then add in those fresh tomatoes and cook low and slow for at least two hours!
You can use the sauce immediately or storage for later!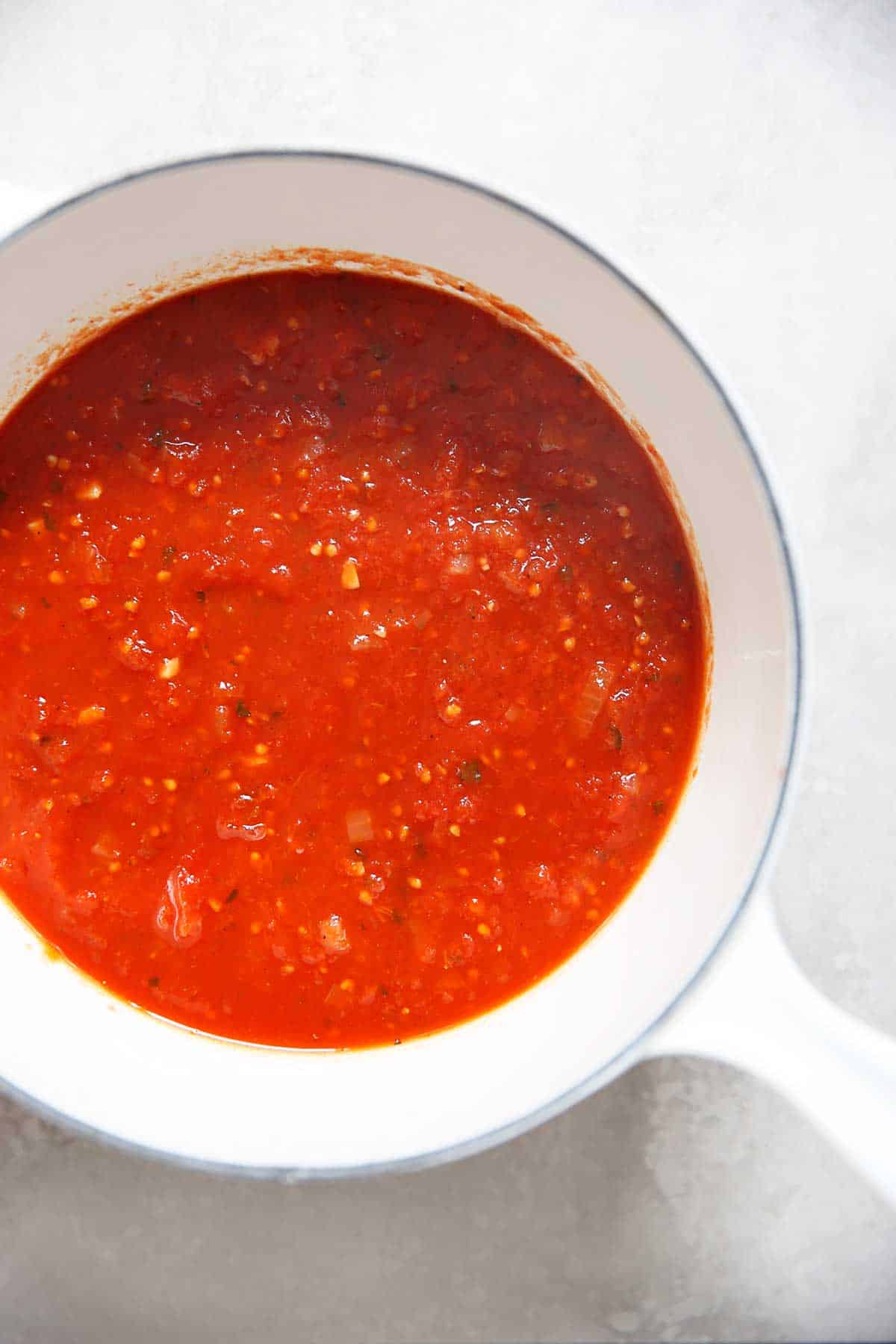 How to Take the Skins off of Fresh Tomatoes
Probably the trickiest part of making fresh tomato sauce from fresh tomatoes is taking off the skin! It isn't a hard process, but it does add an extra step.
To take the skin off of fresh tomatoes you'll need to blanch the tomatoes in boiling water. Once that is down the skin will peel right off! To blanch them: Fill a large pot with water and bring to a boil over high heat. Working in batches, drop the tomatoes in the water for 1 minute. Carefully take tomatoes out and place in a large bowl. Let tomatoes cool. Once cool, carefully peel off skins.
SO, while it's a little bit of a process, it's for sure worth it. It'll be some of the best tomato sauce you've ever had. Plus, you'll feel good knowing you didn't waste those farm fresh tomatoes! Can it if you'd like, or if you're lazy like me… go for the freezer option!
If you like this tomato recipe, check out these others: