Chicken Wings with Mango-Chili Sauce
These Chicken Wings with Mango-Chili Sauce are a delicious addition to any Summer BBQ! The Mango-Chili sauce is so tasty with a hint of smoky flavor, and compliments the wings perfectly! Throw them on the grill or in the oven for a perfect appetizer or main any night of the week. These wings are made in partnership with the National Mango Board.
I am so excited to partner with my friends at the National Mango Board to bring you today's recipe!
Mangos are a great source of Vitamin C, Vitamin A, and fiber and are a great lower calorie snack at 100 calories a cup! Plus, they are SO flavorful, juicy, and delicious!
These wings lasted about 2 hours in my house. Marinated to perfection with just the right amount of smoky heat, we could not get enough!
I am always on the lookout for flavorful recipes to make for Summer gatherings with friends and family and these wings will definitely be a hit! Blend the sauce, marinate the wings, toss on the grill and devour! The perfect combination of sweet and smoky with just the right amount of spice!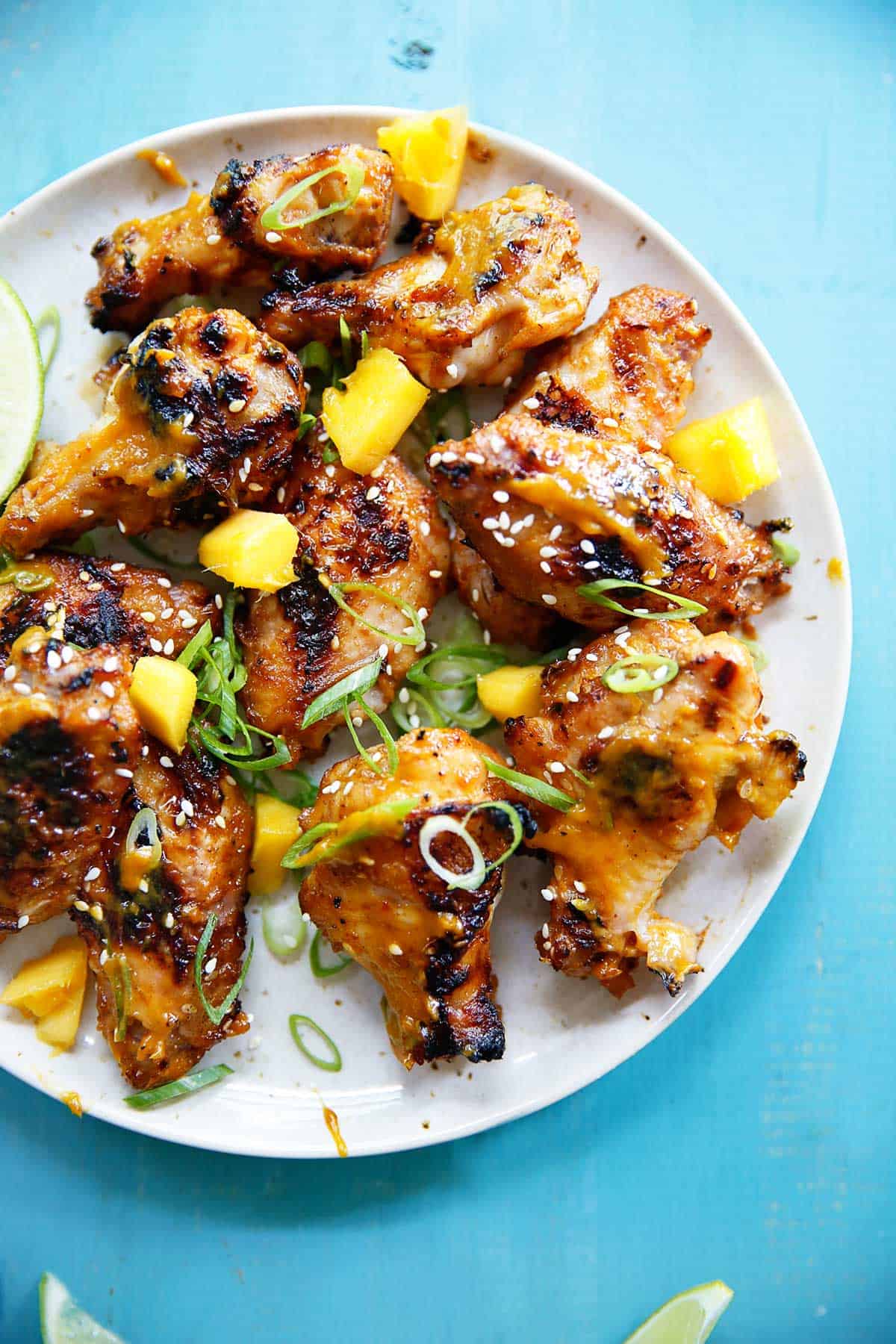 Chicken Wings with Mango-Chili Sauce
---
---
Directions
Place all of the mango-chili sauce ingredients, except for the chili paste, into a high-speed blender. Puree until smooth. Stir in the chili paste and taste. Adjust seasoning as desired.
Place chicken wings in a large bowl and season with salt and pepper. Coat with 1/2 cup of mango-chili sauce, set the rest of the sauce aside for later. Sprinkle wings with sesame seeds and cover with plastic wrap. Refrigerate for 30 minutes to 1 hour.
Grease a grill or grill pan. Grill the wings for about 5 minutes on each side, or until opaque and fully cooked through.
While wings cook, place reserved sauce in a small saucepan and bring to a boil. Reduce heat to medium-low and simmer for about 5 minutes. If the sauce is too thick, add a few teaspoons of water until the desired consistency is reached. If the sauce is too thin, continue to cook until thick.
Toss chicken wings in 1/4 cup of sauce (or brush sauce on them) and place on a serving platter.
Garnish with chopped scallions and diced mangoes, and serve with remaining mango-chili sauce on the side for dipping!
Recipe Notes
How to cut a mango: Slice off the sides of the fruit, avoiding the large seed in the center. Once you have these two sides, you can get to the flesh and slice or dice as needed. Then simply scoop it out of the skin.
---
Nutrition
Loading nutrition data...
This post in sponsored by the National Mango Board. All opinions are 100% always my own! Check out the National Mango Board's tutorials on How to Cut a Mango and Selecting and Storing a Mango! They are both great tools for all your mango needs.
Subscribe to
Lexis Clean Living
Join our email list to get instant updates and weekly summaries of our top content and special exclusive offers along with our free clean eating kickstart guide!
This website may at times receive a small affiliate commission for products that we shared with you in our posts. Although we may receive a commission for linking certain products, there's no additional costs to you and all of our opinion and suggestions are 100% our own and unbiased. That's our promise to you!