This BLT Pasta Salad is your favorite classic sandwich in pasta form! It's made with gluten-free pasta, fresh lettuce and tomato, and crispy bacon all tossed in a creamy, tangy dressing.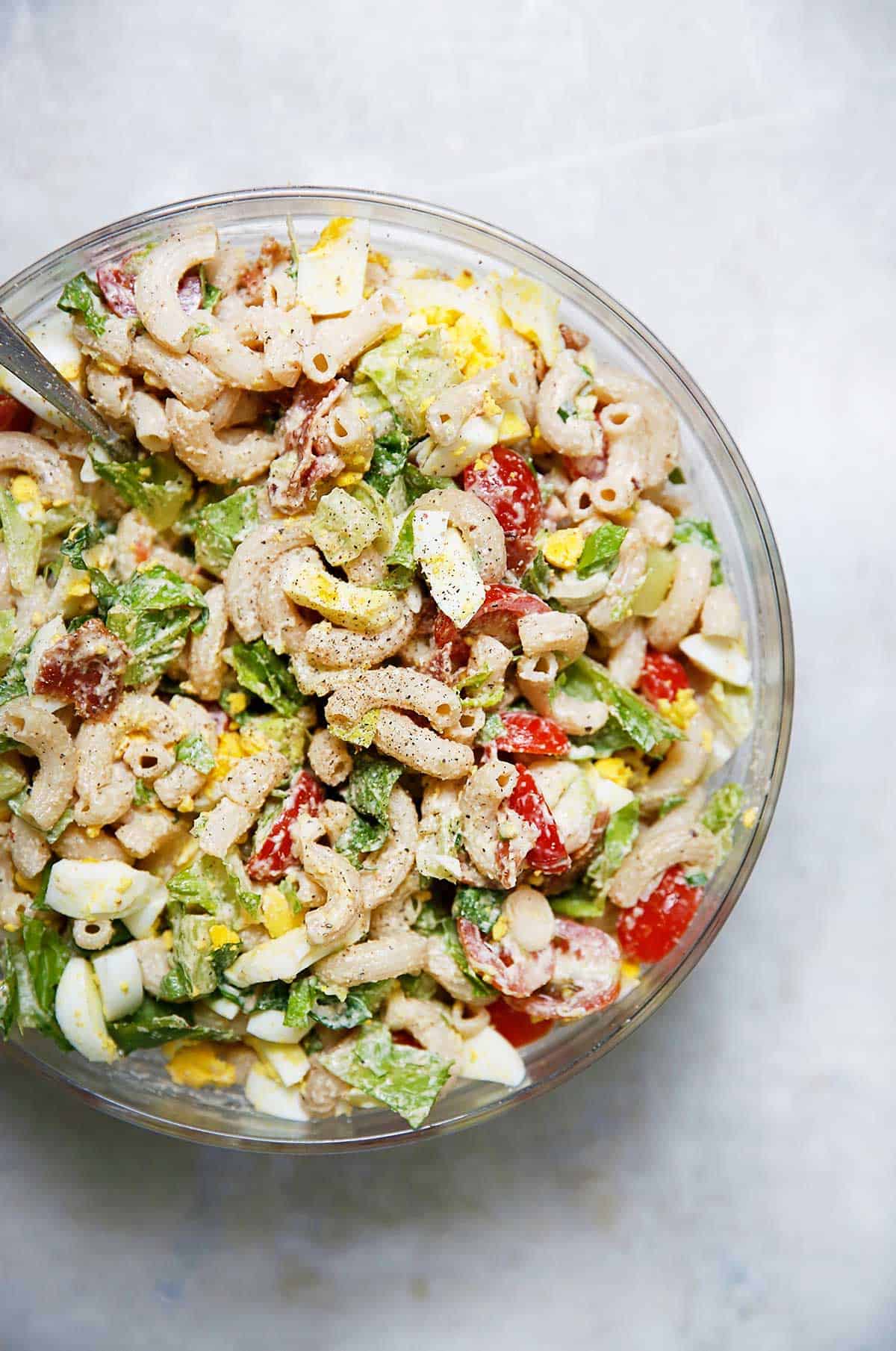 Easy Pasta Salad Recipe
This BLT Pasta Salad is your favorite sandwich turned gluten-free pasta dish! It's loaded with tender pasta, hard boiled eggs, fresh veggies, and crispy bacon.
It's flavorful, hearty, creamy with a crunch, and makes the perfect light summer or meal or BBQ side dish!
Ingredients Needed
Pasta Salad
Pasta: use whatever small pasta shape you like.
Cherry Tomatoes: halved cherry tomatoes are the perfect bite-sized addition to the salad.
Lettuce: roughly chopped fresh romaine is the perfect "L" for our BLT pasta salad recipe.
Bacon: cooked and crumbled.
Scallions: sliced thinly.
Eggs (optional): hard-boiled eggs are optional, but delicious.
Hot Sauce (optional): hot sauce is also optional, but great for those that love a kick of heat.
Pasta Salad Dressing
Mayonnaise: the base for our creamy dressing. I like avocado oil mayo, but any will work.
Apple Cider Vinegar: adds a little bit of tang to cut the richness of the mayo.
Lemon Juice: brightens the dressing up just a touch.
Seasonings: a combination of garlic powder, onion powder, paprika, dried dill, sea salt, and black pepper gives the dressing the perfect flavor.
How to make Gluten-Free Pasta Salad
This easy pasta salad recipe is so quick to prepare. Just a few simple steps and it's ready to go!
Cook the eggs and bacon: Make hard boiled eggs either on the stove or in the instant pot and cook the bacon either in the oven or in the air fryer.
Prep the pasta: Cook the gluten free pasta, or another pasta of your choice, according to instructions, then drain, rinse, and set aside.
Prep the mix-ins: Chop the lettuce, scallions, and tomatoes, cut the eggs into quarters, and crumble the bacon.
Combine: Combine the cooked and cooled pasta, eggs and bacon, and veggies in a large bowl.
Add the dressing: In a blender, combine all of the dressing ingredients, then pour that over the pasta salad. Taste and adjust as needed, then serve or store in the fridge.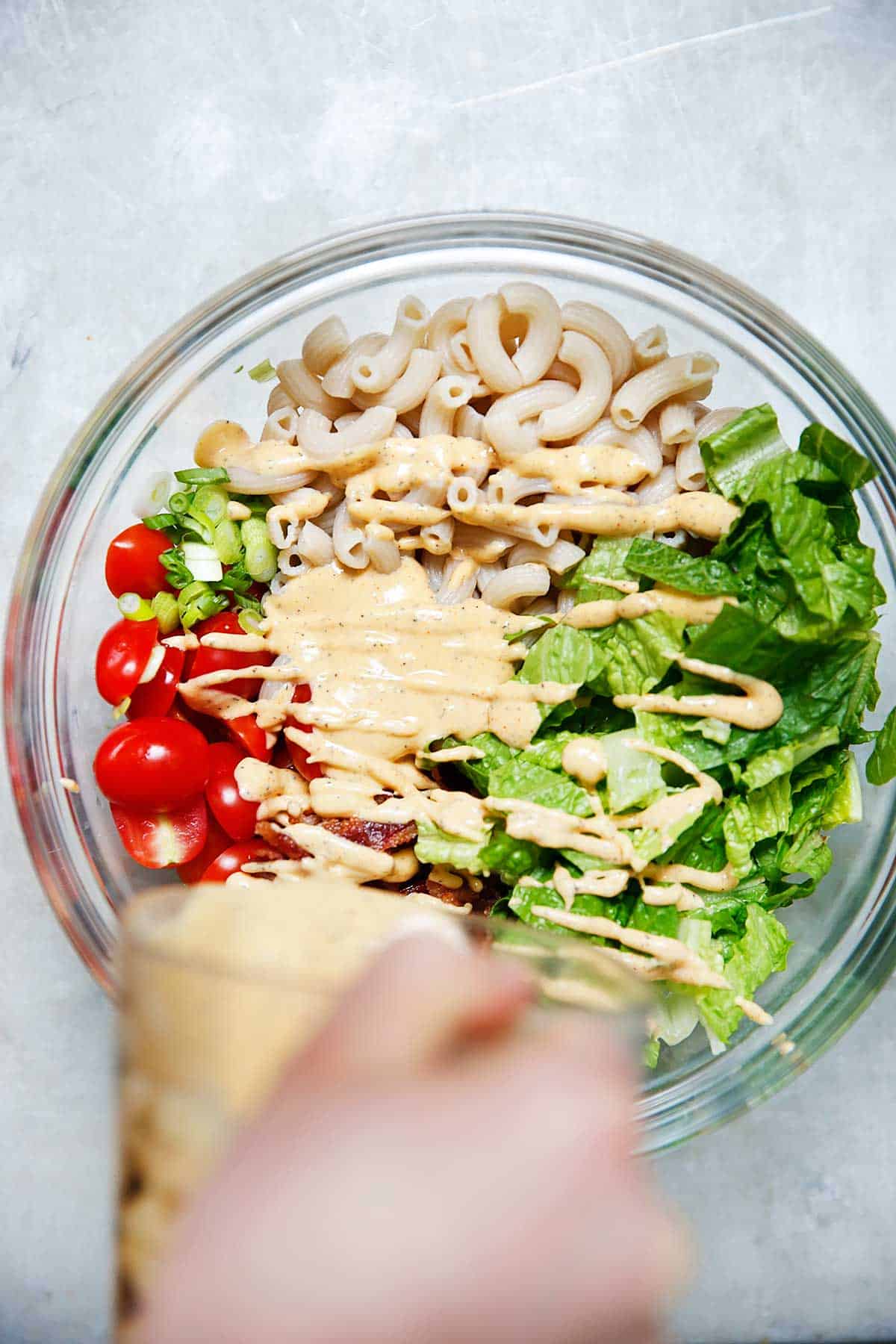 What Pasta To Use
Truly any pasta will work here! I love using gluten-free rice pasta (made with only brown rice), because it's easier for me to digest. My two favorite brands are Jovial and Tinkyada.
However, any kind works so feel free to use whatever smaller pasta shape or type your heart desires.
Tips and Notes
Cook the pasta al dente. Al dente means slightly undercooked. I prefer to leave a little bit of bite so the noodles don't get mushy.
Rinse the pasta. Be sure to rinse the pasta with cold water immediately after cooking. This stops the cooking process and removes excess starch so it doesn't get mushy.
Cool completely. Make sure the pasta is completely cooled off before you add the fresh mix-ins. If it's still warm, the texture of the other ingredients will be affected.
Serve immediately. Once assembled, this pasta salad is best right way or within 5 hours!
Lighten it up. Feel free to swap the mayo out for plain Greek yogurt if you prefer a lighter option. This isn't my preference, but will work.
Add other mix-ins. Get creative! Pasta salad is super customizable. Add cubed cheddar, other veggies like red pepper, broccoli florets, celery, or red onion, mix in chopped avocado, OR add another meat. Shredded chicken would be delicious!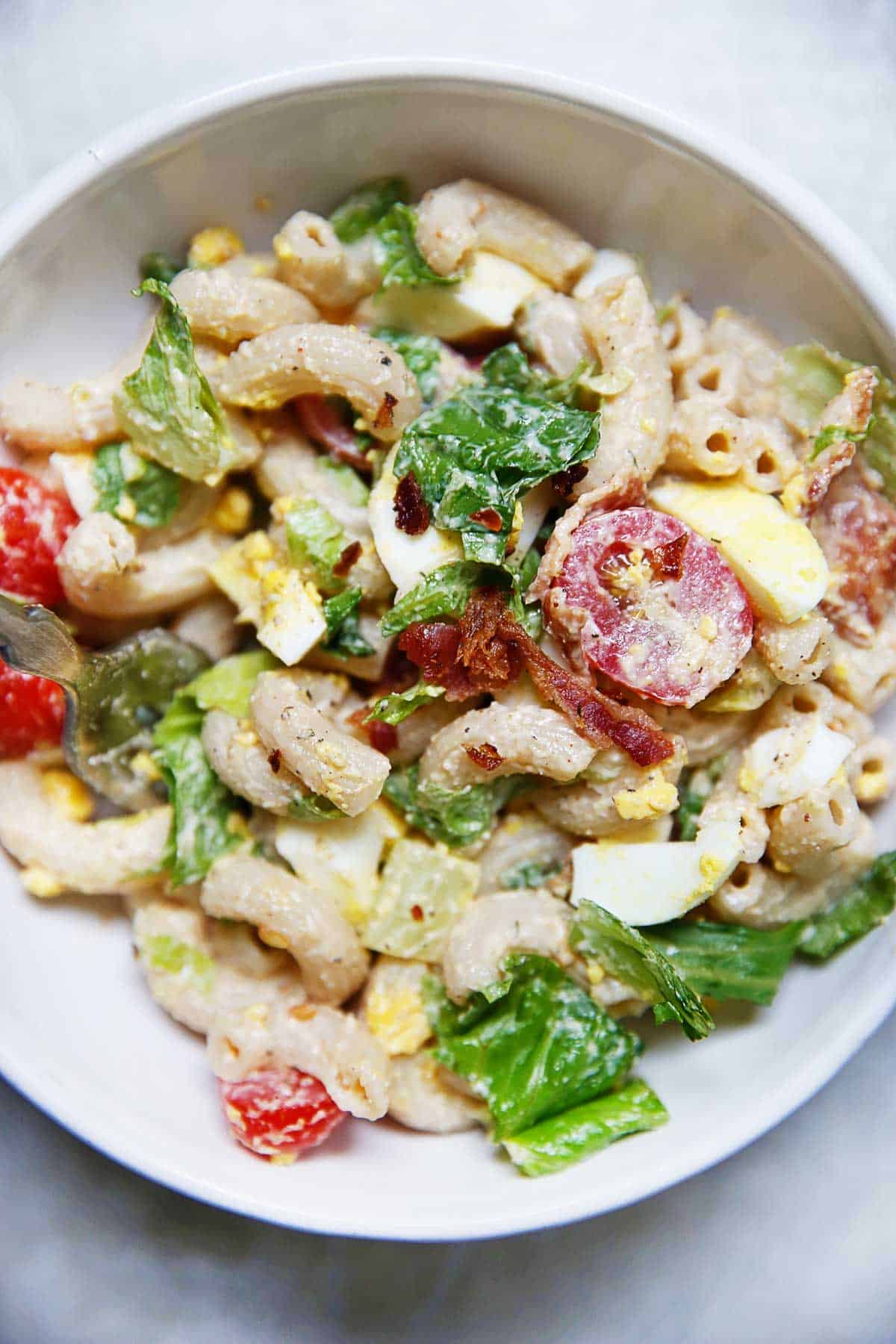 Serving Suggestions
Serve this BLT pasta salad as an entree or as a side dish next to any of your favorite summer entrees.
Try Air Fryer Chicken Breast, Baked Chicken Caesar Salad Burgers, My Go-To 10-Minute Sautéed Shrimp, My Family's Favorite Grilled Chicken Thighs, Air Fryer Salmon, you name it!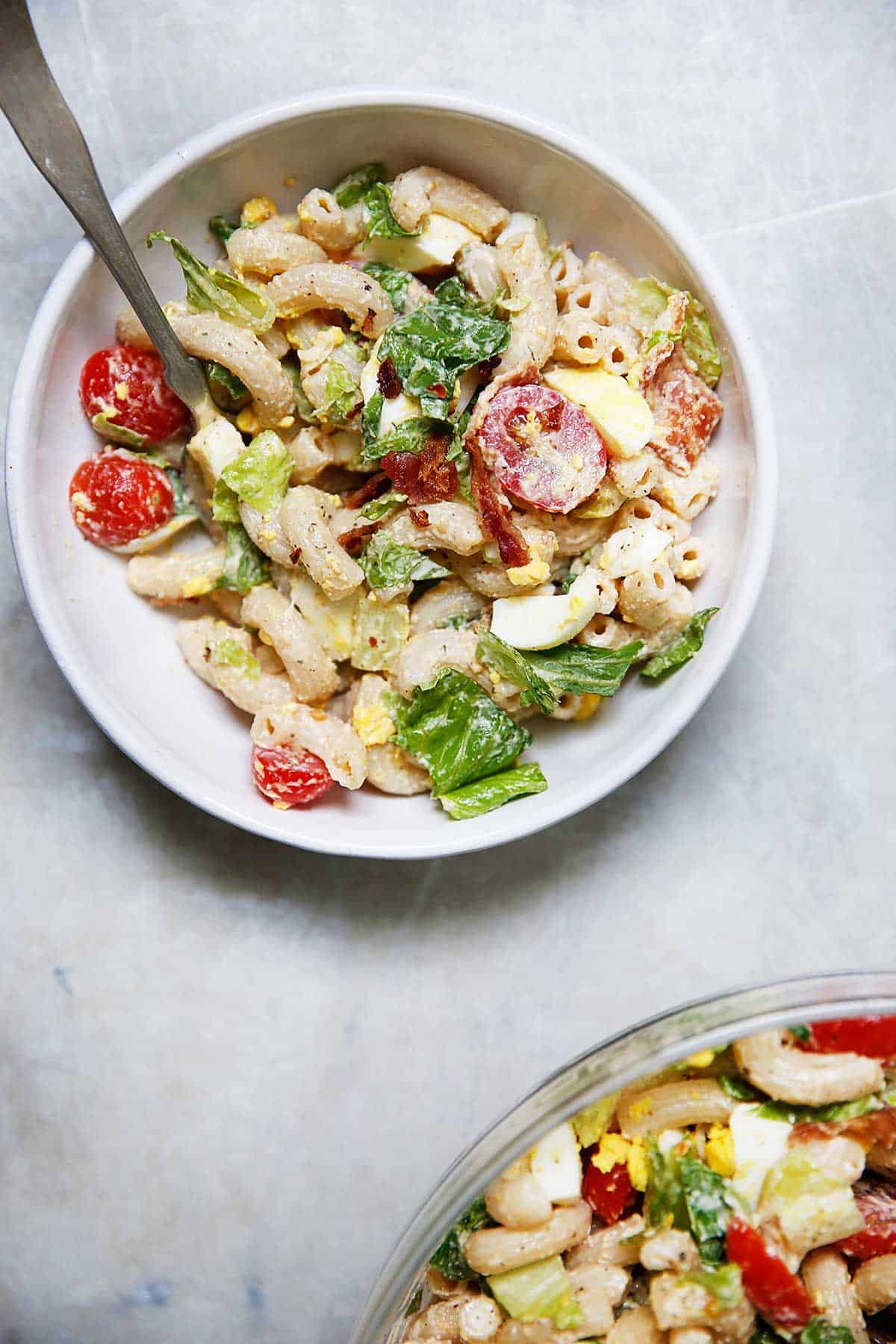 Can Pasta Salad Be Made Ahead of Time?
Yes! Well, sort of! I don't recommend fully assembling the pasta salad ahead of time, but you can definitely prep different components ahead of time to store separately.
Pasta: Cook the pasta ahead of time and store it in the fridge for 2-3 days.
Veggies: Chop the lettuce, tomato, and scallions in advance and store them in the fridge for 2-3 days.
Eggs: Hard-boil the eggs and store them in the fridge for up to 5 days.
Bacon: Cook the bacon and store it in the fridge for up to 5 days.
Dressing: Mix the dressing up and store it in the fridge for up to 3 days.
How Long is Pasta Salad Good For in the Fridge?
This BLT pasta salad is made using super fresh ingredients, so it's definitely best served right away or at least within 5 hours of assembly.
However, you can store leftovers in an airtight container in the fridge for up to 3 days. Keep in mind the texture of the lettuce and tomato will be affected and the bacon won't be as crispy!
Can You Freeze Pasta Salad?
I don't recommend it. Pasta doesn't hold up well in the freezer and the fresh ingredients in this recipe will become watery when thawed.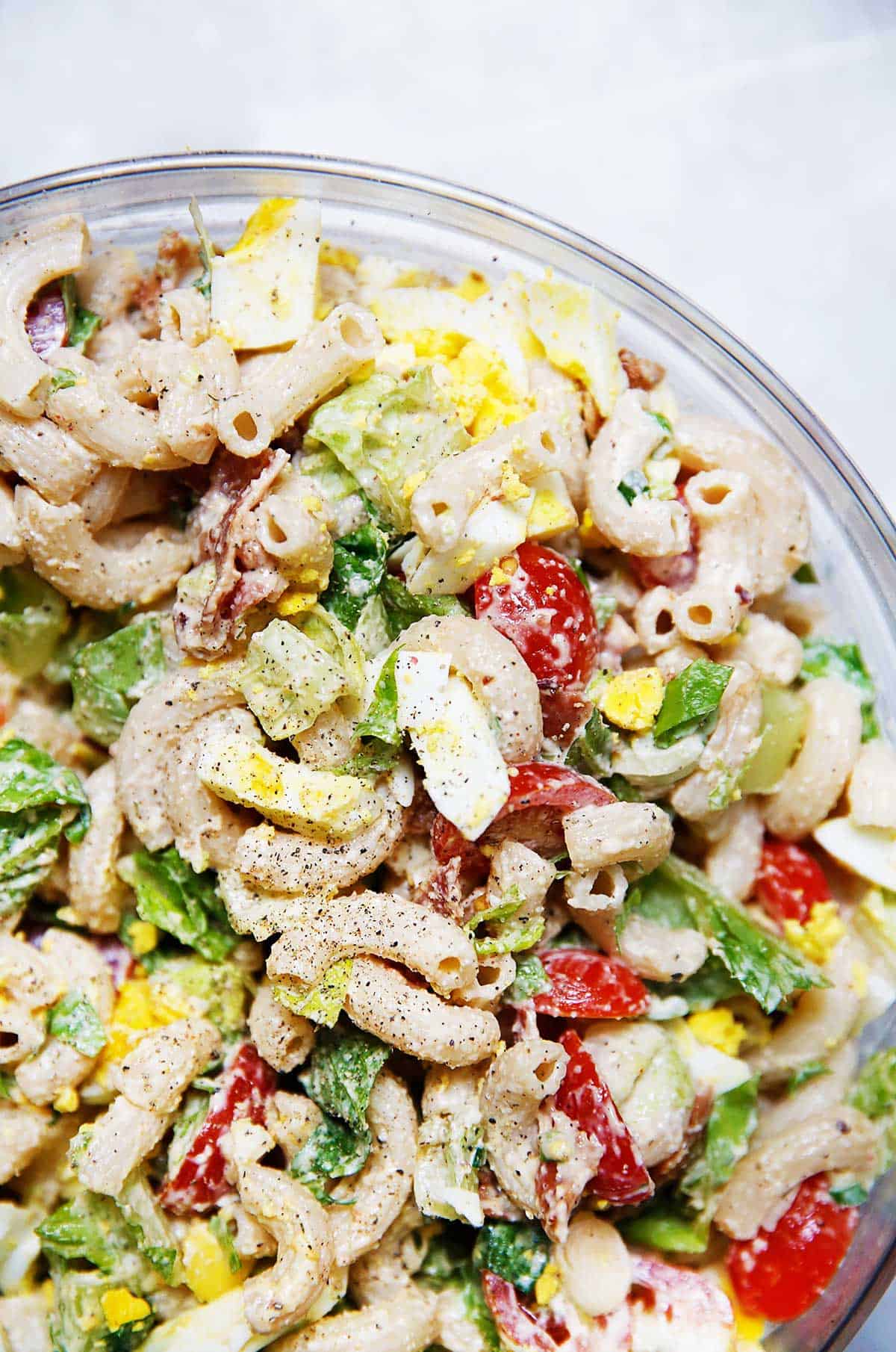 More Pasta Salad Recipes You'll Love
Watch the Video: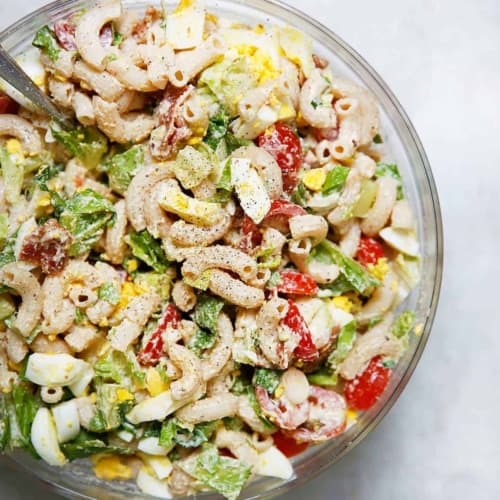 BLT Pasta Salad
This BLT Pasta Salad is your favorite classic sandwich in pasta form! It's made with gluten-free pasta, fresh lettuce and tomato, and crispy bacon all tossed in a creamy, tangy dressing.
Ingredients
Pasta Salad:1 package gluten-free pasta

12 ounce bag, cooked according to package instructions

1

cup

cherry tomatoes

sliced in half

2

heads romaine lettuce

roughly chopped

1

package nitrate-free bacon

cooked until crispy

1/4

cup

scallions

sliced thin

Optional: 4 hardboiled eggs

sliced into quarters

Optional: a dash of hot sauce

Dressing:1 cup mayonnaise

I like avocado oil mayo

1

teaspoon

apple cider vinegar

2

teaspoons

lemon juice

1

teaspoon

garlic powder

1

teaspoon

onion powder

1/4

teaspoon

paprika

1/2

teaspoon

dried dill

1/4

teaspoon

sea salt

more to taste

1/4

teaspoon

black pepper

more to taste
Instructions
Place all salad ingredients into a large mixing bowl.

In a high-speed blender, blend all dressing ingredients until well combined.

Pour dressing over salad ingredients and mix well.

Cover and refrigerate until ready to serve!
Nutrition
Calories:
272
kcal
Carbohydrates:
21.7
g
Protein:
8.7
g
Fat:
17.1
g
Saturated Fat:
3.8
g
Cholesterol:
25
mg
Sodium:
610
mg
Fiber:
2.2
g
Sugar:
3.8
g