If you consistently lather up with sunscreen before spending time outdoors, you're probably already feeling like you're ahead of the game. And you kind of are! According to CBS News, only one-third of people apply sunscreen to all of their exposed skin (per medical recommendations). Being in a consistent routine with safer sunscreen — especially in the summertime — is absolutely a victory.
But there's more to sunscreen than you've heard about from advertising… and maybe even from your dermatologist. While mainstream, readily available sun protection brands do have a pretty good track record of minimizing risk of skin cancer (for those who use it properly, of course!), they aren't exactly doing you any other favors health-wise, and people are starting to notice.
P.S. More recently, chemical filters in sunscreens have been linked to the killing off of coral reefs. It's why Hawaii, and recently Florida have newly passed a bill to ban these types of sunscreens from being sold in the state.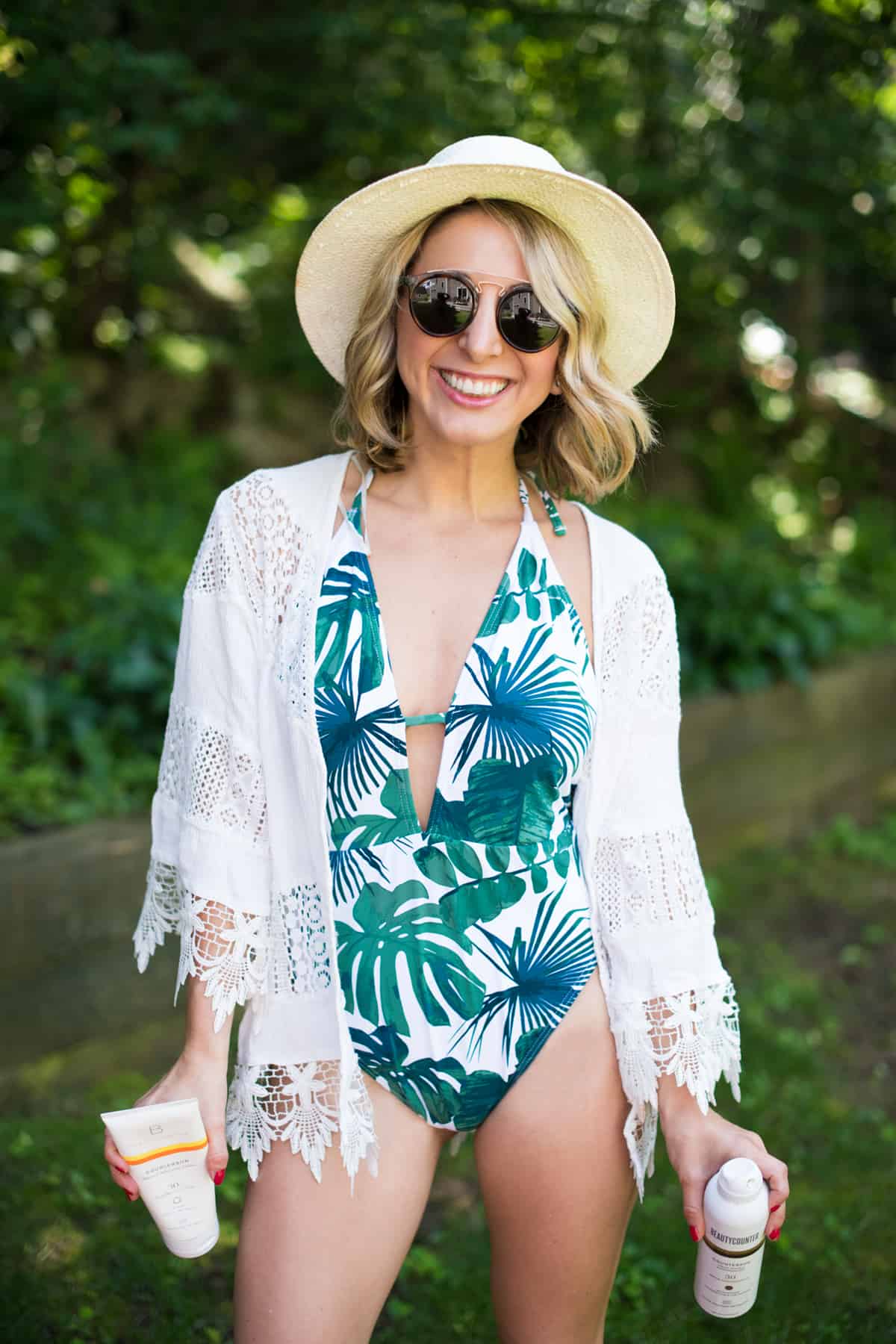 Everything You Need to Know About Safer Sunscreen
There's more to it than the SPF number
Here's a fact you've probably never even thought about: Many of the sunscreens you're probably most familiar with are known as chemical sunblocks. These products actually absorb into your skin, ultimately absorbing UV rays so they can be converted into heat and released from your body. Active ingredients in these sunscreens typically include avobenzone, octinoxate, and oxybenzone. Think about it for a sec — if these chemical sunscreens are to work properly, those chemicals need to be fully absorbed into your body. Do you want your skin absorbing things that are known to be harmful to your health, or just anything that you can't even pronounce? No, thanks.
If you are unsure of the ingredients in the sunscreen you thought was decent, EWG.org/skindeep is my go-to resource to search and learn about the ingredients in my products. You simply search an item, and see it's toxicity rating based on the ingredients and can read about why those ingredients aren't good for you. It's pretty awesome!
Now, all of this isn't to scare you! The good news is that you don't have to avoid sunscreen altogether in order to avoid these chemicals, and the answer is certainly not to stop wearing sunscreen. There are alternatives! It's a good thing, too, because I want to help you preserve your healthy skin and stay glowing and ageless forever.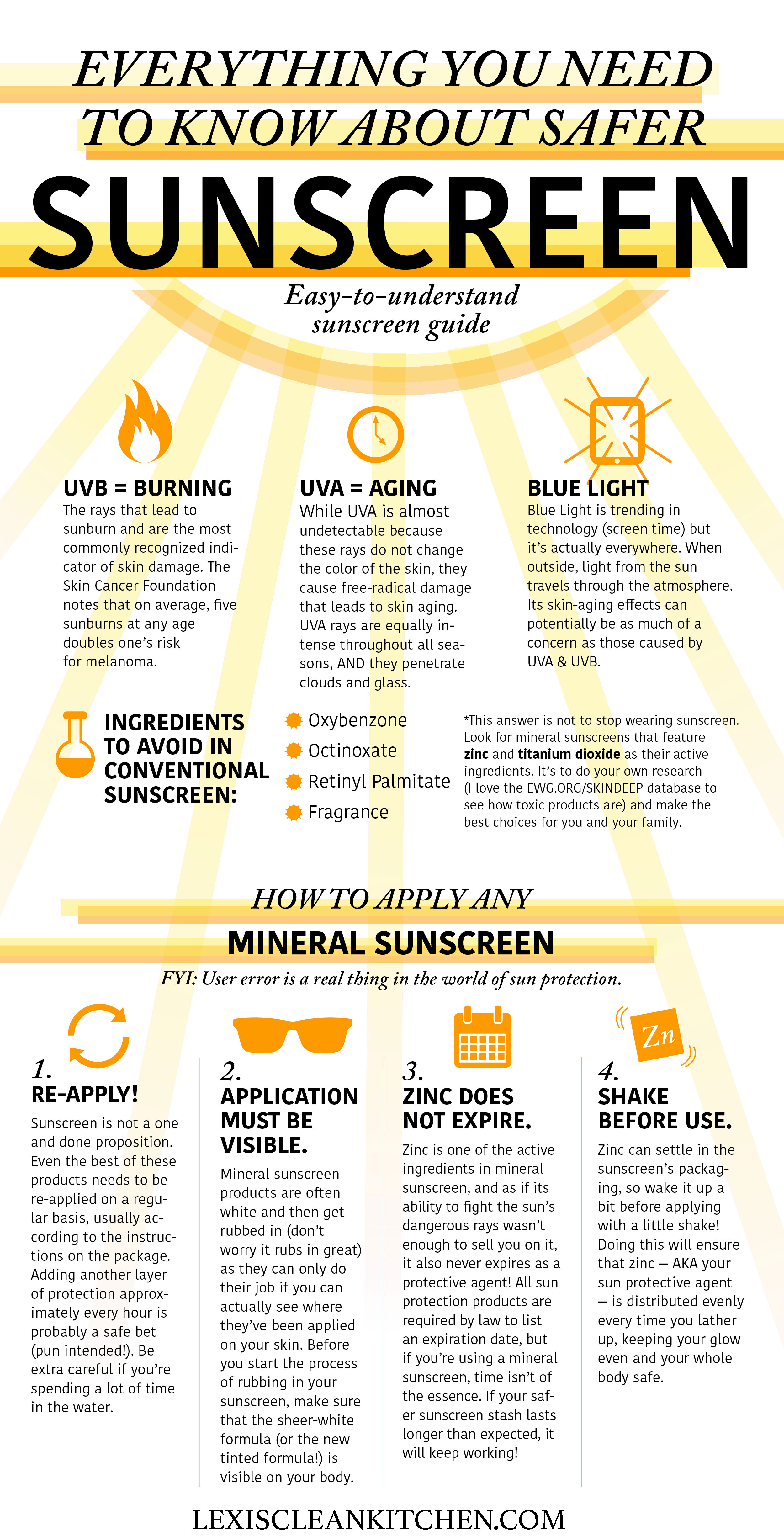 Is mineral sunscreen better than chemical?
The best alternative for chemical sunscreen is a category of sun protection called mineral sunscreen.
Look for mineral sunscreens that feature zinc and titanium dioxide as their active ingredients, rather than the chemicals present in most conventional products. This makes your sunscreen a lot cleaner and safer. Mineral sunscreens use these active ingredients to physically block the rays from your skin — they actually reflect the suns rays. As an added bonus, many mineral sunscreens are fragrance-free, which is a win for babies, kids, and anyone with sensitive skin and can help you further streamline the dangerous chemicals being absorbed into your body.
Ingredients you should avoid when searching for sunscreen are:
Oxybenzone
Octinoxate
Retinyl Palmitate
Fragrance
The best mineral sunscreens
My personal pick for my family is Beautycounter's sunscreen line, Countersun.
Here's why: Beautycounter just happens to be the market leader in safer, mineral sunscreen. I trust them for their skincare, make-up, and mission, and their triple-tested Countersun line is no different, (plus it's reef safe)! Beautycounter's sunscreen offers all of the benefits of sun protection without the dangers associated with many of the products you can buy at your local pharmacy or grocery store. Please, do your research when you pick up that sunscreen that looks good in CVS!
Countersun (Beautycounter's mineral sunscreen line) has a lotion, a non-aerosol mist, and a face stick, and the line now includes tinted sunscreens — a little extra glow, anyone? — and an aftersun cooling gel, to help ease the pain of a little too much time spent catching rays. Basically, all of your bases are now officially covered… and a lot more safely!
Here's a handful of other miner sunscreen options that pass the test: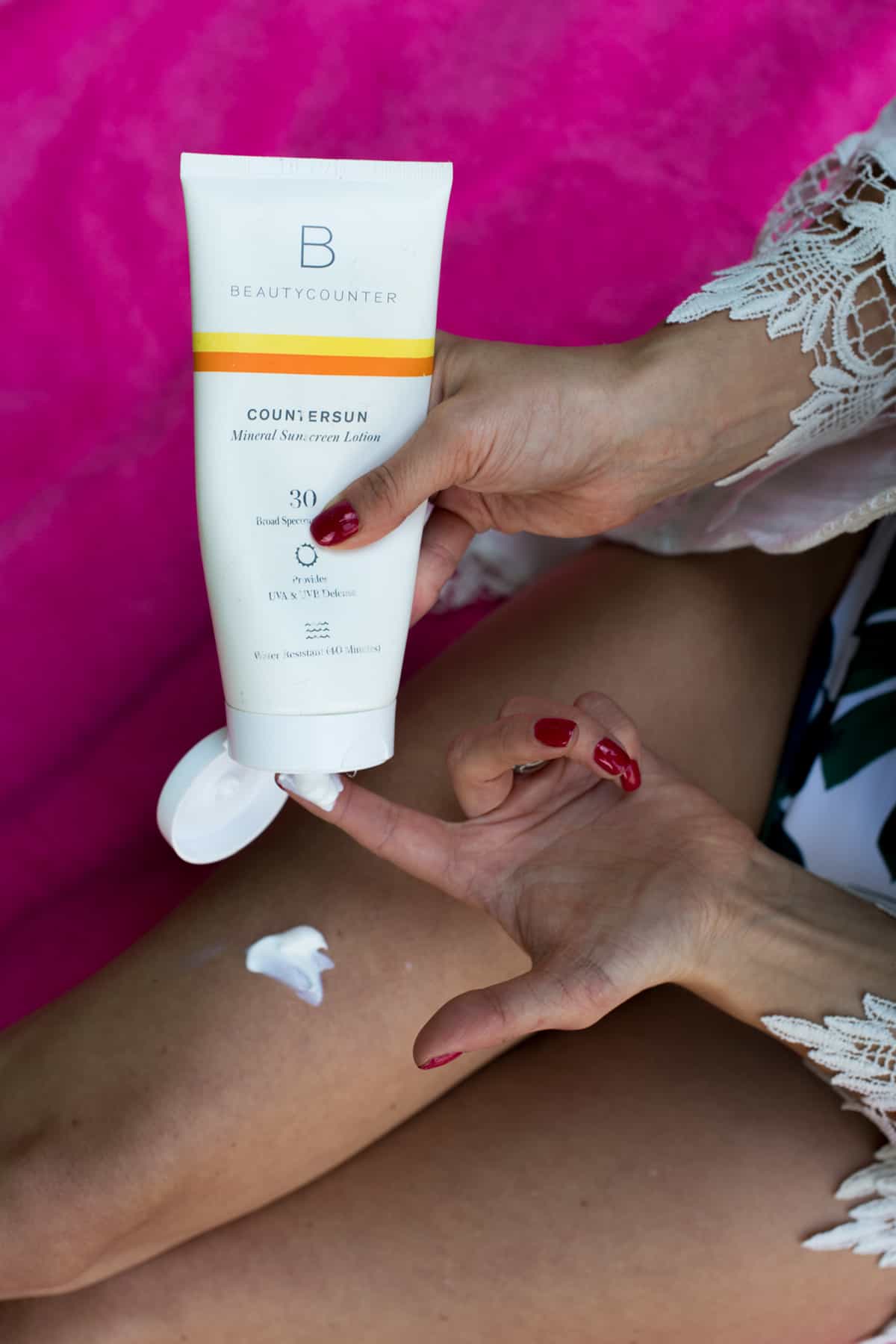 Here are a few of my go-to tips for applying Beautycounter's safer mineral sunscreen:
Just because these products are great (which they are) doesn't mean that they can prevent 100% of sunburns. Mineral sunscreen and chemical sunscreen are quite different, and user error is a real thing in the world of sun protection.
1. Re-apply! Sunscreen is not a one and done proposition. Even the best of these products needs to be re-applied on a regular basis, usually according to the instructions on the package. Adding another layer of protection approximately every hour or two is probably a safe bet (pun intended!). Be extra careful if you're spending a lot of time in the water. Water resistant is not the same as waterproof, so make sure to reapply after or taking a dip or sweating on a run!
2. Application must be visible. Mineral sunscreen can only do their job if you can actually see where they've been applied on your skin. Before you start the process of rubbing in your sunscreen, make sure that the sheer-white formula (or the new tinted formula!) is visible on your body. We're not talking about a clear mist here!
3. Zinc does not expire. Zinc is one of the active ingredients in mineral sunscreen, and as if its ability to fight the sun's dangerous rays wasn't enough to sell you on it, it also never expires as a protective agent! This means that it will be effective for years after purchase. All sun protection products are required by law to list an expiration date, but if you're using a mineral sunscreen, time isn't of the essence. If your safer sunscreen stash lasts longer than expected, it will keep working!
4. Shake before use. Zinc can settle in the sunscreen's packaging, so wake it up a bit before applying with a little shake! Doing this will ensure that zinc — AKA your sun protective agent — is distributed evenly every time you lather up, keeping your glow even and your whole body safe.
---
Generally speaking, I encourage you to never underestimate the sun. It is so powerful, and even the best of sunscreens won't help if you're not sure to use them properly. Be careful, be safe, and have fun in the sun!
P.S. Want some other reads? This article from NY Post is really informative and this one from CNN is as well.
---
Disclosure: There may be affiliate links in this post! By clicking on them, or purchasing recommended items I may receive a small compensation, at no cost to you! However, I only recommend products I absolutely love and use on my own body. Thank you for supporting Lexi's Clean Kitchen when you shop.