Steak Cobb Salad with Cilantro Vinaigrette
This Steak Cobb Salad with Cilantro Vinaigrette is a super hearty lunch or dinner that's packed with veggies and your favorite cobb salad flavors!
I am so excited to be back this week partnering with Quitter's Circle, a collaboration between the American Lung Association and Pfizer, to bring you another fabulous recipe! 
You all know how passionate I feel about helping you lead a cleaner lifestyle. Since the day I started Lexi's Clean Kitchen, that has always been my core mission. Whether it's helping you on your clean eating journey, stocking your pantry, giving you tips to wake up feeling great, or giving you cleaner beauty and skincare ideas – I want you to be the best you!
Now, even though I've never personally been a smoker, I have seen it affect members of my family. I want to help others who know people who smoke to give them the tools and resources to help those around them! Quitter's Circle is a fabulous online resource with information from tips on how water can play an important role in your quit journey, to articles on helping your best friend try to quit smoking, and I am so excited to share even more ways to be confident, feel great, and glow from within!  
Today's recipe does just that. It'll give you the fuel you need to tackle your day, it will give you energy with proteins and healthy fats, and it will leave you so satisfied you'll be wanting to cook this meal up again and again! Plus, it's easy to prepare, and you can meal prep parts of it ahead of time (like the bacon, hard boiled eggs, dressing, and steak), to throw together throughout the week for a satisfying meal!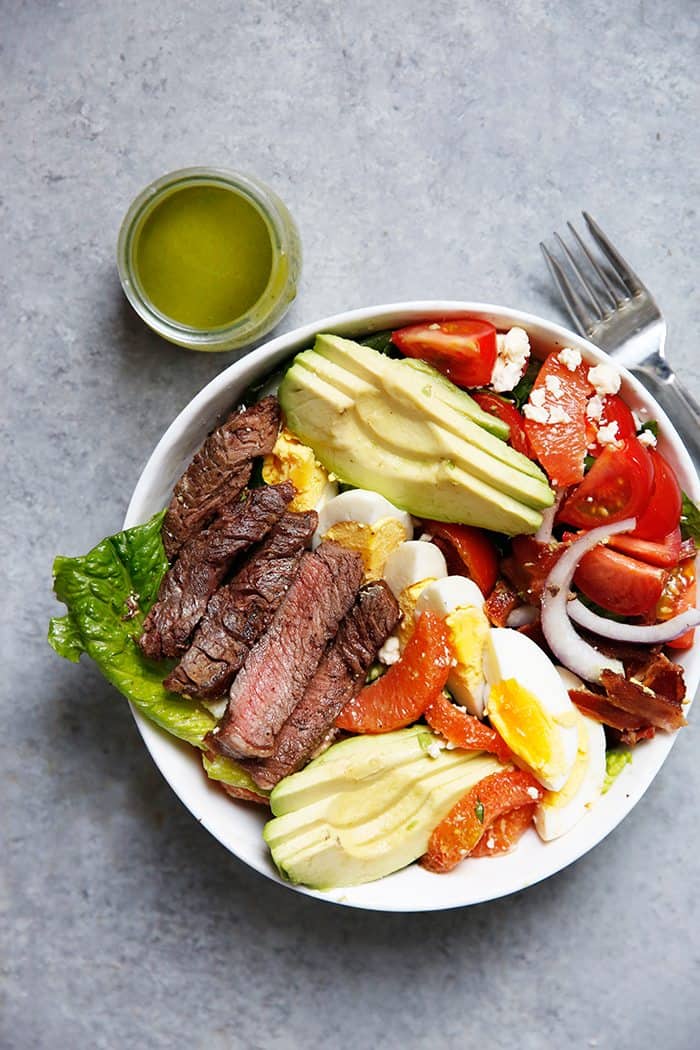 Steak Cobb Salad with Cilantro Vinaigrette
---
---
Recipe Notes
A guide to making the perfect hard-boiled egg can be found here.
---
Nutrition
Loading nutrition data...
This is a sponsored post written on behalf of 
Quitter's Circle
, a collaboration between the American Lung Association and Pfizer. All thoughts and opinions presented in this post are purely my own. 
Subscribe to
Lexis Clean Living
Join our email list to get instant updates and weekly summaries of our top content and special exclusive offers along with our free clean eating kickstart guide!
This website may at times receive a small affiliate commission for products that we shared with you in our posts. Although we may receive a commission for linking certain products, there's no additional costs to you and all of our opinion and suggestions are 100% our own and unbiased. That's our promise to you!